F1 Saudi Arabia Grand Prix qualifying: Mick Schumacher flown to hospital after terrifying crash
Mick Schumacher is out of the Saudi Grand Prix after a horror crash saw his car torn in half during qualifying. Daniel Ricciardo has been hit with a grid penalty and there is a surprise name on pole.
An ambulance transports Haas' German driver Mick Schumacher to a helipad to be taken to hospital following a crash
Mick Schumacher will not take part in the Saudi Arabia Grand Prix after a horror crash into a concrete barrier at 240kph during qualifying.
The 23-year-old son of German F1 legend Michael Schumacher lost control of his Haas car after appearing to clip a kerb at Turn Nine and then went straight into the wall.
He was reported to be conscious and speaking when a medical crew arrived to take him from his badly damaged car to the medical centre at the Jeddah Street Circuit.
Two wheels were torn away from the car in the impact during the Q2 session.
Medics were on the scene quickly, lifting him out of the wreckage of his stricken car into an ambulance.
Hours after the accident, Schumacher took to social media to reassure fans he was "OK".
"Hi everyone, I just wanted to say that I'm ok," he wrote.
Thank you for the kind messages.The car felt great. We will come back stronger."
The team has since confirmed Schumacher will not race.
"Schumacher was taken to the trackside medical centre following a significant accident at Turn 12," said Haas in a statement.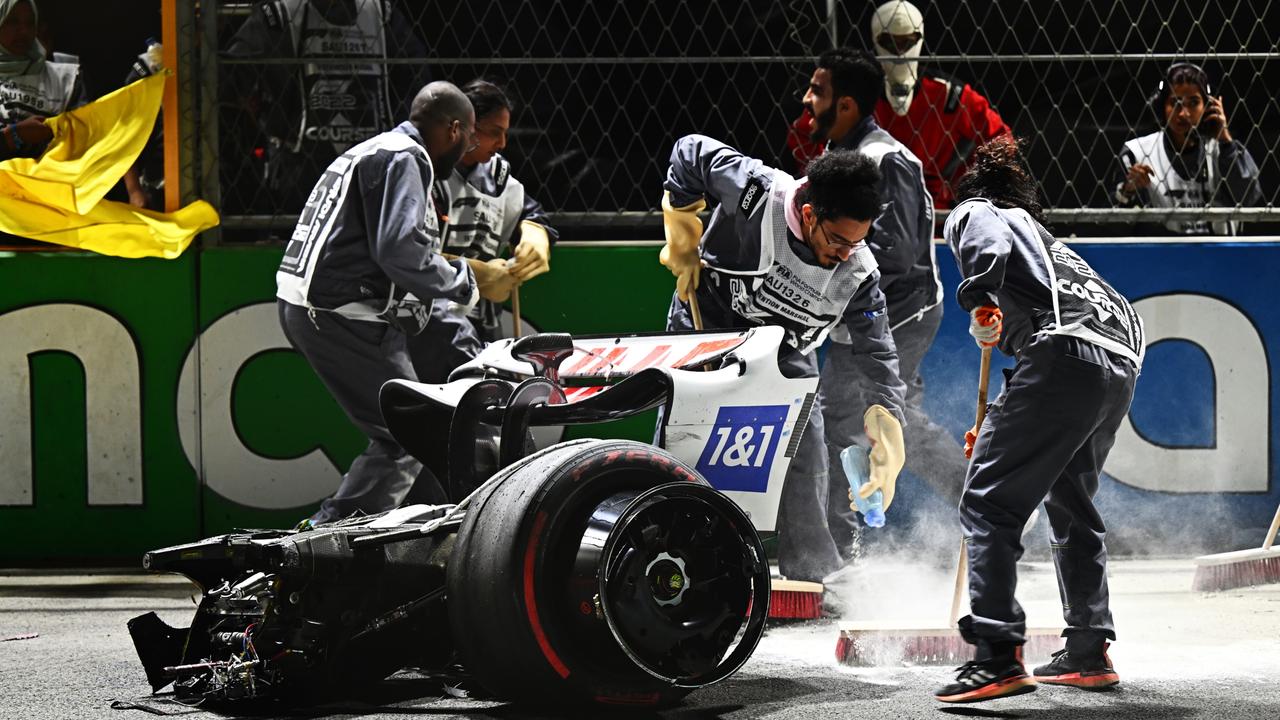 Track marshals clean debris from the track following the crash of Mick Schumacher
"After his assessment revealed no injuries, he was transferred to King Fahad Armed Forces Hospital in Jeddah for precautionary checks.
"The team has subsequently taken the decision to contest the Saudi Arabian Grand Prix with the sole entry of Kevin Magnussen."
Afterwards, Haas team principal Gunther Steiner said: "A very eventful day for us. The best thing is that Mick has apparently no injuries, he's in the hospital right now and being evaluated by the doctors, so he is in good hands at the moment.
"There is a possibility that he'll have to stay for observation overnight at the hospital. Based on these facts and where we are, we have decided not to field his car tomorrow."
It's a miracle Schumacher escaped without serious injury.
The improvements in the safety of F1 cars has been subject of scrutiny for years.
Schumacher's teammate Kevin Magnussen hailed the work that has been done.
"I've heard Mick is uninjured which is good and incredible when you see the crash that he had," Magnussen said.
"But the safety is so good with these cars with the fact that you can walk away from a crash like that, it's impressive.
I think he was having a great qualifying session up until that point and he was up for a good result, so he'll just need to come back and get on the horse and bounce back.
WHAT HAPPENED?
Schumacher was reported to have been able to remove his own gloves as he departed in an ambulance.
"We've heard that Mick is conscious, out of the car and currently on his way to the medical centre," tweeted the Haas team.
"Mick is physically in a good condition but will be flown by helicopter to hospital for further precautionary check-ups.
The session was red-flagged after the estimated 240kh accident in which the rear of the Haas car was split away from the main body.
It was the second red flag in the session following an earlier high-speed collision by Williams' Nicholas Latifi in Q1. The Canadian escaped unhurt.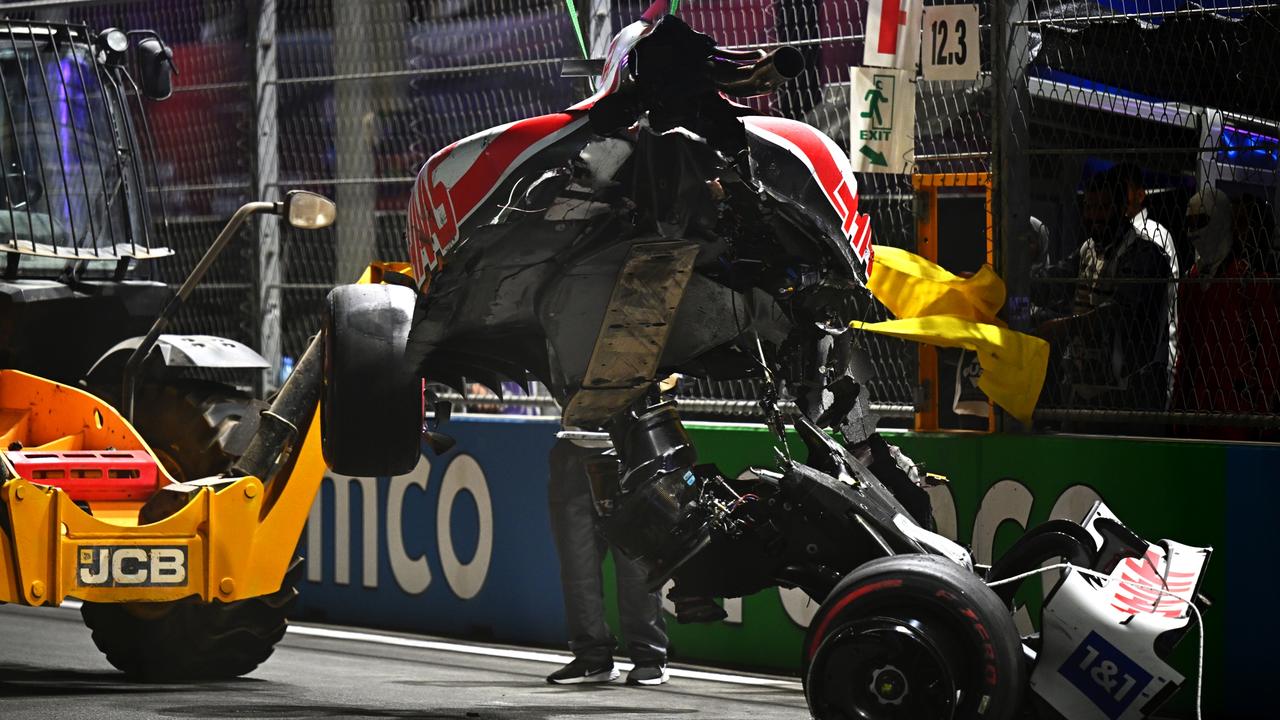 The car of Mick Schumacher of Germany and Haas F1 is removed from the track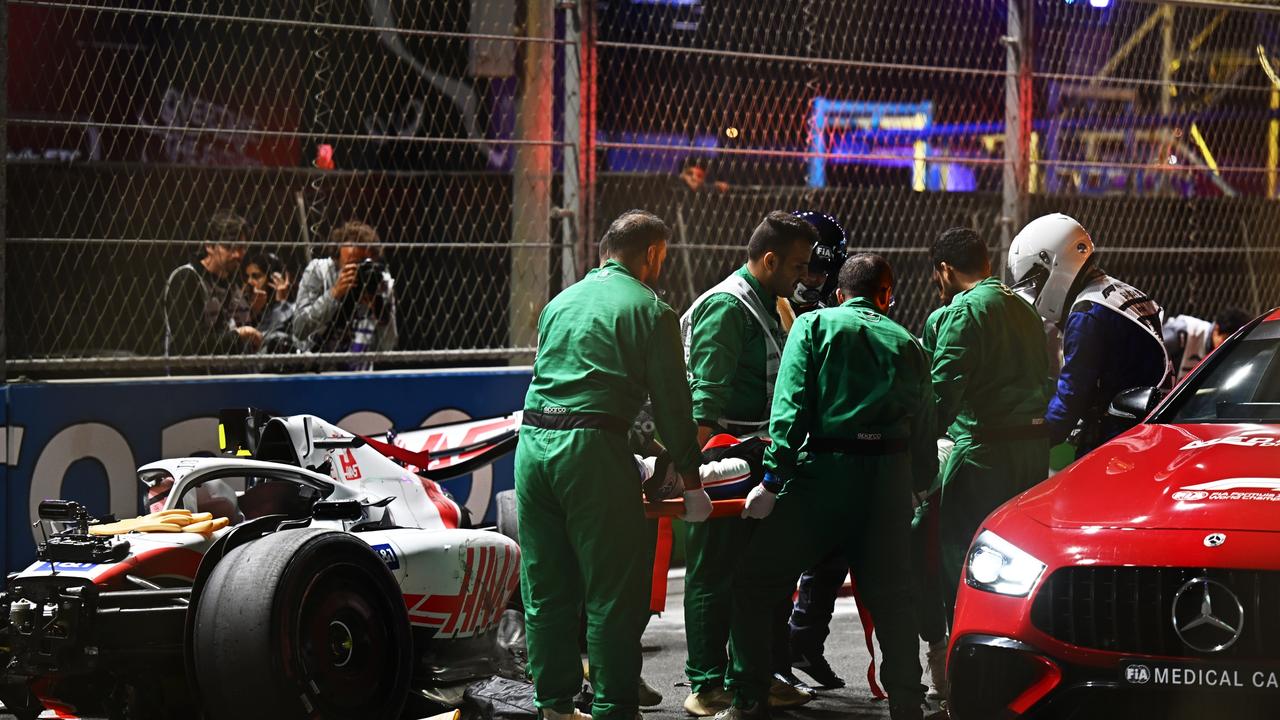 Mick Schumacher of Germany and Haas F1 is extracted from his car after a crash
215 RACES LATER
When the session eventually restarted, Sergio Perez stunned the grid on his final lap to claim pole.
On his 215th attempt, the mexican upstaged his world champion teammate Max Verstappen to claim the front spot for the race.
He shares the front row with Charles Leclerc of Ferrari with Verstappen second row in 4th alongside Carlos Sainz.
"It took me a couple of races but what a lap," Perez said after the session.
"It was unbelievable. We weren't expecting too much from qualifying we were focused mainly on the race."
His team principal Christian Horner was rightfully proud, albeit a little surprised.
"I'm so happy, 215 races, for him to do this here, that lap was incredible," he said. "To put in a lap like that, here, the most dangerous circuit we go to.
"Whatever he had for breakfast, lunch and dinner we will do the same.
"He's worked incredibly hard, the car suits his style."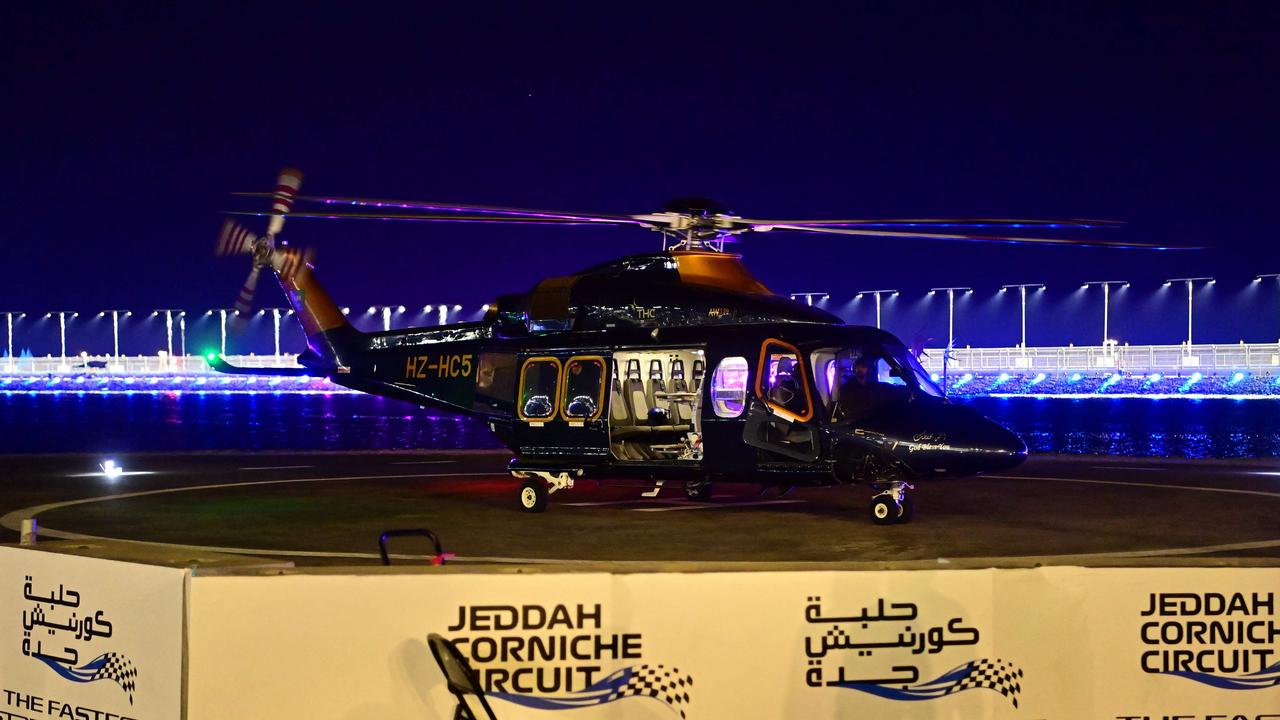 A helicopter waits to take Haas' German driver Mick Schumacher to hospital for further tests
NIGHTMARE FOR HAMILTON
In a major shock, lewis Hamilton failed to make it into Q2 after being knocked out of the first qualifying run for the first time since 2017.
Mercedes' seven-time world champion has 103 poles to his name, but in a major upset will start Sunday's race from towards the rear of the grid.
As Q1 drew to a close Hamilton was languishing in 16th with only the top 15 progressing, but failed to make it out of the drop zone with his last flying lap.
He was knocked out of Q1 in Brazil five years ago after a crash but the last time he failed to progress to Q2 on pace alone was at the British Grand Prix in 2009.
Hamilton had struggled throughout practice in his 'bouncing' new Mercedes, but new team-mate George Russell appeared to overcome that challenge as he progressed with the fourth-best time.
"I struggled with the balance of the car, not where I want to be," Hamilton told Sky Sports.
"Unfortunately just went the wrong way with the set up."
HOW THE GRID LOOKS
Front row: Sergio Perez (MEX/Red Bull) Charles Leclerc (MON/Ferrari)
2nd row: Carlos Sainz (ESP/Ferrari) Max Verstappen (NED/Red Bull)
3rd row: Esteban Ocon (FRA/Alpine-Renault) George Russell (GBR/Mercedes)
4th row: Fernando Alonso (ESP/Alpine-Renault) Valtteri Bottas (FIN/Alfa Romeo-Ferrari)
5th row: Pierre Gasly (FRA/AlphaTauri-Red Bull) Kevin Magnussen (DEN/Haas-Ferrari)
6th row: Lando Norris (GBR/McLaren-Mercedes) Daniel Ricciardo (AUS/McLaren-Mercedes)
7th row: Guanyu Zhou (CHN/Alfa Romeo-Ferrari) Mick Schumacher (GER/Haas-Ferrari)
8th row: Lance Stroll (CAN/Aston Martin-Mercedes) Lewis Hamilton (GBR/Mercedes)
9th row: Alexander Albon (THA/Williams-Mercedes) Nico Hülkenberg (GER/Aston Martin-Mercedes)
10th row: Nicholas Latifi (CAN/Williams-Mercedes) Yuki Tsunoda (JPN/AlphaTauri-Honda)
Originally published as F1 Saudi Arabia Grand Prix qualifying: Mick Schumacher flown to hospital after terrifying crash