F1 world championship contender Max Verstappen's extreme childhood under dad Jos
Max Verstappen's father, ex-Formula One driver Jos, trod a fine line with the methods he used to turn his son into a world championship contender, writes RICK BROADBENT.
In a crowded hospitality suite at Belgium's Spa circuit a teenage boy looked bored by the throng of men peppering him with questions about age, pressure and lacking a driving licence. The gloves were off, kid and otherwise, as Max Verstappen held his first press conference after being anointed Formula One's youngest ever driver. From a sporting vista littered with burnt-out prodigies and trickle-down chuntering, he predicted: "Shouldn't be a problem."
He was 16. The next year he made his debut for Toro Rosso at 17, thus beating the previous record held by Jaime Alguersuari. At 18 he became the youngest Formula One race winner. If he adds the world title on Sunday, aged 24, then it will be the culmination of what his father calls "my life project".
That father is his biggest influence, although some would argue it has not always been a nurturing one. Jos Verstappen, 49, had eight eventful years in Formula One, escaping a flaming Benetton in 1994 and making two podiums, before turning his attention to his son and treading the line between tough love and zealotry.
The idea of fathers living vicariously through the feats of their children is not new in sport. From Earl Woods to Richard Williams, the pushy parent is a well-worn sporting trope, but Verstappen's upbringing is an indicator of just why he is unlikely to cede an inch in Abu Dhabi.
Reared in the paddock and a racer from four, Verstappen's father would deliberately set up his son's kart with flaws. "We did it a few times just to get his feeling," Verstappen Sr once told a Red Bull podcast. "Because he was winning so easily I told him he could not overtake in a certain part of the track, just to make it more difficult." When his son was eight and complaining about the freezing winter weather, he would make him compete anyway. "He couldn't move his fingers and I didn't care. I wanted to test things. I wanted to move forward. When the fingers warm up again that's very painful. I said, 'Ah, shut up'."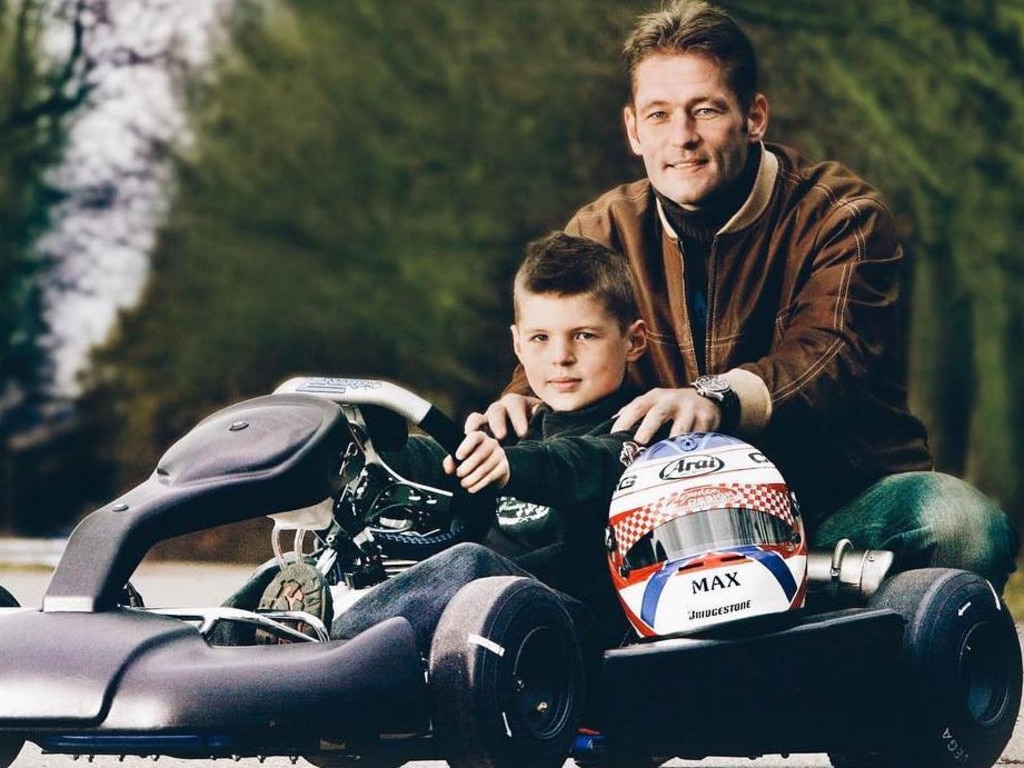 Max Verstappen with his dad Jos, during his days as a young go karting prodigy. From the outset, Jos targeted his son for greatness by whatever means necessary. Picture: Instagram
The most striking incident came in 2012 after a crash in a World Cup race. A rival was ahead. "I decided I wanted to overtake him straightaway," Max said. "It was a bit stupid and I crashed. My dad was really upset and disappointed in me." He was left to pick up the pieces of his dismembered kart by himself before climbing into the van for the torturous journey home. "I wanted to talk about my opinion about the incident but he didn't. I kept trying. He stopped at a fuel station and told me to get out."
His father points out that he knew Max's mother was following a few kilometres behind, but he ended up going back to pick him up anyway. "For me he did everything very relaxed and it was all very easy," Jos said. "I really wanted him to feel the pain." They drove 1,000km in silence and Verstappen did not speak to his son for a week, saying the discomfort was instructive.
Then there was the time recounted by Max during a PR video shoot with Daniel Ricciardo. As the Australian playfully stabbed a table before being served food, Verstappen said: "My dad did that once [to] a mechanic with a fork." Ricciardo's expression suggests that may have gone beyond the designated knockabout tone.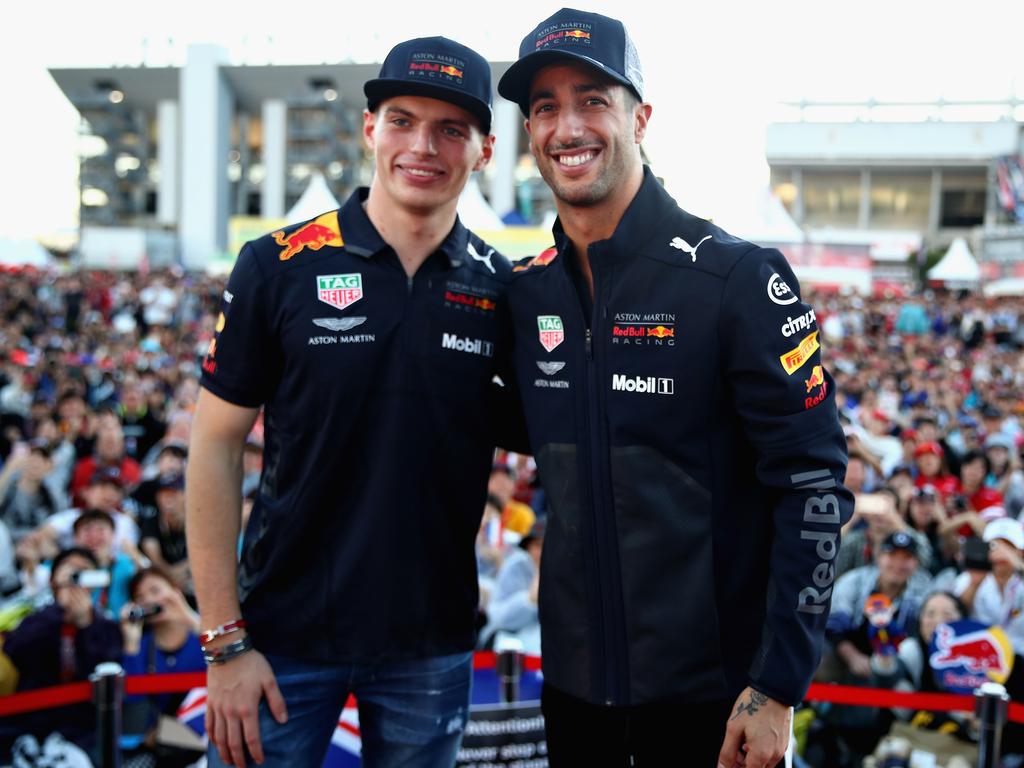 Max Verstappen and Daniel Ricciardo pose for a photo during the 2018 F1 Japanese Grand Prix in Suzuka, while they were teammates at Red Bull. Picture: Mark Thompson/Getty Images
It is easy for outsiders to regard this as unhealthy and paint the driven patriarch as bad or mad. Richard Williams would tell his daughters' old hitting coach about how he had coached Minnesota Fats to the world billiards title, but his most outlandish tale was the one that turned out to be true as his daughters rose to rule the ultra-conservative tennis world. Unflinching ambition has its upside.
Williams, though, eventually stopped going to tournaments and his girls moved on. Lewis Hamilton was managed by his father, Anthony, until 2010. They parted because Hamilton wanted more control over his own life. His father said it felt as though something had died.
The Verstappens, though, remain tight. Erik van Haren is the Formula One correspondent of De Telegraaf, the Netherlands' biggest-selling newspaper, and knows the pair better than most. As we speak Jos's number flashes up on his phone. "That's him ringing," Van Haren says. "He must know I'm talking about him."
He says the father-son relationship is deep and strong. "A lot of people don't see it like that but he likes his father to be with him," Van Haren says. "His father doesn't tell him what to do but they chat about everything, and if he is not there then they will call every day. He's not only his father — he's a friend and teacher — and you have to remember they went all around Europe together.
"He was tough on Max sometimes, but I think that's what made him what he is today; I think Max feels the same way. People ask me, 'What is Jos doing on the track?' but he's not there every time, maybe at half the races. The most important thing is Max says it helps."
It can't have been easy as Verstappen Sr attracted reams of bad publicity. In 1998 there was a fight at a karting track in which a man suffered a fractured skull. Verstappen and his own father, Frans, were convicted of assault and given suspended jail sentences. A decade later he was found not guilty of assaulting Max's mother, the former Belgian racer Sophie Kumpen, but guilty of breaching a restraining order. Then, in 2012, there were reports that he had driven a car at his ex-girlfriend and he was arrested on suspicion of attempted murder. The charges were dropped and the pair got married. And divorced.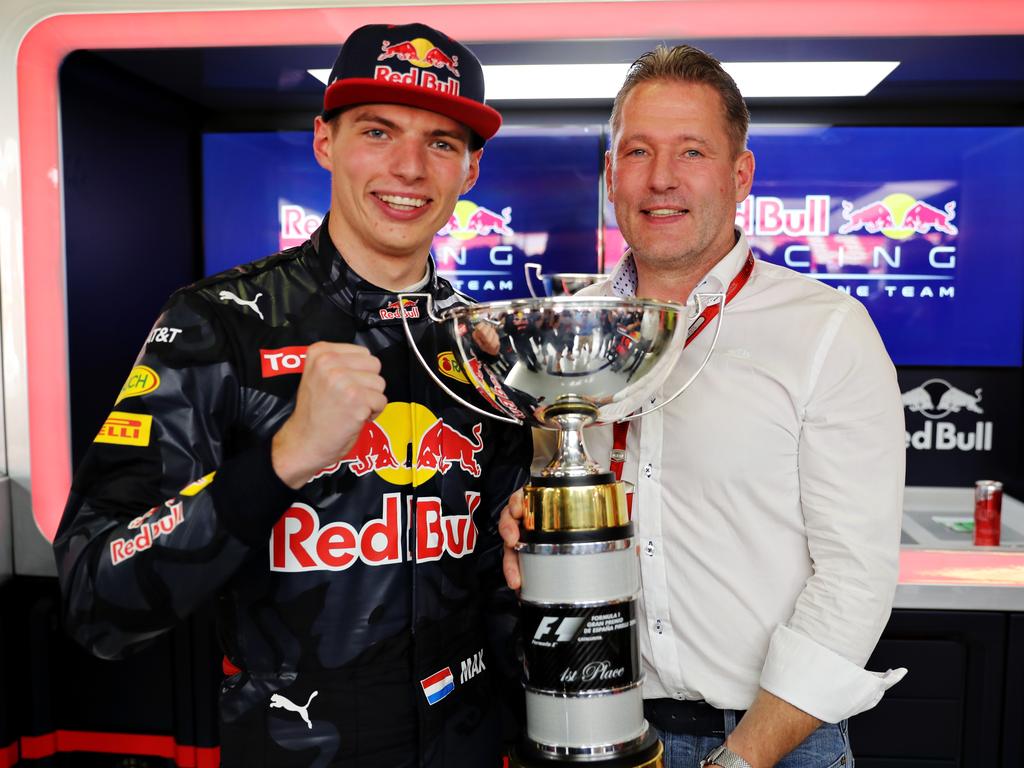 Max Verstappen and his father Jos celebrate his first F1 win, which came in the Spanish Formula One Grand Prix at Circuit de Catalunya in May, 2016. Picture: Mark Thompson/Getty Images
Max Verstappen has had a one-track mind almost since riding a quad-bike at two and his mother was also an accomplished kart racer, partnering Jenson Button in 1995 and beating the likes of Jarno Trulli, Allan Simonsen and the now Red Bull team principal Christian Horner. She gave up her Formula One dream to support her then husband and raise a family. "[Max] got that fierce racing instinct from Jos," she said. "The gentleness he got from me."
The talent is undeniable. Sixth in his first full season with Red Bull, he improved to fourth in 2018 and finished third in 2019 and 2020, but nerves and wings have been rattled along the way. Kimi Raikkonen predicted Verstappen would cause a "massive accident sooner or later" back in 2016 after criticising his method of defending. "A big lie," the teen responded. Two years later Hamilton branded him a "dickhead" in the cool-down room in Bahrain. This year Verstappen sounded unfazed by insults. "When I am a dickhead you can tell me. When I f--k up, I f--k up."
Van Haren thinks this bluntness appeals in the oft-sanitised world of modern motorsport. "People like his way of racing but people also like him because of the way he acts. He says what he really thinks and people are not used to that anymore."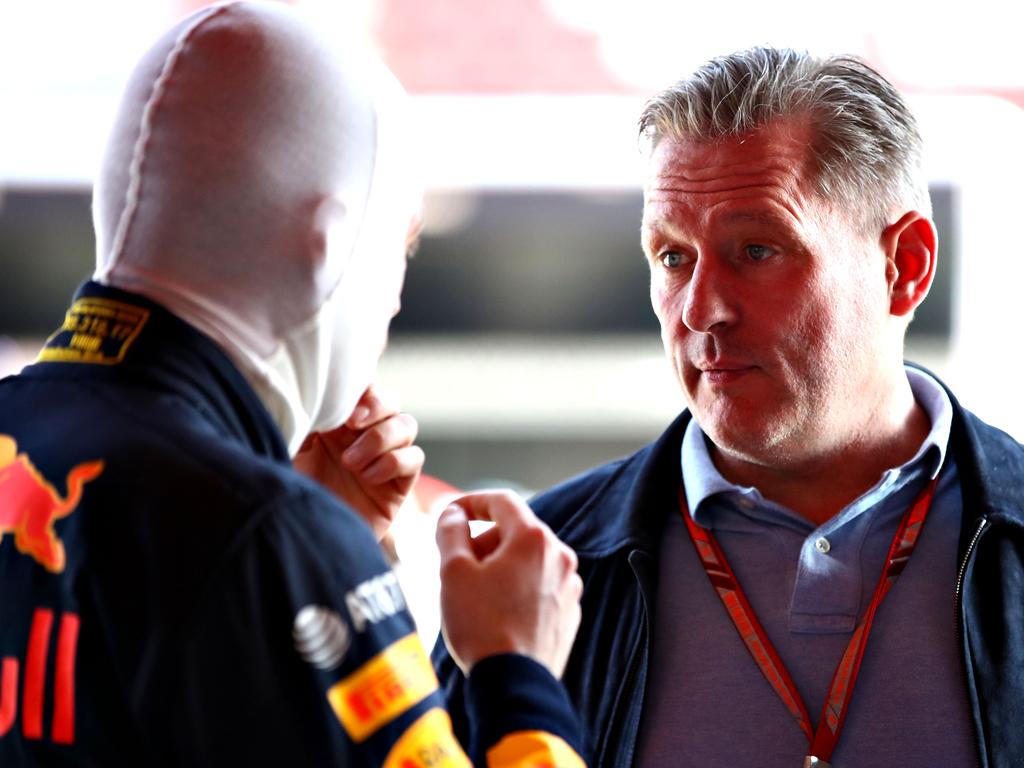 Max Verstappen talks with his father Jos in the garage during F1 Winter Testing at Circuit de Catalunya in February 2019. Picture: Mark Thompson/Getty Images
Born in Belgium, 50 miles from Spa, he feels more Dutch, races for the Netherlands and lives in Monaco. After the Saudi Arabian Grand Prix he flew home to see his girlfriend Kelly, daughter of the three-time F1 world champion Nelson Piquet, and his sister, Victoria Jane, who has just had a child.
How far he will go this week is the talk of town. This season Verstappen said he and Hamilton always gave each other space; Hamilton spoke of natural respect. Silverstone, Monza and Jeddah have replaced that with the controversy that has long coursed through the sport's veins; even when Verstappen first faced the press, at Spa in 2014, the race ended with Hamilton accusing his teammate, Nico Rosberg, of deliberately driving into him.
Van Haren says it is feasible that the Netherlands' biggest solo sports star will take out Hamilton.
"You cannot say if he would do it deliberately, but when the car of your contender is quicker you have to take more risks," he says. "That is what Max does."
The championship, reputation and Jos Verstappen's life project are all on the fault line in a finale that may prove as chequered as the flag.
- The Times