Formula One accused of hypocrisy for racing in Bahrain other Gulf states
Formula One has been accused of double standards by human rights groups for continuing to race in Bahrain, Saudi Arabia and the United Arab Emirates after cancelling the Russian Grand Prix.
Lewis Hamilton has been critical of several countries over their human rights abuses. Picture: Dan Istitene/Formula 1 via Getty Images
Formula One has been accused of double standards by human rights groups for continuing to race in Bahrain, Saudi Arabia and the United Arab Emirates.
The sport cancelled the Russian Grand Prix this year due to the host country's invasion of Ukraine but F1 is facing criticism for not taking a strong stance on certain other countries in which it chooses to race.
The season begins this weekend in Bahrain, a country criticised for its human rights abuses and oppression of the media. The second race of the season is in Saudi Arabia, while the finale is held in Abu Dhabi. The sport has also recently signed a ten-year deal to race in Qatar and the track there is a contender to replace Russia on the calendar this year.
Last November, before the inaugural race in Qatar, Lewis Hamilton spoke out against the country and said it was "deemed one of the worst" in the region for human rights. That was followed by the first race in Jeddah, Saudi Arabia. The seven-times world champion said sport had a responsibility to address the issues in the countries that F1 visited.
"As sports go to these places, they are duty bound to raise awareness for these issues," Hamilton said. "These places need scrutiny. Equal rights is a serious issue. If we are coming to these places, we need to be raising the profile of the situation."
F1 drivers posed with a banner promoting peace and sympathy with Ukraine prior to F1 Testing at Bahrain. Picture: Mark Thompson/Getty Images
On Tuesday, 27 NGOs wrote to Stefano Domenicali, the F1 chief executive, to raise the issue of human rights abuses in Bahrain before this weekend. While they praised F1's cancellation of its race in Russia, they condemned the sport for creating a "clear double standard" regarding Bahrain, Saudi Arabia and the UAE.
"The Saudi-led coalition, which includes Bahrain and the UAE, continues to enjoy the renewal of F1 contracts despite their continued seven-year military campaign against Yemen, which is contributing to the creation of what the United Nations has termed the 'world's worst humanitarian disaster'," the letter read.
It added that there is "one rule applied for victims of war in Europe and another for victims in the Middle East". They also criticised F1 for its "failure to engage with civil society and acknowledge rights abuse in Bahrain".
A spokesman for F1 said: "For decades Formula One has worked hard to be a positive force everywhere it races, including economic, social, and cultural benefits. Sports like Formula One are uniquely positioned to cross borders and cultures to bring countries and communities together to share the passion and excitement of incredible competition and achievement.
"We take our responsibilities on rights very seriously and set high ethical standards for counterparties and those in our supply chain, which are enshrined in contracts, and we pay close attention to their adherence."
Hamilton has been the recipient of letters from political prisoners in Bahrain in recent years as a result of his decision to start speaking out against social issues. This week he received another, from Ali Alhajee, a prisoner in Bahrain, who wrote to Hamilton to say the Briton was having an impact with what he was saying.
"Your genuine concern about these cases has changed the way prisoners think of this sport," he wrote in a letter released by the Bahrain Institute for Rights and Democracy (Bird). "To us, you are our champ, not only the best in driving but also a human being who cares about the suffering of others.
"To reflect our support to you, a new phenomenon spread in the prison. Inmates began to write or draw 'Sir 44' or 'Lewis 44' on their clothes, which we would wear in support while watching the race."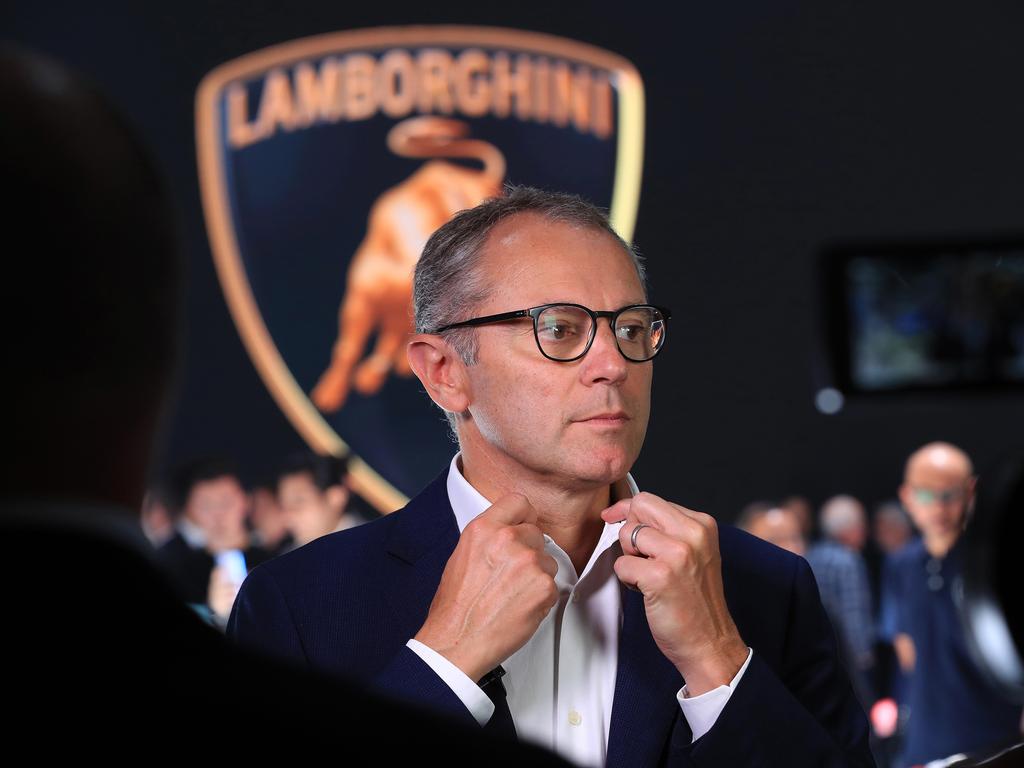 27 NGOs wrote to F1 chief Stefano Domenicalito raise the issue of human rights abuses in Bahrain. Picture: Krisztian Bocsi/Bloomberg via Getty Images
Bird has asked F1 to reevaluate its new contract with Bahrain, which keeps the Gulf state on the calendar until 2036 in what is believed to be the longest deal in F1 history.
The race was first held in 2004 and has been staged every year expect for 2011, when a popular uprising against the regime led to the race being cancelled. From the first year onwards there was criticism of F1 for racing in Bahrain due to its human rights record.
With the prospect of racing in Bahrain for another 14 years, Bird has called on F1 to "evaluate their contract with Bahrain and reconsider setting up an independent commission of experts to investigate abuses connected to F1's activities in Bahrain".
Sayed Ahmed Alwadaei, director of advocacy at Bird, said: "Formula One must uphold values of peace and unity everywhere, particularly in the countries where they are racing. At present the F1 races in the Gulf are only enabling Bahrain and Saudi to sportswash their abysmal human rights records which continue to deteriorate.
"How long will F1 fans allow their sport to be exploited by abusive regimes? Rewarding Bahrain with one of the longest contracts in racing history speaks volumes about how they dismiss human rights concerns and prioritise profit. This hypocrisy must end."
A spokesperson for the Bahrain government said: "Bahrain has led human rights reform in the region and to suggest otherwise does not reflect current-day reality.
"Bahrain has the region's most robust human rights protections in place and welcomes and actively supports the role Formula One can play in shedding light on human rights issues in all countries it operates in, now and in the future."
– The Times