Formula One news: Oscar Piastri's bombshell statement after Alpine confirm driver for 2023
Alpine has responded to the shock walk out from Aussie Oscar Piastri that has shaken up the Formula One landscape.
Hours after Alpine posted on social media that the Australian would complete their driver line-up in 2023, Piastri took to social media himself to contradict the team's announcement.
Reacting to a tweet and Instagram post from Alpine which said their line-up was complete with the Australian and Esteban Ocon, Piastri wrote: "I understand that, without my agreement, Alpine F1 have put out a press release late this afternoon that I am driving for them next year.
"This is wrong and I have not signed a contract with Alpine for 2023. I will not be driving for Alpine next year."
The statement from Piastri follows days of speculation that his manager and former F1 driver Mark Webber had negotiated him a deal to join McLaren in a move that would leave compatriot Daniel Ricciardo without a seat next season.
I understand that, without my agreement, Alpine F1 have put out a press release late this afternoon that I am driving for them next year. This is wrong and I have not signed a contract with Alpine for 2023. I will not be driving for Alpine next year.

— Oscar Piastri (@OscarPiastri) August 2, 2022
2023 driver line-up confirmed: Esteban Ocon 🤝 Oscar Piastri

After four years as part of the Renault and Alpine family, Reserve Driver Oscar Piastri is promoted to a race seat alongside Esteban Ocon starting from 2023. pic.twitter.com/4Fvy0kaPn7

— BWT Alpine F1 Team (@AlpineF1Team) August 2, 2022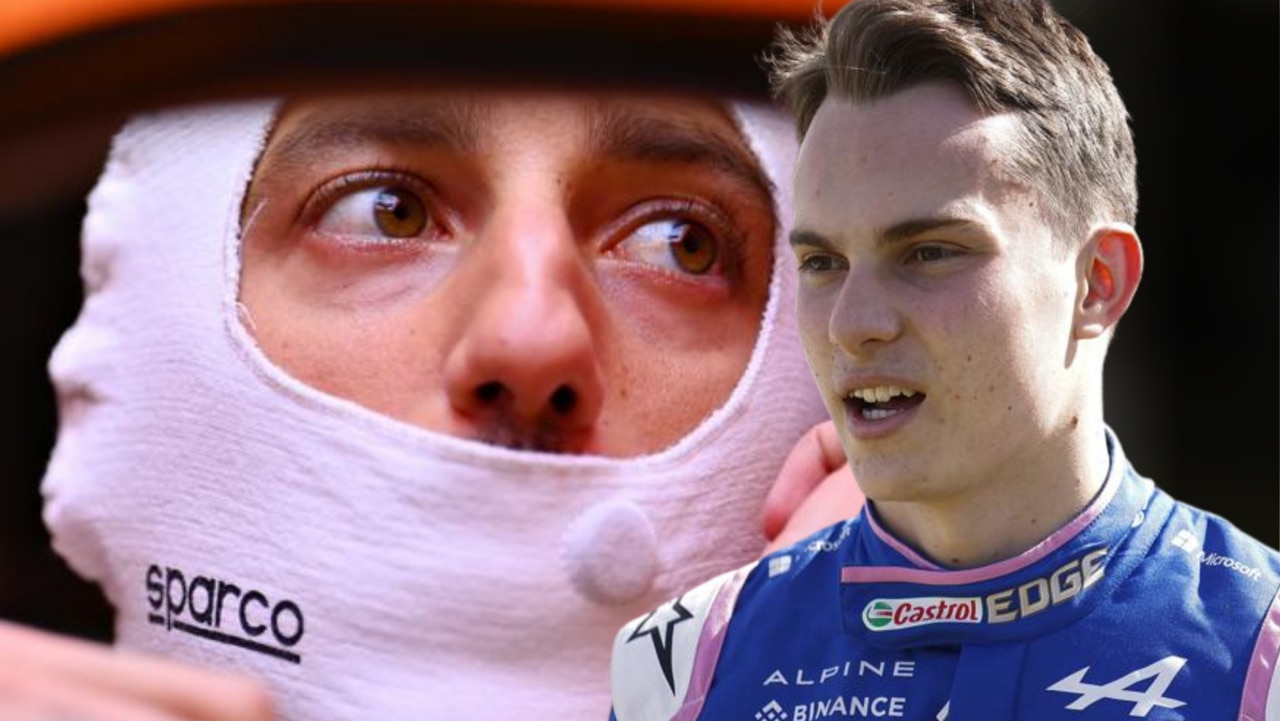 Could Oscar Piastri usurp Daniel Ricciardo at McLaren?
Reports suggest that Piastri has contractual agreements in place which mean he is obliged to accept a seat at Alpine should one become available.
This became a reality earlier this week when Fernando Alonso announced he was replacing Sebastian Vettel at Aston Martin - news Alpine admitted they were not aware of until the rival team released a statement.
It's been an incredible few days for the F1 team who left the Hungarian Grand Prix confident they were just days from an agreement with Alonso in a deal that would see Piastri go on loan to Williams in 2023.
It now seems they have lost both drivers and have an empty seat for next season.
WHAT IS ALPINE SAYING?
When asked about the possibility of Piastri joining the UK-based team, Alpine boss Otmar Szafnauer said: "I'm not privy to whatever prearrangements he (Webber) has with McLaren, if any at all.
"But I hear the same rumours that you do in the pitlane. But what I do know is that he does have contractual obligations to us. And we do to him. And we've been honouring those obligations all year.
"And those obligations, last through '23, and possibly in '24, if some options are taken up.
"So therefore we do have a legal contract with him into the future for '23. And if an option is taken up, for '24. So I don't know what he's done with McLaren. Like I said, I'm not privy to that.
"Oscar and his camp are considering their options, whatever that means."
Asked what kind of contact he had had with Piastri and or Webber, Szafnauer added: "This just happened on Monday - it's now Tuesday, his manager is in Australia, there's a bit of a time difference.
"But I've been trying to get hold of Mark and wrote some text messages and some emails to him, as well. So give us a bit of time.
"Oscar is our number one preferred candidate. And that's what we're going to do."
Adamant Alpine would be fighting to keep hold of their man, Szafnauer said far too much had been done to just allow Piastri to join another team now Alonso had vacated a seat.
"That's a significant amount of investment," he said. "It's more than just the financial investment, it's also an emotional one, and getting him ready for what we hope is a successful F1 career.
Confirmed too that there is now a legal limbo with @OscarPiastri. @AlpineF1Team clearly believes that PIA is contractually obliged to drive if offered a 2023 race seat. The question now is what sort of arrangement he and manager Mark Webber have made with @McLarenF1...

— Adam Cooper (@adamcooperF1) August 2, 2022
A teenage Piastri meets Ricciardo during his stint at Renault in 2020.
'@AlpineF1Team boss Otmar Szafnauer has confirmed that the first the team knew about @alo_oficial's departure was from yesterday's @AstonMartinF1 press release. As of Sunday night, and the last chat with ALO, they still thought he was staying

— Adam Cooper (@adamcooperF1) August 2, 2022
"It's not every F1 team that does that for an Academy driver that's come through, but we've chosen to do that to get him ready.
"And we've only done that with a view of having him race here in the future. We wouldn't have done that, if the view was to get him prepared for one of our competitors."
WHAT DOES THIS MEAN FOR RICCIARDO?
It remains to be seen where Piastri will drive next year but if the McLaren rumours prove true, Ricciardo will be in need of a contract.
Alpine is one option but would the team take him back?
Not only did Ricciardo walk away from the team (formerly Renault) to join McLaren but based on his performances in the last 18 months, they might question whether the Australian is a safe bet.
Besides Alpine, Haas, Williams, Alpha Tauri and Alfa Romeo would be the options available with all other teams having their line-ups confirmed.
No stranger to the speculation over his future, Ricciardo has been subject of paddock whispers all season with the Australian consistently outperformed by his McLaren teammate Lando Norris in all bar two races this season.
Months ago, the Aussie was publicly shamed by McLaren team boss Zac Brown when the American said his driver had "not met his expectations" since joining in 2021.
Brown went a step further revealing the team had "mechanisms in place" to ensure mclaren did not have to honour Ricciardo's three-year deal.
While Ricciardo played down the comments insisting there was team harmony, cracks have continued to appear.
Originally published as Formula One news: Oscar Piastri's bombshell statement after Alpine confirm driver for 2023