Meet Hugh Barter – the Aussie teen dominating F4 in pursuit of Formula One dream
As a three-year-old, Hugh Barter took on Mt Panorama in front of a small crowd. His dad had to work the pedals as he took on the wheel of the simulator. Thirteen years on he's burning rubber around Europe.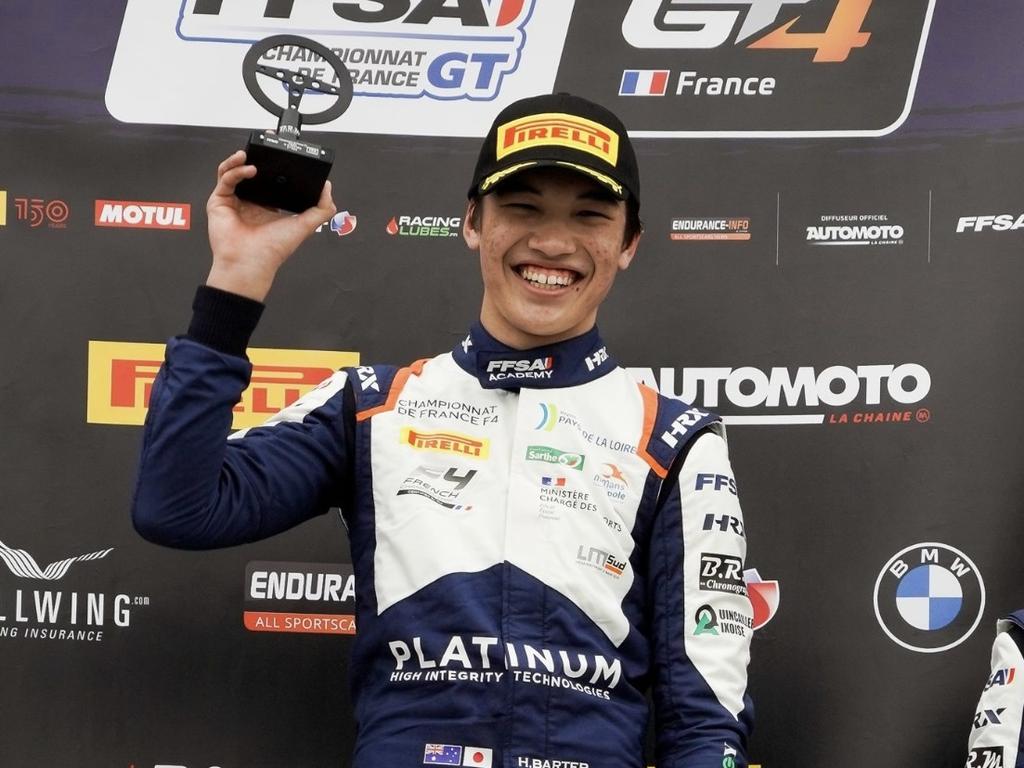 Hugh Barter is getting closer and closer to his F1 dream. Picture: Supplied
Hugh Barter's not sure when he first dreamt of being a Formula One driver, but the signs were there early.
As a two-year-old he would take a screwdriver to his tricycle, and his eyes lit up at the Melbourne Grand Prix.
As a three-year-old at Phillip Island he was conquering Bathurst in a sim-racer. It was around then his dad Chris realised his son might have something special.
"He was always a tiny kid and he walked past it and he said, 'Can I get in it', and I had to say, 'Buddy, you're too small, you won't fit'," Chris recalled. "He burst into tears like someone had stabbed him in the back. It wasn't a whining sort of kid's cry. It was a gut-wrenching 'this is just not fair'."
So Chris got down and worked the pedals so his son could steer the virtual car.
"He did six or seven laps or something and I think he crashed twice."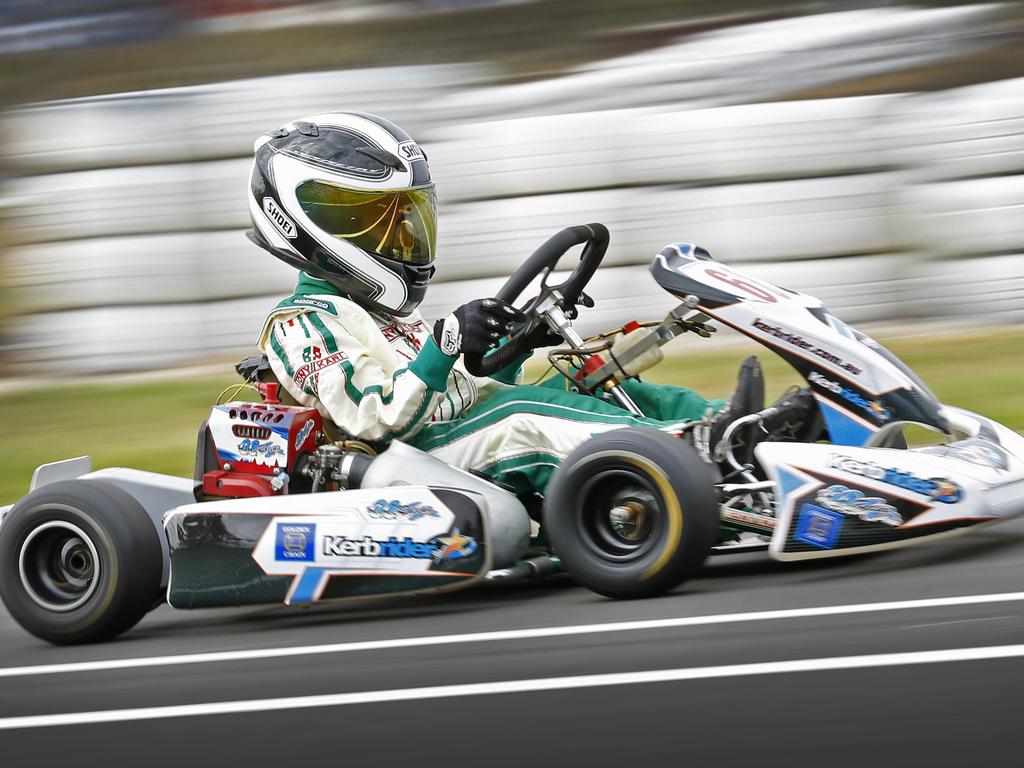 From an early age, Barter was recognised as one of the next big things in Australian motor racing. Picture: David Caird
Unbeknown to Chris, a small crowd had gathered to watch his son dominate Mt Panorama as much as a toddler can.
On the way home Chris called wife Natsuki and suggested they get their toddler a racing simulator. Come Christmas, Hugh had a PlayStation from Mum, Dad and the grandparents.
"He lived on it for two years."
Thirteen years later, Hugh's gone from tackling the world in his living room to hurtling around European tracks at more than 200km/h.
Hugh, 16, is in his sophomore year in Formula 4, having called France home since early 2020. He can't speak the language yet, so is still completing the Victorian high school curriculum online. He misses home but he's always known chasing this dream would take sacrifices.
"I do miss Australia but in the end I knew this was going to happen either way," he says. "We've always had the intention that we are going to have to move to Europe in the end no matter what.
"My parents have taught me this is what you have to do and warned me that these are the commitments you have to make to get where you want to be.
"Stuff like this wasn't a big surprise in my mind. It was more like this is what I want to do and this is what I've got to do to get where I want to be."
Barter knew he had to commit to Europe if he wanted to achieve his dream. Picture: Supplied
In the bridging championship between kart and car racing, Hugh is four steps of the ladder away – Formula Regional Europe (FRECA), F3, F2, F1 – from achieving his Formula One dream.
There's a long way to go between F4 and F1 but there is a path there. Alfa Romeo's F1 driver Zhou Guanyu came second in the Italian F4 Championship in 2015 before making the climb up.
Closer to home, Australia's own Oscar Piastri and Jack Doohan each raced in F4. Piastri came second in the British F4 in 2017, before dominating every division on his way to being Alpine's reserve driver in the F1 this year. Doohan, now competing in F2, was racing in both British and Italian F4 championships back in 2018.
Hugh has elected to spend another year in F4 rather than make the immediate step-up to FRECA as some of his rivals did after last year.
On results alone he was certainly good enough to take the step, finishing runner-up in last year's French F4. But he's prioritising seat time, going around France again and this year Spain too – no easy feat given it means acclimating to two completely different cars on different tyres with different teams.
But Hugh has always been a quick learner.
"I had no idea what to expect," he says of his opening race last year. "I had only done seven days in the car before the first round. My dad says we were a deer in the headlights. No idea. Clueless."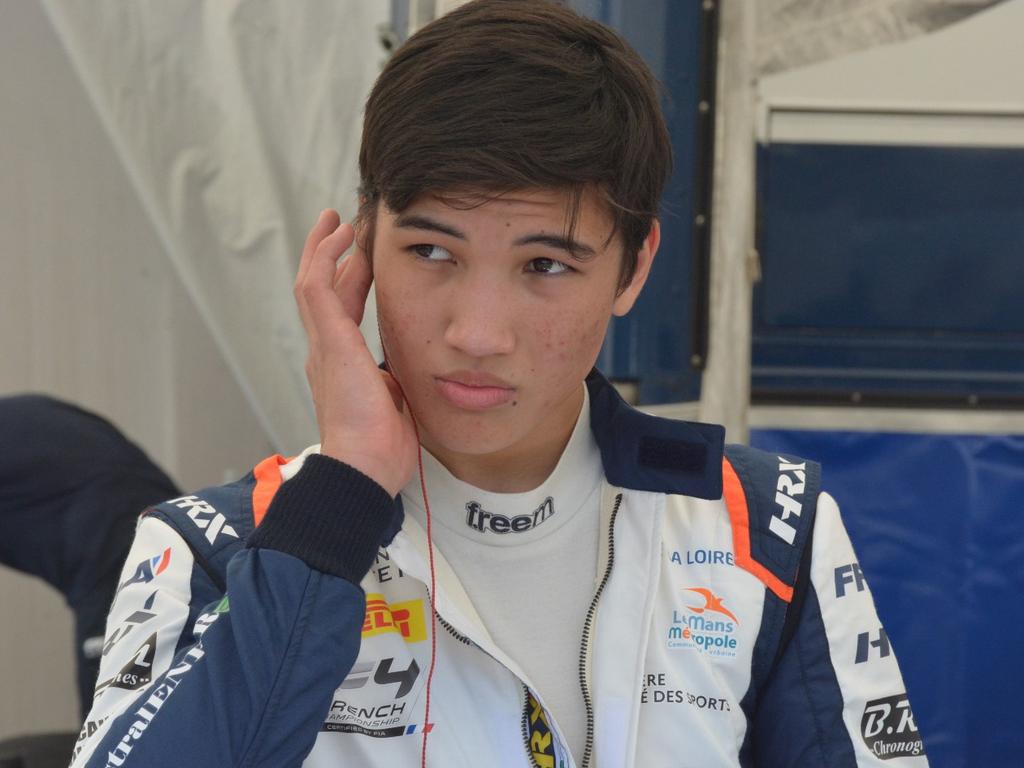 Barter was forced to adjust to life in F4 quicker than most. Picture: Supplied
Clueless, but not for long – he went fourth, fifth and first in his maiden F4 round, finishing second on the championship ladder. That was followed by podiums in all three races of the second round.
His results tapered off through the middle of the season before a strong finish saw him end the championship second on the podium. With more experience under his belt, he placed second three consecutive times before a podium-topping finish in the final four races of the season.
This year he is looking to show off what he has gained from that experience and so far the decision to stay in F4 is looking like a wise one.
He leads the French F4 after the first two rounds, winning three of the six races at Nogaro and Pau, and sits second in Spain after the first round. He took out his opening race in the championship before points finishes in the second and third races in the opening round in Algraves.
Hugh may only be old enough for his learner licence back home, but he's been behind the wheel for a long time. Long before he jumped in an F4 car, he was flying around unsanctioned tracks in a second-hand go-kart as a five-year-old.
"You can't race on sanctioned tracks in Australia until you're seven," he says. "So for two years I was basically prepping myself to not be a noob when I went to the sanctioned race tracks."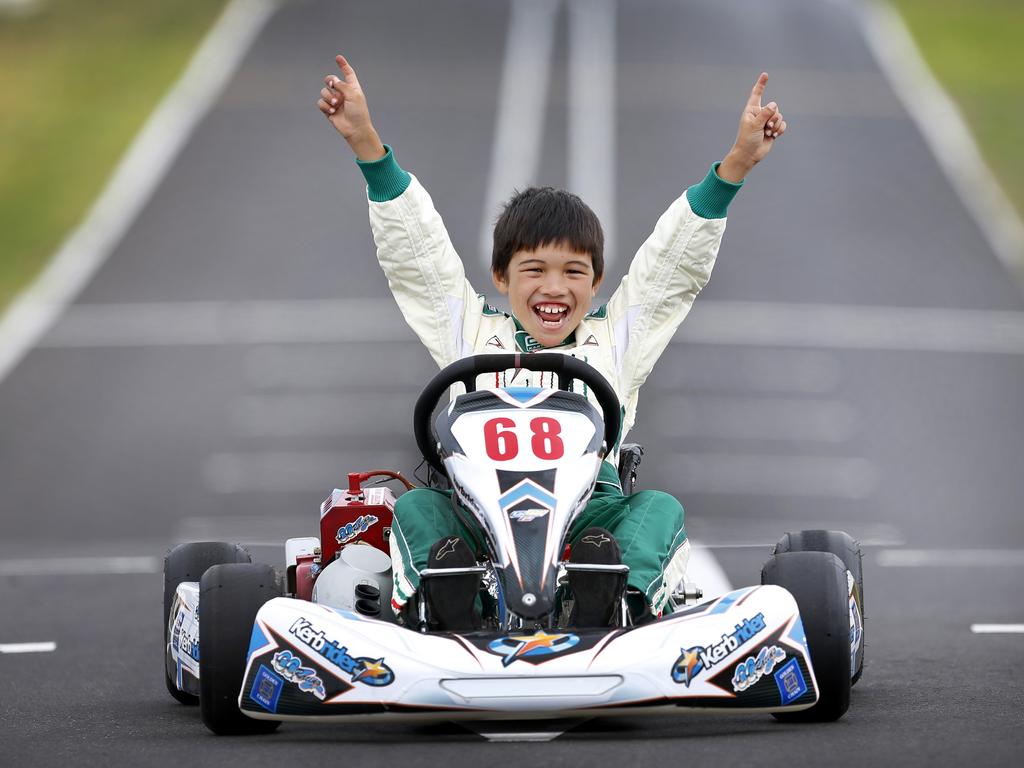 Some of Barter's favourite memories are from Go Kart racing. Picture: David Caird.
That headstart proved worthwhile and by 2016, as a 10-year-old, Hugh was competing on the world stage, racing in Italy at the Rotax Pro Tour Championship – Mini Max Class. That was when Hugh's dream of becoming an F1 driver went from childish to realistic for both him and Chris.
"Formula One is a worldwide thing and this was my first experience racing against other people from different countries," he says. "You can win in your country as much as you want but in the end you have to race against other people from other countries to be a Formula One driver.
"I did quite well. I was the fastest in the wet and the dry. It was more reassuring than anything."
A different result there and this story may never have been written.
Karting is a time-consuming, expensive sport. Even with the support of sponsors, the Barter family has had to sacrifice plenty to keep the dream alive, and father Chris had readied himself for a tough conversation with his son in Italy.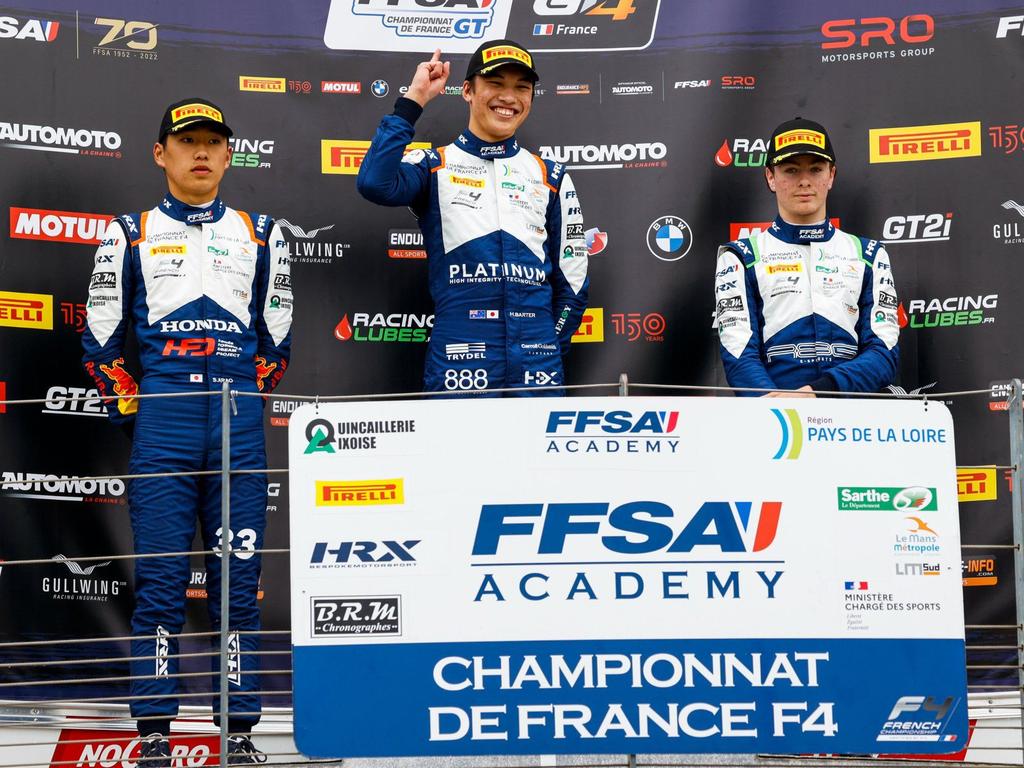 Barter is hoping he can make a habit out of being on top of the podium. Picture: Supplied
"I had three jobs at one stage, I was catering at the Go Kart tracks to help fund his racing, I did all sorts of stuff to make ends meet," Chris says. "You're looking at $120,000 a year to Go Kart in Australia.
"I struggled to get everything ready (for the 2016 Rotax). We got it together and I said to myself we'll give it a go and see where he comes.
"I had the speech ready to say, 'Look buddy, this is not for you, it's a bit of fun but I'm not going to put in the amount of time and energy that we've been doing.'
"Then he went the fastest in the wet and the dry and I was like OK, 'Throw that one out, next'.
"Every year we ask him 'do you want to keep going' and it's a yes so we just support him and every time he has to step up, he steps up."
Four years on from Rotax, Hugh was invited to compete in the Richard Mille Young Driver Talent Academy alongside nine of the world's best junior racers. The prize for winning would be a spot in the 2021 French F4 Championship. So the Barters took it seriously.
While racing F4 has been "scary" at times, Barter wouldn't have it any other way. Picture: Supplied
While Formula 4 is designed as the stepping stone between kart-racing and Formula 3, it's still a significant level up.
"Scary, I have to say," Hugh says of his first time in a car. "Between cars and karts there is a massive budget difference if you crash. You have to work up to it."
Not wanting to do the 'work' at the shootout, Hugh's first time in a car came closer to home. For a full day at Winton in Victoria, he came to grips with an F4 car.
"After 50 laps or so I just started to get used to it, I could brake harder. Braking is a huge difference between karting and cars, you don't have front brakes in a kart. You can really just punch the brake pedal in a car and it really slows down.
"That was something I had to get used to. There was power. There were gears. But it was really enjoyable and I got over that fear of crashing the car quite fast."
It proved a worthwhile investment – the young Aussie came out on top in the shootout to take his dream a little bit further.
So far, every investment has.