Mercedes may have to 'cut losses' on car or face years in the F1 wilderness
The 2022 Formula 1 season is already slipping away from Mercedes and after another disappointing weekend in Imola, it may be time for the team to do a rethink.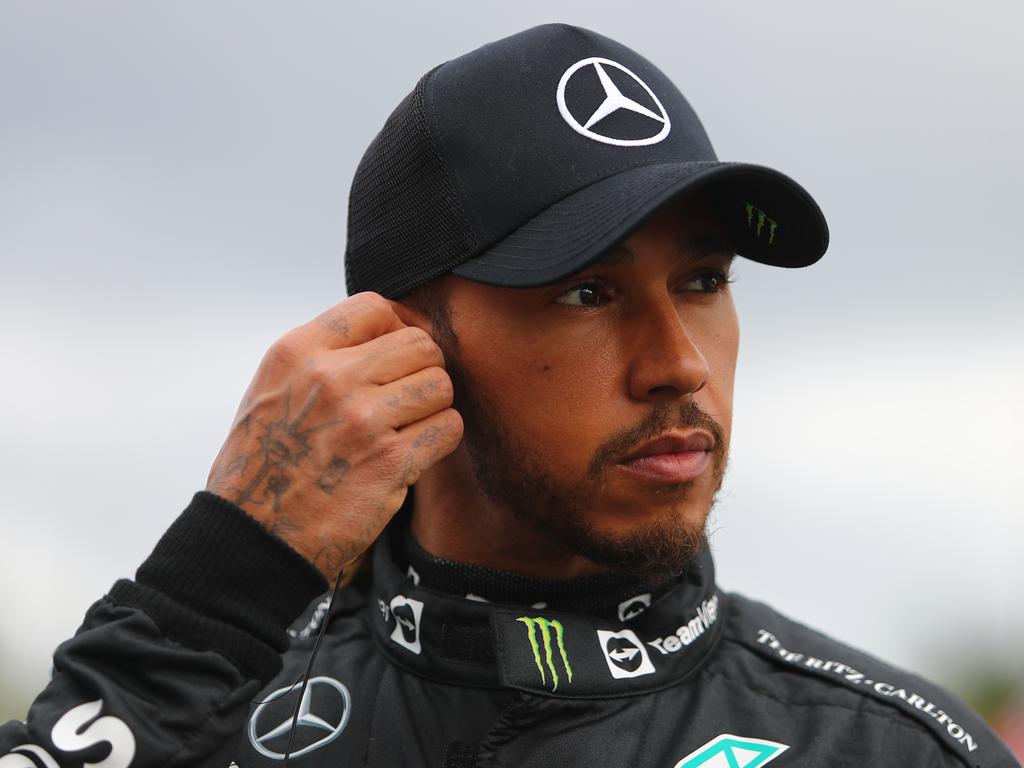 The 2022 F1 season has not gone to plan for Lewis Hamilton and Mercedes. Picture: Alessio Morgese/NurPhoto via Getty Images
During the first pre-season test in February, Lewis Hamilton made a bold claim: "My team don't make mistakes." Two months later, after a dismal weekend in Imola, he returned to that comment, but added that with "all the possibilities out there, we may have".
It was the first indication that there is some concern within the Mercedes camp that the concept they have gone for this year is simply not working. At what point do they tear up these ill- fated plans and start from scratch?
They had turned up in Barcelona with a car that looked broadly similar to the other nine, but come the second test in Bahrain it had virtually no sidepods and was the talk of the paddock. They have stuck with that design and experienced extreme porpoising – the bouncing of the car on the straights. It would appear to be going so wrong for Mercedes that both Hamilton and his teammate, George Russell, said that the car last weekend was the worst it had been. Four races into this season, Russell is experiencing back and chest pains because the bouncing is so bad.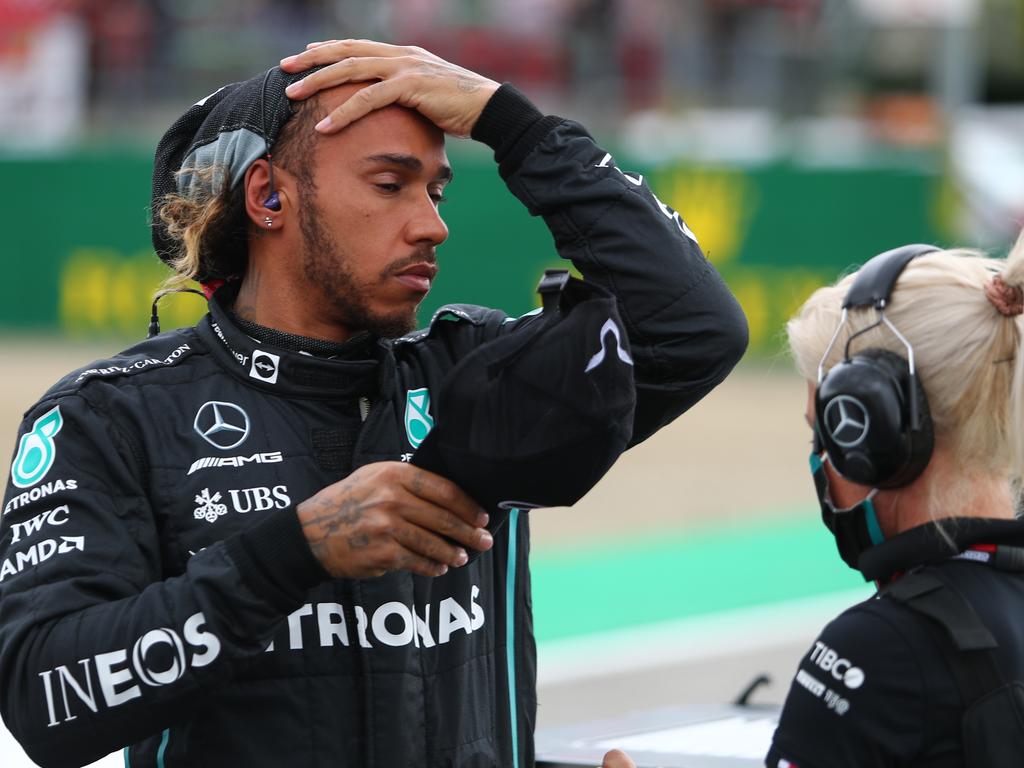 Hamilton suffered the ignominy of being lapped by Verstappen in Imola. Picture: Alessio Morgese/NurPhoto via Getty Images
Russell finished the Emilia Romagna Grand Prix in fourth, while Hamilton could manage only 13th. Toto Wolff, the Mercedes team principal, conceded that there might be an issue with the concept of the car, but he was adamant that a complete reboot was not necessary.
"It would mean you say, 'Where is the baseline now?' Is there a new one we can start on where we believe we can unlock more potential?," Wolff said.
"If we thought that, we would have done it five months ago. We believed this was the development line we needed to take. It is quite a tricky exercise. You can only cut the losses into next year if you understand where we got it wrong, because at the moment we simply don't. Not yet."
But if the concept is flawed, and if that becomes clear in a time frame not specified by the team boss, then Wolff said they would "cut their losses".
"It is a valid point [that the design concept may be flawed]," he said. "We have interesting ideas and concepts that we are exploring that may find their way on to the car in the next few races. I wouldn't say there is such a thing as a concept being wrong, but is there a part of what we have done that simply doesn't work, and what is it?
"You don't need to throw away the goodness, but if there are fundamental areas that don't allow us to unlock the potential that we believe is in the car, then you need to cut your losses."
After competing with Verstappen last year, Hamilton hasn't been able to keep up with his Red Bull rival. Picture: Lars Baron – Formula 1/Formula 1 via Getty Images
Wolff also spoke over the weekend about how the team felt they knew how to unlock performance from the car, but just didn't have the keys to do it.
It certainly is possible to have a fast car that experiences porpoising – just look at Ferrari – and this may be why Mercedes are continuing, for now at least, down their chosen path.
Watching the on-board footage of Charles Leclerc on the straight is enough to induce a headache for the viewer, let alone the driver, but the 24-year-old has won two of the four races this season. He has spoken of how the porpoising doesn't seem to affect him in the car. "Of course I feel it, but it doesn't disturb me too much in terms of performance," he said. How the Mercedes pair wish they could say the same.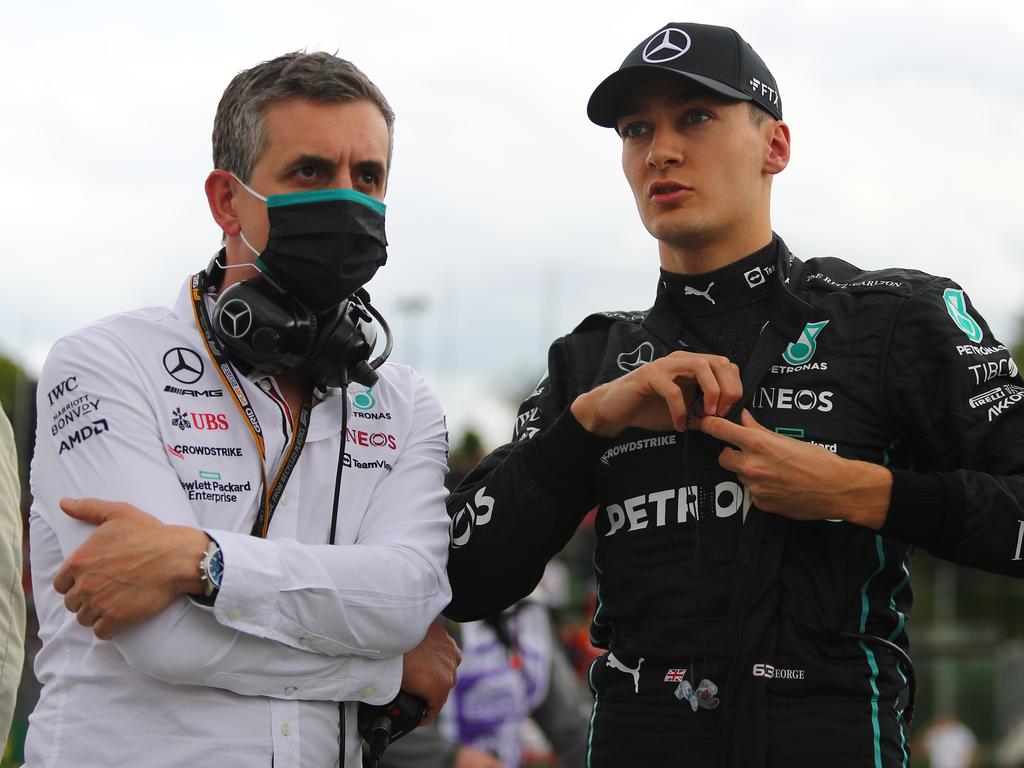 Russell finished a creditable fourth in Imola but says the troublesome car is causing him chest and back pain. Picture: Alessio Morgese/NurPhoto via Getty Images
There is also the issue of the budget cap, set at dollars 140 million (about pounds 110 million) this year, which means Mercedes cannot just throw money at the problem. Nor do they have unlimited time in the wind tunnel. In fact, as the leading team in recent years they have had the least time in the wind tunnel – a regulation designed to level the playing field. Another issue for the team is that no matter how good their simulator is, it cannot replicate the wind rushing between the track and front wing which is causing the bouncing to occur.
Hamilton was back in the factory yesterday (Monday) as the team tried to resolve their issues. With the next race in Miami on May 8 they are unlikely to bring huge improvements to that – teams rarely do to long-haul races – so it will not be until the following race in Spain that they can make any serious changes.
All is not lost for Mercedes. Russell is the only driver on the grid to have finished inside the top five of every race this season, but Hamilton had the ignominy of being lapped by his former championship rival Max Verstappen.
This car is the one that will race for the next few years. No new regulations are planned, so it's not as simple as just writing off this season. Mercedes need to get their design right, or they will be writing off a few more years.
– The Times

Originally published as Mercedes may have to 'cut losses' on car or face years in the F1 wilderness