Miami GP 2022 qualifying: Sergio Perez, Max Verstappen Lewis Hamilton and Daniel Ricciardo
Daniel Ricciardo's worrying F1 season hit another hurdle on Sunday - with the McLaren driver copping an official reprimand while bombing out in qualifying.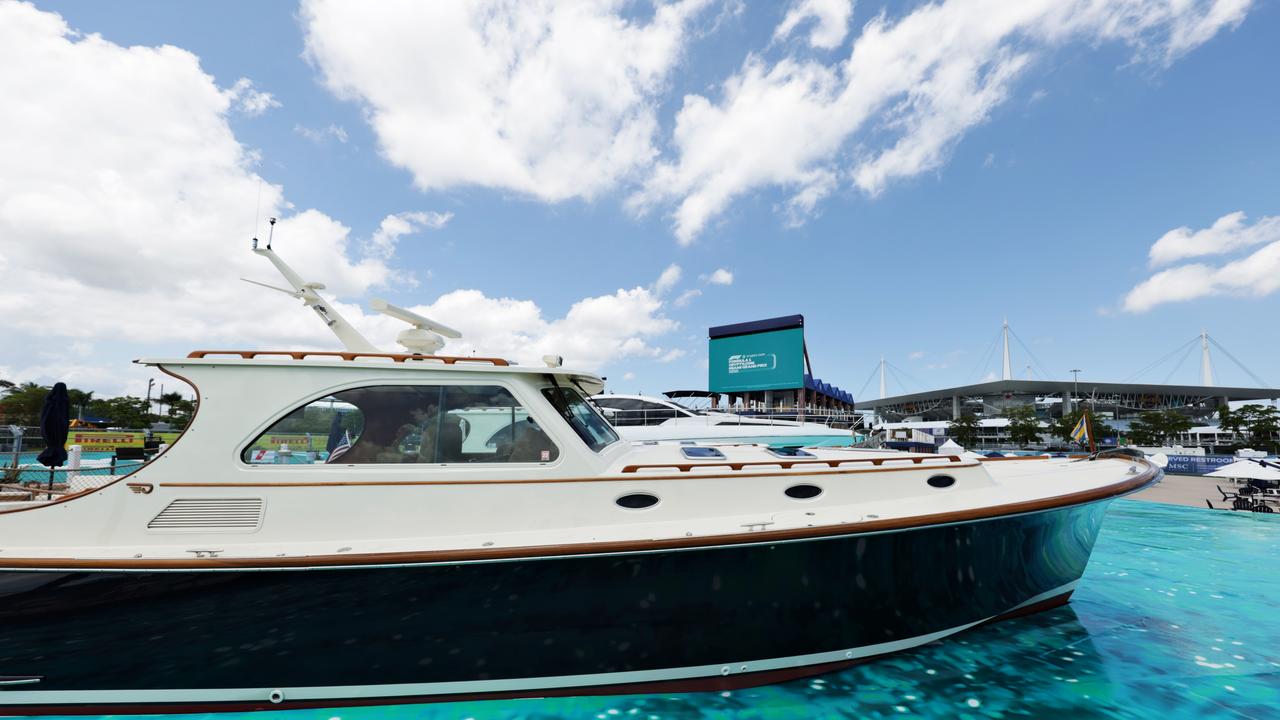 A general view of boats at the fake marina in Miami
World championship leader Charles Leclerc claimed pole position and led Ferrari to a front-row lockout on Saturday when he topped the times in qualifying for the inaugural Miami Grand Prix.
But it was disaster again for Australia's Daniel Ricciardo, who bombed out in qualifying and will start 14th on the grid for Monday's race.
The 24-year-old Leclerc clocked a fastest lap in one minute and 28.796 seconds to outpace his team-mate by two-tenths in front of an enthusiastic sell-out crowd at the Miami International Autodrome.
Defending world champion Max Verstappen was third after making a slight mistake on his final flying lap. His Red Bull team-mate Sergio Perez was fourth with Valtteri Bottas fifth for Alfa Romeo and seven-time champion Lewis Hamilton sixth for Mercedes.
Watch Every Practice, Qualifying & Race of the 2022 FIA Formula One World Championship™ Live on Kayo. New to Kayo? Try 14-Days Free Now >
Daniel Ricciardo walks in pit lane during qualifying ahead of the F1 Grand Prix of Miami. Picture: Getty
Ricciardo also copped an official reprimand from the stewards for performing "a practice start in a manner contrary to the Race Director's Event Notes".
F1 journalist Chris Medland pointed out on Twitter Ricciardo was likely in trouble for going against the note which says: "All drivers carrying out a practice start must do so by pulling as far forward on the grid as possible and, if necessary, should wait for others to carry out a start before getting to a grid position further forward. Under no circumstances should a driver make a practice start if another car is still stationary in front of him on the same side of the grid."
It was Leclerc's third pole this year and the 12th of his career. For Sainz it is the second time he had secured a front row start. It was Ferrari's first front row lockout since the 2019 Mexican Grand Prix.
"It is amazing to be here and the fans are crazy," said a delighted Leclerc. "It is going to be a big challenge tomorrow, but we feel very motivated as there are so many Ferrari fans here. Hopefully we can come out on top!" Verstappen, who in the championship and trails Leclerc by 27 points, swallowed his disappointment and said: "Overall, I am pretty pleased with qualifying as I only did four or five laps yesterday. But we have to start making these weekends less difficult." Pierre Gasly of Alpha Tauri qualified seventh ahead of Lando Norris of McLaren and Yuki Tsunoda in the second Alpha Tauri with Lance Stroll taking 10th for Aston Martin.
After his heavy shunt in the morning's final practice, Esteban Ocon was unable to take part because his chassis had been cracked on impact with the barriers at Turn 14.
Ricciardo struggled on the track as his struggles at McLaren continue. Picture: AFP
He was unhurt but expected to take part in Sunday's 57-lap race from the back of the grid in a rebuilt car.
The opening Q1 session began in heavy heat and humidity with an air temperature of 34 degrees and the track at 53 degrees, fatiguing conditions for all involved. The slight breeze was welcome.
Kevin Magnussen set the opening pace before Verstappen took control, heading the early times ahead of Perez as Russell signalled that Mercedes had regained their vim by going third before Ferrari responded.
Hamilton, however, was struggling in 18th before leaping to fifth while former First Lady Michelle Obama studied his progress from the Mercedes garage.
After a final flurry, Kevin Magnussen of Haas, Guanyu Zhou of Alfa Romeo, Alex Albon and his Williams team-mate Nicholas Latifi were eliminated, heavy traffic blunting their late bids for survival.
Lewis Hamilton of Great Britain hugs Michelle Obama. Picture: AFP
Q2 began with Mick Schumacher first out for Haas before the Ferraris and then Red Bull set the pace, Verstappen quickest ahead of Perez by four-tenths. Hamilton took an early fifth, but Russell struggled.
"I'm bouncing," Russell said after surviving a wild moment at Turn Six before taking seventh as Leclerc went quickest in 1:9.130, an advantage of 0.072 on Verstappen.
But it was not enough to survive the final rush that pushed him down to 12th behind two-time champion Fernando Alonso's Alpine. They missed the top ten shootout along with four-time champion Sebastian Vettel's Aston Martin, Daniel Ricciardo of McLaren and Mick Schumacher of Haas.
Hamilton's survival ensured Mercedes avoided repeating the ignominy of failing to reach Q3 with either car from Imola in April.
The shootout began with Leclerc going top before Verstappen clocked 1:28.991 - the fastest lap of the weekend thus far -- with Sainz going third.
The top three were separated by 0.080 after their first flying runs with Perez fourth ahead of Bottas and Hamilton.
That left them all set to push again in their final runs for pole as Ferrari led the way and Verstappen, pushing hard, failed to respond.
F1 STARS PROTEST AND MOCK SAFETY RULES
- Emily Benammar and Rebecca Clancy
F1 star Sebastian Vettel was openly mocking the FIA's new regulations on driver underwear by wearing non regulation jocks over his race suit at the Miami Grand Prix.
'Underpants-gate' made headlines at the Australian Grand Prix when all drivers were warned they needed to be compliant with safety regulations.
Commando has become a buzz word on the track with drivers divided on the topic of wearing their own choice of brief under their fireproof race suits and other obligatory garments.
In Australia, F1 bosses warned they would be cracking down on compliance and it seems that Miami is the place the "checks" will come into play.
Formula One drivers rebel against rules at Miami GP
Vettel was spotted wearing grey boxer shorts over his race suit ahead of the first practice session at the inaugural race weekend in the USA.
His apparent protest comes after FIA bosses announced a crackdown on jewellery and fireproof underwear.
Failure to follow the rules may result in drivers being issued fines or penalties.
Regarding underwear, rules state: "The use of non-flameproof materials in contact with the driver's skin, and in particular synthetic materials, can reduce heat transmission protection and thus increase the risk of burn injuries in the event of a fire," it continues. "In the worst case such materials may melt which can hinder treatment in the event of a burn injury."
Vettel will not be alone in testing the rules nor being closely examined by officials with Lewis Hamilton still sporting jewellery despite the regulations clearly saying this was no longer allowed.
🎙️ "It's almost a step backwards."

Lewis Hamilton responds to the FIA's recent decision to tighten rules on F1 driver's wearing jewellery in their race cars 👇 pic.twitter.com/Kov2FnEPPt

— Sky Sports F1 (@SkySportsF1) May 6, 2022
In response to the FIA statement regarding jewellery, Hamilton turned up at the pre-race press conference sporting eight rings, four necklaces, three watches, at least one bracelet, and his earrings.
He was adamant he would not be adhering.
"I feel there are personal things. You should be able to be who you are. There is stuff that I can't move. I literally can't even take these out," he said.
"These ones on my right ear, they are literally welded in so I have to get them chopped off or something like that. So they will be staying.
"I am willing to sign a waiver to take the responsibility away from them if necessary.
"It is about individuality and being who you are."
Later in the day Hamilton was granted a two week exemption from the jewellery ban given the work that needs to be done for its safe removal.
Hamilton's stance was backed by Pierre Gasly.
"I do believe there are bigger things to focus on," he said.
"I appreciate the FIA are looking after our safety. But in my case I am religious and there are things I have with me that I do not feel comfortable not having in the car.
"In the end, we are the ones who go out there and put our lives at risk and I do feel it should be a personal choice. I hope in the end we could find a better solution than this very strict one."
The FIA regulations on jewellery state: "The wearing of jewellery during the competition can hinder both medical interventions as well as subsequent diagnosis and treatment should it be required following an accident," the FIA explained.
"In the case that medical imaging is required to inform diagnosis following an accident the presence of jewellery on the body can cause significant complication and delay. In the worst case the presence of jewellery during imaging may cause further injury."
RUSSELL TOPS THE TIMES FOR MERCEDES IN OPENING PRACTICE
George Russell confirmed Mercedes recovery from their early-season problems when he topped the times in Friday's second free practice for this weekend's inaugural Miami Grand Prix.
Making the most of reliability problems for world champion Max Verstappen and the Red Bull team, the 24-year-old Briton clocked a best lap in one minute and 29.938 seconds to outpace championship leader Charles Leclerc of Ferrari by 0.106.
His performance suggested that, following four poor early-season races, the Silver Arrows' package of aerodynamic upgrades was working.
Sergio Perez of Red Bull was third, a further tenth adrift, narrowly ahead of seven-time champion Lewis Hamilton in the second McLaren.
Hamilton was given a late exemption to take part in the event with his nose ring following a clampdown on 'driver bling', having removed all of his other jewellery shortly before the opening session.
Fernando Alonso was fifth for Alpine ahead of McLaren's Lando Norris and Pierre Gasly of Alpha Tauri in a session interrupted by two red flags on a warm, dry day at the new Miami International Autodrome.
Leclerc had topped the times ahead of Russell in the opening morning session, but was unable to repeat the feat in the afternoon when Ferrari team-mate Carlos Sainz crashed again.
In front of an enthusiastic sellout crowd in Miami Gardens, the session began with Esteban Ocon setting the pace on mediums, the track having cooled to 44 degrees following a frantic morning session topped by Leclerc.
It did not last long for the Alpine driver as he was soon outpaced by Sainz before Leclerc took command and the Ferrari men traded fastest laps.
Verstappen missed the early action as Red Bull decided to change his gearbox after he had grazed a wall during the first session.
Valtteri Bottas, of Alfa Romeo, was also inactive after his morning crash. Perez, in the second Red Bull, managed to split the Ferraris after 23 minutes before Sainz triggered the second red flag of the day when he spun backwards into the barriers at Turn 14.
He was unhurt, but after setbacks in Melbourne and Imola, it was another blow to his confidence.
After a 12-minute delay, during which Perez's crew helped on the world champion's car, Verstappen emerged to join the fray only to be called back to the pits.
"I can't steer," said Verstappen, who was almost involved in a collision with Lance Stroll's Aston Martin as he struggled.
He returned to the track, but the rear brakes on his car overheated and caught fire - as chief rival Leclerc went fastest on softs in 1:30.044 only to be surpassed by Russell in 1:29.938, a lap that confirmed the Silver Arrows revival.
With 20 minutes remaining, Russell led Leclerc and Perez with Hamilton fourth and Verstappen frustrated without a timed lap. His problem was diagnosed as a hydraulics issue.
Another red flag followed, with 12 to go, when Nicholas Latifi pulled up and stopped in his Williams, before a final flurry of action.
VULGAR AND TACKY BUT COULD MIAMI BE F1'S GOAT?
Last week the Grand Prix in Miami became something of a joke as pictures of the fake marina being built within the circuit went viral and memes were shared across social media.
Ten yachts "moored" in solid vinyl "water" on the inside of turns six, seven and eight look worse in real life than in the pictures, but Formula One refused to give up its dream of racing around a Miami marina, and so this is the result.
And no matter how gaudy or vulgar it looks, with the Atlantic actually some ten miles away, it has done the job of bringing more focus to the inaugural race in south Florida than F1 could possibly have hoped for.
One video of someone "jumping" into the water, and bouncing off the hard surface, has been watched more than three million times on Twitter. But many, many millions more will tune in to watch the main event on Sunday, when Ferrari's Charles Leclerc, who has a 27-point lead in the drivers' standings, will do battle with the second-placed Max Verstappen, of Red Bull.
But for those on site, there is much more to enjoy. Even before you reach the "marina", what strikes you is the size of the hospitality area - every inch that could have been used to host and entertain has been taken by sponsors, partners, teams and eateries.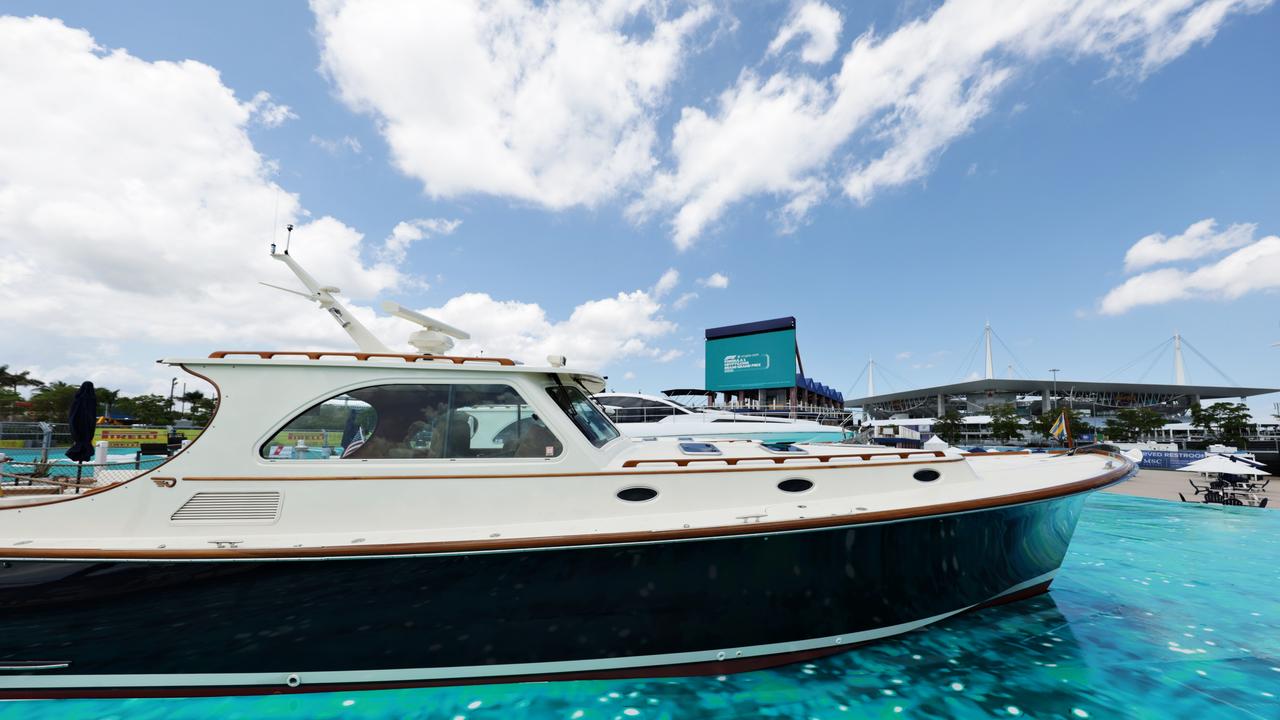 A general view of boats at the circuit
The 240,000 fans that will enter the gates over the three days who are not being wined and dined will be greeted with eye-watering prices if they want to stay hydrated, with temperatures expected to exceed 30C. If cocktails are your thing, a bloody mary or pina colada will set you back $26, while a bottle of Heineken is $14. If you are feeling peckish, a burger is $29 - but that is without fries, which will cost another $11.
If you have forgotten a hat, a Mercedes cap could cost as much as $182. For Red Bull fans, T-shirts start from $154, but at least the heat means there will not be a rush for the $395 jackets.
The weekend takes place in what is in effect the car park of the Hard Rock Stadium, home to the Miami Dolphins, the NFL team. A huge amount of work has gone into making sure it does not look like a car park, and on first impressions, it has been a success, but organisers have had long enough to get it right.
When Liberty Media took over F1 in 2017, the company spoke about its desire to add more street races in the US to the calendar. Miami was a key target and in May 2018, F1 announced that it had struck a deal and that it would be racing in the city, perhaps even as soon as 2019.
However, it had underestimated the power of the local residents, and the plan for a race around downtown and over one of the city's bridges were scuppered. Only two months later, in July, the race was off.
F1 needed to come up with a new location, which is how the Hard Rock Stadium came about. The proposal was not without opposition, however, and no doubt F1 would have liked it on the calendar last year, but now is better than never.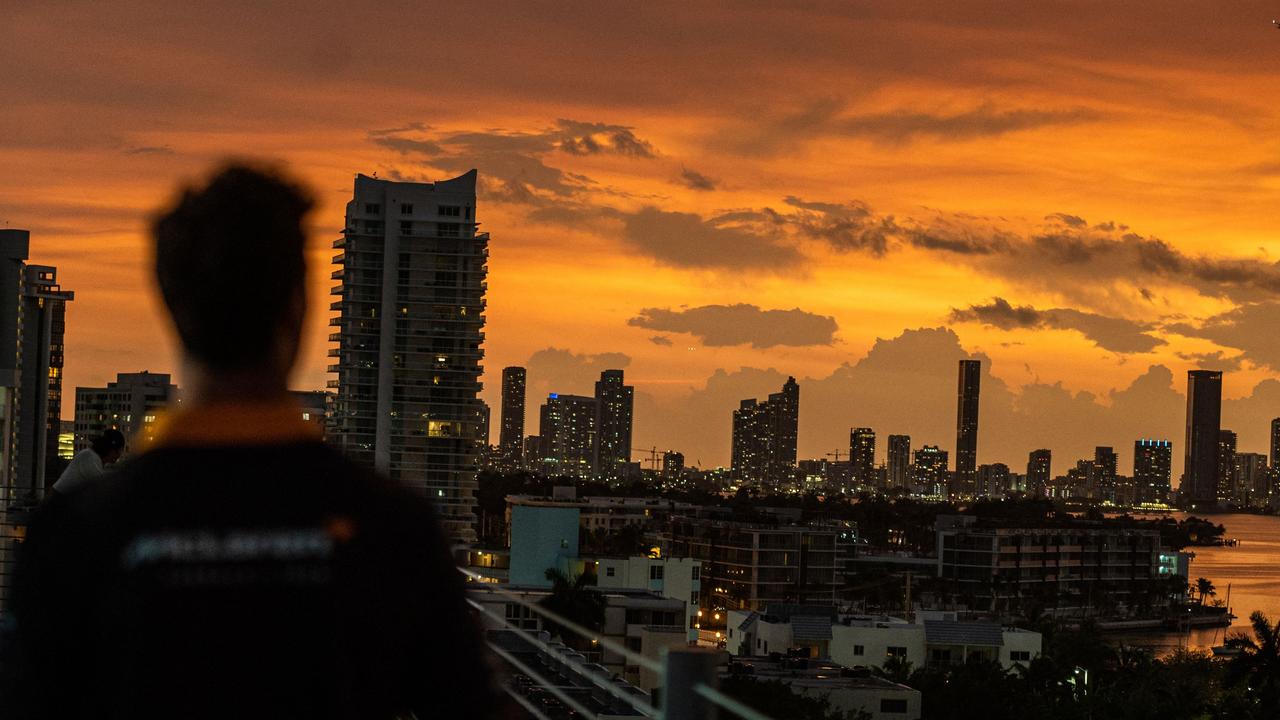 Australian McLaren driver Daniel Ricciardo watches the sunset
Miami is all part of F1's plan to crack the US, which certainly seems to be working. The city has signed a ten-year deal with the sport and hosts the first of two US races this season, with the second, in Austin, Texas, held in October. A third will join next season in Las Vegas, taking in the famous strip in what was a big coup for F1.
F1's plan has been helped by the Netflix documentary Drive to Survive, which has boosted the popularity of the sport, particularly in the US. So successful is the show that Netflix announced yesterday (Thursday) that it had signed a new deal with F1 for a fifth and sixth series, which will cover this season and next.
Record crowds attended the race in Austin last year, while tickets for Miami sold out in 40 minutes - and those were the tickets that went on sale. Most were snapped up in pre-sale, while hospitality packages barely hit the open market. Tickets for the grandstand on the start/finish line are being sold on second-hand ticket sites for as much as dollars 14,000.
Racing in the US is not without controversy, however, and Lewis Hamilton weighed in with his opinions over the row that has erupted since a leaked memo from the Supreme Court outlined plans to overturn the historic Roe v Wade ruling that protects abortion rights in the US.
Lewis Hamilton at the Miami track
The seven-times world champion often uses his considerable social media platform to raise awareness of the issues in countries where F1 races and added his voice to the debate yesterday (Thursday). "I love being in the States," the 37-year-old wrote on Instagram. "But I can't ignore what's going on right now and what some in the government are trying to do to the women who live here. Everyone should have the right to choose what they do with their bodies. We can't let that choice be taken away."
This week Hamilton played golf with the seven-times Super Bowl champion Tom Brady, but the quarterback is not expected at the race. Plenty of celebrities will be in attendance, however, though many will have been denied tickets because of the high demand.
The sports stars LeBron James, Michael Jordan, Dennis Rodman, David Beckham and the Williams sisters, Serena and Venus, are all expected over the weekend, as are the actors Dwayne Johnson and Ryan Reynolds.
The hype surrounding the Miami Grand Prix has been nothing short of bonkers and it is impossible to see how the race can live up to it, but it has made a good start, even with the fake marina.
Yet, ultimately, what really matters is the quality of the racing, and we have to wait until Sunday for that.
Originally published as Miami GP 2022 qualifying: Sergio Perez, Max Verstappen Lewis Hamilton and Daniel Ricciardo