Miami Grand Prix F1: Max Verstappen wins as Daniel Ricciardo cops late penalty
Just when you thought Daniel Ricciardo might sneak into the points in Miami, the Aussie was issued a post-race sanction which saw his final position fall even further.
Australian McLaren driver Daniel Ricciardo
Daniel Ricciardo's weekend in Miami ended on a miserable note after being hit with a five second penalty in the aftermath of the race.
Having crossed the line in 11th, there was hope Ricciardo could be promoted to the points given the penalties incurred by Fernando Alonso in 9th but things went south very fast.
Ricciardo copped a sanction of his own for leaving the track and gaining an advantage in the dying moments.
It ultimately dropped the Aussie to 13th place in the standings.
"Sadly, another race for Daniel Ricciardo to forget," Sky F1's Ted Kravitz said.
Speaking after the race, Ricciardo said: "Certainly moment of the race were fun, I found myself in some battles but obviously never quite in the points.
F1 PODCAST
"A little bit more in the defensive side than the attacking so it proved to be a little bit of a tougher circuit for us.
"What can I say, we will keep at it.
"It is tough when you do a long race like that and don't get in the points but what's done is done and we keep working.
"I think in Barcelona everyone will have a few updates, hopefully ours will have a bit more juice than others and we will come back again."
Ricciardo said the change in tyres sereverly impacts his performance.
"We were trying our best to hold on," he added. "I think in the Medium stint we were able to go long at the beginning, but I'm not sure if we were that quick. It felt like we were able to at least keep the tyre going. But then with the Hard I just struggled, really struggled to get that going.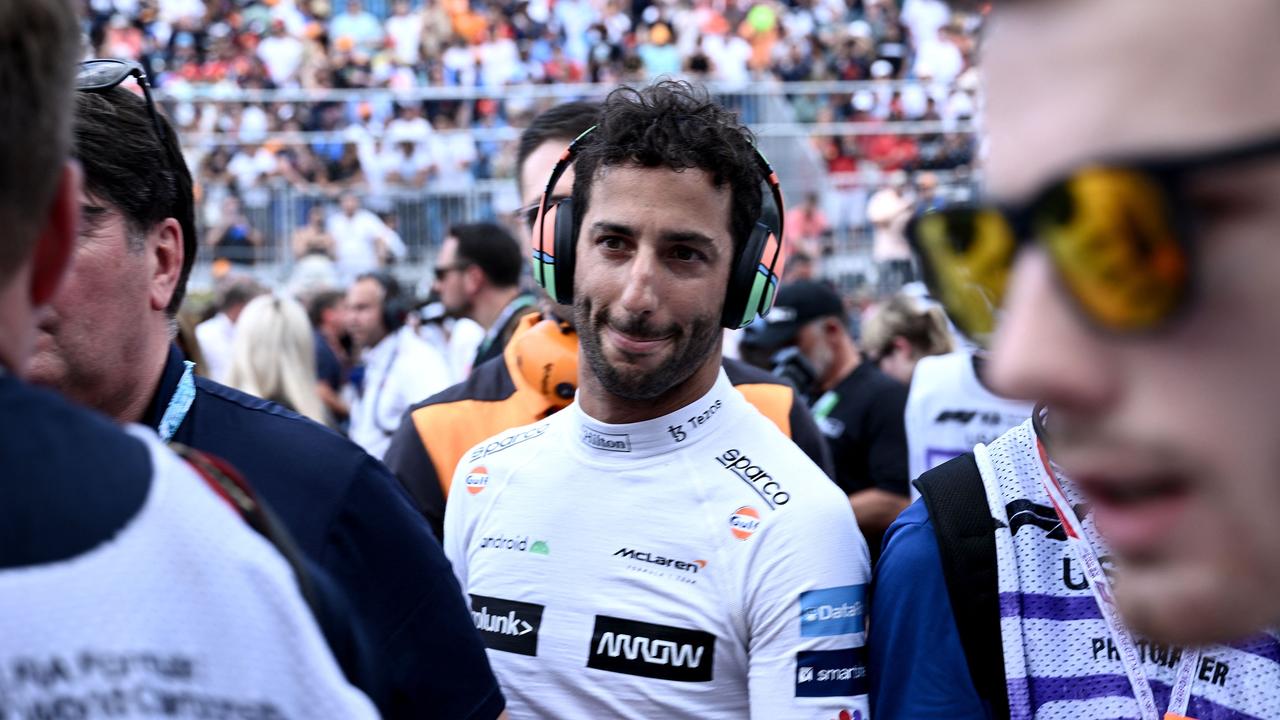 McLaren's Australian driver Daniel Ricciardo
"Towards the end of the race when everything gripped-up, we just couldn't run with the quicker cars. So, battling hard, and thought I got close to the points there, but it just wasn't quite enough today. This circuit certainly played to a few of our weaknesses."
His McLaren teammate Lando Norris also endured a tough race day after being forced to retire after a collision with Pierre Gasly.
It wrapped up an underwhelming weekend for the team which Andreas Seidl described as "disappointing."
"We expected it to be a challenging race," he said. "As the track and conditions really did not suit our car – but unfortunately, we lost any opportunity to fight for even minor points after Lando's collision with Pierre Gasly.
"On Daniel's side, from his starting position in the rear half of the grid, and with the pace in the car, it wasn't possible to get back into the top ten – though he gave it everything he could.
"Our clear aim is to strike back at the first opportunity."
HAMILTON FIRES UP AT ENGINEERS
Another frustrating weekend for Lewis Hamilton led the seven-time world champion to deliver a scathing review of the situation his engineering team put him in during the Miami Grand Prix.
With 14 laps to go in the race, the safety car was deployed after Lando Norris collided with Pierre Gasly. It allowed teams to pit for new tyres and adjust their strategies for the final stages.
Hamilton asked on radio what the plan was and his team told him pitting would see him lose position and that it was his call – which infuriated the Brit.
HAM: "You tell me man (if we should pit), don't leave it to me. If you think I can but I don't want to lose the position.
TEAM: "Ok, we recommend staying out."
HAM: "I will lose this position to George, for sure."
TEAM: "Oh yes, definitely."
At the end of the race, Hamilton said: "Strategy's not been kind to me, man."
It all started badly for Hamilton. Ont he first lap he claimed he had contact from behind which had damaged the car, his team said everything looked fine.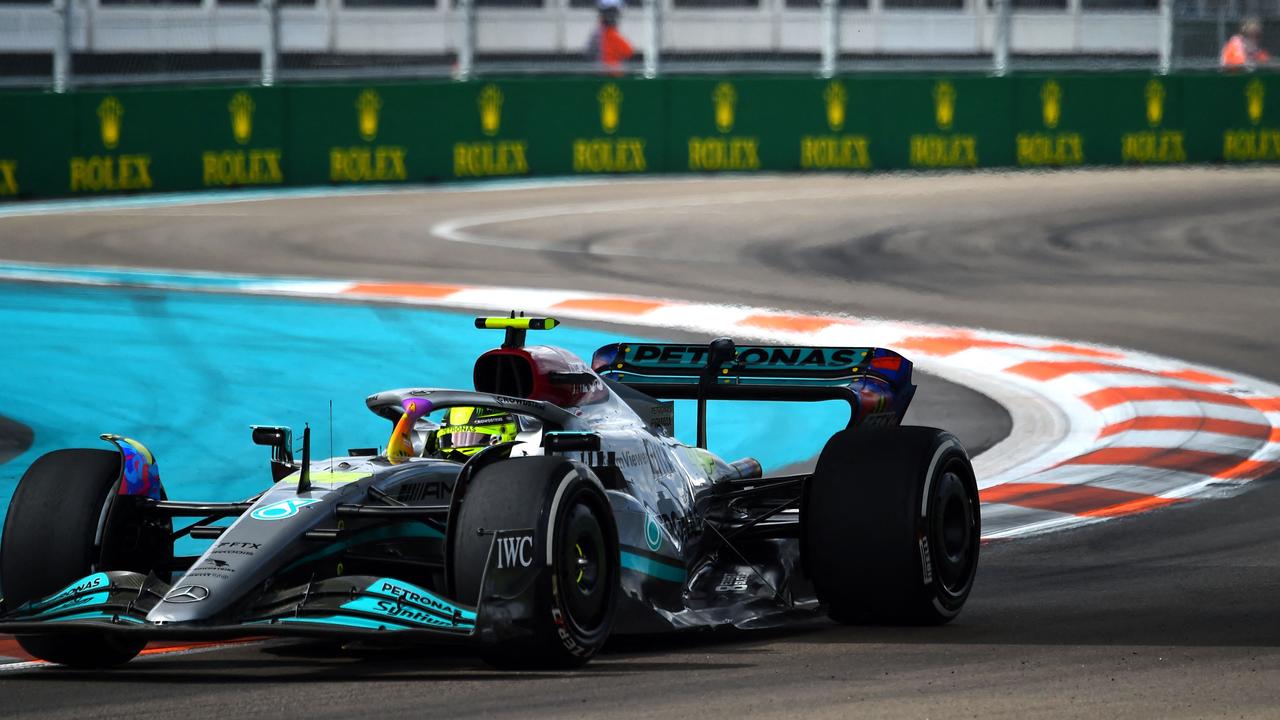 Mercedes' British driver Lewis Hamilton races during the Miami Formula One Grand Prix
Asked to sum up the day's events, Hamilton told Sky F1: "The car didn't feel the same after that (Alonso hit)."
With regards to the safety car strategy, Hamilton added: "I was doing the best I could. I don't know, in that scenario, I have no clue, when the team say it's your choice, I don't have that information, that's what your job is, I rely on the guys for that.
"Today they gave it to me and I don't understand it.
"Reliability is good, we got points, I'm excited at some stage to take a step forward which we haven't done yet."
It was a different story for his teammate however with George Russell very involved with deciding his strategy.
Russell was 15th at one point of the race before storming back for 5th.
It's mixed feelings," Russell said afterwards. "Based on where we were yesterday (quali) this is a good result, we have a fast racecar in there we just don't have the key to unlock the performance. We have a lot to do.
"It was like a different car, it as a session of survival, I felt like if I pushed too hard I would crash."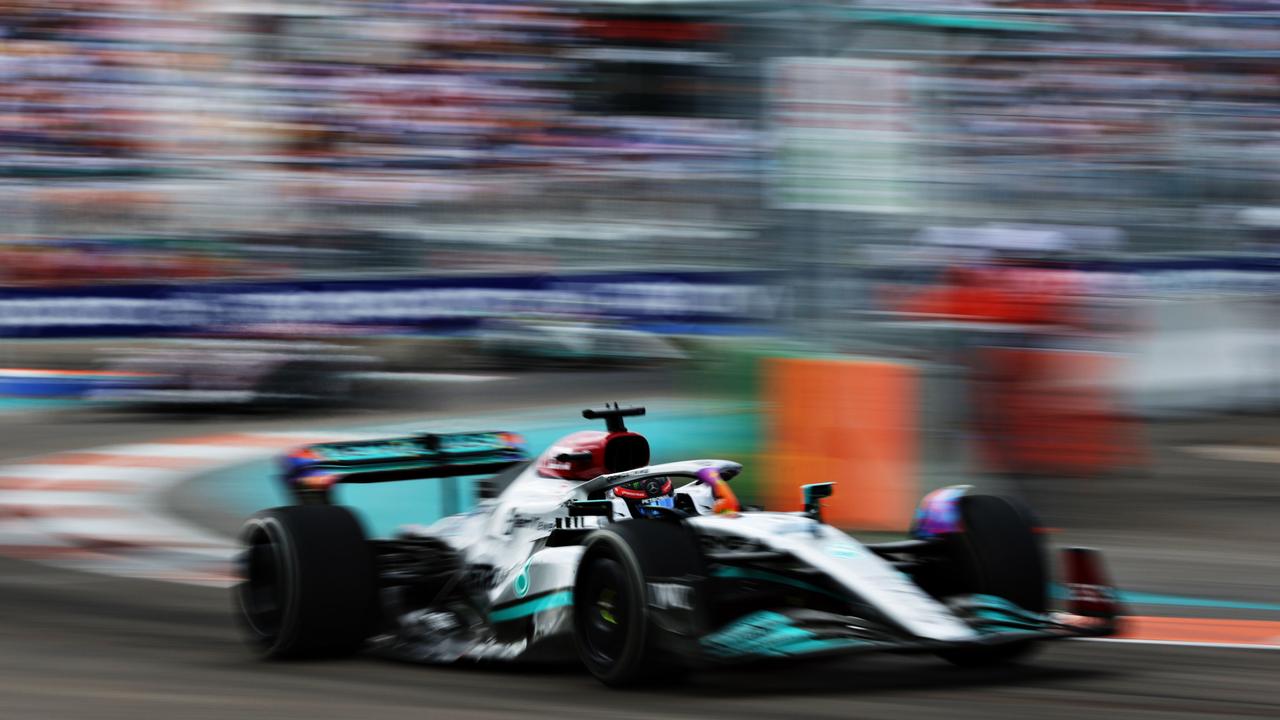 George Russell remains the only driver to finish top five in all races this year
While optimistic about Mercedes future, Russell was less complimentary about the Miami track.
"It's so dirty off line on this track," he said. I didn't like the tarmac it's breaking up like marbles, I like that we're in Miami and the weather.
"If it wasn't for the slow speed chicane and they had made it one corner it would be better – that spoils it to be honest.
"I was using the kerbs on all the corners – you don't do that in Formula One. This has potential to be great but it's brutal off the racing line and it's worse here than anywhere else which is strange because it's a new track.
"It was a brutal race it was hot, I had sweat pouring into my eyes."
VERSTAPPEN WINS AS CRASH CHAOS BRINGS BRUTAL END IN MIAMI
Max Verstappen won the Miami Grand Prix which ended in chaos after a number of heavy crashes sparked multiple safety cars and retirements.
The Red Bull driver and defending world champion held off an impressive effort from Ferrari's Charles Leclerc who took second with this teammate Carlos Sainz completing the podium.
Sergio Perez was fourth, with the Mercedes of George Russell and Lewis Hamilton in fifth and sixth.
In what proved a somewhat underwhelming race - for the first 45 laps - chaos ensued for the closing stages after Lando Norris's 15-race streak ended when he crashed out.
In another blow for the papaya team, Norris was forced to retire after making heavy contact with Pierre Gasly at turn eight of the new track.
Norris walked from his car and appeared uninjured.
The safety car came on track and the reset injected some much needed drama as the restart brought with it some incredible wheel-to-wheel racing.
There was a later incident between Sebastian Vettel and Mick Schumacher which caused the former to retire.
WHAT THE PODIUM DRIVERS SAID:
Max Verstappen: "It was an incredible Grand Prix, very physical, I think we kept it exciting. I'm incredibly happy with winning here in Miami."
Leclerc: "It was a very difficult race physically, we struggled with the medium tyres. Today they (RB) had the advantage in terms of pace. We need to keep pushing, upgrades will be very important all year."
Sainz: I had neck pain going into the race and I had to manage it. But we got it and it's a decent result and we got what we deserved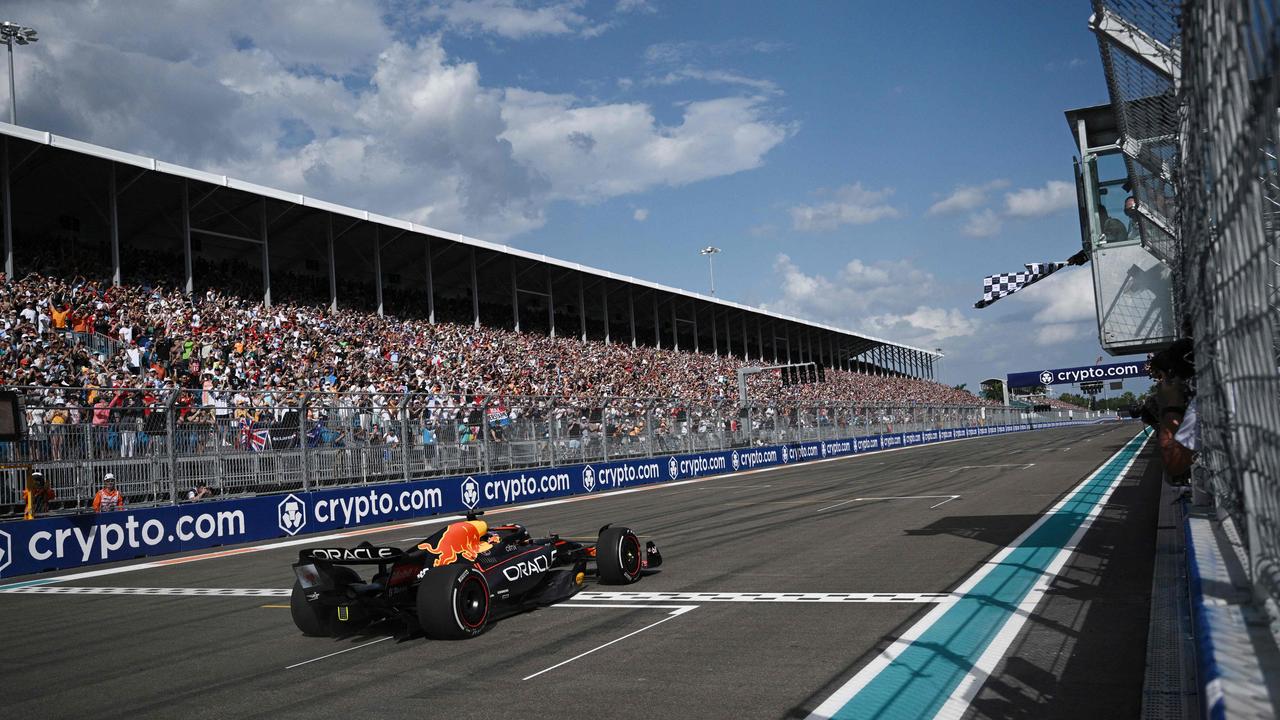 The checkered flag is waved for Red Bull's Max Verstappen
HOW THE RACE WENT DOWN
7:08AM MAX VERSTAPPEN WINS THE MIAMI GRAND PRIX
1-10
VER
LEC
SAIN
PER
RUSS
HAM
BOTT
OCON
ALONSO
ALBON
* Ricciardo may enter top 10 given Alonso's five second penalty
7:05am COLLISION AT THE BACK
Mick Schumacher has shunted Vettel and the Astn Martin was airborne momentarily. There's a big brother-little brother relationship here and you can't help but feel like Mick is going to cop a near ful from Seb.
"You can't be mates as F1 drivers," said Brundle of the pair.
VETTEL RETIRES
6:59AM VERSTAPPEN LEADS
A moment of drama, incredible racing, hold your breath stuff from Perez and Sainz, the Red Bull took position then over braked and lost out again. That was bananas.
And ahead of them the scrap for first is unreal, such a treat to watch these two battle.
6:55am HAMILTON IS RUNNING WILD!
Lewis Hamilton has his former teammate to thank for the fact he is in fifth and hunting down Perez. Bottas went wide and both Mercedes managed to pass.
Amazing racing between the Silver Arrows teammates too and they're switchng positions non stop, Russel now back in front of Lewis.
At the front Verstappen's porpoising is terrible and the Ferrari of Leclerc in second is withing touching distance of reclaiming the lead.
6:52am WE ARE BACK RACING - VERSTAPPEN LEADS
A collision as soon as we restart but it won't impact racing. Magnussen and Stroll have made contact.
A real test of driving under pressure for the front four right now. Sainz running wide and he is giving Perez a very healthy opportunity to take out the third and final podium spot. Great combat here.
Ricciardo fans it doesn't look like it will be his day at all. He is back in 13th. Another weekend to forget. I suppose technically he has done better than his teammate - so that's something.
Confirmation Gasly is out of the race bringing it to three retirements (NORRIS, ZHOU)
6:37 CRASH AND YELLOW FLAGS
Virtual safety car and Lando Norris is OUT of the race after a dramatic collision with Gasly at turn 8. he is out of the car and seems ok. But his race is over.
The collision looks to have caused issues to Gasly's car as well.
Alonso has a five second penalty for the incident below.
6:36am CONTACT BETWEEN CARS
Alonso again at the centre of some contact. it was not the Spaniard's corner it was Gasly's and the latter has come off far worse. He's dropped abck to 11th from 8th and the stewards are looking into that one.
Up the front, Verstappen has extended his lead to seven seconds on Leclerc, Sainz in third and Perez seems to have resolved his issues.
Russell is holding on to fifth and has delayed his second pit in the hopes a VSC comes out.
6:27am HALF WAY VERSTAPPEN LEADS
Anyone else geneuinely gobsmacked we have only had one retirement and not weven a whiff of a safety car?
Dare I say the race has been a little underwhelming to this point.
Couple of great moments - the Verstappen move on Leclerc and Vettel is producing some vintage moves down the back. Beyond that, not the best of races so far.
Rain gods, do your thing.
WHAT THE f*** IS GOING ON?
Sergio Perez is in trouble, his car was running over four seconds slower than the front runners and he is furious over the radio.
"I am losing power man how can you say there's nothing wrong? What the f*** is going on?"
TEAM RESPONSE: "Fail 5-0 fail, power unit looks good from here."
If the issue is fixed it's cost him dearly, he was within a second of Sainz and the gap is now six seconds.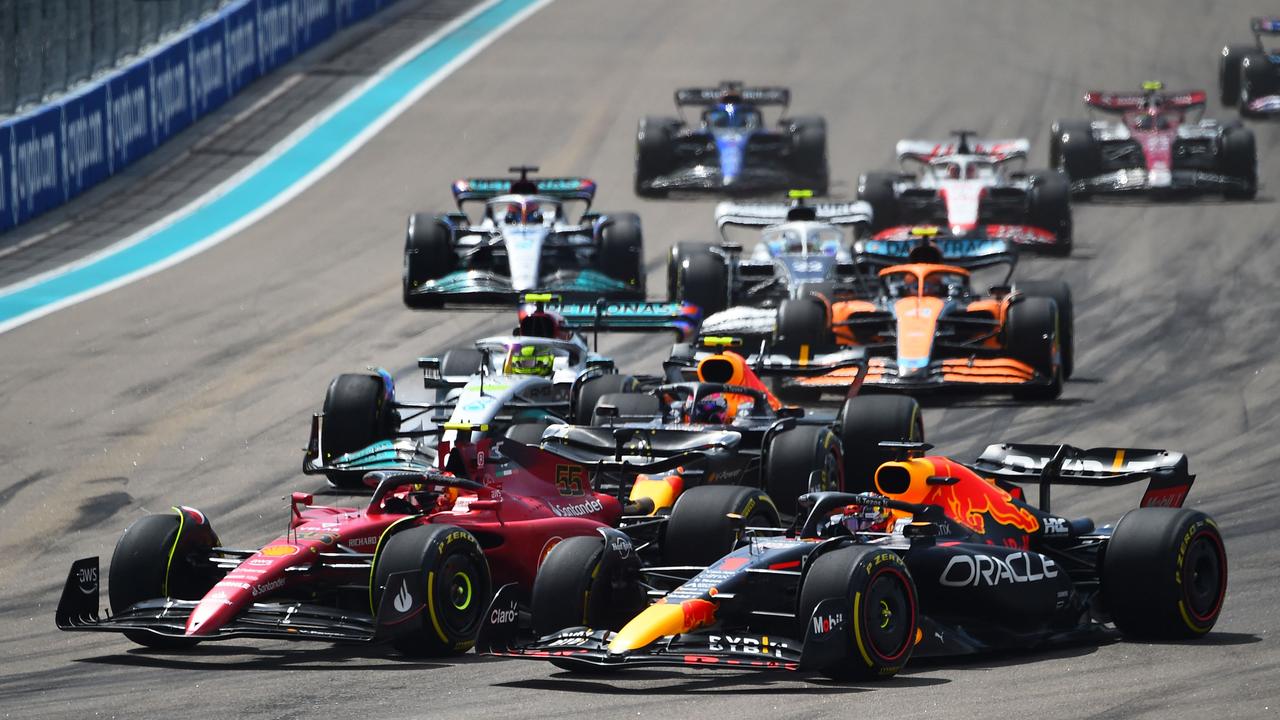 Ferrari's Spanish driver Carlos Sainz and Red Bull Racing's Max Verstappen
6:20am DISASTER AT THE BACK - Lap 30/57
Both Kevin Magnussen and Lando Norris are having their races ruined by the Aston Martins.
Vettel and Stroll are both on a long strategy but the Haas and McLaren has really timed their pit stops poorly and they are both now stuck behind the AMs and unable to find a way through.
It means there is a genuine chance Ricciardo could claim a better finish than his British teammate for the first time in 9 races and what a day to do it on, Ricciardo today equals Mark Webber for the most drives by an Aussie driver.
6:14am VERSTAPPEN LEADS, LECLERC MOANS Lap 27/57
The message no engineer wants to hear "the car is so difficult to drive,"
That's Leclerc to his team and it's just not useful.
Ironically he said that and set the fastets lap of the race.
With the lead Ferrari and Verstappen pitting, Sainz leads the race for a few laps before being called in himself.
Top four all on hard tyres.
1-10
VER
LEC
SAI
PER
RUS
BOT
HAM
RIC
OCO
GAS
6:05am RED BULL IN TROUBLE (Lap 22) VERSTAPPEN LEADS
Sergio Perez is in trouble, his car was running over four seconds slower than the front runners and he is furious over the radio.
"I am losing power man how can you say there's nothing wrong? What the f*** is going on?"
TEAM RESPONSE: "Fail 5-0 fail, power unit looks good from here."
If the issue is fixed it's cost him dearly, he was within a second of Sainz and the gap is now six seconds.
6am ALPINE NIGHTMARE - VERSTAPPEN LEADS
A really poor pit stop for ALonso and the body language of the pit team said it all, in there way too long and the Spaniard has slipped back to 12th.
Ricciardo - thanks in part to some other pit stops - is into the points and driving in 9th.
Further forward Verstappen is running away with the lead at the moment, 3.4 seconds on leclerc in second and his teammate Sainz is third but needs to watch his back because the second Red Bull is right behind him.
Russell has made an astonishing come back. Only took 18 laps for his typres to warm up but he's up to 6th. he was 15th not long ago!
We need a safety car to spice this up.
5:47am RETIREMENT + NEW LEADER
Guanyu Zhou's race is over, the Alfa Romeo brought into the pits on lap 7. He's has a fairly miserable career to date.
At the front, damage to Lecler's front right tyre and Verstappen is closing in to make a move AND HE DOES IT!
Red Bull take the lead thanks to DRS on lap 9 and the crowd went wild.
Unfortunately, the team has to retire @ZhouGuanyu24's car due to a technical issue. A sad end to the race for Zhou, who was making progress towards the points 😭 #MiamiGP

— Alfa Romeo F1 Team ORLEN (@alfaromeoorlen) May 8, 2022
5:45am HAM ISSUES - LECLERC LEADS
On lap one Hamilton said on the radio he felt contact from behind - Alonso - and he's back on with the same issues five laps in. His team adamant there is no damage to the car.
Not hampering his racing ability from where I'm sitting, Hamilton is now up to 6th and his former teammate Bottas next in line for him to pick off.
Further back, Ricciardo has slipped two place into 13th.
1-10 LEC, VER, SAIN, PER, BOT, HAM, GAS, ALO, NOR, MSC
5:33am WE ARE RACING - LECLERC LEADS
The Ferrari 1-2 is now a Ferrari sandwich with a Verstappen in between, terrific start from the Red Bull. NIghtmare start for Hamilton who has lost places - at least two. Miraculously every car has come through the first lap - not gonna lie, I thought we would have lost at least two.
Mercedes not enjoying this so far, HAM in 8th (says Alonso hit him) and RUSS in 15th. Ricciardo gained three spots, he sits 11th.
5:20am WHY ARE ASTON MARTIN IN THE PITS?
In a bid to avoid incurring a penalty for both drivers the AMs are starting from the pits and this is owing to a fuel issue. Their fuel is too COLD! So this is the fix - of sorts. Shame for both drivers who had decent positions but it's a win for Ricciardo who moves up two spots.
UPDATE: We have a fuel temperature problem on both cars, which the team are currently working on. More to follow.#F1#MiamiGP

— Aston Martin Aramco Cognizant F1 Team (@AstonMartinF1) May 8, 2022
THE GRID WALK
Martin Brundle thought he was talking to Patrick Mahomes 😂

Also can we make sure Paulo doesn't cramp in this heat! He's locked in! pic.twitter.com/n8afEDvjI4

— Big Cat (@BarstoolBigCat) May 8, 2022
Martin Brundle's F1 grid walk in Miami, where he doesn't know who anyone is, is incredibly awkward and hysterically funny.

— Piers Morgan (@piersmorgan) May 8, 2022
HOW THEY START
Front row Charles Leclerc (MON/Ferrari) Carlos Sainz (ESP/Ferrari)
2nd row Max Verstappen (NED/Red Bull) Sergio Perez (MEX/Red Bull)
3rd row Valtteri Bottas (FIN/Alfa Romeo) Lewis Hamilton (GBR/Mercedes)
4th row Pierre Gasly (FRA/AlphaTauri) Lando Norris (GBR/McLaren)
5th row Yuki Tsunoda (JPN/AlphaTauri) Fernando Alonso (ESP/Alpine)
6th row George Russell (GBR/Mercedes) Daniel Ricciardo (AUS/McLaren)
7th row Mick Schumacher (GER/Haas) Kevin Magnussen (DEN/Haas)
8th row Zhou Guanyu (CHN/Alfa Romeo) Alexander Albon (THA/Williams)
9th row Nicholas Latifi (CAN/Williams) Esteban Ocon (FRA/Alpine)
PITS Lance Stroll (CAN/Aston Martin) Sebastian Vettel (GER/Aston Martin)
Originally published as Miami Grand Prix F1: Max Verstappen wins as Daniel Ricciardo cops late penalty