Track Torque F1 podcast: Daniel Ricciardo's one ray of hope after miserable Emilia Romagna GP
Daniel Ricciardo has endured another miserable F1 outing for McLaren at the Emilia Romagna Grand Prix but there is one reason his fortunes may soon turn.
Australia's Daniel Ricciardo had another disappointing outing at Imola, but there could be hope on the horizon. Picture: Alessio Morgese/NurPhoto/Getty Images
As his former team Red Bull celebrated its first 1-2 since 2016, it was another disappointing weekend for Daniel Ricciardo at the Emilia Romagna Grand Prix after an opening lap mishap with Ferrari's Carlos Sainz.
Ricciardo's promising grid position of sixth was wasted when he bumped into Sainz, sending the Ferrari man out of the race and the local Italian fans into despair.
Rebecca Clancy, speaking from Imola with Code Sports' Formula One podcast Track Torque, says Ricciardo didn't become a despised villain with the locals.
"Ricciardo went into the Ferrari garage almost immediately after the race to apologise to Carlos Sainz, and Carlos accepted it," The Times' F1 correspondent said.
"No, no one will hold anything against Danny Ric, race fans realise it's just a first lap incident, these things happen. Don't know if anyone can be mad at Danny Ric, because he's just having such a bad run at it."
Ricciardo limped home in 14th as Red Bull dominated at Imola. McLaren teammate Lando Norris notched his first podium of the 2022 season.
"It's a really tough start to the season for Danny Ric, and then his teammate Lando Norris gets a podium," Clancy, who interviewed Ricciardo after the race, told Track Torque.
"He was happier than I expected but also quite realistic that it wasn't a great day.
He can see the potential in the car, so he's staying optimistic, but can only imagine how difficult that would be at the moment.
"I really hope for him [that] it does start to turn."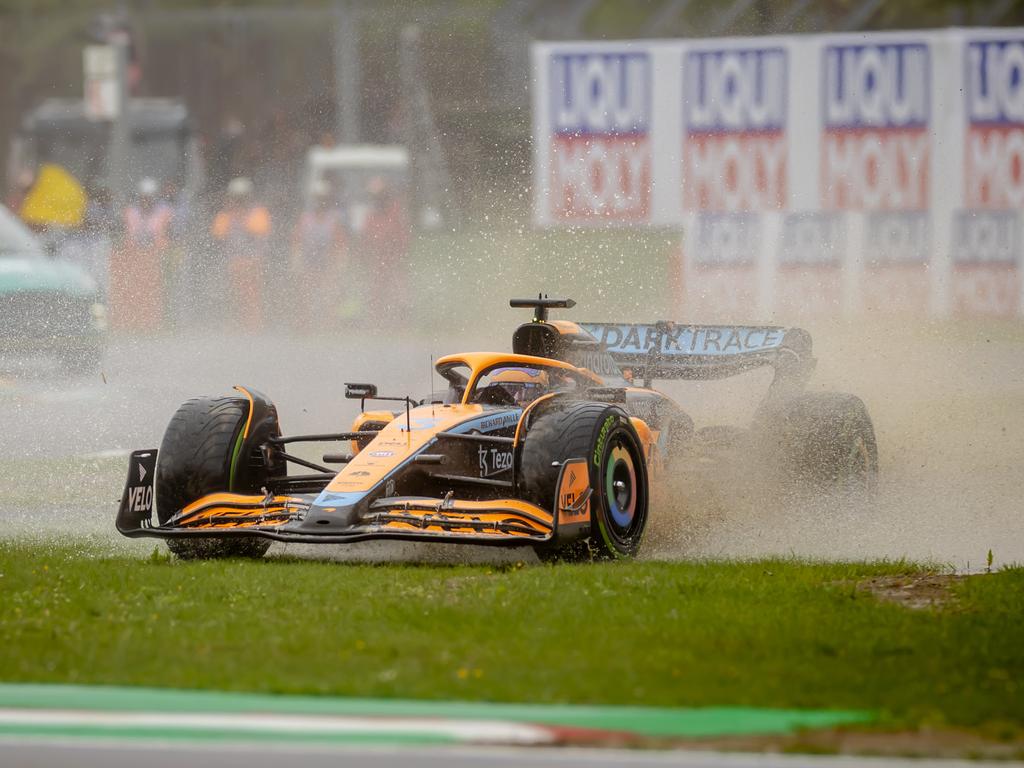 As his old team, Red Bull dominated Imola, Ricciardo limped home in 14th spot. Picture: Remko De Waal/ANP/Getty Images
Ricciardo's start to the season now reads 14th (Bahrain), retired (Saudi Arabia), sixth (Australia) and 14th (Imola), though Clancy believes there is hope ahead.
In a fortnight, the Formula One caravan heads to the USA, where Ricciardo lives between races, for the inaugural Miami Grand Prix.
The US has been kind to the Australian, with two podiums, plus a handy fifth last year. Clancy believes 'second-home' comforts, as well as quickly-improving McLaren, could combine to turn Ricciardo's fortunes.
"McLaren have found out some of their issues from Bahrain (the first race), when Lando Norris actually said he didn't expect to have a podium at all (in 2022)
"That's how bad they were. The car was an absolute dog.
"We go to Miami next, which is basically Danny Ric's other home. He loves the US, feeds off the US, and they love him back. Can only imagine the outfits he'll turn up in! Hopefully it can all turn for him."
*****
CodeSports' 'Track Torque' podcast will provide the best analysis of the F1 season throughout 2022. Rebecca Clancy will be joined by News Corp Australia F1 experts Emily Benammar, Matt Hickey and other special guests to discuss all the latest news and results from around the world.