Track Torque Podcast: Lewis Hamilton's Baku back pain poses major problem for Mercedes
Lewis Hamilton's back issues are reaching breaking point for Mercedes. ADAM PEACOCK discusses that and the wash-up from the Azerbaijan Grand Prix on the Track Torque podcast.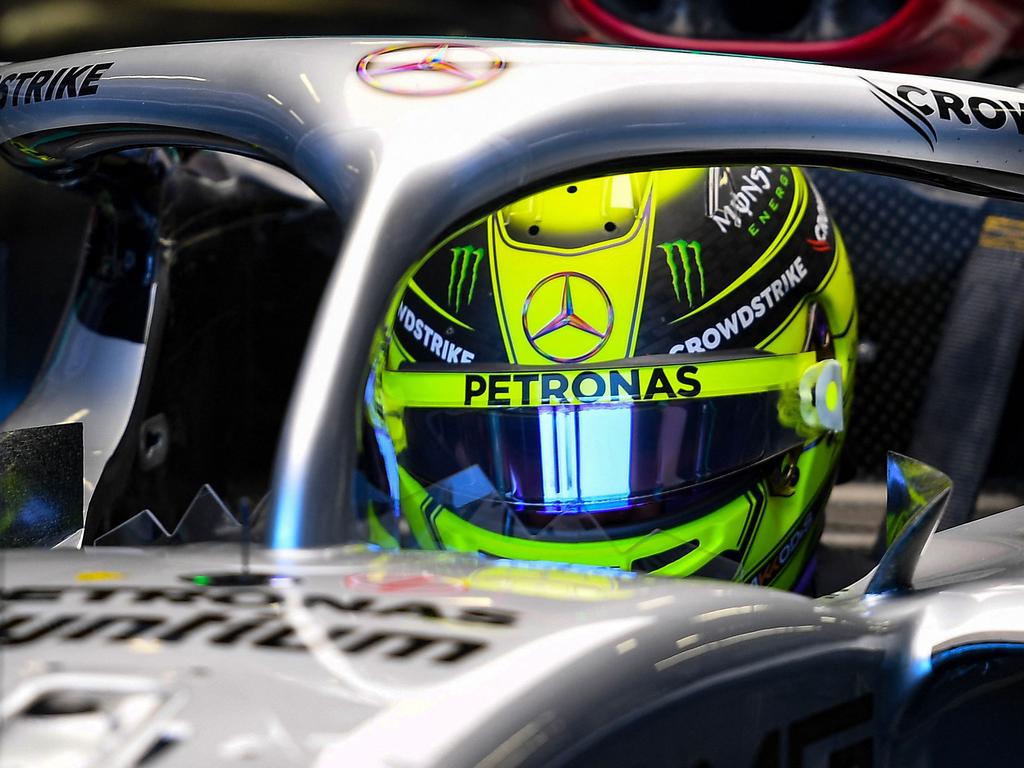 Mercedes driver Lewis Hamilton sits in his car at the Formula One Azerbaijan Grand Prix. Picture: AFP
Lewis Hamilton did not so much climb out of his car in Baku after a torrid Azerbaijan Grand Prix on Sunday, but rather gradually lifted himself from his seat like a man much older than his 37 years suggest.
His back was shot. Any one of the millions worldwide nearing middle age with back issues part of their everyday life could relate.
The seven-time world champion was in desperate pain, and as soon after the race in which he finished fourth behind the two Red Bulls and teammate George Russell, Hamilton's Mercedes team were making plans to give him this weekend's Canadian Grand Prix off to recuperate.
"He's in trouble, his back is causing him a lot of problems," The Times Motor Racing Correspondent Rebecca Clancy tells this week's edition of Track Torque. "On Sunday night, Mercedes Team Principal Toto Wolff said they were having to make a contingency plan for Canada."
By Monday morning European time, those fears had eased, with Hamilton declaring himself fit despite obvious discomfort.
"Angela Cullen, his physio, had been giving him physio each night, acupuncture on his back to help resolve this issue," Clancy says. "The concern isn't just muscular, it's problems going into his spine."
It's a major issue for Mercedes, who are clear of the midfield pack, but struggling to keep pace with Red Bull and Ferrari (when the latter can stay on the track).
The Mercedes set up, as it stands, is helping that track position, with the low position assisting speed but making life extremely uncomfortable for its drivers, as the car starts to violently bounce and vibrate – a term called "porpoising" – which is especially prevalent on the less smooth street circuits like Azerbaijan.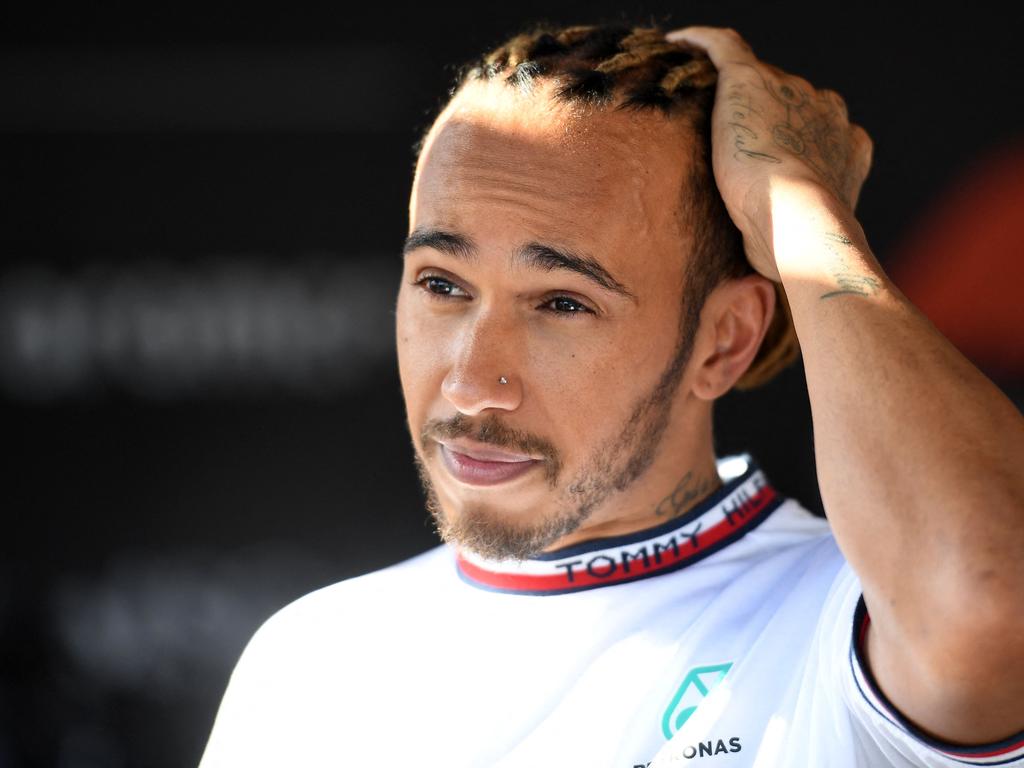 Lewis Hamilton talks to the media after the Formula One Azerbaijan Grand Prix. Picture: AFP
Wolff himself got on the team radio immediately after the race in Baku to apologise to Hamilton for having to put up with the pain.
"Lewis, we all know this is a bit of a sh*tbox to drive at the moment. Sorry for the back also. We will sort ourselves out," Wolff told Hamilton.
As Clancy explains on Track Torque, Mercedes are in a difficult position.
"They are running the car so low to fix this porpoising, the car is slamming into the ground constantly" Clancy says. "George Russell [Hamilton's teammate] is complaining about it as well, he's calling it dangerous, bouncing so much he can't see where to brake.
"The fix is that Mercedes fix the ride height of the car. However, we know that loses speed, which is not what they are willing to do."
Hamilton and Russell are prepared to put up with the pain for now, though Hamilton himself is not resting between the short turnaround in races from Azerbaijan to this weekend's trip to Canada.
Hamilton will spend Monday and Tuesday at the team's English team factory to try and find a solution.
One is needed. A 37 year-old back showing signs of lower disc problems might be a major safety issue very soon, especially if the sciatic nerve starts to become compromised by a flaring disc.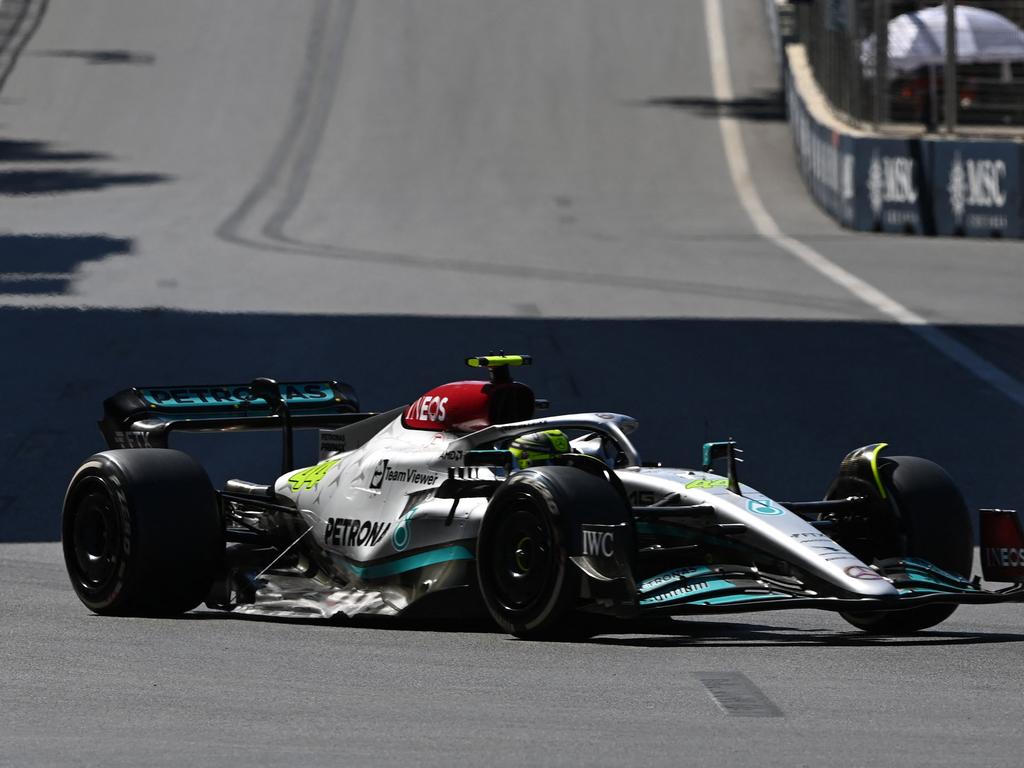 Lewis Hamilton steers his car during the Formula One Azerbaijan Grand Prix. Picture: OZAN KOSE / AFP
Should it become severe enough, referred nerve pain has been known to numb the outside of the leg all the way to the foot – a less than desirable situation for a driver relying on his feet to accelerate and brake thousands of times a race.
Hamilton's durability in the sport is legendary.
Since his debut in 2007, the 37-year-old has missed just one race in 297 – the 2020 Sakhir Grand Prix in Bahrain, due to testing positive to Covid-19.
Also on this week's Track Torque, the team discuss why Baku could be a turning point for Daniel Ricciardo and his relationship with McLaren, how Ferrari forgets about its horror weekend with both cars forced to retire, and the rumours getting louder about young Aussie driver Oscar Piastri making his F1 debut before the season is out.
Subscribe now to Track Torque HERE, and also catch every race of the 2022 Formula One season on Fox Sports and Kayo Sports.