V8 Supercars Sydney SuperSprint: Shane van Gisbergen claims title in anticlimax for dominant driver
Shane van Gisbergen has clinched his second Supercars title, but has lamented the opportunity of sealing the deal on the track because of a red-flagged race.
Shane van Gisbergen cemented his V8 legend on Sunday when he joined the likes of Marcos Ambrose and Norm Beechey as a two-time Supercars champion.
With a washed-out race ensuring he cannot be beaten at the season ending Bathurst 1000, van Gisbergen joined the 13 legends who have won multiple titles when he was awarded his second crown.
"It is still pretty fresh but it has been an awesome year," van Gisbergen said.
"We have had ups and downs but we came here and executed every race and did what we needed to do."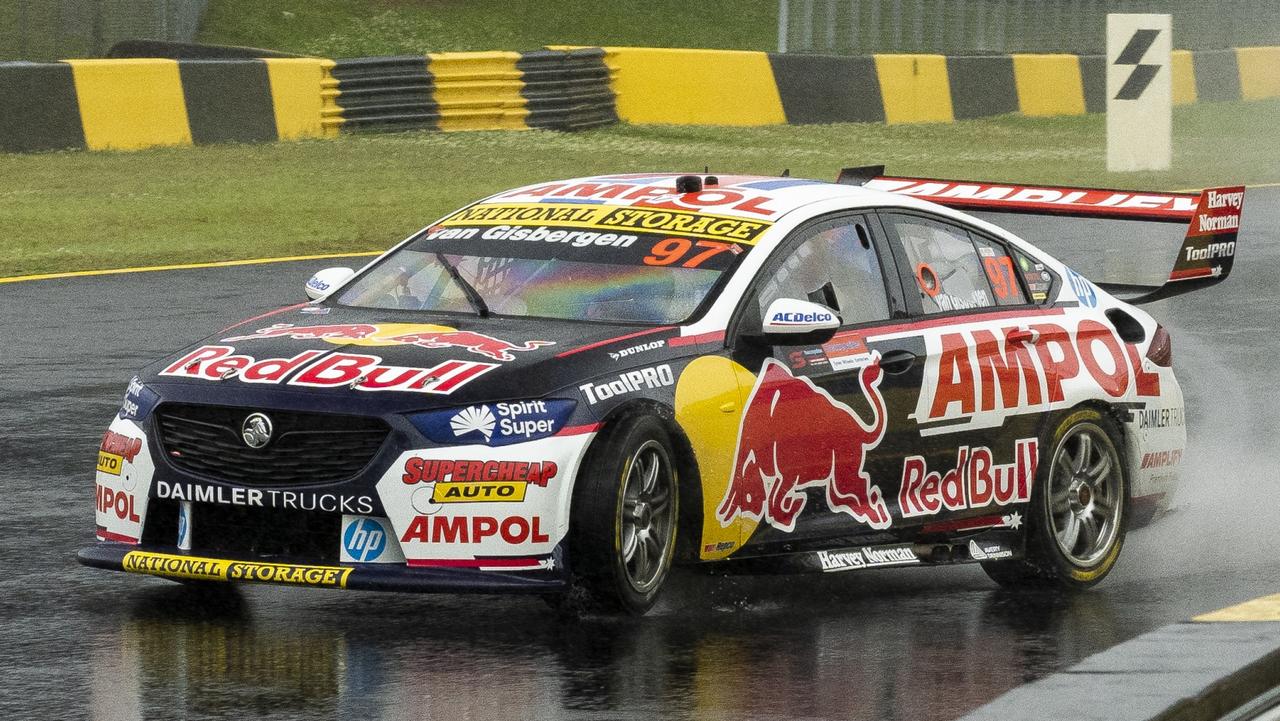 Shane van Gisbergen won 14 races this season to announce himself as the leading contender to become the next V8 great. Picture: Getty Images
Having lurked in the shadows of his teammate Jamie Whincup — the greatest championship driver of all time — van Gisbergen this year won 14 races to announce himself as the leading contender to become the next V8 great.
The Red Bull Ampol driver was crowned a two-time king at Sydney Motorsport Park after the final race of the Sydney Super Night was red flagged because of torrential rain.
It was an anti-climax to the title fight with the weather stopping van Gisbergen from sealing the deal with a win.
Van Gisbergen heads into the season ending Bathurst 1000, beginning December 3, with an unbeatable 349 point lead over Whincup.
"It sucks that we couldn't put on a show," van Gisbergen said.
"But it has been an awesome time and super cool to win another championship."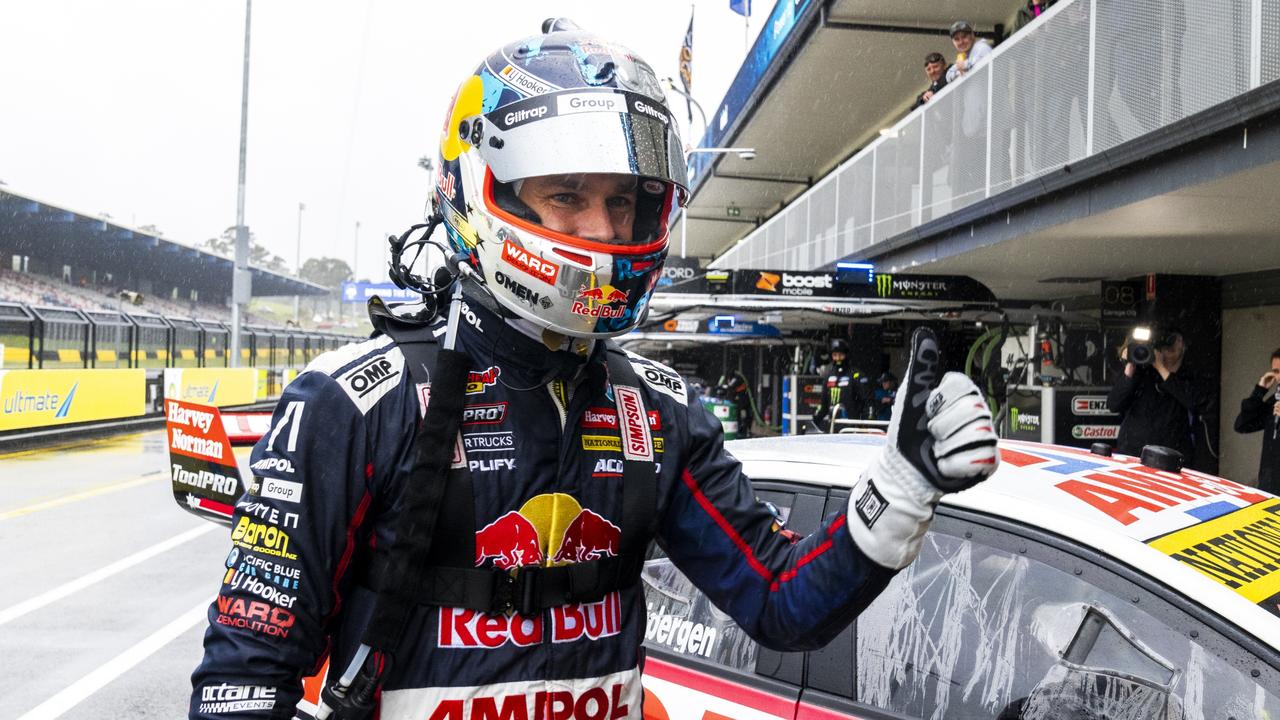 Van Gisbergen claims his second Supercars title after winning his first in 2016. Picture: Getty Images
While some will say the championship was gifted to him when Scott McLaughlin relinquished his crown by switching to Indy Car, van Gisbsergen led from start to end to win the title with a full round to spare.
The Kiwi driver also took out the Sydney Cup.
"We haven't been fast enough this year but we have gotten the results and been consistent," van Gisbergen said.
"We haven't made the mistakes that the others have. We had one bad race but we were up there for the rest of them."
Van Gisbergen will now chase the greatness he seemed certain to achieve after winning his first title in 2016.
Van Gisbergen and his team celebrate their big win.
After accounting for Whincup and seemingly ending his record-breaking reign, most thought the Kiwi was about to begin a period of domination to rival his teammate.
But Whincup rebounded to further his own legend by claiming his 7th crown in 2017.
Van Gisbergen's march to become an immortal was again derailed in 2018 when Scott Mclaughlin arrived onto the V8 scene in his thunder stealing Ford.
McLaughlin went on to claim three straight crowns before quitting the sport.
While some will claim the former DJR/Penske super-star would have made it four had he not gone off to chase his American dream, van Gisbergen's name is now etched on the championship trophy twice.
"It is my life dream and my life goal," van Gisbergen said.
"I won the first one and just wanted to do it again. Now I want to do it again. It is an awesome feeling. I want to keep racing here as long as I can. It seems a while ago that I won my first one so it is a very cool feeling."
Whincup's horror smash in treacherous conditions
Seven-time Supercars champion Jamie Whincup suffered a scary high-speed crash in a rain-drenched qualifying session at Sydney Motorsport Park.
In wet and treacherous conditions in the session to determine the top-10 for this afternoon's shootout, the Triple Eight star cannoned off the track at a wild and slippery turn one before crashing into a tyre wall.
Whincup was able to reverse the car out of the wall and return to the garage but his session came to an early end for repairs to be made.
Moments later Brad Jones Racing's Todd Hazelwood hit trouble at the same turn and also put his car into the tyre wall.
But both Whincup (seventh) and Hazelwood (third) had set fast enough qualifying times to book themselves a spot in the top-10 shootout.
Kelly Grove Racing's Andre Heimgartner set the fastest qualifying time to take provisional pole ahead of fellow New Zealand racer and series leader Shane van Gisbergen, who can tie up the Supercars championship in this afternoon's 250km race - the last before the Bathurst 1000.
Heimgartner said he relished the conditions.
"I love those sort of conditions, it's good fun just going into the corners hoping I don't fly off the track," Heimgartner said.
"It obviously doesn't mean too much because we have got the top-10 shootout coming.
"Everyone says we race in the wet heaps over there (New Zealand) but I reckon I have raced more in the wet here than I have in bloody New Zealand.
"Turn one is the only real sketchy place but apart from that it's all pretty good."