'A little bit of chaos': Kelsey Browne's upside to injuries, selection snubs and anything life throws at her
Kelsey Browne's ACL tear saved her from 'absolutely hating netball'. Be it injury, selection snubs or private ups and downs, there's always a silver lining, writes LINDA PEARCE.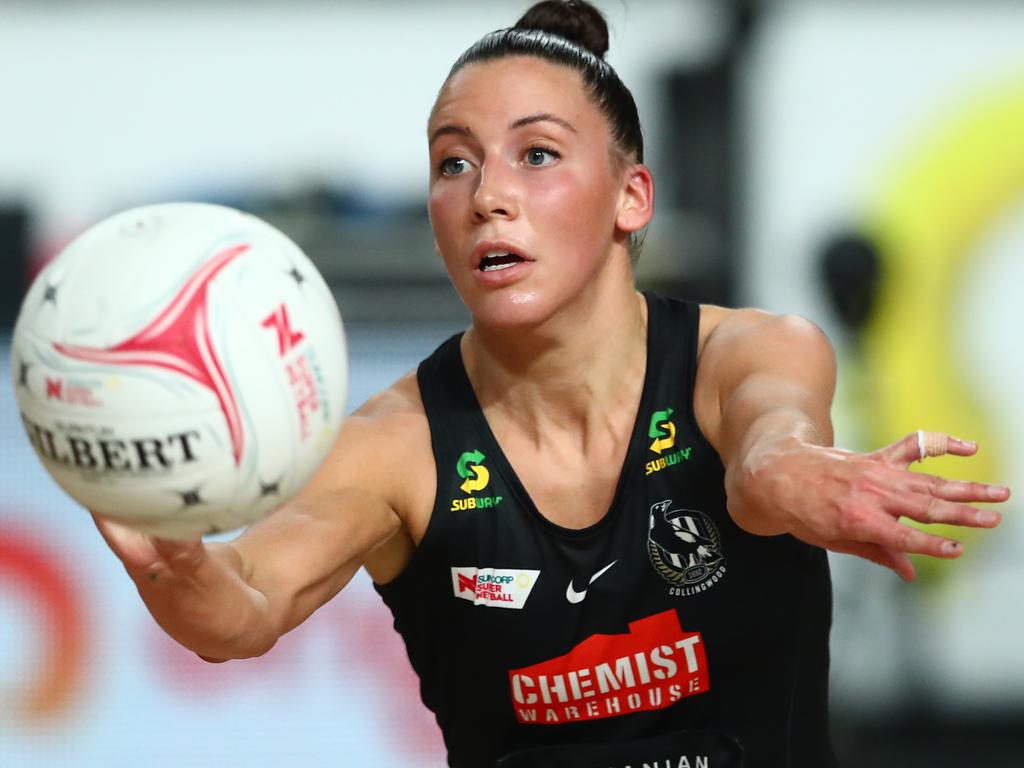 Kelsey Browne was left waiting and wishing for a Diamonds call up that didn't come in the recent 2022 Commonwealth Games squad selection. Picture: Chris Hyde/Getty Images
The last time Kelsey Browne sought feedback from Diamonds coach Stacey Marinkovich, not only had the 18-Test midcourter failed to make the national squad, she had been overlooked for the second-tier development list, too.
"I started to wonder, 'Where do I fit into the international landscape?' I thought I must be so far off the pace,'' says Browne, whose three-way video chat included her Magpies coach Nicole Richardson, now Marinkovich's assistant.
"So that was a question that I asked: where do I sit in the Super Netball ranks? And what do I need to do to get higher?''
That was last year. The 2022-23 Australian squad was announced two weeks ago and — along with Queensland Firebirds centre Kim Ravaillion and Swift Maddy Proud — Browne's name was notably absent among the preliminary 18 from which the Birmingham Commonwealth Games 12 will be chosen next month.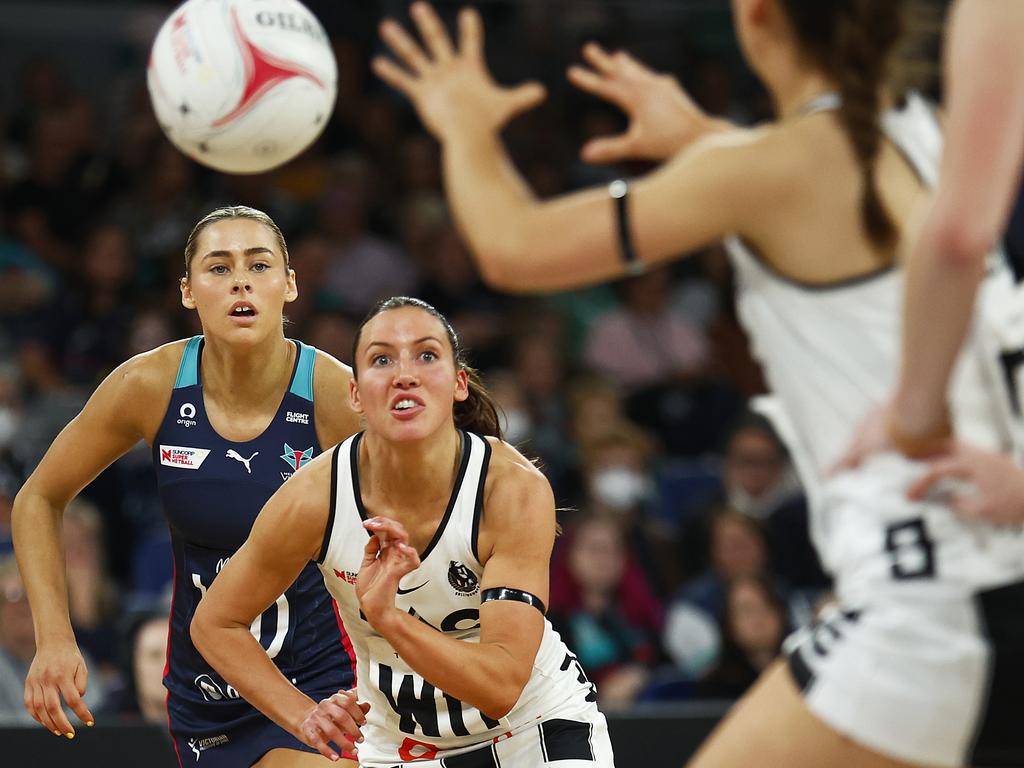 Kelsey Browne was not named in the 18 woman squad for the 2022 Birmingham Commonwealth Games. Picture: Daniel Pockett/Getty Images
And so, last Monday, Diamond No.175 emailed Stacey West, Netball Australia's executive general manager of performance, to seek a follow-up chat with the head coach, with many observers believing Browne, a member of the silver medal-winning 2019 Netball World Cup team, has been in career-best form.
"I'm sure it'll just be around what she would want to see, but also why they went with who they went with above me, and what I can do to get on the level of those players that they've chosen,'' says Browne, unfortunate that her best position, wing attack, happens to be the one occupied by star captain Liz Watson.
"I'm pretty hard on myself a lot of the time. I know that I'm playing 'well' at the moment, but I know that I can always do better, and if I'm not in the Diamonds then I must not be good enough, and there are things that I can fix. I would like to think I'm not too far off but, until you speak to them, it's really hard to know.''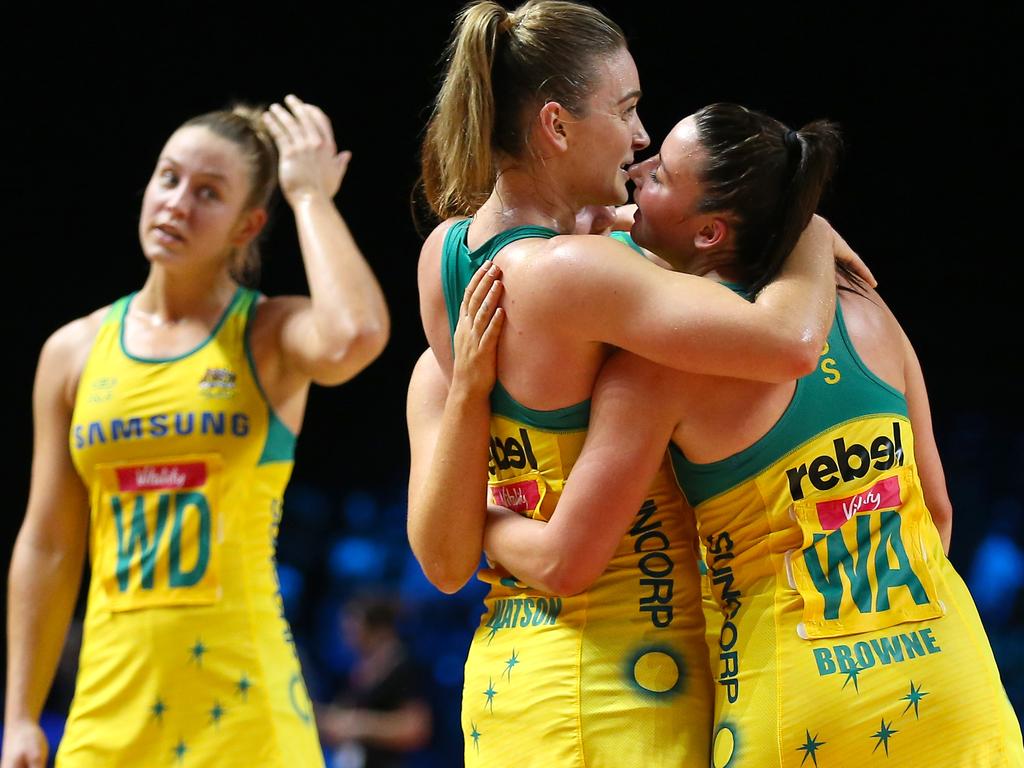 Contenders for Liz Watson's WA crown face an uphill battle for Diamonds selection. Picture: Nigel French/PA Images via Getty Images
Browne and her friend Ravaillion exchanged supportive text messages over their shared disappointment, with the former determined not to be bitter about what she says can't be changed; to just keep performing for the improving Magpies and try to deliver whatever more or less the selectors tell her they want to see.
At which point CodeSports becomes the surprise bearer of potential optimism, by mentioning that there are up to four spots still open in a squad that can, potentially, be expanded to 22.
"That's news to me! I'm not gonna lie. I didn't know that,'' Browne exclaims. "I just thought there was a squad and that was it, so you've given me some hope.''
A long shot? Probably, but better than no shot at all for a player who knew which day Marinkovich was calling the chosen ones — in alphabetical order, typically — and understood it would be a big ask to dislodge one of the well-performed Quad Series incumbents.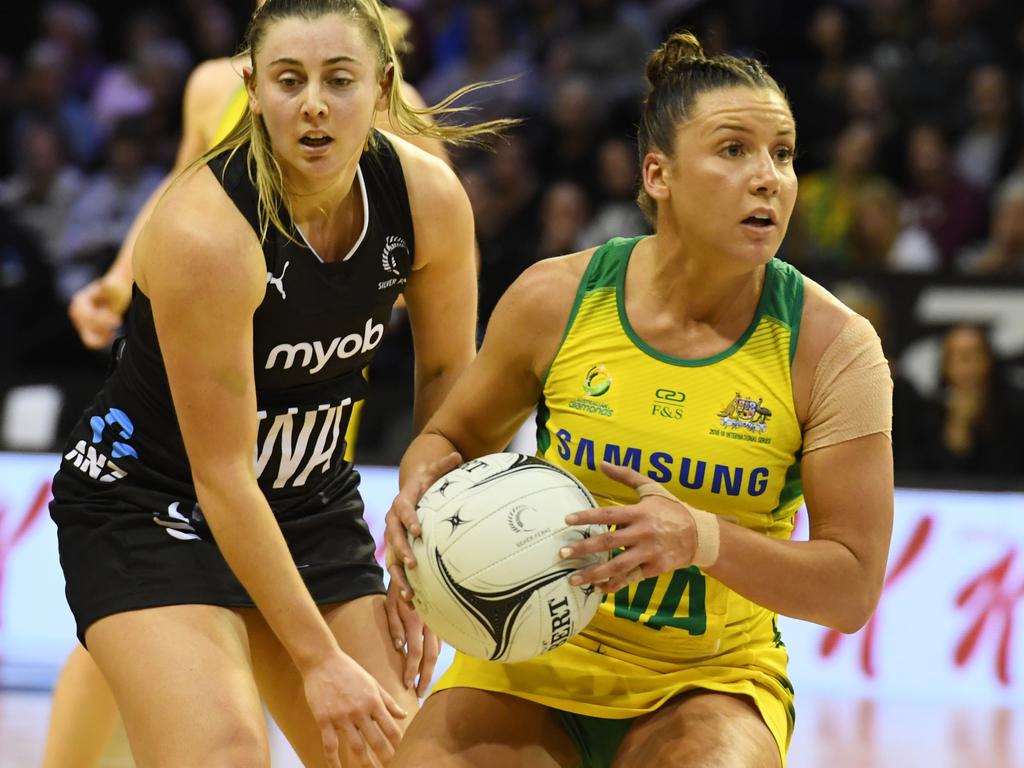 Browne was a key member of Australia's 2019 World Cup team. Picture: AAP Image/Ross Setford/SNPA
Yet still Browne could not help looking at her phone and wondering when the phone would be ringing for those with surnames starting with B.
"And then it got to night time and I just thought 'Oh, I guess that's sort of it'.''
She was touched by the response from Super Netball's sisterhood, though, with encouragement coming from not just her Magpie teammates but many opposition players.
"I remember saying to someone, it's not until something like that happens that you find out how people feel about you. I got so many messages from people that I would never have expected, so it was a really interesting experience and it was a lovely one.
"I'm obviously disappointed and I want to be in the squad, but the people I was getting the messages from, I was like, 'What? This is crazy'. And they would never have told me that if I had made the squad. So, silver linings.''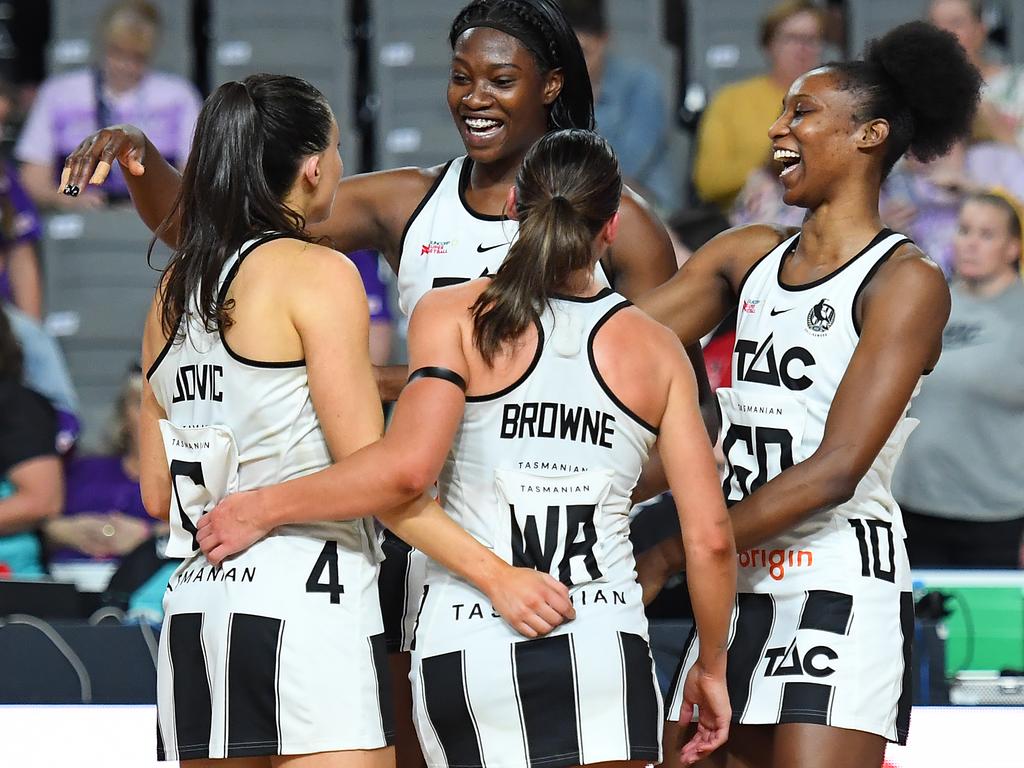 Browne was humbled by the support offered her by Magpies teammates following the squad announcement. Picture: Albert Perez/Getty Images
*****
For a player who is second for goal assists (158) behind Proud, third for circle feeds (255) after Proud and Watson and in the top five for centre pass and second phase receives and pick-ups, there's a number Browne prefers not to mention.
30.
Her age.
Feels 25.
And, given she's always been the little sister, and is now also the last Browne standing after Madi's knee-induced 2020 retirement following 171 national league games, 61 Tests, two Liz Ellis Diamond awards, etc, etc, how did this happen, anyway?
"Everyone thinks that!'' Kelsey says, having posted on social media after her, ahem, big birthday, in January and then needing to reiterate that, yes, it's 3-0. "I feel like I've just grown up in everyone's eyes to be honest, on the netball stage.''
A bit like the Dannii version of the Minogues, perhaps?
"Yeah, that's it,'' says the not-quite-Kylie, thankfully not offended by the suggestion. "Because I've been around for such a long time while Madi was playing, too, so even just on the side of the court. I feel like everyone thinks, 'Oh, you've been the little sister for so long, how can you be 30?'"
Kelsey Browne's older sister Madi was forced into early retirement in 2020, following an ongoing knee injury. Picture: Albert Perez/Getty Images
"But I feel better now than I ever have, so it's more that I would just love the opportunity to be in the Diamonds environment with a new version of me, and the last time I was in there was 27.
"So I think I've got a smarter brain now, I'm playing more efficiently. I've got a few more years' experience and my body feels great at the moment. I would love to be in that environment and have an opportunity to show who I am now, and the player that I've become.''
Following a more targeted program during her 2019-2020 ACL rehabilitation, Browne appears to be almost faster than ever, if that's possible. But, most importantly, she says she has regained the joy and hunger that was temporarily lost.
People tell her all the time that she looks like she is having fun out there, "and I am'', she beams. It helps, of course, to be part of a long-underachieving Pies team that has improved to 3-4 and on Sunday meet the ladder-leading West Coast Fever in Perth, for what could be a long-overdue stretch of three consecutive wins.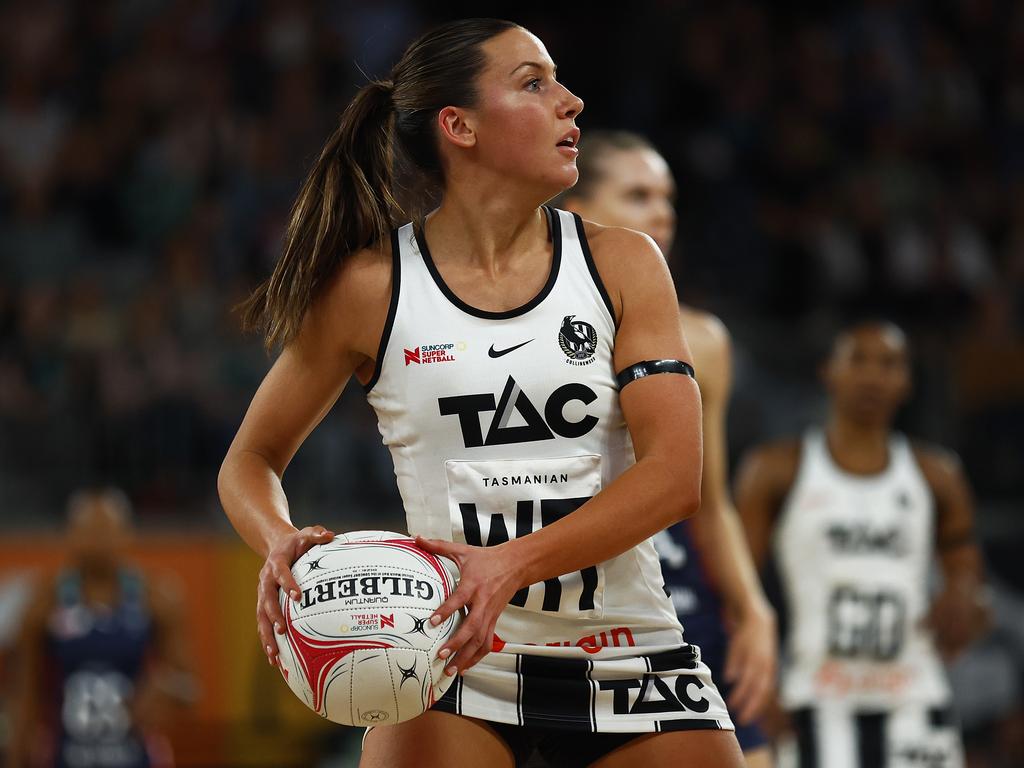 Browne has helped the Magpies to a fifth on the ladder this Super Netball season. Picture: Daniel Pockett/Getty Images
*****
When Browne lost her love for netball, it started at what might seem a curious time.
After two years as a bit-part player at the Melbourne Vixens, then two outstanding premiership seasons with newcomers Sunshine Coast Lightning in 2017-18, Kelsey had finally emerged from Madi's long (but, well, still shortish, for height is not a Browne trademark) shadow.
The 164-centimetre Geelong native had returned to Victoria where, in a personal sense, she felt she needed to be. She had made not just the Diamonds' squad, but the World Cup team. Life was good.
Or was it?
"So 2019 was an awesome year, externally. I played in a World Cup, and I was at Collingwood and I was in the Diamonds' mix and probably (at) the pinnacle of what I'd achieved in netball,'' she says.
"However, 2019 was a really difficult year off the court. Just a lot of stress and anxiety and I think I wasn't in a very good place mentally, and then I obviously did my knee three weeks after the World Cup.''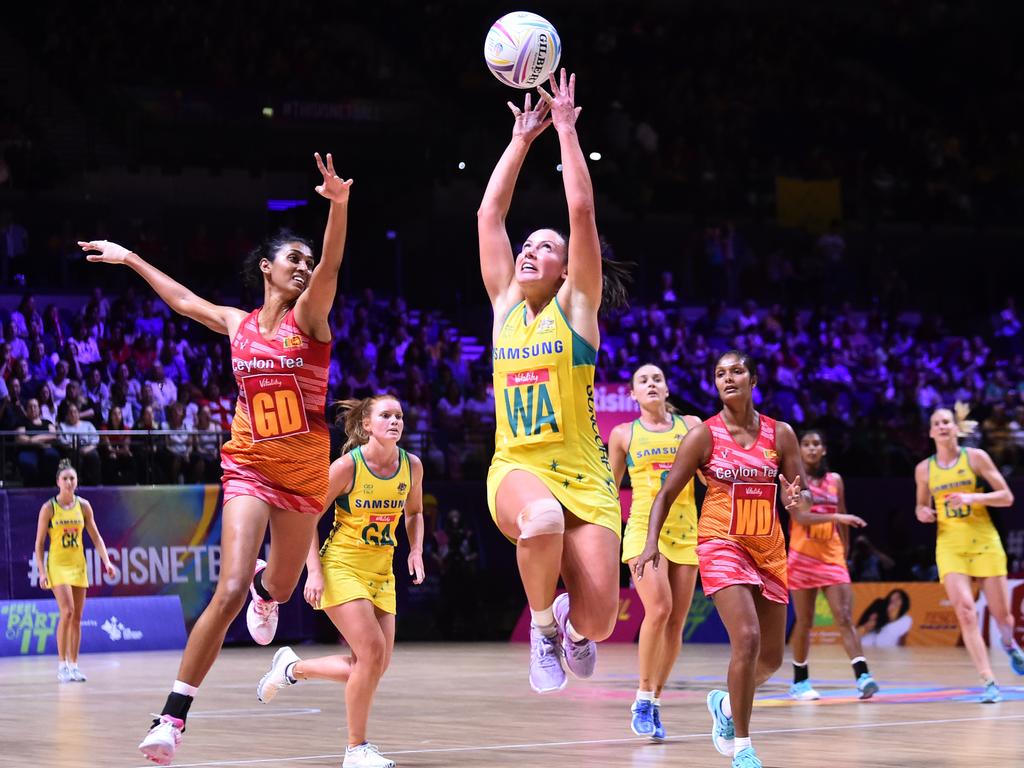 Browne in action against Sri Lanka at the 2019 Netball World Cup. Picture: Nathan Stirk/Getty Images
Much like Vixens' goal attack Keira Austin also admitted recently, Browne returned from Diamonds' duty feeling less than optimally fit, mentally.
"With my knee, and I've never spoken publicly about it, just with friends or whatever, I said it was either gonna be my head or it was gonna be a body part (that suffered),'' she says.
"I just felt I was in a period where I was going to start to absolutely hate netball and my head was gonna tell me, 'Nuh, we don't want to do this anymore', and I really wasn't enjoying it any more, or it was gonna be a body part.
"So I sort of look at it now and I'm so grateful for doing my knee. It was almost the best thing that happened to me, and I'm sure Keira would say the same, because you learn so much about yourself.
"Injuries are gonna happen. It's not the end of the world. It's not like a death of a family member and I know a lot of people go through a lot of harder things than an ACL. But it is a defining moment in a career, and I felt it gave me a lot of time to sit and think about who I am and what I want to do and gave me a lot of growth.''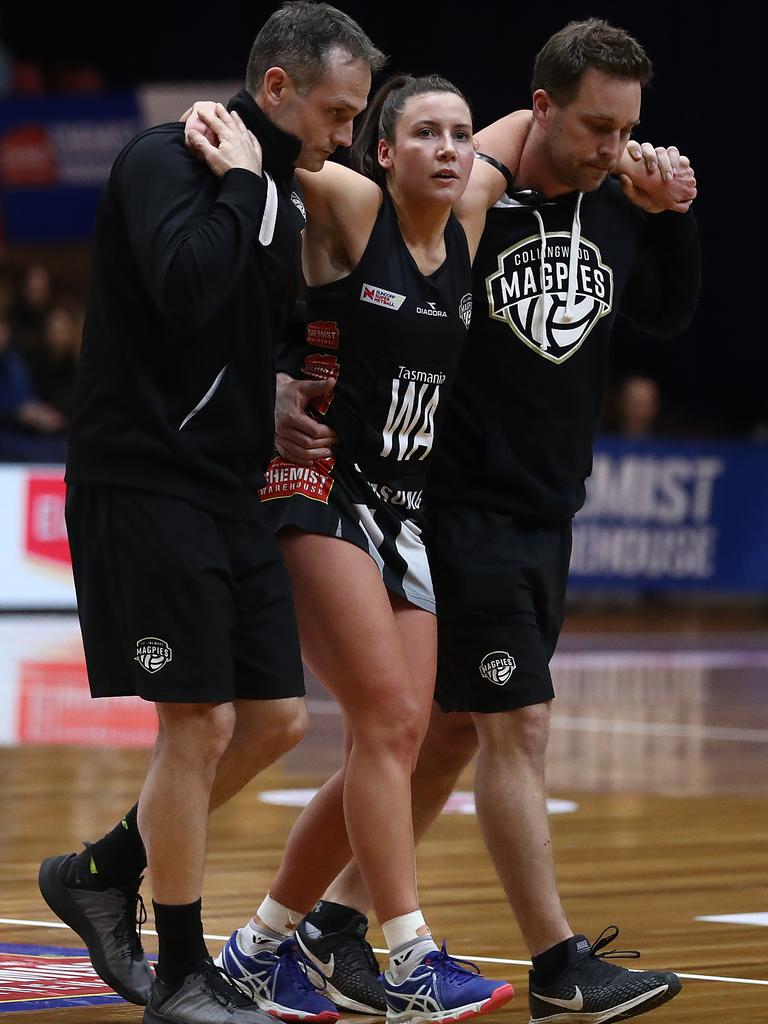 Browne's career has been plagued by persistent ACL injuries. Picture: Mark Metcalfe/Getty Images
As for a silver medal World Cup experience she maintains was still "the best thing I've ever done", leading to such an emotional struggle so soon afterwards, Browne says it was mostly about self-inflicted stress.
"I think just my nature at that time was live, breathe, eat, drink, sleep netball, and I gave myself no balance. Going to a major event was a dream that I'd wanted to achieve since I was a kid, so that was so positive and such a big high, but the pressure that I put on myself was just immense.
"I just wanted to be perfect. I wanted to tick every box, and I really took that to an extreme, I think.''
Having been open with her depression diagnosis at the age of 16, and working diligently to manage her mental health in the half-lifetime since, Browne believes this was something far different.
"I honestly think it's just that playing for your country was such a big deal for me. I was holding on so tightly to it that I was like, 'I don't want to ever let this go, so I'll do everything to keep it'.
"Everybody else was (saying) 'you're doing great'. But I just wanted to be better and better and better and better, until I got to a point where I was like, 'Wow, I'm exhausted'. But I still look back on the World Cup and I'm like, 'I can't believe I got to do that'. Sometimes I pinch myself. It's the coolest thing I've ever done.''
Many Diamonds struggled after Liverpool. In Browne's case, her Super Netball resumption came just four days after returning home, and included a very public courtside exchange with then-coach Rob Wright that triggered "two weeks of hell''.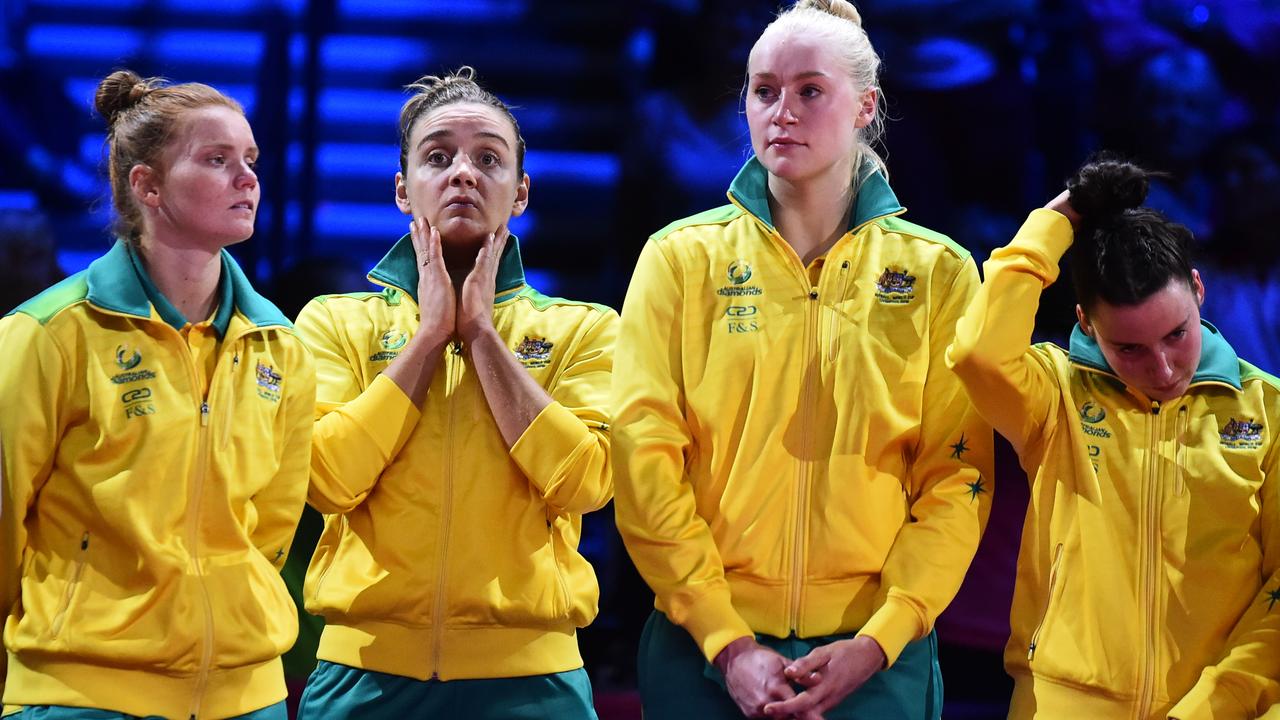 Browne and the Diamonds were dejected after their grand final loss at the World Cup. Picture: Nathan Stirk/Getty Images
The fortnight leading into her ACL tear. Coincidence? Browne thinks not. Then there was what came next.
Rehab ("hard").
Return season ("I completely underperformed").
"You're thinking, 'I'm gonna come back bigger and better and stronger', and you've put so much time into your rehab, and you have all these visualisations of coming back and absolutely dominating the competition again.
"So when it doesn't go that way you sit there and you go, 'Jeez, like, have I lost it?' I honestly went through a period of time in 2020 where I was like, 'I'm never gonna play how I used to play, I'm gonna have to find a way to play with the body that I have now'. And it's nice to talk about that now because I'm fully through that.
"But at the time I remember my family saying to me — and they didn't mean it this way — 'we don't like watching you play anymore because we know it's not how you want to play. Your mind might be there, but your body can't give you what you need'.
"It was like being trapped in your own body, so I started to lose the love. We won one game in the 2020 season, I was out half the season with another knee injury. Then last year obviously the wins and losses still weren't great, but I did start to feel a bit more like myself again.
"And now we're here.''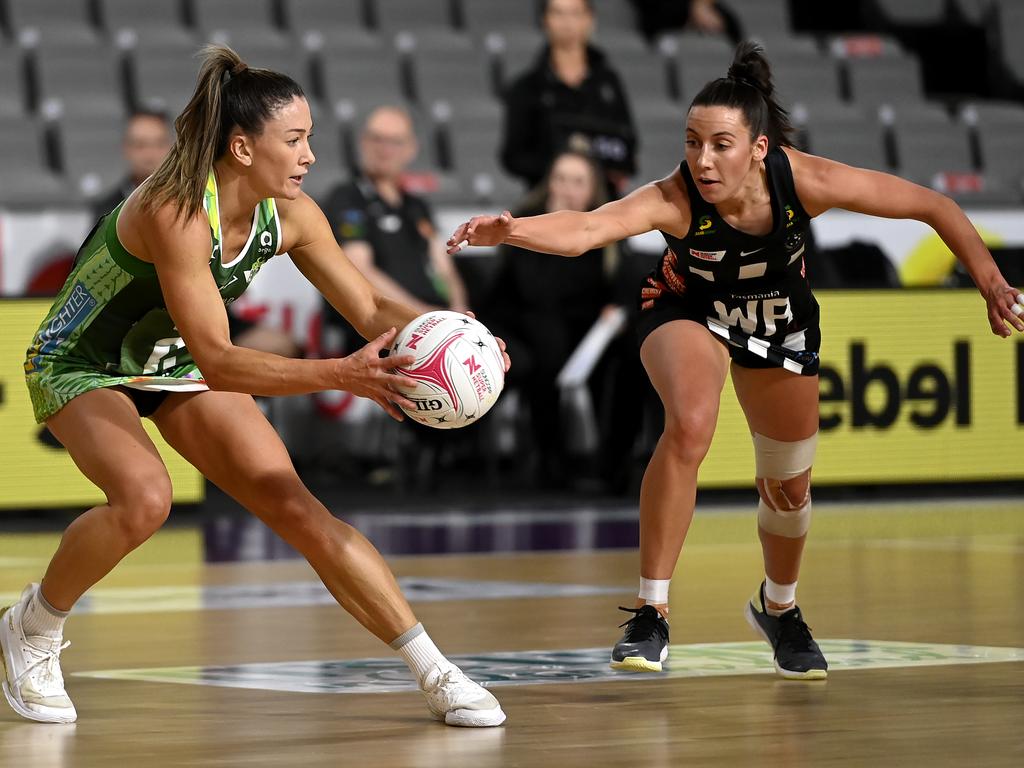 Browne was disappointed by her form in the 2020 season, following her return from injury. Picture: Albert Perez/Getty Images
*****
Rarely is anything straightforward for Kelsey Browne, though.
"Eventful" is a word she agrees helps to sum up her life and career. "I mean, if you were to ask any of my friends, they'd probably be like, 'Well, Kelsey doesn't do things without a little bit of chaos'.''
This year's upheaval has been her split from partner Ryan Papenhuyzen, the Melbourne Storm fullback, after almost three years together. The pair continued sharing a house for several months, amicably, but sister Madi has shifted in now that Papenhuyzen has moved out.
"We're just at very different stages of our life,'' Kelsey says. "There's still a lot of respect there, we care about each other, so everyone else was like, 'How are you guys living together?' and I was like, 'Well, there's no animosity, nothing happened, it just sort of ran its course'. So we're fine.
"Obviously people who are close to me know that this off-season and this pre-season has been probably my most personally challenging, because there's been so much going on behind the scenes… but I'm actually in a really good space. I feel really happy, I'm enjoying my netball.''
Browne is also in a positive place with her only sibling, for theirs has been a slightly problematic relationship over the years.
Kelsey believes netball has been the basis for both their issues and closer friendship now.
"I've really learnt the value of my sister and the support and just the love, but all of that has only been shown to me through things that have happened in netball,'' she says, the pair having played about a dozen part-games together across their brief joint stints at the Vixens and Magpies.
"Same with (my) development from 17. I wanted to be like her and then I was, 'Well, I don't want to be her, and I don't want to be like her', and the identity challenge that I had with that.
"So figuring out who the hell I was, because for so long I was Madi's little sister, to then us being the Browne sisters, to then now she's stepped into a completely different area, doing commentary, and I'm sort of holding the fort… yeah, it has been this whole full circle moment.
"But netball will always be the thing that completely tied us together, that we probably look back on and go, "Our biggest challenges and our biggest moments that we supported each other (through) were all things that happened in netball'.''
Netball will always bind the Browne sisters together. Picture: AAP Image/Michael Dodge
Knee injuries. Diamonds selection. Non-selection. The risky decision to switch clubs.
Eventful, yep, and the younger Browne says she would not have it any other way.
Part one: thinking she would never leave Melbourne, and would be a Vixen for life after finally getting her chance following several seasons as a training partner and replacement player.
Part two: flourishing as a Sunshine Coast foundation player, amid considerable personal turmoil.
Part three: Diamonds, Magpies, an ACL, and back again.
"I just think my career's gonna be such a great story to talk about when I'm 60 and I can't wait to tell my kids about it because there has been a lot of up and down,'' she says.
"But I feel like I wouldn't understand or appreciate the highs if I didn't have all of the setbacks, like not making Diamonds, or my knee, or the mental health stuff. They were all so important because now I just really, really cherish the highs and I'm really, really hanging onto that because I know how quickly things in sport can change."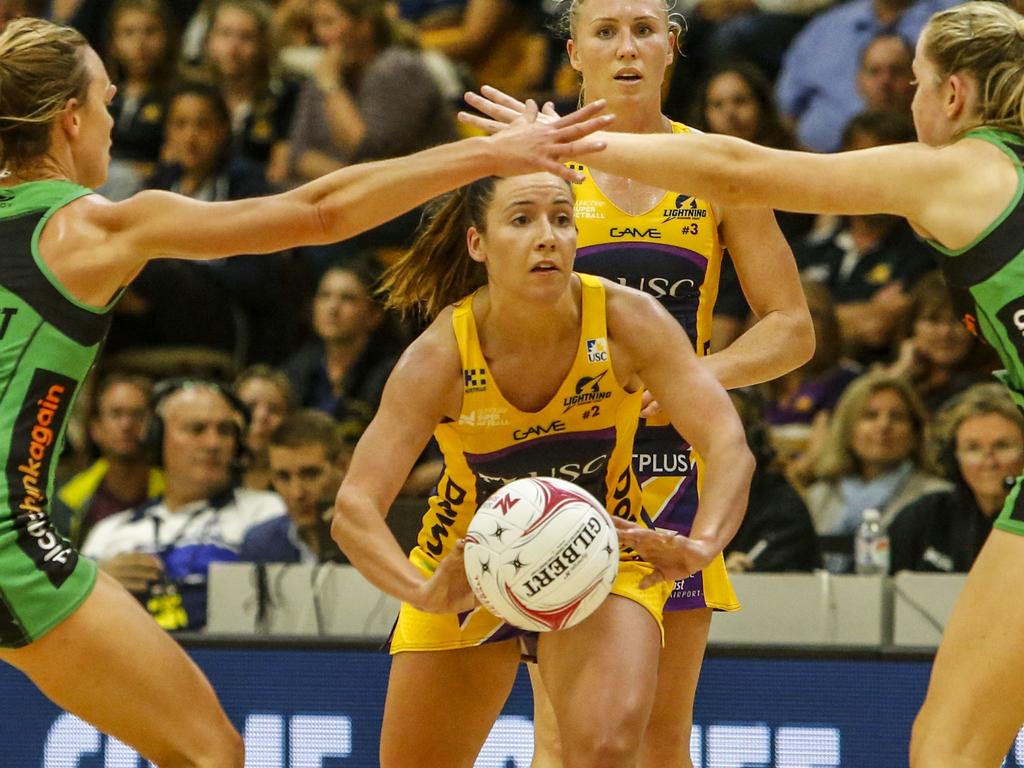 Browne's breakout season in the Super Netball came away from her home state of Victoria, with the Sunshine Coast Lightning. Picture: AAP Image/Glenn Hunt
*****
Collingwood is Browne's sole focus at the moment — necessarily, yes, but enthusiastically, nonetheless.
With the 84-gamer's body fitter and stronger than when she was 22, she says she jumps out of bed each morning eager to get to the Pies HQ, where she admits she's probably spending far more time than she should. "If I could sign a five-year contract tomorrow I would,'' Browne says.
By which time, of course, things may have flipped again. At the 2018 Commonwealth Games on the Gold Coast, Madi was the active Browne and Kelsey recalls sitting in the stands thinking how far off the pace she was. Only to then make the World Cup team the next year.
"I still have dreams,'' she says. "I still want to play in a Comm Games. I still want to play in a World Cup, and I know that there's a lot of people who would be like, 'Oh, why do you want to play til you're 35?' But where I feel at the moment is that while my body feels this good, why not have the dreams and the ambitions to do it?'''
Indeed, Browne recently told Richardson that, for as long as she remains in Super Netball, she will be seeking a Diamonds recall, and doing her utmost to earn another gold dress. "I'm still going to be trying the whole time I'm playing,'' she says. "I never want to give up on that.''