Australian Diamonds: Ash Brazill's remarkable journey to Commonwealth Games debut at 32
Overlooked for every previous benchmark event, Ash Brazill is overjoyed at her Commonwealth Games call-up, writes LINDA PEARCE.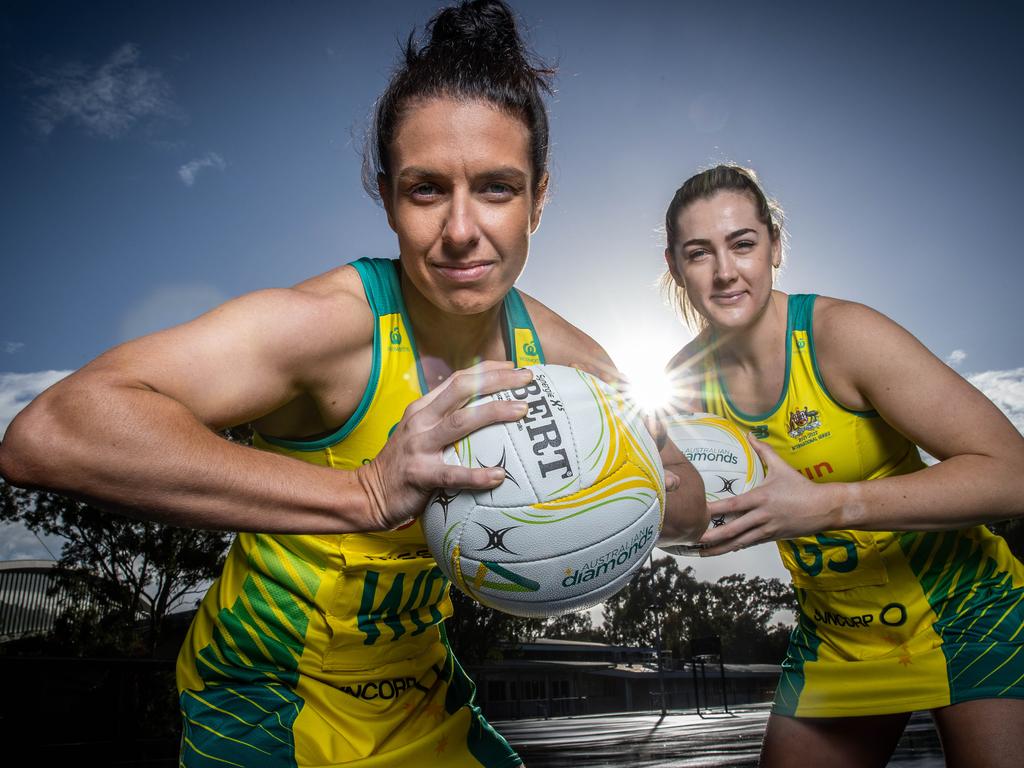 Ash Brazill and her Magpies teammate Sophie Garbin received very different phonecalls from Diamonds head coach Stacey Marinkovich about their Birmingham fate. Picture: Jake Nowakowski
Airports, we know, can be emotional places. So it was 10 days ago when, near a domestic baggage carousel at Tullamarine, a tearful embrace between a sobbing Ash Brazill and her similarly overcome wife Brooke drew quite a few knowing eyes.
While the Brazills had planned to be in the privacy of home for the scheduled yes/no Commonwealth Games selection news from national coach Stacey Marinkovich, a delay on the Magpies' return flight from their round 13 Sunshine Coast fixture led to a very public reveal.
"Stace went, 'Braz, obviously I'm here to tell you the result', and then she got all teary, and I was like, 'Oh, my God. Oh, I'm not in!' Then she said I was in and I couldn't even speak back,'' Brazill recalls.
"I was bawling my eyes out. In the middle of the airport. And they're telling me I can't tell my teammates. I was like, 'Oh, it's pretty bloody obvious - they know what's going on!'''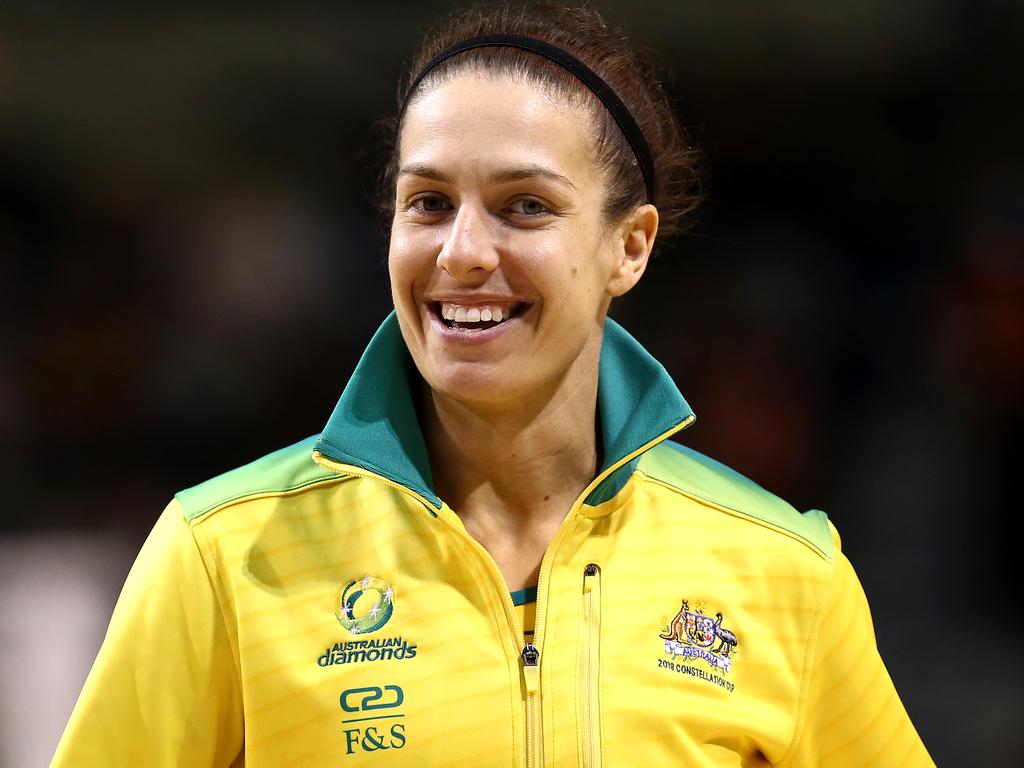 Ash Brazill struggled to contain her excitement after being selected for the Diamonds' Commonwealth Games squad. Picture: Dianne Manson/Getty Images
As Brooke was trying to act as a human shield and distraction while holding the couple's baby daughter Frankie and keeping an eye on roaming toddler Louis, Brazill could feel the gaze of coach Nicole Richardson as she hung up from the call and made an immediate beeline for her partner.
Who had read the body language and, naturally, was crying for joy, too.
"Our [Collingwood] video girl Molly was next to Richo and she was like, 'OMG, I've never seen Braz cry. Are they happy tears?' And Richo was like, 'Oh, they're happy tears', she told me later,'' Brazill says.
"It was just mind-blowing. Brooke and I were talking about it on the way from the airport and I was saying, 'Even though I've missed out on certain teams, and Comm Games, World Cups, it kind of feels like it was all worth it, just for this moment'.
"When you have setbacks or you don't make teams, when you finally do it, it makes it more special. You don't take it for granted. So all those years were hard, but you forget that once you're here. And the fact that Stace and I have that relationship [from West Coast Fever] before Diamonds, for me it was extra special again to hear it from her.''
Magpies coach Nicole Richardson was equally ecstatic for her star centre-courter. Picture: Bradley Kanaris/Getty Images
At 32, Brazill is the oldest player in the Diamonds 12 for Birmingham.
With Firebird's shooter Gretel Bueta, the explosive midcourter is one of two mums.
After being overlooked — sometimes controversially — for every previous benchmark event, Brazill is among eight Commonwealth Games debutantes in an Australian team seeking to reclaim the crown sensationally lost to England on the Gold Coast four years ago by a single goal.
And, having put her beloved AFLW career on hold last season to chase a dream that dates back to her five-year-old pretend gold medallist self signing autographs for her teddy bears and dolls, the fact she was unable to attend Tuesday's announcement/photo opp due to a nasty bout of Covid-19 mattered not at all.
"I'm in the team, so I don't care,'' laughs Brazill, who was not just flattened by the virus that swept through the whole household late last week but still in a state of shock when she received another message from Marinkovich on a stressful Monday afternoon.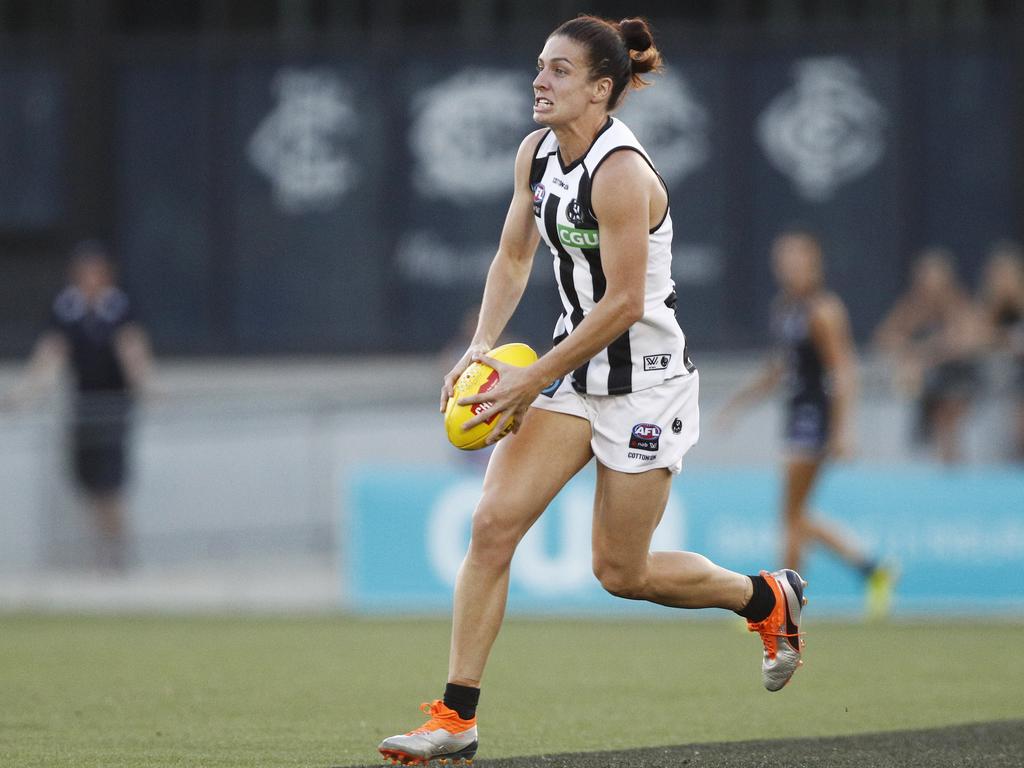 Brazill opted out of the 2021-22 AFLW season with the intent of making the Commonwealth Games netball squad. Picture: AAP Image/Daniel Pockett
"Stace said, 'I hope you're getting yourself right for finals'. And I was like, 'Mate, I'm dying over here, but still smiling about Comm Games','' she adds, having been forced to isolate while the Pies clung onto fourth spot in Super Netball's dramatic final round.
"It definitely feels real but at the same time it doesn't because it's just weird. I look at my life and how lucky I am to have my two kids, and my wife, and we're in Melbourne, and Collingwood are doing well at the moment, I'm enjoying my netball and in a couple of months, not even, we're going to England.
"That's just nuts. I'm still shaking my head right now.''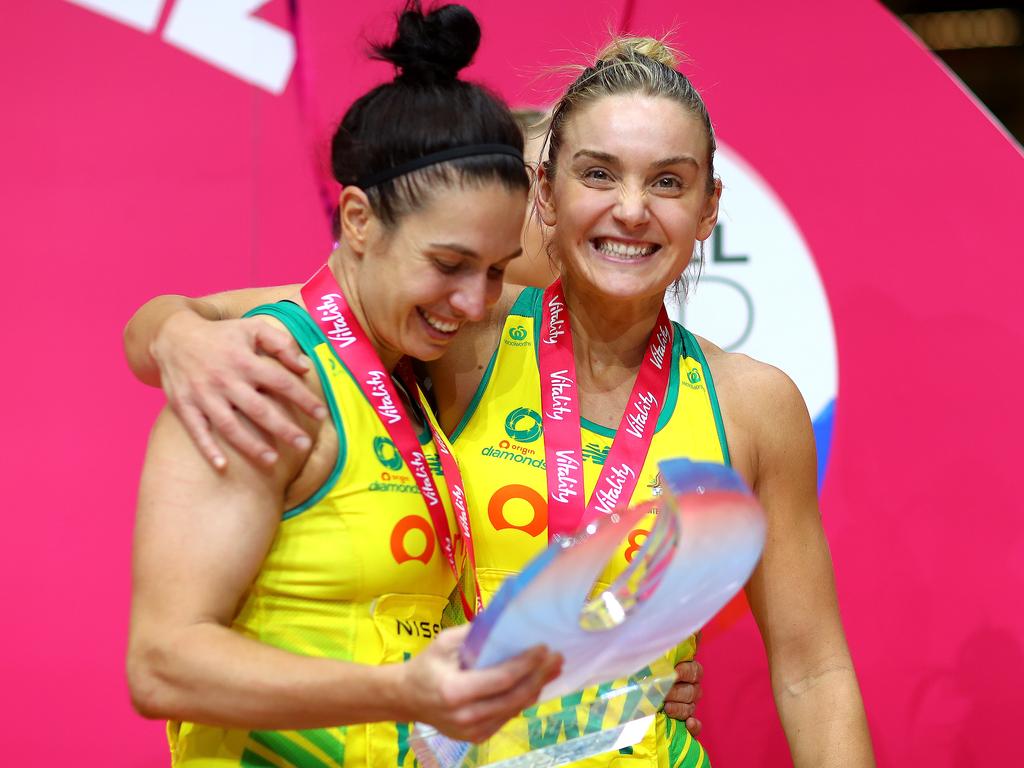 Brazill is one of three players who will be making their Commonwealth Games debut in Birmingham. Picture: Chloe Knott/Getty Images for England Netball
*****
Sophie Garbin, the unsuccessful Magpie in the national squad, had flown home from Queensland the previous night, which avoided any airport awkwardness. By the time the pair were back at Collingwood HQ, there had been some time for Garbin to digest what Brazill has been forced to swallow multiple times before.
"Soph and I chatted, and she's such an awesome person, she was never going to make me feel like I needed to worry about her, even though obviously I do,'' says the cross-coder. "She was just stoked for me and made me feel really comfortable to be happy once we were at training.
"She's still so young and still has so much growth in her game to go, which is exciting. You just look at me and you could easily say, 'You've missed out and you think it's over. How many have I missed? I feel like I could retire at any time, but I'm finally here'.''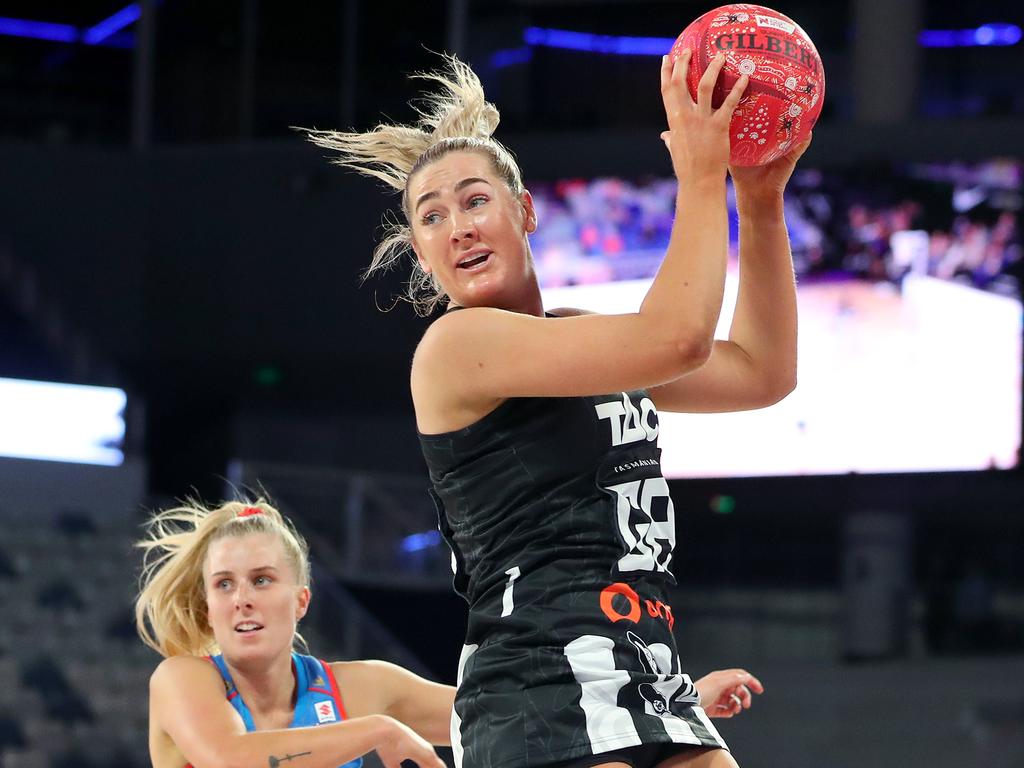 Brazill's Magpies teammate Sophie Garbin was omitted from the Diamonds squad for the Comm Games. Picture: Kelly Defina/Getty Images
The Diamonds' dozen were asked to inform only their immediate family after making the cut, but, in Brazill's case, not only did the people who matter know, but so, by "default" after the elation and relief spilled over, did her teammates.
Where this tale is unique, though, is that football is an even greater sporting passion for the former All Australian and Pies' best and fairest. Having torn her ACL on the field in early 2020, the risk of another injury was a big part of Brazill's reluctant decision to withdraw from the 2022 AFLW season — even if she hasn't always been certain such a huge call was necessarily the right one.
"Oh no, I definitely questioned it throughout the whole year. Probably more so when Bree Davey went down and did her knee. Everyone said, 'Oh, see, Braz, it was a good decision', whereas I felt I let my team down because I couldn't help them to get to where we wanted to get to, so that was really tough.
"But my coach [Steve Symonds] was super-supportive, and it was just one team that I walked away from. There's plenty more seasons to come. It wasn't a forever thing, so I can't wait to get back to footy.''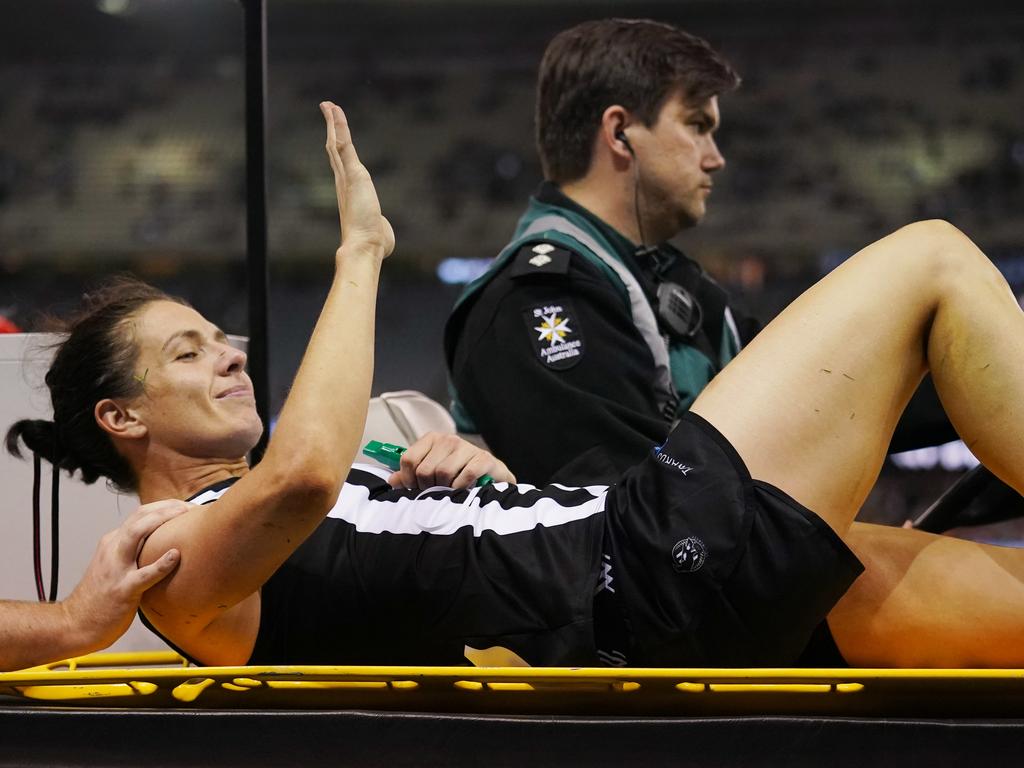 Brazill recovery from an ACL injury gave her time to consider her career priorities. Picture: AAP Image/Michael Dodge
Brazill has a year remaining on both her Collingwood netty and footy contracts, the potential carrot that is the 2023 Netball World Cup in Cape Town, and a determination to join the AFLW pre-season as soon as she returns from Birmingham.
"I really missed footy this year, and I believe footy makes me a better netballer,'' says the last remaining foundation Magpie of the latter kind. "My game has changed this year probably a little bit, missing those few footy elements, so would love to obviously get that back into my game.
"But I probably didn't expect to love netball as much as I have this year. Our team, and I'm pretty sure you can tell on the court, I just feel like we've gone to another level. The joy that we have at training and our connection off court has been the best it's ever been at Collingwood, and that's probably helped us on the court.
"So it's something I thought might have been easy to walk away from, but going off this year I'm probably now having too much fun.''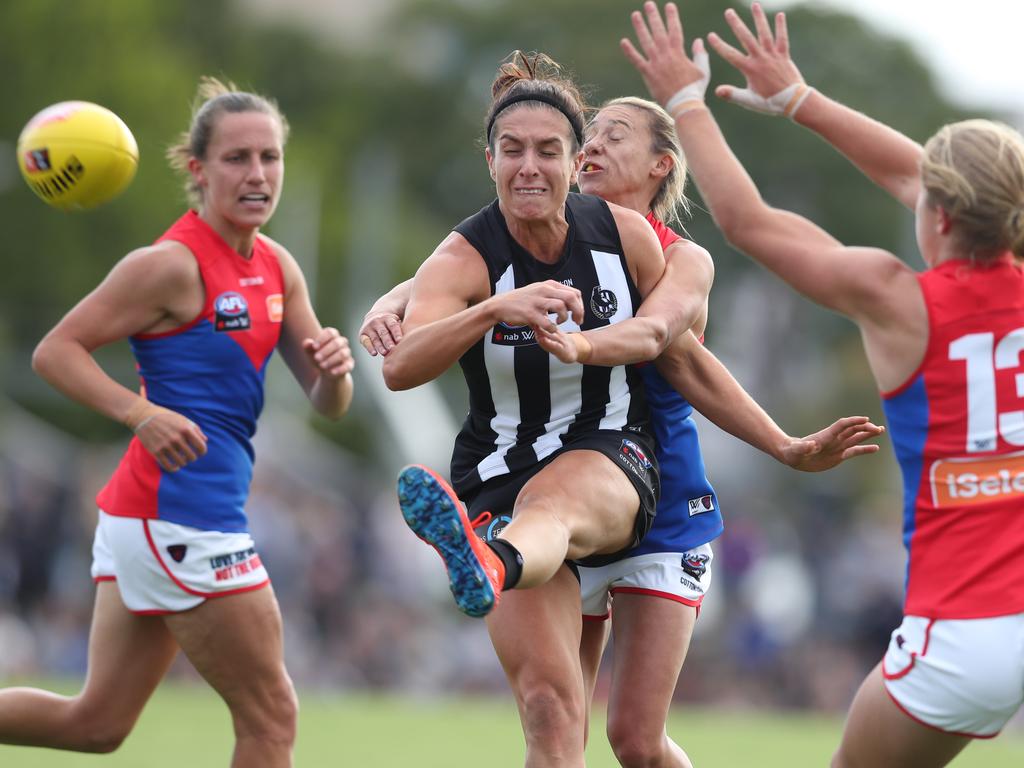 Despite missing the previous AFLW season, Ash Brazill still has one season to run on her contract with Collingwood. Picture: AAP Image/David Crosling
*****
It was after wrecking her knee and breaking her leg playing AFLW in early 2020 that, almost counterintuitively, Brazill dared to dream she would be packing her gold dress and heading to the UK 29 months later.
The specialist wing defence was devastated to have missed selection for the previous two pinnacle events under former Diamonds' coach Lisa Alexander, before earning an overdue recall for the Constellation Cup ahead of Marinkovich's elevation to the top job.
"I remember after Comm Games I was like, 'Well, I'm too old now, this is my last opportunity, I'm done', and then I got to play at the end of 2019 after the World Cup — didn't even make that — and then did my knee.''
Lisa Alexander called up Brazill for the 2019 Constellation Cup. Picture: AAP Image/Richard Wainwright
Eventually, while in both rehab and Melbourne's extended 2020 coronavirus lockdown simultaneously, unable to even see a physiotherapist for around seven months, Brazill called Netball Australia for some medical advice just after the Diamonds' coaching change.
"They got Stace to call me, and she was like, 'Stay positive,' and it was probably just the refresher that I needed like, 'They actually do care'. And then I was like, 'OK, well, that just felt nice'. And I probably hadn't felt like that in the Diamonds environment before.
"So I was like, 'This is where I wanna be'. Somebody gave me a bit of love and that was it. I was off!''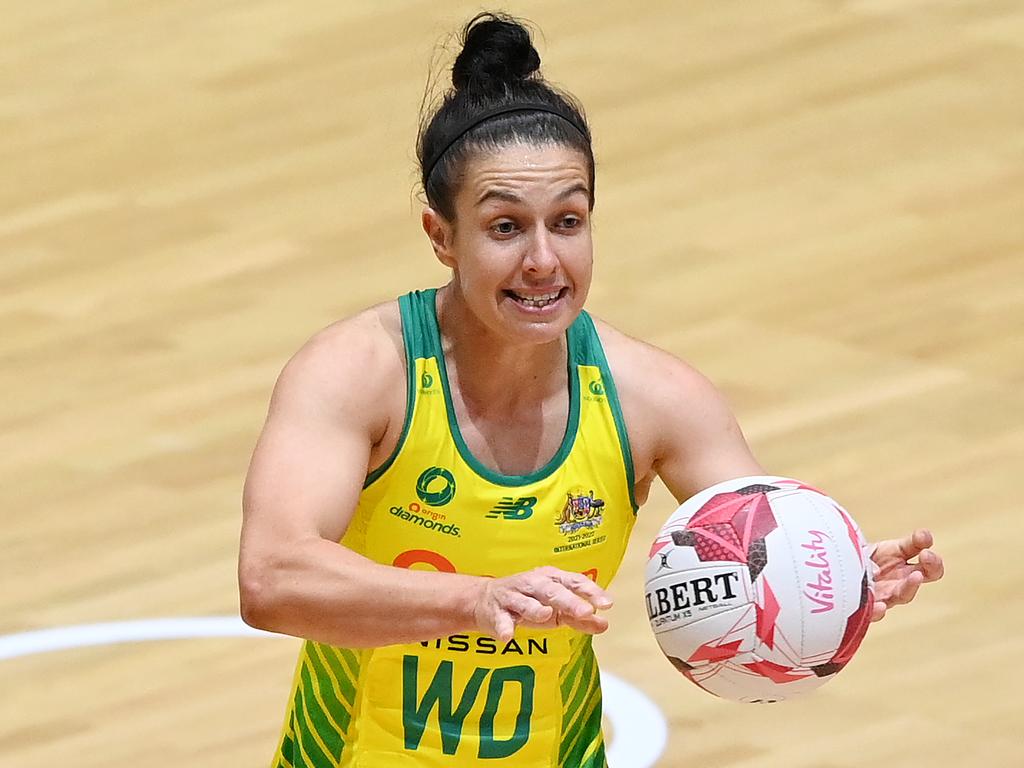 Brazill is the oldest player in the Australian squad at 32. Picture: Alex Davidson/Getty Images
Brazill then announced to her wife that she wanted to make the 2022 Commonwealth Games team. Just like that. Can laugh about the sudden backflip now, too. "I couldn't even ride a bike at that stage, but I was playing Comm Games.''
In her head, anyway, for Brazill's body and peak SSN form were still some way behind her ambitions during the initial stages of her return, with a gradual on-court improvement apparent, but a knee clean-out — usually requiring a 12-week recovery — needed before the Diamonds' Quad Series trip to London in January.
"Even before the game I just thought there was no way I could play. My knee was hurting through training and thought I was going to embarrass myself on court,'' she recalls of a lead-up to an opening Test in which she would be named MVP.
"Then our first game against New Zealand we won comfortably, so I was like, 'Oh, this is good signs, good signs'. [As a team] we went away and we did well and I was like, 'Oh well, this could actually happen'.''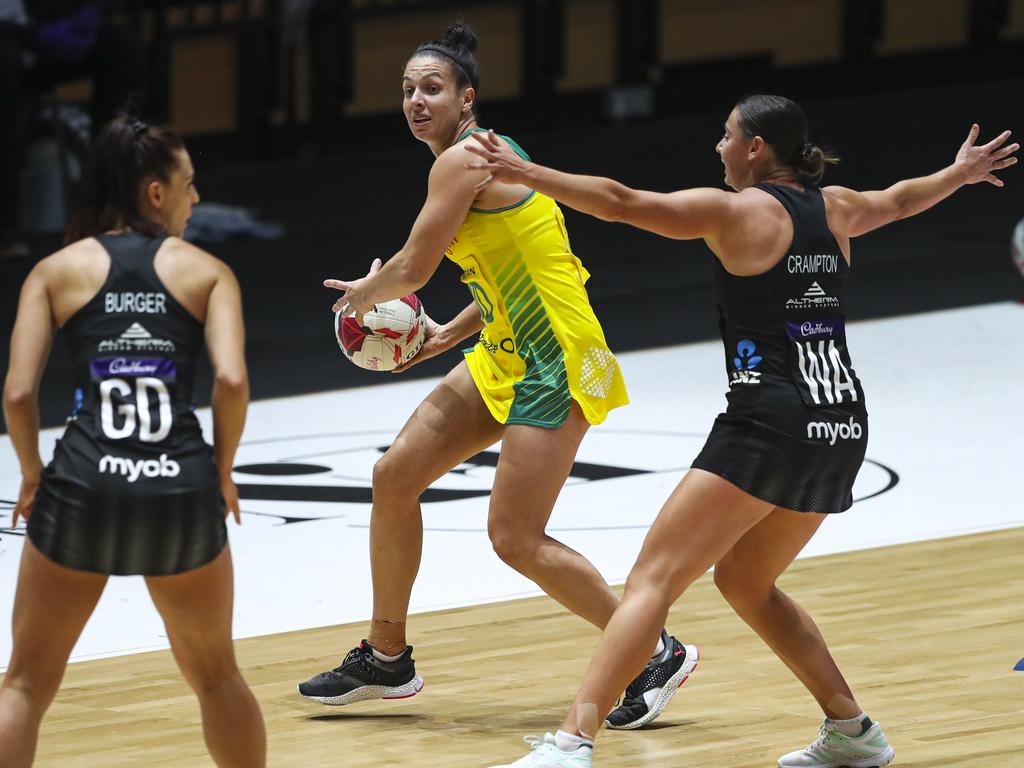 Brazill was a key player in the Diamonds team throughout the 2022 Quad Series. Picture: Kieran Cleeves/PA Images via Getty Images
Among the many pleased that it has is the great Norma Plummer, a long-time ally who coached the Diamonds from 2003-2011, originally recruited NSW-born Brazill to the Fever, and is currently mentoring South African head coach Dorette Badenhorst.
"It's very exciting for Ash and I'm really happy. I sent her a text and said, 'Good luck in the final and we'll see you at Comm Games'.'' says Plummer, who admits she prefers Brazill at centre, where she can fully utilise her speed and athleticism, than in what can become "chase mode" on occasion at WD.
"I hope she has a blinder. I really do, because she's worked so hard for it, she's such a likeable kid, and she wants to give her all.
"The one thing that stands out is if she feels others are not really putting in, it gets her down. She likes to think that the team want to fight all the way through; not everybody has that mentality, unfortunately.''

Surely every Diamond will in Birmingham, though?
"Oh well, you would hope so.''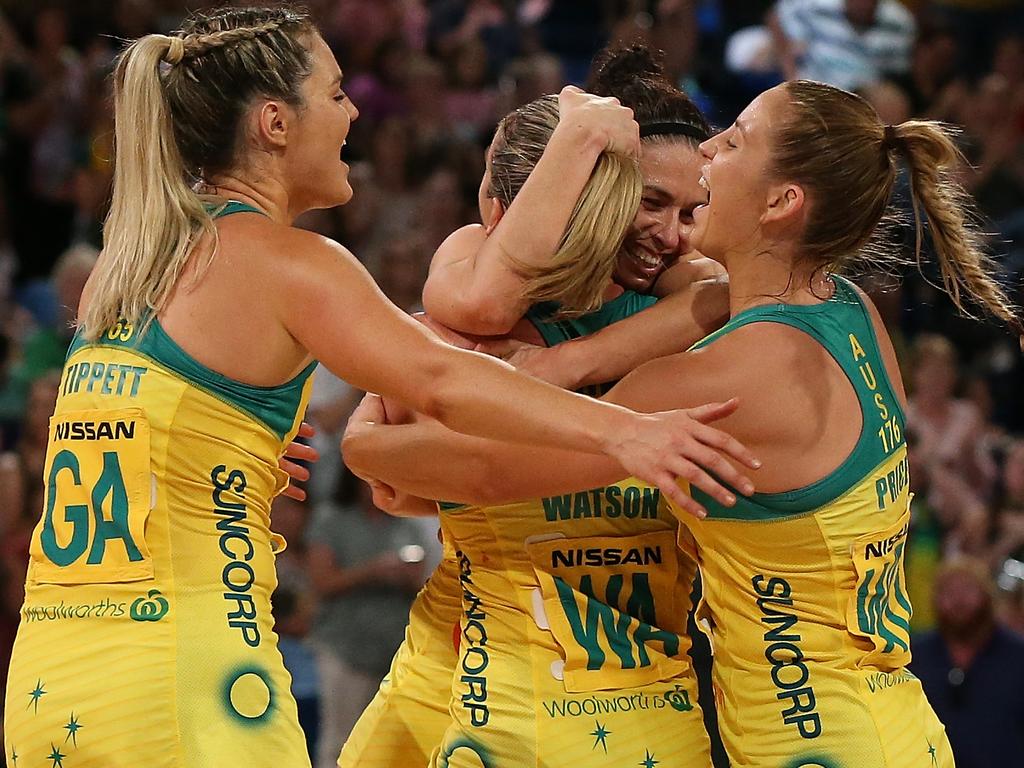 The Diamonds will be aiming to better their silver medal at the 2018 Commonwealth Games and repeat the success of the 2019 Constellation Cup. Picture: Paul Kane/Getty Images
*****
There's another job still to finish before the Games begin.
Collingwood's.
Brazill found it excruciating to watch Monday's cliffhanger against the Vixens from her loungeroom, having been ruled out with Covid-19 — along with goal defence Jodi-Ann Ward and coach Richardson, also the Diamonds' assistant.
"Oh my God, it was like the hardest thing I've ever had to watch. I was crying before the game, I was crying after the game. Brooke's like, 'Why are you crying, the game hasn't even started?' And I was like, 'I'm not playing!','' Brazill says.
"I was chatting to Jodi as well during the game because obviously girls got Covid through the season and they missed a game here and there, but this game where it actually means we're either in the finals or out of the finals … it would have honestly felt like the whole year was a waste if we'd lost [by more than the maximum two-goal margin]. It was just weird not to be a part of it.''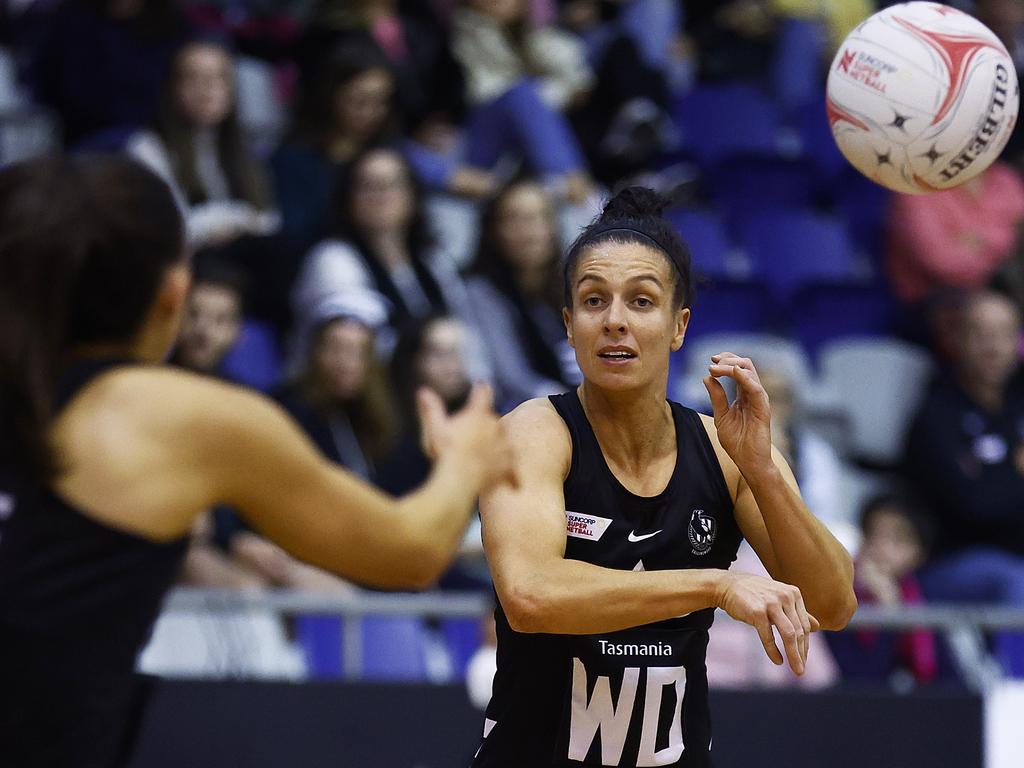 A positive Covid-19 test ruled Brazill out of Collingwood's final regular season match. Picture: Daniel Pockett/Getty Images
While young training partners Casey Adamson and Zoe Davies both impressed her, the shock late call-up of the long-retired Renae Ingles was as stunning to Brazill as to everyone else.
"I was like, 'Is this a joke? Isn't she in America?' But she was awesome. Renae IS awesome. Obviously she's super-fit, but I'm pretty sure she hasn't played netball for three years.
"She was great, and even speaking to the girls, just the leadership she brings, and the knowledge, that's something you don't lose, and you could tell when she was out there that she's still the Renae that everyone knows.
"It would have been hard on her playing against her old team and with the Vixens fans there, but we loved it.''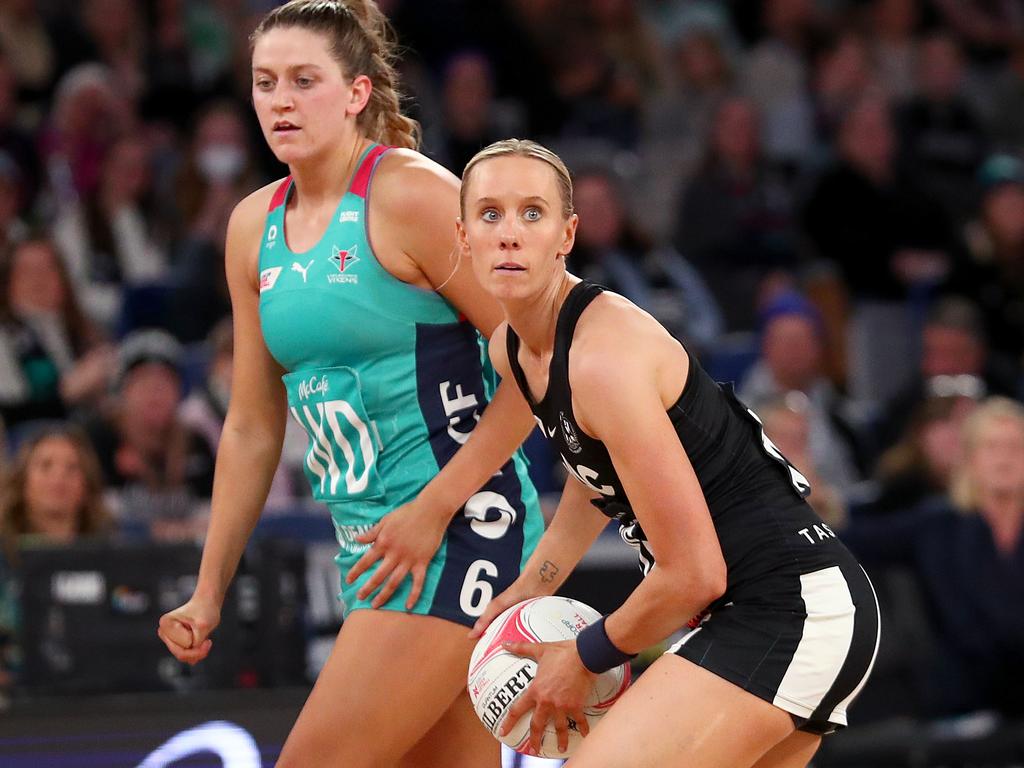 Brazill was shocked by Renae Ingles' call-up to the Magpies, but unsurprised by her incredible form. Picture: Kelly Defina/Getty Images
Sunday's knockout semi against the Giants, who have won the past 11 head-to-head between the clubs, will be the Magpies third attempt to win a final in their chequered, often difficult, six-year history.
Brazill is the only player who contested the previous two, in 2017 and 2019, but this is a different group, she stresses, with the best chemistry since it all began with a Diamond-encrusted playing list and in blaze of expectation.
Not glory, though. There's been none of that yet.
Still, perhaps the time is now. Just as it's proved to be for a popular Collingwood co-captain and 12-Test Diamond – one who knows all about the pain of a frustrating wait, and the heady emotions that can flow in public places once it ends.