Behind the many faces of Giants goal keeper Tilly McDonell
Giants goal keeper Tilly McDonell can handle her expressions on-court about as well as she can handle her boundless enthusiasm, writes LINDA PEARCE.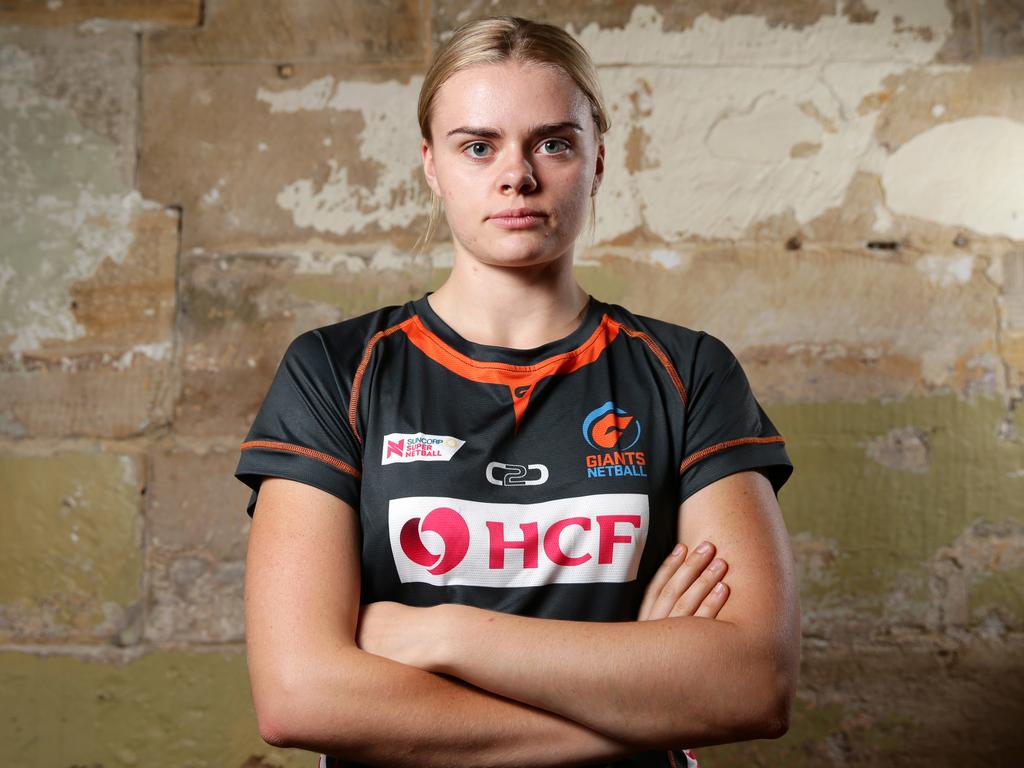 Tilly McDonell means business. Picture: Jonathan Ng
When the excitable Tilly McDonell watches her expressive self on replay, there can be a little of the "why'', some of the "wow'' and a touch of the "is that really me?''. The young Giant may find it hard to explain the energy and experience of being on a Super Netball court, yet the clues are clear to see.
"I can definitely pull a good 'facial','' she says with a laugh. "It's not intentional, let me tell you. I don't mean to do it, but I just get so into it and so focused that I just must not have any realisation or control over that.
"You go into almost this whole other level and you just get so absorbed in the environment there, and then afterwards when you watch some of the reactions you're like, 'Oh, my goodness. Oh wow'.''
The animation amuses former Melbourne Vixens and Diamonds defender turned commentator Bianca Chatfield, who is also a qualified fan.
"She's just so intense,'' says the 59-Test star. "You look at the facial expression, the way she plays, she's bouncing all over the court.
"I don't know her personally, but I just feel like she's got this energy about her that's infectious and she just is trying so hard to do well and I really love seeing that.''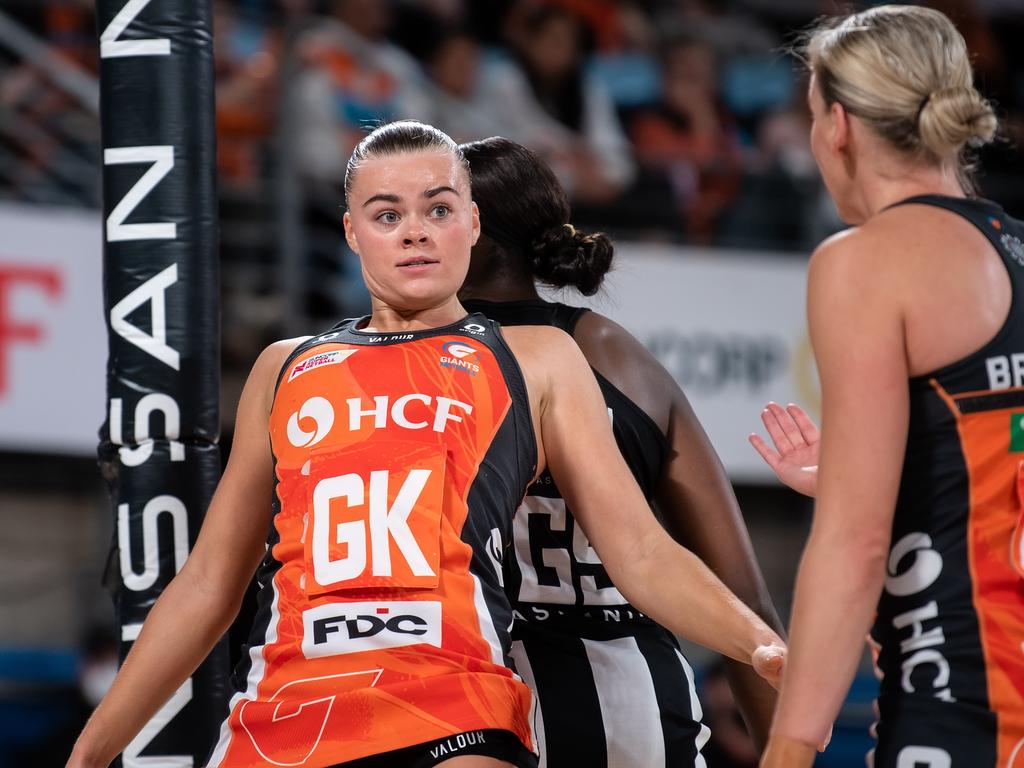 Tilly McDonell: "I can definitely pull a good facial." Picture: Steven Markham/Icon Sportswire via Getty Images
Having signed her first Giants contract in 2018, the just-turned 22-year-old was elevated to the starting seven this season after the retirement of Sam Poolman and the release of Kristiana Manu'a to New Zealand's Central Pulse left only April Brandley as an experienced hand in the defensive circle.
McDonell, no surprise, was so emotional to finally be awarded her first starting bib in the opening round's grand final rematch against the NSW Swifts that one of her challenges had nothing to do with the game itself.
"I was trying to not cry, because I'd worked so hard for it and I'd really earned it, and things mean more when you [have], so I felt really privileged.''
Did it feel as good as she expected? "Oh, better!''
*****
A product of the Londonderry club in the Hawkesbury Netball Association, one of McDonell's childhood heroes was the great Liz Ellis.
"Definitely! Liz Ellis, she's just amazing in every way – on and off the court. Seriously, she's incredible, and she's a Hawkesbury girl, too.
"She used to do these Liz Ellis Clinics, and I used to attend any time they came to the Hawkesbury. I was there with bells and whistles, every single one I would turn up.''
Goal keepers, both.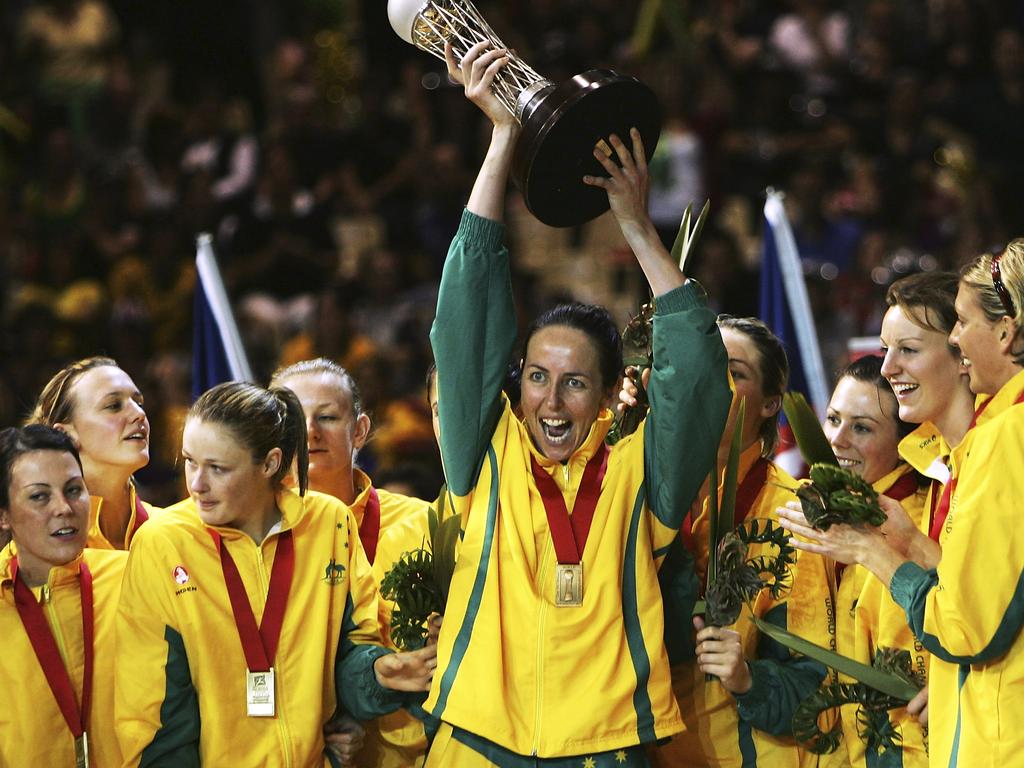 McDonell idolised Liz Ellis (centre). Picture: Phil Walter/Getty Images
Ellis, like law/psychology student McDonell, will soon become a qualified solicitor.
Shades of mini-me, perhaps, except that the 185cm McDonell appeals as more of the big-personality-and-ambitious-in-her-own-right type.
A future Diamonds captain, too, possibly?
"Well it's definitely the dream to be a Diamond; I think we've all got that growing up. Probably not for a while yet, but we'll see.''
A recipient of a Ben Lexcen Scholarship awarded to outstanding athletes studying at the University of NSW, McDonell is in her fourth year — full-time, in her self-described "all or nothing" way.
Appreciative of the balance, perspective and stimulation her studies provide, McDonell is eyeing a career in sports law, where she hopes to help assist women in sport, from pushing the "equal pay for equal play" philosophy to enhanced broadcast deals and pathway programs and just more female voices being heard.
Super Netball, where the average maximum wage this year is $91,500, and which introduced groundbreaking parental leave provisions in 2017, has been a progressive leader in many respects.
"The good thing is the tides are turning,'' says the 37-game Giant, "but they need to turn faster, in my mind.''
*****
She's undoubtedly the impatient type, McDonell. Her first big setback, or so it felt at the time, was to go from Australian schoolgirls MVP at 15/U level to twice being the only starting NSW 17/U representative to miss national squad selection. Yet what seemed like a crushing setback became a turning point.
"It was a real good kick up the backside and a kick in the guts and it kind of made me reevaluate what I was doing and where I needed to improve,'' she says.
There was a mental shift, too. Throwing herself into the academic side of her life eased the pressure of the netball-is-everything mindset. More eggs; different baskets. Less focus on results for their own sake.
"I just want things to happen straight away, but that's not the way the world works. I think for me now I'm like, 'Why did I even waste my energy on that?'
"But it was a great lesson because it gives you perspective, teaches you patience, and I think I carried that over into my next [stage] because everything definitely happened quickly with Giants and ANL and it was a bit of a whirlwind."
Soon enough, it did so with a rush, and McDonell surprised by her initial contract offer, but benefiting from the guidance of Fitzgerald, former captain Kim Green and current skipper Jo Harten as well as Poolman, Manua'a and the veteran goal defence Brandley, now her circle partner.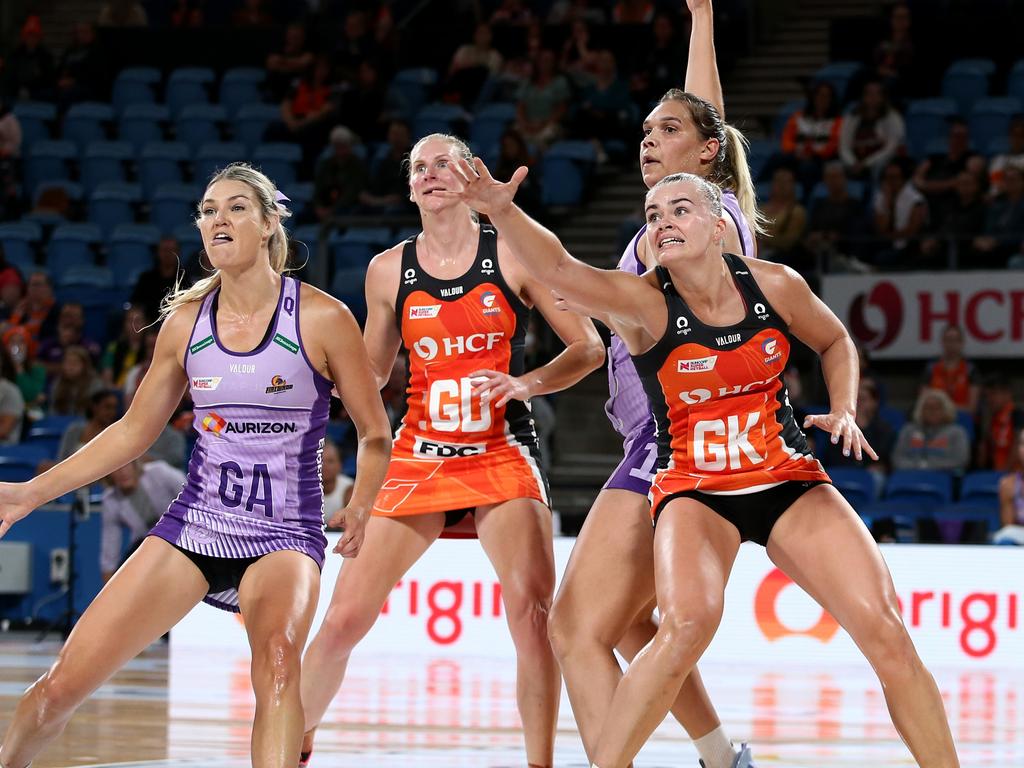 Tilly McDonell (right) has learnt plenty from teammate April Brandley (second left). Picture: Jason McCawley/Getty Images
"Still, feeling ready (which she did) is one thing, and moving from regular but restricted minutes as an impact player off the bench to full games (mostly, which has happened in 2022) is another.
"It's a completely different mindset,'' she says. "It's a more endurance-based thing both mentally and physically, as opposed to just getting out there and doing what you can in the time you've got. So it definitely wasn't a given, and I've worked hard and I still work hard every week to prove it."
*****
Goal keeper isn't known as one of the game's glamour positions. But tall eight-year-old Tilly loved it instantly.
"They put me there and I just had the best time. I don't know. I just feel like I was born to chase ball and hunt ball and I suppose as I've gotten older it's sort of more tactical.
"It's the thrill of the chase, almost, because the game is designed for the attackers and, as such, defenders have to flip it on its head and almost be like, 'No', to the princess attackers, 'We're the boss here', and it's really cool.
"I think it creates this really awesome dynamic where when a defender does win the ball it does make it even more priceless because we don't get to touch the ball very often, so when we do it's just like 'Yes!'.''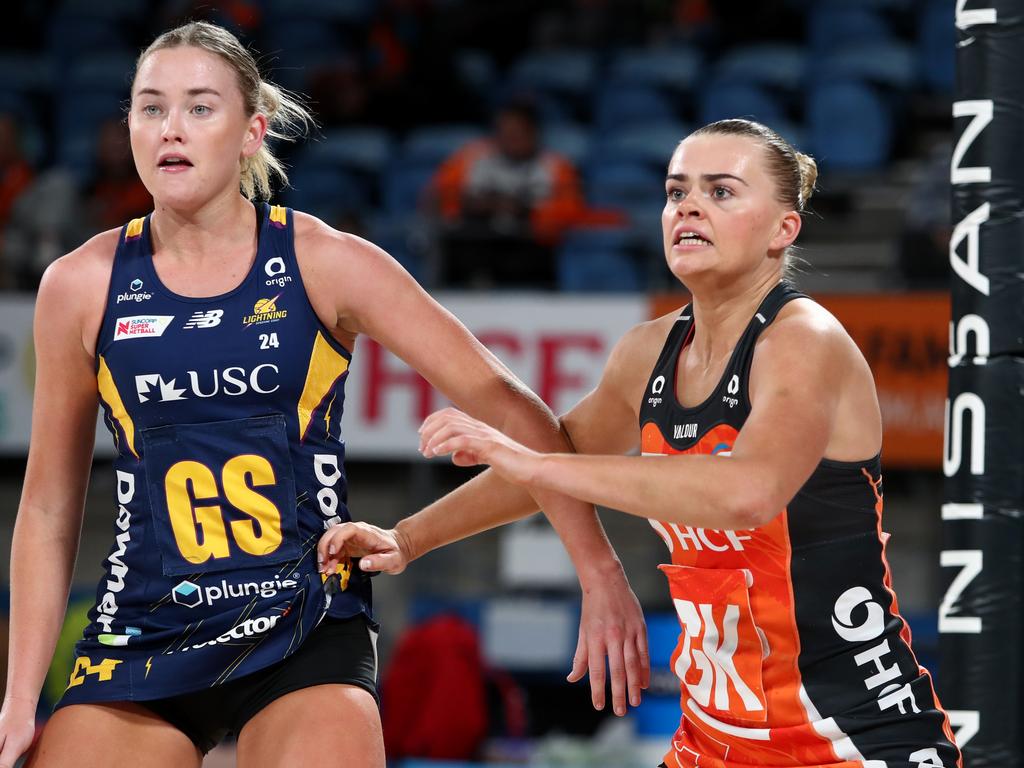 Tilly McDonell was "born to chase ball". Picture: Jason McCawley/Getty Images

McDonell's enthusiasm is palpable. She speaks of the buzz that comes with building pressure, working as a unit, the little victories, the big intercepts.
"It truly does feel like an energy transferral. When the defence lifts the attack lifts and vice versa … it's actually pretty beautiful!
''And particularly going from the bench where I was loud and proud and just so happy to be there, I really do try to bring that onto the court. I obviously don't have as much energy to bring that for the whole game, but I definitely think if I can bring that vibe and energy out onto there for 60 minutes, I think it only uplifts everyone.''
The taxing nature of it all leaves her absolutely spent, she says, and the coming-down process from the high of match day includes chill-out time meditating and reading, her phone resolutely switched off.
"I do get very overstimulated after the game, because there's a lot going on, so I have to disconnect a bit. That's the only way I can get my head back into it.''
Fuelled by a heady dose of white-line fever and a make-things-happen mentality, McDonell the netballer is as passionately all-or-nothing as McDonell the person.
"With everything in my life I give it everything or I don't give it anything,'' she says, "and with netball I give it everything, plus some."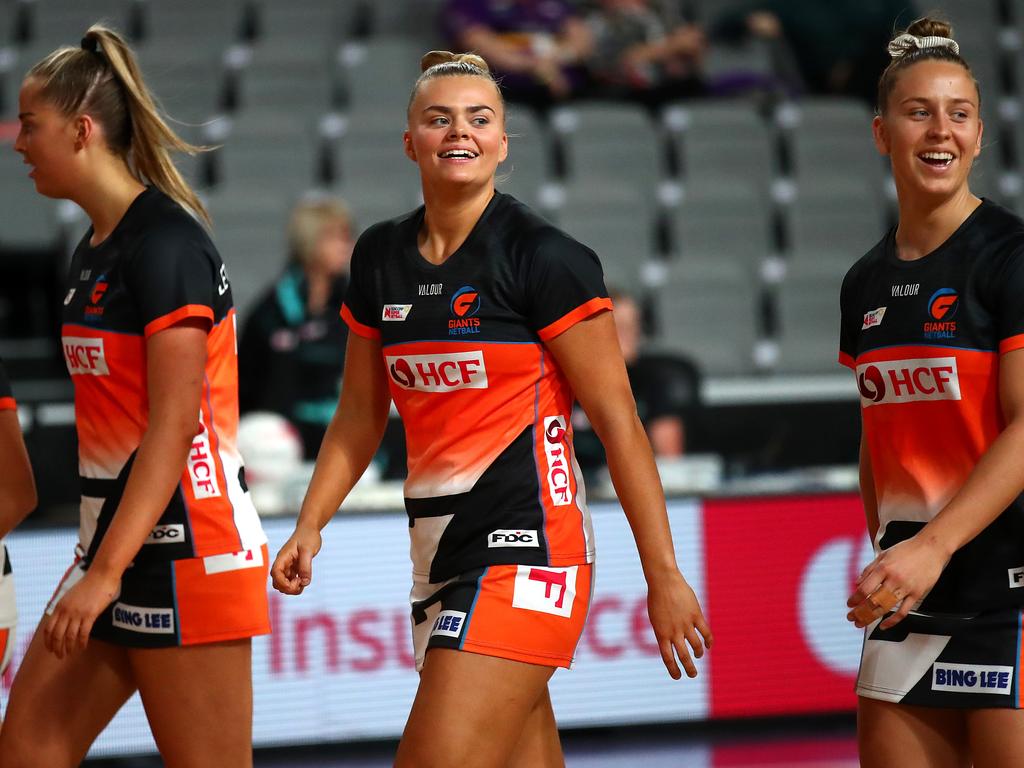 Tilly McDonell only ever gives it 100 per cent. Picture: Jono Searle/Getty Images
*****
If the answer has been McDonell [and Brandley], the pre-season question was: Who will replace the Giants' foundation circle defenders Poolman and Manu'a?
"That's always what Julie Fitzgerald is really good at: developing players,'' says Chatfield. "We all questioned where Giants would be if they didn't have a defence end, but well before any of us knew what Tilly McDonell could do, Julie would have had faith and belief that she could get her up to speed pretty quickly.
"Obviously she's only new, she's got a lot to learn, just in terms of the specifics and skill-based stuff of a defender, but you want your goal keeper to be the barometer of the team, and when Tilly's up and about, it really does spur on the rest of the side.''
McDonell is satisfied with her debut season in the core seven, aware of how much improvement is still needed, but dedicated to getting a little better each week. It matters most that the team is winning, and the Giants qualified for Saturday night's preliminary final against the Vixens in Melbourne by edging out the Magpies in last weekend's minor semi at home.
The minor premiers will be without goal attack Kiera Austin due to Covid protocols, while seeking to regain some of the spark missing during their drubbing from West Coast Fever. The door is opening for the Giants, meanwhile, but plenty more defensive ball and two more games still need to be won.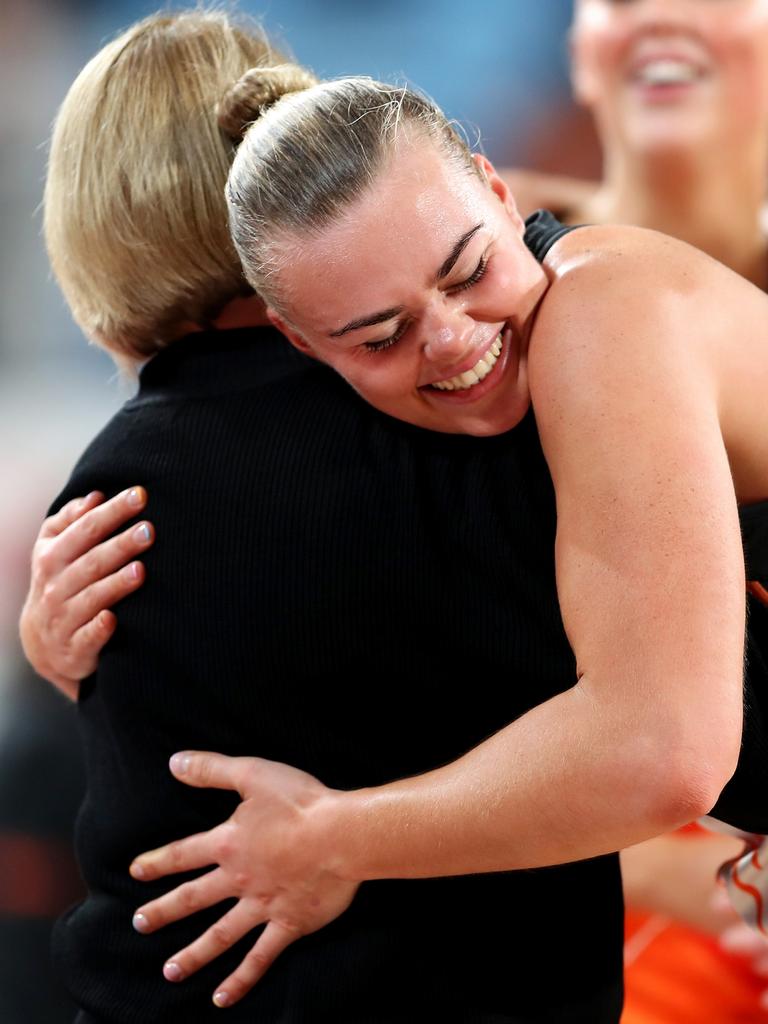 Tilly McDonell has benefited from the faith shown in her by Julie Fitzgerald. Picture: Brendon Thorne/Getty Images
McDonell's personal match-up will be with the multifaceted Malawian star Mwai Kumwenda, in what she expects will be "a massive fight" right across the court at John Cain Arena.
"Vixens will really have that fire in their belly and they'll be ramped up and ready to go for this week. That's not how they usually perform, how they did in their semi-final, so they'll be taking no prisoners, definitely.''
The Giants have lost both their grand finals: last year's as well as on debut in 2017 against fellow expansion club Sunshine Coast Lightning. McDonell was still at school for the first of them, and a bit-player in 2021, but excited to be back here. Of course she is.
"To get to the grand final again would just sort of be redemption for us,'' she says, emphasising the contributions of foundation pair Fitzgerald and Harten in particular, and as a close friend and housemate of Jamie-Lee Price, the other survivor from 2017.
"They've just done a mountain of work in terms of the culture, and just creating a really tight knit group of girls who are also so competitive and just want to win so bad for the team.
"I just think we've got all the ingredients there for a championship team, and we've done so much work and I really do feel like we deserve it. Now it's just about execution and powering on through."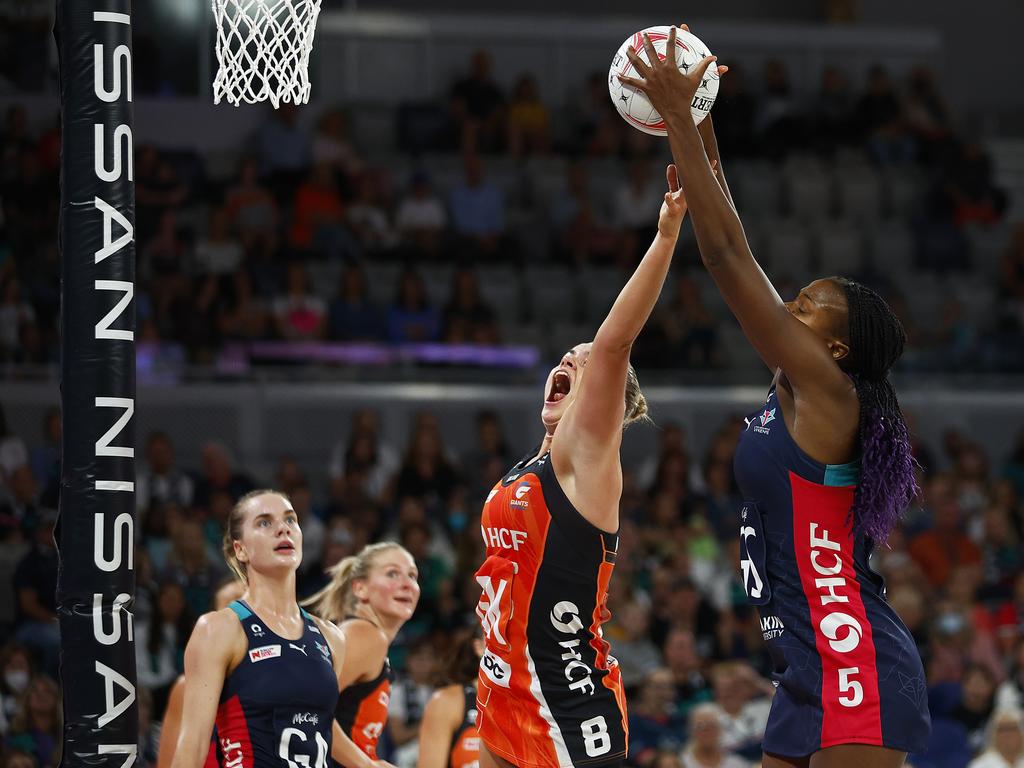 The battle between Mwai Kumwenda and Tilly McDonell will be pivotal. Picture: Daniel Pockett/Getty Images
Individually, the robust McDonell admits it's about continuing to learn the art of the game, and adding what Chatfield calls the finishing touches: reading the play, refining the decision-making, knowing when to wear down a shooter and when to hunt for gains.
Only Fever keeper Courtney Bruce has conceded more contact and obstruction penalties combined this season, so there is some tidying up to do, but also plenty to work with for a youngster in the top four for defensive rebounds and the leading dozen for deflections and intercepts.
"Something you've seen Courtney Bruce really develop in her game over the years is that she really does the hard work first, then goes out for a fly,'' says Chatfield. "McDonell's got similar attributes as a Courtney Bruce and once she learns that and starts to understand which shooter she can move off and which shooter she needs to stay back on, she'll become pretty lethal.''
Watch this space, then. As well as, almost inevitably and rather entertainingly, the face.