Bianca Chatfield: Aftershocks of Vixens' horror loss to Fever and other key semi-final takeouts
Fever and Giants were brilliant, the Vixens terrible, with one of their Diamonds stars missing a moment to shine. BIANCA CHATFIELD delivers her report card from week one of Super Netball finals.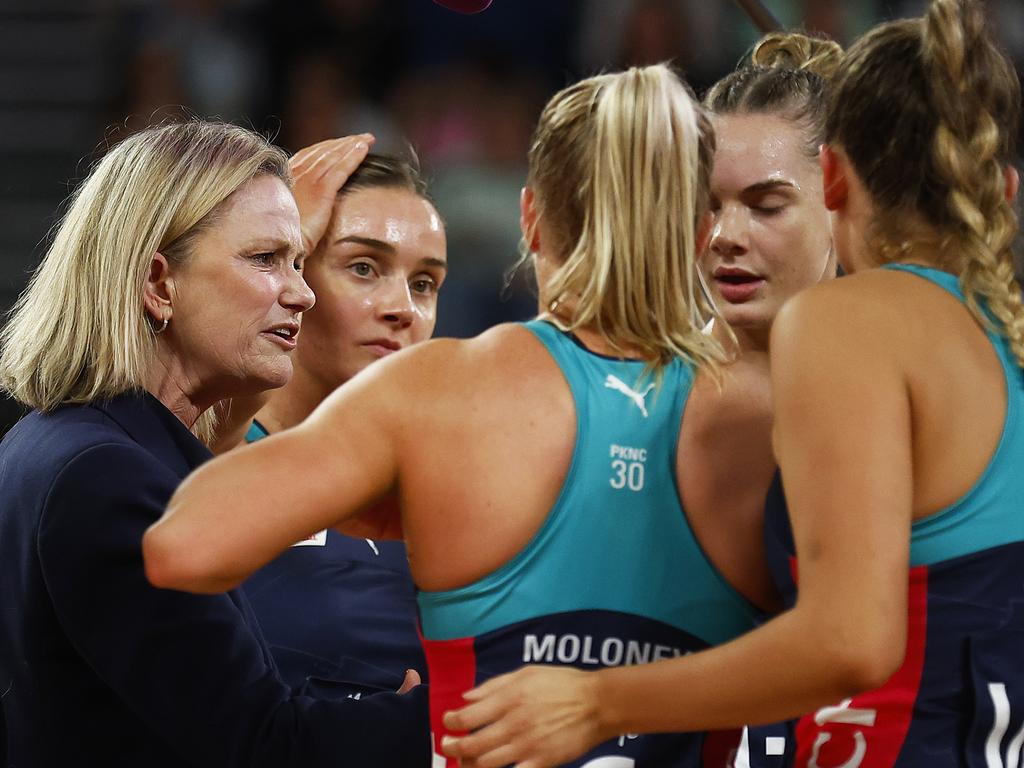 The Vixens were blown away by the Fever. Picture: Daniel Pockett/Getty Images
The shock of semi-final weekend was the Melbourne Vixens' belting from the West Coast Fever.
Winning the minor premiership doesn't mean a whole lot if you can't back it up in the finals, so can they turn it around on Saturday against the Giants?
Maybe that result is the spark the Vixens need to fire them up, but I was worried for my old side if the Magpies got through. They wouldn't admit it, but I reckon they'd prefer to be facing the Giants, who — like the Fever — they'd beaten both times in the regular season.
The most recent of those games went into extra time after the Vixens had led by 10, so they will still be very wary of the Giants.
Young goaler Sophie Dwyer had a relatively quiet game against the Magpies and, if she fires up, the Vixens defenders will need to pay her as much respect as Jo Harten. Which, in fairness, probably suits the Vixens' preferred one-on-one defensive style.
The Vixens will have to keep an eye on Sophie Dwyer. Picture: Steven Markham/Icon Sportswire via Getty Images
They got burnt by being too conscious of Jhaniele Fowler on Saturday night and yes, Fowler's far more of an individual threat than Harten, but you have to respect the impact that Maddie Hay can have in combination with Dwyer — which is similar to what Sasha Glasgow and Alice-Teague Neeld produced in the major semi.
The Vixens will have other strengths they can draw on, but it was almost like they were paralysed.
They've now got a week to think about it. A week to get back into the seriously hardcore training Simone McKinnis will be putting them through.
The intensity of some of those sessions are brutal, but that's what you need to match the intensity that they will face in the preliminary final.
For the Giants to win it, they'll need to have a great start, first and foremost, and be menacing in defence, because if the Vixens' attack gets on top and gets confident, that's when they're going to be hard for Tilly McDonell and April Brandley to stop.
Amy Parmenter on Liz watson and Kate Moloney on Jamie-Lee price will be brilliant to watch through the midcourt.
Amy Parmenter has a big role to play for Giants against the Vixens. Picture: Mark Kolbe/Getty Images
Distinctions
First year Fever coach Dan Ryan is on top of my list for how, strategically, he took that game on against the Vixens.
The way he's coached them this year, it seems like it was all for this moment, and you could see on their faces how much it meant to everyone involved.
Ryan said to me before round one that his aim was for Fever not to be the Fowler show or the Courtney Bruce show; that every single player had a role to play, and they needed to play it, and if he could make that happen then they would be unstoppable.
But we hadn't really seen that enough, which got me wondering, because it still was all about Fowler and Bruce. Until, on the weekend, it all just clicked.
Glasgow has shown some great snippets at goal attack, but she really just turned it on — even without having any direct impact on the scoreboard. The Vixens didn't show enough respect for the role that she was playing.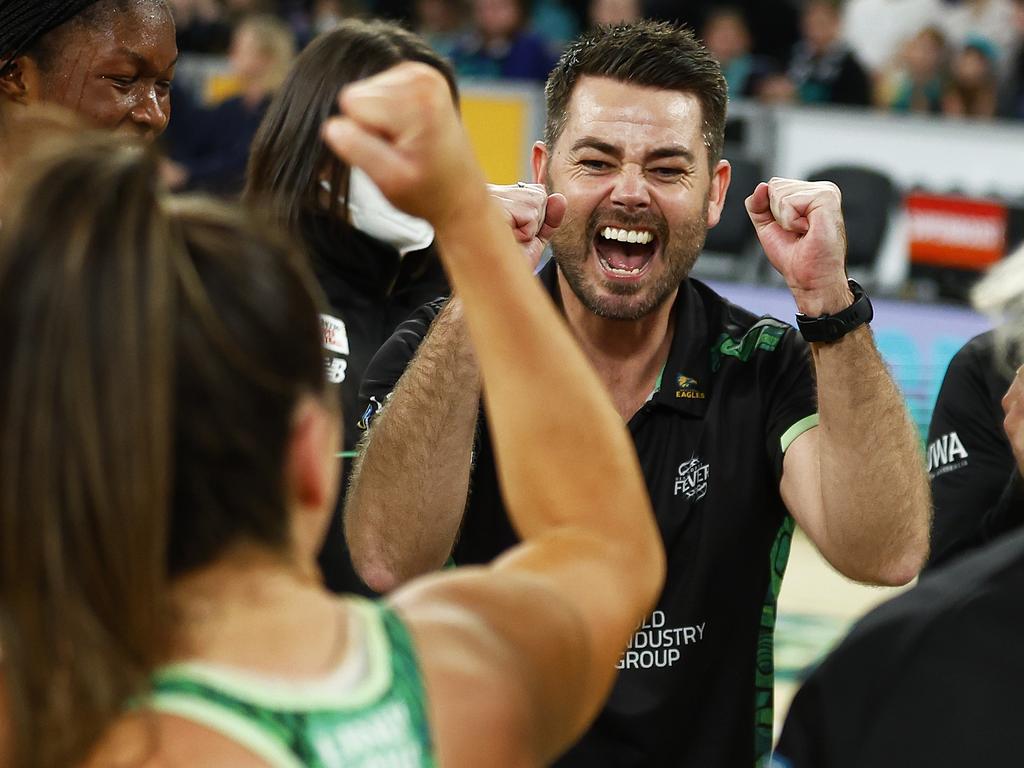 Dan Ryan's plans came to fruition against the Vixens. Picture: Daniel Pockett/Getty Images
Although Fowler shot a mountain of goals — 67, a finals record — herself, it was really facilitated by Glasgow and wing attack Teague-Neeld, who were able to run wild, without any pressure, because the Vixens' defence was so worried about the ball going into Fowler.
It was the best game I've seen from Fever in a long time, because everyone was making a contribution. Usually you rely so much on breaking down Verity Simmons' connection with Fowler, and although Simmons played a good game, you hardly noticed her because of how much everyone else was joining the party.
Wing defence Jess Anstiss had support doing what's never an easy job, against Liz Watson, and, in the circle, Sunday Aryang was outstanding in her collaboration with Courtney Bruce. For those who doubted Aryang's Diamonds' selection, she absolutely deserves to be there, and it was great that she showed it, too.
Having another defender who can win ball and take intercepts out the front has helped relieve the pressure on Bruce — in the past the Fever have always relied on setting her up to come out and fly for the ball.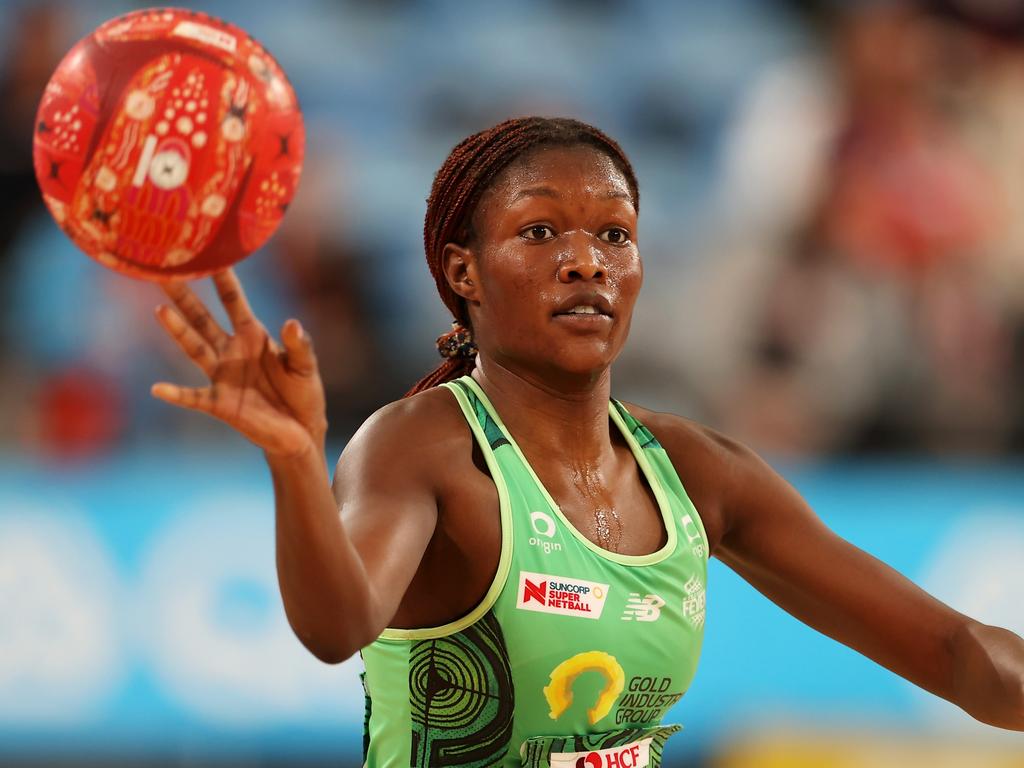 Sunday Aryang showed just why she deserves to be in the Diamonds squad. Picture: Mark Kolbe/Getty Images
Bruce is such a dramatic player; she wears her heart on her sleeve and sometimes I find it hard to watch that emotion so visible for all to see.
But it's probably a bit like a Sharni Norder in that she thrives off the crowd being against her.
The part of her behaviour on court I find quite frustrating is the pleading with the umpires, not sure how helpful that is, but she sure let her actions getting The ball talk for her on Saturday night.
Bruce is quite physical, which is not surprising. It's part of the intimidation factor that any defender needs to be able to bring. I'm not talking dangerously, but I felt like Vixens folded under that physical pressure rather than trying to stand up to it.
They don't have to give it back to the same extent they're receiving it but, rather than shouldering it, I felt like their bodies were flopping on the ground.
*****
My other distinction goes to someone who got up in the air like we've never seen her before: Jo Harten.
In Sunday's knockout semi against the Magpies, Harten's awesome take from under the post from that long pass from Jamie-Lee Price was one of the best I've ever seen — especially from a player who's not known for her athleticism.
That was the play of the round, the play of the year, for me. It was brilliant. Harten played a smart captain's game, but gets a mention here for that take alone.
Pass
The fact the eventual nine-point margin flattered the Vixens came largely through the late two-point shooting of Rahni Samason, who nailed 10 of her 14 attempts after a shaky start.
Samason seems to love the pressure of those moments, and was able to come on and make the scoreline — which at one point blew out to 21 — much less ugly than it was going to be.
Maddie Hay personifies the Giants' quiet achievers who always seem to stand up when they're needed.
She's a wing attack with a rare defensive mindset, who admits she still judges her contribution by the number of intercepts. It's a bit like Teague-Neeld, who has the understanding of a goal attack as a wing attack now; players who come from very different positions can bring different attributes that are so valuable.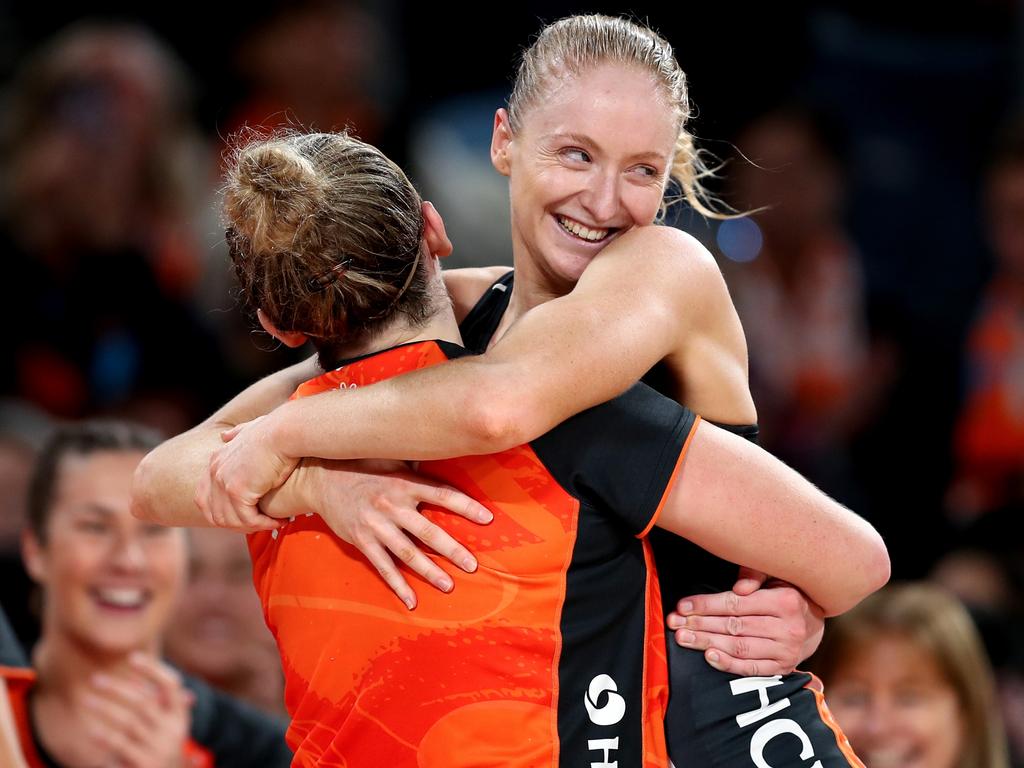 Maddie Hay always step up when the Giants need her. Picture: Brendon Thorne/Getty Images
*****
The Covid-recovered Magpies, Ash Brazill and Jodi-Ann Ward, also get a nod. I know Collingwood didn't win, and Ward couldn't play out the whole game, but I spoke to Brazill during the week and she said she was feeling terrible, that the virus had really hit her hard.
So it was a mighty effort to get through the 60 minutes.
Fail
Every team has a bad game, but that was a terrible performance by the Vixens, who didn't have a Plan B when they needed it most.
The Vixens should have won that game, or at least been a whole lot closer. It was horrendous.
Ryan and Fever were so smart and it seemed like the Vixens were a bit like, 'We're gonna play this way'. It was bizarre watching them, and it just felt flat from the first minute they went out there, without a lot of problem-solving from the Vixens themselves during the game.
When games go south like that, you have to do what McKinnis did: you try everything, you change combinations, you put everything out there, but that went completely against everything they'd done so well all year.
I was surprised the Vixens didn't start with Olivia Lewis at keeper, given how well she'd done on Fowler the two previous times the teams had played this season.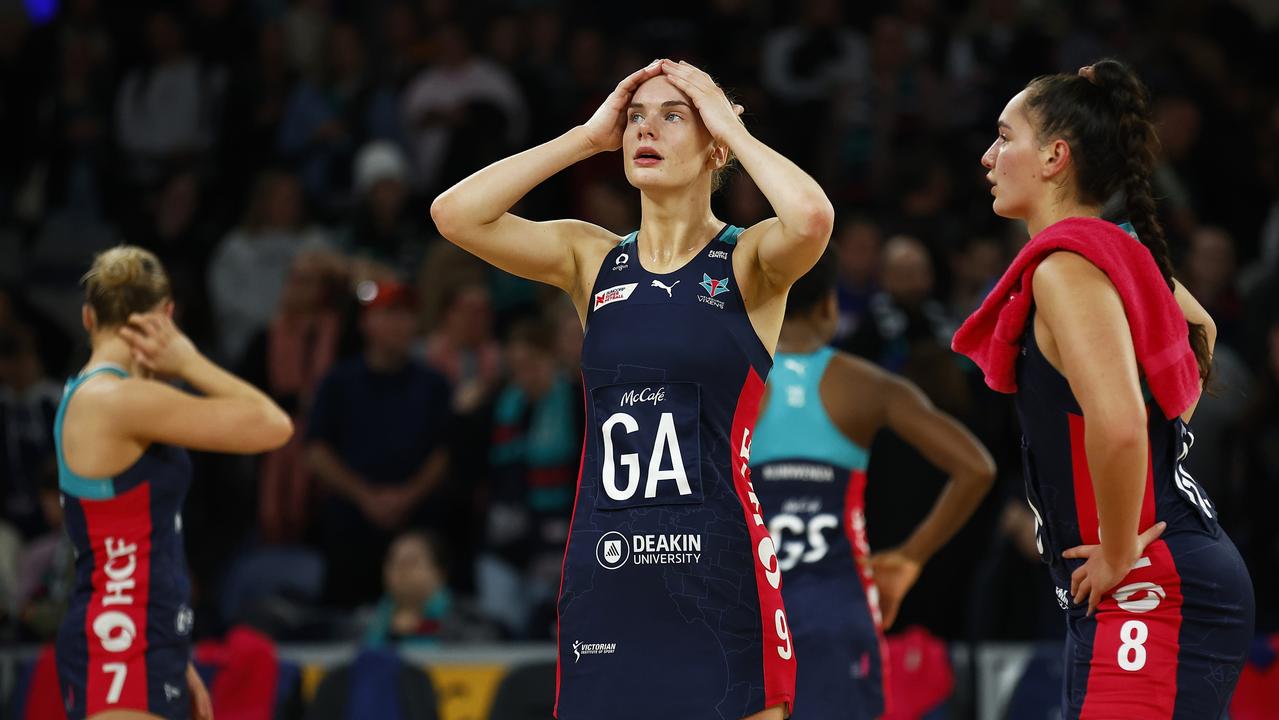 It was a night to forget for the Vixens. Picture: Daniel Pockett/Getty Images
But, at the same time, you can't just all sit back on Fowler; you have to bring Bruce-style physically and put Glasgow under pressure to make a decision, because when she's exhausted, those decisions are not always the best ones.
I think there was a huge amount of mental exhaustion, though, just from the two weeks of chat about the grand final venue. That's no excuse, though, and Fever have now found the formula. That's the scary part. How good can they get?
The Vixens will all be disappointed, Absolutely. But I feel like there's a lot of work to do to turn it around — if they get through the prelim.
*****
It was a tactical fail from the Magpies to bring on Gabby Sinclair for the last five minutes and expect her to win the game with the Super Shot. Sinclair nearly saved the day a couple of weeks ago against the Thunderbirds, and they tried to play that get-out-of-jail card again.
But tactically that was a mistake to put all the pressure on their goal attack, coming cold off the bench, when Shimona Nelson could have taken a few one-pointers, and who knows where that would have led them?
And, physically, Sinclair doesn't have the size of someone like a Nelson who can take on two defenders and hip-and-shoulder them out of the way to try to get herself into position for the two-pointer.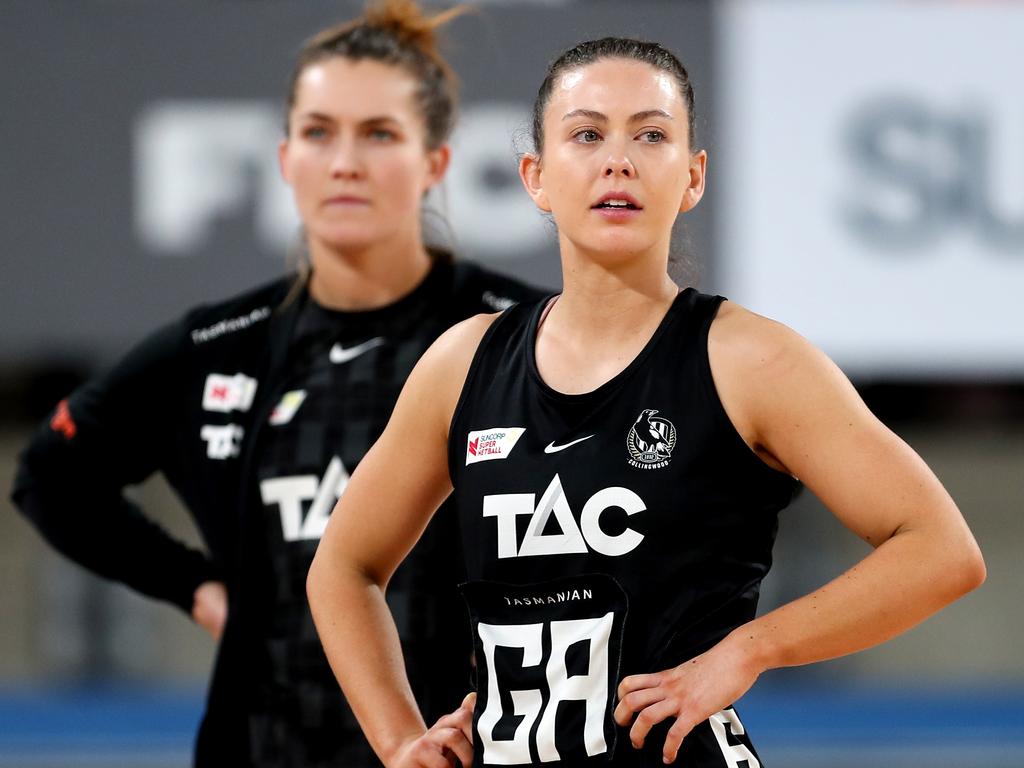 Gabby Sinclair's introduction for the last five minutes was the wrong move. Picture: Brendon Thorne/Getty Images
*****
Finally, a big thumbs down to all the off-court drama that's surrounding netball right now.
I hope with two weeks of finals to go we can just celebrate the incredible games we've seen and will hopefully continue to see, rather than spending so much energy on what's happening off court.
Diamonds watch
When the pressure was on it was the Fever duo of Aryang and Bruce who really showed they were worthy of their Diamonds selection.
Not that the Vixens' quartet isn't, but that was a moment for someone like a Kiera Austin to really take the game on against her Diamonds teammates, and I don't think she did.
Stacey Marinkovich wouldn't be worried yet. She'll keep an eye on what's happening, but she knows players have some poor games. That's all part of it.
I think she would expect every single Diamonds squad member, whether they were named or missed out, to have had some kind of emotional flat point after the team announcement.
But Marinkovich will want to see the Vixens show up in the prelim final, make it a competitive game and demonstrate that they've been able to turn things around.