Bianca Chatfield: My Diamonds Commonwealth Games team picked, with final selection looming
Australian selectors have likely pencilled in their final Commonwealth Games team, writes BIANCA CHATFIELD, who has named her 12 Diamonds picks plus three training partners.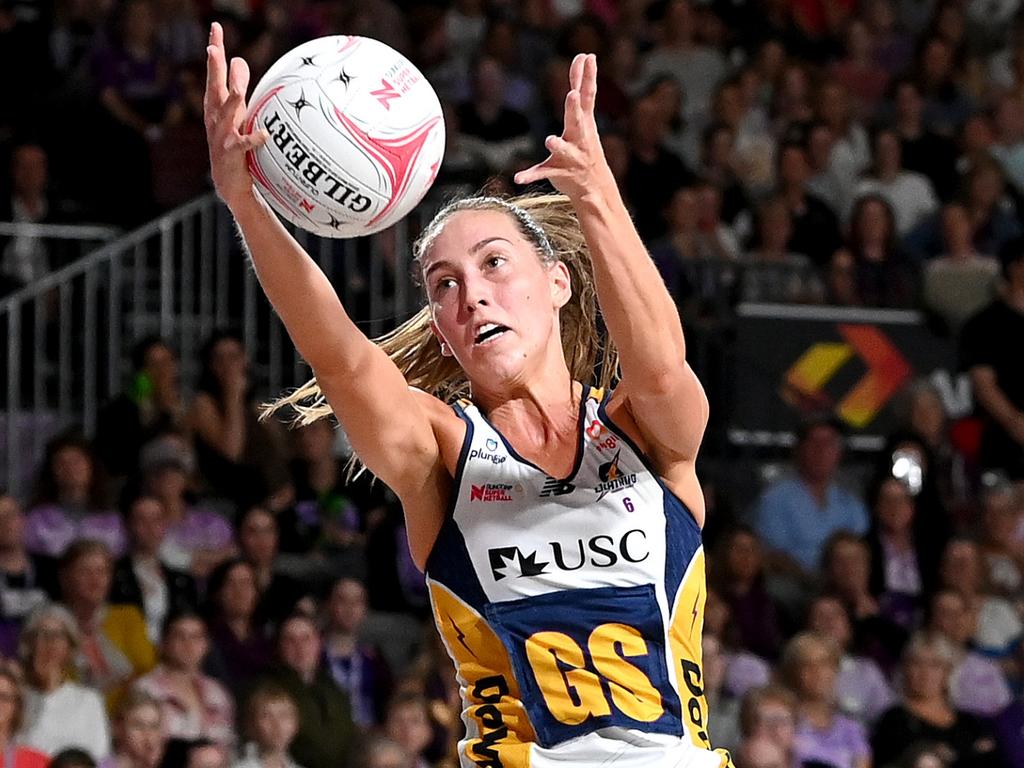 Cara Koenen should be the first pick as Diamonds' shooter at the Commonwealth Games. Picture: Bradley Kanaris/Getty Images
I suspect the Diamonds' Commonwealth Games team has already been pencilled in by coach Stacey Marinkovich and the national selectors, and they will just want to see one more strong round of performances before locking in the final 12.
The players won't necessarily be feeling the pressure heading into this weekend — they'll be trying to ignore it as much as they can. But they will still be relieved with every good game that Marinkovich gets the chance to see.
I've already picked my 12, plus three training partners.
We'll get to that.
Distinction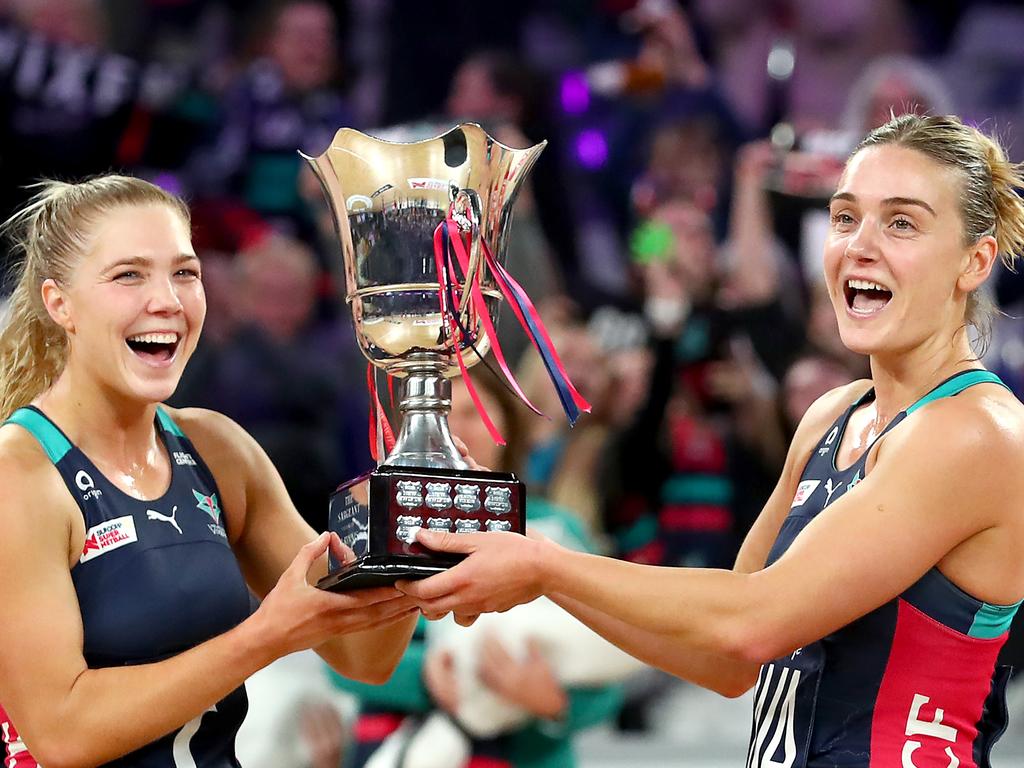 Kate Moloney and Liz Watson celebrate with the Sargeant McKinnis Cup after beating the Swifts. Picture: Kelly Defina/Getty Images
The Melbourne Vixens, collectively, get the elephant stamp this week.
The round nine-11 stretch, condensed over just nine days, was always going to be a defining time period, and the Vixens have emerged from it with the clearest idea of where they're at.
It doesn't mean they've got an easy run home — Lightning (H), Thunderbirds (A) and the Magpies in the Victorian derby — but what they've done so far earns them a big tick from me.
Just in this past week, to be able to pull through in extra time against the Giants, go and beat the Fever in Perth three days later, then come back and have a solid performance against the improved Swifts — I think they're really showing that they've earned that spot at the top.
Consistency is generally what wins premierships; being able to absorb all the different things that are thrown at you during games usually helps you on grand final day, and the Vixens have been the most outstanding team at this during the season.
They've still had their hiccups, but it helps that their best players — apart from Kate Moloney, who missed one game — haven't had Covid.
Yet.
The Vixens could still potentially lose a big bunch all at once, which we've obviously seen happen to teams like the Giants, but they just have to carry on in the meantime, and consolidate that huge improvement from wooden-spooners to pole position.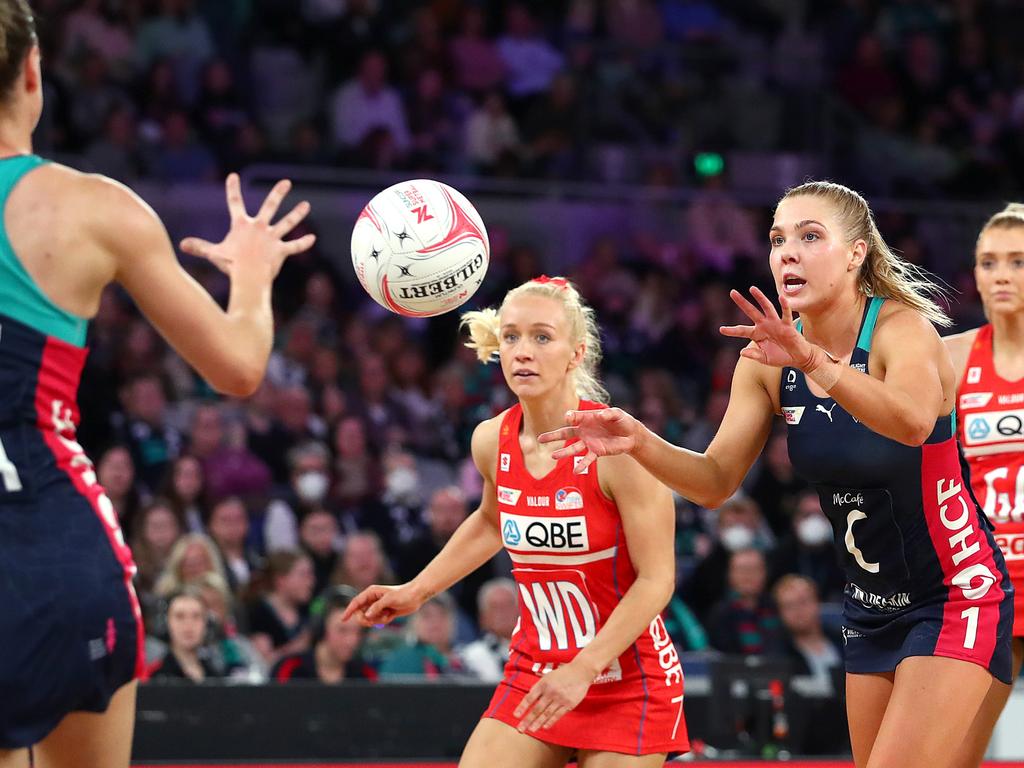 Kate Moloney missed one game due to Covid protocols but most of the Vixens side has remained intact through the season. Picture: Kelly Defina/Getty Images
There are parallels with their last championship year, 2020, in that they don't necessarily start well, and they don't necessarily dominate all four quarters of the game, but they can pull themselves out of trouble.
Whether that's the midcourt having to change what they're doing, or whether that's switching Emily Mannix and Olivia Lewis at keeper; they just find a way to win most weeks when they need to, regardless of whatever is being thrown at them.
The rematch with the Lightning this Sunday will be a really interesting barometer for finals, given the Lightning won quite convincingly in round five when they weren't in form, and now they've found some form. Definitely a game to watch from a Vixens perspective.
My other big tick goes to the Adelaide Thunderbirds. I've been quite critical of coach Tania Obst, particularly for her tendency to chop and change her team around.
Against the Magpies yesterday they had three massive outs due to illness, and I expected the absence of captain Hannah Petty would have the biggest impact.
But the T-birds all came to play, and I don't think it was a coincidence that it was only the second game of the season — and the second in a row — in which Obst left the same team on for the full 60 minutes. They've been their two best performances of the year.
Obst obviously didn't have the luxury of having a strong bench at the weekend, but the fact she let the players grind it out and withstand the Magpies in the last quarter after building a good score early really worked for them.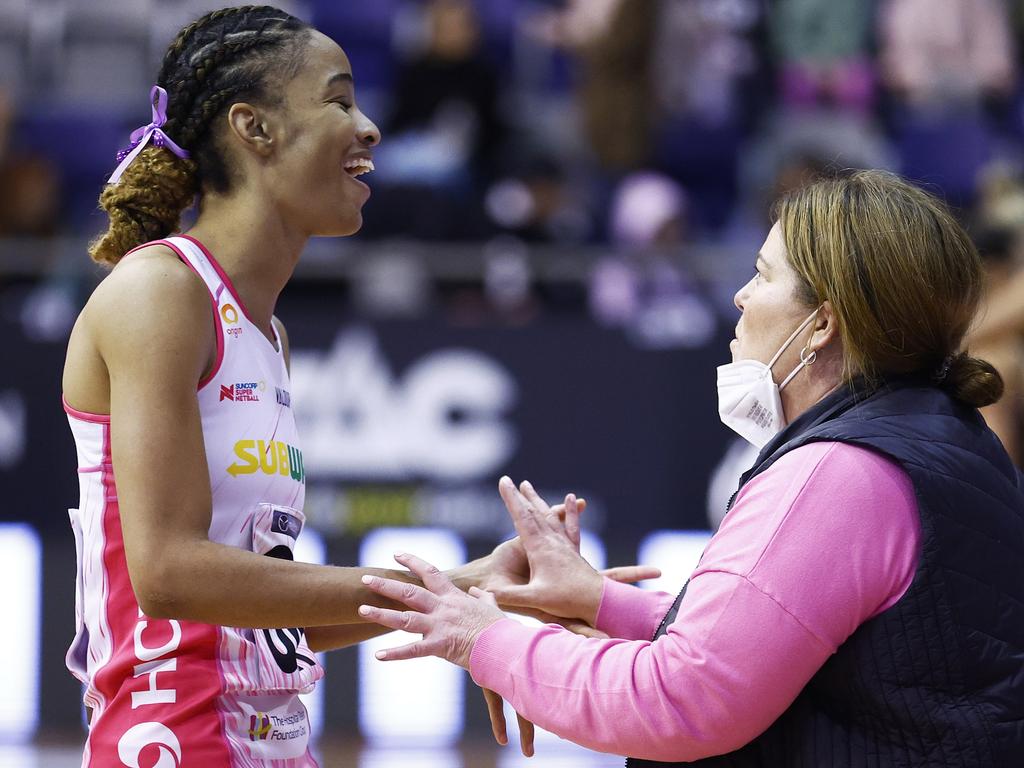 Coach Tania Obst guided the Thunderbirds to a strong win. Picture: Daniel Pockett/Getty Images
Players tend to respond when they've had the chance to correct any mistakes they may have made or, if they're playing well, continue to push on. It's easier to have confidence and belief in yourself when you know the coaches back you.
Another positive is that — putting aside the defence end of Victorian Matilda Garrett and Jamaican pair Shamera Sterling and Latanya Wilson — Tayla Williams, Georgie Horjus and Lucy Austin are all home grown South Australians.
In the past we've seen the Thunderbirds not select or develop their local players, and now that they're doing that and these players are standing up, you can see a big future for them playing for their own state.
Maybe the Thunderbirds had their hand forced a little bit, but it's great to see. Petty and Maisie Nankivell are South Australians as well, and this group has some strong connections from playing in junior under-age teams together.
It counts for a lot when you then step up into the elite game if you've already got strong relationships with teammates around you. And you can see that with Horjus and Austin, they have played together a lot, which provides a comfort factor.
Their stifling defence is troubling every attack end. That's going to be tough to maintain against the top four, and they have a tough draw — Giants (A), Vixens (H), Fever (A) — but if they continue to play the way they are I think the Thunderbirds have got every chance to make their first finals series since 2013.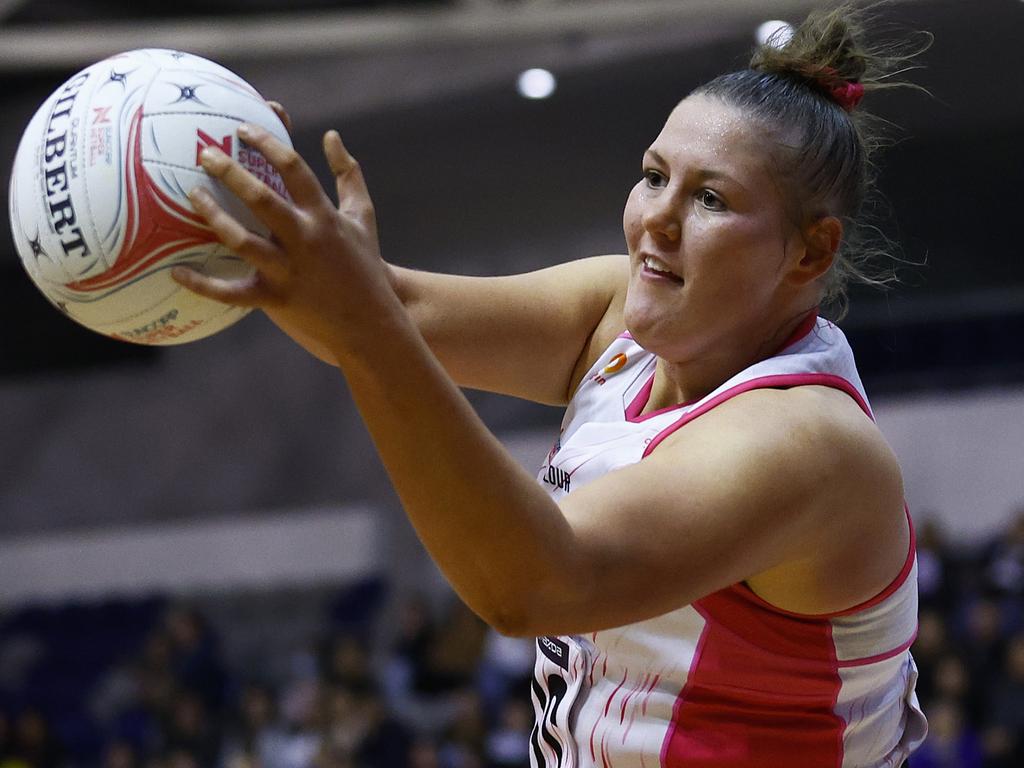 Lucy Austin is one of the homegrown players at the Thunderbirds. Picture: Daniel Pockett/Getty Images
Pass
Sunshine Coast shooters Steph Wood and Cara Koenen — especially — deserve credit for the way they have pulled themselves out of their little slump.
That's not easy to do when your team's not performing, but Koenen has really been able to turn things around.
It's too late for the bottom-placed Lightning to salvage their season, but what Kylee Byrne would have been looking for from her senior players is also what Stacey Marinkovich will need to see: that these two Diamonds' squad members are fighting. Which they're doing.
Former Diamond Verity Simmons also deserves a pass mark for the Fever – playing at centre, where she's needed, and making sure that she stays on the court.
Simmons has often been the midcourter that opposition defences would try to shut down, which would then break down Fever's link to Jhaniele Fowler, but she's found that feeding mojo again.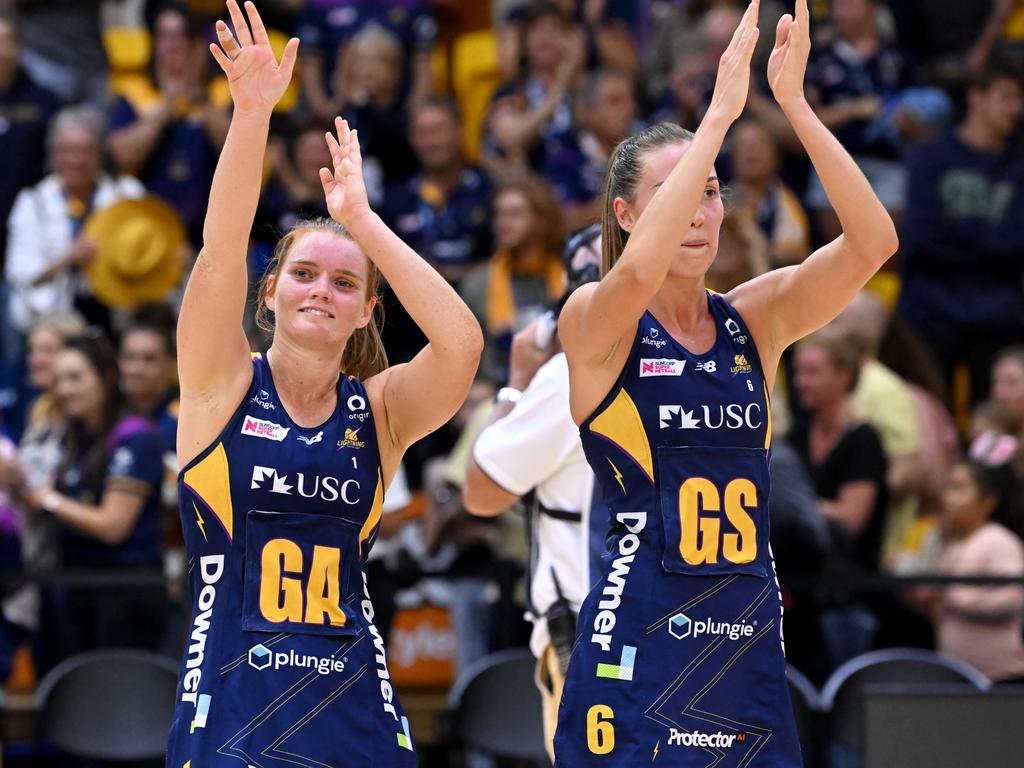 Stephanie Wood and Cara Koenen have re-found form. Picture: Bradley Kanaris/Getty Images
Fail
The Queensland Firebirds. Unless there's an internal problem, I'm not sure how their performances can be so drastically different from the start of the season, when they were showing so much promise.
We all had them locked in for finals, and now I don't see how they're going to make it.
After four consecutive defeats, they've also lost all momentum, tumbling to sixth the ladder. Three remaining fixtures against Fever (A), Giants (H) and Swifts (A) are unlikely to improve the situation.
Kim Ravaillion has been a bit flat — we haven't seen the best of her since all the controversy around her non-selection in the preliminary Diamonds squad. Donnell Wallam's level has also dropped away, and it's been harder for her to play the way she wants to now the players around her aren't necessarily performing at their best.
In the Firebirds' defence end, veteran English import Eboni Usero-Brown relies on the intimidation factor, but I don't feel like she takes enough ball, or is able to deny and shut down the bigger shooters.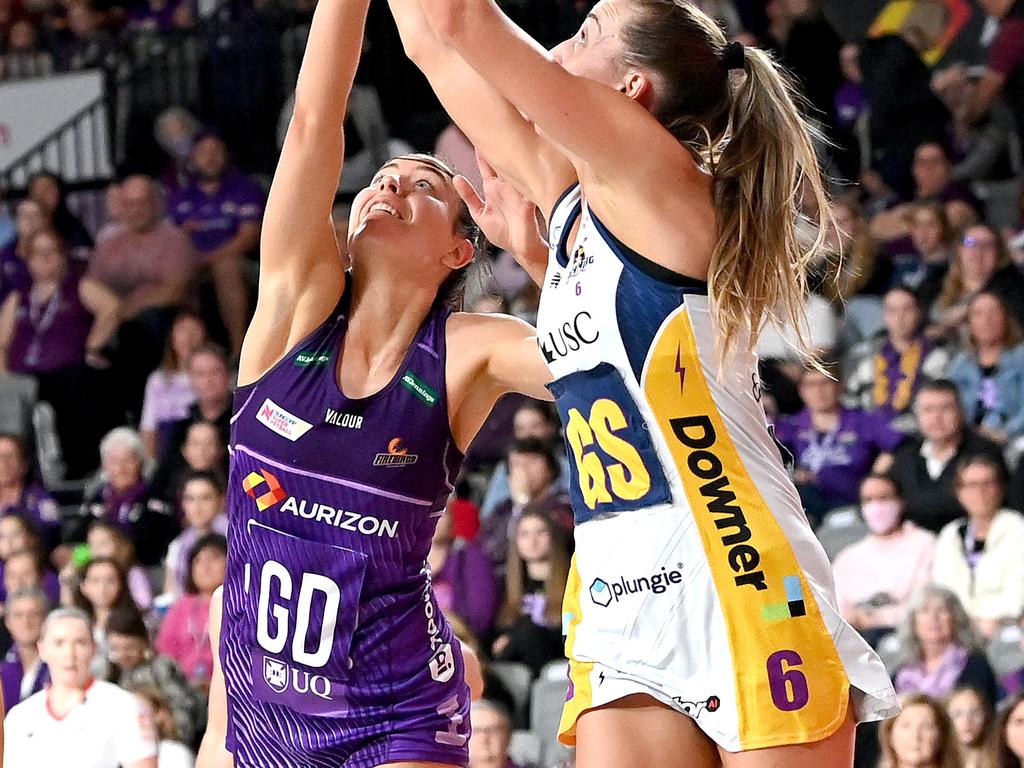 Ruby Bakewell-Doran has been strong for the Firebirds but others in the team have struggled. Picture: Bradley Kanaris/Getty Images
They've relied so heavily on Ruby Bakewell-Doran being the standout at goal defence, and she's still playing fairly well, but I feel like they're really missing that strong connection in the circle.
Given that Usoro-Brown is not a long-term option, I would put Kim Jenner at keeper if I was coach Megan Anderson. Jenner doesn't necessarily have the height for that position, but I'd still try and build the combination with Bakewell-Doran for the rest of the season.
The Firebirds' chances of making the finals are still there, but they're very slim. One more loss and you'd have to think you need to start looking to the future and potential recruits for 2023.
Diamonds Watch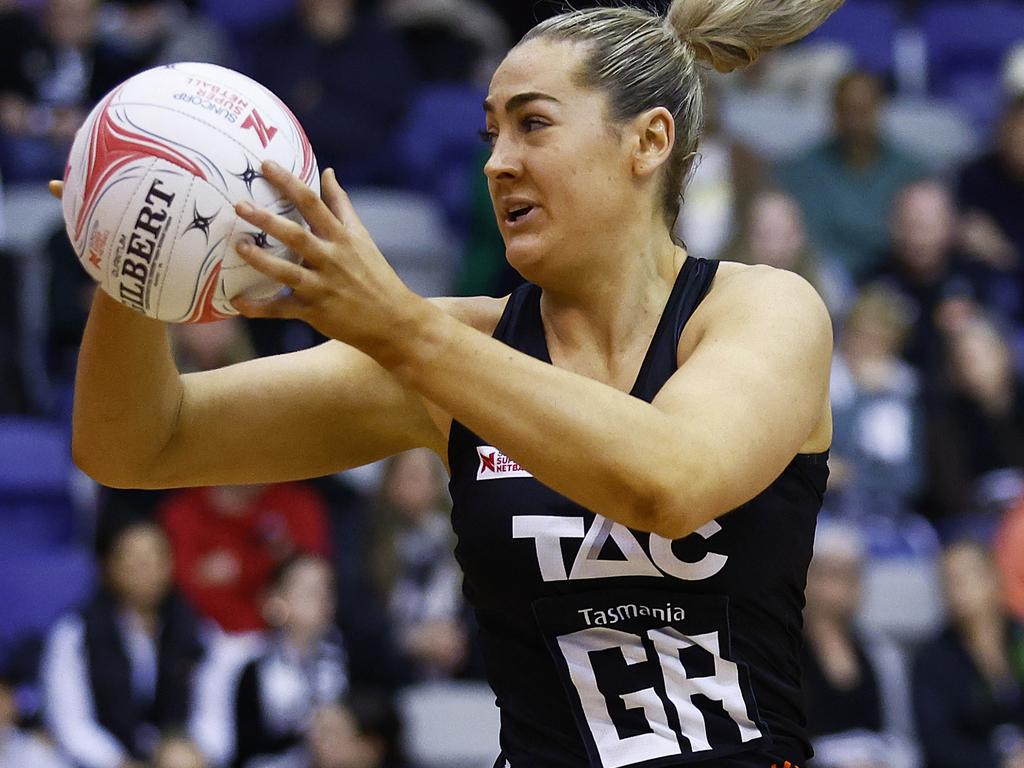 Magpie Sophie Garbin looks defeated. Picture: Daniel Pockett/Getty Images
I felt sorry for Sophie Garbin on Sunday against the Thunderbirds. Both on and off the court she just looked so defeated.
I think she feels like it's just a massive struggle out there; she's lost the spark she had when she was coming on and off the bench as an impact shooter for the Swifts.
Garbin just doesn't seem to have that inner belief when she needs to and I don't know if that's the environment she's in, or the position that she's playing, or a bit of both. It's actually really sad to see a player of her talent and potential has taken a real step back this season.
As it stands, you couldn't see her getting picked ahead of Koenen for Birmingham. Gretel Bueta and Wood are the two certainties as shooters, and I think Kiera Austin would be ahead of Sophie Dwyer right now for the fourth spot.
The midcourt is still the toughest area to pick, but you'd have to think Kate Moloney is getting a selection tick from every game at the moment because of her versatility and the way she's been playing at wing defence – her original position for the Vixens – but then being equally dominant back at centre.
I feel like Ash Brazill is still doing enough as a wing defence, so I'm comparing Moloney's position to, say, a Jamie-Lee Price, as another C/WD. Paige Hadley is still performing, so the centre court is starting to sort itself out on the basis of what we've seen most consistently across the first 11 rounds.
Paige Hadley is a lock for the Diamonds. Picture: Bradley Kanaris/Getty Images
In addition to captain Liz Watson, Brazill, Hadley and Moloney are the four that I would take. The standout defensive quartet remains Bruce, Weston, Aryang and Klau — and the latter has certainly answered her critics in the past few weeks.
Maddy Turner is a good asset as the fifth defender in the squad, and I think she will be taken as a training partner, along with Price and Dwyer.
All shall be revealed soon enough.