Bianca Chatfield: Post-Diamonds Commonwealth Games selection report card, plus weekly passes and fails
Donnell Wallam earned a stunning pick in Australia's extended squad for the Commonwealth Games and has an ace up her sleeve when it comes to making the final team. BIANCA CHATFIELD delivers her post-selection report card.
The Diamonds' selection process takes a mental toll, and players respond in different ways. How, for example, would Kim Ravaillion perform in her first Super Netball game since being controversially snubbed by the national selectors?
Kelsey Browne, too? Maddy Proud, who was one of four players dropped from the squad? Newcomer Donnell Wallam, picked after just five games? Ash Brazill, whose rival for the wing defence spot, Amy Parmenter, was included, effectively putting Braz on notice? Kiera Austin, returning from an ACL tear, but still very much finding her way?
As a player, you build up in your head, 'Will I make it or won't I make it?' and you can't avoid the noise. It's all of us making the noise, of course, but for Ravaillion it was people saying, 'She should be in, she must be in, 100 per cent she's in'.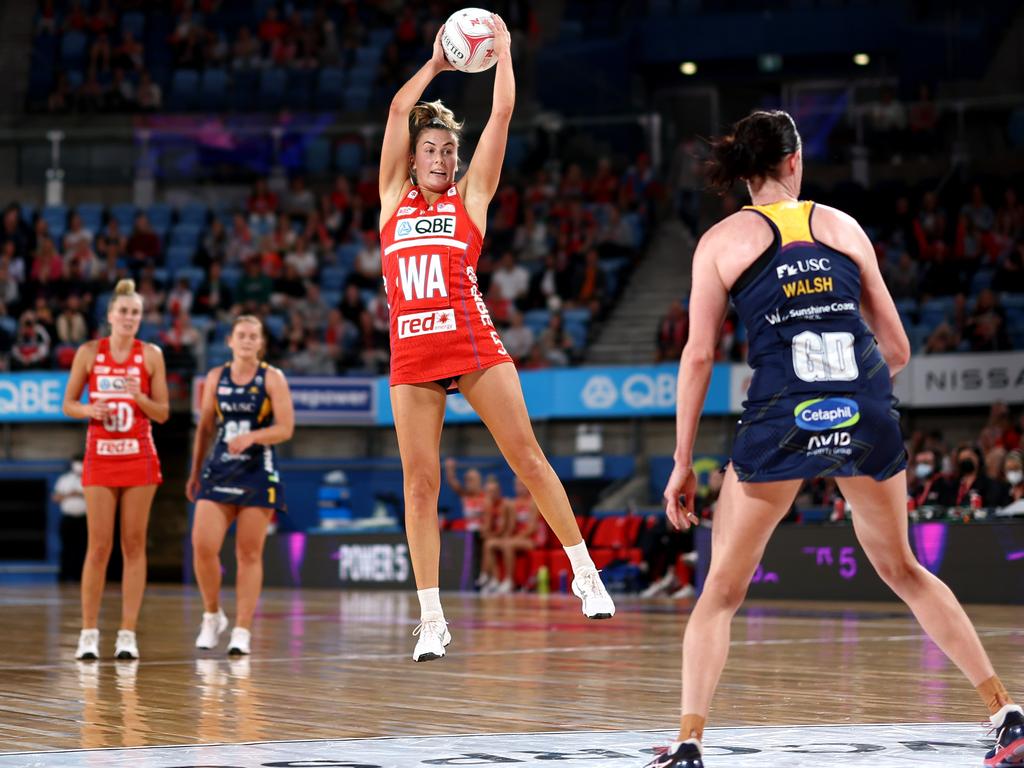 Maddy Proud missed selection, and had a point to prove in the Swifts' round 6 match-up with Lightning. Picture: Matt King/Getty Images
So it's understandable you will be flat afterwards, and it's really hard for her to have avoided that conversation around her position. And yet it's not one she's had directly with Diamonds' coach Stacey Marinkovich. Given that Rav wasn't in the squad last time, and the same goes for Browne, you're not getting direct feedback about the reasons you haven't made it.
I think that's the hardest part: you can't help but listen to everybody else's thoughts on whether you should be in or out. You probably have this hope that times are changing and they'll look at something different, but the reality is that the fact there are just so many midcourters makes it really hard to fit them all in.
I thought Rav was uncharacteristically quiet on the weekend. She was playing a role, but didn't have the same impact as what we've seen previously. She just looked flat, I thought, and that's understandable.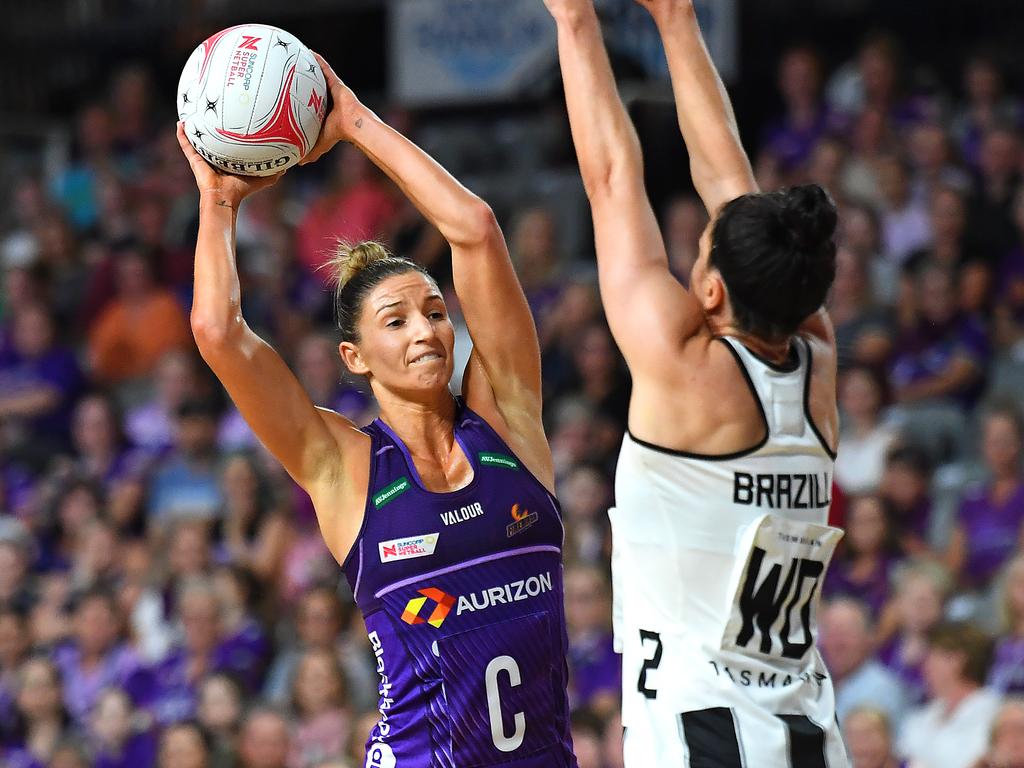 Bianca Chatfield believes Kim Ravaillion may have been off her game after missing Diamonds selection. Picture: Getty Images
Browne played really well. Having Molly Jovic back at centre allowed Kelse to be so much more creative, and the Magpies just seemed to click.
Of course, there wasn't as much noise around Kelsey as there was around Rav, because, as she knows, she's sitting behind the Australian captain in the wing attack position and so — unless there's an injury — the chances of the selectors making a change there are quite small.
On the flipside. I thought existing squad members Sophie Garbin, Cara Koenen, Austin and Maddy Turner all raised their level. Having heard their name called, they can go out and play with a bit more freedom and confidence, knowing that they've been backed in by the Aussie coach.
Brazill was another one who's in the squad of 18 who had an incredible game, as she's fighting to get into the 12 for the Commonwealth Games. I think Braz really showed that, 'Hey look at me, I want this'. She's got one more chance and she doesn't want to let it go.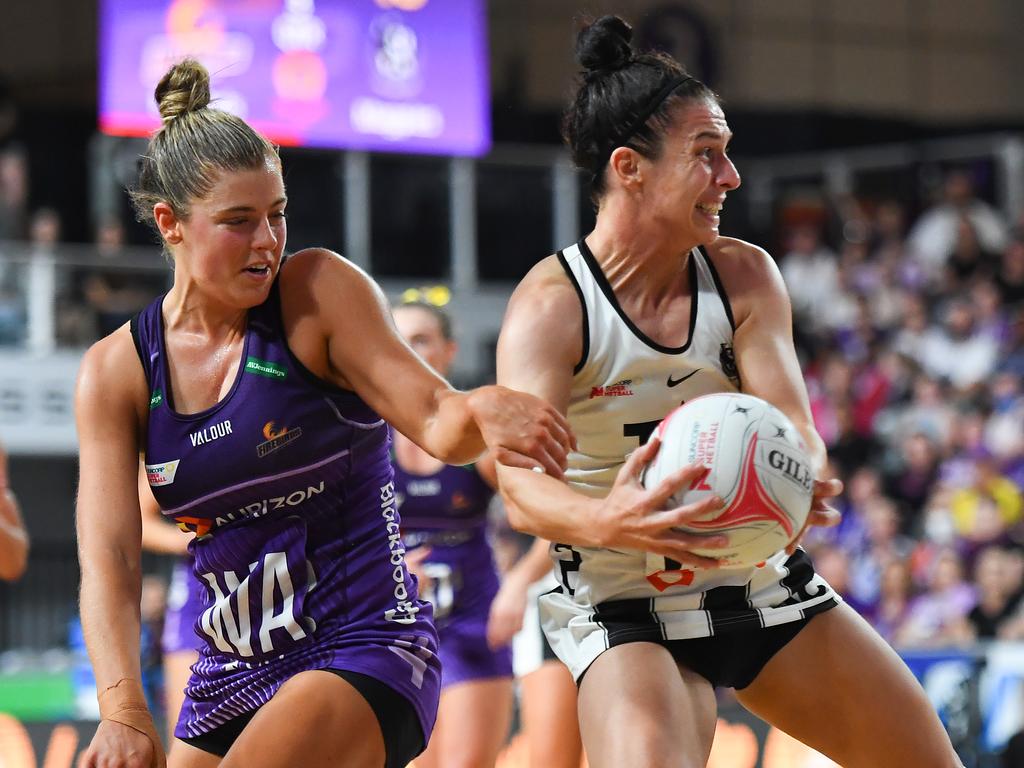 Ash Brazill showed why she locked up Commonwealth Games selection in the Magpies' round six match with the Firebirds. Picture: Albert Perez/Getty Images
And that's what Marinkovich wants to see; part of the reason the squad's been named right now is to gauge what this actually does to the playing group and whether they will either turn it on or go missing under the mental pressure of it all.
For Wallam, with the exhaustion and the excitement of what she's been through, we didn't necessarily see her best performance, and she will need to continue pushing to be in the final 12.
As Marinkovich said last week, the selectors are looking at the holding goaler because she offers something different, rather than all the moving shooters that are in the squad. So Wallam has a chance to make it, but she has to continue to show up every game and perform.
That's a lot of pressure for someone in her first season, but not impossible.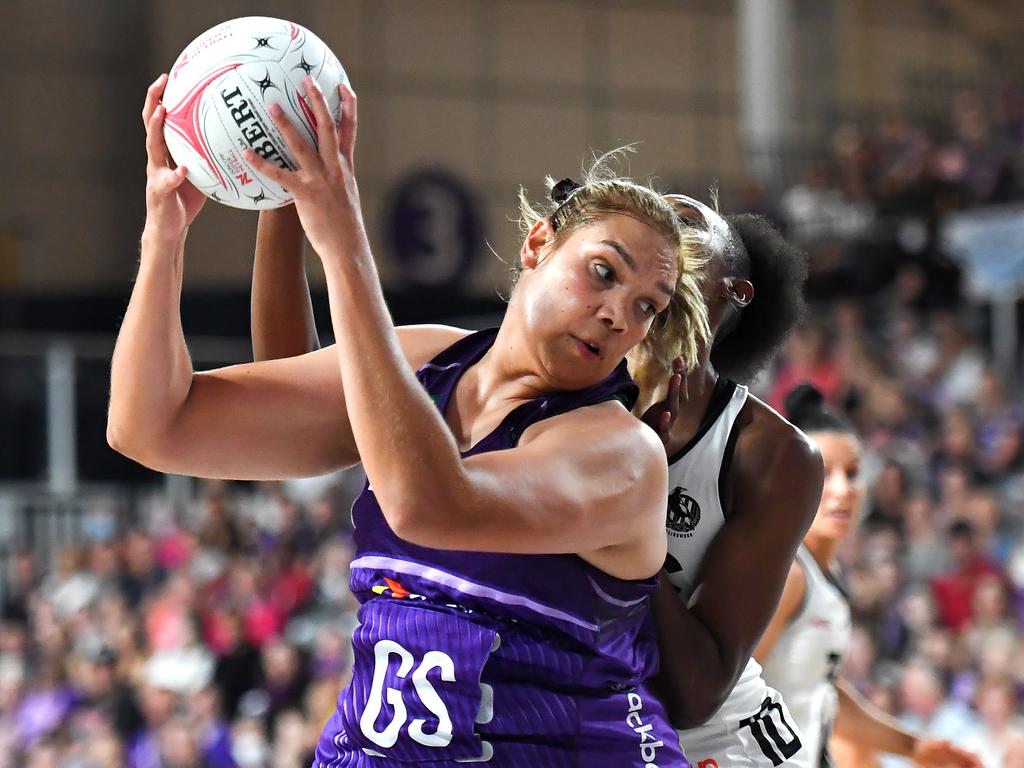 Donnell Wallam will still have work to do to earn a Commonwealth Games spot with the Diamonds. Picture: Albert Perez/Getty Images
Distinction: Magpies, Giants, Lightning.
They're in it. They're all still in it. And they've got every opportunity to win it.
We could have discounted all three teams after the first four rounds or so, but the Magpies and Giants, especially, have really turned things around.
The Magpies have gone missing, and played terribly at times, but they've started connecting over the past couple of weeks, following the game plan and playing with the kind of energy that I think can take them all the way if they can find it every game.
Shimona Nelson, Garbin and Browne all played well and Geva Mentor had a brilliant game, bringing all her experience against Wallam, who's been absolutely dominant all season.
Collingwood coach Nicole Richardson is known for her defensive mindset, but she also wants her team to take risks. She doesn't give her players an out when they're not performing; behind closed doors she takes it right to them.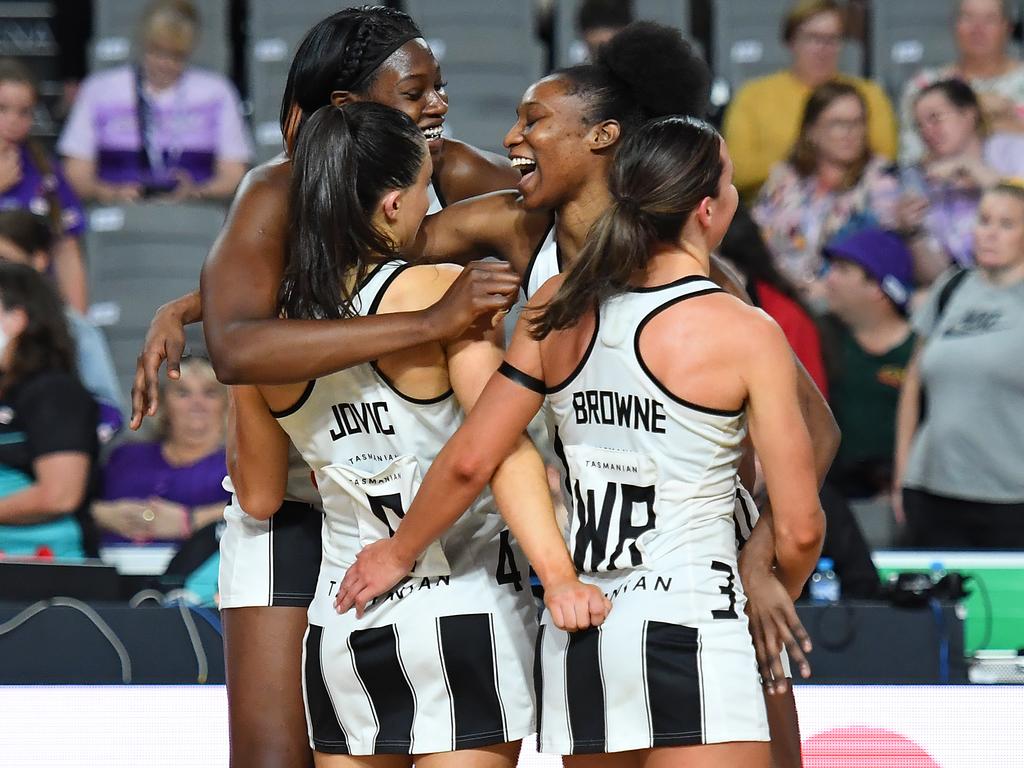 The Magpies celebrated a victory over the Queensland Firebirds in round six. Picture: Albert Perez/Getty Images
Nelson has been one Magpie 'Richo' has been saying needs to stand up. She needs to be able to take the knocks, and she needs to be able to pull the ball in, because she can shoot. She was tremendous against the Firebirds.
The Giants were the other standout performers. When they beat the hotly-favoured West Coast Fever in last year's preliminary final, we all though it was a fluke.
They played incredibly well, but I didn't think it was something they could repeat.
I was wrong!
Yes, the Fever were missing Sasha Glasgow and Jess Anstiss, but the Giants have really started to find their rhythm, and when Jo Harten, Sophie Dwyer and Maddie Hay are firing that attack end is unstoppable. Even with a defence end that's so different to last year, they still managed to make Fever pay.
The Giants are finding ways when we completely discounting them; the problem might be their consistency, because being able to keep that up every game will be hard if they have lapses in concentration.
Maddie Hay and the Giants put on a strong showing as the continue their good form this season. Picture: Daniel Pockett/Getty Images
Pass: Kate Walsh (Lightning)
As a paid-up member of the defenders' club, I'm a firm believer that you try every tactic at your disposal to put pressure on the attackers — because the rules all favour them!
That goes even for the very best defenders. When a Liz Ellis would play on a Sharelle McMahon, for example, the Swifts had to try and rough her up and get physical, because that was the only way they were going to slow her down. Liz would own that, and Liz is one of the most skilful defenders that's ever played the game.
Which brings us to Kate Walsh (nee Shimmin), and the argy bargy involving young Swift Sophie Fawns and — in particular — Helen Housby and the ongoing niggle there.
The Fawns incident she should have been called for contact. Walsh swung the arm that wasn't defending the shot and clocked Fawns across the head. But Housby shot the goal as Fawns fell down, almost behind the play, so they moved on.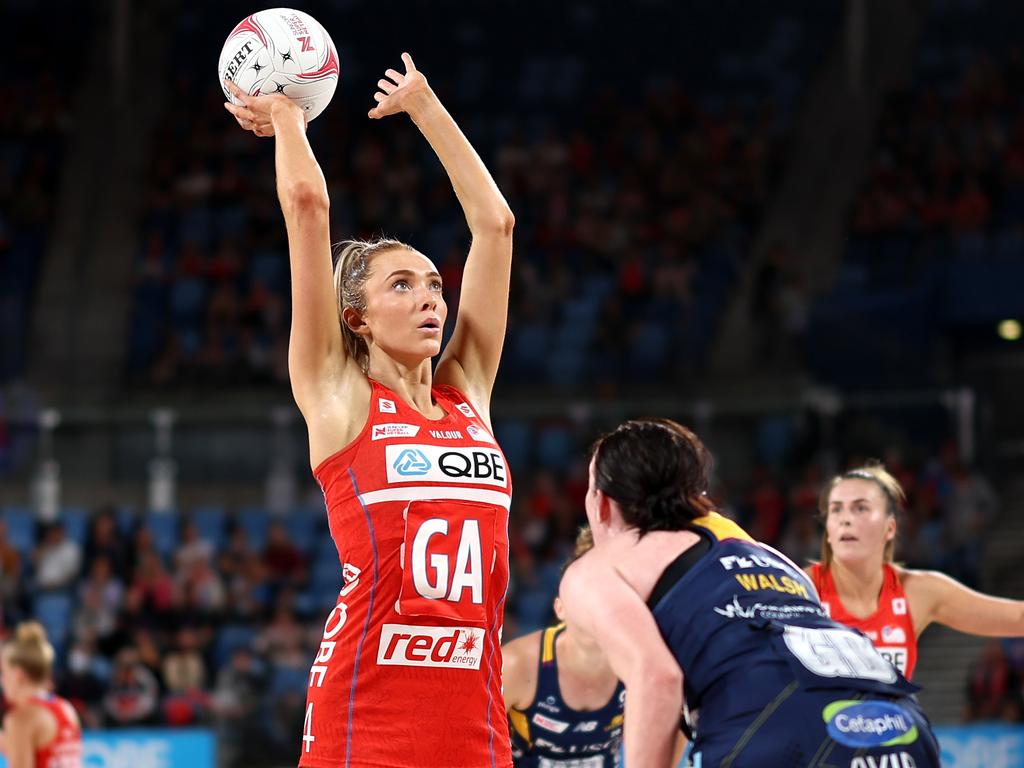 Swifts' Helen Housby and Kate Walsh of Sunshine Coast Lightning continued their ongoing tussle inside the D. Picture: Matt King/Getty Images
With Housby, I think we have to preface it by saying we can only see so much when we're watching it on TV. Watching live might have brought a totally different perspective, so potentially there was a lot more going on.
For those unaware, Walsh was trying to defend a Fawns shot and, as shooters do in order to shield their teammate and block the defender, Housby ducked her head to try and get under Walsh's arms, as Walsh lowered her arms to make it harder for Housby to get in front of her.
What we saw happens on the court all the time, so we shouldn't be outraged by that particular five minutes of the game.
Housby, she's an experienced player, too. She's playing up to the fact that she's being pushed around, then Walsh is also lowering her arms to make it harder for Housby to get in, so that's where I think that incident appears 50-50.
They were both being overly dramatic, they were both overplaying things, They are both fiercely competitive players who want to win.
As a former defender, I'm empathetic towards what Walsh was trying to do. I know people will think 'typical Bianca', because that was definitely part of my game (cue Nat Medhurst) – I would try and push the boundaries, find a way to get inside the shooters head to make them think twice, defence is just as much a mental battle as a physical battle and the rules always play in the hand of the attackers. Courtney Bruce has a great mix of skill and intimidation in her game.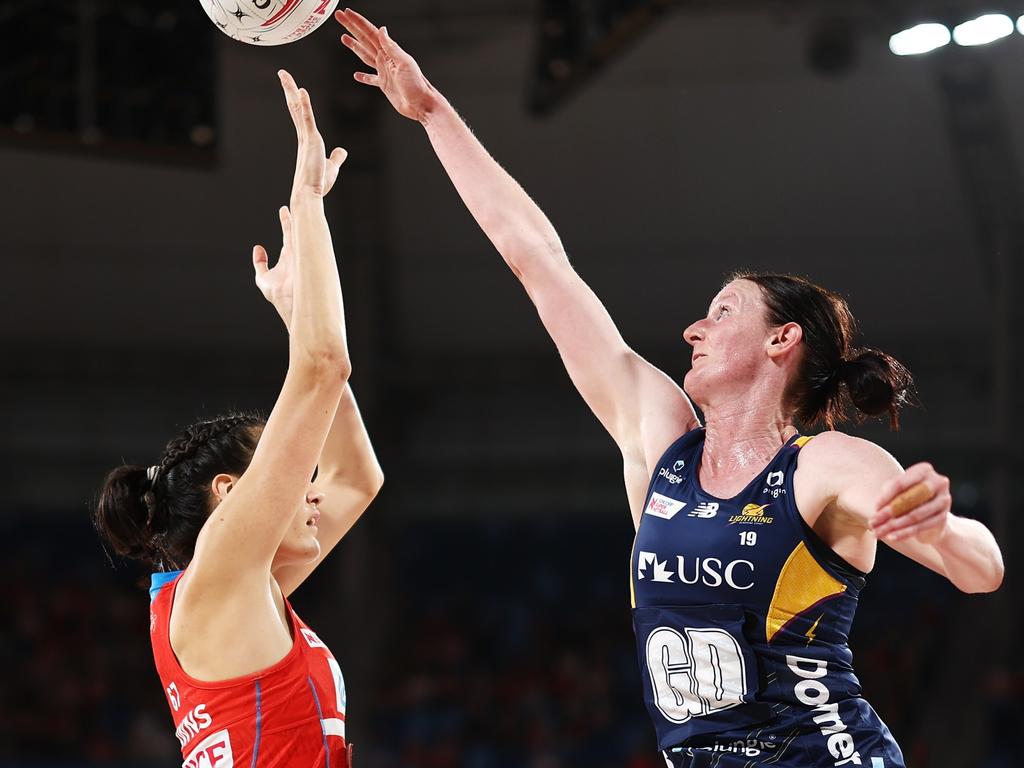 Kate Walsh played an aggressive defensive role for the Lightning in their seven -goal win over the Swifts. Picture: Matt King/Getty Images
So without sounding like a bitter and twisted defender you definitely have to find ways to get inside the head of an attacker. Housby was push her way in front of Walsh to prevent her from being able to reject a shot, which is such a strength of Walsh's game, and Walsh was retaliating.
A lot of how Walsh reacted wasn't necessarily the right way to do it, but I don't think that we should view this whole incident as 'Kate Walsh was dirty and she shouldn't be able to get away with that'. The reason I believe the umpire let them get away with it was because it was 50-50. The argy bargy was coming from both players so they allowed it to keep going.
The times when it should be penalised and she should be cautioned is when it's getting dangerous.
I've given Walsh a pass, because I want to see how this plays out. It's going to happen again. Other shooters that will watch that and think 'well, that's how we stop our shot getting rejected'.
I don't know why they don't do the same thing with Shamera Sterling of the Thunderbirds, because she's had the most rejects of any player out on court.
Let's just see what happens next.
Fail: Adelaide Thunderbirds
Tania Obst and the Thunderbirds have significant work to do, with the team currently sitting in sixth place. Picture: Mark Brake/Getty Images
For constantly chopping and changing their on-court line-up. It doesn't help that they're missing players, but there just seems to be a lack of direction from the coaching staff.
The Thunderbirds could have beaten the top-of-the-table Vixens at the weekend. They were so close at points but so much shuffling of the positional pieces and the seeming lack of a clear strategy were really costly.
The luxury Tania Obst has had is her incredible defence end that continues to get ball. But that reliance meant that when the Vixens kept them quiet just by purely playing a slower smarter game, there wasn't much else that Thunderbirds tried to do to change it during the game.
The only way a team can win a premiership is with a Plan B, C, and D to which different players can align. Without that, the T-birds won't be able to compete when it counts.