Bianca Chatfield: Super Netball midway report card, plus weekly passes, fails and Diamonds Watch
BIANCA CHATFIELD has delivered her midway report card for Super Netball, plus her weekly Diamonds Watch – with Kelsey Browne demanding a Commonwealth Games call-up as others, including a Magpies teammate, fall away.
If the first half of this season has taught us anything, it's to expect the unexpected. Sounds cliched, I know, but unless your players are in full-time isolation, the reality is you'll probably take the court without your stars at least once this season.
Hopefully only once, anyway.
And if you're really lucky, they'll all go down at once and can then head towards finals without the threat of the dreaded virus lurking in the wings.
Key take-outs after round 7, Super Netball's midway point
– While your starting line-up is important, you need more than ever a bench of versatile players who can have an impact when they enter the game.
– It's essential to have a fluid and strategic game plan that can be easily tweaked, for not only have we seen late team changes, we've also seen player load management come into play, with a few midweek games thrown in.
– The secrecy and uncertainty around team line-ups has almost become a game of cat and mouse, with simple social media posts from some clubs the way they reveal late changes just before the warm-up.
– Memo to training partners: get ready to take the court, and not necessarily with the team you've been contracted to, or training with.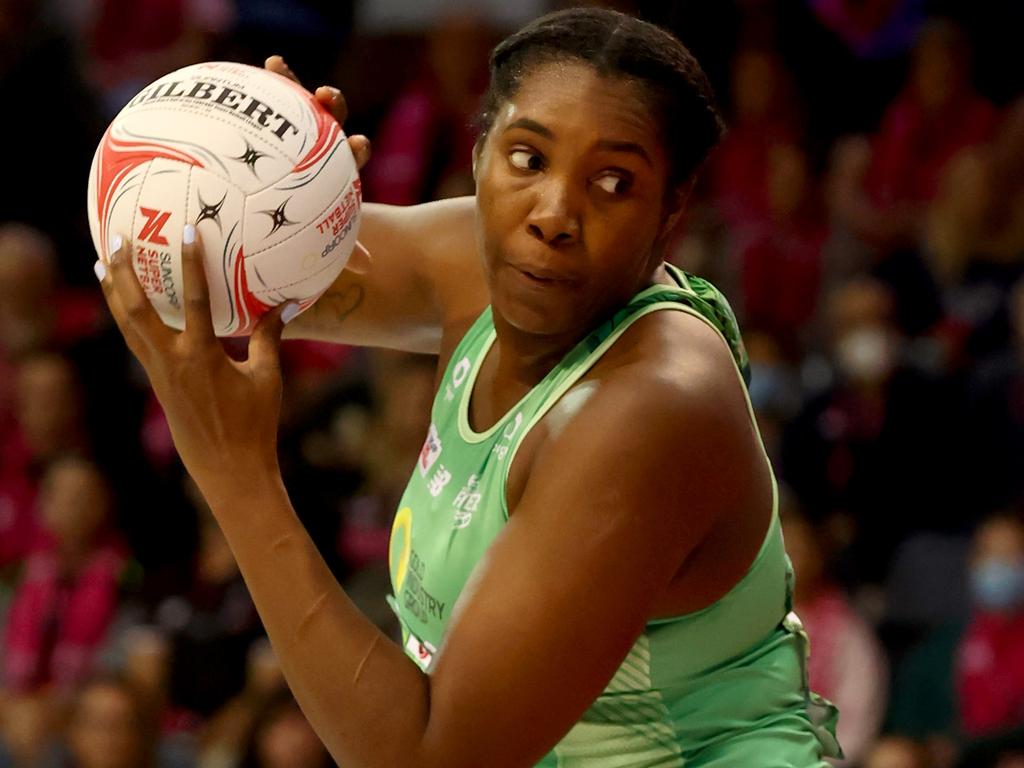 Fever, led by dominant goal shooter Jhaniele Fowler, and the resurgent Vixens top Super Netball's ladder at the season's midway point. Picture: Kelly Barnes/Getty Images
Predictions for the second half of the season
I'm confident the Fever, Vixens and Firebirds will remain in the top four, with either the in-form Magpies or Giants filling the remaining vacancy, despite the Sunshine Coast Lightning's great run home after so many games on the road.
The Lightning just seemed so deflated during and after that heavy loss to the Giants at the weekend that you can't see them finding that extra spark they need to make finals, because they'll need to fight all the way from here.
The Magpies and Giants have given me far more belief that they're up for the challenge. It should work to their advantage that a lot of their toughest times are probably behind them in terms of dealing with Covid and having to shuffle their personnel around.
But they've also found a way and a style of play that works for them on court. It seems that what their coaches are asking of them in terms of game plan is aligning with what they're doing out there on court.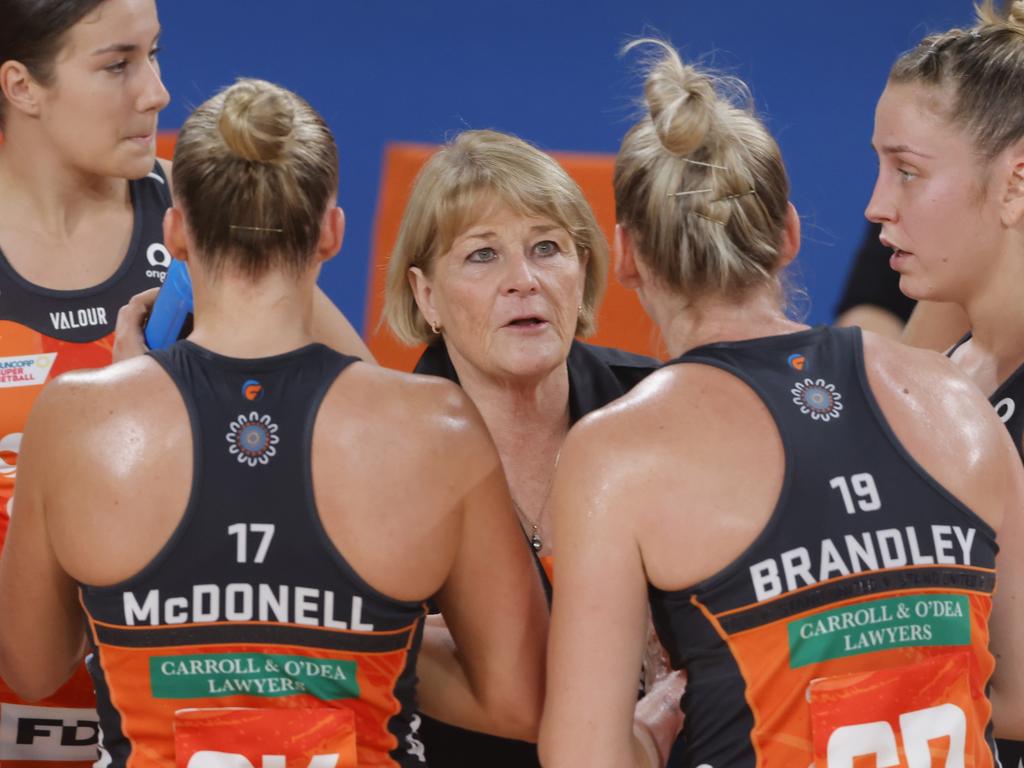 Julie Fitzgerald's Giants have proven they're a genuine force again this season. Picture: Jenny Evans/Getty Images
With the Giants, for example, Julie Fitzgerald can only tell them so much, so it's about being able to problem solve on their own when they're on court. With their midcourt and their attack and the way they play, it doesn't matter what the opposition's throwing at them, they just seem to be able to work around it.
They know when — and when not — to take a Super Shot, for instance. The Giants are a much more strategic side than what we've seen before and the players look like the ones who are controlling it out there on court.
With both Giants and Magpies, too, you're just seeing real joy on their faces. I've never seen a Magpies team enjoy playing the game as much as they were on the weekend, and the same with the Giants – they were laughing, having a great time, and they just seem to be in the right frame of mind to take it on this season.
Which leaves the Swifts and Thunderbirds to battle for the wooden spoon. Even if finals remain a mathematical possibility, I can't see either making a ripple in the run to the finals.
Distinction
Kelsey Browne and Molly Jovic. Throw in Ash Brazill, and the Magpies' midcourt has become one of the best in the league in a matter of weeks. The limited turnovers is the key. And of course, the bounce pass. I've never seen so many but it sure is working for them.
Showtime from the Firebirds' duo of Diamonds, Donnell Wallam and Gretel Bueta. With her basketball background, Bueta has always had a different flair to her game, but it's so refreshing – and possibly causing a few headaches for defenders – to see Wallam join in on the magic. It's been brilliant to watch this attack end take the game on in their own unique way.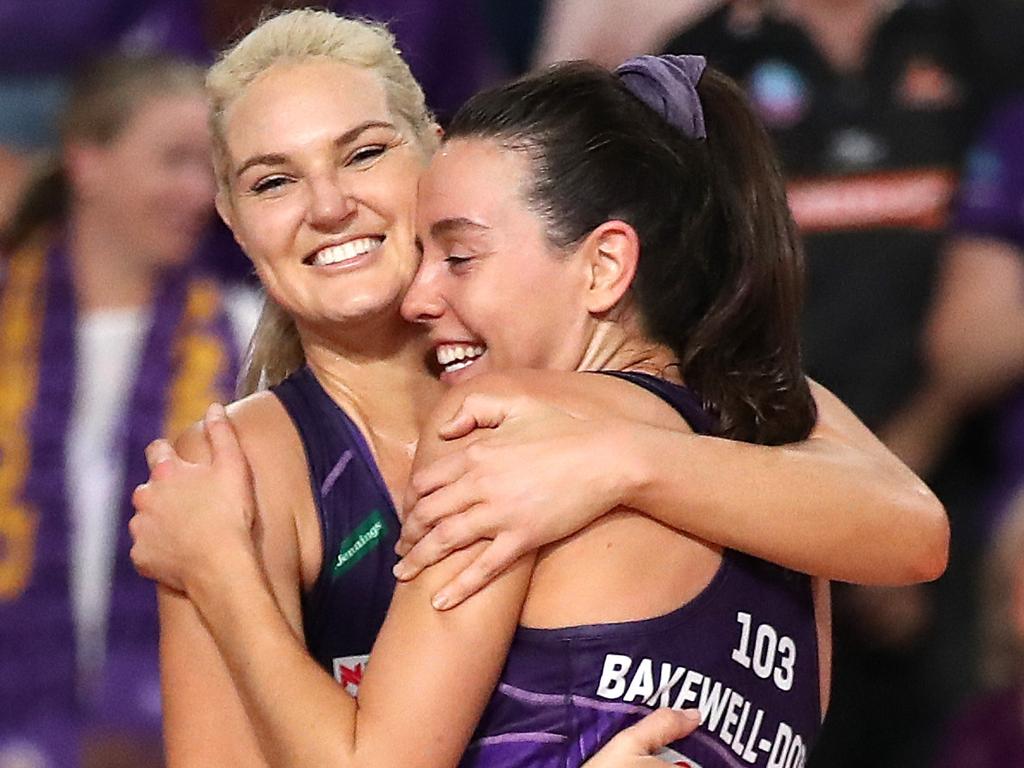 Gretel Bueta and Ruby Bakewell-Doran of the Firebirds celebrate after beating NSW Swifts in round 7. Picture: Jono Searle/Getty Images
Giants – wow. They keep proving me wrong. I was so surprised they made the grand final last season, and don't know how they can be so hot and cold but still continue to win games when it counts. After their pretty average start to this season, I again underestimated the Giants, but you cannot look past them when you saw what they did on the weekend. When you're so far ahead, it can be easy to go into cruise mode, but they just kept piling the goals on, and punishing the Lightning, and that's what great teams do.
The Jamaican defenders across the league are ready for the Commonwealth Games, and will be a formidable unit if they can keep up this level. Not only the combination of Shamera Sterling and Latanya Wilson at the Thunderbirds, but throw in Jodie-Ann Ward at the Magpies and not many attack lines will be able to get an easy entry into the circle, let alone a clear shot for goal.
Pass
Fever. They're a very good side but will need to be exceptional to win their first Super Netball title. There are links missing at times and even though they've had some Covid disruptions, they just seem to struggle against some opposition.
It's been great to see Alice Teague-Neeld enjoying her new role at wing attack. Coming from goal attack, you can tell she is relishing in the feeding role without the added pressure of shooting all the time.
At the other end, Courtney Bruce and Sunday Aryang can be so stifling in defence, yet seem to struggle for four quarters against a more moving goal circle, which is something coach Dan Ryan will want to work on.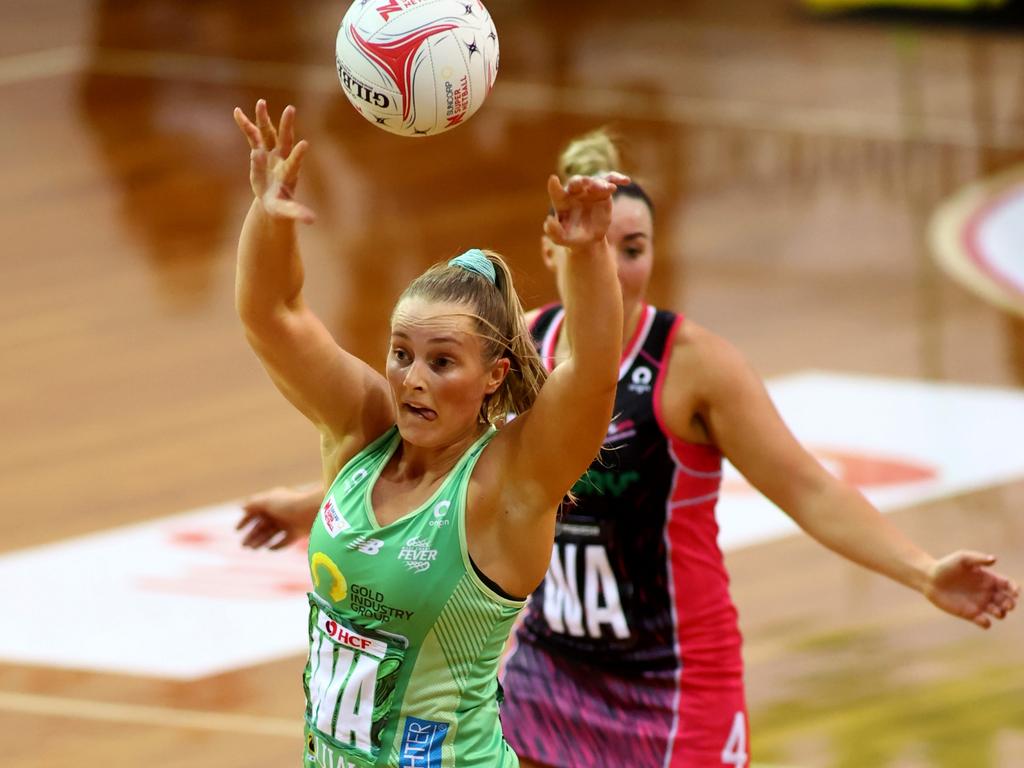 Alice Teague-Neeld has been strong for the Fever in a new role at wing attack. Picture: Kelly Barnes/Getty Images
Sophie Dwyer. The second-year blues can be a very real thing, and although the young Giants' shooter had a modest start to the season, she's rebounded exceptionally well in the past few weeks. There were a few question marks over her inclusion in the Diamonds' squad, and she was the only player in the 15 at the Quad Series not to get any game time, but she's now showing that she offers a totally different shooting option and she'll be challenging someone like a Steph Wood at GA.
Mwai Kumwenda. She goes under the radar, not being the strong tall shooter that towers over everybody, or the fast moving type that runs everywhere in attack. She really weathered the storm last year when a lot of pressure was put on her shoulders that she hadn't experienced before, and she's just been rock solid.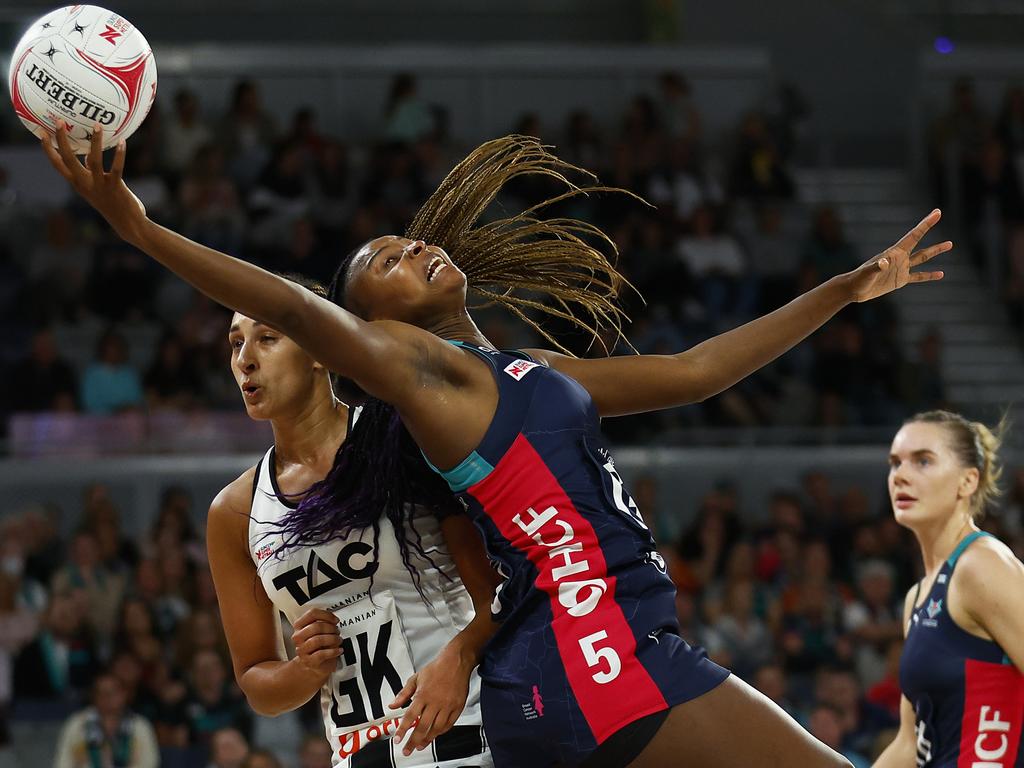 Mwai Kumwenda of the Vixens receives a pass during their round 7 Super Netball match against Collingwood Magpies. Picture: Daniel Pockett/Getty Images
Kumwenda's teammate Jo Weston also earns a pass for her work rate and her effort in every single game. Even at WD yesterday in Kate Eddy's absence, she's just trying to get it done. Weston is the consistent presence in the Vixens' defence and we probably don't give her enough kudos for what she does back there.
Finally, a shout out to the league itself. Despite so many Covid cases, no games have been postponed or cancelled. Not yet.
Fail
Whatever the rules say, it's time for more transparency in selection, by revealing who's playing and what's happening. Let's grow up and enter the big league.
I thought Vixens did a good job of being open and honest around the players they had missing due to Covid protocols, and announcing it earlier than they had to, given that final lists don't need to be submitted until three hours before the game.
Last week, though, Lenize Potgieter didn't even get on the plane to Melbourne, yet Adelaide left it until the deadline to reveal that she was missing.
Did Cara Koenen test positive on the day of the game? We don't have that detail and nor should we. But if they knew a day beforehand that she's not playing, we should know a day beforehand, too.
Teams are trying to be sneaky, but I feel when we try and hide and be secretive, we're not helping the game as a whole.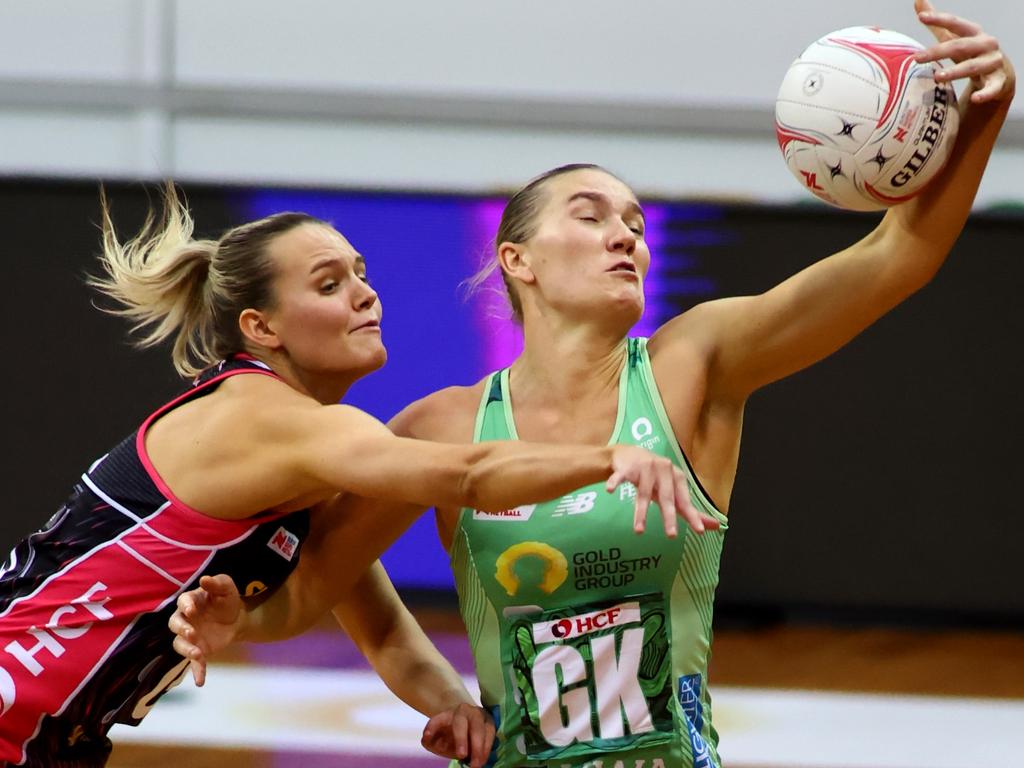 Lenize Potgieter of the Thunderbirds contests a ball with Fever's Courtney Bruce during round 7 of Super Netball. Picture: Kelly Barnes/Getty Images
The other fail is the Adelaide Thunderbirds, for their scoring volume. Or lack thereof. I said it last week but will repeat it now: I can't see them beating any of the top five teams when they're only averaging 50 goals a game — which is seven goal less than the next worst, the Swifts.
Given that we're halfway through the season, they need to start recruiting now for what they need in 2023. And that doesn't mean Potgieter's not in the side; it just means they need someone to support her who can shoot a high volume and not rely on the super shot specialists Tippah Dwan and Georgie Horjus to come in for the last five minutes of the quarter. They need a mainstay goal attack who can shoot as much as Potgieter, or, alternatively, find a higher volume shooter who can be complemented by the super shot specialists.
Diamonds Watch
Stacey Marinkovich and the Aussie selectors have left themselves with some wriggle room and can add up to another four players to the 18 named last week in the 2022/23 squad ahead of the Commonwealth Games.
For all the talk around Kim Ravaillion – who on Saturday was back to how we're used to seeing her, and in that super-strong combination with Lara Dunkley, Gretel Bueta and Donnell Wallam – Kelsey Browne has to be included.
Captain Liz Watson is obviously a lock at wing attack, but even if you can't see where Browne fits into the team, reward her efforts, work rate and consistent performance in a Magpie line-up that hasn't always showed up for every game.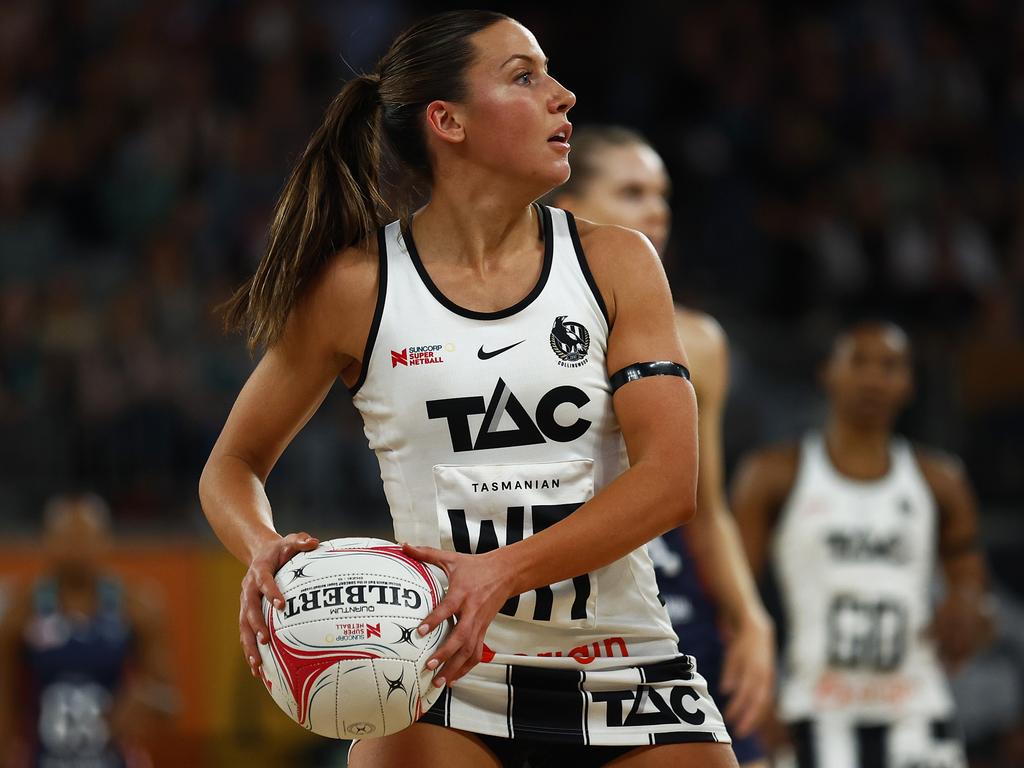 Kelsey Browne of the Magpies is making a huge push for late inclusion in Australia's Commonwealth Games squad. Picture: Daniel Pockett/Getty Images
Sophie Garbin moved to Collingwood to be a starting seven player, but her limited impact has meant she has ended up on the bench most games. It's hard to see how she will fit into the final Diamonds team; at her best, usually back at goal shooter, Garbin can be a weapon, but we just haven't seen her best this season.
Ruby Bakewell-Doran — what a surprise packet she has been. The emerging Firebirds defender is not yet in the mix for Aussie selection, but she has to be on their radar. So clean. Loving the way she plays the game.
Steph Wood is a slight concern. I get that it's hard to play well when your team isn't, but when you look at what Browne's doing, and also Ash Brazill in still standing up when the Magpies have been failing, I think that's what Marinkovich would like to see from her vice-captain. To hold her head high, lead that team, and be able to show up on court every game, regardless of the situation or the end result.