Bubble life with four boys and a netball team: How NSW Swifts coach Briony Akle does it all
Briony Akle's coaching career was once squeezed around her NRL day job. Now she leaves Trent Robinson in awe as a mother of four, navigating four states in 67 days en route to a title, writes LINDA PEARCE.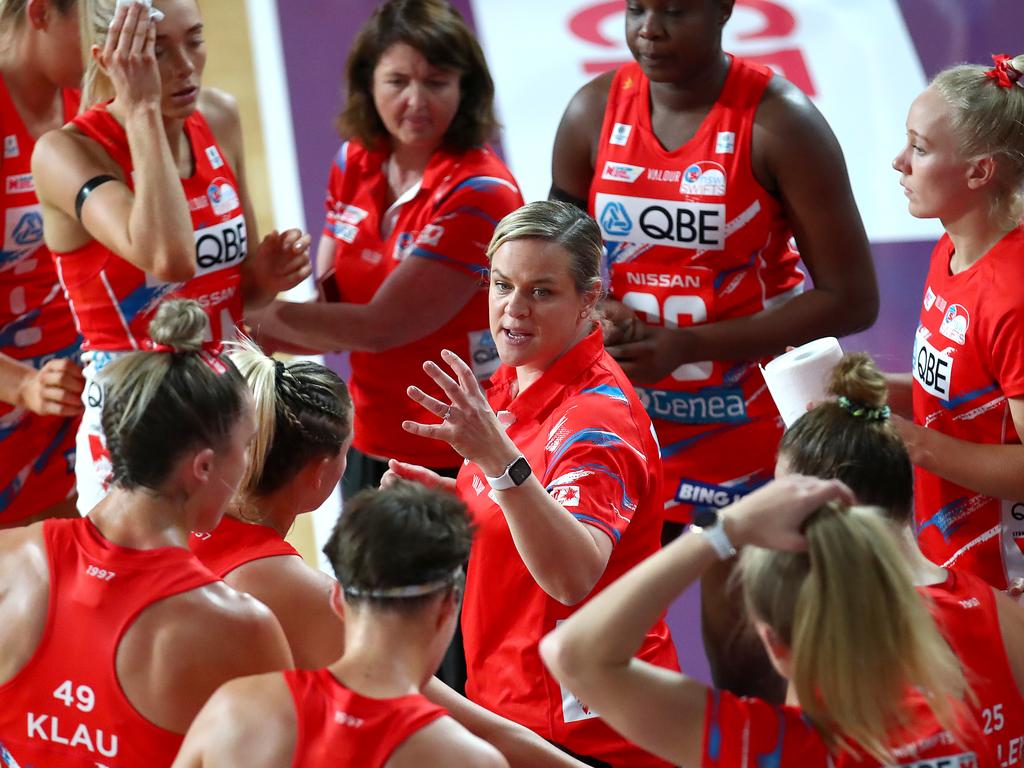 Briony Akle has coached the NSW Swifts to Super Netball premierships in 2019 and 2021. Picture: Jono Searle/Getty Images
During Briony Akle's nine years working in community relations for the Sydney Roosters and Parramatta Eels, she would knock on doors, ask questions and dream. Back then, her own coaching in the NSW pathway was done after hours, squeezed in around her day job, just as her flag-winning playing stint with the Sydney Swifts had been.
How marvellous it must be to have all those staff, Akle mused, as she wandered around Moore Park and the Parramatta Leagues Club. Imagine how wonderful to be a full-time professional coach, thought the young woman who can still remember running up to her 11 and 12-year-old teammates with tactical suggestions at the other end of the court, and the buzz she felt when her ideas worked.
During her time at the Roosters, there was a young assistant coach on staff who would return from Catalans Dragons to take over the top job for the 2013 season. Trent Robinson is now a valued mentor, with whom Akle often spends training days and has witnessed up close in full-on match mode. "A fantastic opportunity" was also enlightening, she says, and not just because it was one premiership coach shadowing another.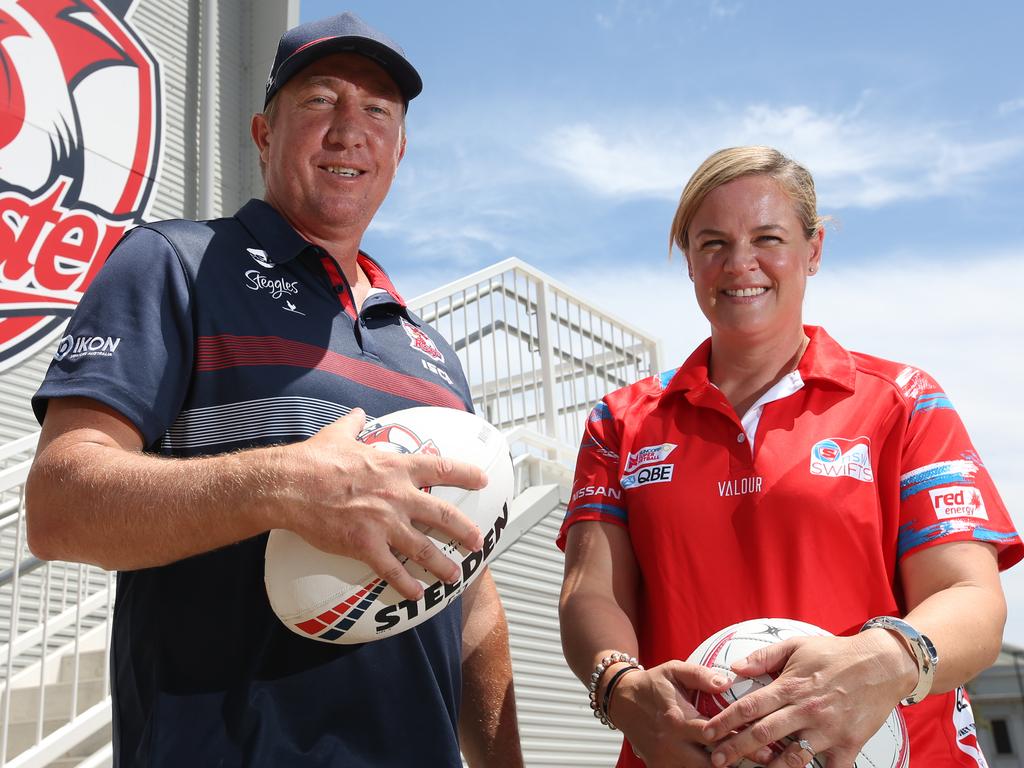 NSW Swifts coach Briony Akle says that Sydney Roosters coach Trent Robinson has been a great mentor and friend over the years. Picture: Damian Shaw
"I found out that he's got a bit of a temper in the old box – he'll probably kill me for saying that!'' Akle laughs. "But definitely with how he functions on game day, he does not get uptight, and obviously the players respond to how you walk into a change room, and Trent's very calm and reassuring to his team and knowing that they've done the hard work. That's probably what I took away, is that if you've done the hard work there's no need to stress on game day, and it's not over 'til it's over.''
Akle called on her old NRL connections after being appointed in September 2017 to replace Rob Wright — who sensationally walked out with two years left on his contract — and needing to find a new sounding board to replace her former mentor Julie Fitzgerald, suddenly a rival as Giants coach.
Robinson told CODE that the relationship that started as colleagues and friends has developed over time. "I guess at first I was sharing knowledge of when I started out, and it wasn't long before her when I was sort of cutting my teeth as well, and so just sharing that knowledge of beginning at a team, a team that I loved, and building that team, a bit like her.
"And now it's got to the point where she's got a lot of experience, and we just catch up and talk when we can and just sort of share our coaching stories, so it's less like a mentor than just 'coaching friends'. We only talked a couple of weeks ago but, yeah, it's time for us to catch up again.''
Briony Akle coached the NSW Swifts to Super Netball premierships in 2019 and 2021. Picture: AAP Images/Darren England
Entering her fifth season, the 44-year-old now has two Super Netball premierships to Robinson's rugby league treble, and sees similarities in two coaches born just five months apart who focused on building a culture, and had success sooner than many expected.
"I definitely know that Trent is always there if I pick up the phone and say 'what do you think about this?' It could be leadership, it could be anything, and just having him there as that option has been fantastic,'' Akle says. "I think it helps if you can learn from other sports and other businesses and implement that, because I certainly don't have all the answers.''
What Akle does have – aside from her two pennants, four sons aged between six and 16, a hairdresser husband, Sarkis, who spent his time in the 2020 hub helping to home-school his boys, give free haircuts to all and share home-cooked meals – is the understanding of how far she and netball have come.
Akle dreams no more. "I sort of pinch myself every day that I am living that life and doing what I love and I probably learnt to appreciate it from those NRL days, when I'd work all day and then go and coach at night.''
A nine-year-old career coach in the making
As the youngest and only girl among three Thornley children, the self-described "thinking player" spent her Saturdays at her local Castle Hill courts in Sydney's north-west. "I wasn't the fastest, I wasn't the strongest, but I prided myself on not making mistakes and nailing those basics and being a real team player,'' she recalls. "I've had the passion for netball since I was nine years old and I think I always just had that coaching brain.''
Akle graduated from the representative pathway to spend 1999-2004 with the (then Sydney) Swifts, where her teammates included Liz Ellis, Cath Cox and current Firebirds coach Megan Anderson. Aka the Fab Four. All still close friends today.
"We're definitely very naughty when we get together. Lots of laughs, lots of wine!'' Akle says with a laugh. "I couldn't tell you what our grand final score was 20 years but I can definitely say that my biggest, fondest memories are the ones we've made off the court, and that's certainly something that I say to the girls: you've won a premiership together, you're forever bound together in an amazing achievement.''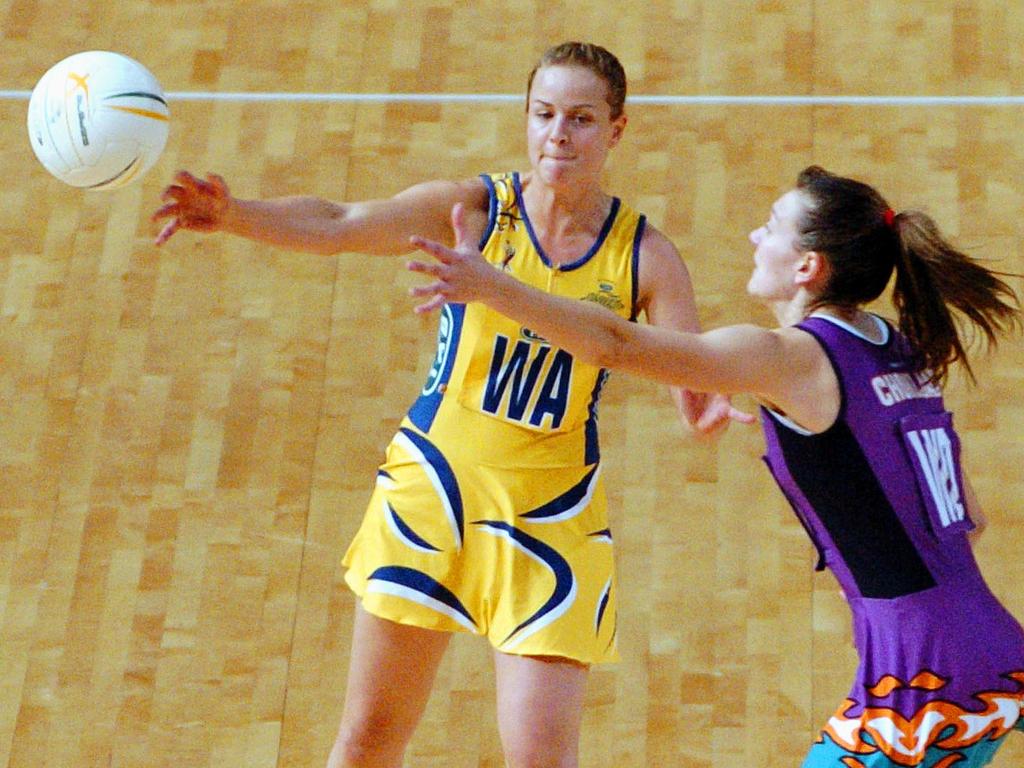 Briony Akle in action for the (then Sydney) Swifts during a clash against theMelbourne Phoenix in the early 2000s.

Picture: Danny Aarons
While suffering the first of two ACL ruptures another occurred after Akle retired, the highlight of her 53 games under Fitzgerald was the 2001 grand final upset of the Adelaide Thunderbirds. By then, the Bachelor of Applied Science graduate had started working at the Roosters; also unusual among her peers was the fact she was already coaching, learning, working through the accreditation levels and just "rocking up" to various courses to aid her understanding of the game.
Success with state under-age teams and at ANL level with the runners-up Waratahs in 2016 led to the NSW Institute of Sport head coach receiving an unexpected approach in 2017. "That was probably the biggest shock of all, being offered the Swifts' job. Getting the phone call to say, 'We've lost Rob Wright, would you come in and have a chat to us?' And here we are nearly five years later.''
A no-brainer? Perhaps surprisingly, no. "Obviously this team comes with a long history of success and I'm like, 'Am I ready?' I waited about 10 days until I got back to Netball NSW with my decision and it was probably based on the fact that I had four children and a husband, and we own salons, so it wasn't just about me. I had to think about my family, and in the end it was my husband who said, 'This opportunity may never come again, so why not grab it?'''
Taking over a shattered group, her approach was patient.
To a point.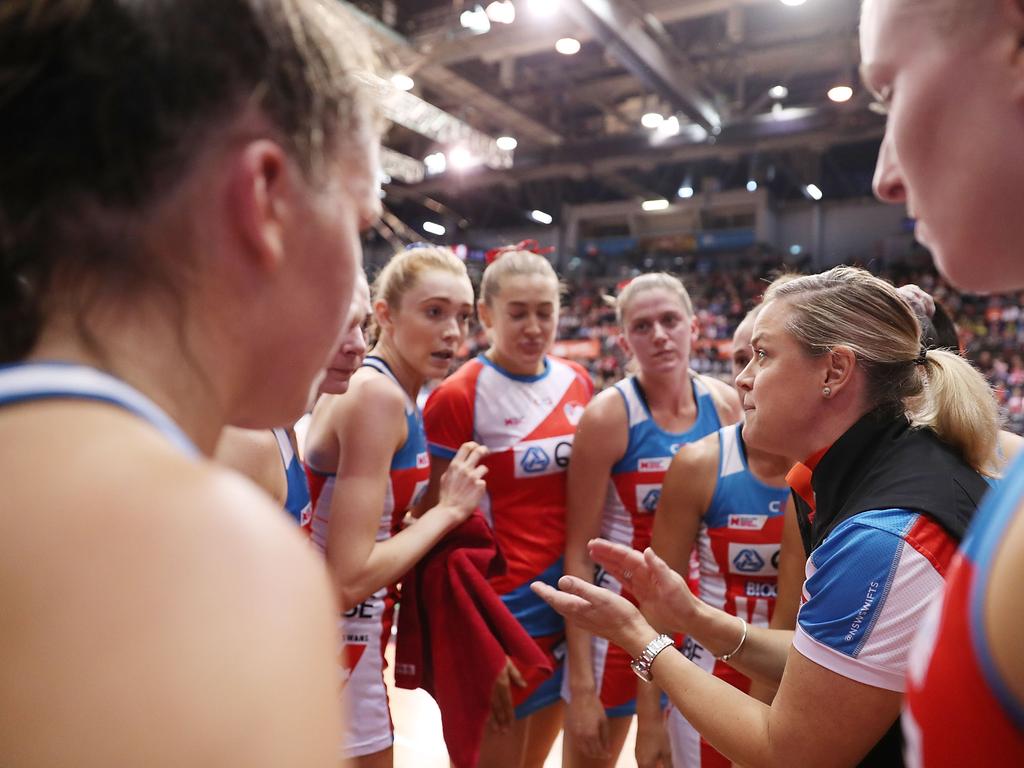 Akle thought long and hard about accepting the NSW Swifts head coach job after former coach Rob Wright left the club. Picture:

Mark Metcalfe/Getty Images
In one sense, Akle decided to bide her time rather than come in with a laundry list of what needed changing. Observe. Listen to those who were already there, with the rookie coach aware she had inherited "a really bloody good team''. If also one that had won just three games the previous season. Then adding "the Akle touch", by slowly implementing her own plans.
In 2018, they won three more games but still missed finals. Sixth, again.
"So that was challenging, but we also knew that we had to put anything aside that had happened with former coaches, and the players just needed to know that I believed in them. Rob had a plan for (winning) within four years, and I came in going, 'Well, why is it four years? I'm not waiting four years. I don't have time to wait four years. Why can't we do this in the next two years?'
"And all of a sudden their mindset changed to say, 'Ok, well, if you believe we can do it, then maybe we can'.''
Did. And again in 2021. Although, thanks to Covid-19, an awful lot happened in between for the dual Joyce Brown Coach of the Year winner.
Akle believes her own Swifts' playing pedigree has been an important ingredient, adamant the current athletes would know where they came from and also experience some of their predecessors' success.
She has invited former players back, sought and welcomed their input, celebrated the past while creating a new legacy. "And keeping it fun, as well. I was always part of a fun team with Lizzy Ellis and Cath Cox, so just having that balance of intensity and bringing that joy into every training session and game.''
Progress from her own playing days and a new average salary of $74,000 to $91,500 means that at least half the squad no longer need a non-netball job. Akle says her coaching style has also evolved to be less old-school dictatorial and more inclusive and open to feedback.
Her assistant, former Diamonds defender Bec Bulley, describes Akle as "a wonderful people person" who communicates, connects, shows care, compassion and empathy. "She's definitely very young and fresh and has a different approach to many other coaches that I had as a player," Bulley says. "In saying that, she also really believes in doing the basics well, and I think players also respond to that.''
Swifts co-captain Maddy Proud believes Akle's greatest asset is her ability to find the right combination of toughness and a demand for excellence, while forging genuine friendships with her players and fostering a fun and light-hearted element within the group.
"It's pretty difficult to get that balance right and I think a lot of coaches struggle to find that mix, and kinda go too much one way or too much the other,'' Proud says. "But with Briony you can start the session mucking around and playing a game, but as soon as she comes in and starts talking you know that she means business.
"And that's the same thing on game day. It's very direct and very honest and very to the point, but then she also has this real nurturing side to her. When she talks you listen, and it doesn't have to be in a way that she screams at you or she's really getting down your throat; she does it in a way that, because she's spent that time to develop the relationship, everyone does respect and trust her so much.
"I don't know many other coaches, if any other coaches, I've had who have been able to do that as well as Briony has.''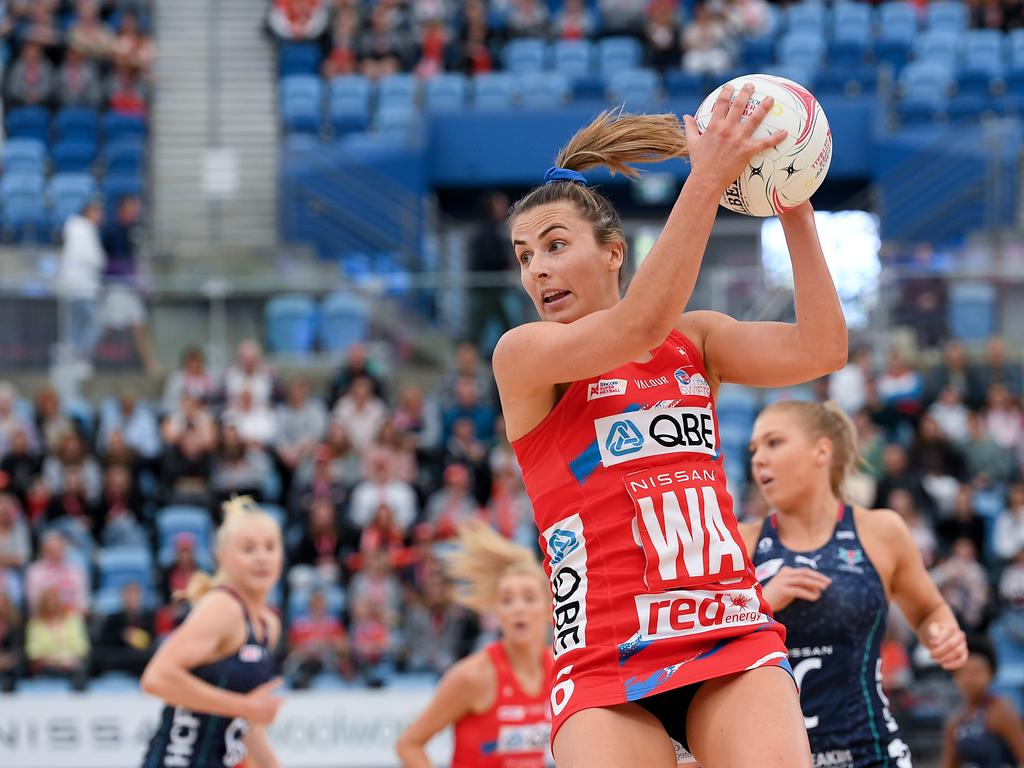 NSW Swifts midcourter Maddy Proud says players respond exceptionally well to Akle's coaching style. Picture: Speed Media/Icon Sportswire/Getty Images
Robinson meanwhile describes Akle as someone who has always been knowledgeable about the game, caring but strong, "sharp and hard-nosed". Her success has not surprised him. "No. It's been great to watch, and just even talking to the women who play for her at different times, it's always that respect for her but they also know that she's gonna push them and coach them, and not just manage 'em.''
They talk about the importance of building culture, and the clear path to do so that both have been given by their clubs, while the second part is "about how do you train and play and instilling your philosophies there''. Robinson considers it vital for sports to collaborate, for teaching methods are as transferable as they are in schools, whether in English, Maths or Science.
"That's why it's so important to share between the sports the coaching techniques and then the management of people, that's transferable as well,'' he says. "The details on your sport, that's up to you, but the other parts it's important to share and go outside of your box and your little world and search for more information, so that's the beauty of our relationship, as well.''
Family affair, as long as Mum doesn't cook
There are obvious benefits to being married to a hairdresser. "There are if you've got time to get your hair done - my hair's terrible at the moment!'' says Mrs Akle, while also acknowledging her husband's decision to get off the tools in order to be around for the couple's four children when their mother could not.
In 2017, only two members of the Swifts' playing group were from Sydney. The fact the interstate/internationals had no family locally prompted the Akles to create an extended tribe around their own clan, hosting regular dinners, welcoming partners, comforting the homesick and keeping long-distance loved ones involved.
Sarkis, a skilled and generous cook of Lebanese descent, is entertainer-in-chief. "(Proud) will say, 'I'll come to your house as long as Sark is cooking','' says Briony. "Our whole team knows that I am useless and they probably only come to see Sark and my kids and not me.''
Proud says: "Briony… let's just say that she's better on the court than she is in the kitchen. Actually, in saying that, I wouldn't even know, because I don't think she's ever dared to cook for us.'' Sons Sebastian, 16, twins Charlie and Sam, 13, and six-year-old Xavier ("that little surprise packet at the end there'', says Mum) are also a welcome part of the deal.
How she fits everything in, Bulley – herself a mum of two – can only wonder, although Proud, who marvels that Akle still seems to be across every Netflix show, has her own theory. "That's by not cooking!
"I think her thing is that she just doesn't sleep… She's very efficient in the things that she does. She's got great time management skills. She just gets it done. I don't know how she does it, but she seems to have more hours in the day than most people do.''
Stranded by Covid
In 2020, at crazy-short notice, Team Akle packed up and relocated to Super Netball's Queensland hub. It was a dramatic day, with the border closing and Briony so distraught at the thought of leaving her family that she was sobbingly incoherent on the phone to Sarkis when the news broke.
"He couldn't really understand me because I was crying so much so he rang my manager and said, 'What's really going on?' And within two hours he'd made the decision that the family were coming with me,'' she says.
"We just decided what an amazing opportunity to be together during this time, and that the boys would experience living across the road from Mooloolaba beach and being surrounded by the amazing mentors that these girls are. I watched them sort of grow up there, to be honest, just in terms of their own growth, and being adaptable.''
That, in hindsight, was the easy year.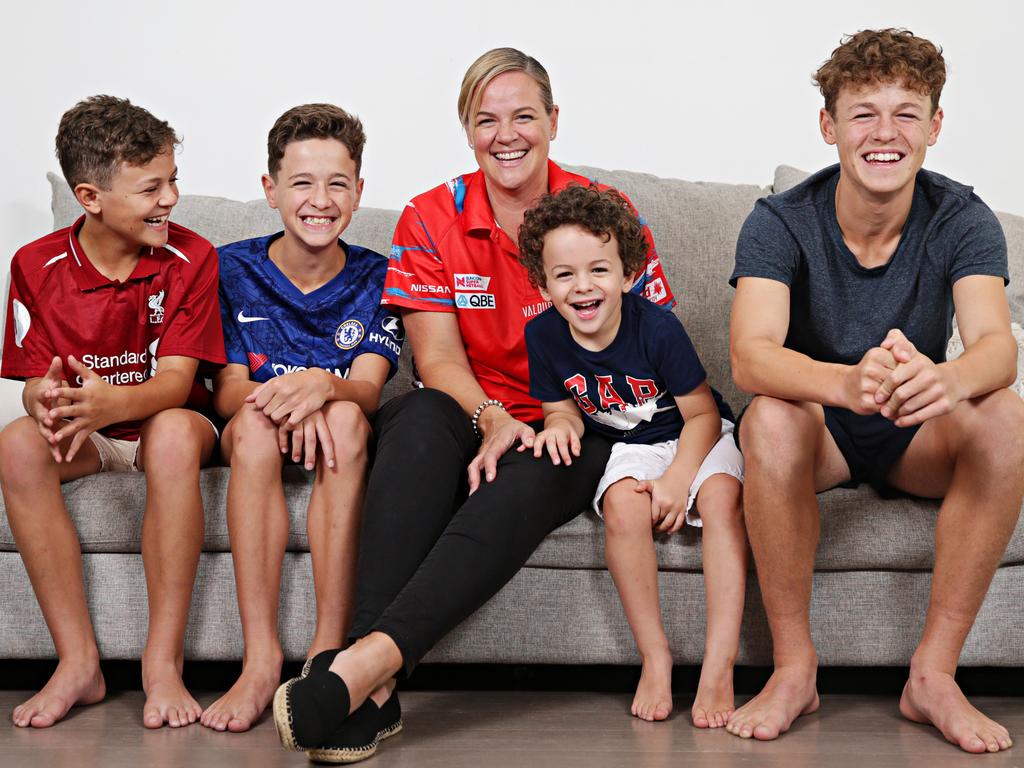 Briony Akle with her kids Charlie (11), Sam (11), Xavier (4) and Sebastian (14) at their family home in 2020. Picture: Adam Yip
Last season, as rules changed constantly and borders opened and shut, Akle headed to Adelaide in July for what was supposed to be two weeks in a temporary hub. It was school holidays, so she took Charlie and little Xavier, while Sebastian and Sam chose to stay home with their dad.
Two weeks kept getting extended. Then mother and sons discovered they were deemed close contacts and destined for 14 days of hotel isolation while the Swifts – and three other teams – escaped from a snap SA lockdown to Queensland to play out the season.
Stranded.
"Staying behind in Adelaide, knowing that you have no family there, that you have no support network, I had choices to make mentally. I could have flown home and gone 'this is all too hard'. We're locked in an apartment for 14 days with these two kids and my team's not even in the state. I think that was probably the lowest point for me.''
Through the frustration of trying (difficult, due to technical and other issues) to help Bulley run training via Zoom, limited pre-game and half-time roles while yelling at the TV during an upset loss to the Magpies, and concern about the optics of a coach unable to show up for a game, came "little shining lights" in the form of the Adelaide-based parents of Proud and Maddy Turner.
"My dad was so happy to finally be able to step into Sark's shoes and do for Briony what he's done for me for so long,'' says Proud. "Briony was probably getting sick of him – he gave them a meal nearly every second day and was dropping off things for the kids. As well as the Turners, they were always dropping off games for the kids and obviously the essentials, like a bottle of wine for Briony one night!''
Yet the team was also acutely aware of what Akle was wrestling with, while locked up with half her family as the other half — whom she would not see for almost three months — was in Sydney, and her team was in Queensland. "I can only imagine how these emotions and decisions and thoughts were just going through her mind when she had so many people's fate, I guess, in her hands,'' Proud says.
When Akle surprised the Swifts by finally arriving in Brisbane with fellow quarantiner and physio Vicki Locke, Bulley says there was screaming, laughing and hugging, with the group relieved and excited to have "our leader back''.
Adds Proud: "It's testament to the type of person Briony is that she was able to deal with all that and make us as players feel like everything was normal. (Akle) then stepped back into that coaching role as if nothing had ever happened and then went on to win a grand final as well.''
The biggest thing Akle learnt from the experience was that she can get through anything, she says, confident that her sons feel the same way. "Lots of people say to me, 'You need to write all this down, because you'll probably forget in a few years. I'm like, 'Yeah, that happened. It actually happened'.''
That included five major moves across four states in 67 days, sometimes signalled late at night for early the next morning, although most clubs faced similar challenges amid the tumult of 2021. The Swifts' mantra was to make everything they went through worth it; their coach determined that when she finally returned to Sydney, the trophy would be coming, too.
Swift thinking
One thing Akle's Swifts are yet to do is defend a title. Lessons were learnt from fourth place and a week-one finals exit in 2020. "You can't step into the river in the same place twice,'' is how Proud explains it. "You can't try to recreate a feeling from last year. So you need to create a new one and find new ways to be better.''
Akle says the mistake was letting winning mask the deeper examination and "hard yakka" required to keep improving. This time, with three personnel changes from the primary list of 10, they are not comparing anything with last year, but chasing a different feeling with a new group.
Robinson says he learnt from Akle, too, along a shared path, and watched with admiration last year how much tougher the SSN clubs had it in a second Covid year than those in the NRL. "Just being able to navigate that and spending time away from home and just the way that they went about the season last year was really impressive. I've really liked their rebound from their first title to then last year's title."
The league itself has switched from free-to-air to a more lucrative five-year broadcast deal with Fox Sports and Kayo; Akle forecasting an "interesting" 18 months in the quest to grow the audience for a sport historically reluctant to blow its own trombone at a volume befitting the pacesetter among women's domestic leagues.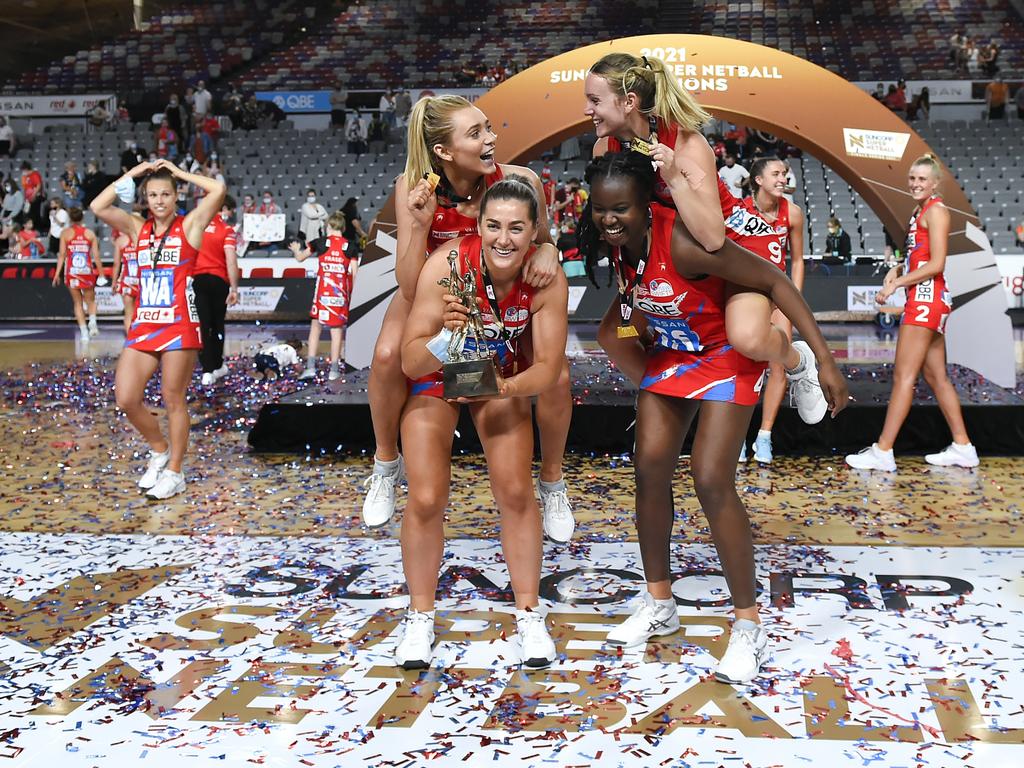 Akle and the NSW Swifts will begin their Super Netball title defence in March. Picture: Albert Perez/Getty Images
"We've got this fantastic product and we've got to tell netballers 'you want to keep your sport on TV, everyone needs to watch, right?' We can't just compare and sit in a corner and feel sorry for ourselves that AFL and cricket are coming up and being more popular. Well, watch netball. Get involved. Get memberships. Grow this great game that's been around forever.''
Given Akle's emphasis on the basics such as passing and catching from the outset, for without them strategy was irrelevant, the Swifts have become known for their precise possession game. The coach now wants more unpredictability and a mix of the old style with a more efficient attacking output.
The March 26-27 opening round features the grand final rematch against Fitzgerald's Giants at Ken Rosewall Arena, where a clutch of Akles will be in the stands, cheering on a coach whose team's achievements in four eventful years have already exceeded expectations.
"I'll probably appreciate it in 20 years' time,'' Akle says. "I just think how lucky I am to be here and so grateful that I've had the opportunity to even coach. So winning two, when people remind me, I'm like, 'Oh, yeah, we've done that. Wow, we've actually done that.'
"So extremely happy with where we're at, but there's still plenty to give.''