Caitlin Bassett: Increase growth and revenue in netball through men's side of the game
How can Netball emerge from it's withering debt crisis? CAITLIN BASSETT says look no further than the men's game which could see growth in participation and revenue
If there needs to be cuts to save netball's bottom line how about we start with the executives at Netball Australia who have mismanaged our sport and allowed such a dire situation?
While the focus should be on who will play West Coast Fever in the Suncorp Super Netball final next weekend, water cooler talk has been taken over by the financial disaster netball is in.
And while I don't think this is the time to be talking about player salary increases - I definitely think it's time to be looking at HQ.
Watch Vixens vs GIANTS in The Suncorp Super Netball Preliminary Final LIVE & FREE with Kayo Freebies from 7PM AEST Saturday 25th June. Join Kayo Freebies now, no credit card required >
Like many, I am completely baffled how the number one sport for females in a country that boasts the top netball league in the world, and with the number one world ranking, would be in so much trouble.
Above all, I think it is important to understand the players are not to blame for the situation that netball is in financially.
There has been a bit of chatter about the 22 per cent pay increase that was negotiated in September.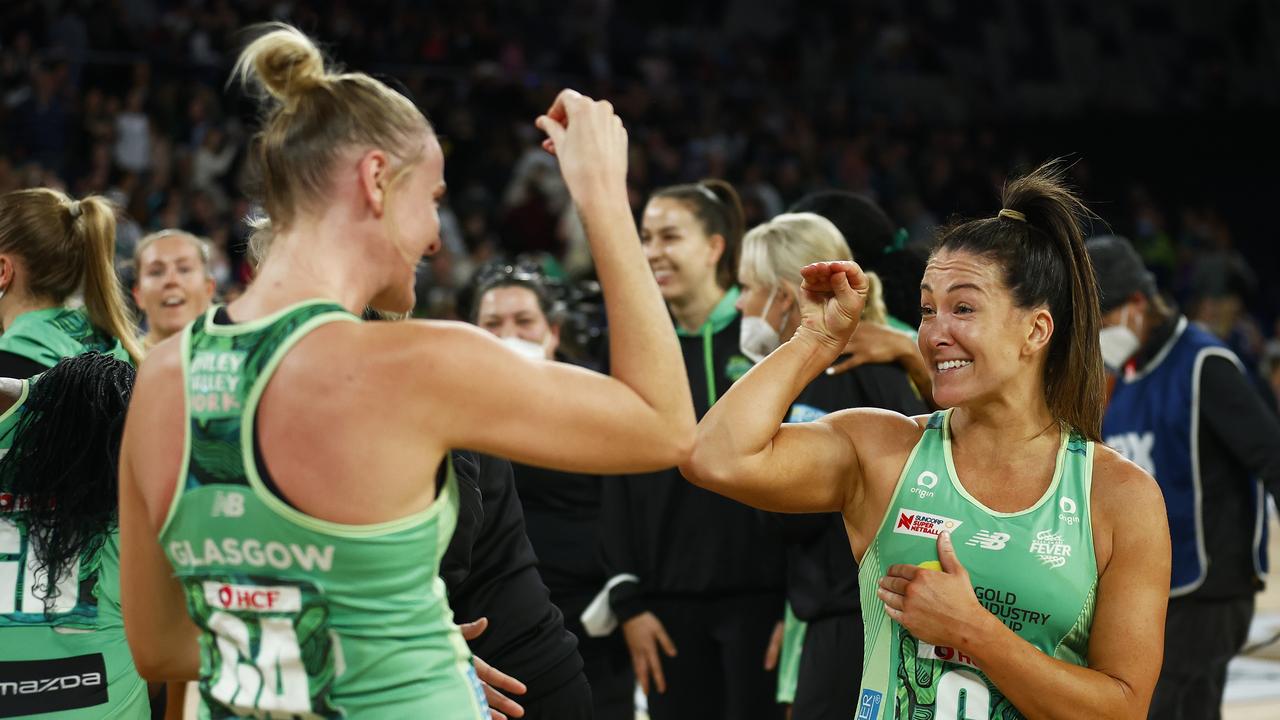 Sasha Glasgow of the Fever (L) and Verity Simmons celebrate beating Melbourne Vixens. Picture: Getty
When the last negotiation for pay happened ten months ago, there was no indication to the Players Association that NA was having financial difficulty.
I also find the prizemoney situation baffling.
The money being offered to the Grand Final winning team should be getting used to chip away at the $4.4 million owed.
That it was offered to the players when netball is in such a precarious position is bizarre.
So debt-ball, where to from here?
CEO Kelly Ryan is talking about exploring alternate revenue streams including gambling and private ownership.
Netball has always resonated as a wholesome sport and in surveys is frequently voted in the top three of trusted sports - I am not comfortable with the game being linked with gambling.
If we decide to go down this path, we will forever be linked with gambling - surely there are better options than selling netball's soul to the devil.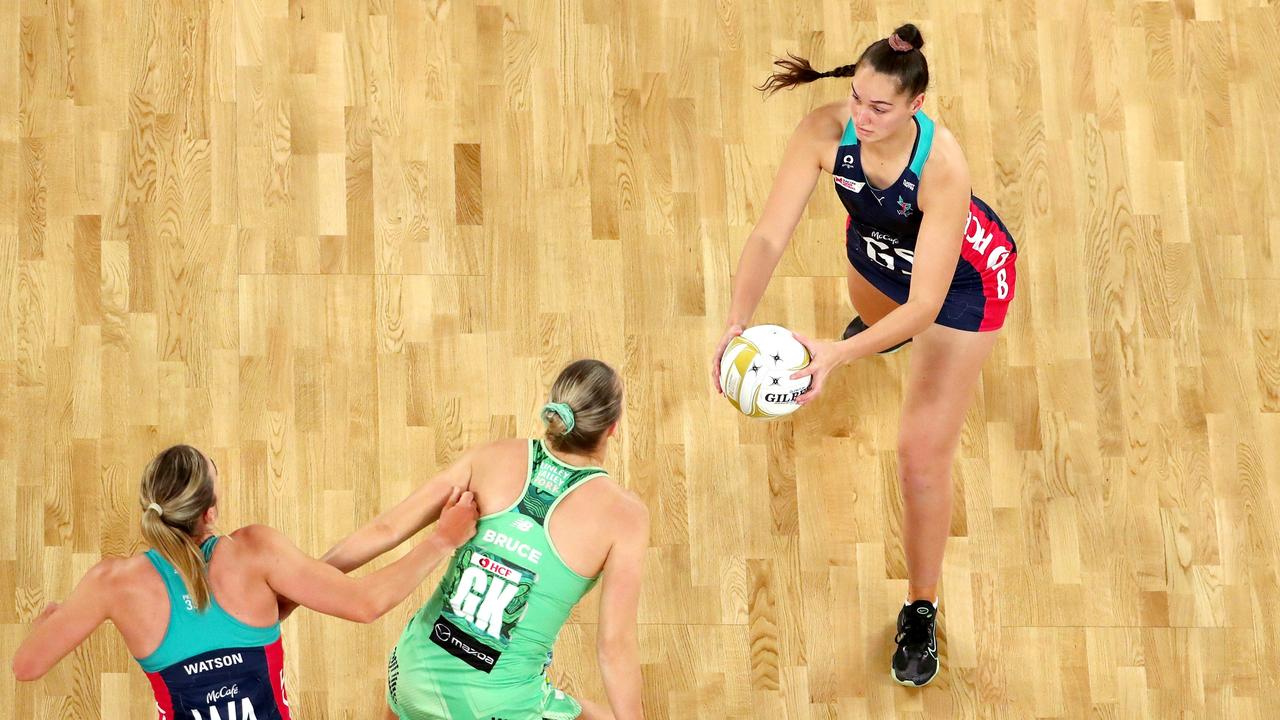 Rahni Samason of the Vixens passes the ball during the Super Netball semi-final. Picture: Getty
In 2017, when Suncorp Super Netball was launched, the two male-dominated codes came to the party to part own a team.
Sunshine Coast Lightning under Melbourne Storm, GWS Giants which is co-owned by the AFL team and Netball NSW, and Collingwood Magpies who are aligned with Collingwood FC.
Other female sports survived the pandemic with the help of the deep pockets of men's sport - like women's cricket and AFLW.
Benefits to this are the huge pool of money the male dominated codes have, access to sharing facilities and resources including staff.
But where I see massive area for growth is men's netball.
In New Zealand, men's netball is more mainstream than in Australia.
The men's national team plays in a tournament every year against the Silver Ferns in the lead up to their international season.
Some of the ANZ Premiership franchises even have male teams that play in curtain raisers to the games each week.
With netball pushing to become an Olympic sport for Brisbane 2032, focusing on developing a similar situation for men in Australia could open up new revenue streams.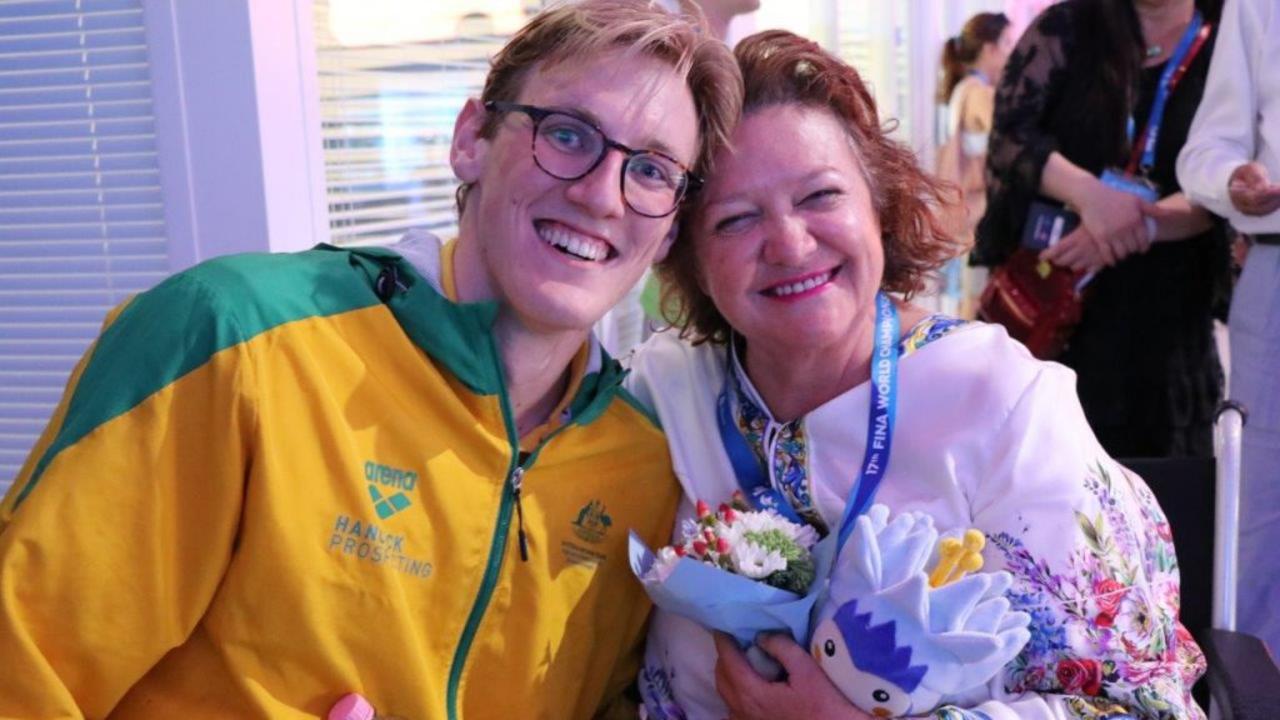 Gina Rinehart backed Australia's swimming team.
A large financial backing – we have seen it in swimming where mining magnate Gina Rinehart stepped in and provided funding to athletes after sponsors pulled out following poor results and negative press from the London 2012 Olympics.
Surely there is another rich benefactor in Australia that would be willing to step in and save the game?
But with no cavalry on the immediate horizon I think we need to reposition our branding.
Our sport as a whole has been undervalued for a very long time.
When the announcement of the grand final broke the biggest shock for me was not that they sold the grand final but the seemingly small amount of money they did it for.
Has Netball Australia sold the game short?
Market research constantly shows that women make more buying decisions than men so as the largest female participation sporting the country why is netball not leveraging significant sponsorship deals to their advantage?
Originally published as Caitlin Bassett: Increase growth and revenue in netball through men's side of the game