Commonwealth Games 2022 netball squads: Teams revealed, Australian Diamonds fixtures
England has just revealed a strong squad for the 2022 Commonwealth Games netball tournament. See all the teams here as they are announced, plus analysis and Australia's fixture.
Australian captain Liz Watson will lead the Diamonds Commonwealth Games team. Picture: Josie Hayden
Commonwealth Games netball squads for Birmingham 2022: all 12 teams named and analysed here once announced, plus fixture for Australian Diamonds games.
Australia
Liz Watson (captain)
Steph Wood (vice-captain)
Sunday Aryang
Kiera Austin
Ash Brazill
Courtney Bruce
Gretel Bueta
Paige Hadley
Sarah Klau
Cara Koenen
Kate Moloney
Jo Weston
Reserves: Ruby Bakewell-Doran, Jamie-Lee Price, Donnell Wallam
Coach: Stacey Marinkovich
Linda Pearce analysis: Only first-year captain Liz Watson and her deputy Steph Wood, plus defenders Courtney Bruce and Jo Weston, remain from the squad that brought home a surprise silver from the Gold Coast in 2018. Still ranked No.1 but with an average of barely 25 caps per player, this is a team relatively light on experience and with coach Stacey Marinkovich on debut in any capacity at a pinnacle event, but a hunger for redemption and the class and talent to return to the podium's stop step.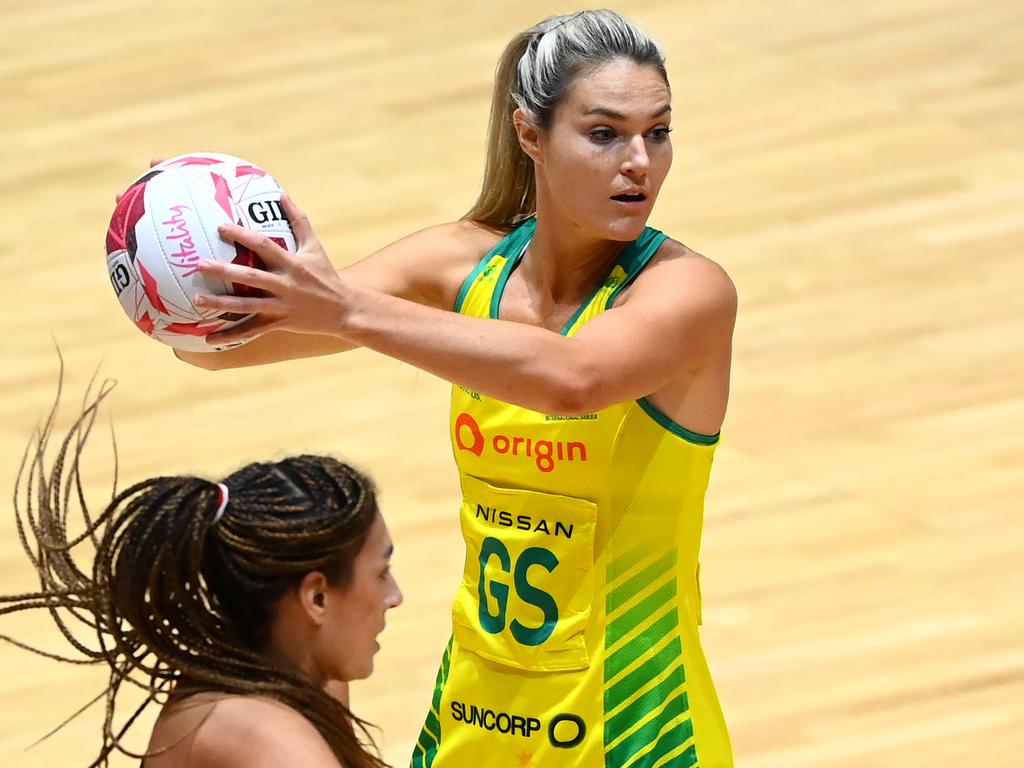 Diamonds shooter Gretel Bueta. Picture: Alex Davidson/Getty Images
Barbados
TBC
England
Nat Metcalf (captain)

Jo Harten (vice-captain)

Eleanor Cardwell
Jade Clarke
Beth Cobden
Sophie Drakeford-Lewis
Stacey Francis-Bayman
Layla Guscoth
Helen Housby
Laura Malcolm
Geva Mentor
Eboni Usoro-Brown
Coach: Jess Thirlby
Linda Pearce: Not much sign of a rebuild here; this is a super-seasoned, almost geriatric, squad with an eye only on the Birmingham prize. No room for Chelsea Pitman, but 925 caps between them, including the 185-Test super-veteran Jade Clarke. In contrast to the Diamonds, there are only four Commonwealth Games debutantes — headed by Dr Layla Guscoth — while seven of the triumphant Gold Coast 12 return, plus Stacey Francis-Bayman from Glasgow.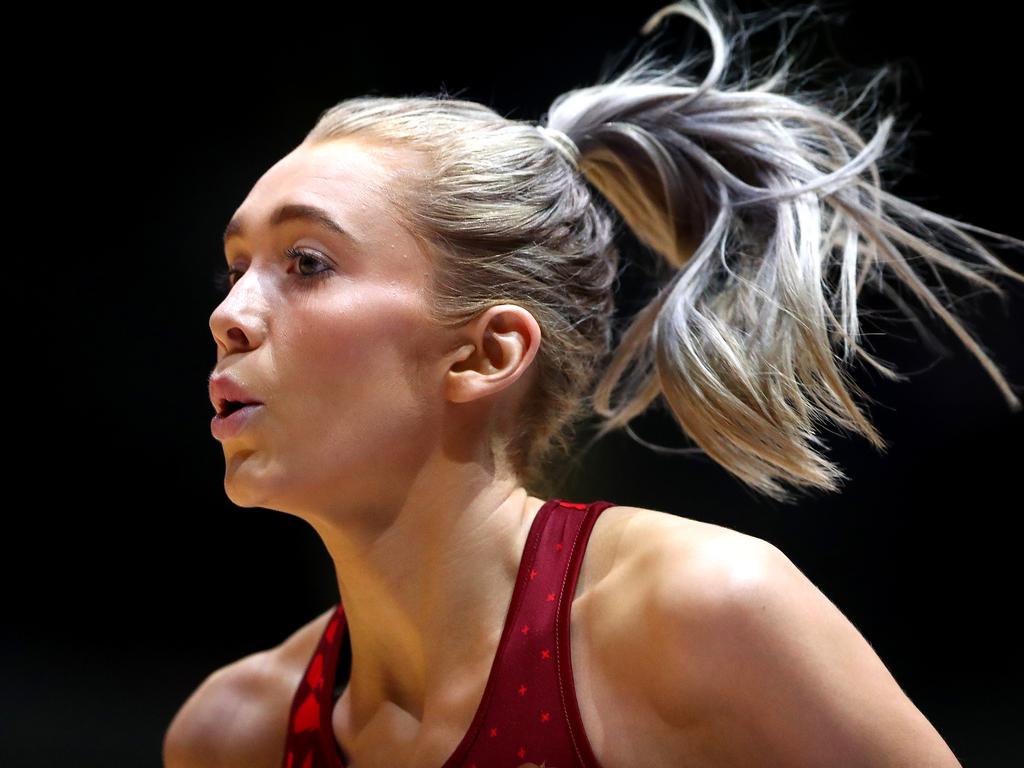 England shooter Helen Housby. Picture: Chloe Knott/Getty Images for England Netball
Jamaica
TBC
Malawi
TBC
New Zealand
TBC
Northern Ireland
Caroline O'Hanlon (captain)
Jenna Bowman
Ciara Crosbie
Emma Magee
Georgie McGrath
Michelle Drayne
Niamh Cooper
Frances Keenan
Fionnuala Toner
Michelle Magee
Olivia McDonald
Maria McCann
Coach: Elaine Rice
Linda Pearce: The minnows of Group B, who were coached into 10th place by Aussie Dan Ryan four years ago, have picked five UK Superleague athletes, including skipper Caroline O'Hanlon and Leeds Rhinos premiership player Michelle Magee, 22, plus Surrey Storm pair Niamh Cooper and Emma Magee of the Severn Stars.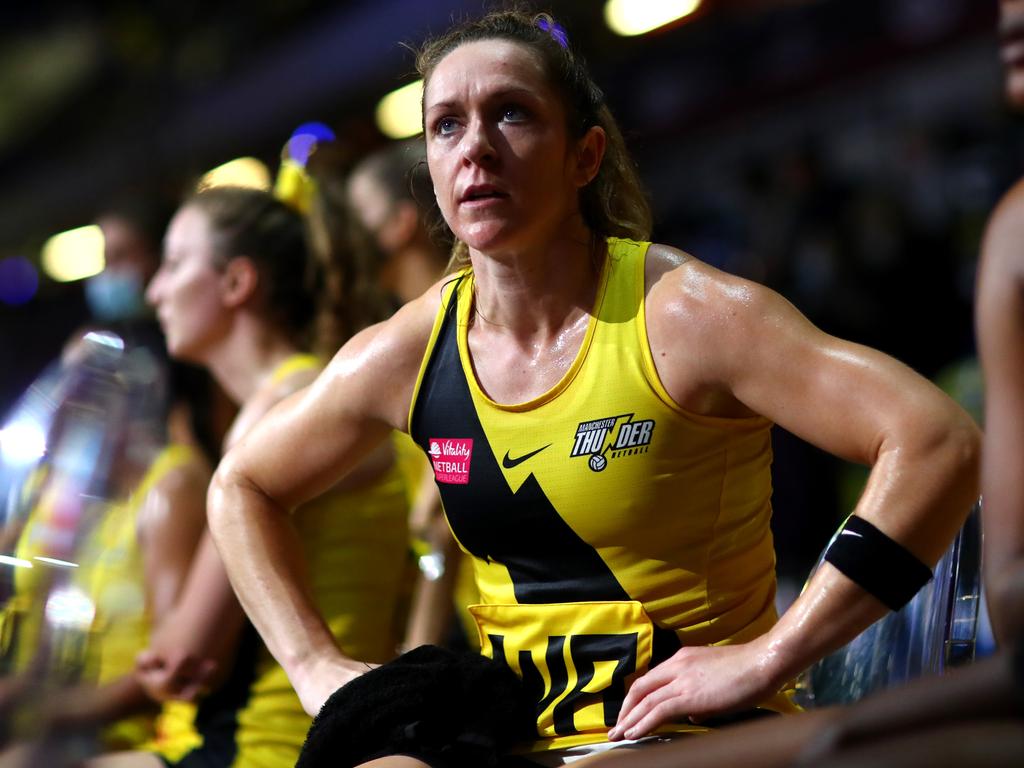 Northern Ireland's Caroline O'Hanlon. Picture: Chloe Knott/Getty Images for England Netball
Scotland
Claire Maxwell (captain)
Emily Nicholl (vice-captain)
Lynsey Gallagher
Niamh McCall
Emma Barrie
Iona Christian
Hannah Leighton
Sarah MacPhail
Lauren Tait
Rachel Conway
Bethan Goodwin
Kelly Boyle
Coach: Tamsin Greenway
Linda Pearce: The Thistles — what else? — have Claire Maxwell returning as captain and the well-known former Rose, now Sky commentator, Tamsin Greenway taking over as coach. The bad news: the second-lowest-ranked team in Group A play the world No.1 Diamonds in their opener on July 30. The middling news: there's Wales, likely medallist Jamaica, likely stragglers Barbados, and world No.5 South Africa to come.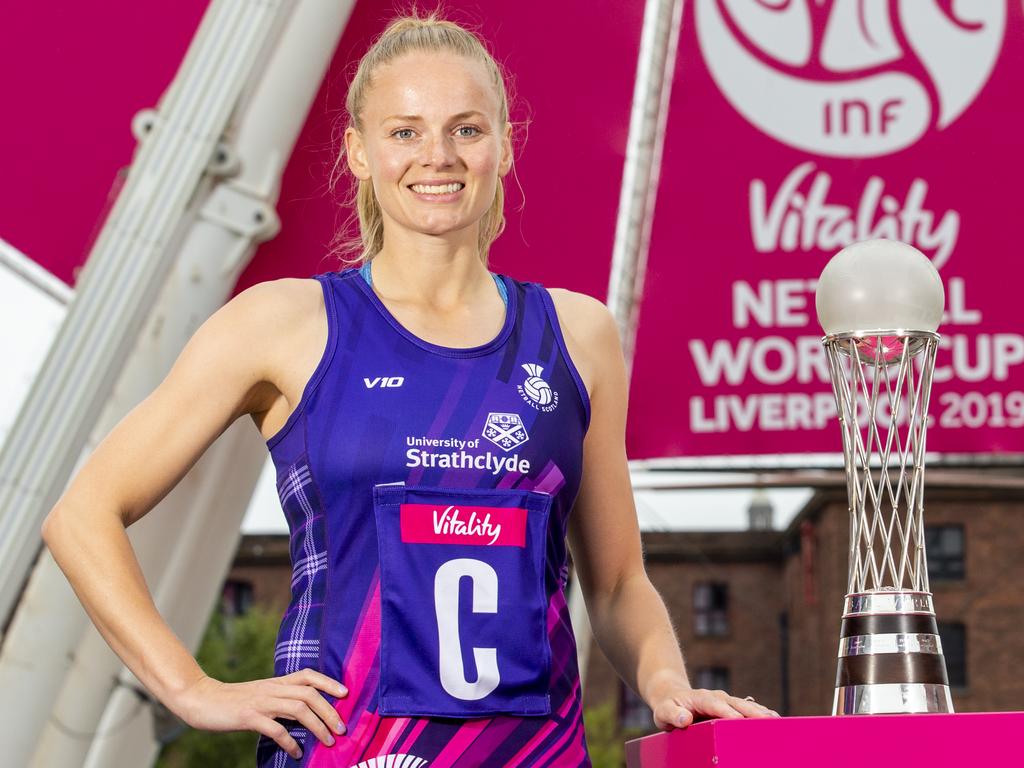 Scotland captain Claire Maxwell. Picture: Jan Kruger/Getty Images for Vitality
South Africa
Bongiwe Msomi (captain)
Khanyisa Chawane
Izette Griesel
Boitumelo Mahloko
Phumza Maweni
Tshinakaho Mdau
Lenize Potgieter
Lefebre Rademan
Monique Reyneke
Nicola Smith
Nichole Taljaard
Elmere van der Berg
Shadine van der Merwe
Ine-Mari Venter
Zanele Vimbela
Coach: Dorette Badenhorst
Linda Pearce: Aussie great Norma Plummer will be a coach mentor this time for Dorette Badenhorst, rather than the big cheese, meaning the biggest absentee will be champion defender and new mum Karla Pretorius. A huge out. Familiar faces for the fifth placegetters from 2018 include captain Bongiwe Msomi and fellow Super Netball alumni Lenize Potgieter, Phumza Maweni, Shadine van der Merwe and Ine-Marie Ventor.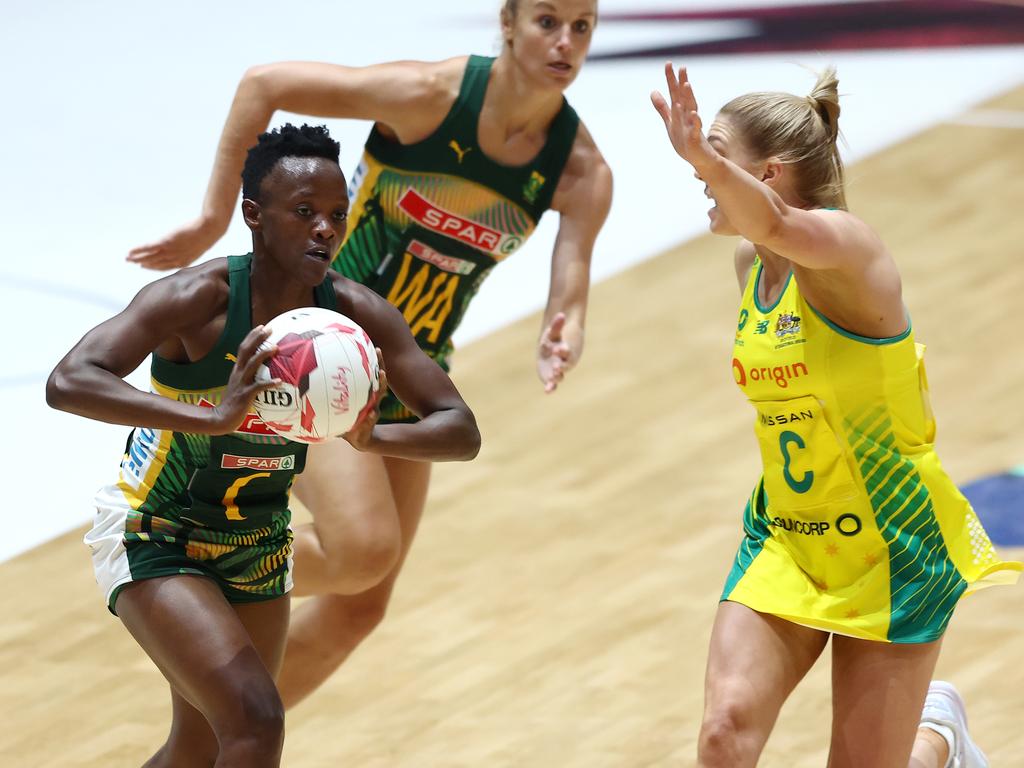 South Africa captain Bongiwe Msomi (L). Picture: Bryn Lennon/Getty Images
Trinidad and Tobago
TBC
Uganda
TBC
Wales
TBC
Birmingham 2022 Groups
Group A: Australia (1), Jamaica (4), South Africa (5), Scotland (8), Wales (9), Barbados (12)
Group B: New Zealand (2), England (3), Malawi (6), Uganda (7), Trinidad and Tobago (10), Northern Ireland (11)
Australia's draw (AEST)
vs Barbados, July 29, 10.30pm
vs Scotland, July 30, 9pm
vs South Africa, August 1, 9pm
vs Wales, August 2, 9pm
vs Jamaica, August 4, 9pm
Semi-finals: August 6, 6pm and 11.30pm
Bronze medal match: August 7, 10.30pm
Final: August 8, 5.30am