Emily Mannix is the sunniest Vixen but has had to overcome shredded confidence and sleepless nights
Emily Mannix's career hit rock bottom last year but like her Melbourne Vixens team, she has risen back to the top with just a couple more hurdles to overcome, writes LINDA PEARCE.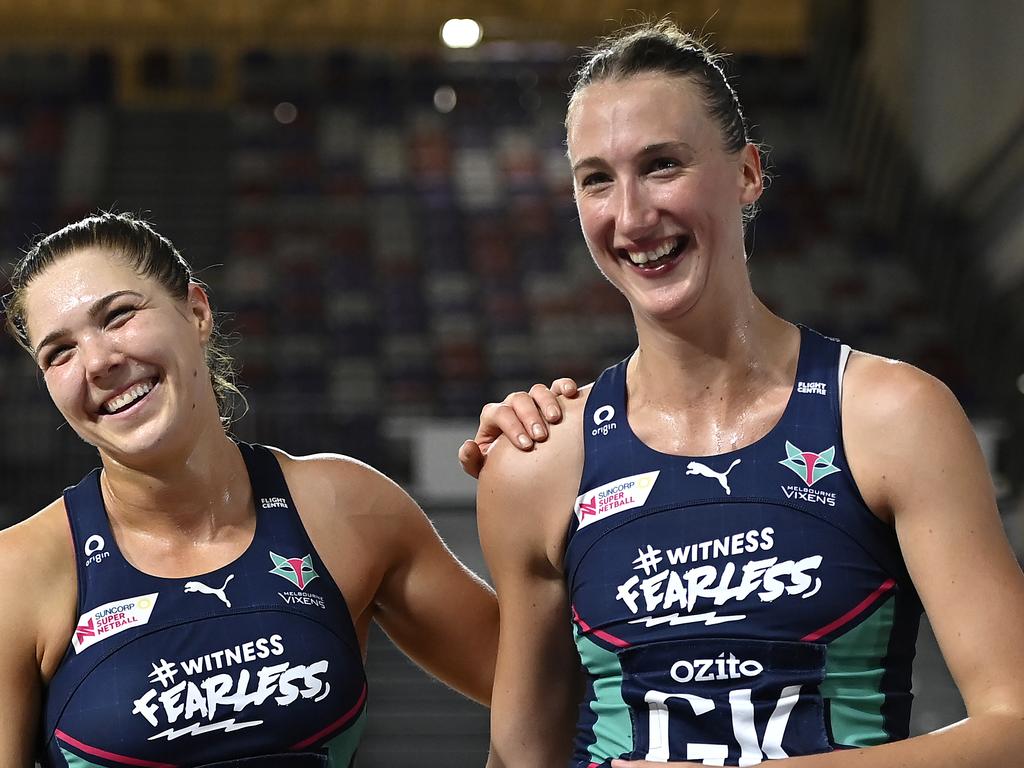 Emily Mannix has been back to her best in 2022. Picture: Albert Perez/Getty Images
Emily Mannix tends to be a glass-overflowing type, good at moving on from losses and dealing with disappointments.
Yet while a confidence-shredding 2021 left the sunniest of Melbourne Vixens sensing a dark cloud over her future, the collective semi-final flop against the West Coast Fever prompted something else.
Insomnia.
"It kept me awake for a couple of nights, I'm not gonna lie. I struggled sleeping after the game, because there are so many different scenarios in your head: Should have done this, shouldn't have done this, what if we did this?'' Mannix recalls.
"The next day I went for a walk with my mum and sister and I was like, 'OK, we can just address It — it was crap, let's just say that, and we're not going to talk about it for the rest of the walk'.''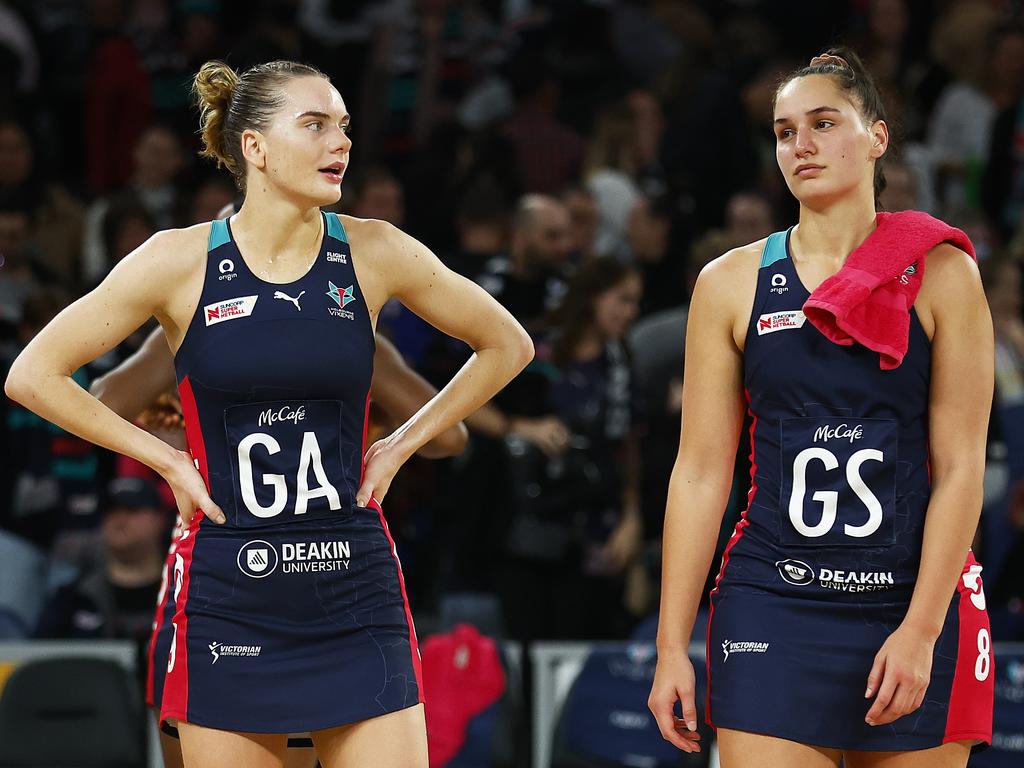 The Melbourne Vixens had a night to forget against West Coast Fever. Picture: Daniel Pockett/Getty Images
All good. Until night two. More dwelling on Saturday's 71-62 loss that flattered the Simone McKinnis-coached minor premiers on the scoreboard and granted the Fever direct passage into a grand final Western Australia had already bought.
Although the last bit is no longer the point.
"I was like, 'Emily, stop thinking about it, Simone's gonna be really annoyed when you come in and you're saying it's still bugging you'. So after our reviews and recovery on Monday it was definitely straight onto looking to Giants.
"So a couple of days it haunted me, but was able to move on and now I've wiped it from my memory, much like last year.''
Ah, yes, last year.
Hang on. Last year?
Mannix, whether purposely or subconsciously, has minimal recall of that.
*****
If there was one particular omen for a cursed 2021, it was surely coming off second-best in a tangle with captain Liz Watson's concrete coffee table.
Mannix was finally preparing to rejoin match practice late in the pre-season after a second surgery on her hip, which came a few weeks after an operation on a knuckle injured in round four.
Then, filling in time between training sessions in Parkville one afternoon, the Bellarine Peninsula-based Mannix headed to Watson's house in Melbourne's nearby northern suburbs — only to accidentally kick the unlikely health hazard and end up with a broken toe.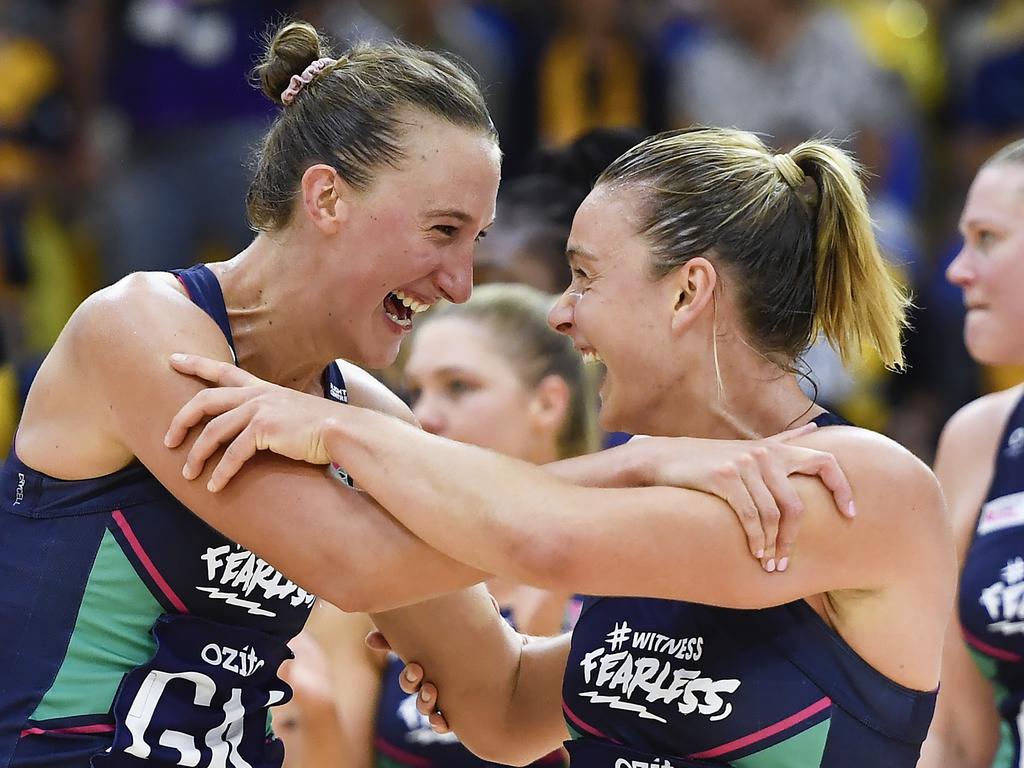 Emily Mannix and captain Liz Watson. Picture: Albert Perez/Getty Images
Two more weeks of much-needed preparation was compromised, in perhaps another sign of what was ahead: the most dispiriting period, personally and team-wise, of the Vixen defender's eight seasons.
"If anything highlights what sort of year it was gonna be, that pretty much shows it,'' says Mannix, now able to see the funny side. "So I've told Lizzy she needs to get rid of that table, because it's another accident waiting to happen.''
Yet, before that mishap and afterwards, very little went to plan in a season she jokes was a "negative 10'' out of 10.
The goal keeper didn't feel prepared, fitness-wise or in any way, really, during a season that would end with the reigning premiers left holding the wooden spoon and Mannix dropped from the Diamonds' squad, amid ongoing hub-based difficulties and controversies.
"At the elite level, you've got to be fit, you've gotta be strong; coming up against these players in SSN, you have to have that [base] behind you and I just wasn't ready, and from there it was just a snowball effect,'' she says.
"Not playing well and not feeling confident, I was wondering where my netball was at. Had I played my best? Was that my limit? Am I not going to get any better? Am I on my way out? Those things definitely crossed my mind because of my confidence levels and how the year transpired."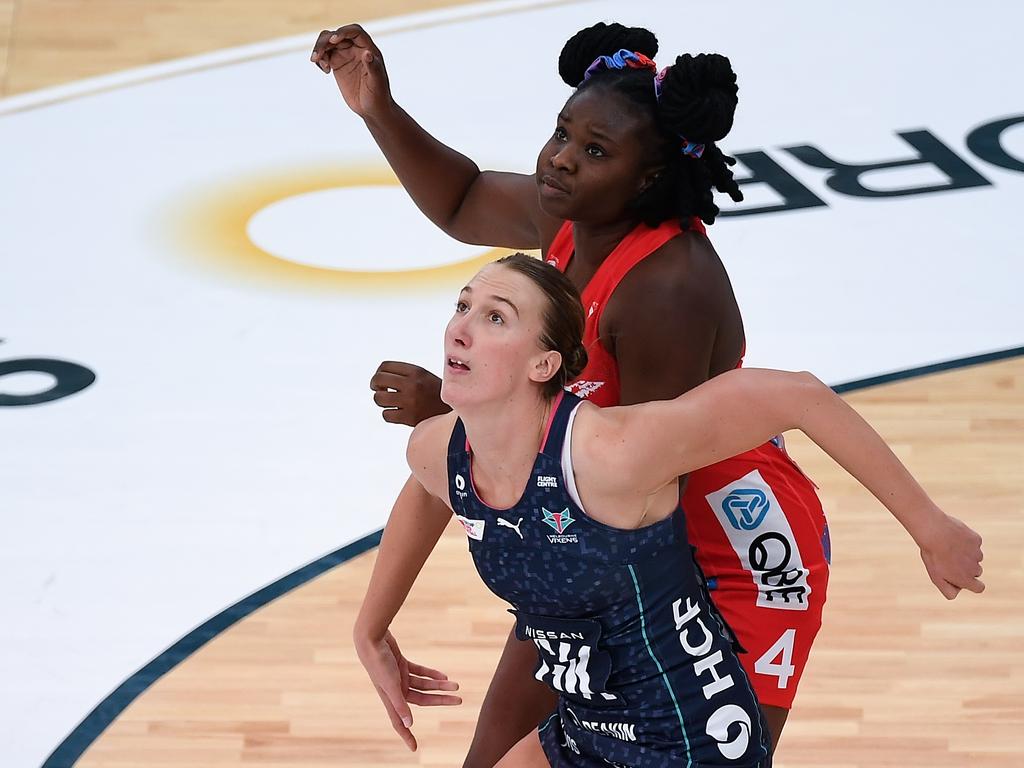 Emily Mannix felt off the pace in 2021. Picture: Speed Media/Icon Sportswire via Getty Images
*****
Mannix, which is how even the Vixens tend to refer to their popular teammate, is fun and funny. Sometimes marvellously ridiculous, especially when in quirky cahoots with her partner in laughs and the defensive circle, Jo Weston.
Irrepressible.
Usually.
The admission that she "handballed off" the unofficial morale officer's role [our words] last year gives perhaps the best insight into the impact of the events of 2021.
"I was like, 'I don't want to have to deal with this', to be honest. I don't know how many hits it takes,'' she recalls.
"I felt like personally I had a few, and then as a team obviously not performing well and not winning … I feel like there's only so much you can take before your personality changes a bit.
"For me last year, I felt my personality change a lot, and probably struggled the most I ever have, which is a bit of a Debbie Downer, I know!
"There was obviously some personal things, like injuries, and bits and pieces going on, then not having a pre-season, coming off my hip surgery, so sort of being on the back-foot anyway, and then trying to get through it all in hubs again, being away, shipped off with five minutes notice, again, it was hard.
"I definitely wasn't the team clown last year but I've got that back this year I think. Hopefully!''
Other setbacks included the six-Test Diamond and 2019 World Cup travelling reserve being demoted to the national development squad, then the controversy over a mid-season group trip to a Covid hotspot in Byron Bay that triggered a club fine and a stand-up stoush with the league and the Fever.
Unusually, extrovert Mannix's natural instinct was to withdraw, retreat.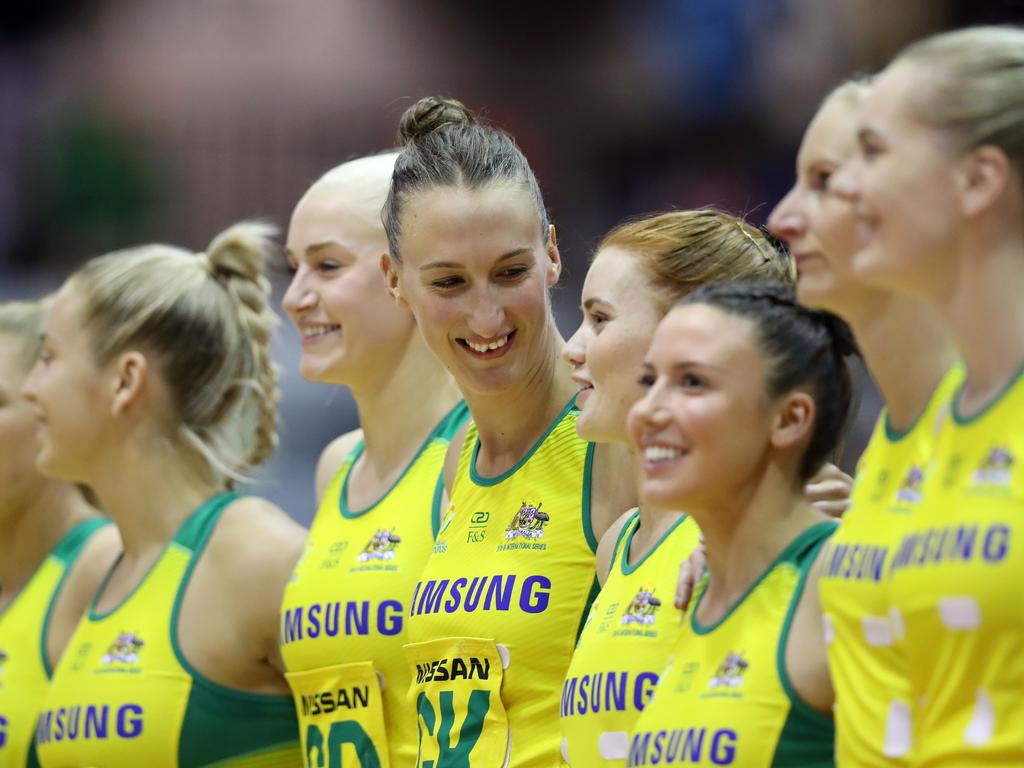 Emily Mannix slid out of the Diamonds set-up last year. Picture: Naomi Baker/Getty Images
"I probably just went within myself and tried to hide that away a little bit,'' says Mannix of her personal struggles.
"And being surrounded by everyone all the time [in the hub], it can be quite overwhelming.
"But now, reflecting on it, was not the right thing to do. I should have opened up more and been a bit more vulnerable in that time, but you always learn something and, after last year, I told myself a million times: You can either learn from it, or you can dwell on it and just make it a part of you."
The rest, Mannix insists, has been wiped from her mind. More handball — which we now also know is safer than a kick.
"Sent that off,'' she says of any residual misery. "Threw that out way into the ocean and let that go right to the bottom.''
Just like the Vixens, who have floated right back up.
*****
What a difference a decent pre-season makes.
Injury-free, as part of a healthily and strengthened Vixens squad.
Utterly determined that 2022 would be a much, much better year.
Which it has been. Starting with an undefeated Team Girls Cup campaign that delivered "the first bit of silverware that we'd touched in a couple of years, or even come close to''. And Mannix finally feeling good about herself again, too.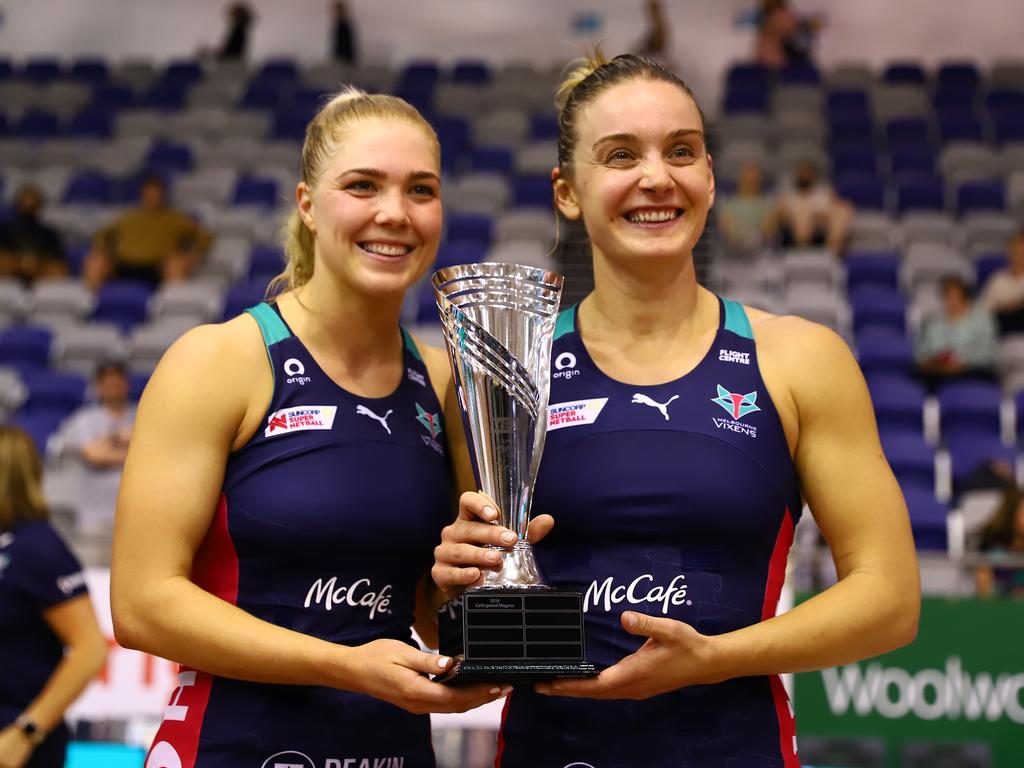 The Vixens won the 2022 Team Girls Cup. Picture: Joanna Margiolis
The Vixens' only two regular season losses came in rounds five and seven, in contrast to just two victories for the whole of 2021. Mannix's own form was also much improved; tag-teaming at times with former Fever keeper Liv Lewis, who uses her remarkable vertical leap to offset a relative lack of height and bring a more aerial style.
Importantly, too, a different one to Mannix's, which allows McKinnis to switch and change as needs require. The incumbent played 683 minutes (for 18 intercepts and 43 deflections) and started in all but a couple of games. The newbie played 287 (for 10 and 15 respectively, and made an important impact at times, including twice against her old teammate Jhaniele Fowler).
As a team-always-first player and part of the league's second-most frugal defensive unit, Mannix accepts and fully supports that job-share approach, while acknowledging it rarely helps her own Diamonds' aspirations.
"It definitely does not, and that's probably hard as well; that because we do use it strategically that's out of my control. I'm obviously not getting as many minutes, or it may look like I'm not always performing well; that I'm getting 'dragged', is what they say.
"For me, yeah, sometimes when I see Liv in the [interchange] box I can almost predict when it's gonna happen, too … It is hard, sometimes, to come off, or not start, but for me the team has always been so much more important than whether I'm on or not.''
And anything is better than last year. If anyone can even remember that. For Mannix, who can't/won't, the future is bright again for the 28-year-old who will remain with her beloved Vixens in 2023, despite having doubted at times last season that she was worthy of being retained.
"Rather than actually [thinking of ] leaving it was more like, 'Ooh, what's my value here, after a year like that?' And then being able to sign again for two years gave me a lot of confidence that after everything that happened obviously Simone still really valued me.
"I wouldn't want to be anywhere else. You see the likes of Tegan [Philip] and Bianca [Chatfield] who played their careers at one club, and it's pretty hard to come by, these days.
"I'm a very loyal person, not just to Vixens, but to my family and friends. Once you've got me, you've got me, and I'd do anything for the people that are the closest to me.''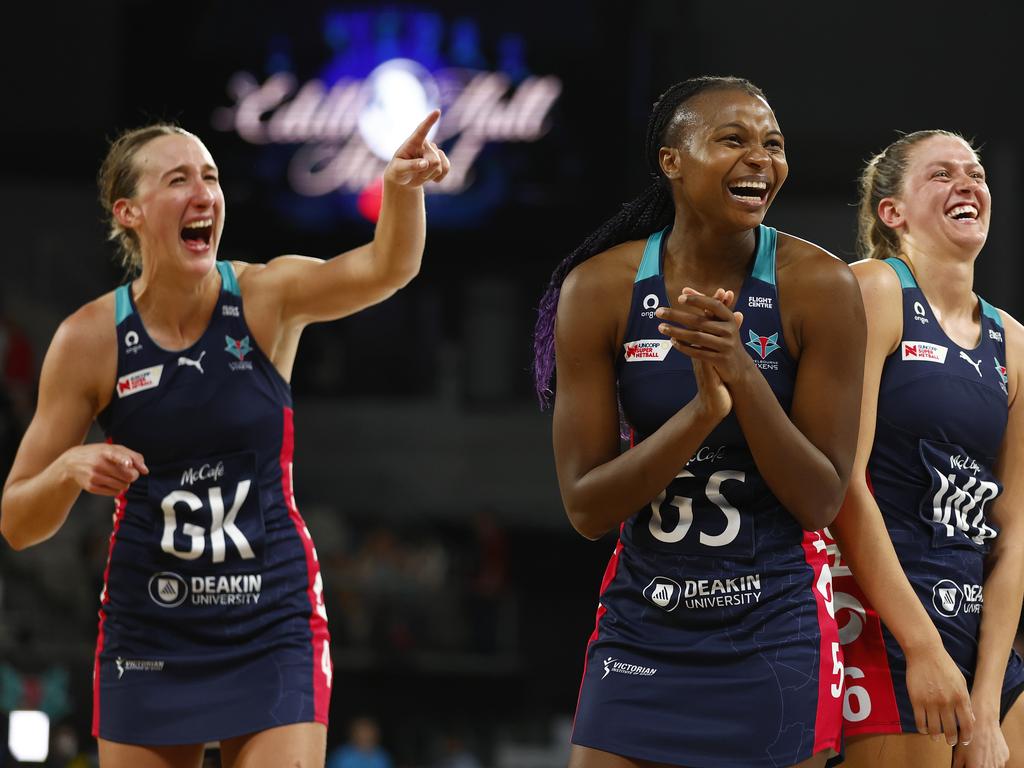 Emily Mannix would not want to be anywhere else. Picture: Mike Owen/Getty Images
Mannix estimates she is perhaps twice as confident as last year to just back herself and go for a fly; admittedly, though, it was a low bar she has sailed over.
"Last year I didn't have any belief in myself that I could do anything, really, but after being able to get through the year unscathed, participate in every game, and the whole of pre-season I don't think I missed a session, just having that confidence gained from this year to take into next year I think is a big stepping stone for me."
*****
So much for Mannix's feel-good ensemble movie script for 2022, for that tale took a dramatic and unwanted twist in the major semi. Pre-game, Mannix had summed up the story to that point.
"Team finishes top of the ladder, wins the grand final in 2020 in the hub, wooden spooners the next year, and then rises from the ashes, finishes top of the ladder at the end of the season and can win another championship. It almost seems like a made-up story.
"I just feel like there's so many layers to it and over the last few years to then go on and win would be pretty special.
"And it might even top 2020, I'm not gonna lie. There's something pretty special about going top to bottom to top. It's pretty cool so we'll see what happens.''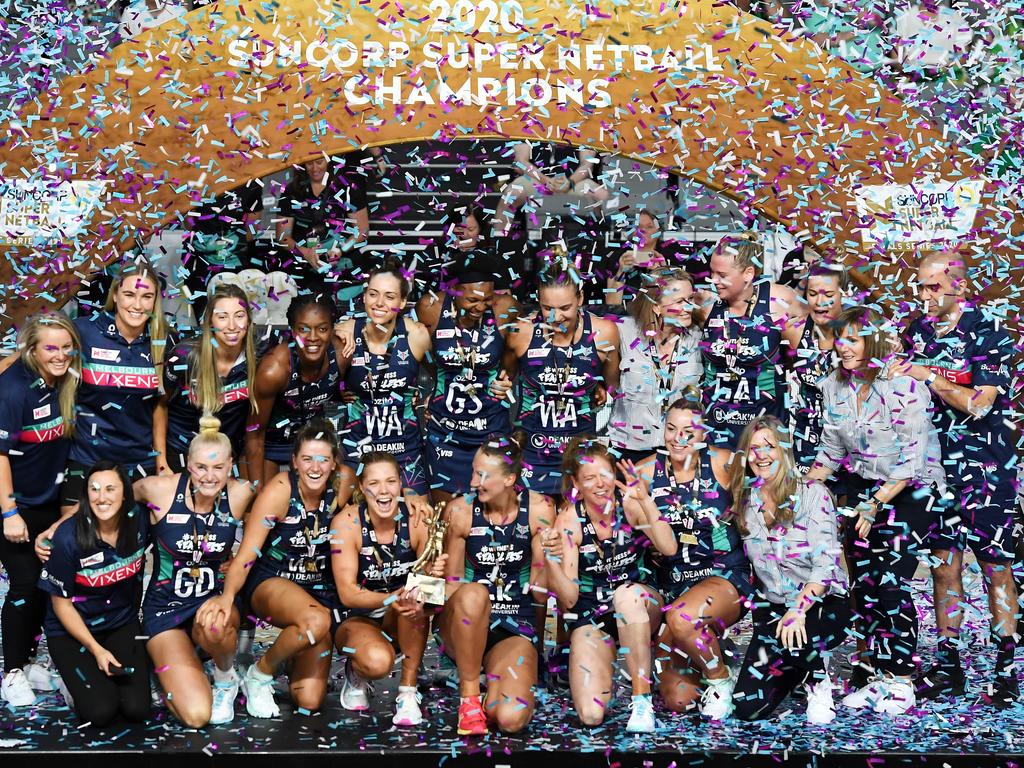 The Vixens went all the way in 2020. Picture: Quinn Rooney/Getty Images

Indeed. The Vixens still need to get there, via Saturday night's preliminary final against a Giants team that pushed them into overtime in their Sydney meeting in May, and boasts stellar two-point shooting power through Jo Harten and Sophie Dwyer.
Mannix has sourced tickets for about 16 of her extended family members. Her personal best this season was 38.
The idea is that, this week, all 16 will be treated to a much better show.
*****
The review-and-recovery sessions were completed on Monday. By Tuesday, it was all about the Giants. Back at John Cain Arena. The Vixens' second and last chance.
"We all wanted to bring a good energy; we didn't want to be walking around like sorry sacks, because we are still playing this weekend,'' says Mannix.
"Giants are obviously on a real big high and we're on a bit of a low, but at training we turned it around and I think we were really positive and wanting to bring the energy, and adding that real finals excitement.''
Perhaps last Saturday, in trying to strike the balance between the just-another-game approach and the special intensity required at the pointy end of the season, there was a lack of oomph, Mannix muses, given that "as you could see, Fever came out and absolutely steamrolled us in the first quarter''.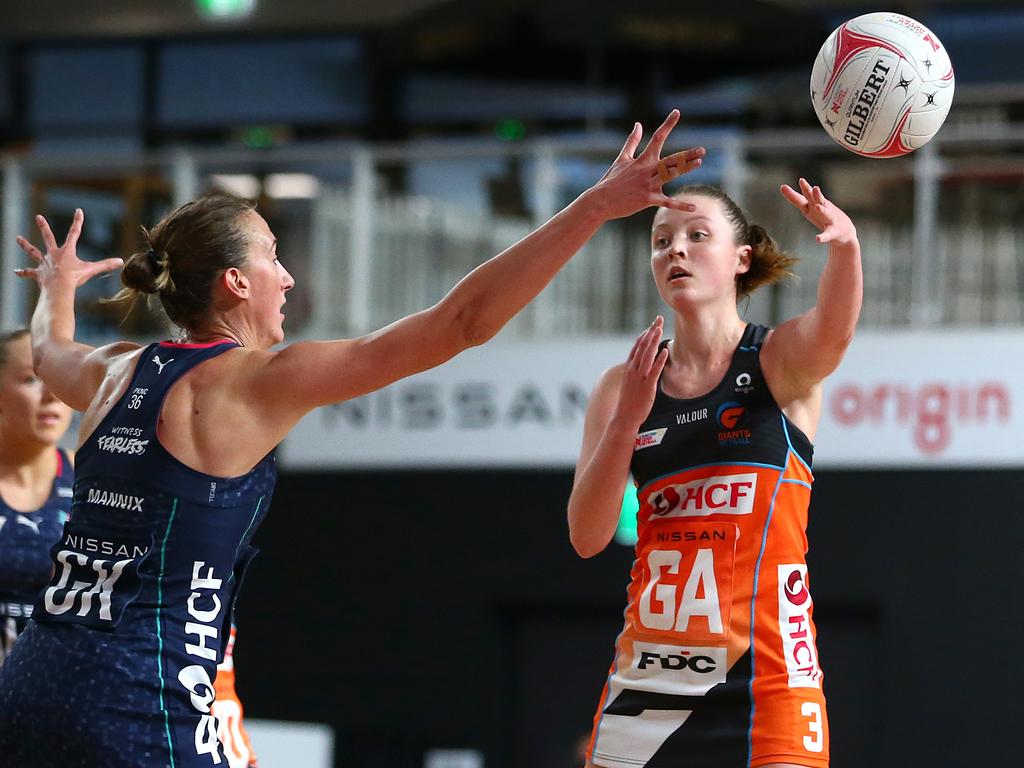 The Vixens know they will have it tough against the Giants. Picture: Jono Searle/Getty Images
Cue the upbeat vibe and extra urgency that comes with an elimination final by another name. For the 82-gamer, that involves the switch from the immovable scoring machine that is Fowler to the overt passion, smarts and direction of the vocal Giants' captain.
While Fowler scored a finals record 67 of the Fever's total of 71 in the major semi, Harten shares the load to a greater extent with the sweet-shooting young goal attack Sophie Dwyer. Regardless, it's a challenge Mannix enjoys.
"Harten is obviously the playmaker for them and she's very smart, and you can even see her out there on court with the ball she's pointing her finger and directing traffic around her.
"There's a lot of dynamic play between her and Sophie Dwyer in the shooting circle, which I find really fun to play against, to be honest. I love that Harten runs out of the circle, which sometimes gives you more of an opportunity to contest the ball, and it's a bit more of an even playing field, which is good!''
And welcome, for a player who has turned around a run of misfortune that created a crisis of confidence and is sleeping well again. Perhaps dreaming of a glass that might overflow again very soon.