How Gretel Bueta's polarising playing style has revolutionised and finally won over netball
Often maligned for her unique style, Firebirds star Gretel Bueta has not only become one of netball's best players, she has revolutionised the game, writes LINDA PEARCE.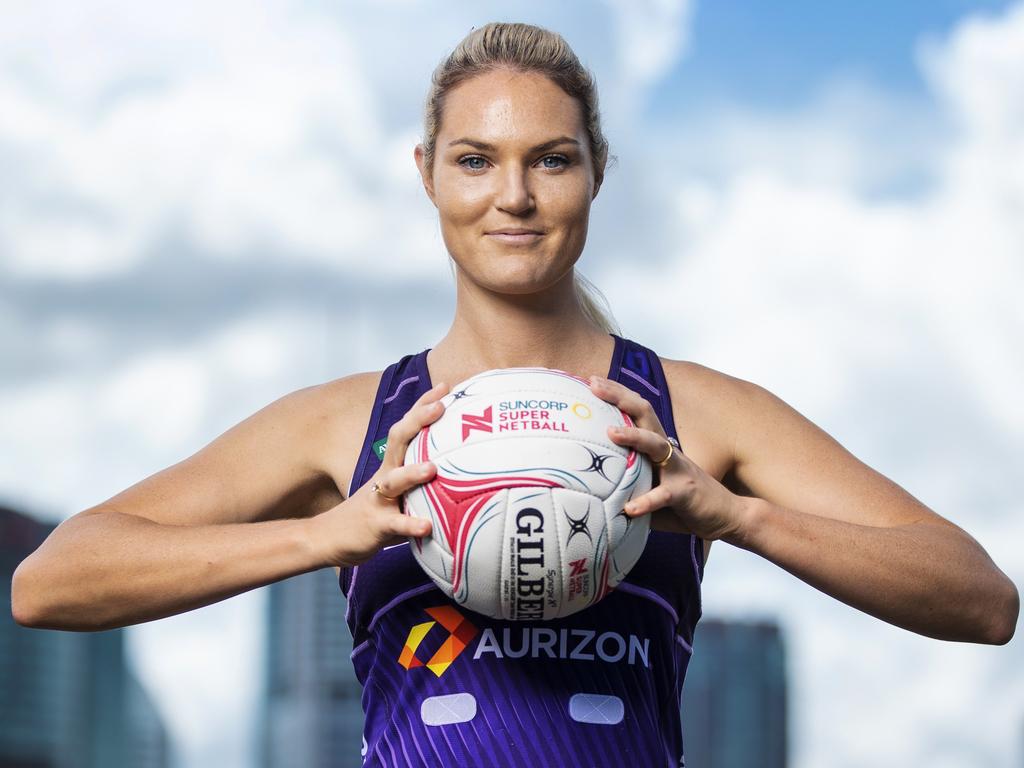 Gretel Bueta is thriving on and off the court. Picture: Lachie Millard
If you're yet to hear about Gretel Bueta's infamous elite netball debut, know that it was memorable in a slapstick comedy kind of way. All faithfully recorded by the reporter from her local Gold Coast newspaper.
"(The story) was, 'Gretel Tippett shoots 13 air balls and steps five times in a half of netball','' she says of a State League opener for the Golden South Jaguars after the then-teenager had quit her AIS basketball scholarship and played just one social netball game.
Both were court/ball sports, she had reasoned, initially. So how hard could it be?
The answer: "Very challenging. I was just so raw.
"And I laugh thinking about it now, but I remember looking at my mum after game one and I was just like, 'What am I doing? I just threw away my basketball career and I'm only doing netball and now it's getting a bit competitive and do I really want this? Because I'm not good at it at all!'
"Growing up playing basketball and being quite naturally talented, this was a whole new ball game. But I'm really thankful I kept going.''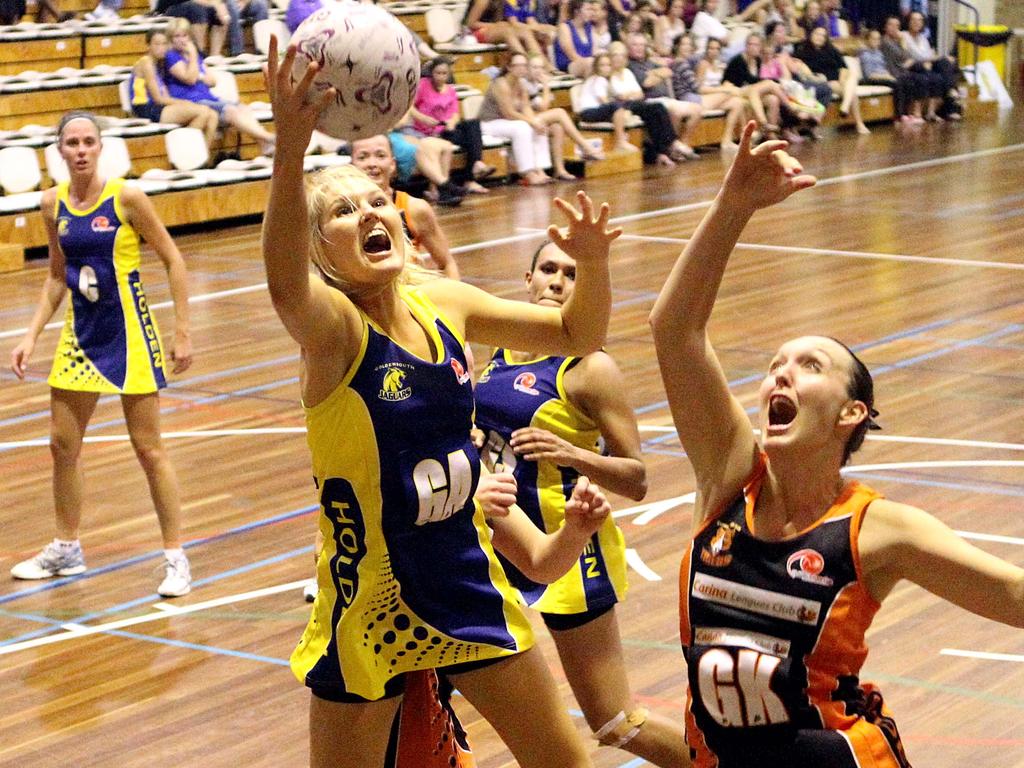 Bueta (then Tippett) in action for the Golden South Jaguars. Picture: Supplied
As are the Queensland Firebirds, who nurtured a prodigious athletic talent from her early days as a netball novice; two premierships delivered amid relentless criticism of Bueta as Australia's most polarising player.
As are the Diamonds, for whom she began in the unlikely role of world's tallest wing attack at the age of 22, proceeded to play what respected teammate Clare Ferguson described as "the best debut ever", and has now logged 40 Tests while winning a silver medal at the 2019 World Cup.
Yet rarely has she played better than now: starting in January, when the mother of one-year-old Bobby was named Player of the (Quad) Series after switching between her usual position (goal attack), and what her long-time shooting mentor Margie Caldow believes is now her best (goal shooter). And continuing that form through the first eight rounds of an exceptional Super Netball season.
Thus, from unconventional beginnings, and after a maternity leave break in 2020, the now 28-year-old has become one of the world's best netballers, is due to play her 100th national league game this weekend and set to be a key figure at July's Commonwealth Games.
*****
Former Firebirds coach Roselee Jencke has been an important mentor for Bueta. Picture: AAP Image/Darren England
Bueta's former Firebirds coach Roselee Jencke puts it this way: "She's revolutionised the game.''
With that has come an evolution, of sorts.
"When you're different, it's always a bit of a love-hate relationship to begin with, but it's just you winning the people over by your creative style, and winning that trust to a certain degree,'' she says.
"Because Gretel's been so consistent and she's developed, they trust her with the ball now; they want the ball in her hand, really, so it's swung around and now it's 'love'. From disliking and hating, now they just love the excitement that she brings.
"The difference that she brings. That's what gets everybody in.''
Young Gretel, like her AFL-destined brothers Kurt (Adelaide and Sydney) and Joel North Melbourne), was destined to play sport at the elite level. Hers was supposed to be basketball, though.
The 191cm powerhouse represented Australia at three junior world championships and won the WNBL's rookie-of-the-year award before the realisation she lacked the passion to pursue a career with the Opals if it meant leaving Queensland to spend four years in the US College system.
So, having returned from the AIS, and overcome a bout of glandular fever, she decided to play netball with some mates. Just for fun.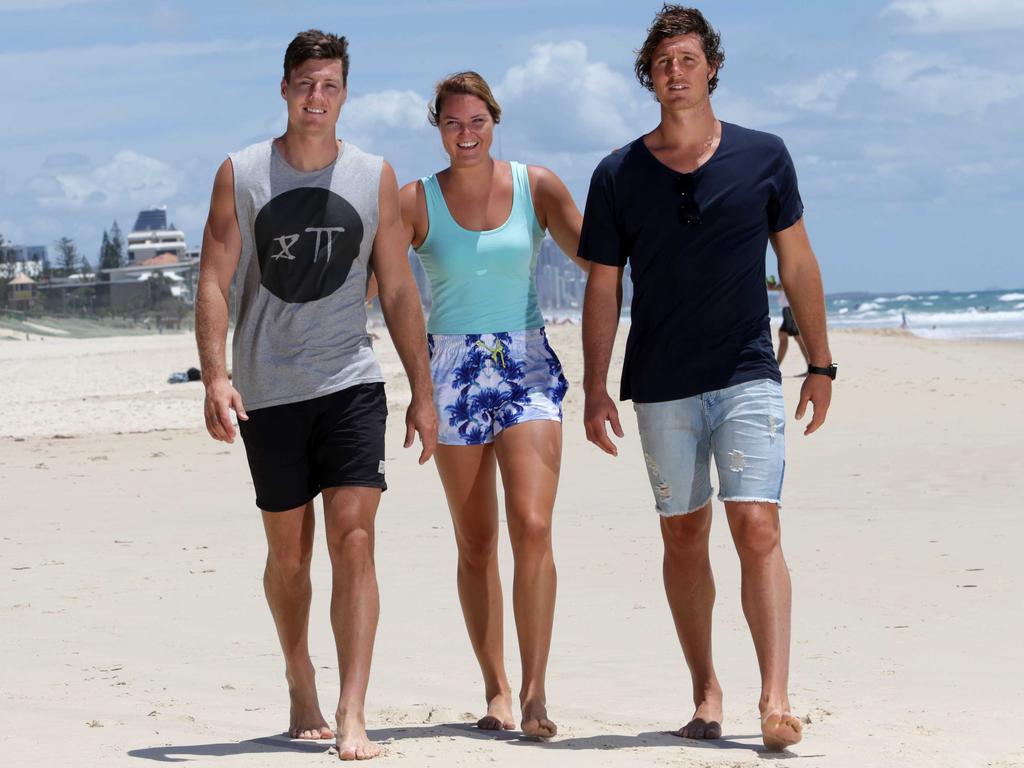 Gretel with brothers Joel and Kurt Tippett. Picture: Tim Marsden
Inevitably, for a player with her physical attributes, Bueta was noticed immediately, and fast-tracked through the pathway. Within two years of her first state 21/U selection, she had represented Australia at the 2014 World Youth Cup alongside Courtney Bruce, Jo Weston, Kim Ravaillion, Gabi Simpson et al, had a taste at senior level in Fast5, and been signed by the NSW Swifts.
Having initially turned down a Firebirds' contract to join the Swifts, coach Jencke made sure Bueta did not forget her welcome to the big time, either, in the form of one of the league's best defenders.
"I said, 'OK, Gretel, I'm gonna introduce you to Laura Geitz','' the triple championship coach recalls.
"I still remember that game. I think I cried after it to mum and dad being like, again, 'What am I doing?', because (Geitz) just ate me alive. I tell her that all the time!'' Bueta recalls.
The two, now close friends, would be on the same team by 2015, Bueta joking that she would rather be on Geitz's side than playing against her, and negotiating a release from the final year of her Swifts' contract to return to her family and home.
"Look, Grets was green as green. But she was so athletic and she could pass the ball off and feed the ball really well into Romelda (Aiken), and we needed that playmaker out the front,'' says Jencke, who saw Bueta's unpredictability as a strength, while stressing she needed to put up more shots and improve her decision-making.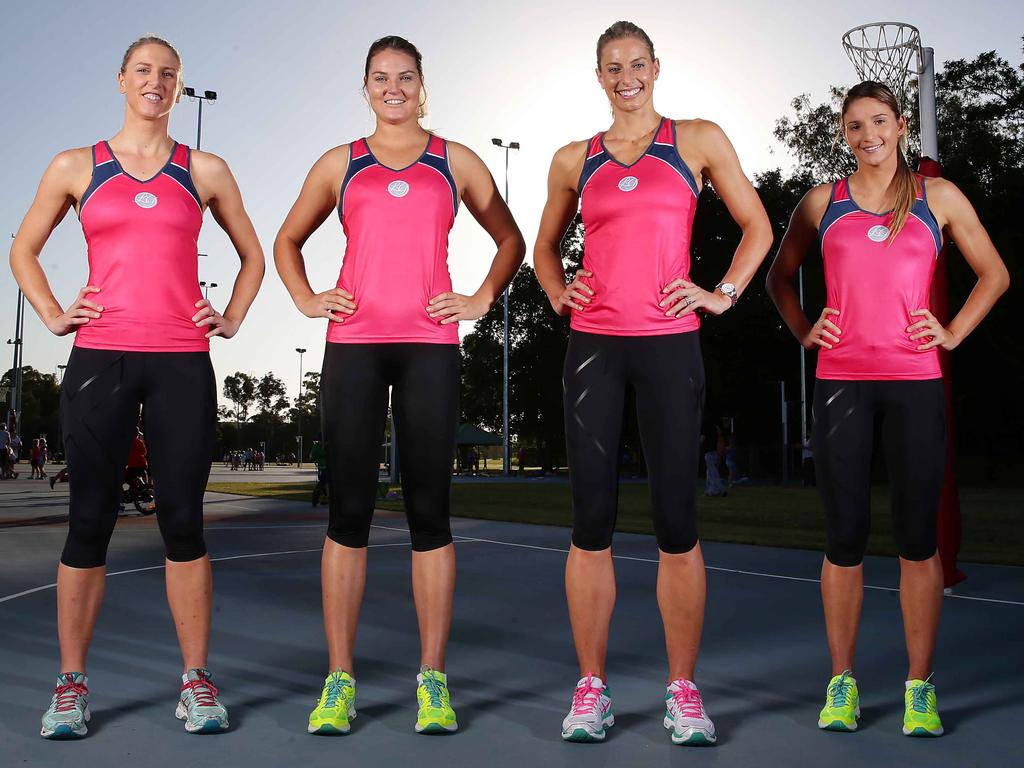 Bueta remembers being "eaten alive" by Laura Geitz in her first professional game, but the two eventually became teammates and friends. Picture: Supplied
As for when Bueta started to feel confident she had made the right call, Jencke's belief and encouragement played a big role, while Geitz, Ferguson and Aiken were important mentors and Ravaillion a willing off-season training buddy.
"Rose definitely told me to 'bring me' as a player and that gave me the licence to just stop trying to be 'a netballer', which I definitely was struggling to be, and be Gretel,'' she says.
In that first season in purple in 2015, her nerve would be tested on grand final day against her old team the Swifts. With scores level in the last minute and the prolific Aiken being double-teamed under the post, Bueta was — typically, then — reluctant to put the shot up, so playing the ball around.
Eventually, with 15 seconds left, Ravaillion just told her to shoot the darn thing. And the 57-56 win was not just one of the great comebacks, but what Jencke believes was a monkey-off-the-back moment that launched the rookie's development as a genuine — and more willing — scoring threat.
That day, it was 10 from 17. But that day was huge.
"I just remember taking a breath before the shot and being like, 'Well, here goes!' But then turning around and seeing my family, my brothers were crying, I was like this is just the best moment. And I still think it's one of the best moments as a team that I've had. It was pretty special."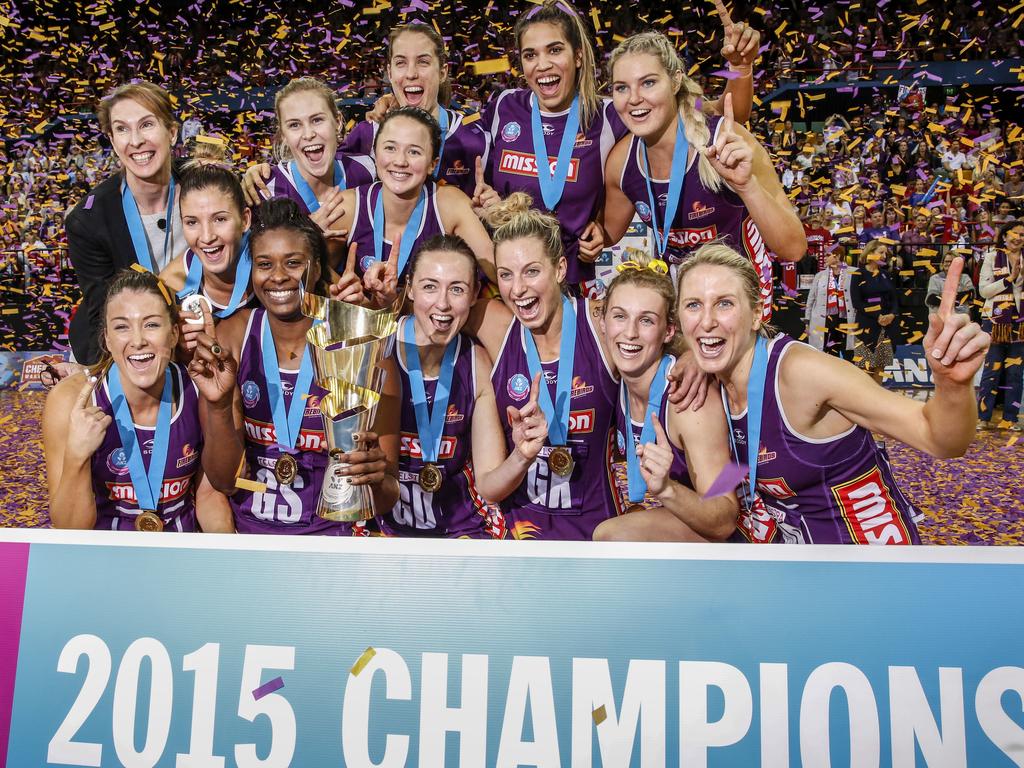 The Firebirds won the premiership in Bueta's first season with the side. Picture: AAP Image/Glenn Hunt
A Diamonds call-up was next, via the Constellation Cup, with specialist coach Caldow — a triple world champion from the 60s and 70s — tasked with working on her shooting technique, adding lift to a hard, flat shot.
Playing-wise, Bueta just wanted to run everywhere.
"So the hardest thing for Gretel was learning that you've got to work with the players around you. That each of you have a role to play,'' says Caldow.
"She did find that adjustment difficult to start with, because she just wanted to just be in everything. Be pepper and salt really.''
Yet there was also a sponge-like soaking up of advice and an unwavering determination to improve, with Caldow now believing there is even more potential upside wearing the GS bib than at GA.
"If I was the coach I'd have her at shooter. It's her timing, her elevation and her power, and I think she reads the game better there. It's good she can cover both (positions), but when you put her under the post she's quite a handful. Her timing has improved, she's coming out at the right time and her lovely strong drives into the circle have only got better and better over time.''
Always a true believer, Caldow said Bueta's athleticism and attitude meant the faith that she had backed the right horse was never shaken, despite the occasional frustrating moment.
Bueta believes her ultimately successful switch into the netball unknown has boosted her confidence beyond the court. "In life in general, knowing that when you know something's not right for you it's OK to not have a back-up plan but to listen to your heart and follow that, and everything else will work out.
"It's crazy looking back. No regrets. For sure. I love this game of netball. I love it.''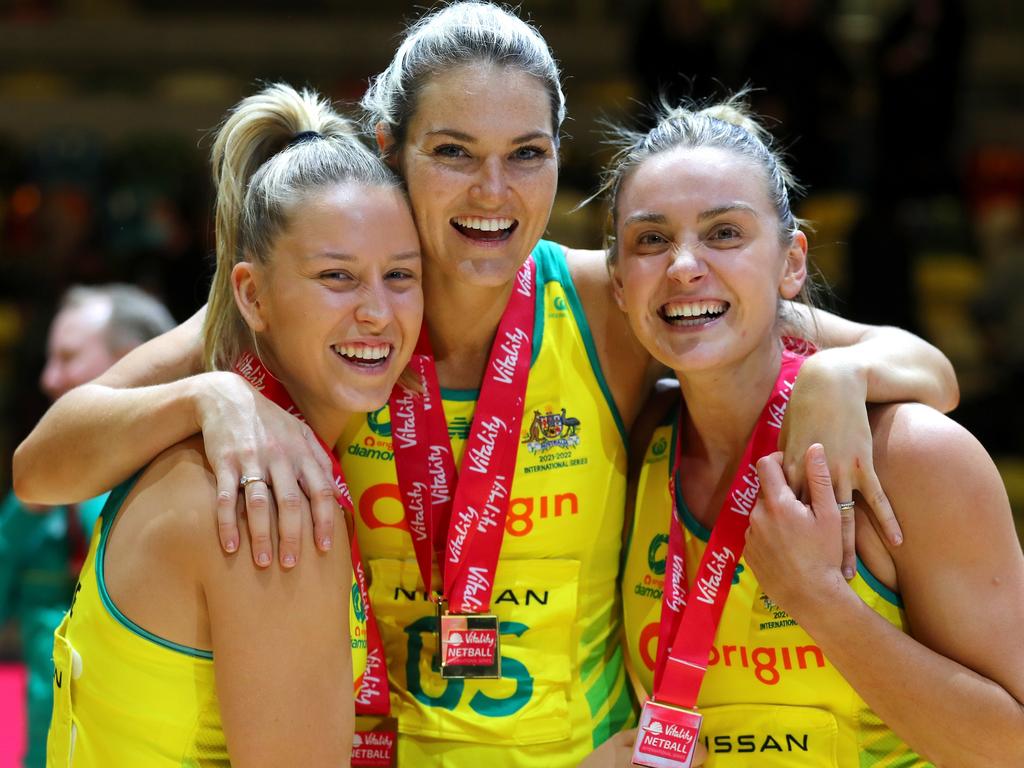 Jamie-Lee Price, Gretel Bueta and Liz Watson celebrating Australia's successful Quad Series in the UK. Picture: Chloe Knott/Getty Images for England Netball
*****
Australia took its time embracing her back. The lay-ups (in particular), the aggressive physicality, the turnovers and low scoring seemed to almost cancel out the appeal of strong defence, aerial feeding ability and those glorious physical gifts.
"Yes the traditionalists didn't like it so much, and some still probably don't, but I think that the game is just different these days,'' says Jencke. "The athletes are better, they're more creative and that's winning the old traditionalists over … because it's a way of growing the game and attracting new audiences.
"I like 'different'. I always have. And that's why Gretel ended up in my team, probably, because I allowed her that freedom to play to her strengths … At Firebirds we challenged her with doing different things, and that excited her. Gretel doesn't like boring.''
Nor did she appreciate the trolls, the negativity, the abuse.
"I was such a people pleaser, I just wanted people to like me, so it was hard,'' Bueta says.
"But I was having so much fun and my team and Rose were so proud of me and believed in me and I think that's what kept me going.
"I kind of stuck in my little bubble and my brothers were so proud of me and my parents were just supportive no matter what, but you remember those times — and I hope I'm not too polarising now.
"I'm really grateful for my husband Nico, too. He was like, 'No, give me your phone, don't read any of that stuff, it does you no good'. I think it's something that for young players coming through, I'd like to help them have that belief and have a good support network and know in yourself that you're just playing a game. You've got (to have) balance outside netball, too, because that puts things into perspective.''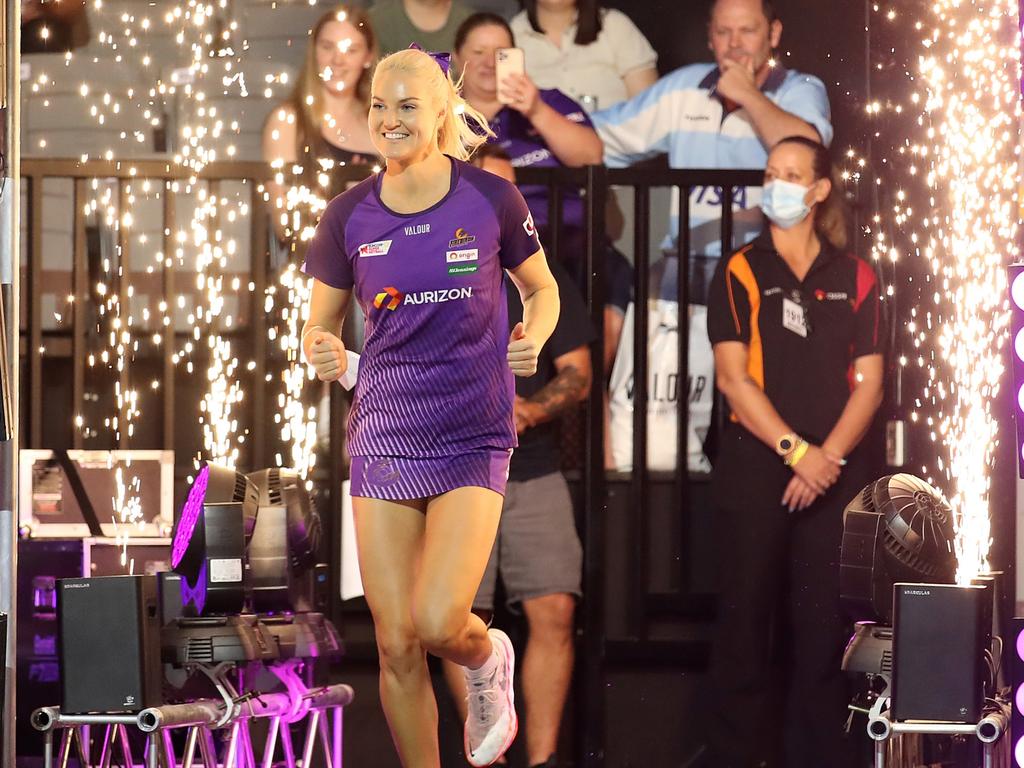 It took awhile, but fans have wholeheartedly embraced Bueta. Picture: Jono Searle/Getty Images
Triple world champion Nat Medhurst was at the end of her Diamonds' career when the unorthodox Bueta arrived.
"I think the criticism that she copped was incredibly unwarranted,'' Medhurst says. "I still don't understand what it was all about. I'm a traditionalist, but at the end of the day she was still playing netball and just doing it with a little bit more flair and a different type of creativity than what had been seen before, which was really exciting.''
Caldow never minded the lay-ups. They just needed them to become goals. And many did not, in the early years. "I just said 'the team works hard to get you the ball, so if you're doing a lay-up, just make damn sure it goes in'.''
And now? The best in the world? "She's right up there,'' says Caldow.
*****
It's a tough question. But someone has to ask it.
How to compare Bueta with another Caldow protege: Diamonds' shooting GOAT, the explosive Sharelle McMahon.
More specifically: if you could only pick one, who would it be?
"Oh gosh. Come on. No!'' laughs Caldow. "Let's just say I'd have Sharelle out the front and Gretel under the post, so I'd have two of them.''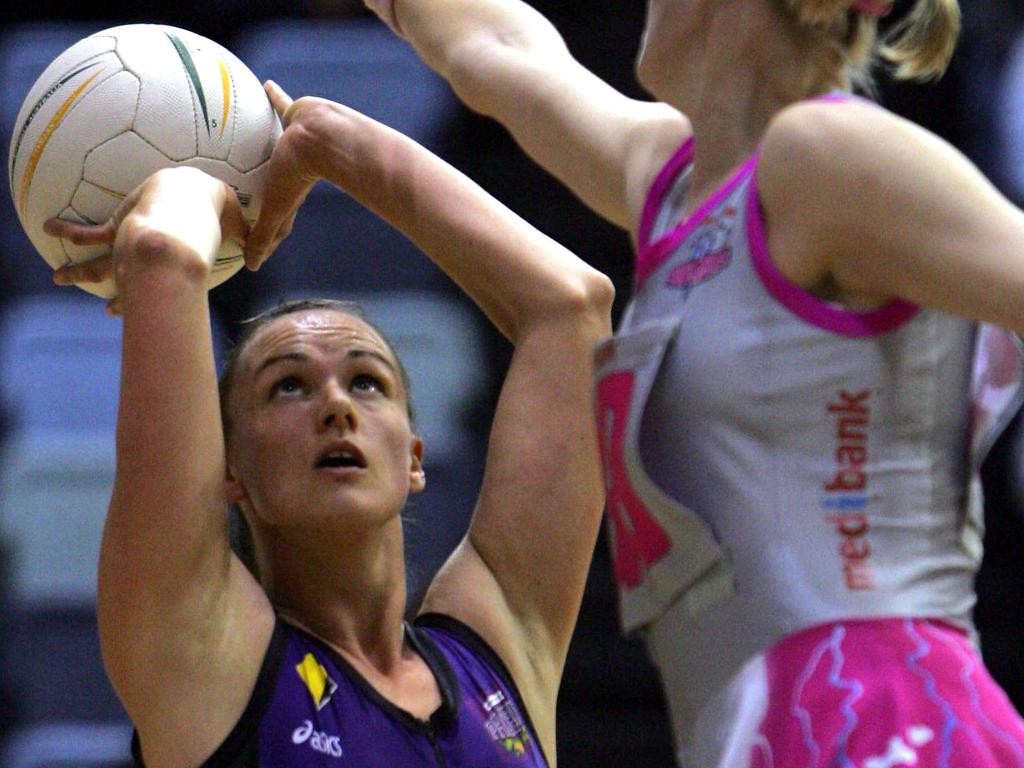 Shooting GOAT Sharelle McMahon is someone Bueta looks up to. Picture: NCA
If not the most dynamic attacking duo the game has seen, then it would come close. Despite a 14cm height discrepancy, both have that slightly raw physical edge, says Caldow.
Jencke is reserving judgment on Bueta's greatness until after she finishes playing.
"I still think she's got some things that she needs to prove. Yes, Gretel's won Super Netball championships, but she hasn't won a Commonwealth Games, she hasn't won a world championship. Sharelle's done all that.
"So I would say Sharelle is still the best because she's got those medals in her back pocket and she's been captain and she's been a leader and Gretel's getting better at leading, I think. By example.''
Bueta is adamant that McMahon, the 118-Test four-time major title winner and former Commonwealth Games flag-bearer, is in another league altogether, but admits that winning back the two pinnacle titles in 2022-23, is "a huge driver" and motivation. Not just personally, but for the whole Diamonds squad.
*****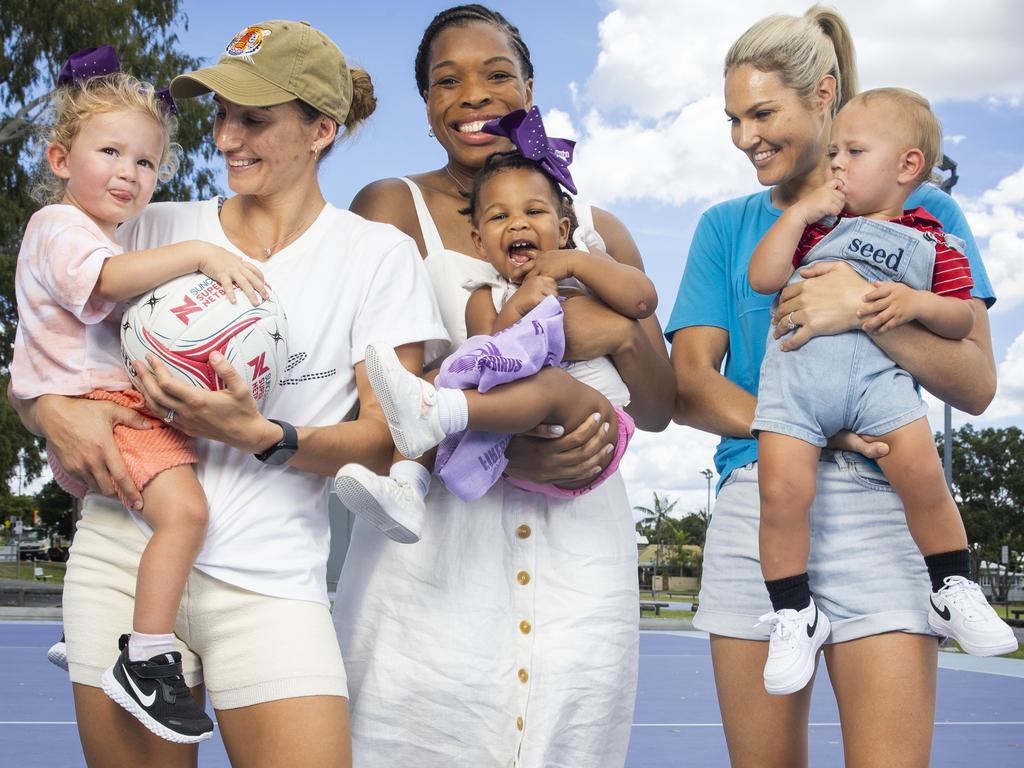 Firebirds Kim Ravaillion with Georgie, Eboni Usoro-Brown with Savannah and Bueta with Bobby. Picture: Lachie Millard
When Bueta found out in 2020 that she was pregnant, the winner of the 2019 Liz Ellis Diamond as the best performing player in the land also realised that if that meant she had played her last game, then so be it.
"If the stars aligned and everything went well I would do my best to come back,'' she remembers thinking during her pregnancy and the early months after Bobby's January birth.
"But if not, and if my body didn't allow it, or Bobby needed more of me, and I couldn't go back, that's OK, too.
"Looking back now I'm so grateful that I am able to get back doing what I love as well as being a mum. It's the best of both worlds. It's a juggling act, and I'm definitely a little more sleep-deprived than beforehand.''
Having always wanted to be a young mother, she had spoken to Caldow, who won a world championship after having children, and saw first-hand how Geitz managed during the comeback that followed the arrival of baby Barney in 2017.
She had also noted international athletes who had returned to the elite level, including Americans Candace Parker and Alex Morgan, and a host of Silver Ferns, particularly, including world champions Casey Kopua and Ameliaranne Ekenasio.
"You've gotta see it to be it, and it's just really inspiring to see that you can have a career and be a mother if that's what you choose,'' she says, grateful for the support of both the Firebirds and Diamonds.
"Motherhood is such a journey and I absolutely love being Bobby's mother, and (kids) they make you stronger and more resilient, too. You can get bogged down in this netball bubble, but Bobby's just given me this whole new perspective of being a mum and being an athlete.''
A regular at training, Bobby was also the first baby of a current player to go on tour with the Diamonds, having been accompanied by dad Nico to the Quad Series in London. The toddler is set to make another long-haul flight in July to the Birmingham Commonwealth Games, where Gretel — selection pending, but injury the only potential barrier — will visit from the athletes' village, as Geitz did on the Gold Coast in 2018.
It will be difficult, though, for one of six mothers in the league – with Ravaillion, Eboni Usoro-Brown, April Brandley, Ash Brazill and Jhaniele Fowler — has had to work through her separation anxiety, and this weekend's trip to Tasmania to play the Magpies will be just her third without Bobby on board.
"I really struggle leaving him, but I shouldn't because my husband is more than capable; he loves looking after him, and I've got my beautiful family as well for support. I think it's just my connection with him. I just miss him so much, but that's just all part of it.''
Her netball is thriving, certainly, with an average of 20 goals per game, a league-high in centre pass receives, and nothing she can't or doesn't do. Medhurst rates Bueta's form this season as "absolutely phenomenal'', and believes the perspective gained through parenthood and a period away from the game can only have helped.
"She's just so different, and the game's evolved, and she's been a big part in that, as well,'' says Medhurst, a mum of two. "I would still like to see her probably back herself more on the long shot, but I think her ability both as an attacker and on the defensive side of her game makes her such a matchwinner for the Diamonds heading into Commonwealth Games.''
Bueta is a matchwinner for her team and country. Picture: Daniel Pockett/Getty Images
*****
Reminiscing about that first State League game she entered so woefully unprepared, Bueta says she suspects her teammates were immediately regretting their invitation, just as she was looking at mum Janet and quietly questioning her acceptance.
Yet, having failed to come up with a compelling-enough case for why she should continue in basketball, the reasons she loved netball then endure today.
"I loved the challenge of it,'' she says. "It's a very fast-paced sport, and it pushes you athletically, you've got an opponent right on your body, and it's the ultimate team sport, too; not one person can do it all, per say. I think you win together and you lose together in netball and it's always evolving, too, which is exciting.''
And perfect for Gretel Bueta, who doesn't do boring, and is now dominating a sport more entertaining for the simple fact that she's playing.