Melbourne Vixens' road to Suncorp Super Netball minor premiership has been difficult and emotional
Champions. Wooden spooners. Minor premiers. And all in the space of two years. LINDA PEARCE charts the Vixens incredible journey.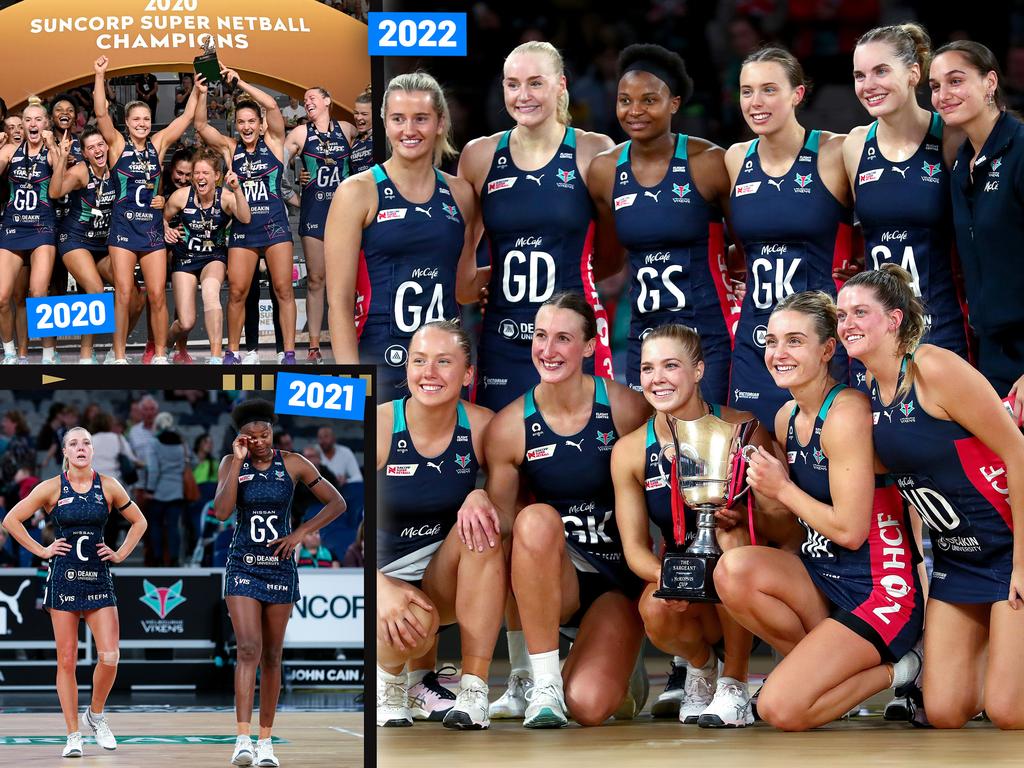 The Melbourne Vixens have experienced it all in the last three seasons.
There's an obvious explanation for the Melbourne Vixens' tumble from 2020 Super Netball champions to wooden spooners and their remarkable climb back to claim the minor premiership in 2022.
It involves champion Liz Watson's return from injury, combined with an overhaul of a shooting circle depleted by the retirements of Caitlin Thwaites and Tegan Philip, now successfully rebuilt just like recruit Kiera Austin's reconstructed knee.
Yet while coach Simone McKinnis nominates not just personnel changes but a largely injury-free preparation and improved fundamentals as key factors, no account of the Vixens' dramatic fall and rise to the brink of securing direct grand final passage is complete without revisiting the dark days of 2021.
In many ways, and for multiple reasons, it was the toughest season that almost anyone involved in the Vixens' doomed and disrupted campaign can recall.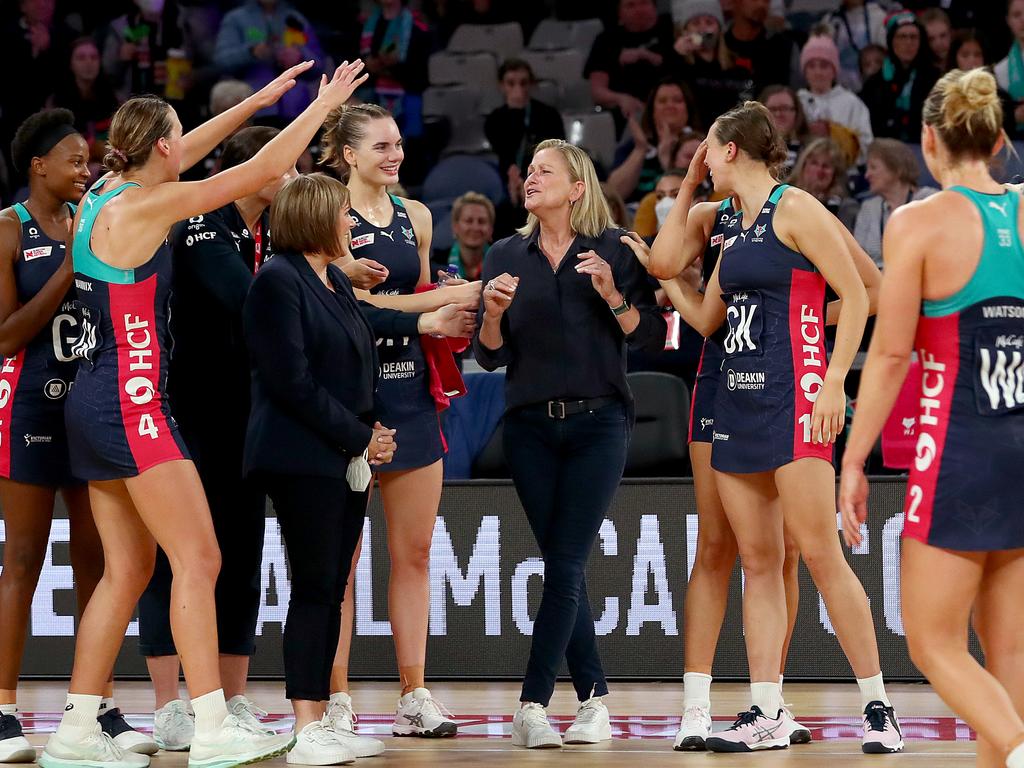 McKinnis has created a system her players are willing to buy into. Picture: Kelly Defina/Getty Images
"It was unbearable,'' says McKinnis, one of Australia's greatest ever players and a dual premiership coach. "The results, finishing last, was unbearable in so many ways, so that drives you. That has to drive you for the next season.''
Amid the Covid complications, the injuries, the staffing and other challenges, McKinnis says there was a moment unrelated to winning or losing that nearly "broke" her, and left her questioning whether those in charge of the competition recognised the impact of their decisions on players and staff.
Internally, though, the group never fractured, effort was a constant at training and through 12 demoralising defeats from 14 games as well as last-minute relocations and another extended hub stay, while McKinnis noticed that what was also reinforced was how much care there was for each other.
"There had to be. You had to look after each other,'' she says. "Everyone had their moments, myself included, when you just wanted to curl up in a ball. We all had our moments at different times, and we all helped each other get through it.''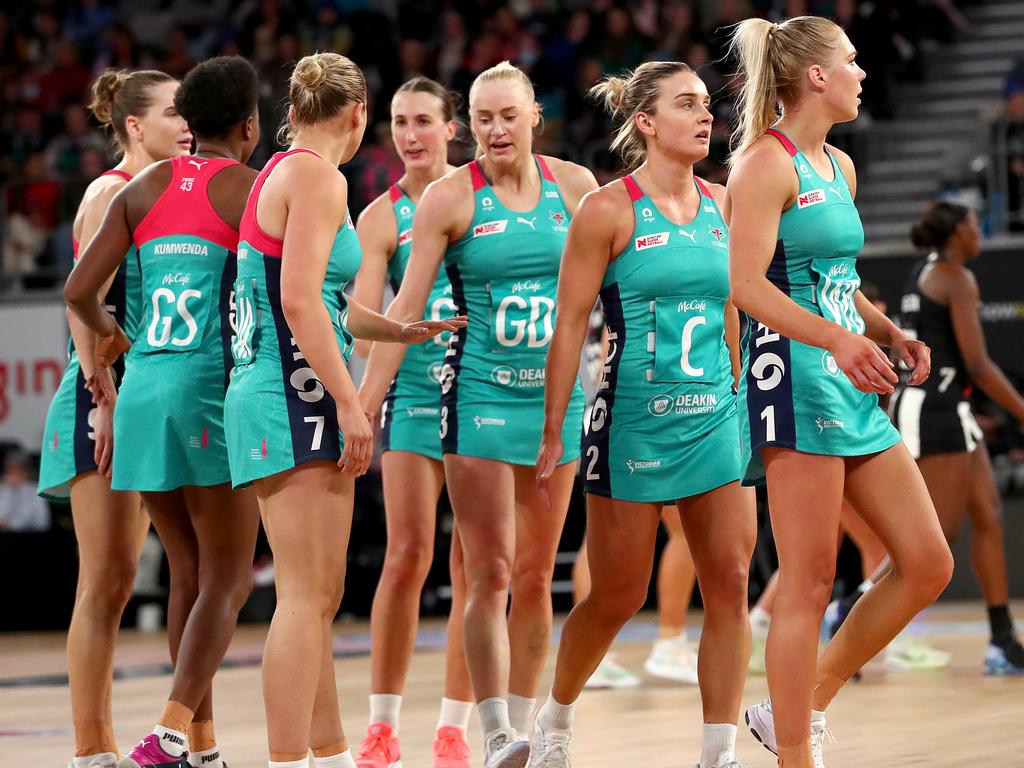 There's a great team mentality within the Vixens squad. Picture: Kelly Defina/Getty Images
*****
One thing the players can chuckle about now was the emphasis on next game, next game, next game.
Even when the next round typically only brought the next loss.
"The last four or five weeks in team meetings and even in our one-on-one meetings, I remember Simone would be like, 'All right, we've got four games to go, let's make it a really good four games, let's get four wins'. And then we'd lose,'' says defender Emily Mannix.
"And then it'd be like, 'OK, we've got three games to go, let's have three wins to finish', and then it got to two. 'OK, two'. And I don't think we got another win, but now I feel like we can all laugh about that and have a bit of a joke, and we do.
"Not that you want to go through those terrible years, but we did, and then this year being able to bounce back is a hard thing to do, so I think to be able to do that and see the funny side now sort of represents the team we are, I guess, which is pretty special.''
It never broke them, however low the lows, including the club being fined heavily by Netball Australia for breaching the league's participation agreement. The Vixens had refused to travel to Perth to play the Fever on July 22 with a squad depleted by the loss of three senior players who had attended a Covid-19 hotspot in Byron Bay.
"There were times obviously when people were going through different things, and we all had our own things, but when we rocked up to training, when we rocked up to a game, we always tried really hard and we always tried to have that belief. The results just obviously weren't coming for us,'' Mannix continues.
"But we all get along really well, and this year we've gained some really great players who've been able to add to the strong core that we had, so I think the reason we've been able to bounce back is because of those relationships and connections that we have with each other.''
Despite how tough things seemed, the Vixens never stopped trying on the court. Picture: Graham Denholm/Getty Images
There were issues in attack, in particular, with Watson lost to season-ending foot surgery and replaced by promising rookie Hannah Mundy, Thwaites and Philip out for Ruby Barkmeyer and former Fever goaler Kaylia Stanton. Personnel wise, McKinnis says the issues were mostly a combination of missing Watson's strength and that of the two retired goal attacks who shared that transverse line.
Big losses, all, and exacerbated by the compromised pre-seasons of defensive trio Mannix (hip surgery), Kate Eddy (broken foot) and Jo Weston (a calf injury suffered on Diamonds duty), and a drop-off in the basic skill level that underpins all of the above.
"We weren't fit enough, and because of people that were still recovering still from 2020, their pre-season was compromised, and our preparation was not where it should have been, and our basic skills were not where they should have been, and you get exposed. You need everything going right – especially if you're missing key experience across that wing attack and goal attack position.''
The first hub season, 2020, almost seemed like a breeze by comparison. Which is saying something.
"Everything's harder when you're not winning, to be honest! Everything's harder and seems worse,'' McKinnis says.
"But one of the things that I am very proud of the group about is the they still stuck strong together, because when everything's going against you it can really rip a team apart, but we did stay strong together and we finished all together and with that mindset of 'we can make it different for next season'.''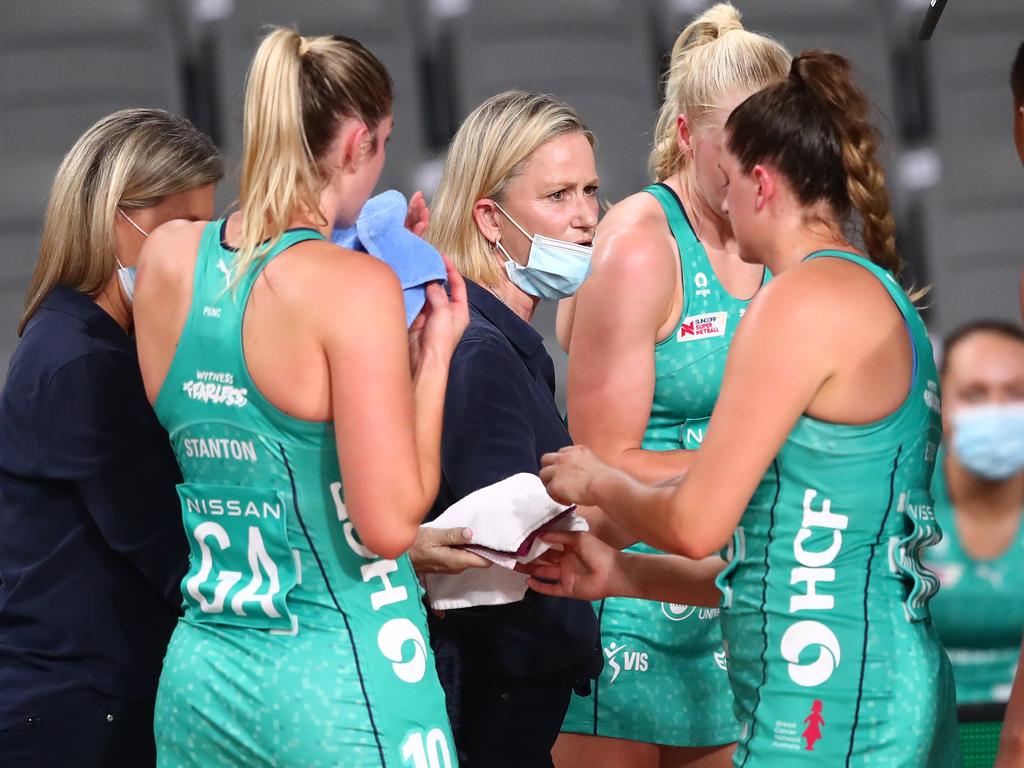 The 2021 season posed more problems for McKinnis and her squad than the initial Covid-interrupted year. Picture: Chris Hyde/Getty Images
*****
Meanwhile, back on the bench, Watson found herself in a new role, after regular assistant coach Di Honey's return home late in the season further depleted the dwindling ranks of the support staff.
"I think I'll stick to playing, not coaching, that's for sure,'' says Watson, also the Diamonds' captain, while confessing her frustration at not being able to contribute and lead through her actions.
"It was hard to be there and try and give the advice or the pep up or whatever it was in that 'assistant' role. So definitely like playing more than coaching!
"Just to see the girls and see that they were doing really good things at training and then just couldn't put it out in matches, and then just to see the disappointment in their faces was hard, and there was nothing I could really do on court to help them, apart from just being there with them off the court.''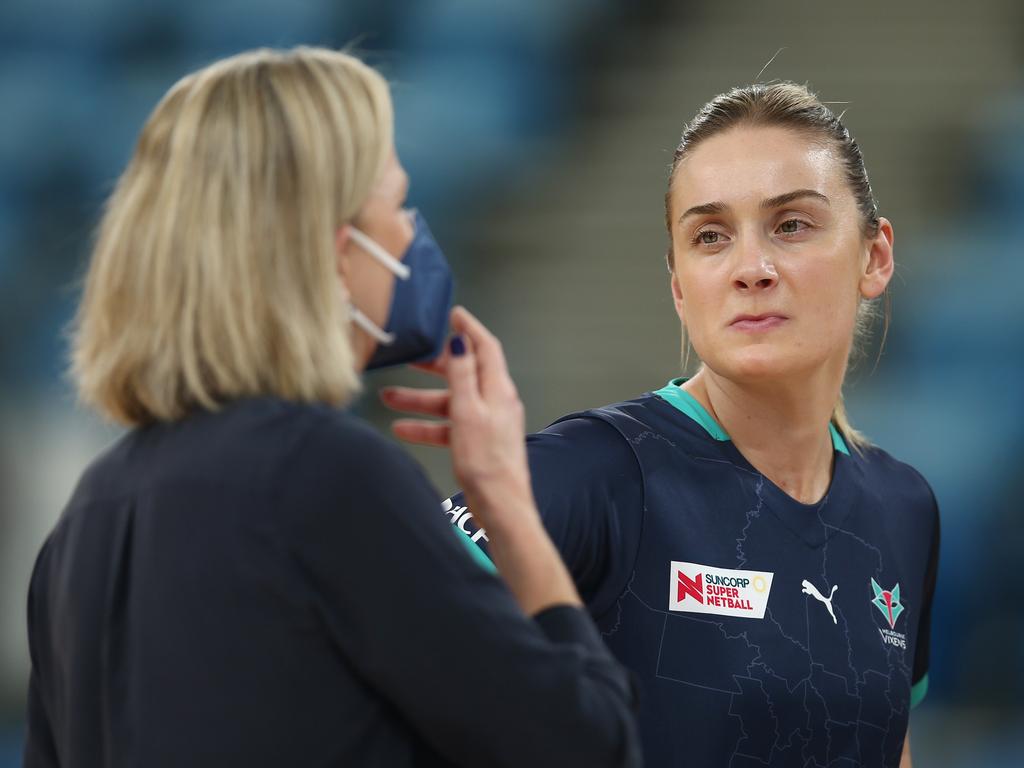 Watson was left frustrated last season after being forced to watch on as the Vixens struggled. Picture: Jason McCawley/Getty Images
Watson is another who recalls the late-season countdown, and the search for something that might help the Vixens finish with some pride intact, "because as much as it was disappointing to be bottom of the ladder, they weren't performing well and they knew that, so we just wanted to have that win towards the back end of the season to almost give us some energy and spark going into the next year.''
In the end there were just two, in rounds five (versus Firebirds) and nine (versus Lightning) although Watson wasn't counting, and Mannix wasn't prepared for how difficult it would all become.
"Obviously 2020 we thought it was so hard, we were away for so long, but we were winning," Mannix says. "And then last year happened and we were like, 'Oh hang on. It can get worse'.''
*****
And then it got better. Much. The lead-up to 2022 was far more positive. "We had pretty much everybody on board for the whole pre-season,'' says McKinnis, "and that goes a long way.''
Goal attack Austin was a crucial addition from the Giants, albeit still rehabilitating from her ACL rupture in May, training partner Samason earned her first contract after a fine injury-replacement cameo, and leaping Liv Lewis arrived as a replacement for Sunshine Coast-bound goal keeper Kadie-Ann Dehaney.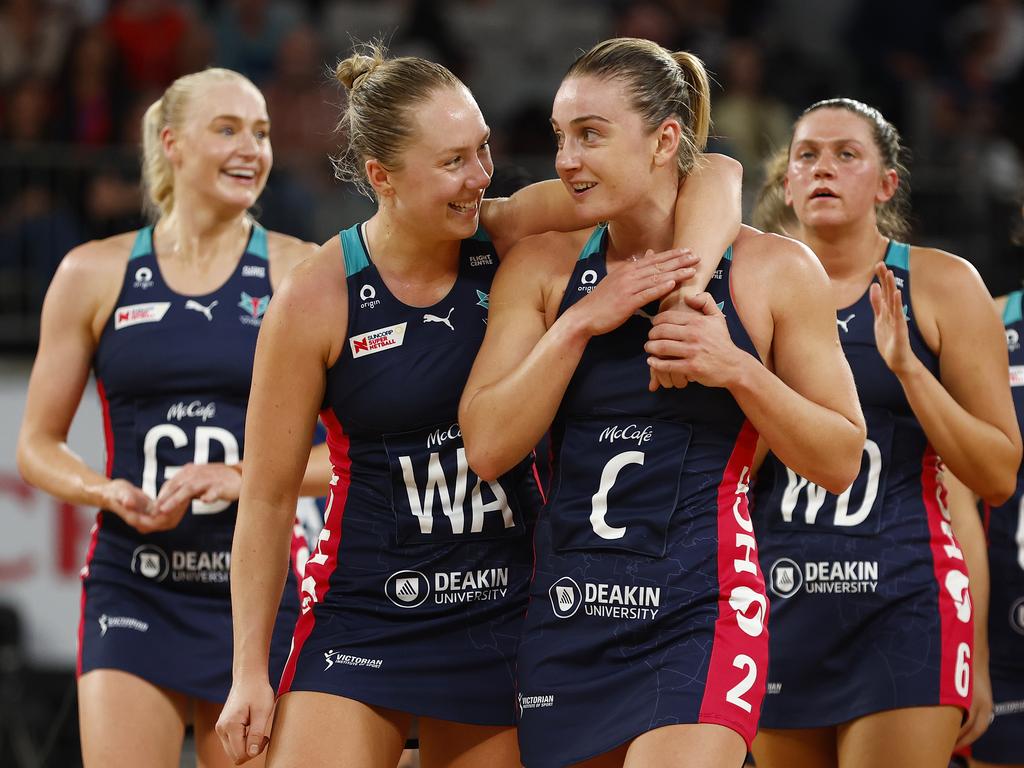 The good times have returned for the Vixens. Picture: Mike Owen/Getty Images
Confidence needed to be rebuilt, and belief restored, Yet, even without Austin and shooting stalwart Mwai Kumwenda, there were hugely positive signs early, in the form of an unbeaten charge through the pre-season Team Girls' Cup.
"I think Team Girls Cup reinforced, 'Actually we're all right, we're going all right', because you don't know til you start playing real matches, and that was important for us,'' says McKinnis.
"But also, when the season started, there were some ups and downs and that was part of the process of learning, and once we started to be able to take the knocks and some disappointments and bounce back, you know you're on the way.''
The reinclusion of Watson has been predictably seamless, Lewis adds another dimension defensively, and Austin has returned earlier and at least as strongly as might have been hoped, while Samason missed six games with knee problems, but is a valuable third shooting option never afraid to go straight to the post.
So if luck and circumstances have changed, has McKinnis?
"The main thing that I was conscious of this year was being really positive; knowing that there would be an element of fragility and uncertainty after the year that we had,'' says the 10-year Vixens' coach.
"So it was just really about being positive and reinforcing that there's gonna be ups and downs and that's OK, but we're just going for it and doing everything we can, and we'll have fun doing it and back ourselves, and it's been good.''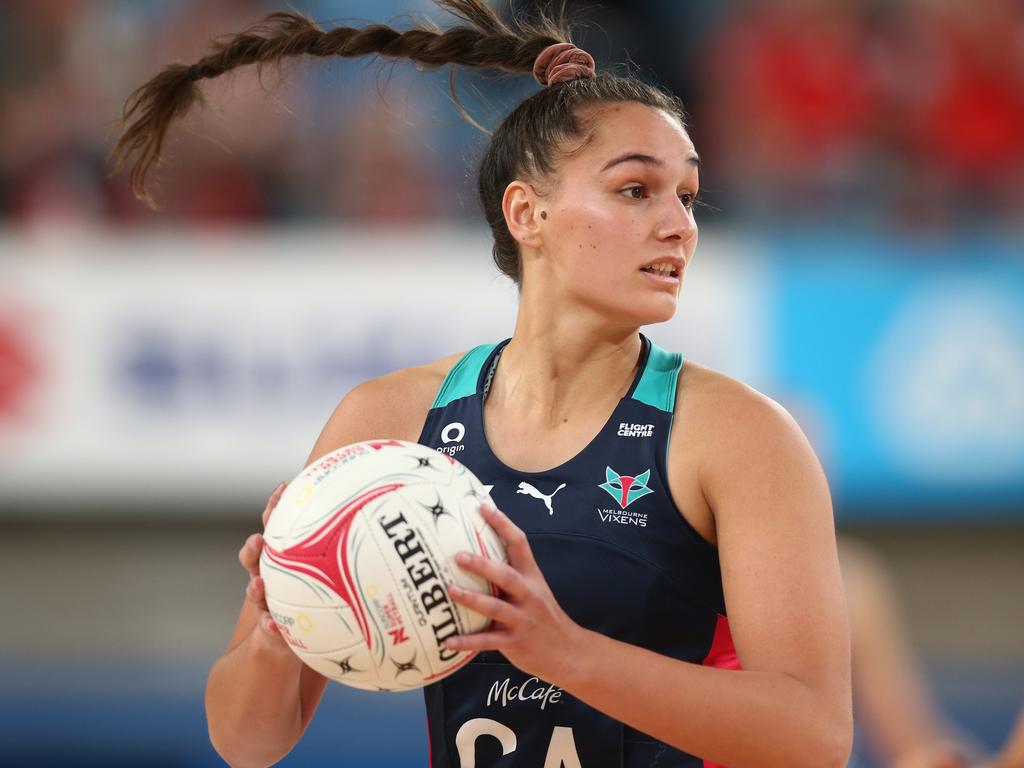 Rahni Samason has been a valuable addition to the Vixens roster in 2022. Picture: Jason McCawley/Getty Images
*****
There would be one more twist in the regular-season tale: the grand final sell-off. The Western Australian government was the buyer, and the Fever's Perth Arena fortress confirmed as host, rather than – as has been the pre-Covid tradition – the home of the major semi-final winner.
The news broke on the weekend of round 12, when the Vixens were in the same place on the ladder as they would finish: on top.
"It was a shock,'' Watson says. "Just not knowing, and [it] coming out of nowhere, and so late.
"I think it was a shock for us more than other teams, because I guess we were the only other team that could host a home final apart from Fever, so it probably hit us harder than the other clubs.
"But like Simone said: 'I'm gonna give you til tomorrow or the next day to have a whinge and then forget about it because we're back into training for our next match', so I think she's been great in leading that for us.''
Of course, the Vixens still have to get to the decider, so protests had to be muted while the still-hypothetical injustice narrative played out.
"Obviously we want to be playing it at home in front of our family, friends and fans; there's no doubt that's every athlete's dream when they play in a grand final,'' says Watson, co-captain of the 2020 triumph against the Fever before a neutral crowd in Brisbane.
"But any two teams can still make it, so I think we're just lucky to finish on top now and have this first final at home. And we're pretty good at playing with an 'anywhere, any time', mentality.''
The decision to award Perth the Super Netball grand final means the Fever are still set to tower over the Vixens, despite Melbourne finishing as Minor Premiers. Picture: James Worsfold/Getty Images
Still, would there be a slightly bittersweet sentiment if victory in the major semi did not deliver the grand final privileges that would have come in any other non-hub year?
"Oh, absolutely, but we know what we're in for and that's the reality of it right now, so we've just got to forget it and just accept that if we get there that's such an achievement in itself, and we'll play it, obviously, anywhere.''
After a couple of wobbly recent rounds, McKinnis's sole focus is on beating the Fever for the third time this season, meaning that the elephant in the locker room will remain there for the balance of 2022, whatever the result at John Cain Arena between the league's two standout teams.
"It's not been worth getting involved in or investing energy in. It's a waste of time,'' says McKinnis. "If we win on Saturday I'm sure there will be a little bit of … no, actually, you know what? You'd just be that rapt to be playing in the grand final, so who cares?''
From where the Vixens' finished that last wretched season to where they are at the same stage of this one seemed a long way off in one sense, Mannix says, but not so far in another.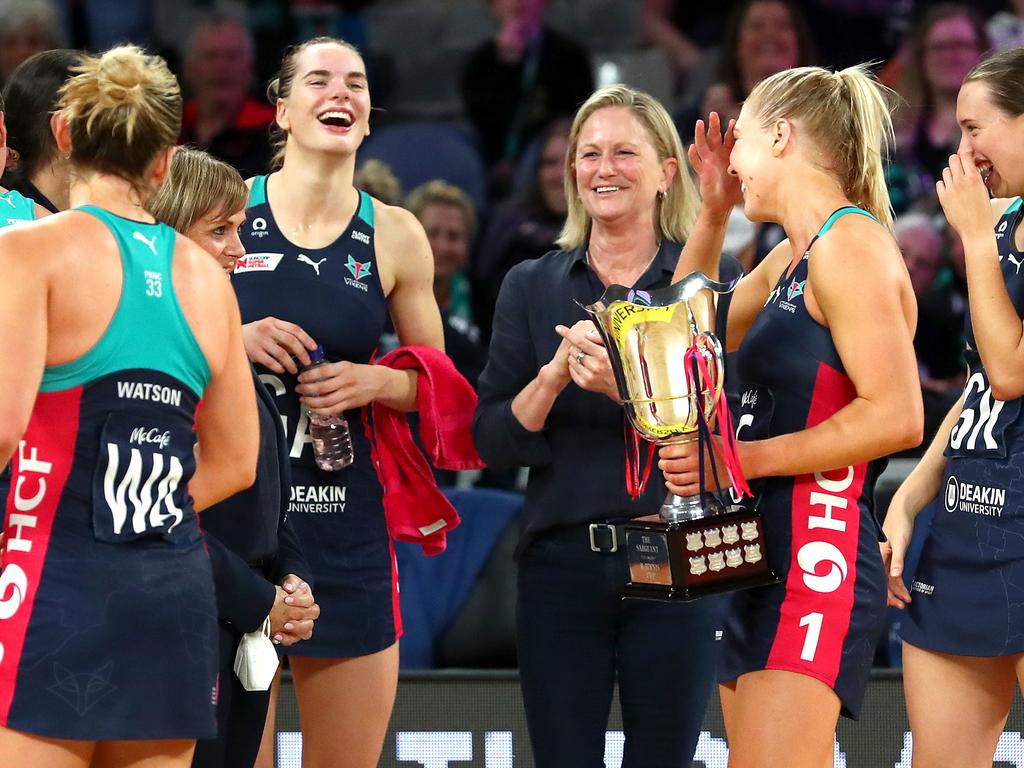 No matter where they're playing, McKinnis is hopeful another grand final appearance is just around the corner. Picture: Kelly Defina/Getty Images
"It did because of how we played last year, obviously, but I knew that what we had was still really special. We lost a lot of talent after 2020. We knew it was gonna be hard. We didn't lose our belief and we wanted to do our very best to perform and grow as a team.
"I think this year it helped everyone to take what they needed to from last year and really use it to learn, but then also fuel ourselves to get better individually and as a team. We knew that we had it in us.''
So to the finals, with the double-chance in hand, and two more wins — one of them in Perth — needed for the Vixens to complete what may be best explained as a hell of a ride from the penthouse down to the cellar and, yo yo like, all the way back up again.