Nat Medhurst: Revived West Coast Fever face best chance at championship or greatest failure
Revived by new coach Dan Ryan and with scandal behind them, West Coast Fever find themselves on the brink of either triumph or disaster, writes NAT MEDHURST.
West Coast Fever are sitting pretty on the top of the Super Netball ladder. Picture: Daniel Pockett/Getty Images
This season is anything but predictable yet at the halfway mark of Suncorp Super Netball, two things are certain.
One: any team can win on any given weekend.
Two: the West Coast Fever are sitting pretty at the top of the ladder.
Fever's road to this point has been much more than just the seven rounds of netball witnessed so far, in a season that is far from done. It has been a journey of endless years of being comfortable with failure; of growth and rebuilding; and recent seasons with more scandal and intrigue than an episode of Desperate Housewives.
But here we are. 2022. A new season. And a new coach.
The last five years for the West Coast Fever have seen multiple final and grand final appearances but no silverware. They are always going to be a force with four-time consecutive league MVP Jhaniele Fowler in their line-up but this season is their best chance yet.
You could also say that if they don't deliver this year, it will be their greatest failure yet. Why, you ask?
Heading into 2022, the team was relatively unchanged from the previous year; just one change to the squad of 10, with former Queensland Firebirds rookie Rudi Ellis brought in ahead of Olivia Lewis.
Alice Teague-Neeld, Jhaniele Fowler and Stacey Francis-Bayman are part of the Fever's settled line-up. Picture: Jenny Evans/Getty Images
Already we have seen the improvements of players and combinations from the previous year, particularly that of Sunday Aryang (one of the most exciting players in the competition at the moment) and Courtney Bruce in the defensive circle. The ability to build on already-formed combinations, rather than starting from scratch year-in, year-out, is always preferred and can give players a lot of confidence.
Unlike 2021, where the Fever were already minus 12 points before a whistle was blown, they started 2022 on the same points as everyone else. There was no giant gap to chase down from the outset; no extra pressure around the possibility of losing games early and their season virtually being over before it began.
They've had the freedom to just go out and play.
This season provides the West Coast Fever with the ultimate run home into finals. Every West Australian sports person knows how hard the travel across to the eastern states is. It's some solid flying. The only perk is your frequent flyer points … and ideally a win to go with them.
Teams coming west from the Eastern States? Well, they aren't a fan of the long trip either. And playing a Western Australian team in front of their home crowd can be frightening. Fever play bloody well in front of their home crowd at RAC Arena.
That they have five out of their last seven games at home – and are already in an ideal position – makes their case for a top finish, a home final and potential home grand final incredibly strong. Even likely.
Then, there is new coach Dan Ryan.
New coach Dan Ryan has rejuvenated the team. Picture: James Worsfold/Getty Images
According to Fever vice-captain, Jess Anstiss, "He is not a morning person, but get some coffee into him and he's very much up and about"; yet Dan has already been able to stamp his mark on this team.
He has successfully shifted players into new roles, such as Alice Teague-Neeld playing wing attack. He's also shown an obvious ability for instilling confidence in his players, such as shooter Sasha Glasgow, who spent much of the previous season on the bench and is now causing headaches for many defenders.
The impact that Stacey Marinkovich had on the club and players throughout her time cannot be questioned and is the reason why she now holds the top job as Diamonds coach. But for many players who have been a part of the team long-term, to have fresh eyes and a fresh voice is, well … refreshing!
Having spent several years in the green and black, I remember my pre-seasons 'fondly'. Nine-month pre-seasons that saw you training every weekend certainly took their toll. The weekend part might sound silly but during pre-season, when you are getting flogged and you are taking a physical beating, to never get a free weekend (two whole consecutive days off) to be normal and mentally recharge, it wears you down as much as anything.
Even that shift from Dan, giving players some breathing space during pre-season, would have regenerated those who have done numerous years of the same, ridiculously long preparation. As Jess put it: "It might sound minor but to be able to have a mental refresh and actually spend time with family and friends, that shouldn't be taken for granted. Especially because once the season starts, there is no such thing as a weekend."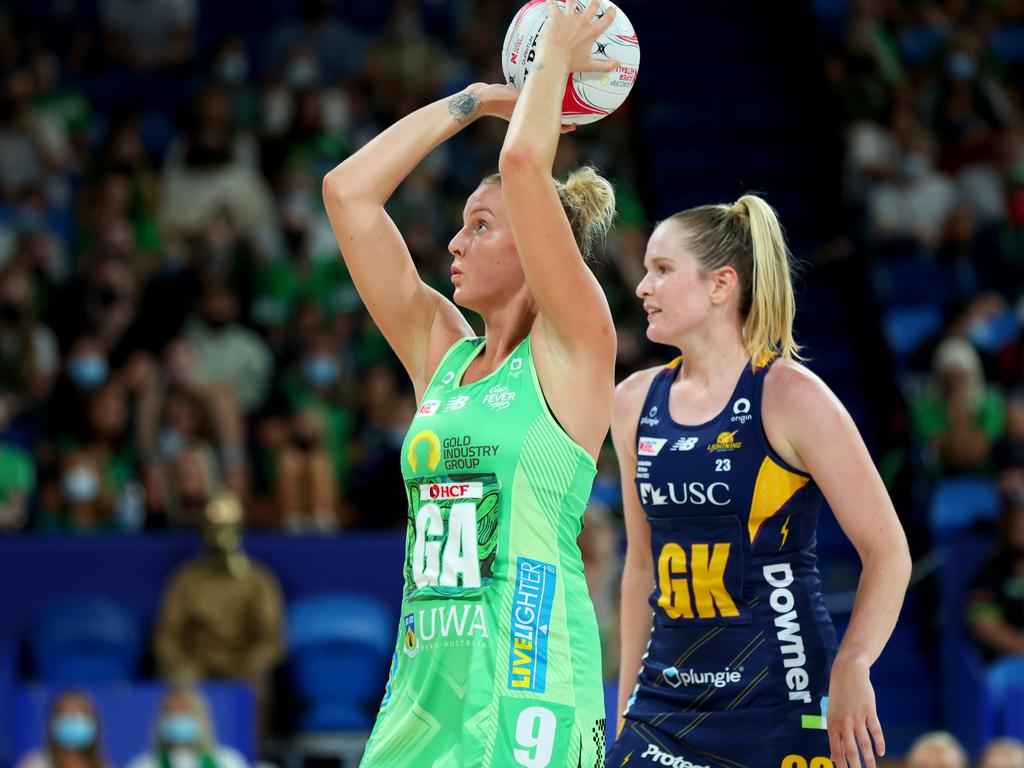 Ryan's leadership has instilled confidence into Sasha Glasgow, among others. Picture: James Worsfold/Getty Images
Dan has also given many players a mental refresh from the salary cap scandal that shocked the sport and rocked the Fever. Following the explosive news of their breach at the end of 2020, the 2021 season saw the club and players cop a huge amount of media and fan scrutiny. While the backlash against the club was justified, the players unfairly copped criticism for something of which they were unaware. They wrongly carried that burden and felt that external hatred.
"It was extremely frustrating as players to feel like we were copping the blame and being punished for something none of us knew was happening," Anstiss said.
As a player who was a part of the team in 2018, the first year of the Fever's salary cap breaches, I had absolutely no idea about what was happening behind the scenes and what would unfold in the following few years. I have never known what money another player was on, nor what other contracts were or weren't being done. You just always assumed and believed that everyone was doing the right thing.
While many questions posed by that salary cap incident remain unanswered, the appointment of Dan Ryan as head coach was a smart one on the back of that tainted past. Dan being not just a top coach, but an outsider.
He has brought a great deal of experience, game smarts, passion and enthusiasm, but also a lot of 'clean air', taking an enormous weight off the shoulders for these girls. That has allowed the players and club to just get on with business. Get on with playing netball.
That in itself, if it wasn't a reason for his appointment, is an incredible added bonus.
In just seven games as head coach, Dan – and assistant coach Belinda Reynolds – have tweaked this team into one that is truly versatile, determined and in the best position to deliver what has eluded the club since the days of the Perth Orioles: a championship.