Super Netball 2022: First Nations role model Jemma Mi Mi wants her netball to do the talking
Jemma Mi Mi is more than proud of her Indigenous heritage but, in bringing up her 50th Super Netball game, the Firebirds midcourter also wants to be known for her netball ability.
Firebird Jemma Mi Mi says it's time people looked beyond her First Nations heritage and focused on her playing ability.
Mi Mi, who brought up her 50th Super Netball appearance on Sunday, is proud to be a leading voice for First Nations athletes, but ultimately she wants to be more than a figurehead for a group of athletes under-represented at the elite level.
The only First Nations player in the league until the arrival of teammate Donnell Wallam this season, Mi Mi had a position as role model and spokeswoman thrust upon her.
Stream Over 50 Sports Live & On-Demand with Kayo. New to Kayo? Try 14-Days Free Now >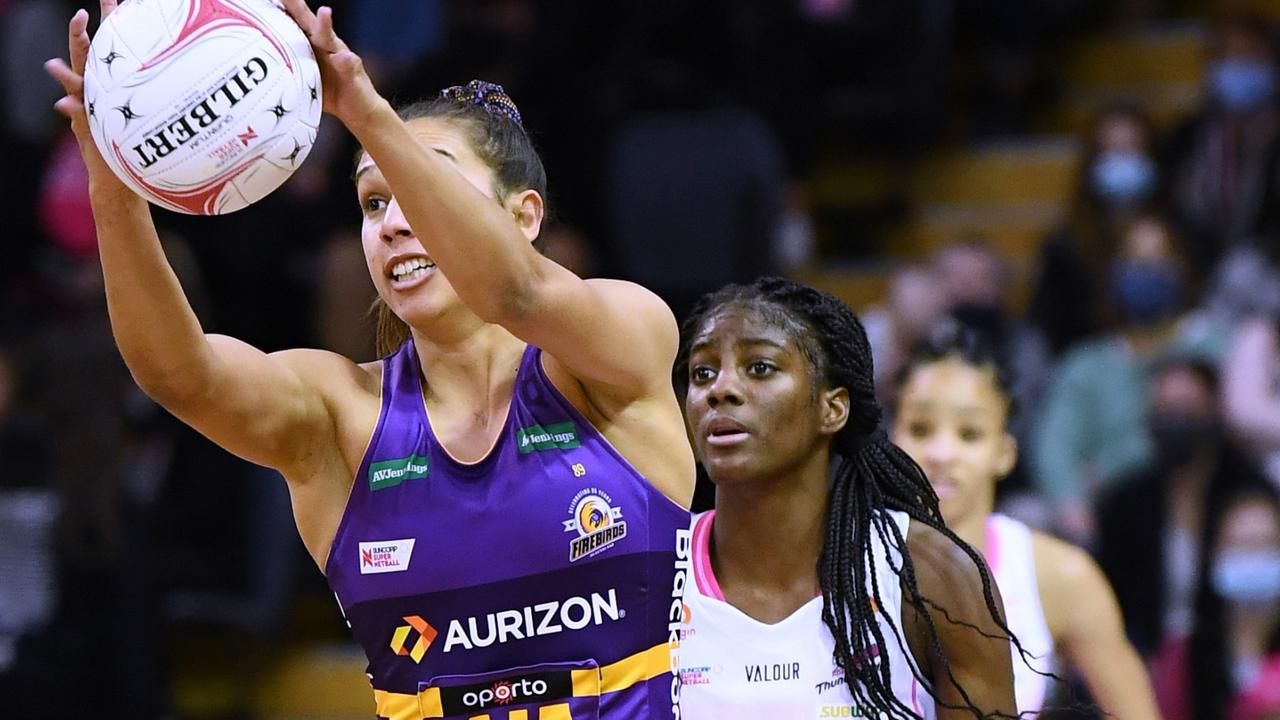 Jemma Mi Mi hit a unique milestone on Sunday.
And while she's embraced it and proudly leads Netball Queensland's Diamond Spirit program - which uses netball to engage, empower and educate Aboriginal and Torres Strait Islander girls in remote and regional communities - Mi Mi also wants to be known for her ability as a Firebirds midcourt player.
"I guess identifying as First Nations (being seen as a poster girl) is something that's just thrown upon you," Mi Mi said.
"You don't really get asked to be a role model for First Nations people, but it's a responsibility that you just have and I have learned to just own it.
"At the end of the day, I just want to play netball and let my netball do my talking for me - but I also take on that responsibility."
You won't hear Mi Mi suggesting that being the only First Nations player in the league for so long has been a burden.
But having Wallam by her side seems to have lifted a weight off her shoulders, not just to give young Indigenous kids someone else to look up to, but to have someone by her side that innately understands her journey.
"It's nice to have someone in the team who kind of gets it a bit more," Mi Mi said.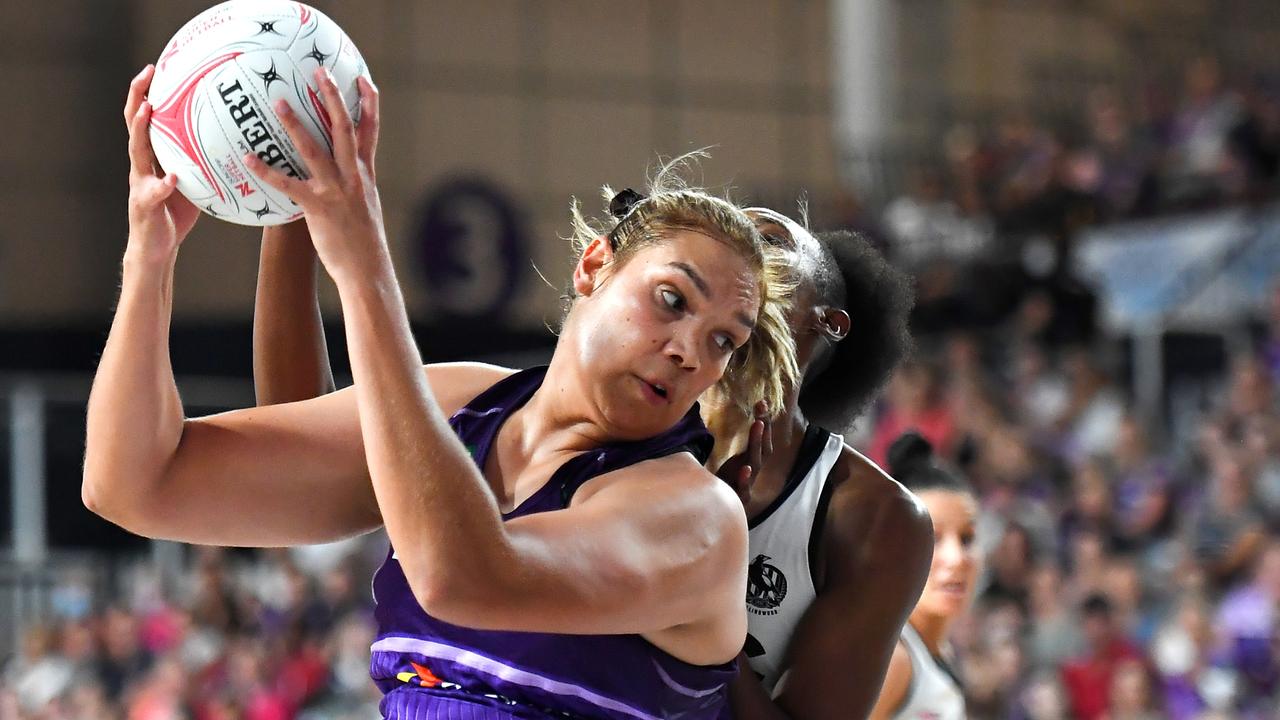 Donnell Wallam gives the Firebirds the only two First Nations players in the league.
"Even though my team is beautiful, and they really want to educate themselves and learn more, having another First Nations person in our team, I feel very lucky."
The Firebirds lost to the Collingwood Magpies on Sunday and while Mi Mi didn't get to celebrate a win in her milestone match, she hit the court the fittest and strongest she's been in her career after a strong pre-season with club fitness staff.
It was a full circle moment, too, with Mi Mi's first Super Netball game as a starter coming against the Magpies in 2017, where she faced Sunday's opponent, Diamonds midcourt ace Ash Brazill.
"It's funny because it doesn't feel like it's been that long, it's been a journey," said Mi Mi, who was congratulated by Brazill when she hit the court in the final quarter on Sunday.
"There's been a lot of ups and downs, it's never really linear, but I'm just grateful that I still get to go out on court and play."
In the Anzac round on Sunday, Mi Mi was again playing for her people.
While in sporting circles around the country, rounds closest to Anzac Day have been dedicated to mateship and teamwork, Mi Mi knows first hand what it's like to have those closest to her serve - and head into conflict.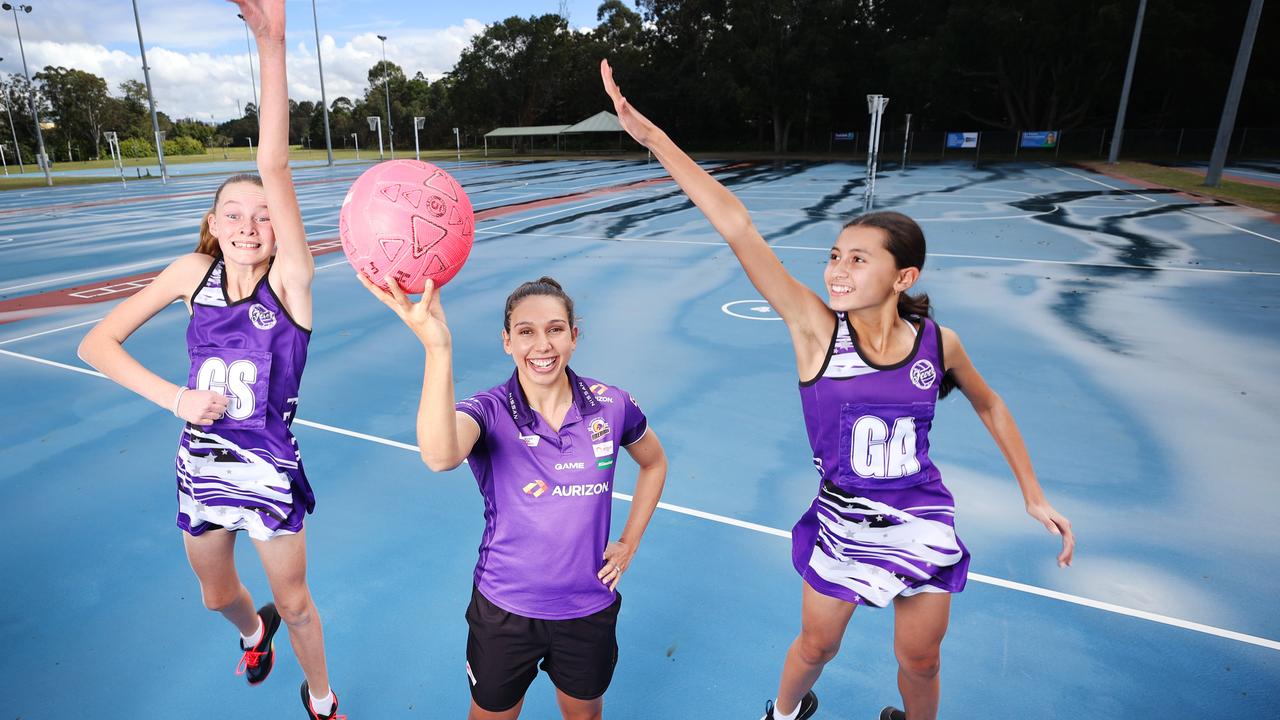 Jemma Mi Mi at one of the many clinic she helps conduct for the Firebirds.
Her father, Jim Mi Mi and husband, Grant Seymour, are both ex army and Anzac Day is a special time of year.
"Dad doesn't necessarily talk much about when he did his trips overseas," Mi Mi said of the infantryman.
"He served in Iran, Afghanistan, Singapore, Iraq as well.
"I'm just looking forward for him being able to catch up with all his mates (on Anzac Day) and they can check in on each other because it's super important for veterans.
"Just to band together, really celebrate, remember all of those who have fallen before us."
Seymour served in Papua New Guinea as a telecommunications specialist.
"I was playing for my dad and my husband as well (on Sunday)," Mi Mi said.
"We're just grateful that we get to live the lives that we can because of them."
18 guns snubbed from Diamonds squad
The players left out of the Diamonds squad show why Australia is ranked No.1 in the world.
Selectors named 18 players on Thursday night and quickly copped criticism for those who weren't named as much as praise for those who were.
With plenty of noise about the absence of Queensland Firebirds midcourter Kim Ravaillion, in particular, there was scrutiny of the selectors, with former Diamonds captain Sharni Norder asking if they should have a defined term.
Coast Stacey Marinkovich underlined the importance of incumbency, saying anyone forcing their way into the squad had to be at a higher level than those already there.
Kim Ravaillion was not in the Diamonds squad. Picture: Chris Hyde/Getty Images
It's tough to say whether any of those left out showed that in Round 6.
But Australia certainly has a depth that other countries would envy.
Net Gains today plays selector, naming another 18 players who wouldn't look out of place in a gold dress, either now, or in the coming years.
Like those choosing the Diamonds, we haven't gone with a 6/6/6 split of goalers, midcourters and defenders.
With seven shooters in the Diamonds squad and an incredible midcourt depth in Australian netball, we've gone with a 5/7/6 split of goalers, mids and defenders, a team we think would challenge seriously for a medal if they could line up at the Commonwealth Games.
GOALERS
Reilley Batcheldor
The Lightning rookie has stepped up in her first season with some nerveless displays to show she deserves her spot on court with Diamonds players Steph Wood and Cara Koenen.
Tippah Dwan
A long range specialist, Dwan's workrate and is outstanding and she's making the most of her move to the Thunderbirds this season despite sharing time with Georgie Horjus at goal attack.
Sasha Glasgow
Missed the Fever's game at the weekend under Covid protocols but has been outstanding alongside Jhaniele Fowler this season as Alice Teague-Neeld takes more of a role in the midcourt.
Georgie Horjus
The Thunderbirds livewire is perhaps a pick for the future but her shooting ability, workrate and versatility - she's making her mark playing at wing attack for Adelaide as well - make her an attractive option.
Rahni Samason
Cool as ice, Samason is far from overawed in the big moments and is holding her own in an international circle including Malawi's Mwai Kumwenda and the Diamonds' Kiera Austin. Has rejected suggestions she could be considered for New Zealand through her father's Cook Islands heritage, pledging her future to Australia.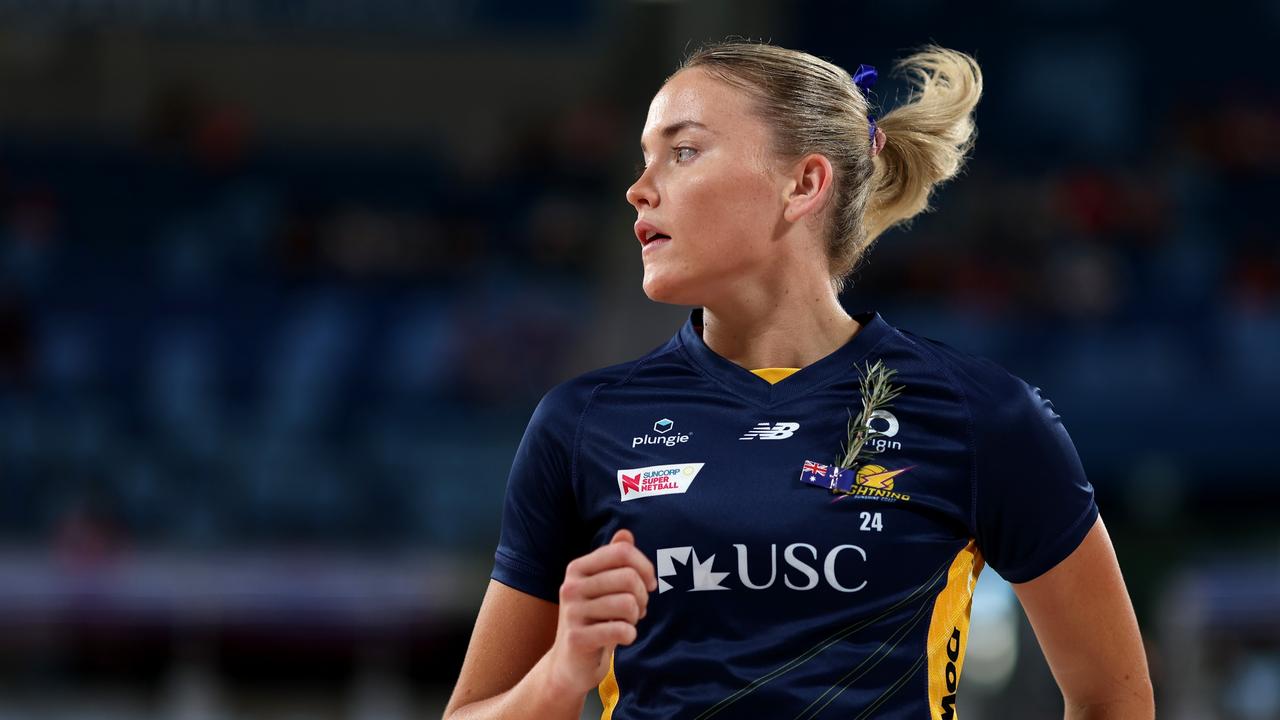 Reilley Batcheldor has shown she deserves her spot on court with Diamonds players. Picture: Matt King/Getty Images
MIDCOURT
Jess Anstiss
Having one of her best seasons under coach Dan Ryan, Anstiss can play at centre or wing defence and offers a strong body ready to take on the most aggressive of opponents.
Kelsey Browne
Considered unlucky by many not to be in the Diamonds squad, livewire Browne is a speed machine around the court and showed in the Magpies' win on Sunday how valuable she is to a team when on song.
Maddy Proud
Another extremely unlucky to be out of the 18 named on Thursday night. Proud was in the 2021/22 Diamonds squad before being cut ahead of the Quad Series and started the Super Netball season on fire.
Kim Ravaillion
A furore erupted when the Firebirds captain was left out of the Diamonds squad given her form this season. Would be in almost every other team in the Commonwealth and will continue to pressure the six midcourt players named from outside the squad.
Gabi Simpson
Flies under the radar but the former Diamond is in near career-best form and playing with freedom after relinquishing the Firebirds captaincy and concentrating on her own role. Tenacious defender that will compete all day.
Verity Simmons
A member of Australia's side at the Constellation Cup in 2020, Simmons offers incredible speed and crisp delivery to her goalers and would have been carefully scrutinised by the Diamonds selectors.
Maddie Hay
Continues to grow as a player after making the switch to wing attack at the direction of Giants coach Julie Fitzgerald who has helped turn her into one of the most exciting young players in the competition.
DEFENDERS
Ruby Bakewell-Doran
The Firebirds youngster keeps putting runs on the board in her debut season. Quick and athletic, Bakewell-Doran reads the game incredibly well and is destined for big things.
Tara Hinchliffe
A member of the Diamonds' development squad last year, Hinchliffe tore her ACL at the back end of the 2021 season and was expected to spend an extended stint on the sidelines. But she's back and edging towards the form that had her in representative calculations.
Kim Jenner
In the Diamonds' squad for the Constellation Cup in 2020, an ankle injury kept Jenner out of contention for the Quad Series and she's struggled so far in 2022 to regain her best form. If she can cut down her penalty count, is one of the most exciting prospects for the future.
Olivia Lewis
While the Vixens' pick-up of shooters Kiera Austin and Rahni Samason stole the headlines in the off-season, their signing of Lewis was just as important in helping set them up for the future and the keeper is making her mark in a side that already includes representative defenders Jo Weston and Emily Mannix.
Emily Mannix
After two off-season surgeries Mannix is back to the form that helped her earn six caps for her country. Unlucky to miss the Diamonds squad but will continue to push her case for inclusion ahead of next year's World Cup.
Tilly McDonell
McDonell is going from strength to strength after stepping up as a Giants starter following the retirement of Sam Poolman. Still just 21, McDonell is one of the rising stars of the sport and a representative star of the future.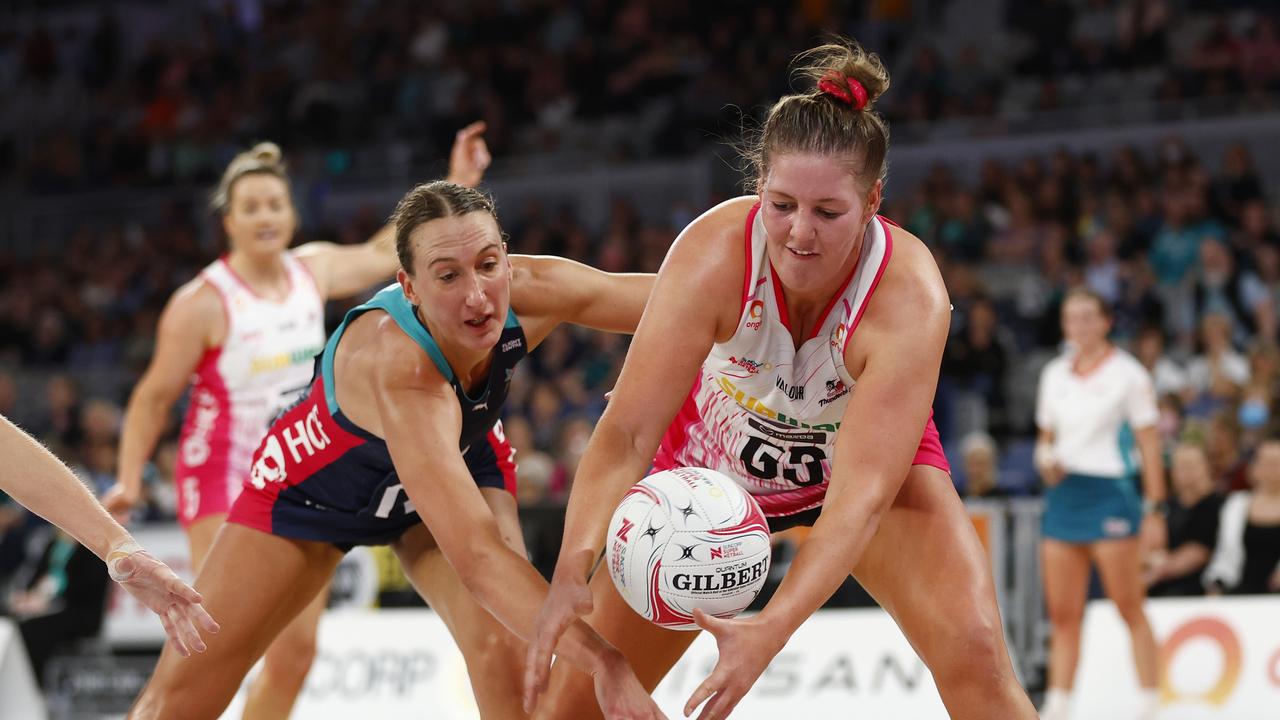 Emily Mannix (left) is back to her best. Picture: Mike Owen/Getty Images
GAME ON AFTER UPSETS
JUST when it looked as if there might be runaway leaders and a definitive break between the top four at the rest nearing the halfway mark of the season, upset wins to the Magpies and Giants and a stunning return to form from the Lightning have ignited the competition.
The Melbourne Vixens have regained top spot on the ladder after their grinding win over the Thunderbirds, swapping places with the Fever, who suffered just their second loss of the season on Sunday.
The Firebirds remain in third place, while the Lightning enter the top four for the first time after a horrible start to the season.
Covid will continue to play a major role in the season, with the Fever down players this week, while the resurgent Giants and Magpies were back at full strength after having their teams savaged by the virus.
LIKES
The return to form of Cara Koenen over the past fortnight has been a filip not just for the Lightning but Diamonds coaches and selectors who will have been thrilled to see the goalshooter back to her baseline-driving best in the victory against the Swifts on Saturday night.
Even without a fulltime Super Netball contract, Chelsea Pitman is making a strong case for inclusion in the England Roses' Commonwealth Games squad. The midcourter - a Fever training partner who played half a game on Sunday with Jess Anstiss out under Covid protocols - turned the game in West Coast's favour in the third term and showed she is still influential at the top level.
DISLIKES
While technically a non-contact sport, one of the great things about netball is the physical contests across the court but particuarly in the circle and under the ring. But when the push and shove is as a result of frustration and after the whistle has already gone - as it has been on occasion over the past couple of weeks from both attacking and defensive players - it's time the umpires stepped in.
PLAYER OF THE WEEK
Jo Harten (Giants)
A week after impressing with a perfect shooting performance, Harten led her team to a win against the Fever that puts their season back on track. In a crucial game for the Giants' season, the team rallied following Harten's impassioned speech heading into the final term and held off one of the competition favourites to give themselves a chance of making the top four.
Swifts v Lightning
Cara Koenen (Lightning) 3, Maddy Proud (Swifts) 2, Tara Hinchliffe (Lightning) 1
Vixens v Thunderbirds
Kiera Austin (Vixens) 3, Shamera Sterling (TBirds) 2, Liz Watson (Vixens) 1
Firebirds v Magpies
Ash Brazill (Magpies) 3, Molly Jovic (Magpies) 2, Kelsey Browne (Magpies) 1
Fever v Giants
Jo Harten (Giants) 3, Sophie Dwyer (Giants), Chelsea Pitman (Fever) 1
Originally published as Super Netball 2022: First Nations role model Jemma Mi Mi wants her netball to do the talking