Netball Quad Series 2022: Courtney Bruce warning for Diamonds' rivals Silver Ferns, Roses, Proteas
Those in the Diamonds Quad Series squad have the jump, but there are a number of Commonwealth Games hopefuls breathing down their necks.
Australian coach Stacey Marinkovich says players involved in this week's Quad Series are frontrunners for Commonwealth Games selection but outsiders displaying stellar Super Netball form could still force their way into the squad.
The Diamonds open their Quad Series campaign against New Zealand in London at 3am Sunday morning, starting the only international dress rehearsal the Australians will have ahead of the Games in Birmingham in July.
It's a crucial preparation for the 15 players in the squad – five defenders, five midcourters and five shooters – who have the jump on other players attempting to force their way into the squad.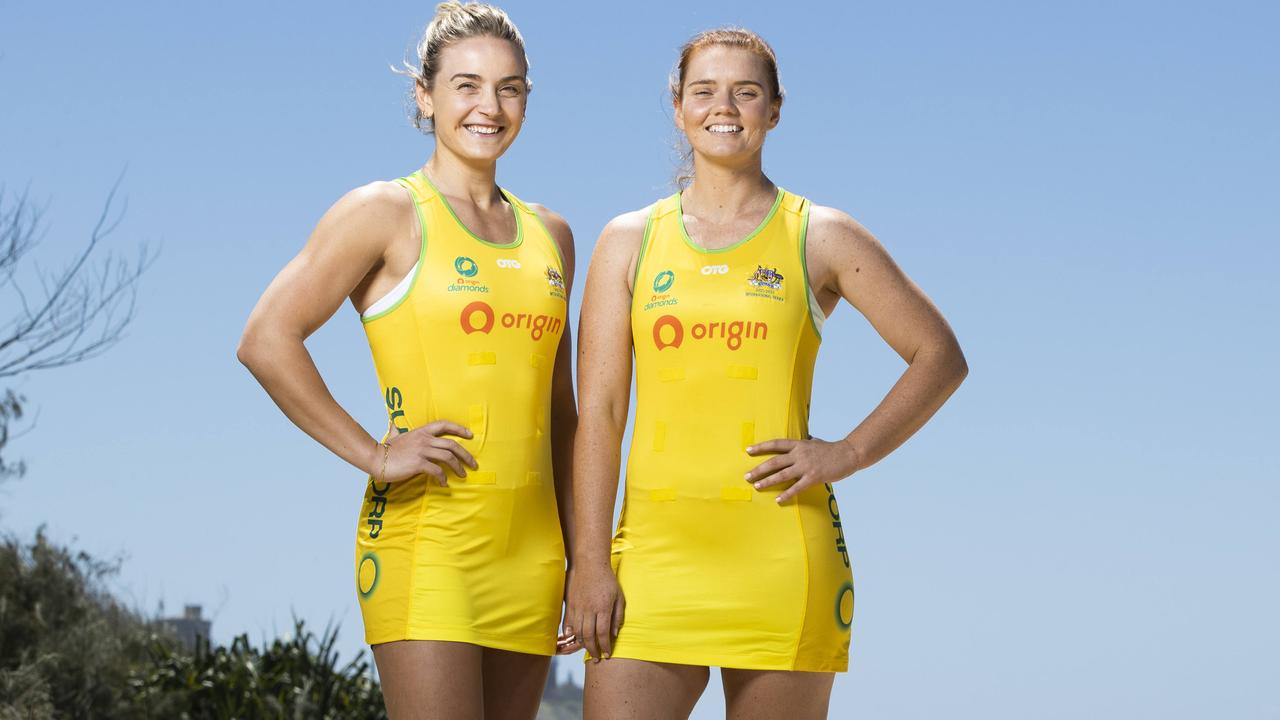 Players in the Quad Series, including captain Liz Watson and vice-captain Steph Wood have all but secured their tickets to the Commonwealth Games. Picture: Lachie Millard/NCA
But Marinkovich – who heads into just her second international campaign in charge of the Diamonds in the Quad Series – would not rule out others.
Defender Kim Jenner (ankle) and goalers Kiera Austin (knee) and former Diamonds captain Caitlin Bassett (knees) were not considered for the Quad Series due to injury.
Currently without a Super Netball contract, Bassett will find it difficult to force her way back in.
But there is hope for others, including those not named in the initial Diamonds squad last year.
Without a Super Netball contract, Caitlin Bassett will find it difficult to force her way back into the Diamonds squad. Picture: Kai Schwoerer/Getty Images
"We wouldn't cut off our nose to spite our face," Marinkovich said of keeping an open mind on players not initially selected.
"I think that's a really important thing and when you've got such a quality competition, different people perform in different seasons.
"We had players returning last year, you've got a huge amount of youth coming through – particularly from a team like the Thunderbirds, so there's certainly players that are knocking on the door and I think that's the beauty of Australian netball.
"I know there's a lot of international players in the competition but the environment that Suncorp Super Netball's creating, when they come into a Diamonds camp, the performance amongst the group is of a really high quality.
"I'm excited to keep working with the system to make sure that we still progress players through."
Due to Covid threats, Australia have taken 15 athletes to London, rather than the usual 12 but Marinkovich said winning remained the main aim and forming combinations was key ahead of the Commonwealth Games.
"It certainly won't be a free for all rotation or equal court time, it will be purposeful in what we're putting out there and I think that's the balance I've got to find and understand what time we need with certain people and strength of combinations as well," Marinkovich said.
"You can't just change every quarter and expect it will be solidified.
"This is literally our last opportunity before the girls go back into that decentralised program."
While they remain the world no.1, Australia has the least experienced team in the quad series, with a side including debutants Sunday Aryang and Sophie Dwyer.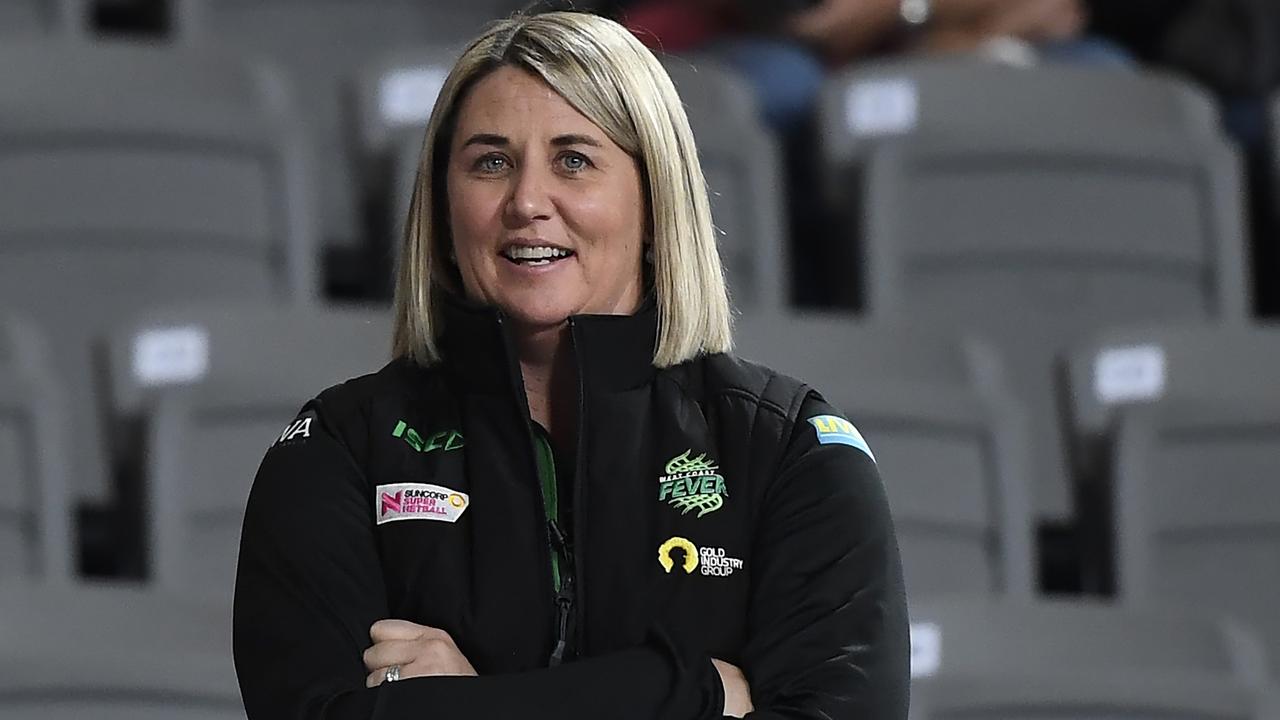 The Quad Series will be just the second international campaign for Diamonds coach Stacey Marinkovich. Picture: Getty Images
But Marinkovich won't be just giving away a gold dress.
"People don't just debut for the sake of and you certainly don't just get to play," she said.
"Whilst we've got to see our rotations and the strength of it, there's still an expectation that every time that combination is put out on court they have a role to play and with that is a standard of execution.
"That will never differ."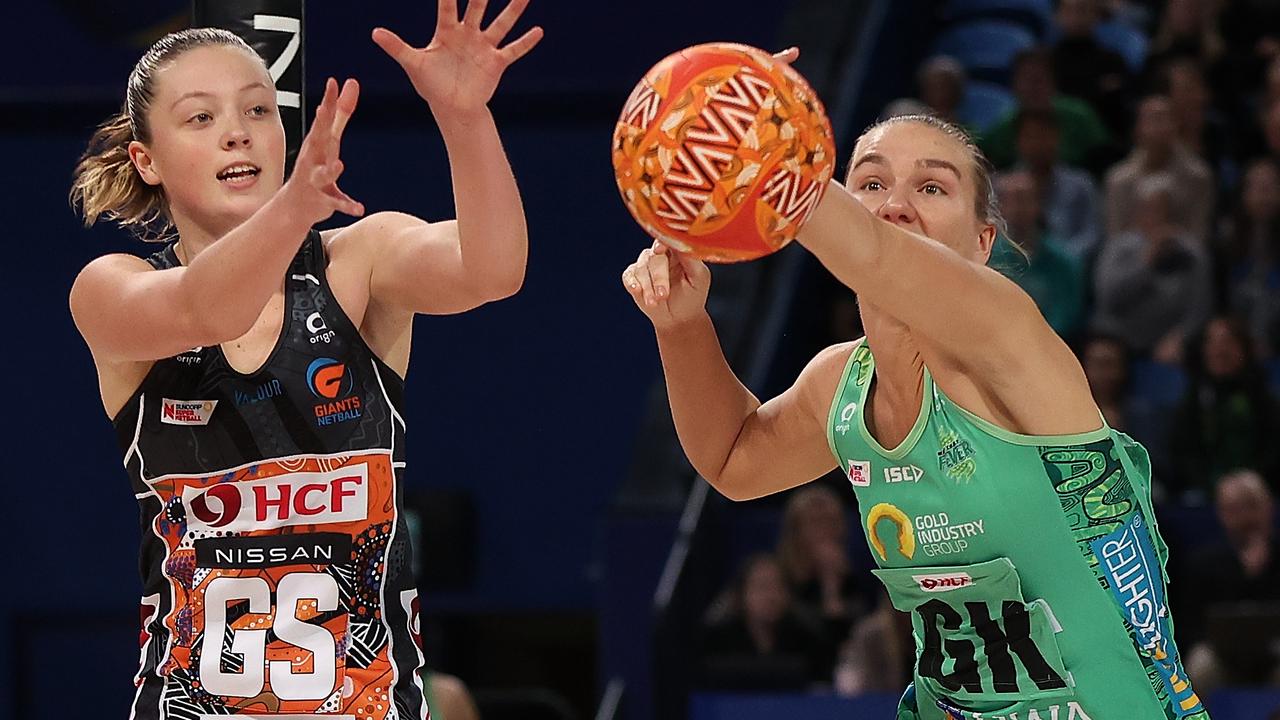 Courtney Bruce of the Fever blocks a pass for Sophie Dwyer of the Giants during the round five Super Netball match. Photo: Paul Kane/Getty Images
DIAMONDS CHAMP'S WARNING FOR QUAD SERIES RIVALS
She won the Liz Ellis Diamond as Australia's best netball player last year but Courtney Bruce had a chilling warning for rivals ahead of the Quad Series in London next week – she can be better.
West Coast defender Bruce wont the award for her performances for the Diamonds in their only international campaign last year, as well as Super Netball, where she led the Fever to the preliminary final.
Likely to start at either goalkeeper or goal defence in the Diamonds' Quad Series opener against New Zealand on Sunday (Australian time), Bruce will bring an upgraded "toolbox" to the court as she bids to stop the best shooters in world netball.
"Last year was a big year and I'm super happy with how I went and credit that award to the work that the girls do out the front of me," Bruce said of her Diamonds and Fever teammates.
"They make me look good and I get the opportunity to come out and pick up some balls."
The Diamonds played just four Tests last year, losing the Constellation Cup to the Silver Ferns in New Zealand in March, before the return series planned for Australia and New Zealand and scheduled three-Test series against England's Roses – both pencilled in for October – were postponed due to Covid.
But Bruce said after a prolonged period in camp with the Diamonds on the Sunshine Coast, she headed back to pre-season training with the Fever determined to raise the bar again on her own game.
"I've been working hard in the little pre-season we've had back in Fever-land (in Perth) trying to add some more to my toolbox," she said.
"So I'm excited to step up (in the Quad Series) in whatever capacity, whether that's at goal defence, or goalkeeper or wherever they want me.
"I'm just hoping to add more consistency to my game in 2022."
Courtney Bruce (right) and Fever clubmate Sunday Aryang will both compete in the Quad Series and could form a formidable combination for the Diamonds. Photo: Albert Perez/Getty Images
The widespread presence of the highly-contagious Omicron variant in both Australia and the UK led Netball Australia selectors to run with an expanded 15-woman squad to mitigate the Covid risk, with the expanded side giving coach Stacey Marinkovich incredible versatility across all areas of the court.
In defence, the Diamonds can run with club combinations from the Fever (Bruce and Sunday Aryang) or premiers NSW Swifts (Sarah Klau and Maddy Turner), with Melbourne Vixens stalwart Jo Weston also in the mix.
Bruce said she would be comfortable wherever placed.
"I feel more comfortable in goalkeeper but I think I prefer goal defence, I probably play it a little differently to some of the other girls," she said.
"Maddy Turner and Sunday (Aryang) and Joey (Weston) are quite like taggers and dogged in their goal defence, whereas I probably play a bit more off line and try to win a bit more ball.
"But any opportunity in any position I'd be stoked."
Bruce said the extended time in camp gave the Diamonds time to work on their "brand" of play but little would chance about Australia's style.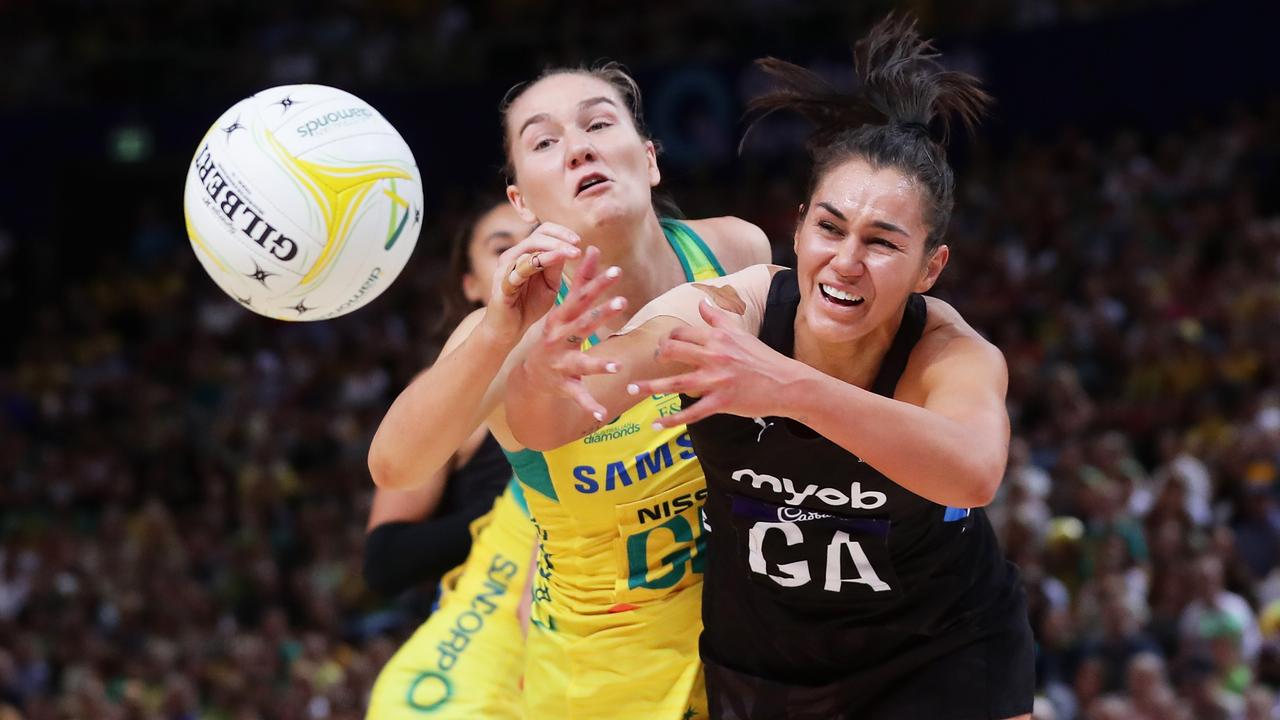 The battle between Diamonds defender Courtney Bruce and Ameliaranne Ekenasio of New Zealand will have to wait until the Commonwealth Games. Picture: Matt King/Getty Images
"I think all of us defenders really play that 'attacking defence' and the best bit about the brand in that is they're still letting us have individual flair – if there's a ball there to go for have a look at it but our basic defence is hard one-on-one, the typical Aussie way but allowing each individual to bring their flair," she said.
"But we've had some really good clarity around what everyone's role is every time they step out on the court and that allows us to put our best foot forward every time."
Ranked no.1 in the world, the Diamonds are determined to make their mark ahead of the Games after losing their past two major championship finals by a goal.
But Bruce and her fellow defenders will have to make some changes between next week and the Games, with former Silver Ferns captain Ameliaranne Ekenasio, who recently had her second baby, and gun Roses goaler Jo Harten, who has Covid to miss the Quad Series ahead of likely Games returns.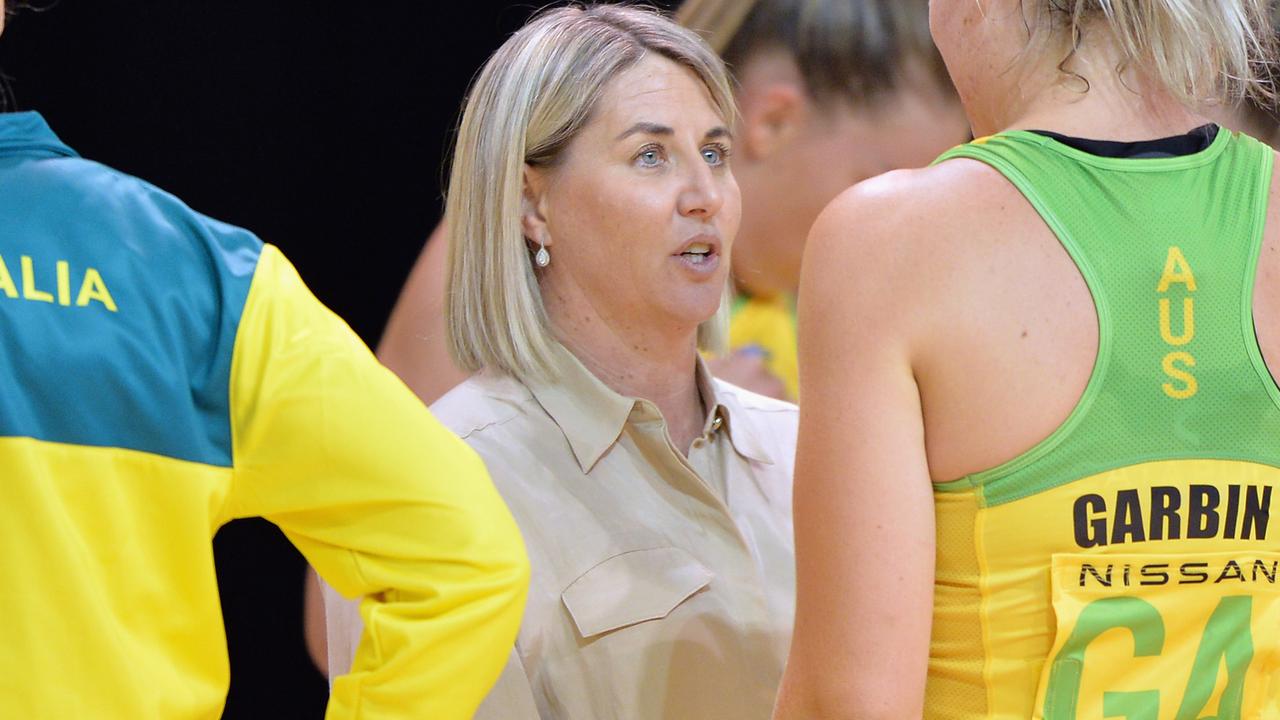 Stacey Marinkovich hopes to have the Diamonds firing on all cylinders in London. Picture: Kai Schwoerer/Getty Images
WHY ISOLATION COULD BE BLESSING IN DISGUISE FOR DIAMONDS
A Covid-forced lack of international competition could turn out to be a blessing in disguise for the Diamonds who head into their final Commonwealth Games preparation having had a rare opportunity to overhaul and finetune their game.
While the cancellation of a home Constellation Cup against New Zealand's Silver Ferns and tour by England's Roses were initially seen as catastrophic, the opportunity to spend an extended period in camp has allowed the side to construct its perfect game.
It's something the Diamonds take into the Quad Series in London from January 16-20, where they will meet the Ferns, Roses and South Africa's Proteas in their final four matches ahead of the Commonwealth Games in July-August.
And like drivers road testing a new engine, the Diamonds hope to be firing on all cylinders in London.
Coach Stacey Marinkovich said the challenge now was to execute under pressure.
"(Our camp on the) Sunshine Coast was a great opportunity for us to actually start to really embed our on-court performance strategy and we were able to play against each other," Marinkovich said.
"The only thing that has really shifted a bit is to be able to understand what that looks like against other styles of play and what is it that's going to challenge us to take us away from our game plan."
While the Diamonds have lost the last two major international tournaments – the 2019 World Cup and 2018 Commonwealth Games – going down by a single goal in each final, they remain the no.1 team in the world and have the luxury of incredible depth.
That has allowed them plenty of competitive match play in house, but Marinkovich conceded she has had to adjust the plans she had when first appointed Diamonds coach last year.
"It's certainly been an environment where we've had to adapt our scheduling," she said.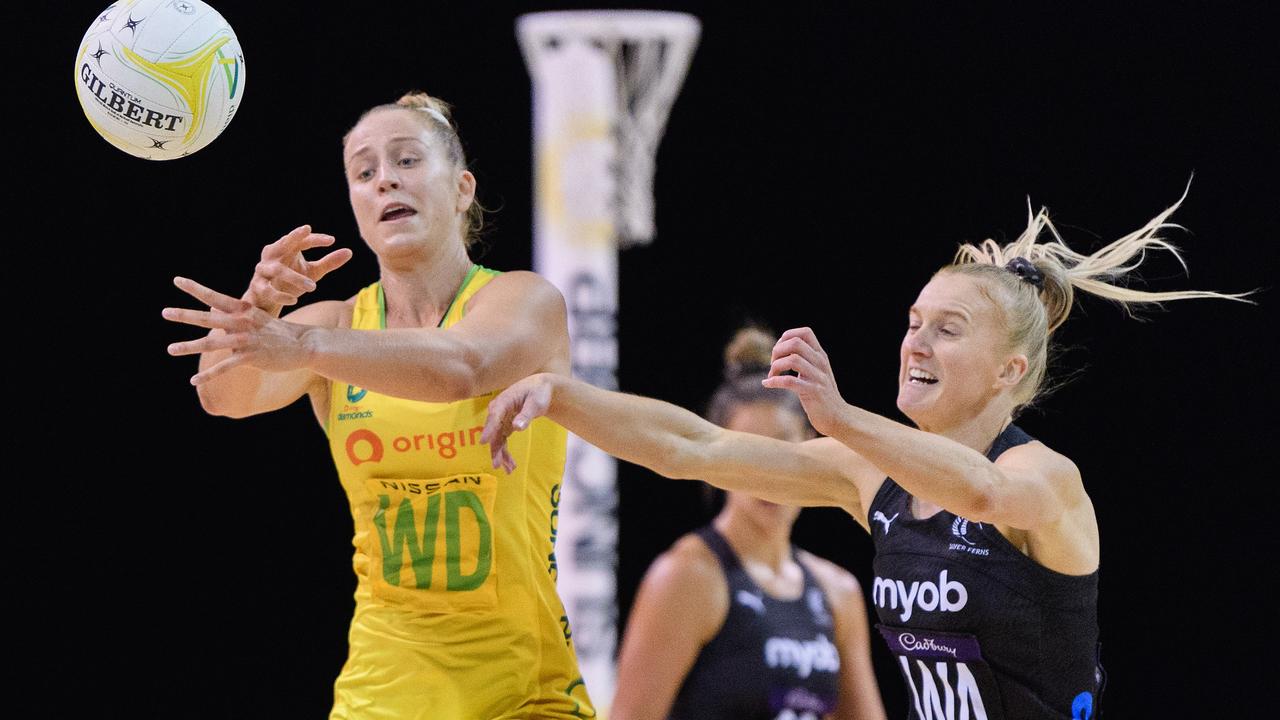 The Diamonds will renew hostilities with the Silver Ferns in London. Picture: Kai Schwoerer/Getty Images
"But the content in what we're trying to put in play has always been there, just the focus has been a lot more internalised in terms of the way in which we can prepare games wise."
Taking on defending Commonwealth Games gold medallists England, and World Cup champions New Zealand will be a welcome challenge.
"People relish this opportunity and I think that's something in the Diamonds, we've certainly (realised) – you can't play international netball at the drop of a hat anymore," Marinkovich said.
"So when you get this uniform, when you're stepping out and going to hear the anthem, all those types of things, it's an absolute privilege and that's where the emotion and the passion for this competition is probably going to be higher than what it's been before.
"We haven't seen these teams in the one arena for a considerable amount of time."