'No, just stay': The humour, irony and hard call of Sophie Garbin's shift from the Swifts to Magpies
Sophie Garbin cried every night of her first week in Sydney before making her name with the Swifts. But when time came to move on once more, Briony Akle didn't exactly make it easy for her, writes LINDA PEARCE.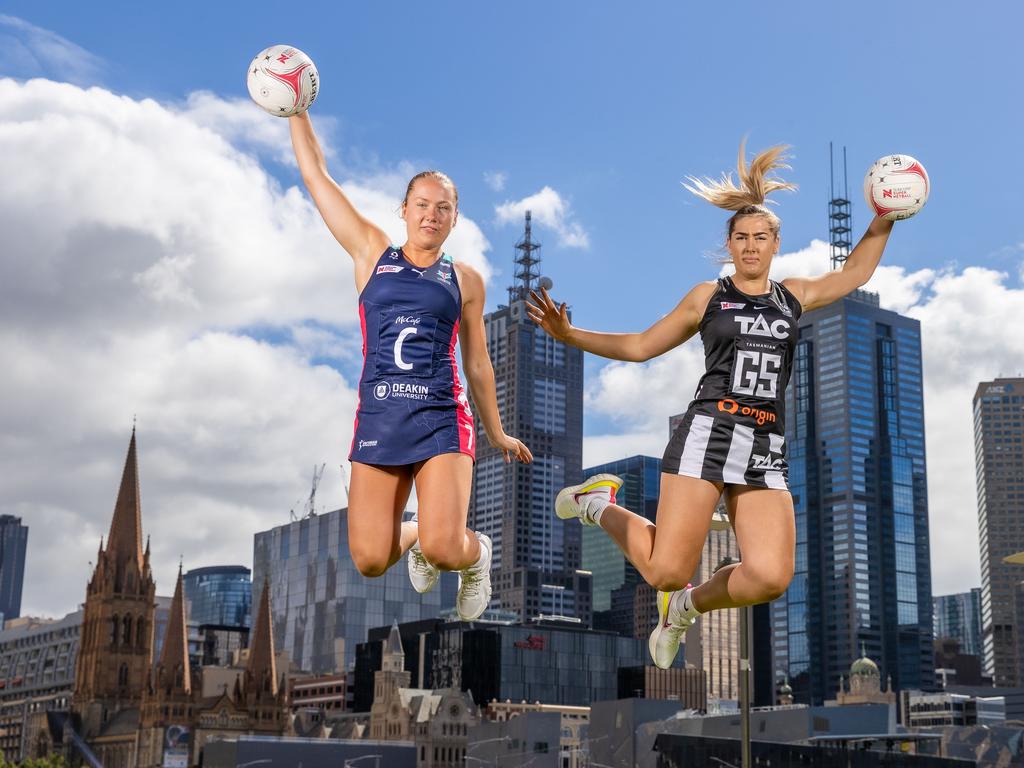 Sophie Garbin is making the most of her new home in Melbourne with the Collingwood Magpies. Picture: Jason Edwards/NCA
The hardest call Sophie Garbin had to make was to Briony Akle. The one where, after much deliberation, four years and two premierships, she told her NSW Swifts coach she was leaving.
For Collingwood. For opportunity.
Akle knew that the talented West Australian shooter, on the cusp of selection for a debut Commonwealth Games in July, had been considering her options at the end of another season spent largely as a bench impact player behind entrenched international Sam Wallace and Helen Housby.
Which didn't make it any easier for Garbin to confirm the news of her departure.
Or mean Akle was any more willing to hear it.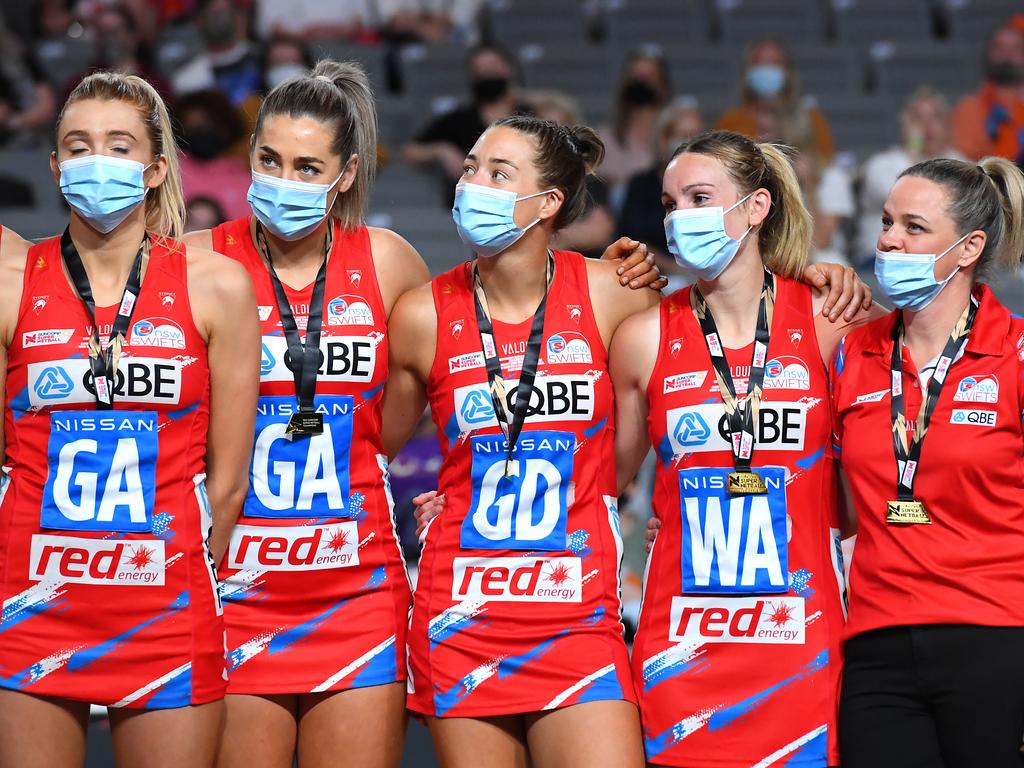 The hardest part of Sophie Garbin's (second left) move to Collingwood was telling head coach Briony Akle (far right). Picture: Albert Perez/Getty Images
"Obviously Briony didn't want me to leave and it was very hard to tell her," Garbin says. "Just because she's been such a good support for me, we still have a really good relationship, and at the time she was doing everything to convince me to stay.
"Even when I called her to tell her that I'd signed (with the Magpies), she was like 'No! No. Just stay'. I thought she'd say, 'OK, I respect your (decision)'. But she was like, 'No, no, I want you to stay'.
"So it was very emotional saying goodbye to her, because she had done so much for me. She's a great person and a great coach and I think she's gonna be a legend after her career finishes.''
The other wrench was away from the Swifts' tight knit playing group, including housemates the Maddys (Proud and Turner), and Sarah Klau, with Garbin moving out the same day former Vixen Allie Smith arrived to take over her old bedroom.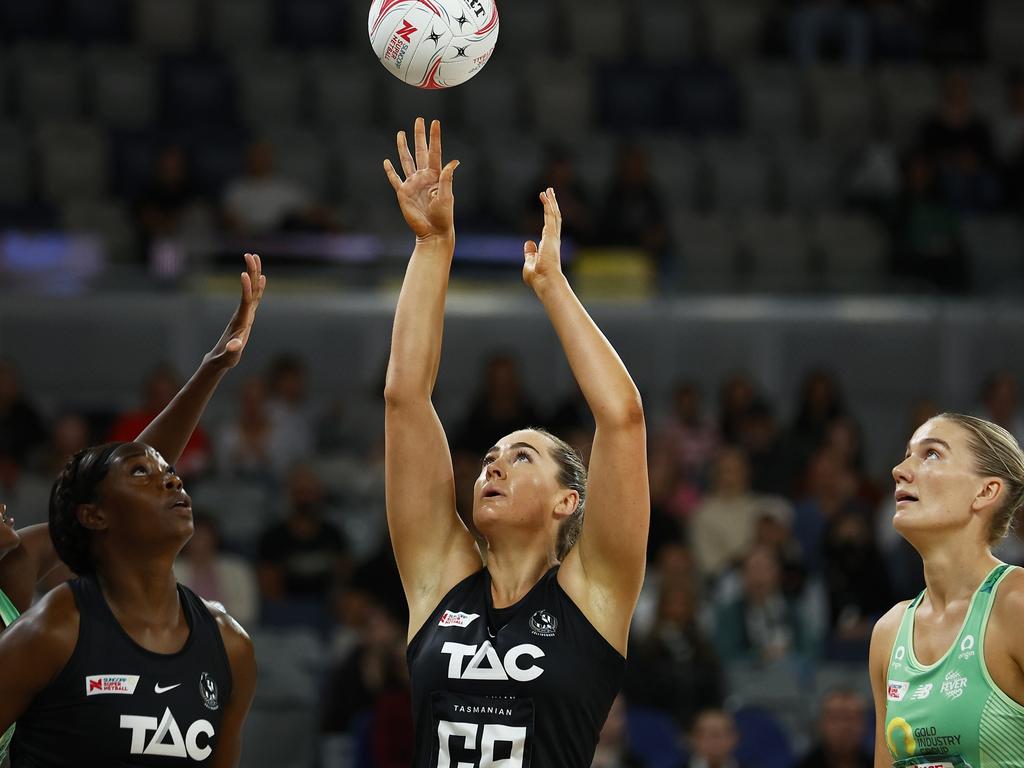 Sophie Garbin chased more time in the shooting circle and a starting position at Collingwood. Picture: Daniel Pockett/Getty Images
Yet this had been on Garbin's mind for several years, given her limited role in the majority of her 49 games. Should she stay? Should she go? And should she go then, with all players out of contract at the end of 2021 to coincide with an expiring broadcast deal?
"I thought it was my best opportunity to go somewhere because no one was really signed,'' Garbin says, adamant she was not chasing court-time, specifically, but a new and bigger role.
"I just didn't see that really changing at the Swifts. We had Helen and Sam as our two dominant shooters and I was that impact player, and I didn't really see the opportunity for me to break into that.''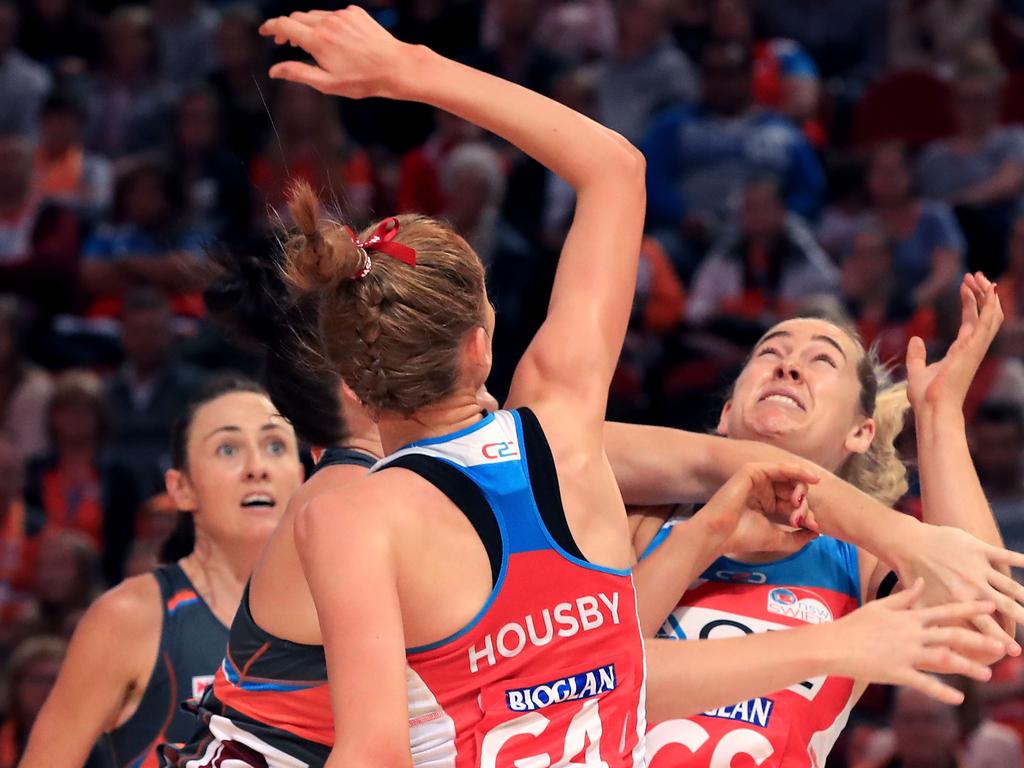 Garbin (right) was stuck third in the shooting line behind Helen Housby and Maddy Turner in the Swifts squad. Picture: Mark Evans/Getty Images
The contract subterfuge played out in Queensland at the end of last year's Super Netball season; the Swifts celebrating their second championship in three years with a post-season holiday, before Diamonds squad members attended a training camp on the Sunshine Coast.
The negotiations were secretive. The situation, almost awkward at times. At lunch, instead of discussing things openly as they usually would, Garbin says players were slinking off for private phone calls.
"I think when I officially signed there were five of us left, waiting for Aussie camp,'' Garbin says. "I said to them that I was leaving and it was obviously very sad, but I think that they kind of knew it was coming and they supported my decision.''
So Collingwood it was, as the Swifts lost all three members of the competition's strongest bench, including back-up defender Lauren Moore to the Giants, and Nat Metcalf (nee Haythornthwaite) back home to England.
And then, in round one of this season, came the biggest news of all: spearhead Wallace had torn her ACL.
A replacement shooter was needed. Ideally, one just like Garbin, whose services Akle and the Swifts had just lost.
Timing can be cruel, sometimes. Or as Magpie Kelsey Browne quipped to her new teammate: "If Briony didn't hate you already, she does now!''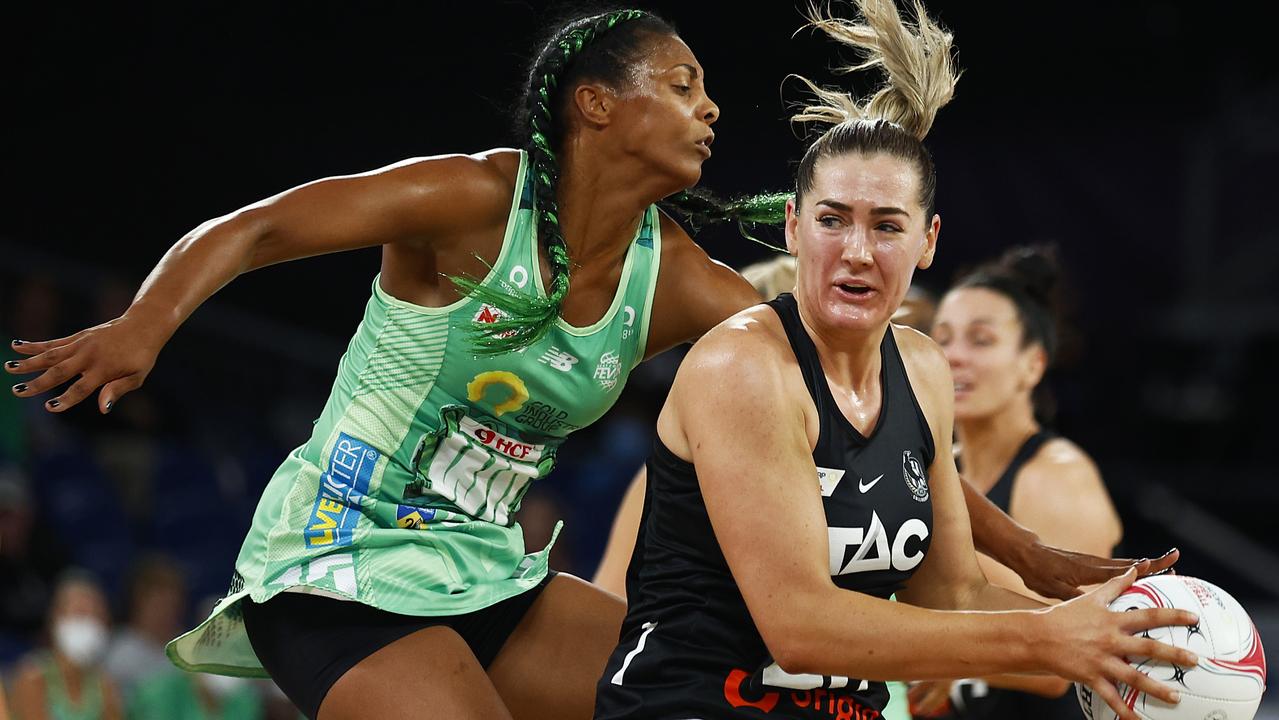 Garbin's move to the Magpies has left a gaping hole at the Swifts, with the loss of their spearhead shooter Sam Wallace to an ACL injury. Picture: Daniel Pockett/Getty Images
*****
Garbin's first thoughts were for her Trinidadian pal Wallace, though, and she insists none of those that followed were of the OMG-perhaps-I-should-have-stayed variety.
"Oh, no, not at all. I was absolutely devastated for Sammy, but I know she's got such a good support network around her," Garbin says, recalling that she was living with Proud when the Swifts co-captain suffered a similar injury in 2019 and had warned her housemate she couldn't deal with a repeat. "And Maddy kind of looked at me like, 'Well, excuse me, but I went through it'.
"A lot of people made some jokes about (me wanting to return to the Swifts). There has not even been one thought about that. I'm enjoying not even just the netball here, but the life outside of it and growing as a person that way as well.''
It was never to enhance her Commonwealth Games prospects, she insists, for Garbin believed the greater risk was in moving, given she had been selected for the past two Diamonds tours while playing and living where she was comfortable, while still coming off the bench.
Thus, she was left to manage the what-if thoughts and stresses of moving, while maintaining a longer term focus. She had seen former national captain Caitlin Bassett forced into retirement, in part for being a one-position player. Garbin is a more natural goal shooter, but equally determined to expand her repertoire to goal attack.
"Physically I'm quite a strong body and I think when I play goal shooter my biggest strength is my strength in the air, and my hold and my take on the ball, so I think I've just started to learn that I can actually do that stuff outside of the circle. Light bulb!'' Garbin says.
"Even the girls around me here are like, 'We back you! We can throw that high ball to you in a one-on-one because we know that you can take it'. So it's trying to bring my strengths from inside the circle to outside it.''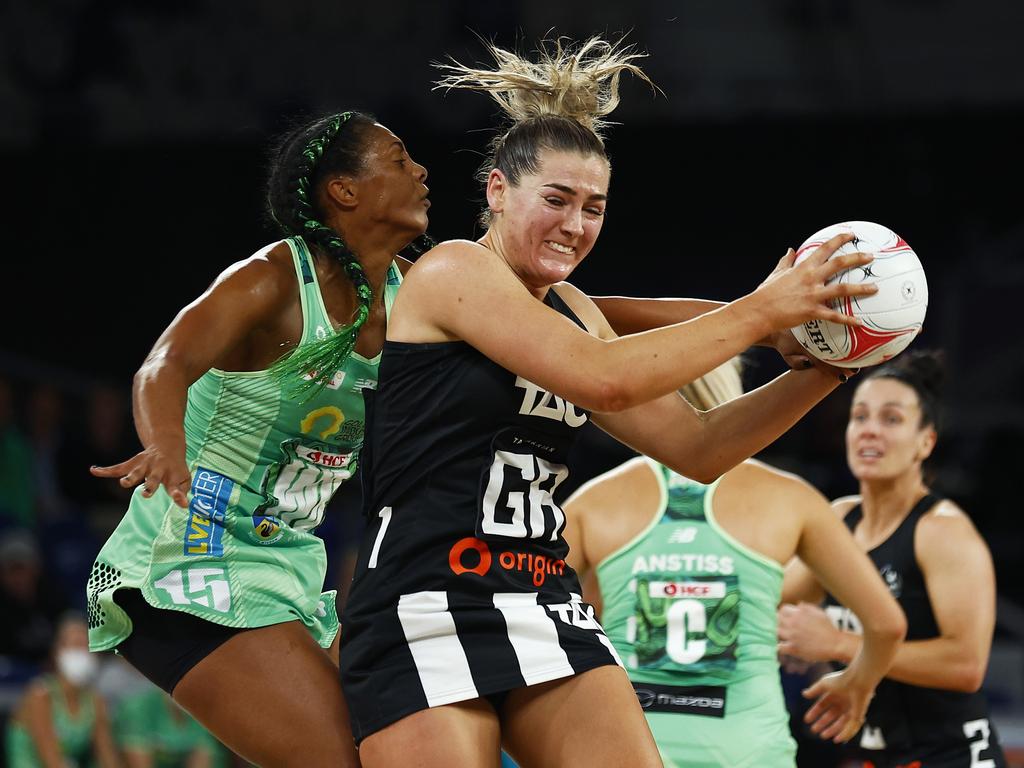 Garbin's strength in one-on-ones and vertical leap is a huge asset for of the Magpies. Picture: Daniel Pockett/Getty Images
Proficiency across both spots is also what Collingwood is seeking, coach Nicole Richardson having first crossed paths with Garbin in Perth during her time as a West Coast Fever assistant coach, where the youngster was a Super Netball training partner while dominating at ANL and State League level.
"What we need for our team is for Soph to be comfortable out at that goal attack role," Richardson says. "And I'm really happy with the progress that she's been making, and that's just going to improve the more she plays there.
"We were looking for someone exactly like Sophie: someone who had the capacity to be a bigger body and a bigger presence across the transverse line, but also be a focal point back if we needed to make (Shimona Nelson) accountable under the post.''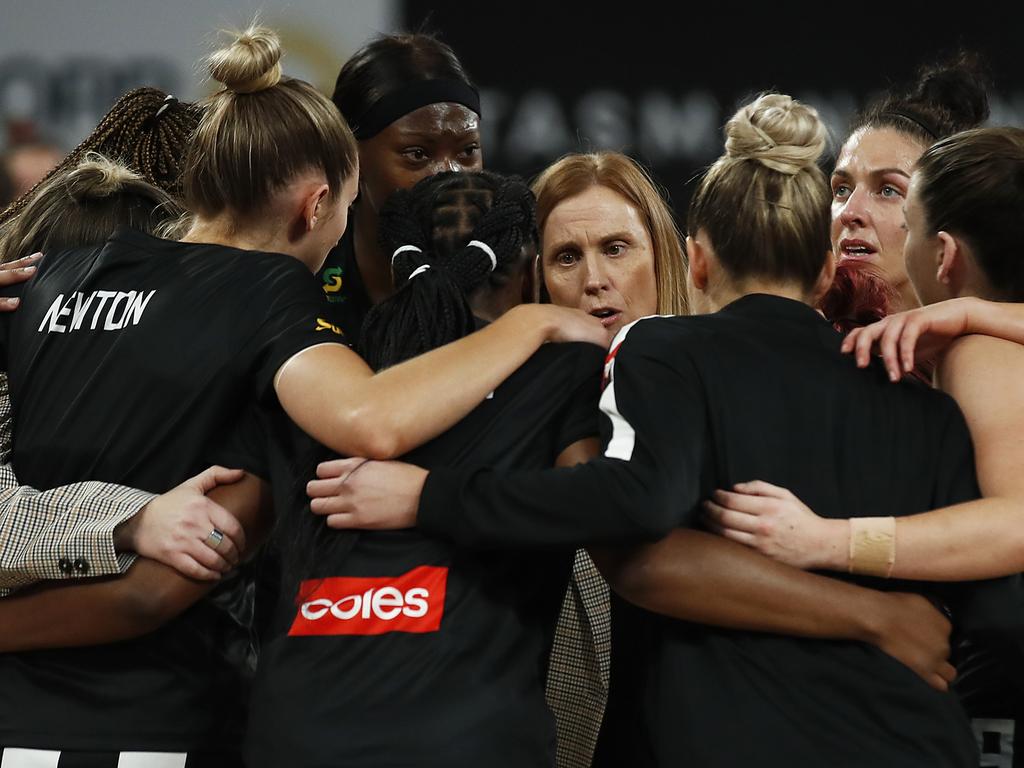 Sophie Garbin was exactly what Magpies head coach Nicole Richardson was looking for. Picture: Daniel Pockett/Getty Images
Yet just as Fever improver Sasha Glasgow can attest, there is a unique challenge in adapting to a new position when you know you actually play better somewhere else.
"Yeah, it's so funny,'' says Garbin, standing at a solid 184 centimetres. "All through my juniors I've been told, and I think Sasha's probably been told the same thing: 'Too short, too short, too short. You can't play shooter, you've got to be a goal attack. You're too short, too short.'
"So I'd do all my state team training in goal attack and then as soon as we got to nationals I'd just be put back in goal shooter, because I would make a big impact there.
"Which is kinda cool, because you don't need to be that massive tall shooter any more. Obviously at the start it was hard but I feel like it's been coming for me for a few years. I've had that opportunity at Swifts — the last two years probably I've played more goal attack than I did goal shooter.
"It's exciting. I love learning a new position. Not that I think I've clocked goal shooter; I still think my game can evolve there so much. I just like being involved. I love defending. I love that I can have an impact in a game that way, and all that strategic stuff around the centre pass I really enjoy.''
Even at 184cm, Garbin is one of the shorter shooters in the Super Netball. Picture: Daniel Pockett/Getty Images
Curiously, for such a talented player, Garbin has long struggled for minutes in senior ranks. Having moved to Perth from the red desert town of Kambalda, 40km from Kalgoorlie, at the age of 13, big sister Darcee (captaining the Perth Lynx in this weekend's WNBL decider, and Glasgow's housemate, coincidentally) pursued a basketball career, while Sophie chose netball so she could play with her friends.
Yet despite a decorated under-age career and record-breaking season for the Perth Sting in the second-tier league, when a shooting position opened up at Fever for the dawn of Super Netball in 2017, it went to superstar Jamaican Jhaniele Fowler.
Impossible to argue with of course. But so is that fact that home in laid-back Rockingham was where Garbin would have preferred to stay.
Instead, she was forced across the continent to gain a contract, and cried every night for the first week in a busy city she had only visited once.
What was she doing there? That became clear soon enough.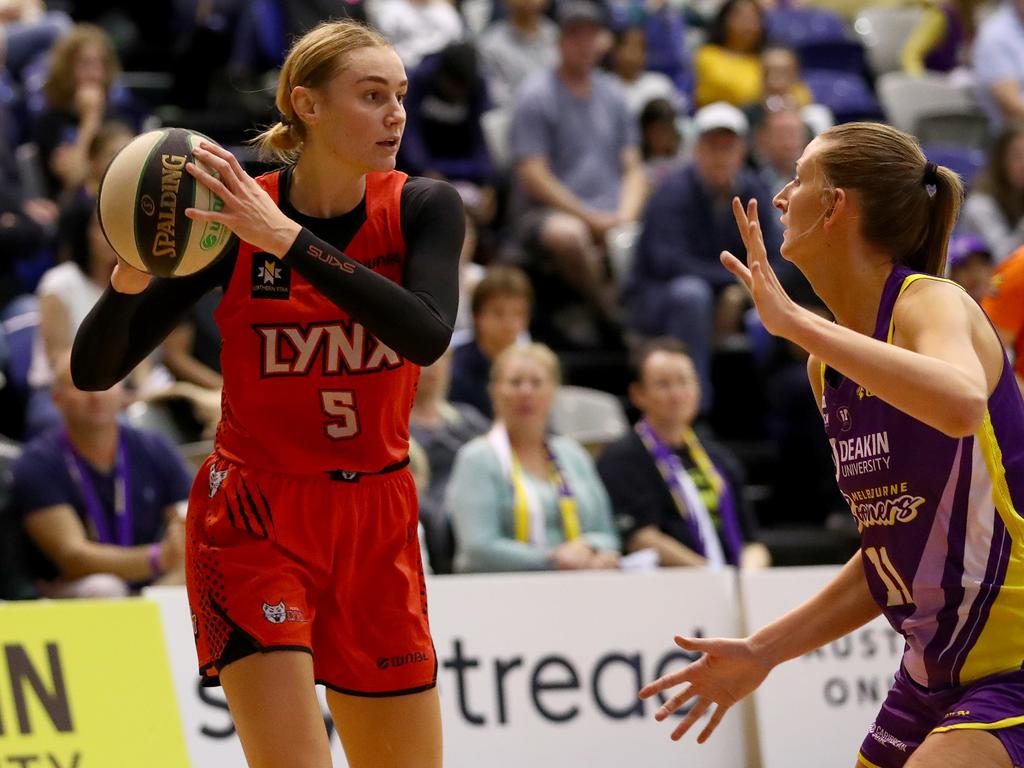 Sophie's sister Darcee Garbin plays for the Lynx in the WNBL, having pursued basketball over netball at a young age. Picture: Kelly Defina/Getty Images
*****
The first game. A crowd of almost 10,000 for Swifts-Firebirds.
Fairy tale alert.
After just 20 minutes, albeit 20 minutes on the great Laura Geitz that produced 18 goals including the matchwinner with seven seconds remaining, her then captain Abbey McCulloch declared Garbin would be the next Australian shooter.
"She was already talking me up. 'No pressure, Abby, no pressure','' Garbin laughs. "But I think it's great because now every time I play, Laura Geitz gives me a massive wrap (in commentary), because she remembers that day!''
Garbin recalls being fuelled by the belief instilled by Akle, who ditched her predecessor Rob Wright's conservative four-year plan in favour of a more ambitious mindset.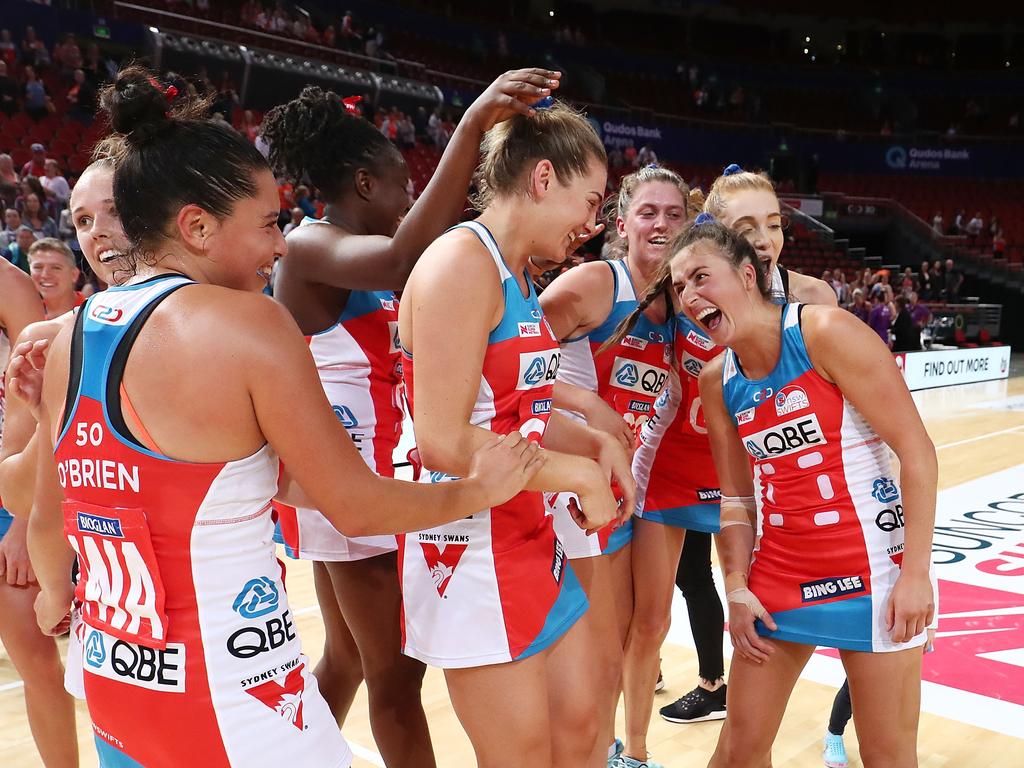 Garbin's 2018 Super Netball debut for the Swifts gave something to the national selectors to consider. Picture: Mark Metcalfe/Getty Images
We can win it this year, was the message. And you can be the best shooter/defender/midcourter in the game. Why can't you? All of you?
"She just gave everyone in the team so much confidence. So when I went on in that first game I knew that she backed me and everyone else backed me as well. So that energy that she brought from that very first day, the very first meeting, I still remember it, and I took that into my debut and I was able to do all right.''
Understatement alert, for, suddenly, everyone wanted to know about the youngster from Perth. Immediately, defenders were conscious of the damage she could inflict. They had just seen it. Everyone had.
Yet McCulloch was slightly premature with her next-Diamond prediction. Garbin's first tour was not until early-2021 as part of a large Covid-bloated squad for the delayed Constellation Cup in New Zealand.
It was a time when she was not really enjoying her netball. Had lost some of her love for the game. Was struggling on the shot, in particular. Stressed about her performance, generally. Second-guessing herself after seeing younger players arrive and vault into starting sevens. Feeling doubt and frustration.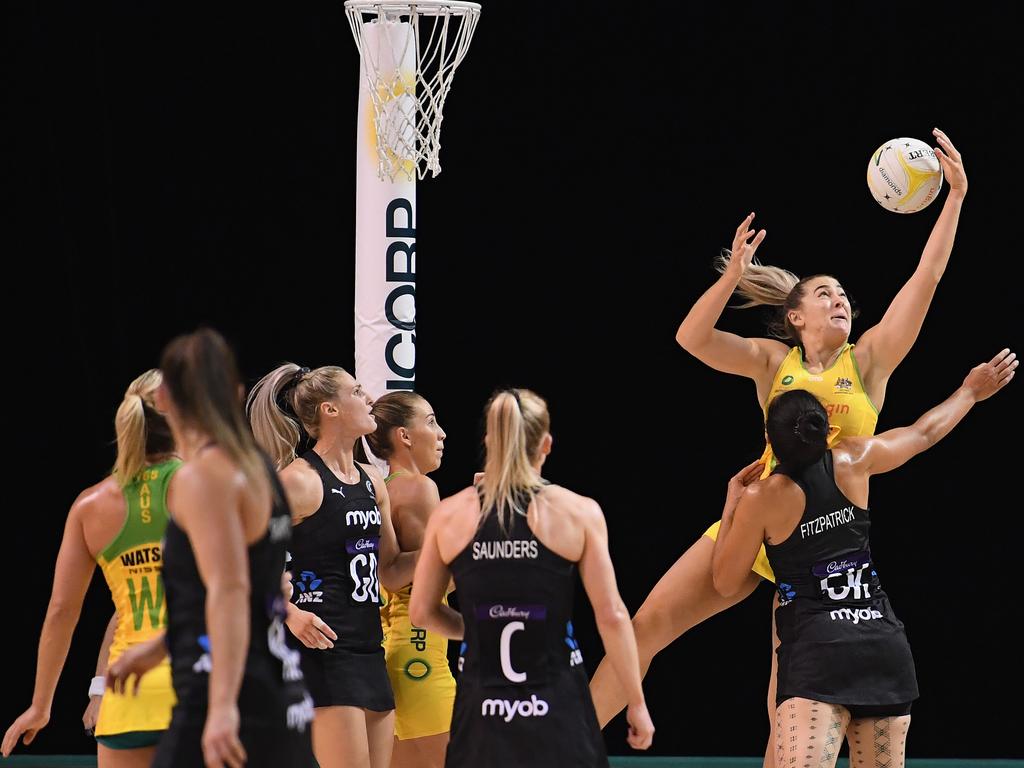 Garbin's international debut came in the Constellation Cup in 2021, three years after her Super Netball debut. Picture: Kai Schwoerer/Getty Images
With the help of a mentor and a sports psychologist, plus Akle and her assistant Bec Bulley during 2021, Garbin gradually started feeling like her old self again — even if her place in the pecking order behind the Sunshine Girl and the English Rose stayed unchanged.
A perennial question is whether imports should be limited to provide more jobs and exposure for Australians — and especially given the GS bib has proven the hardest for a local to snare.
Garbin: "Maybe at first when I was trying to get in I was like, 'Oh, yeah, they should have caps'. But if you can get a starting spot over an international shooter, then you're obviously doing well. You want to be playing against the best but you also want to be competing against the best for that position if you want to be the best in the world.
"So that's why me and people like Sasha Glasgow have had to change our game style and play a different position. But you see people moving around the court all the time. And I just think that's the way the game's moving in SSN and even in the Diamonds environment.''
Her second experience with the national team, in London for January's Quad Series, was more positive. Two Tests. More minutes. Then back to her new home at the Magpies under Richardson, whose other job is as Stacey Marinkovich's No.2, and liked what she saw in the UK from her club recruit.
"So Sophie's probably the one Australian goaler at the moment who does offer that true post-up goaler (skillset),'' Richardson says.
"So it will depend on what Stace and the selectors want, but she does add another dimension, and her strength in the air is amazing. Every time she jumped on court in the Quad Series in England I thought she grabbed that opportunity with both hands.''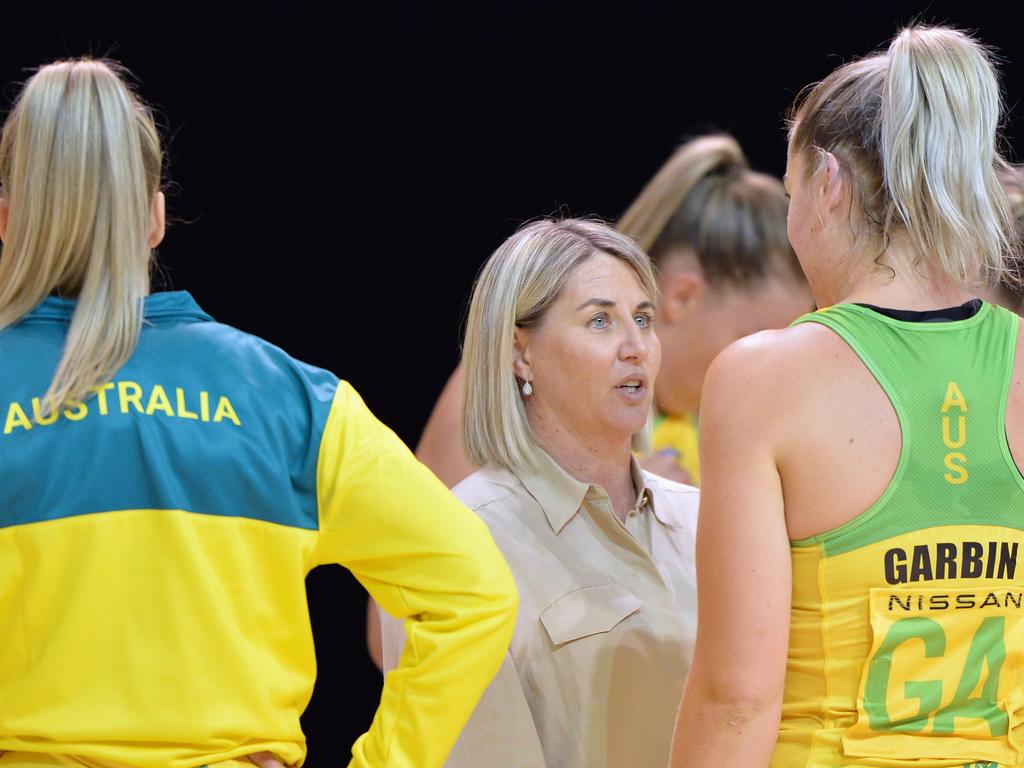 Garbin played a key role in Australia's winning performance at the Quad Series in England at the start of 2022. Picture: Kai Schwoerer/Getty Images
*****
On Saturday night at Ken Rosewall Arena, the winless Swifts host the winless Magpies in round 3. Dangerous ground for both.
The popular Garbin, now a Collingwood morale officer, energy provider and avid baker of cookies – "big soft ones with lots of chocolate'' – is guaranteed to line-up on an old housemate. So is her preference for tagger Turner or the taller Klau?
"Probably neither of them! Actually Maddy is probably more annoying, I think she'd probably just be heckling me, so that'd be fun.''
And her other buddy, the ebullient funster Proud: "She'll just be jealous, because I'm probably friends with whoever she's playing on and she'll want to be better friends!''
Garbin had no plans to speak with her Sydney mates this week, avoidance having seemed a better idea for the dual winner of the Players' Player Award. It's still emotional for her, one senses, and the pre-season Team Girls Cup clash was a good one to get out of the way.
"I'm just trying to stay focused on my game, but I think it's going to be quite hard,'' says Garbin, who called Akle before round one to wish the coach and her old team the best for the season.
"I said to Briony, 'I'm not gonna be able to speak to you, because we can't be friends for 10 weeks, so I'll call you now and say good luck'. I still have really good relationships with everyone, so hopefully I can put them aside and get the win on the weekend.''