Perfect to a fault, Diamonds rookie Sophie Dwyer is thriving in netball's pressure cooker
Wretched misfortune for a teammate saw Sophie Dwyer thrust into the spotlight still in her teens. Making the most of an imperfect situation, Australia's newest Diamond is shining brighter than ever.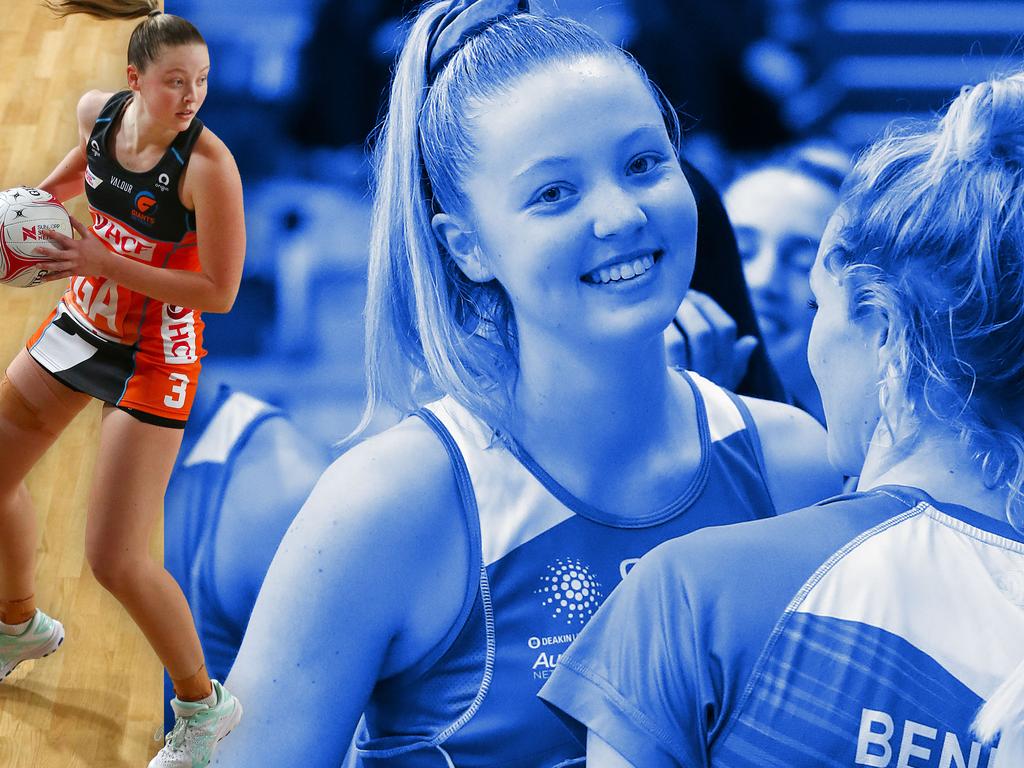 'The thing that stood out the most at camp was just that she's a dead-set competitor.'
Sophie Dwyer won Netball Australia's Rising Star Award three days after her 20th birthday, played every game for the grand finalist Giants in her debut Super Netball season and ranked second in the league for two-point super shots among 389 goals – also top 10 in the competition.
Remarkably composed for one so young and inexperienced, she is also intelligent, articulate and bubbly. Decent pedigree, too. The sports science student is part of a family of NSW junior/senior representatives across four different sports including cricket (dad Anthony shared a state under 19s team with a couple of Waugh twins, Gavin Robertson and Brad McNamara), and water polo (little/big – at 196cm – brother Jack is in the "Paris and Beyond" squad for current and potential Olympians).
Dwyer herself is the youngest member of a 15-player touring party heading to London this week for the Quad Series against England, New Zealand and South Africa, having been called up just hours after she was named in her first national development squad.
So far, so (super) impressive.
The flaw, then. Apart from a slightly substandard grand final performance in the loss to the Swifts, there must be one. Surely.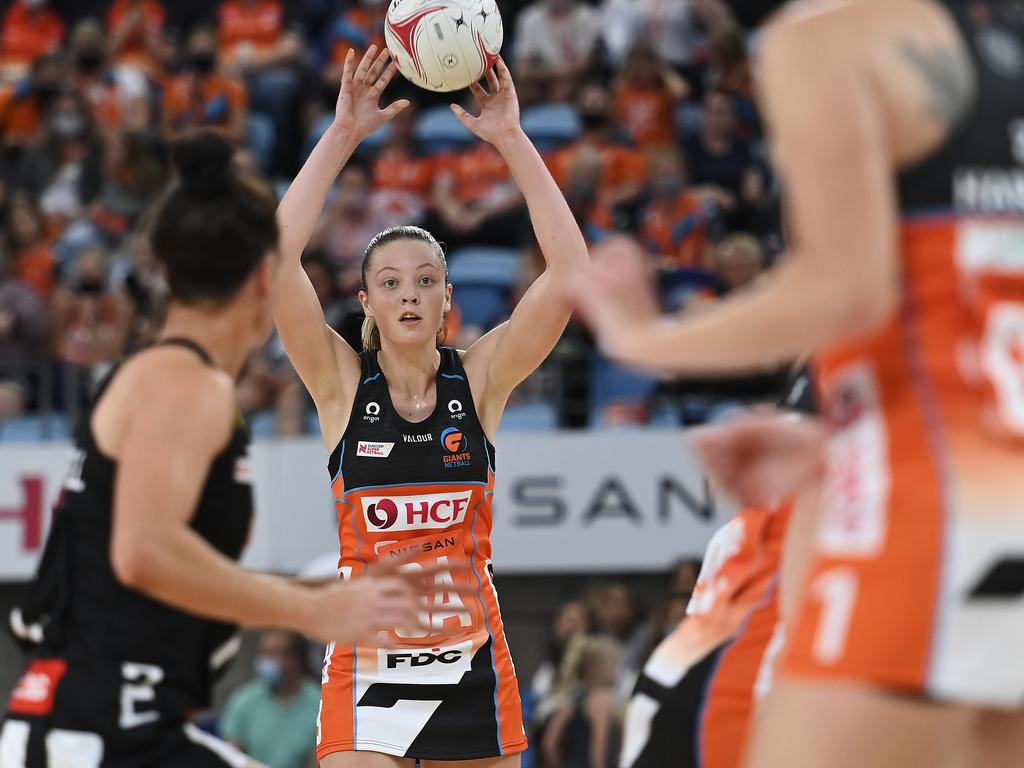 Dwyer was thrown into the competition for the Giants and has taken it in her stride. Picture: Jaimi Joy/Getty Images
"I think a lot of the girls knock her for being perfect,'' Giants coach Julie Fitzgerald laughs. "She does get teased a little bit for being perfect. And she just takes it all on the chin and laughs along with everyone else.''
Not a bad problem to have, and Dwyer is also self-aware enough to acknowledge the right-place-and-time element of a lucky break that came simultaneously with teammate Keira Austin's wretched misfortune.
Both are products of the NSW pathway, with Austin four years older. When Dwyer replaced former Diamonds captain Caitlin Bassett on the Giants roster last year, the Eastwood-Ryde graduates were set to collaborate for the first time.
Austin would be in the starting seven and Dwyer was ready to make an impact off the bench behind her and English international Jo Harten.
Until.
Round one of Suncorp Super Netball. Early in the second quarter. Austin's right knee crumples. An ACL tear is feared, then confirmed. In an instant, Dwyer goes from understudy to Harten's co-star on centre stage of the world's best domestic league.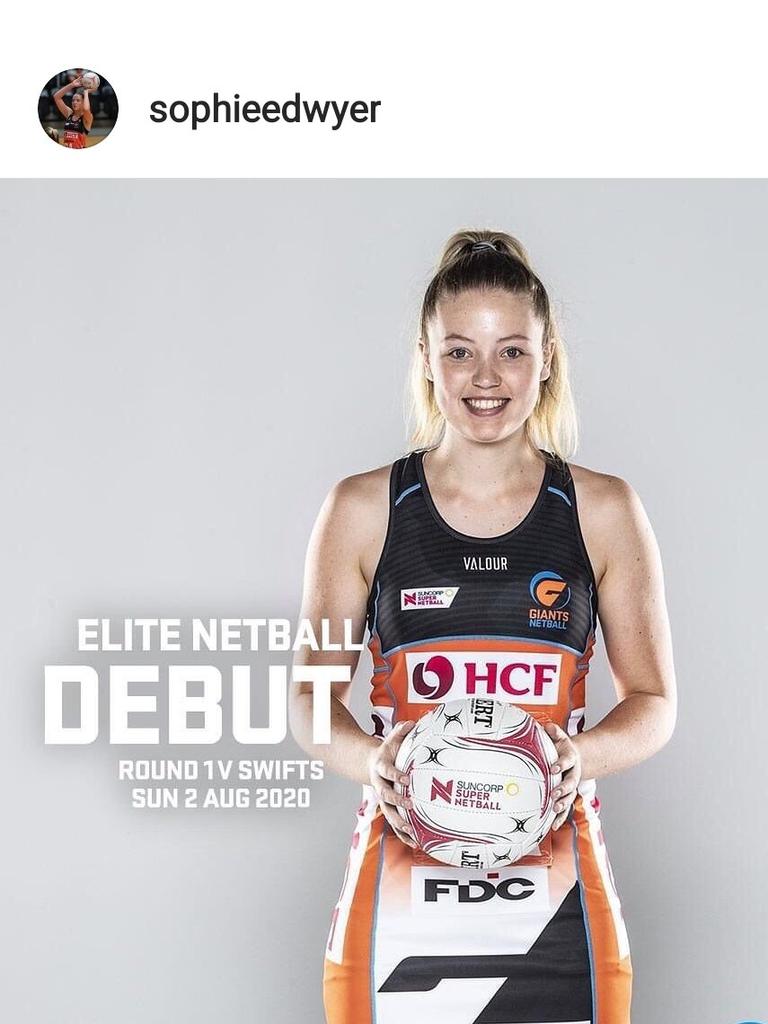 Dwyer's debut came unexpectedly in 2020, even though she had little expectation of playing that season. Picture: Instagram
"Literally, everything changed in that minute,'' Dwyer says. "After that first game I was kinda running on adrenaline. I was in a bit of shock, I think, and just had to get through that game, obviously.
"We didn't know what happened to 'Kip' (Austin), but I think a lot of us were tearing up when we knew that it didn't look too good, and I guess starting that second game was when it kinda hit me that 'this is my chance, this is my season where I can really prove that I deserve to be here'.
"Sharing the shooting circle with an English Rose and an Australian Diamond, I didn't have too much of an expectation to play. I was just 18 when I signed the contract so it was a bit intimidating thinking that I was going to be playing against the best defenders in the league and trying to shape my game.
"But I definitely thought that I just had to take my opportunity whenever it came; not that it was going to come as quickly and as early as it did, or as much game time as, in the end, it turned out to be.''
Quite the promotion. Steep trajectory. Rave reviews.
"We always knew Sophie had the talent,'' Fitzgerald says. "But once Keira went down in that first game, our only concern would be 'could she do it week in, week out, for a whole season?' and pretty much she did. A young player can often come in and have a blow away game and then the next one's terrible, but Sophie had the ability to do it week in, week out, and that's what was pretty incredible about her year.''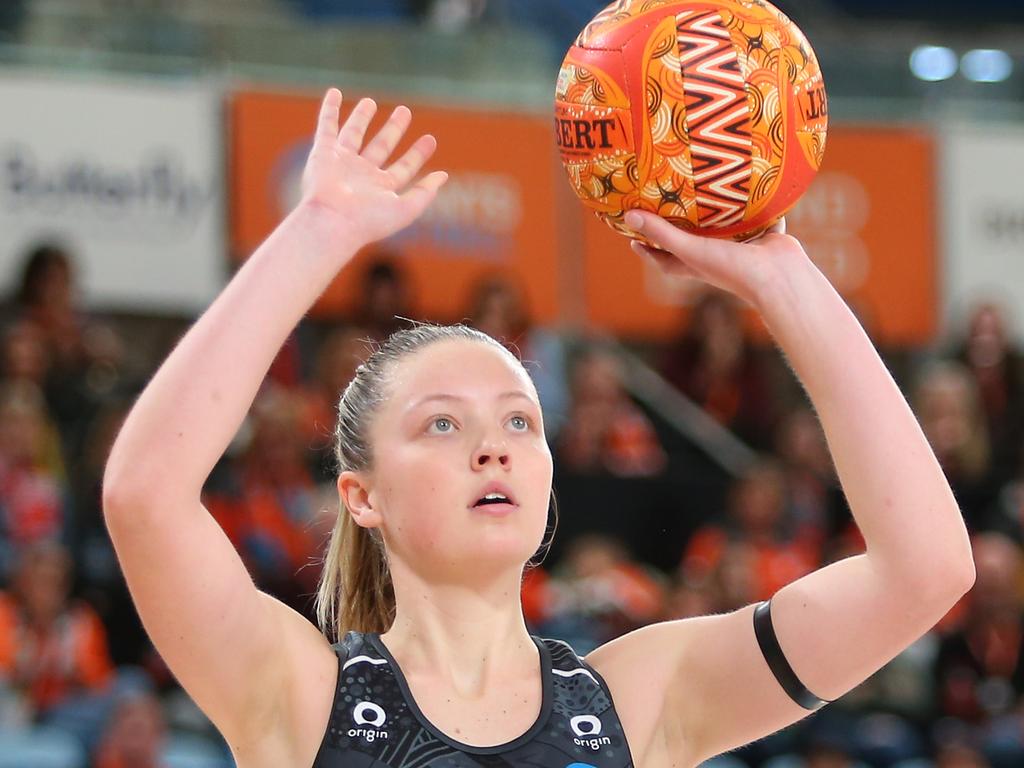 Dwyer's calm demeanour on the court doesn't mean she isn't passionate. Picture: Jason McCawley/Getty Images
Mum Louise was a state hockey player. Dad the aforementioned Blues fast bowler. Young Sophie the short-arse wing attack who started playing at school because her friends did, then grew sufficiently to find her natural place in the shooting circle at under 12s representative level.
And never left.
Having grown up idolising Susan Pettitt (nee Pratley) for her court smarts and the turn-and-shoot fearlessness of Kiwi Maria Folau (nee Tutaia), she is now making her own name combining elements of both.
Always confident from long range ("you miss 100 per cent of the shots you don't take"), only Harten attempted – or made – more two-pointers than Dwyer in 2021. In concert with seeming to have rare time and space on the court, a cool and apparently unflappable demeanour is one she takes pride in. Defenders can't know what she doesn't show.
Yet the clichéd "ice queen" tag can bring with it connotations of lacking passion for the contest. "There is a fine line because obviously I very much do care, and it always gets chucked around that I don't show much emotion on court – I guess compared to Jo, who probably shows everything! But it's not that I don't care; it's just that that's my way of staying focused.''
Her shooting partner Harten is indeed at the other extreme, and the vocal and animated Giants captain is a source of constant on-court instruction, direction and feedback. Most of it helpful. A lot of it loud.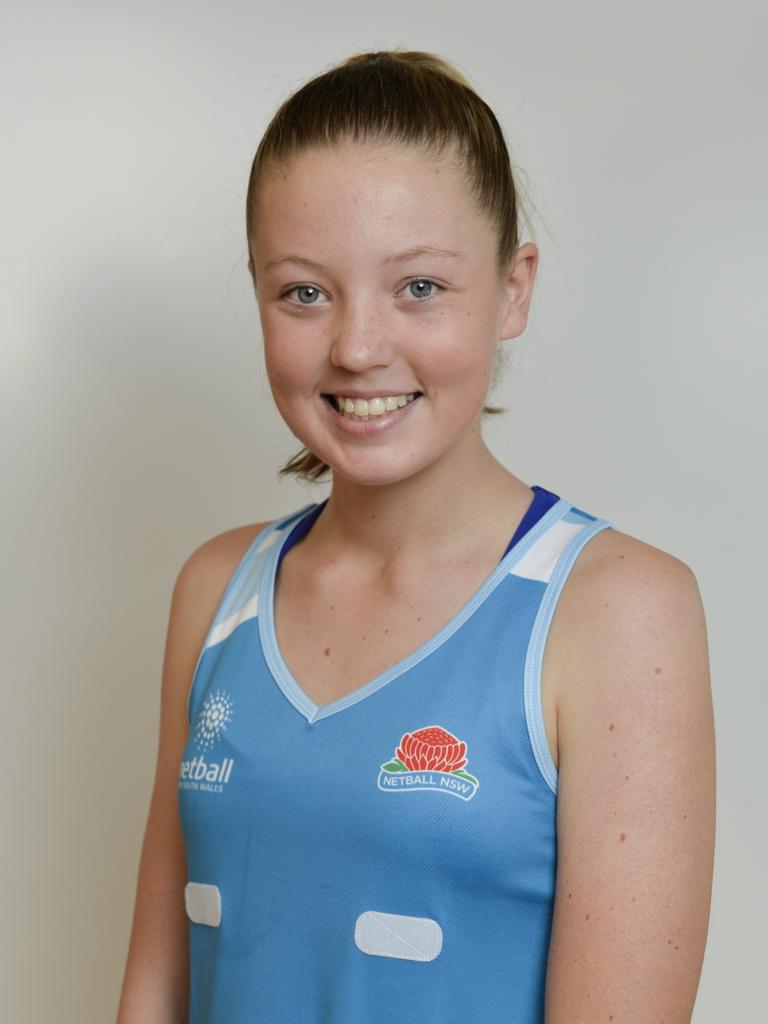 She was selected in the NSW squad for the 2018 under 17s National Netball Championships. Picture: Netball NSW
And again in the under 19s squad. Photo: Narelle Spangher/Netball NSW
Is it the voice Dwyer hears in her sleep? "It's not that bad! No, but Jo's very fun to play with, and someone I've looked up to for a while, so yeah, it's pretty surreal even thinking about it, still. I know she's my teammate now but I still have fangirl moments here and there.''
Fitzgerald sees it less as a lion-and-mouse partnership than "the perfect combination, because it's very rare that you get two shooters who have no ego. They play for each other. So if we won by 60 and one of them shot 59 of the goals, the other wouldn't care. And that's quite unusual in shooting circles.''
Dreams of Green and Gold
Dwyer was in the crowd at the 2015 Netball World Cup in Sydney; a 13-year-old with a dream of one day wearing the gold dress. Yet it was only this year that it seemed truly achievable, and – given she was holding her own against international defenders – was perhaps closer than she had thought.
Pettitt, the Caitlins (Bassett and Thwaites), and Nat Medhurst were favourites then, just as new vice-captain and circle teammate Steph Wood is now, with a strong possibility of fangirl moments in the UK. It all still seems slightly surreal for the self-proclaimed netty head who has known the name of every player in the league for years and watched every game.
Yet rather than being daunted by her first training session under national coach Stacey Marinkovich in September, Dwyer wanted to let the Diamonds mentor and her assistant Nicole Richardson know that she was not there just to make up the numbers. Told them so in a meeting.
"I kind of said that 'I know that I'm an invitee, but I want to show that I deserve to be here, and I can match the other shooters and play against those defenders. I have played a full season against them so why can't I play well and to their level in this environment?'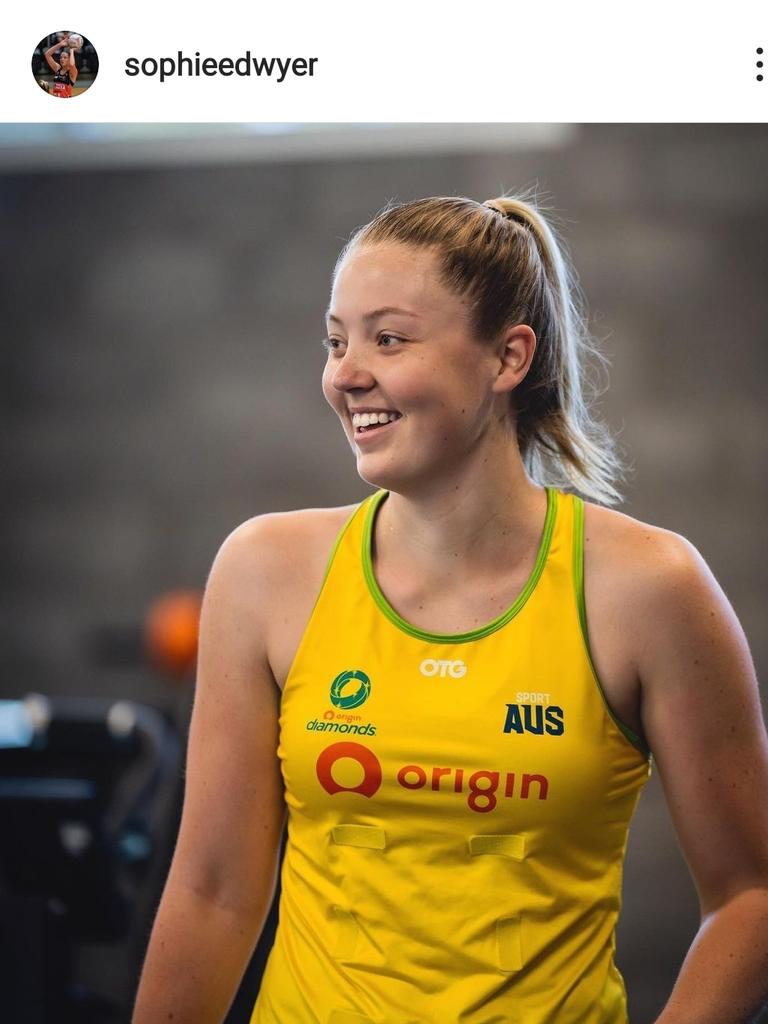 Dwyer in training with the Diamonds. Picture: Instagram
"Obviously it's a very intense and elite environment; high performance behaviours and standards are there, but I thought if I was invited to the camp, the coaches and selectors obviously thought that I was capable, so I guess I just had to have that belief in myself that I could play with and against the best in Australia.''
She clearly did plenty right, for Dwyer and West Coast Fever defender Sunday Aryang were the two uncapped players named for the Diamonds' first international series since the 1-3 Constellation Cup loss to New Zealand at the start of the year.
"The thing that stood out the most at camp was just that she's a deadset competitor,'' says Marinkovich. "Sophie has a level of maturity beyond her years, when she came into camp she didn't want to be treated nor seen as the rookie of the squad. And now she's really looking at what she needs to do to get that debut.
"(It's) certainly just growing her depth of knowledge around the game – she's only young, so it
's evolving her movement out on court. We know that she's very capable of going straight to post and can shoot (from) varying distances, so she brings a lot of strengths. And then there's just things she's gradually improving each time she steps out on court.''
Calm Sophie became super-excited Sophie when she took the unexpected coach's call, while quiet Sophie is actually chatty Sophie in many situations, but tends to hold back in others (see Diamonds, above) in order to absorb and learn as much as she can.
There will be time for that over the coming few weeks when the squad assembles in Sydney before a fortnight in London. Bubble arrangements will be in place, and movement therefore limited, but Dwyer's first trip to Britain will be memorable nevertheless.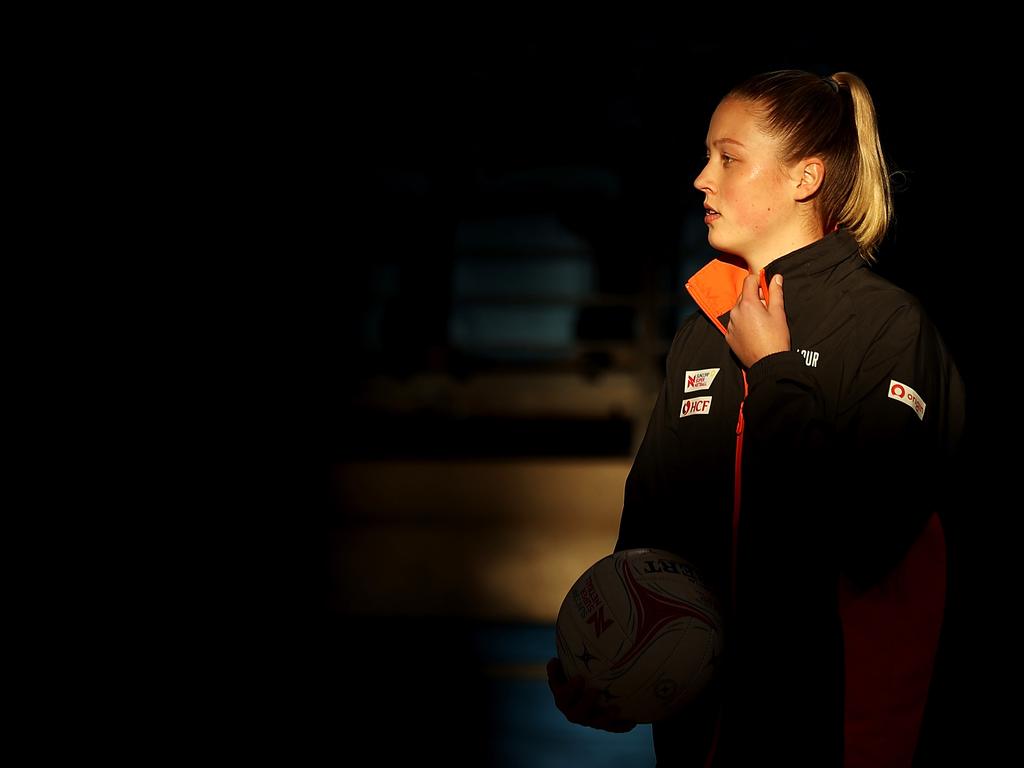 Dwyer is keen to show coaches and selectors what she's capable of. Picture: Mark Kolbe/Getty Images
Her debut, should it come, would be as part of a new shooting combination, with either Wood, Gretel Bueta, Cara Koenen or Sophie Garbin, but Dwyer hopes to be ready to play the athletic, fit and fast Diamonds way if/when it does.
Typically, she appears to have timed her run perfectly. This Quad Series shapes as part of the audition process for first the Commonwealth Games in Birmingham in July, and then the next World Cup scheduled for 2023 in Cape Town.
"But for me there's no expectations of those big marquee events at this stage,'' Dwyer insists. "Just being in the Diamonds' squad itself is still so surreal that if I can just focus on having a really good Giants season the rest will just be up to the selectors and coaches in what they see.''
Fitzgerald, her club coach, has already noticed the development of a young player who doesn't dwell on mistakes and now has a voice in team meetings and during matches, while still naturally equipped with the temperament that can help to make her great.
Not perfect. But great. Which is more than good enough.