Quad Series 2022: The Australian Diamonds must rediscover their fighting qualities ahead of the Commonwealth Games
The Diamonds are rebuilding and there are worrying signs. The Quad Series is a chance to change the narrative, writes NAT MEDHURST.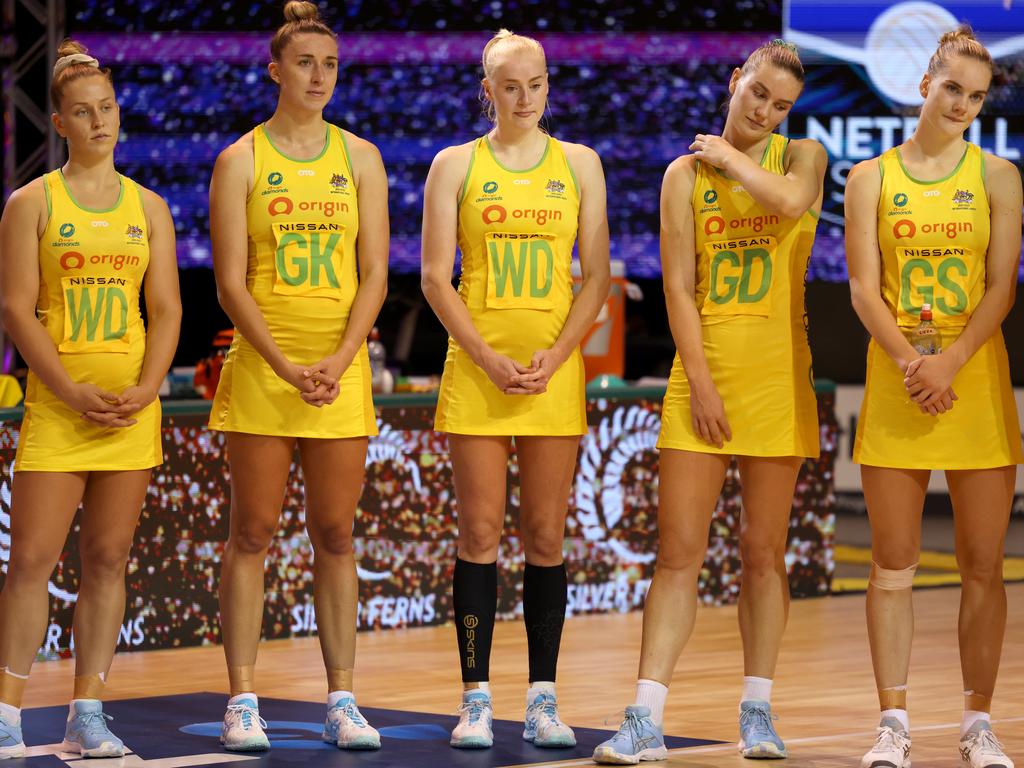 The Diamonds must learn to fight again ahead of the Commonwealth Games, writes Nat Medhurst. Picture: Peter Meecham/Getty Images
It pains me to admit that the Diamonds are far from the formidable netball team they once were – a shift that has been forming over the past four years. With the Commonwealth Games looming, followed by the Netball World Cup in 2023, they need to use the Quad Series to shift it back to where it once was – and shift it quickly.
Any team member who was in the Melbourne hotel room in 2013 would remember when former Australian Diamonds captain, and now CEO of the Australian Netball Players Association, Kathryn Harby-Williams came to speak to the playing group.
We thought we were about to hear a nice bit of storytelling around her time in the green and gold, but here she was sitting in the chair telling us that no one was afraid of us anymore and that the team was weak.
The team had just been swept 3-0 by the England Roses and we were far from impressed by our performances. Still, hearing it come out of Harbs' mouth smacked us all fair and square in the face. 'Weak' was a label that did not sit well and drove players to change the narrative, how we were perceived and what was being delivered on court.
Natalie Medhurst (centre): It pains me to admit that the Diamonds are far from the formidable netball team they once were.
There are less than 200 days to prepare for the Birmingham Commonwealth Games, and the Diamonds, with a new captain and plenty of young talent thrown into the mix, will this weekend play their first international Test series in over 10 months as part of the Quad Series. And, despite managing to hold on to the No. 1 world ranking – with a few raised eyebrows – their backs are against the wall.
To represent your country at a major event like the Commonwealth Games is the ultimate for players, with the years in between them and World Cups generally seen as building blocks towards developing a strong team.
This is not where the Diamonds find themselves.
COVID-19 has undoubtedly hampered Australia's ability to get international Test matches under their belt, yet while the Diamonds, England, New Zealand and South Africa are all missing players from this series, the other nations, on the surface at least, seem clearer in their direction and make-up of players heading into Birmingham.
Stacey Marinkovich has a touring squad that includes several uncapped players and others with only a handful of Test caps to their name. We will without a doubt see debuts being made in order for new players to be tested at the international level. With limited time and training opportunities left, this Quad Series is doubling as a Commonwealth Games trial.
With new players, new combinations and a lack of match play over the past 12 months, it would be easy for the Diamonds to offer excuses if they don't deliver.
It is a temptation I hope they resist.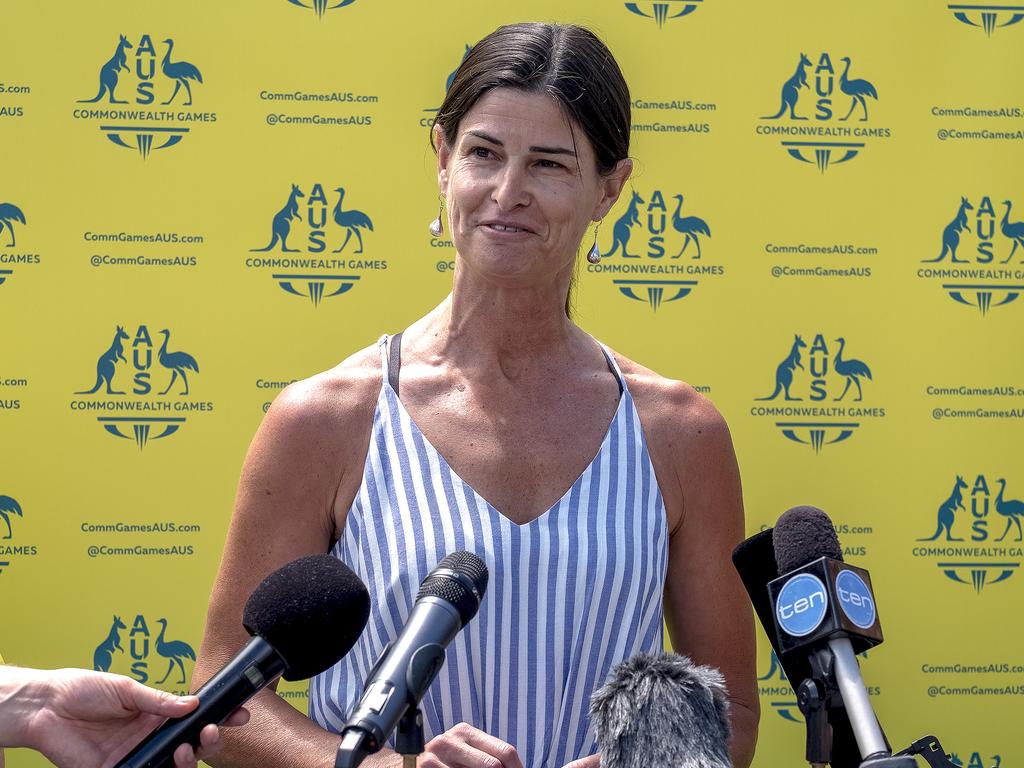 Former captain Kathryn Harby-Williams told the Diamonds bluntly in 2013 that no one was afraid of them anymore. Picture: Luis Enrique Ascui/AAP
Since taking over the position as head coach, Marinkovich has had to deal with her share of unfair commentary surrounding her appointment. Irrespective of their No. 1 ranking, the reality is that she has walked into a team that is neither the current Commonwealth Games gold medallist, nor the reigning World Champion – a first for Australian netball – and in many ways this should reduce the pressure on her.
She is known for her meticulous planning and attention to detail, as well as her love of statistics. While data is useful to a point, it cannot fix the mental and physical vulnerability shown in recent years when the team has been under pressure. Australian teams through the years have faced plenty of close encounters and nail-biting finishes, usually against their greatest rivals, the New Zealand Silver Ferns. They might not always have got the result, but no one questioned their mettle in those key moments – that is, until the past three to four years. Lately, spectators have witnessed the Diamonds take a step back and fold over.
Playing international sport is bloody tough. And so it should be.
Teams should also be strong enough to put out their best players to start the game on the court. Elite netball has, for whatever reason, gone so far the other way and replicated what is being seen in grassroots and schoolyard sports, where bibs are tossed in air and the tune of "we are a team of 12" is sung. It has created more harm than good at international level.
Players have lost their ability to fight.
To fight for their spot in the team and on the court.
To fight when the opposition threatens.
To fight to win.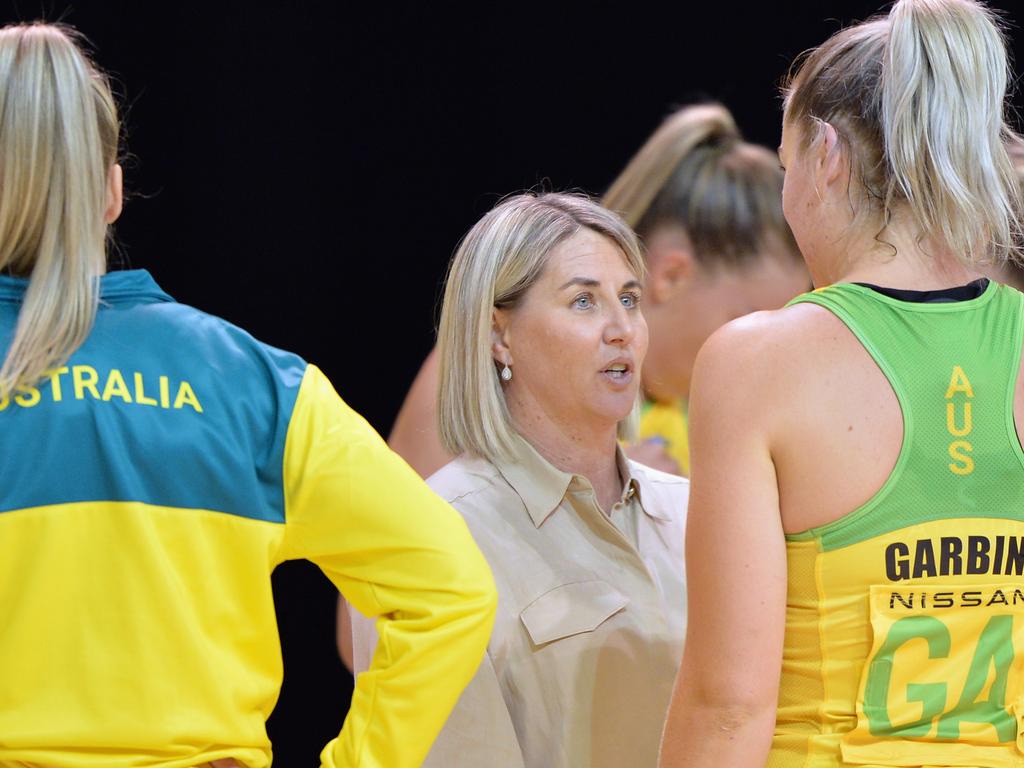 Diamonds head coach Stacey Marinkovich (centre) will need more than data and statistics to get Australia humming. Picture: Kai Schwoerer/Getty Images
At the 2018 Gold Coast Commonwealth Games, the Diamonds had a three-goal lead with less than seven minutes remaining and a chance to go four goals up. As England pegged back the deficit, the Australians crumbled, leaving spectators to scratch their heads as to why three of the team's strongest and most experienced players – Laura Geitz, Susan Peitit and Madi Browne – were left to sit on the bench and watch the gold medal slip from their hands. Fast forward to 2019 and Australia's inability to win the World Cup in yet another close contest resulted in the sacking of coach Lisa Alexander.
Even in her short tenure as Diamonds coach, Marinkovich has seen Australia succumb to opposition pressure. In 2021, her first Test series as coach, New Zealand took home the Constellation Cup for the first time in seven years with a 3-1 series win. The Silver Ferns were down at half time in three of the four matches, winning two of those, including the final Test that handed them the silverware. Along with the loss, that series provided opposition teams with a glimpse of the Australia's Achilles heel.
Marinkovich needs to challenge players to put their hands up to make the starting seven and reward them because they deserve to be there. In doing so, and assuming she has the culture right, it will not discredit the others. Rather, it will allow individuals to know what their role is, even if it is coming off the bench, while still developing a highly competitive environment that pushes individuals and, subsequently, the team to be better and win championships.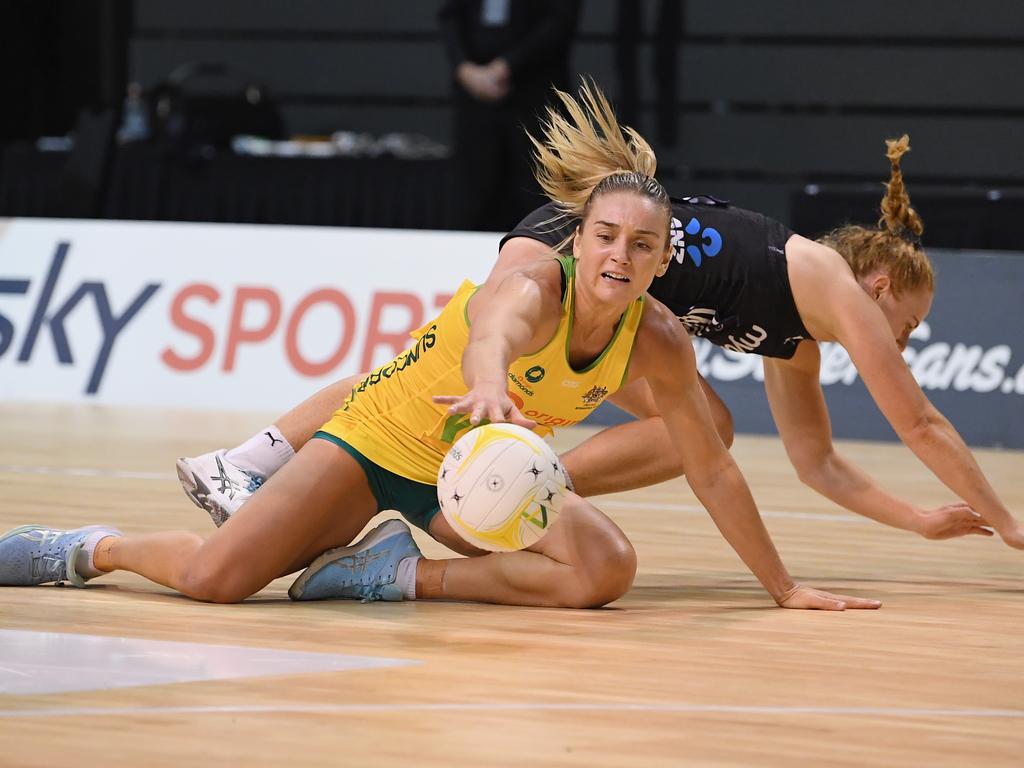 Liz Watson is set to return to court for the first time since her appointment as captain. Picture: Kai Schwoerer/Getty Images.
These next three Test matches should provide Australians with much to get excited about.
Newly appointed Diamonds captain Liz Watson will be returning to the court for her first Test series since her appointment. Young, emerging talent will be on show and the return of fan favourites Ash Brazill, Steph Wood and Gretel Bueta – all of whom bring a great deal of flair, excitement and the ability to turn and win matches – will very much be worth watching.
But this group of players and coaches need to answer a big question.
Will they be able to stand up when challenged?
That is how success will be measured. If the Diamonds can challenge themselves more than the opposition will, and become the team all others are afraid of in Birmingham, the Quad Series will have been a worthwhile venture … and hopefully the opinions of a sideline, geriatric, former player will be proven wrong.