Renae Ingles' Melbourne netball cameo feels a lot like home
On a whirlwind visit to Australia, Renae Ingles couldn't help coming out of retirement at centre for the Casey Demons – and her husband Joe couldn't help giving her some netball coaching tips, writes LINDA PEARCE.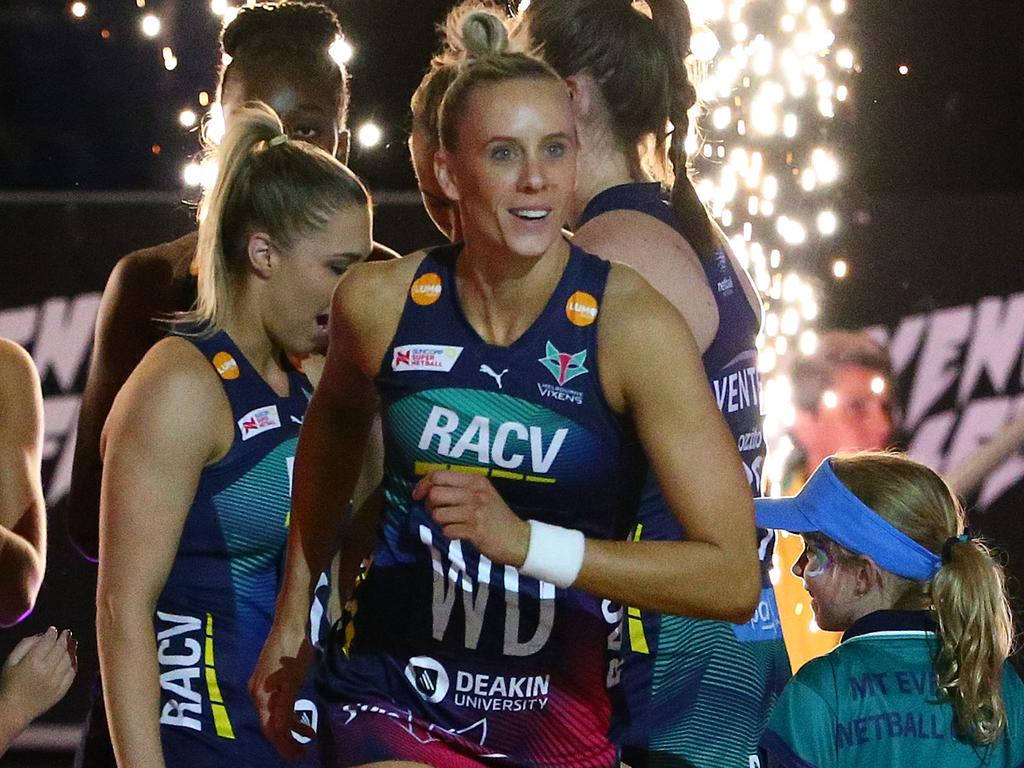 Renae Ingles' latest netball comeback has been impressive yet again. Picture: Scott Barbour/Getty Images
Renae Ingles channelled her inner Bielieber en route to last Wednesday night's Victorian Netball League comeback with the Casey Demons, as the 35-year-old mother-of-three chased, like, a slightly more youthful vibe.
"It's a really really young team and I'm really old, and bumping up the average [age] quite significantly,'' says the former 67-Test Diamond and former Commonwealth Games and World Cup champion.
"So I listened to Justin Bieber on the way to the game just to make sure I was feeling younger than what I really am.''
Whatever the soundtrack, Ingles' latest encore was a variation on a familiar theme.
Having not touched a netball since her 2019 retirement from the Melbourne Vixens and return to Salt Lake City to join husband Joe at the Utah Jazz, Ingles played a full 60 minutes at centre barely 60 hours after arriving from the US.
Then again, during her last State League cameo in 2018 with toddler twins Jacob and Milla — aka the 'Twingles' — in tow, the midcourter had ended an almost two-year retirement just one jet-lagged sleep after touching down at Tullamarine.
"I was like, 'Oh, I've got an extra day up my sleeve this time. An extra kid, but an extra day, so we're good!'''
And the morning after the 64-60 loss to the second-placed City West Falcons?
"I woke up feeling 80 years old. But then as soon as I was moving around I'm like, 'I actually am OK'.
"What I forgot about was the netball feet. Oh my gosh, in the last quarter my feet were burning, and when I took my shoes off I had three blisters, and today my feet are just sore. You forget about the little things like that.''
Casey coach Robynn Pym had been a junior mentor of young Renae Hallinan during her time at the Gippsland Storm more than 20 years ago, so this latest collaboration just felt like the right fit.
And so, after Ingles expressed her interest in getting involved, the pair made a Zoom-facilitated deal for a month-long cameo and an extended role next season. This was the start.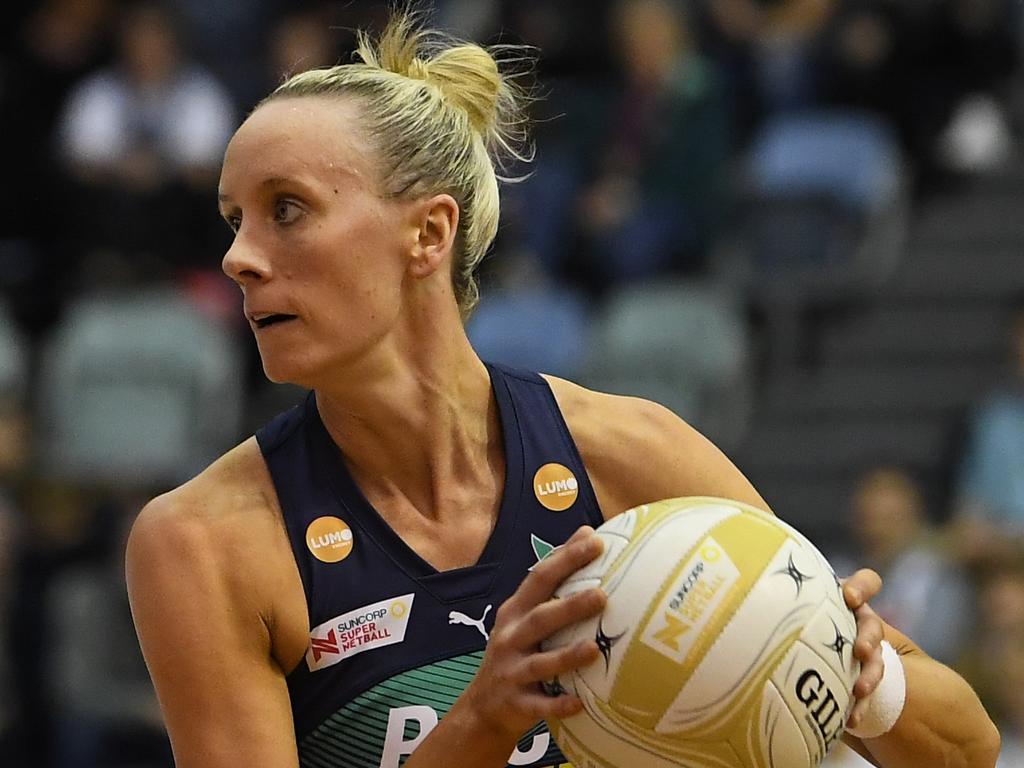 Ingles jumped at the chance to get back into netball. Picture: AAP Image/Julian Smith
"I was quite nervous before the game, because I honestly haven't had anything to do with netball for three years, so I walked into the State Netball Centre and it's a brand new beautiful stadium and I was just like, 'Oh, no, I just want to get through the warm-up first'.
"But, like everyone said, it's just like riding a bike. It just all came back and was just really enjoyable out there. It was all just as I remembered, and exactly what I've been missing.
"Being around a team and the camaraderie, and doing what I love again. Just having your mates beside you, and playing and having a laugh and the enjoyment side of things. I knew that I missed it, and being over in the States I've definitely missed it.''
Yet if there was a bit of Bieber on the way to Parkville, there was something a touch less welcome on the drive back to the family's month-long rental accommodation.
Joe Ingles has a longstanding fondness for recalling — tongue-in-cheek — his days as a stand-in goal shooter at Vixens training sessions, where the 208cm giant bravely impersonated Jhaniele Fowler or another towering spearhead.
"On the way home (on Wednesday) he was giving me coaching tips from his experience of training with the Vixens," says Renae.
"I said 'Come on, put a lid on it.'''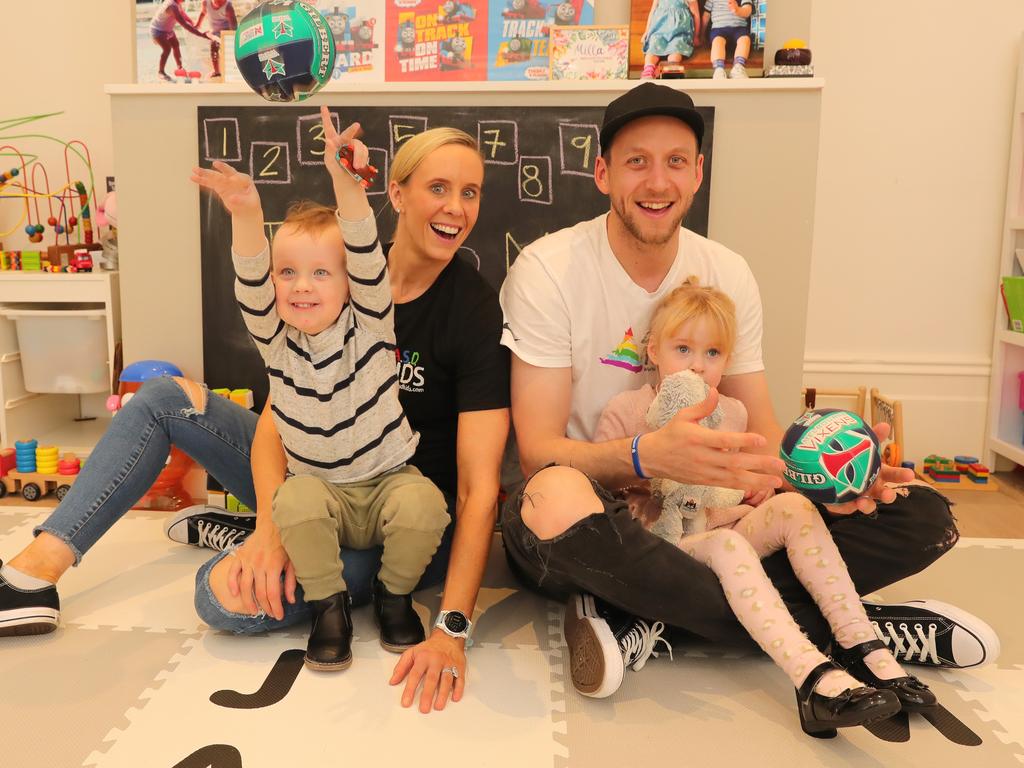 Husband Joe still likes to give Renae netball advice, tongue-in-cheek. Picture: Stuart McEvoy/The Australian
*****
The Ingles are building a palatial new home in bayside Brighton; where they spend the next year or two, however, will be determined during the upcoming NBA free agency period.
Playing against the Minnesota Timberwolves on January 30, 34-year-old Joe ruptured his left ACL. The following month, Utah's all-time leading three-point scorer was part of a three-way trade to the Portland Trailblazers after 590 games.
"Honestly, it was kind of one hit after another in terms of Joe physically hurting himself, and also knowing that he wasn't going to be playing basketball for 10-12 months was devastating,'' Renae recalls.
"A week later we were actually traded. Of course, we were devastated. That's been seven-and-a-half years of our lives, and that's home for the twins, the kids; that's all they know and they're in school and therapy and very settled there and I've got a really nice social group and Joe has bled for Utah Jazz.
"But that's a part of sport. Initially Joe was very hurt, but Portland have been fantastic to him, so I think in a small way it's actually opened up his eyes and refreshed him a little bit that there's great things out there as well.
"Obviously it's scary, and it's an unknown time, and for me who is a planner who loves to know what life's going to look like. I have absolutely no idea of where we'll be living, and schools and all that sort of stuff, so I think Australia for this next month is a really nice distraction for that space, too.''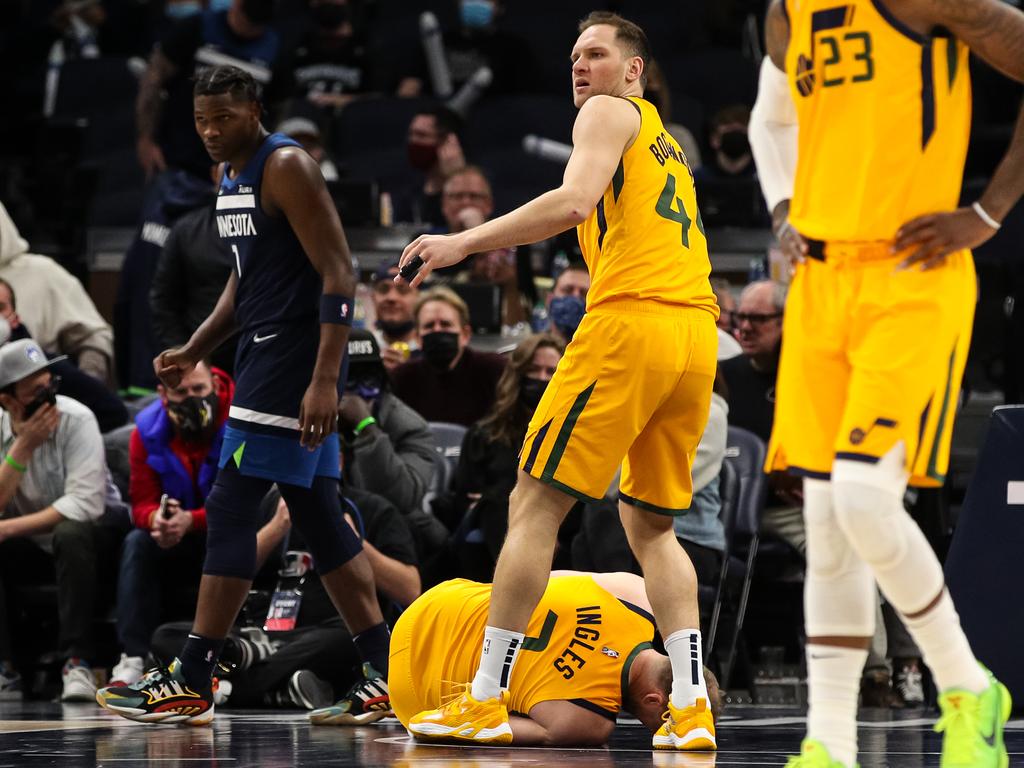 A serious knee injury changed Joe Ingles' NBA journey. Picture: David Berding/Getty Images
Joe Ingles is doing daily rehab at the VIS, having travelled back and forth to Portland in recent months while his family completed the school year in Salt Lake City.
Destination unknown, for now.
"Joe's a free agent, so he could sign with anyone. We have absolutely no idea,'' says Renae. "That could be back in Salt Lake City, that could be Portland, or that could be any of the other NBA franchises.
"That's kind of just what July is about for him: meeting with those teams, and making the best decision for us as a family.''
Her personal preference for a location changes constantly. "Ideally, of course, I'd love to stay in Salt Lake City, just for our family, our support network, and for the kids to stay settled.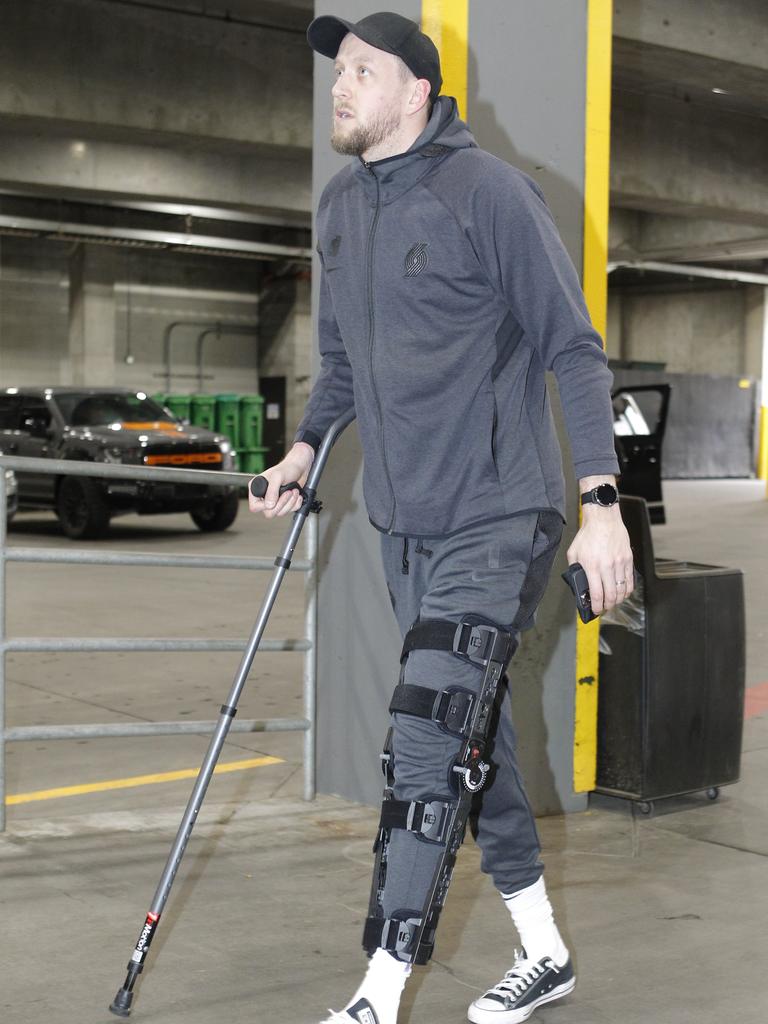 Ingles still hopes to get back to the NBA after his rehabilitation. Picture: Cameron Browne/NBAE via Getty Images
"However I want us to do the best thing to support Joe and his career over the next couple of years, and getting him back to better basketball than he played before he did his knee and fully supporting him in that space.
"So wherever Joe ends up, we'll end up. But there's a lot of change happening, so all up in the air.''
Like fellow Boomer and Tokyo Olympics bronze medallist Matthew Dellavedova, who returned to the NBL as a marquee signing for Melbourne United last season, Ingles has spoken previously about potentially finishing his career back where it began. Just not yet.
"I think he's still got some unfinished business in the NBA, especially given that he did get injured. But the NBL's not off the cards, either.''
*****
For Renae Ingles, there will be no repeat of 2018. Back then, a couple of VNL games in with the Melbourne University Lightning, then-Vixens coach Simone McKinnis was sounding out her former premiership wing defence about a shock return in place of the pregnant Chloe Watson.
This year, with just one round of SSN remaining before finals, Ingles is content to watch Monday's Magpies-Vixens' derby, having kept in touch with the local scene and her former teammates, and also been a regular viewer — on delay, due to the time difference — of their games.
"I love seeing all of their stories and how the year and the season unfolds — obviously through all of their social media channels as well. But I definitely talk to them quite regularly. In particular Emily Mannix, we're in chats quite often. She's always keeping me laughing, that's for sure."
Ingles is also across the news of the great grand final controversy, and the veteran of four flags with the Vixens and Thunderbirds believes the most disappointing thing about it has been the SSN bosses' lack of consultation with the players.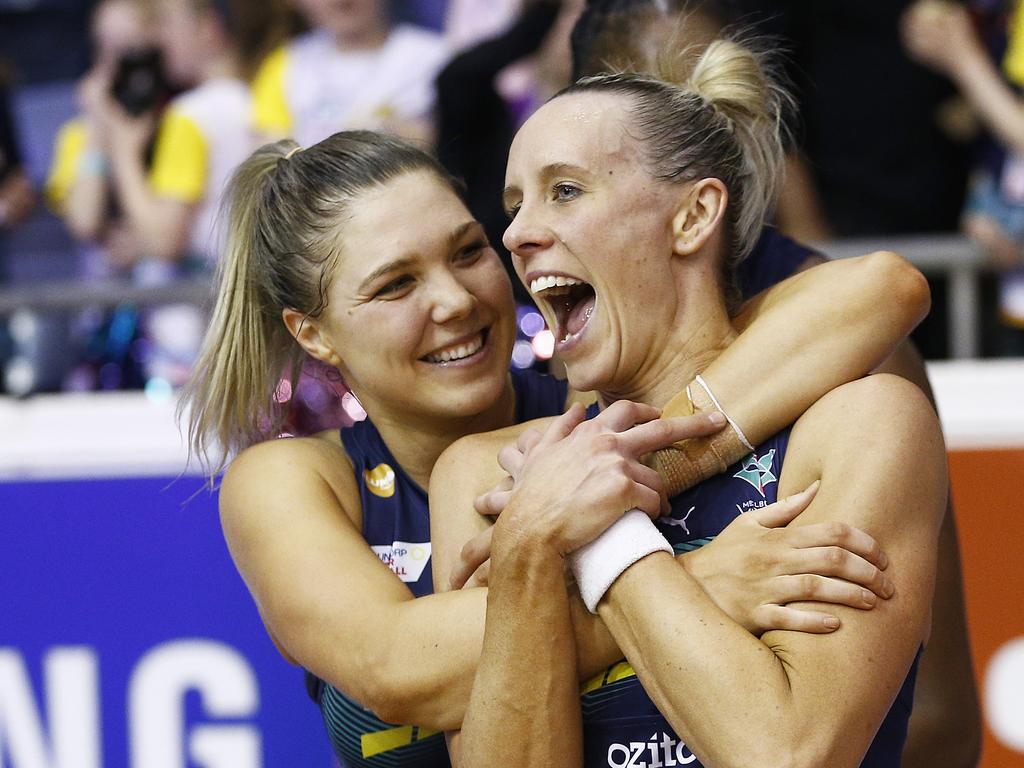 Ingles (R) isn't planning a Super Netball return. Picture: Daniel Pockett/Getty Images
"For me I just think about it from a players' perspective and how hard the Vixens have had to work to get top spot. They would obviously love to earn a home grand final, or play to host the grand final, and that's been taken away from them.''
Yet, netball aside, the focus during this trip is on seeing family and friends, with much having changed during a Covid-impacted 32-month absence. There is 17-month-old Jack to introduce, for example, while almost six-year-old Jacob, who is on the autism spectrum, is now able to communicate verbally.
"He's a different child to the last time we were in Australia,'' Ingles says.
"We know that because we're with him every day so I guess we probably don't appreciate it as much, but when family and friends are giving you that same feedback about how confident and calm and how far he's come in just wonderful to hear.''
Autism awareness is also the Ingles' passion project; their association with non-profit organisation KultureCity helping to establish certified sensory rooms in the family's name at both Marvel Stadium and the Vixens' John Cain Arena home.
"For us it really is unfinished business,'' says Renae. "There's a lot more stadiums, there's a lot more arenas, there's museums and airports and all of that, so no place here in Australia is safe from KultureCity, and the Ingles are coming for you!"
*****
You know that saying about giving jobs to busy people?
Renae Ingles has completed a triathlon and run the New York City Marathon between netball games after giving birth to her third child. Already the holder of a Masters degree in High Performance Sport, she has a certificate in autism studies and is a registered therapist in Applied Behaviour Analysis.
An insight into Ingles' high-achieving mindset came via the NYC marathon last November, which Ingles completed in around four-and-a-half hours, while helping to raise $40,000 for KultureCity.
Time irrelevant, though. Sort of.
"That was absolutely about just getting across the line, and I had quite a few friends come out to watch, so I stopped and was hugging and taking photos and doing all those sorts of things. But as soon as I crossed the finish line I was like, 'Doh, I want to do a better time now!'''
All those miles-in-legs form a pretty impressive base for the "Hollywood cameo" we jokingly agree to call Ingles' latest netball comeback, even if netball fitness is still a little way off, and the stop/start and repeated efforts less familiar.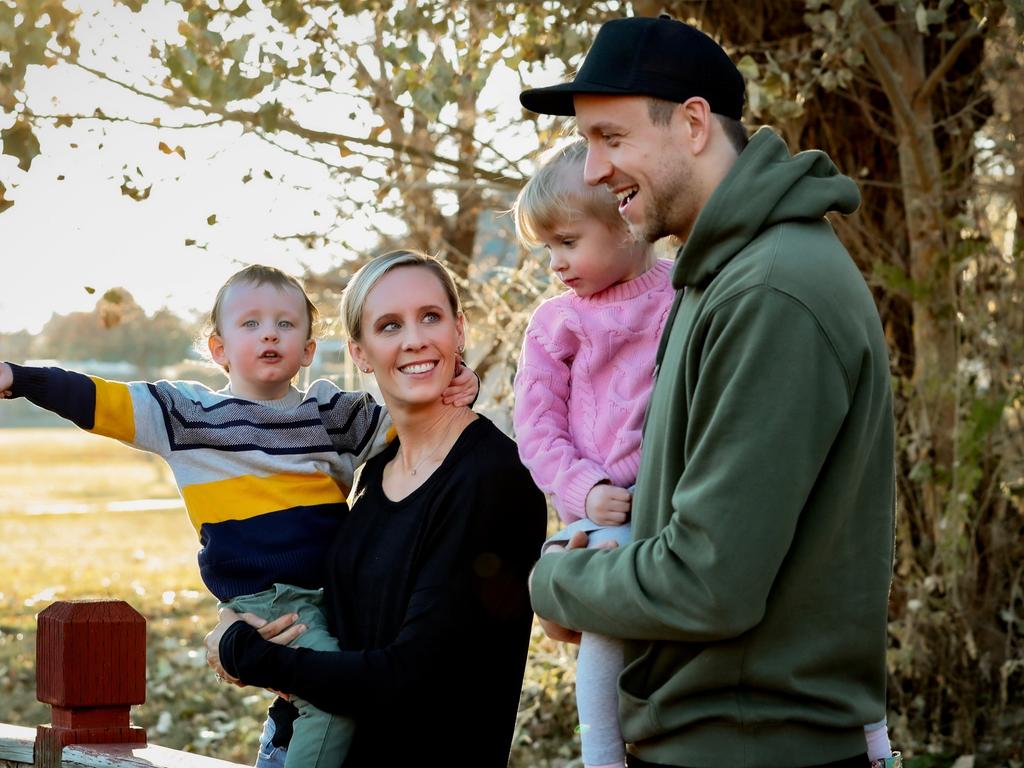 Ingles' family still comes first, even if she impressed herself in her 'Hollywood cameo'. Picture: Supplied
"Robynn actually said to me before the game, 'Just so you know, I'm starting you in centre'. I was 'OK, way to throw me right in the deep end!' I was actually surprised I was able to run out a full game at centre and feel as good as I did.
"It's just those netball feet that I'll have to get a bit more used to. But really, really enjoyed it out there, they were all really enthusiastic and energetic, and definitely looking forward to next week.
"Other than the fact that it's a 9.40pm game. That's waaaay past my bedtime.''
In which case, in the interests of that youthful vibe, another dash of Bieber through the car speakers might be needed.
Even if one suspects former GS Joe's latest coaching tips on the drive home might not.