Stacey Francis-Bayman discusses the importance of Suncorp Super Netball's Pride Matches and her own personal journey
Stacey and Sara Francis-Bayman speak to LINDA PEARCE about the power they have found in sharing their personal stories.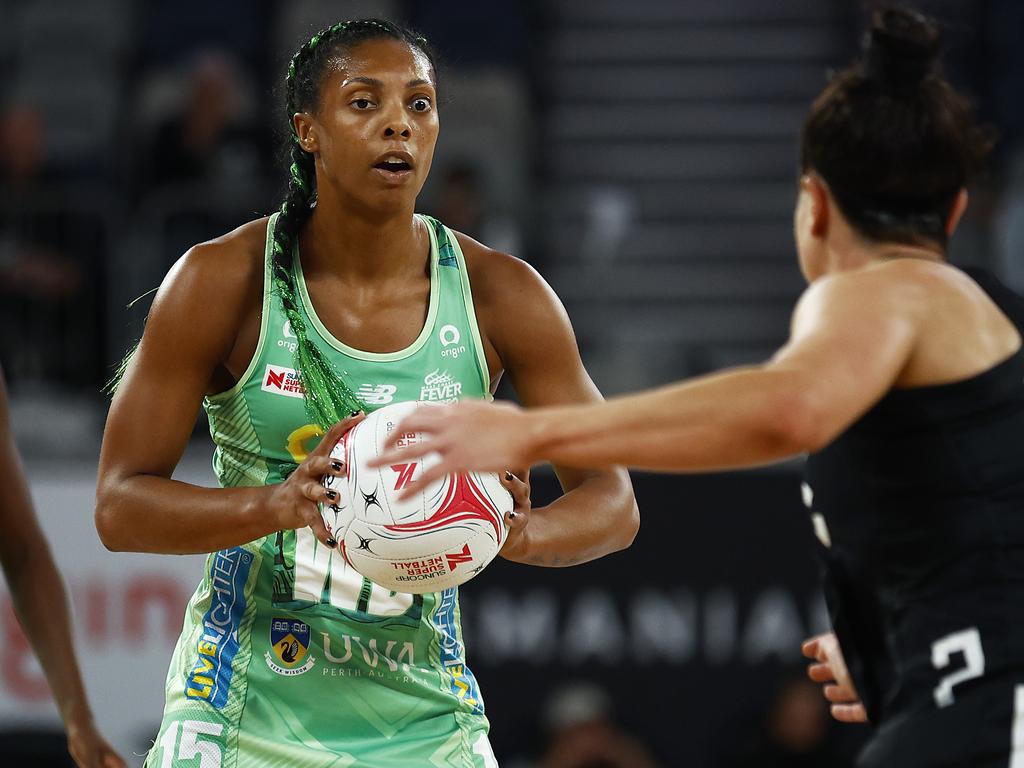 Stacey Francis-Bayman is proud of her identity and hopes she can inspire other netballers to feel the same. Picture: Daniel Pockett/Getty Images
Stacey Francis-Bayman is a mixed-race English netballer completing her sixth Australian season with West Coast Fever. Identifying as bisexual, she married her wife, Sara Francis-Bayman, an 84-Test former international, in 2020.
Only recently, though, has the Fever defender and Commonwealth Games and Netball World Cup bronze medallist used her sporting platform to become a vocal advocate for diversity and inclusion – given that, for a long time, she didn't necessarily believe hers was much of a story to tell.
Stacey Francis-Bayman thinks differently now. She understands that she is fortunate to have always had an accepting and supportive family environment. To have been comfortable with her sexuality and identity, and in her own skin.
Which, in itself, is also a tale worth sharing.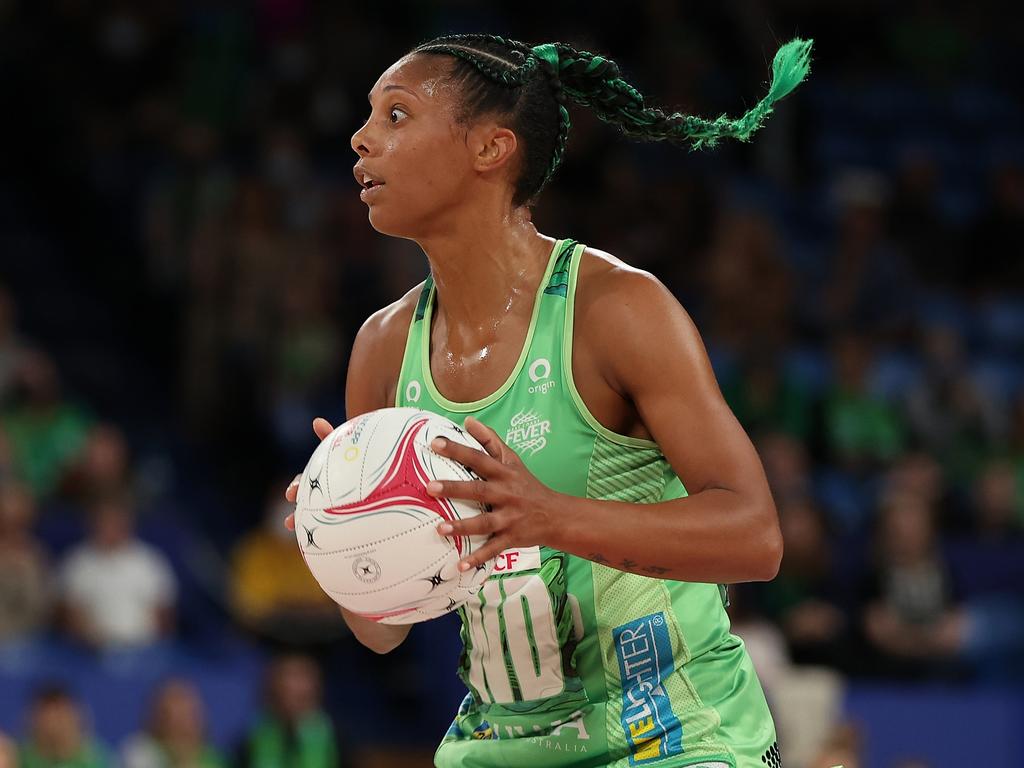 Francis-Bayman hopes speaking about her own experiences will help give others confidence in appreciating their own identity. Picture: Paul Kane/Getty Images
"I know for example that Sara, my wife, her story is completely different to mine,'' says the 34-year-old. "I was always encouraged to just be myself and have complete ownership over who I was as a person, and I have always been really privileged and enjoyed the other side to my personality in being different.
"I'm a mixed race person. I identify as being bisexual and I really have leaned into both sides of those things, and I never felt like I had to make a statement, such as straight people don't feel like they have to tell people they're straight.
"But I think it took me a while to realise that there is also power in my story, and the experience that I've had, and it doesn't always have to be a difficult journey — that celebrating my own identity and having confidence over who I am as a person is a fantastic thing, too.''
Francis-Bayman's Fever will this weekend play the Sunshine Coast Lightning in one of two Super Netball round nine Pride matches, with Ash Brazill's Magpies hosting the Queensland Firebirds in Hobart in the other. Brazill, a mother of two, is one of the few other openly LGBTIQ athletes in the league.
"Obviously Ash does a huge amount of work, and I know she's spoken in the past about feeling like the only voice in the room, and I think that is sometimes quite a heavy burden to hold,'' Francis-Bayman says.
"When I was growing up I know I looked up to and admired people that I felt like I had something in common with: whether it was my sexuality, or they looked like me, or they were doing something that I wanted to do.
"And hopefully the more diverse the range of women that are on display in SSN, of which there are a lot, the more attractive the sport will continue to be to young girls growing up and wanting to stay in the sport and who can see it's a place for them.''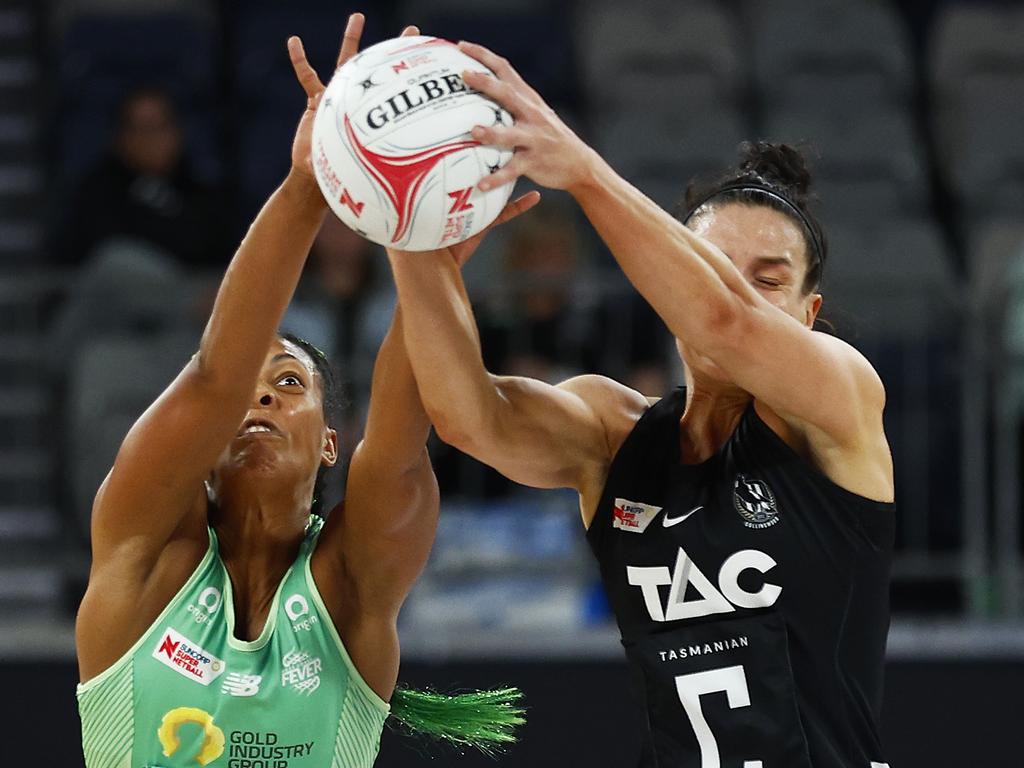 Francis-Bayman and Brazill want netball to become a safe space for all. Picture: Daniel Pockett/Getty Images
*****
Sara Francis-Bayman will be in the crowd at Sippy Downs on Saturday, having taken a leave of absence from her head coaching job with reigning UK Superleague premiers Loughborough Lightning to support her spouse, Stacey, through an important year the pair hope will deliver a Super Netball championship for the Fever and Comm Games selection/success for the Roses in Birmingham in July.
In the UK, as in Australia – where a full Pride round is yet to be scheduled, and club-initiated themed matches are limited to just two – Pride matches are in only their second season, but Sara believes they are "massive for visibility and for young players of the game to understand that everybody's welcome''.
Sara has only been out for about a decade; having struggled with her sexuality, and been fearful that the sport would not embrace a difference that she worried would be a distraction and set her apart. She now believes there are sufficient role models that diversity is not just tolerated but celebrated, and for youngsters to understand that netball is a safe space.
"We know there's more [elite] players than what are publicly out, and that's fine, that's their choice, but I think it's important that you do have some players who are willing to be vocal and advocate for this, in order to show that it's not something that netball's shying away from or we're trying to hide away,'' says the 37-year-old.
"I think the older I've got, the more important I've found it to be more public … and for people to understand that there's others like them in this sport and succeeding in it, because I don't feel like I had that, and I feel like part of my reluctance around coming out was due to that.
"It's, 'If no-one in the sport is gay, then what happens when I tell people I'm gay?' Of course there was always LGBT players, but it was never talked about before, and I think we need to get rid of this taboo of, 'Let's not talk about it.' Like, why not?''
Having retired from playing in 2018, Sara's advice to her younger self would be to come out sooner, and be vocal on the subject for much longer in the hope of pushing openness and acceptance along faster.
"But as with everything, people kind of move at their own speed," she says. "You're almost a product of whatever environment you're brought up in, and as a player at that time it wasn't something you talked about, and athletes' lives were much more segregated, and that's the way I treated it.
"I like the fact that athletes now, you know and understand them much more as people, and I definitely wish that I'd kind of done that more while I was playing.''
*****
Francis and Bayman, as they were pre-hyphen, first met around 17 years ago while clubmates at Team Bath and the local university, although Stacey laughs that it was hardly love at first sight.
"We would absolutely not describe it that way at all!' she says, explaining that Sara refuses to acknowledge (in fact, apparently claims not to even remember, despite yearbook photos as evidence) their earliest interactions, or the interest of the young teammate she was yet to notice in return.
"I think a slow burn would be the appropriate way to describe it,'' adds Stacey. "But everything happens when you're ready and I think my loud, proud confidence didn't necessarily align with the stage of Sara's journey at the time.''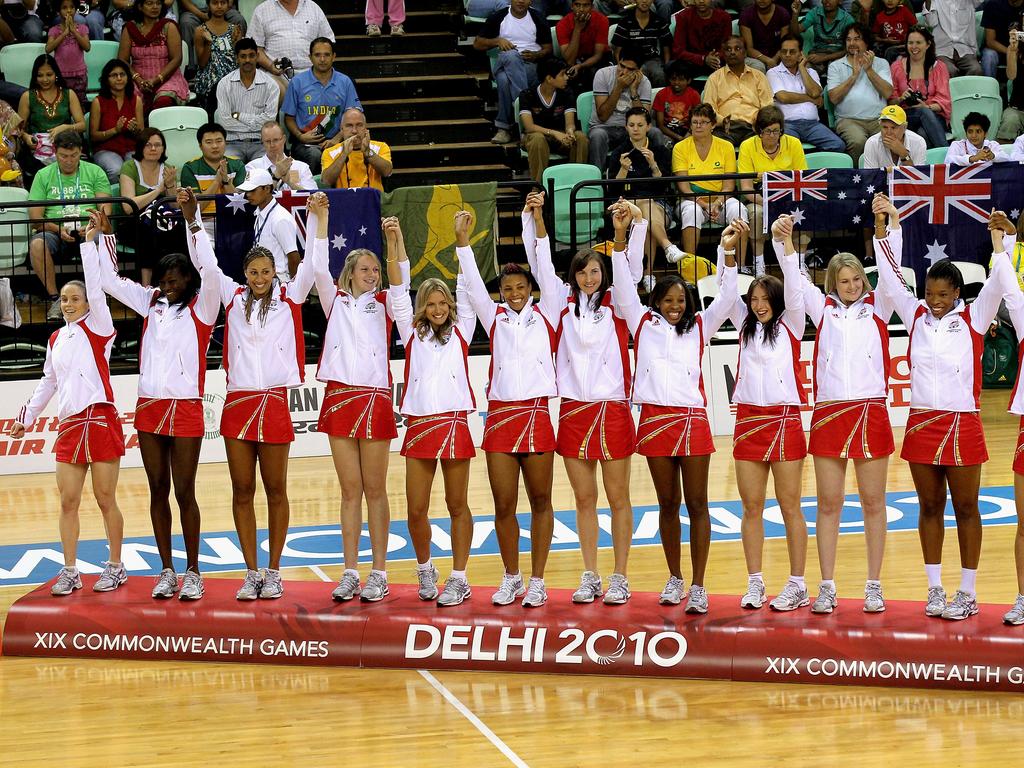 England's netballers came home with bronze from the 2010 Commonwealth Games. Picture: Cameron Spencer/Getty Images
A friendship had formed by the 2010 Delhi Commonwealth Games, when Stacey was in a heterosexual relationship. "We were certainly really good friends, and in hindsight I obviously have many good friends in my team and none of them have turned into my wife!'' she laughs.
"But I think there was certainly a spark, and I've always been drawn to Sara's sense of humour and she was always a person I would go out of my way with even when she didn't necessarily see me in that way. But I'm incredibly persistent and I think when I realised what I wanted and set my mind to it, it obviously worked out!''
Eventually, despite the 2015 Netball World Cup in Sydney, where they both represented third-placed England, being a challenging, conflicted time for multiple reasons.
"I wouldn't necessarily advocate for anyone beginning a brand new relationship under the microscope of a World Cup and also being together 24/7, it's kind of a unique situation,'' says Stacey. "So I think when I did step away from the Roses program team for a little while after that it was just a really nice time for us to just be together and explore what we were without the pressures of a performance environment.''
Individually, the Bachelor of Science/Masters of Arts graduate also left Team Bath after a decade to move to Leeds, closer to Manchester-based Sara, and started a full-time public relations job for a sports coaching company, believing her netball career to be winding down.
Then, in 2016, the flame was relit when the trans-Tasman league was axed and Super Netball — with no cap on international imports — was born.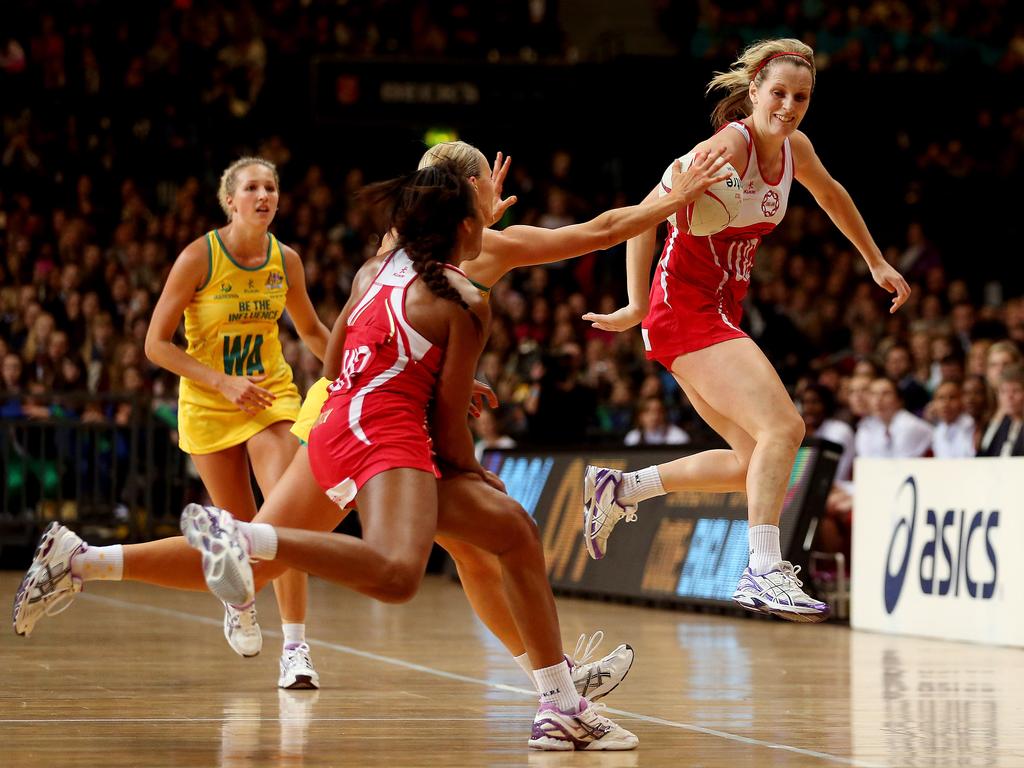 The couple in action for England during the Tri Nations in 2013. Picture: Mike Sheehan/Gallo Images/Getty images
*****
Defenders were at a premium for the eight Australian clubs in the lead-up to the inaugural season and, having considered several offers, the then Stacey Francis eventually settled on West Coast.
Six years later, she is certain she would not still be playing had she gone elsewhere, let alone still be at the same team.
Sara Bayman, meanwhile, spent the 2017 season in Wellington with the Central Pulse, which was closer to Perth than Britain, if not exactly around the corner. Later the next year, on a holiday to visit Francis' family in Canada, Sara proposed.
"I guess when two people from the same team get together it seemed like a bit of a surprise to the world in general, but we were incredibly well received, which was beautiful,'' says Stacey. "And it was important, obviously, that Sara felt confident and comfortable to be able to share that part of our personal lives, too.''
Even so, Sara admits she expected the worst. "So I'm always waiting for someone to say something stupid or offensive or whatever, and we never really got that, and that was a really pleasant surprise; that people were so genuinely happy for us and excited about the news. Not only wasn't it a negative response, it wasn't even lukewarm … and that was really, really heartwarming.''
The rescheduled and then scaled-down wedding was held in Bath at the height of the pandemic in December 2020, limited to 13 guests wearing masks, but snuck in just before ceremonies were banned under tightened UK lockdown measures.
"Stacey made a speech and I was basically getting booed out of my own wedding, because of how hard I made her work for it to begin with,'' Sara concedes. "So, yeah, she deserves a bit of support now after being made to work pretty hard at the beginning of our relationship!''
That support has come in the form of negotiating that 18-month break from a job that includes the director of netball role for Loughborough, travelling around Australia to Fever games and enjoying the Perth lifestyle while playing some football and doing a small amount of coaching locally.
"It's a huge step for us,'' says Stacey. "We have always been incredibly supportive of each other, but we have never made decisions together. Which I think is quite a novel thing and I think we were both mindful that [ongoing separation] was not necessarily something that was going to give our relationship an incredible amount of longevity.
"So this year there was a decision to be made for the both of us. Do I go home? Does Sara come over here? Do we spend another year apart? Everybody knows that the window of opportunity to be an athlete is incredibly small, and I also had some really big ambitions for what I wanted to and felt like I was capable of achieving this season.
"So I think to be confident to own that and then also have the support to be listened to by Sara was incredible, and for us to just see this season as an opportunity and an adventure, and for her to also have the support from her employer to not have to quit but to take a sabbatical to be able to come over here and support me was absolutely incredible and certainly new as two independent women. But it's an absolute pleasure.''
So is the deal that Francis-Bayman will return the favour next and return to England to play second banana to her wife?
Stacey: "If that was in the fine print I absolutely glossed way over it!''
Sara: "Yeah, you've always got to read the terms and conditions, haven't you? And she's not great at that…''
Instead, as uncomfortable as it is, the Birmingham native is trying to stay in the moment and avoid goal-setting beyond the rest of the Super Netball season and then "the biggest, juiciest carrot on the horizon" that is a Commonwealth Games in her home city of Birmingham.
If the latter happens, she will inch towards the nine extra Test caps needed to catch Sara on the Roses' all-time list. "I keep telling Stacey that by the age she is now I'd retired, so she's lost that battle already. But she's determined to beat my record. And she will do, and then she'll rub it in for all time.''
So do the midcourter and the defender ever debate who is the better player in the family? "Oh no, because we both know it was me!'' says Sara. "No, we actually don't. I don't know why. Probably because we don't want to get divorced.''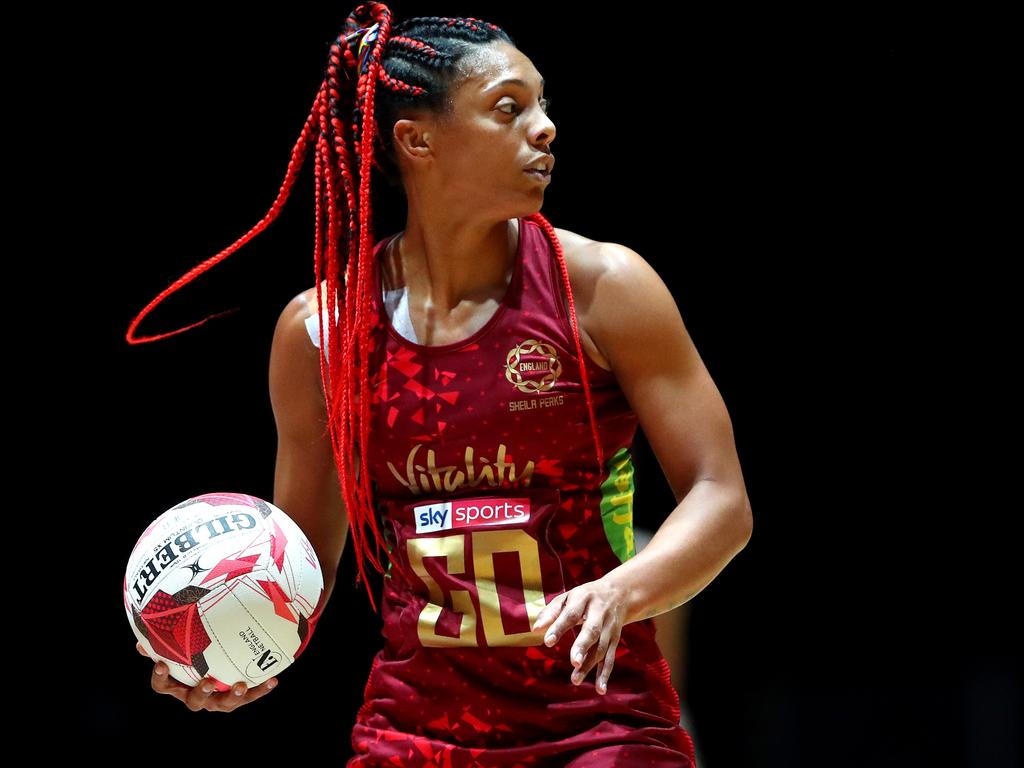 Francis-Bayman is determined to get one up on her wife Sara in terms of England appearances. Picture: Chloe Knott/Getty Images for England Netball
*****
Francis-Bayman (the one still playing), is more of a wing defence these days, given the emergence of her young Fever teammate Sunday Aryang to partner Courtney Bruce in the circle, but the English veteran believes the best is still ahead for the 2018 grand finalists she says have an "untapped capacity and potential to be unstoppable".
Famously physical, she has grown to love the position she used to describe as "a holiday", compared with the extra workload and responsibilities of goal defence, and believes age has not diminished her fitness, speed and agility.
Thus, being uncontracted beyond this year, the two key essentials are: 1) motivation and 2) an offer to stay.
"So the opportunity has to be there, as does my willingness to give that same level of passion and dedication,'' she says. "I think you start to split your vision about where else you would like your life to go, and it's definitely going to be interesting, and some difficult decisions and conversation will have to be made at the difficult times, which is hopefully [when we're playing] finals netball.''
With the emergence of Sunday Aryang, Francis-Bayman believes the Fever have the "potential to be unstoppable." Picture: Daniel Pockett/Getty Images
Yet to win a championship in their various incarnations over 25 years, West Coast tops the ladder on percentage with six rounds remaining, and with four of their last five games scheduled for the RAC Arena fortress they call home. The next is away, though, with Mrs and Mrs Francis-Bayman crossing the country for a match in which both feel particular pride.
The once-anxious Sara has realised her fears she would be judged harshly were overblown and the acceptance of her same-sex union greater than she had dared to hope, while the more comfortable and confident Stacey has realised that hers is still an important story to share.
"What I realised is that just by modelling my open, happy relationship, it was something that was really powerful,'' she says. "People were really happy to see themselves — if they identified as being gay, or bisexual, or a netballer, or a mixed race person, an athlete, whatever, that they could have commonalities with me and saw me owning every part of myself and being really happy to do so.
"The positivity and feedback that I got from that was wonderful, and I think there's nothing better than being able to bring your whole self to life and to work and to just be celebrated for that.
"I think that was kind of the light-switch moment for me: that by just being myself and championing the diversity that I have was great for other people too, which was an absolute joy.''