Maddy Proud leads Super Netball in several categories but Diamonds call-up still eludes her
Youngest contracted netballer. Author. Premiership winner. Maddy Proud feels her impressive resume is still incomplete, writes LINDA PEARCE.
Two-time premiership winner Maddy Proud leads SSN this season in goal assists (282) and feeds (474). Picture: Matt King/Getty Images
NSW Swifts co-captain Maddy Proud has not yet pocketed as much of her teammates' loose change as she has accumulated circle feeds this Super Netball season but, then again, nor has anyone else.
To explain: Proud leads the competition for both goal assists (282) and feeds (474) after 11 rounds, ahead of Diamonds' captain Liz Watson in both statistics, and yet was not one of the six midcourters named in the 18-strong preliminary squad for the Birmingham Commonwealth Games.
More happily, she has a tongue-in-cheek deal with her fellow Swifties that she gets a dollar for every time she manages a mention of her new kids' book, 'Grace Back on Court' — or just the name Grace, or pretty much anything related to her not-quite-best-selling sideline as a novelist — into an interview.
Like this one.
"I'm pretty rich at the moment,'' Proud says, as she starts by explaining how her teammates have become an extra revenue source.
"I cannot confirm or deny whether I'm going to be slipping it into every answer, but I can confirm that there will be a fair few book plugs in here.''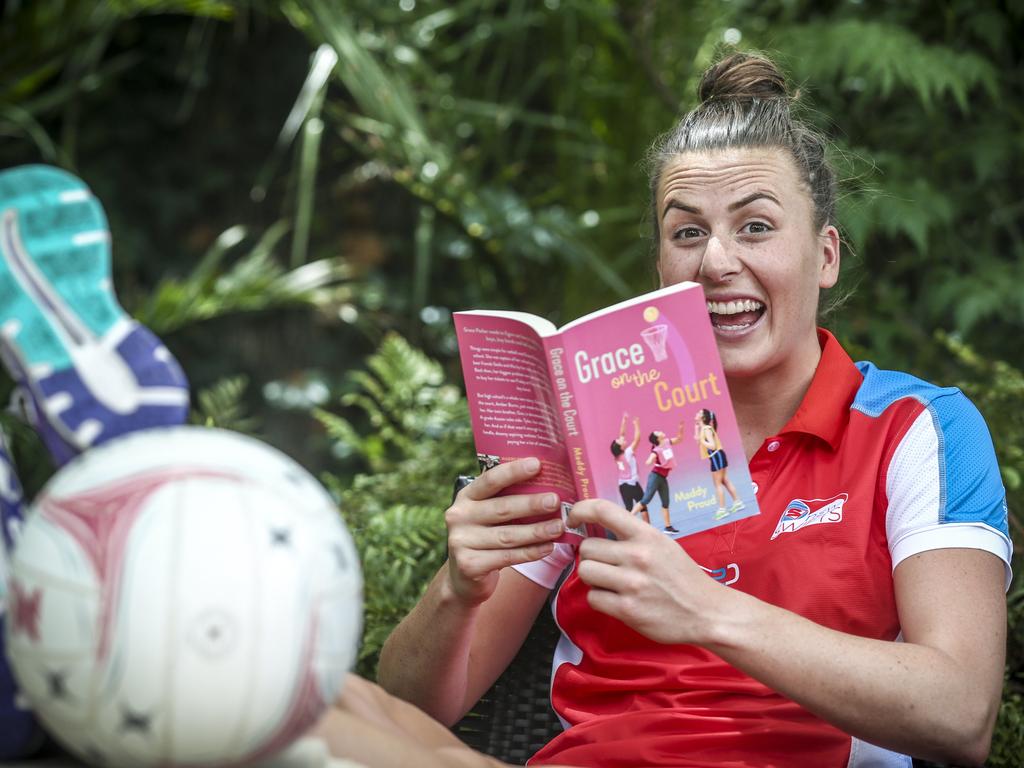 Maddy Proud with her kids book, 'Grace On The Court.' Picture: Mike Burton/AAP
And so there are, but there are also multiple strands to Proud's own story, even should she never pen a memoir. Such as the disappointment of missing the Swifts' 2019 flag after tearing her ACL while in then-career-best form, and her surprise dumping from the national squad five rounds into what few could argue has been an outstanding season.
Yet another common theme was that both setbacks were treated — at least outwardly — in Proud's typically sunny and selfless way.
This, remember, is the player, who was the youngest netballer ever to sign a professional contract, while in Year 11 and aged 16, and was named the nation's 21/U player of the year in 2012 before captaining the Australian World Youth Cup team that included the likes of Diamonds regulars Gretel Bueta, Courtney Bruce and Jo Weston.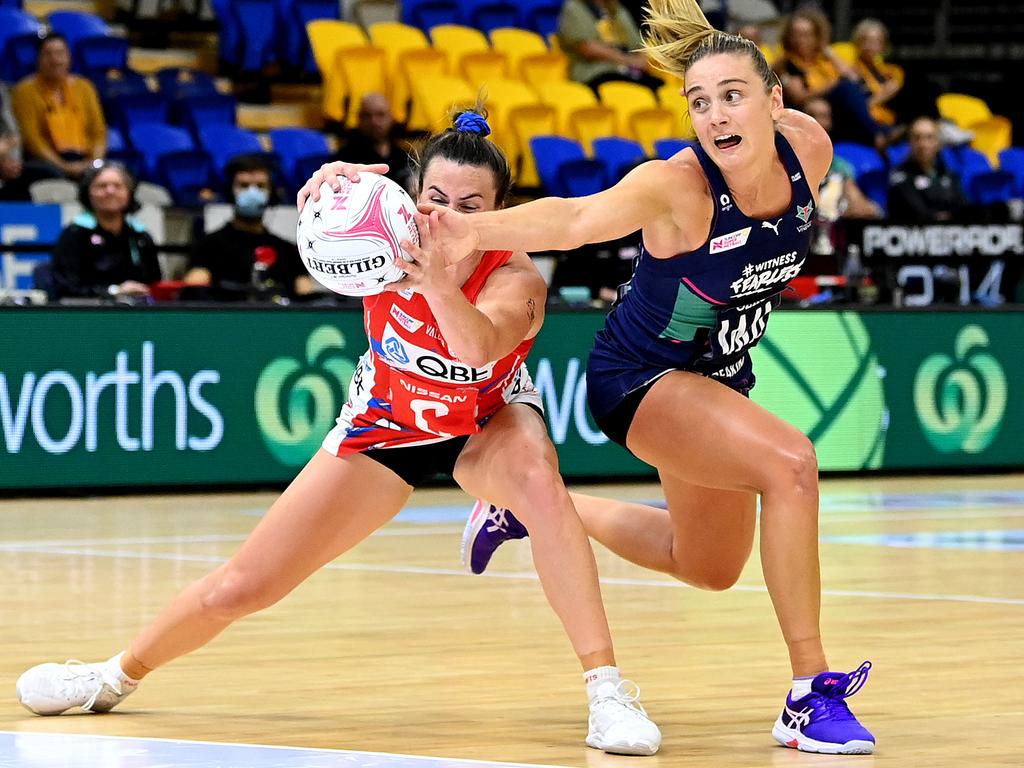 Proud leads Diamonds captain Liz Watson in statistics this Super Netball season, but is yet to earn a call up to the national side. Picture: Bradley Kanaris/Getty Images
And who, still, does not own a precious gold dress of her own.
One who won't make it to this year's Commonwealth Games, either, barring a late selection miracle, following the let-down of that preliminary squad announcement last month.
"By the time we got back to training two days later she was just like her normal self, which is amazing, because I can only imagine how disappointed she would have been,'' says Proud's former Adelaide Thunderbirds' teammate Bec Bulley, now the Swifts' assistant coach.
"But she just was straight back to business. You did not hear her whinge once, she hasn't complained, she's just really copped it on the chin and got on with things. Maddy's having an unbelievable season, she's just been the stalwart of our team and hasn't really put out a bad performance yet.
"She is such a great team person. She's always full of energy, she's always got a good joke, or a good story, can talk to anyone — she can talk underwater, basically, with a mouthful of marbles — and everyone respects her so much.''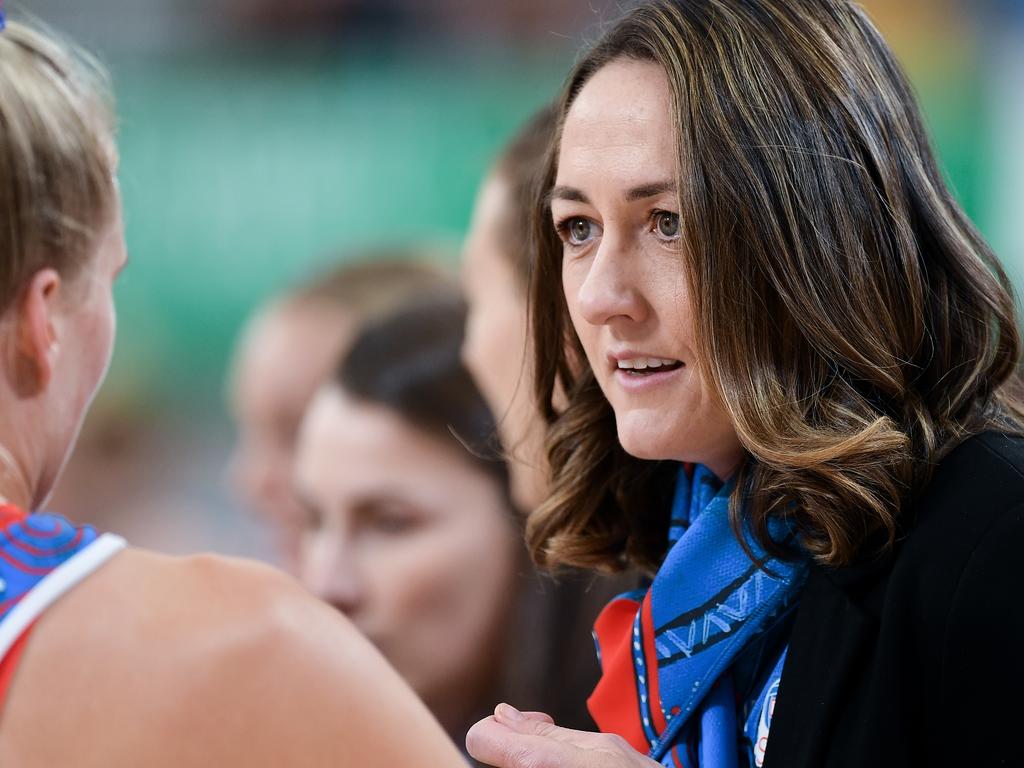 Bec Bulley moved into a coaching role with the Swifts after retiring from the Giants in 2018. Picture: Steven Markham/Speed Media/Getty Images
*****
Young Maddy Proud would write her name on birthday cards along with the message "my autograph when I'm famous". She thought it was fate that when her school named its year nine classes after female sporting teams, she ended up in the Thunderbirds, given her willingness to tell everyone that was where she was headed.
"I always had that confidence, but I did it in a way that it was a joke, so that people didn't think I was arrogant or anything like that,'' she says. "I guess I always had this ambition of living this big life and wanting to be someone that did succeed and do some pretty cool things.''
And if every autograph signed or selfie posed-for still counts as a pinch-me moment for the gregarious 117-gamer, then revisiting 18-year-old Proud's to-do list from a decade ago makes for amusing reading.
Get a drum kit, for example, which was near the top.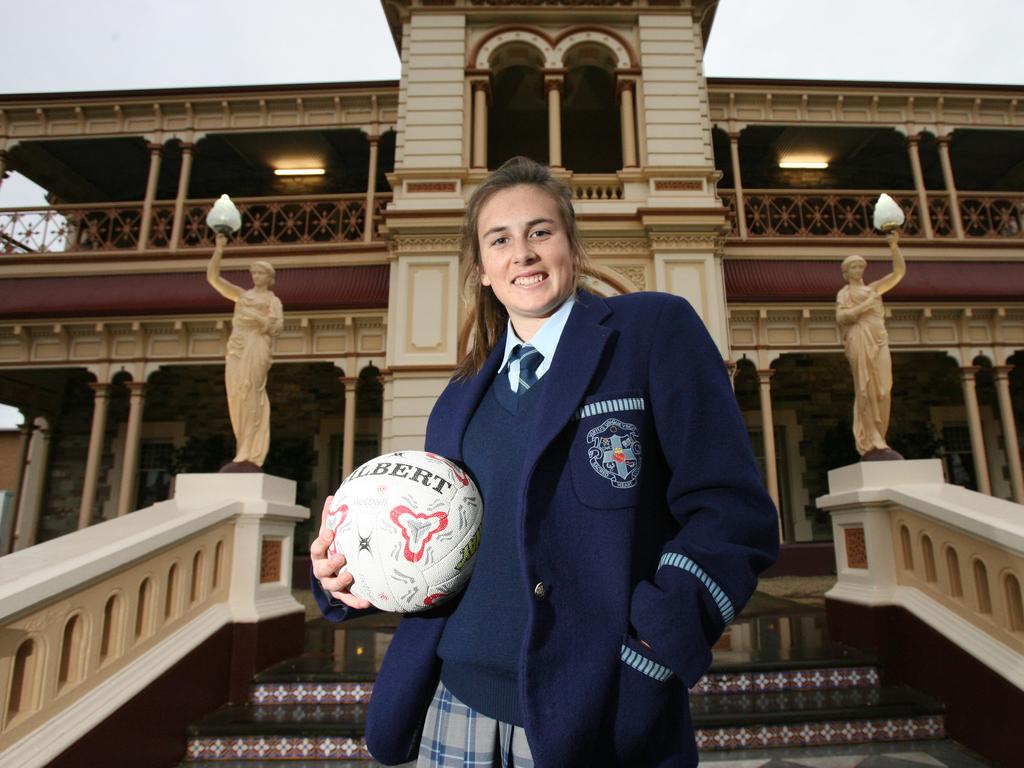 Proud was a precocious teenager, and the first high-schooler to earn a contract for the ANZ Netball Championship. Picture: News Corp Australia
"The drum kit did come, but the drum kit did go,'' she admits. "My dad let me have it for a total of one week, but then he got so sick of it that he had to chuck it out.''
Sponsor a child (yes to that one, after four years supporting a kid in Tanzania). Write a book and go on a road trip (multiple ticks for those). Never did get around to "reading "Steve Jobs" (sic), in what was a short-lived ambition to become a billionaire, or to start her own kids' show. Did appear on an episode of Totally Wild, though, which almost counts.
Amid the plans to get fit/eat healthy/throw out clothes/delete Facebook friends, there was also the aim to meet Justin Bieber or One Direction. Hasn't given up on either yet, and will be at both the Bieber and Harry Styles concerts. "So Harry or Justin, if you happen to read this interview, you know where to find me.''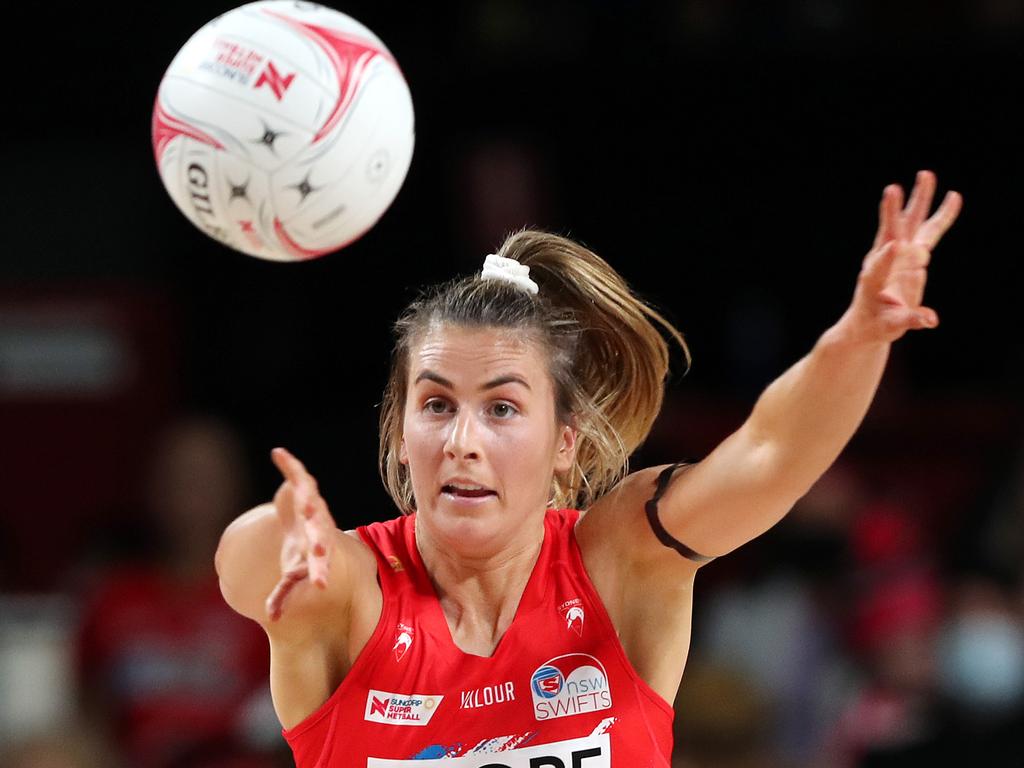 Proud has ticked plenty of things off her personal 'to do' list. Picture: Sarah Reed/Getty Images
Her current to-do list would look slightly different, and includes the ambition to write a sports-themed fiction series in the young-adult genre ("another book plug there"), and to find something that can eventually provide the young veteran with as much fulfilment as playing currently does.
"In terms of netball, I do want to represent my country,'' she says. "I would love to be able to step out on the court in the green and gold. I've done that at the under 21s level, but never at the top level, and even as I'm getting older I still would just love that opportunity.
"I guess it's the ultimate dream at the end of the day, and while winning premierships was always my No.1 and I've now been able to do that twice with the Swifts, I'd love to do that a third time. But also being able to play for Australia is up there.''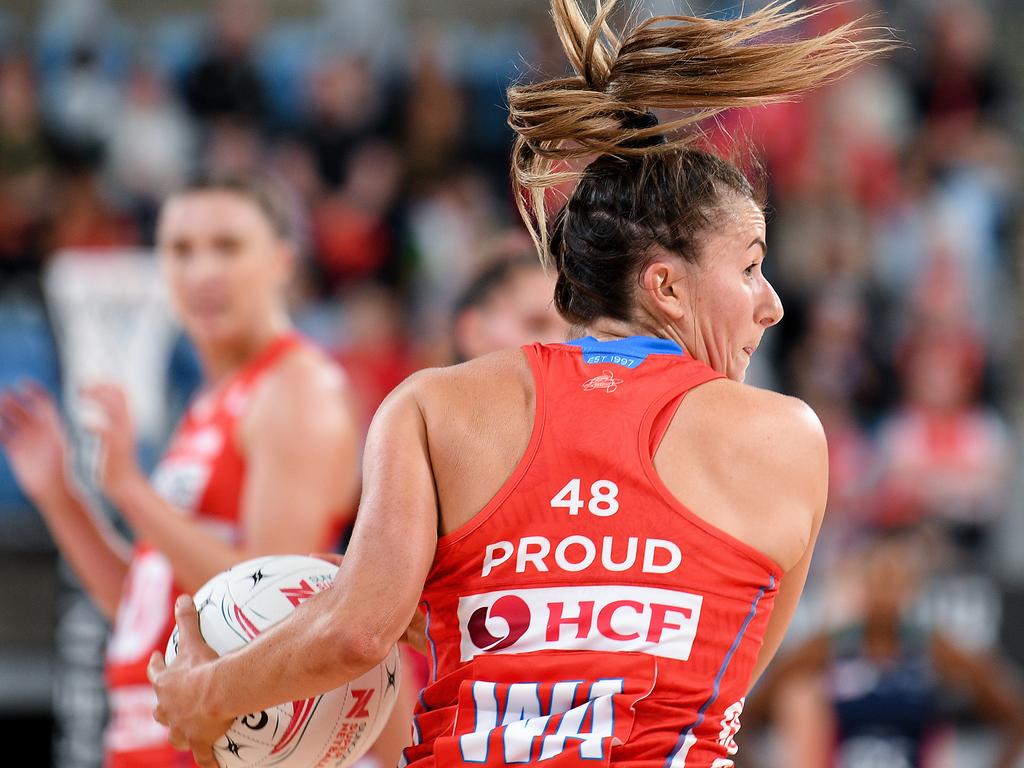 Proud is contented with her achievements at the Swifts, but still has her eyes on a Diamonds call-up. Picture: Steven Markham/Getty Images
*****
It all started as "a crazy whirlwind", Proud can see now. Signing a contract at the age of 16, having a TV crew visit her school, and newspaper articles about her displayed in classrooms, when the biggest issue for her peers was which dress to wear to the Year 12 formal.
"To find out that I was actually going to be living out my dream at that age, I don't think at the time it probably sunk in as much as it does now, just reflecting back on it. It's probably now that we have players like (18-year-old) Sophie Fawns in the team that''s only just finished school and is still such a baby that I think 'oh, God, I actually started out younger than she is now'.''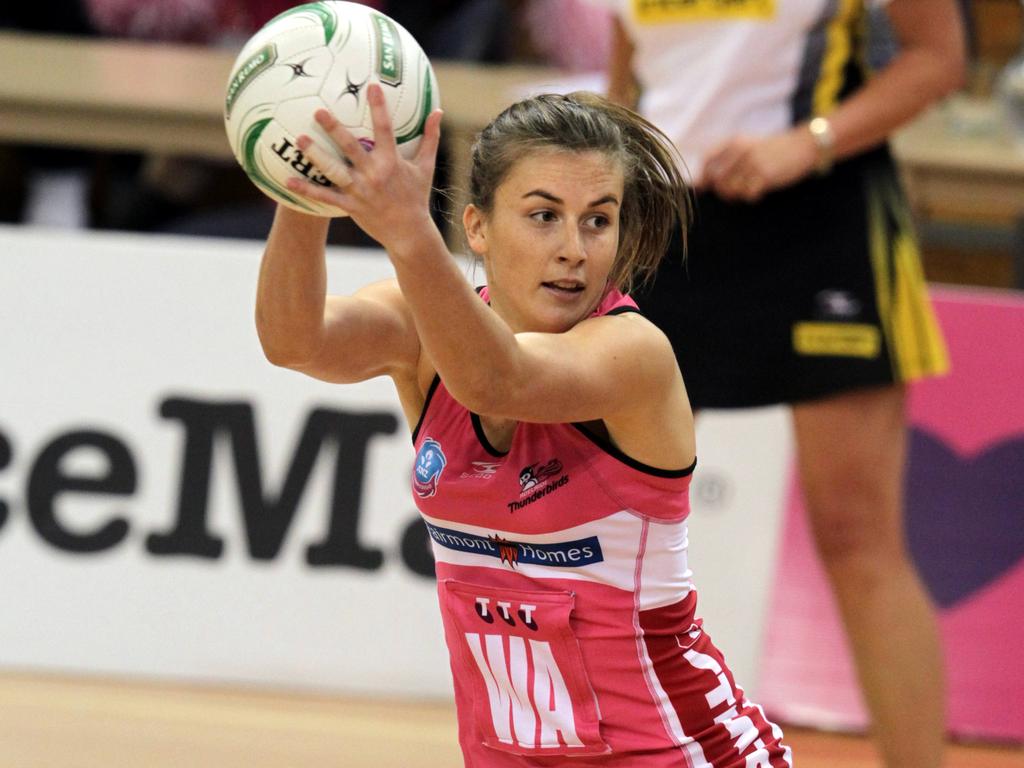 Proud contended her first two professional netball seasons with the Thunderbirds while still at school. Picture: News Corp Australia
The pop culture aficionado calls it her Hannah Montana experience: regular schoolgirl by day; national league netballer after hours, travelling around Australia and across the Tasman, playing in packed stadiums, as senior players such as Renae Ingles helped with her homework and taught her about life.
"There was all this success early, and at that time I was captain of the Australian 21s team and I was in that team from when I was that 16 age, so was always that 'youngest' one that was kind of pushing to the top level,'' she says.
"I remember going to a Diamonds camp when I was only 17 or 18, and then actually didn't go back to a Diamonds camp until last year, so there was literally 10 years in between my first and my most recent.
"And that's probably what sparked the move to Sydney.''
Proud felt that she had plateaued at the Thunderbirds, while noting her World Youth Cup teammates gaining starting positions elsewhere, or just more court-time in general. Even some, like Kim Ravaillion, winning Diamonds' selection.
Perhaps, back home in Adelaide, she had become a bit comfortable, so when the Swifts came calling ahead of the first SSN season in 2017, off to Australia's biggest city she went.
"The moment I stepped foot in Sydney, I felt like I got this new lease on life at the Swifts, and I now kind of talk about my netball career in almost two parts: that time that I was in Adelaide was so formative and created the basis of what I became as a person and a player, but then moving to Sydney meant that I was really able to take that next step and start to really discover what I wanted to do and what sort of player I wanted to be and I'm so grateful I ended up making that decision.''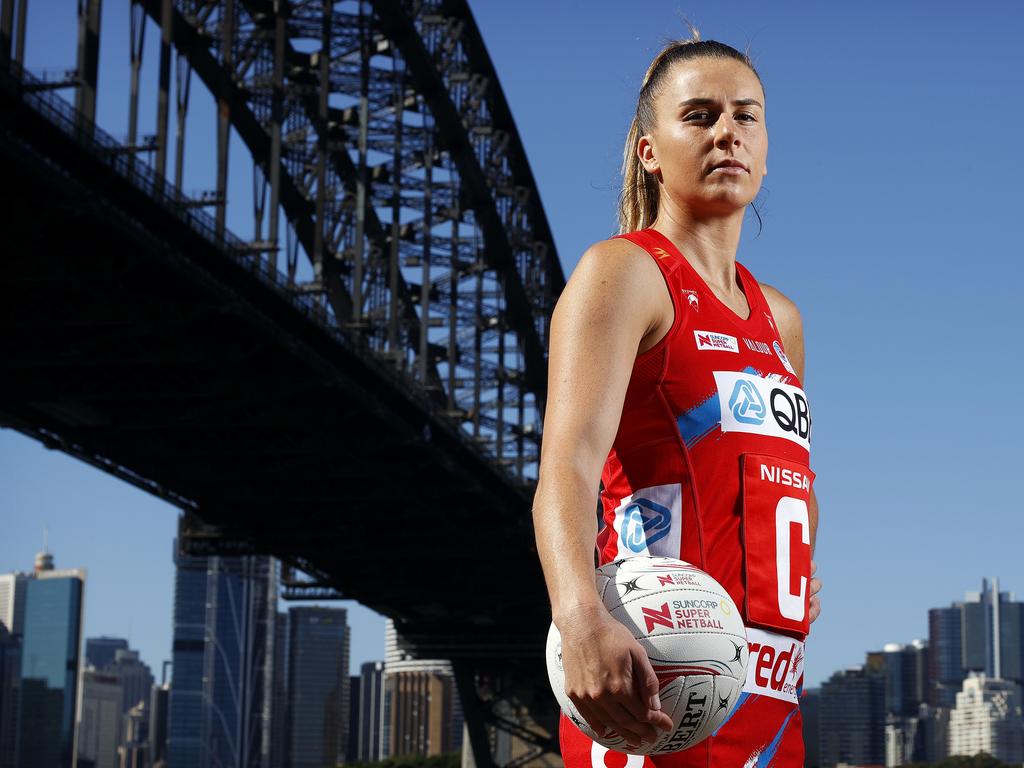 Proud got "a new lease on life" when she moved from Adelaide to Sydney. Picture: Tim Hunter/Daily Telegraph
In 2019, as co-captain of a winning team under coach Briony Akle, Proud ruptured her ACL in round seven. Yet simply switching her leadership location to off-court provided a distraction and a purpose, as did writing the follow up to "Grace on the Court" and setting up her own website. The knee reconstruction was fate, too, she believes — however painful the rehab and being stranded on the sidelines for that first premiership.
"Come the 2021 win, I don't think I would have been able to enjoy that moment as much, or be so just grateful to have that opportunity to play in another grand final without what had happened in 2019,'' Proud says.
"As soon as (netball) was taken away from me and I all of a sudden couldn't play the sport that I'd been playing for my whole life, I just wanted it so badly that it was almost this sense of relief and being like 'God, I'm exactly where I'm meant to be, because all I want to be able to do is just play netball again'.
"And since then it's that idea of you never take a moment on the court for granted, so it definitely helped me in many many ways and I don't think I'd be able to do what I do now had it not happened.''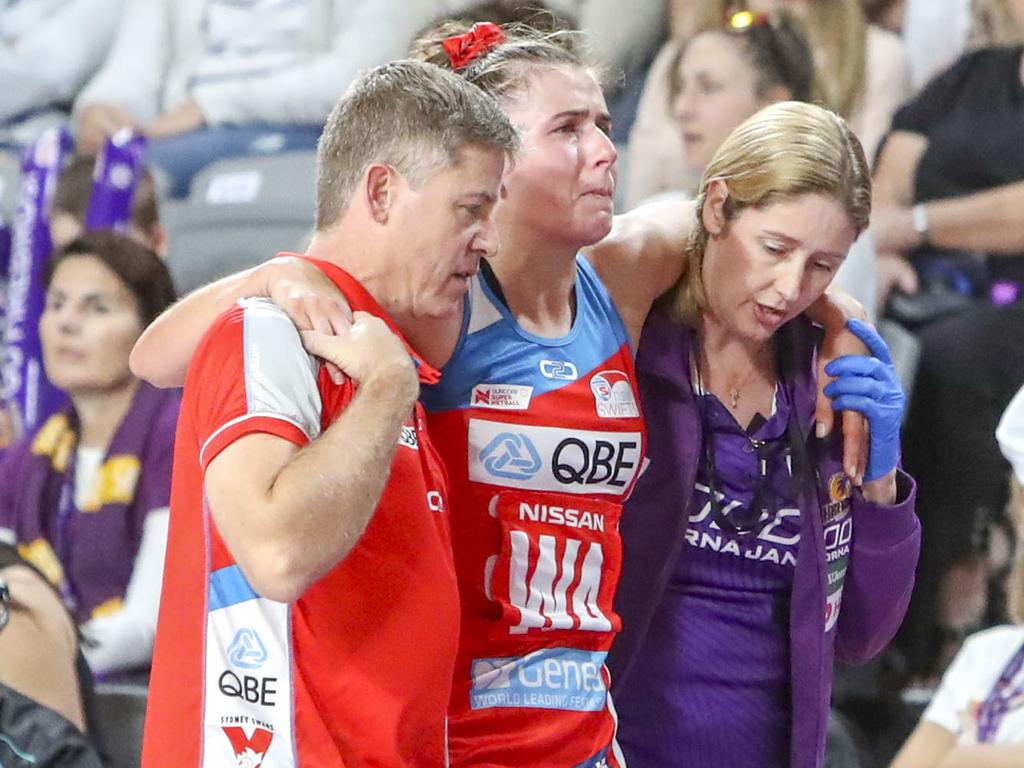 Proud was devastated by the injury that prevented her contesting the 2019 Super Netball final. Picture: Glenn Hunt/AAP Image
The way Proud handled her comeback season also assisted in her 2020 national squad recall, and, while she failed to earn a place in the Diamonds game-day 12 during Constellation Cup tour to New Zealand early last year, and was then dropped from the current group, she knows she can do no more than continue to focus on playing well for the Swifts.
"They've obviously said that the door's never fully closed, and until they select that final team there's always still that tiny iota of chance,'' she says, Akle having been part of an extended feedback session with Marinkovich.
"So you definitely don't love to have those conversations, but it also gives you a bit of extra drive and you know that you've just got to keep doing a little bit more every week and hopefully in the end it results in me getting a better phone call.''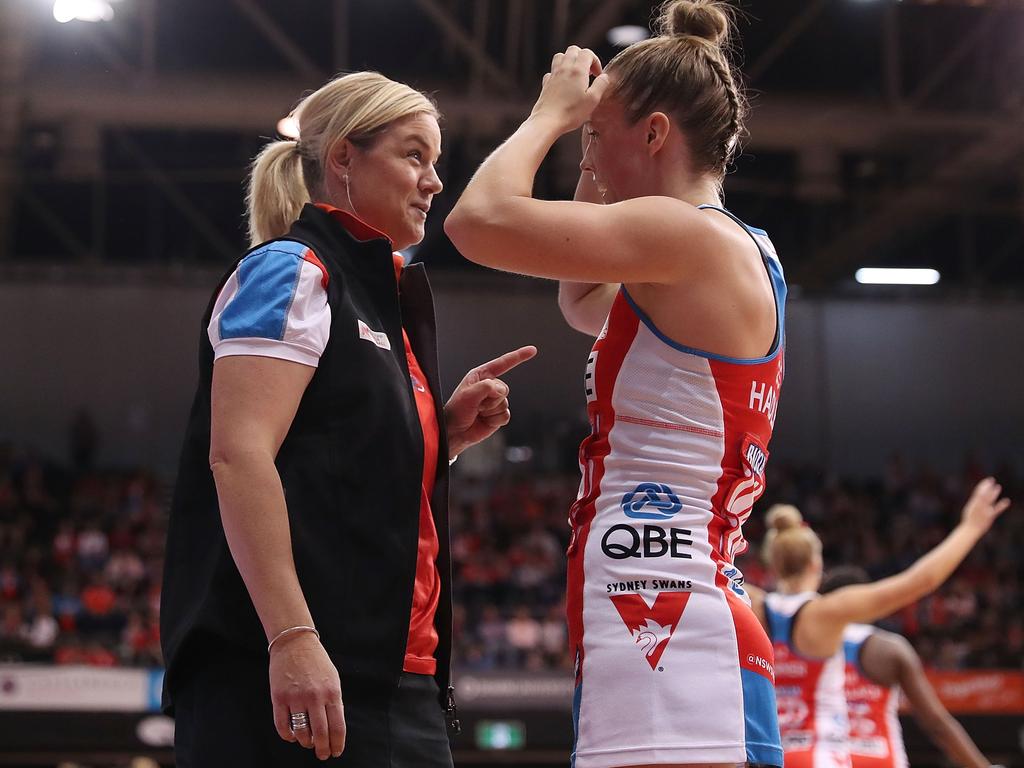 Swifts head coach Briony Akle keeps a close watch on Proud at the NSW club. Picture: Mark Metcalfe/Getty Images
*****
Outgoing. Lively. Sociable. Exuberant. All words Proud has used to describe herself.
Yet she believes she has also found a better balance between her jovial and serious sides; knowing when to be a leader or, instead, just part of the gang, while still staying true to the person she has always been.
"I've always had this kind of fear of not being liked, and that often crept into my leadership, in terms of if I was having to have that tough conversation, or say something to someone that wasn't necessarily an easy thing to say. I'd often worry a bit much about, 'Is that gonna impact our friendship, or is that going to impact what they think of me?'
"But I think that as I've got older I've learnt that people often respect you more if you're able to have those conversations and I've become a bit more sure of who I am and the fact that I do have these relationships that are strong enough to withstand having to have those chats."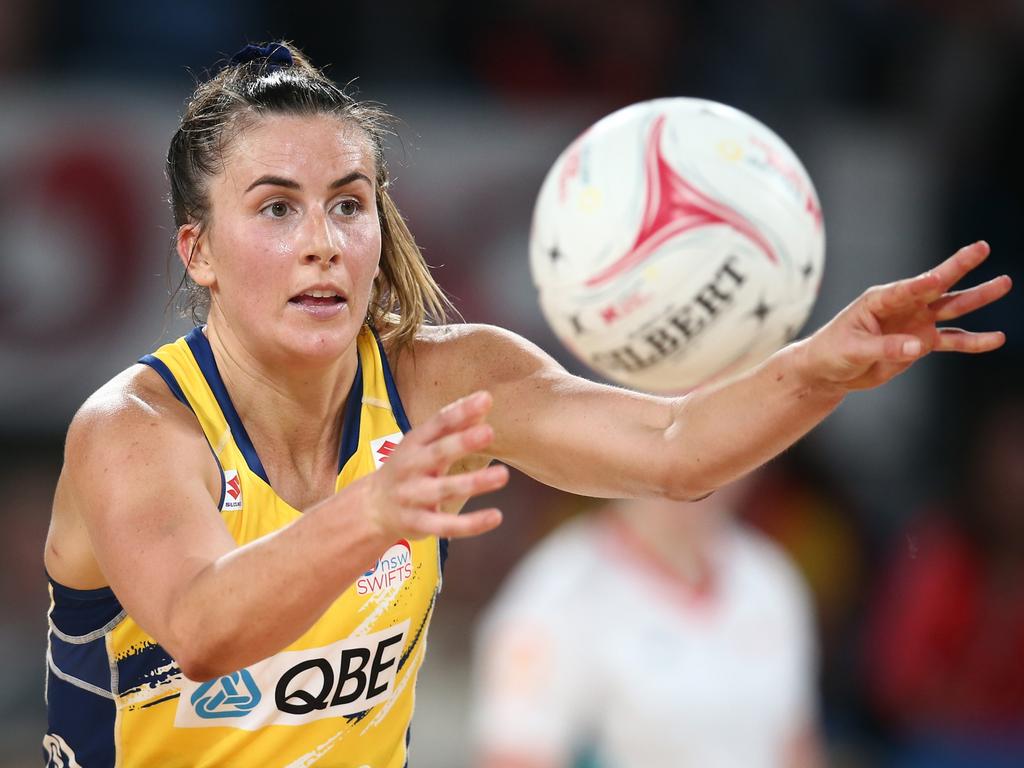 Proud believes she has struck the right balance between jovial and serious in her leadership style. Picture: Jason McCawley/Getty Images
"It's been a bit of a running joke this year that 28-year-old Maddy has turned into more hardened Maddy, and I have become a little bit more direct, and not feel like I have to be all light and fluffy all the time.
"My teammates and Briony might disagree, and think that I maybe sometimes still make a joke out of too many things, but compared to that 16-year-old girl that was just starting out in Adelaide, that maybe didn't know when to switch off that laughable side, I've definitely learnt when to go between the two a lot better.''
Swifts' co-captain Paige Hadley provides a good balance in a yin/yang kind of way, says Proud, and Bulley agrees. "On court, Paige is the one that can give that real tough direction and hold people accountable where Maddy's probably the one that's more encouraging and keeping up the positive energy.''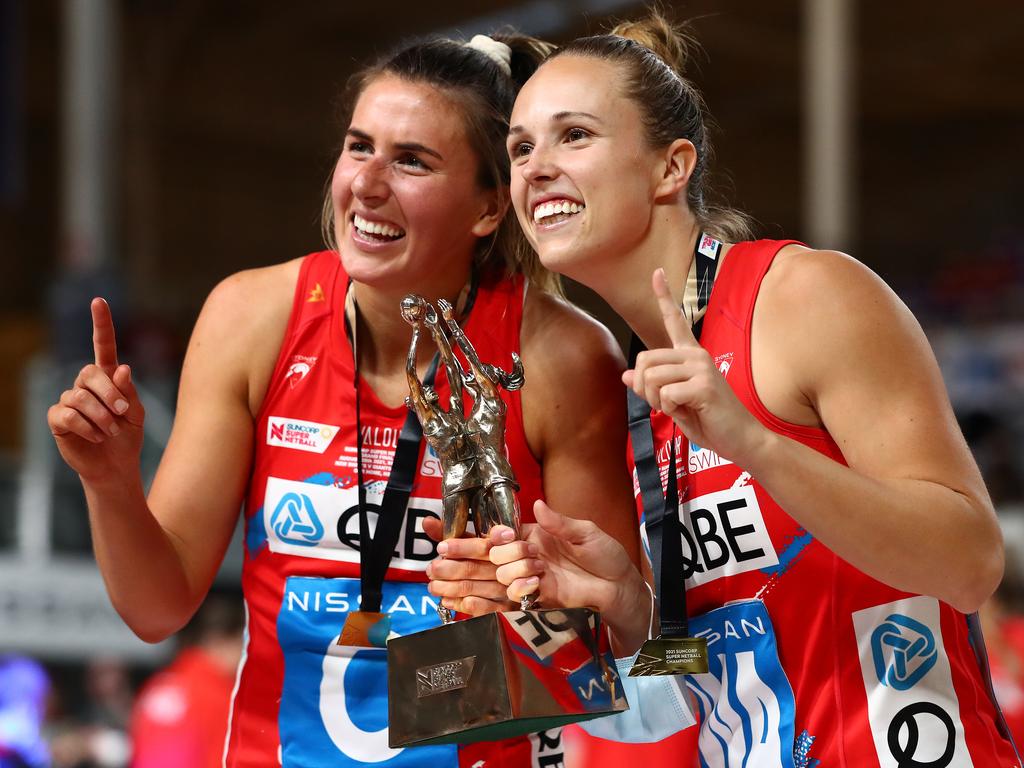 Proud and Paige Hadley led the Swifts to their 2021 Supern Netball Championship. Picture: Chris Hyde/Getty Images
*****
A visit to the local bookshop fails to unearth a copy of either of Proud's books, which are available through her website, although the store assistant kindly offers to order one in.
"Let's just say I'm no JK Rowling, yet, but I know that for her it didn't all happen overnight!'' quips Proud, whose sales have exceeded expectations, amid a reception that has been gratifyingly positive in the netball community and among schools.
"It's actually done quite well – without probably being one of those ones that's sitting at the front of the Dymocks when you walk in there.
"Yet. I say yet.''
The marketing graduate completed a Masters in Creative Writing after moving to Sydney, and has plans for a Grace trilogy, at least. When asked, as she often is, whether there is much of herself in the boy-band-loving, netball-playing heroine of her series, Proud says Grace is how she would have liked her 13-year-old self to be.
"All the cool boys at school are chasing after Grace, she always has the right answer to everything, and it's a bit of a running joke that we think Grace can sometimes be a little bit too perfect,'' she says.
"So I think in the third book we might have to add a few more flaws. I think she's gonna be a bit more similar to myself!''
A pop-up on Proud's website is the message to "do what makes you Proud" and, for Maddy Proud, there is much that is the source of pride.
In her day job as an elite netballer, she says, that includes bringing joy to a cheering crowd that has paid to watch her play.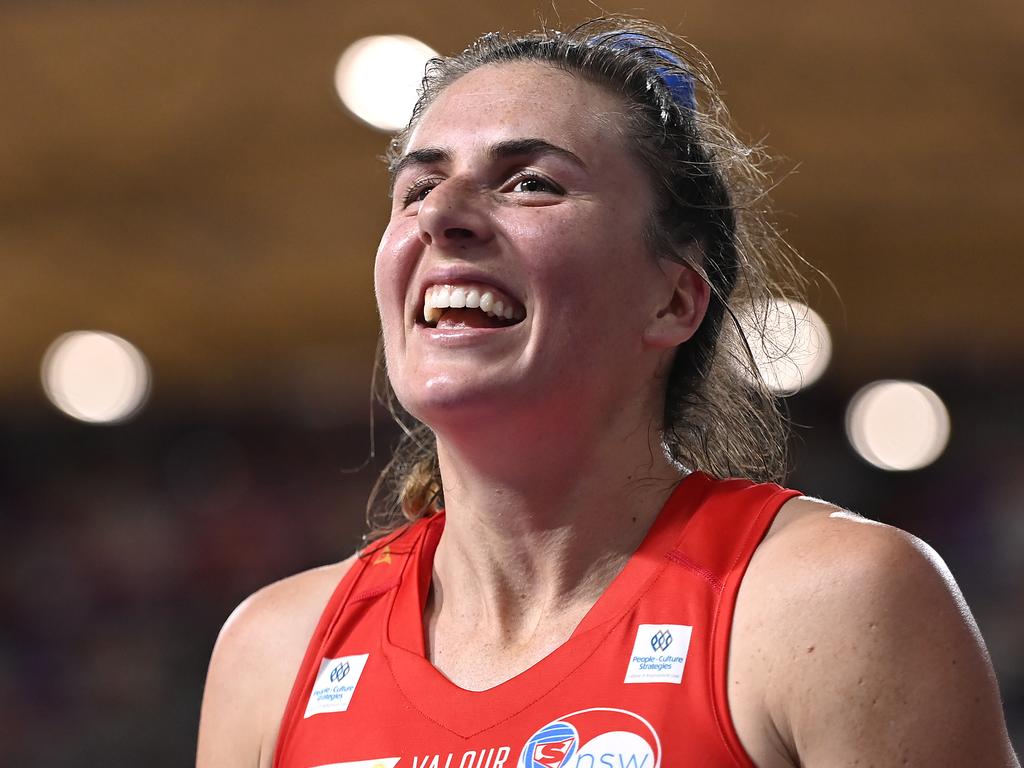 While she still waits in the wings of the national team, Proud is ecstatic that her day job means bringing joy to fans. Picture: Albert Perez/Getty Images
As an author, far more unexpectedly, it is in receiving messages from parents of a young netty fanatic who has never read a book except, now, hers. Or whose child is an avid reader but never played sport and is now about to join a netball team.
We exchange text messages afterwards to estimate how many book plugs were included in the 40-minute chat.
Double-figures?
"Hahaha definitely'', comes the typically upbeat reply. "Maybe even triple.''
One mission accomplished, then.
A few bigger goals still to come.