Suncorp Super Netball must address these key areas if it is to thrive into the future
Mending the relationship with players and rethinking rule changes are among the steps NAT MEDHURST believes are essential for netball's growth.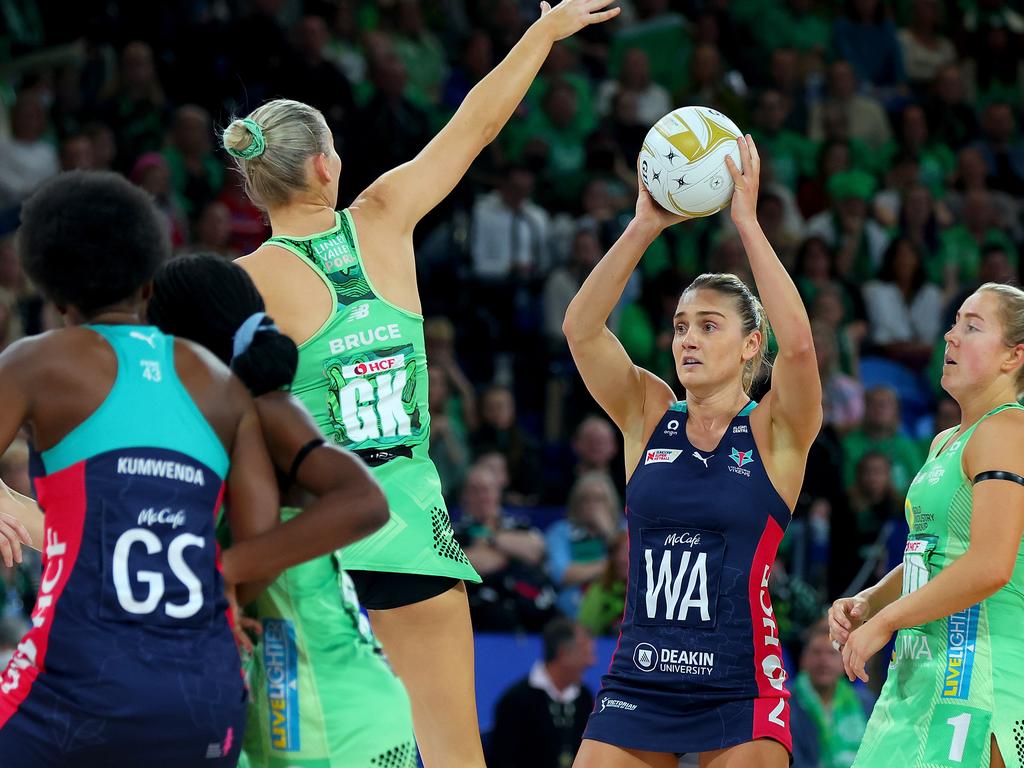 Liz Watson during this year's Grand Final. Picture: James Worsfold/Getty Images
After two years of hubs and chaos, 2022 delivered a far more normal Suncorp Super Netball season for clubs, players and fans. The home and away season was finally back.
So, what will 2023 look like? Whether or not Netball Australia considers the current offer to privatise the competition, I believe several factors need to change at the elite level for netball to grow.
Relationships
There is no doubt the relationship between the playing group and Netball Australia is strained.
Perceptions about a lack of collaboration and engagement between Netball Australia and the Australian Netball Players' Association is a concern. Both parties need each other.
The players are the sport's greatest assets yet many don't feel they are treated as such. And given that NA and SSN bosses publicly speak of the incredible role models our sport has, it is time for those sentiments to be backed up with actions and behaviours.
If netball is to truly be the premier women's sport in Australia, the game's officials and players need to pull together and display mutual respect. A damaged relationship helps no one.
Netball Australia CEO Kelly Ryan and the Players' Association need to get on the same page.
Team lists
Talk of expansion has been tossed around, even separate to the private buyout conversation, but I don't believe our sport is in the position for that to happen, particularly if SSN wants to maintain its status as the best competition in the world.
Instead, I believe we need to revert back to team lists of 12 contracted players.
The current demands and load on players is enormous. Irrespective of the ongoing impact that the Covid-19 pandemic may or may not have on sport, the team lists are too small at present to enable players to be effectively managed and for coaches to ensure they are able to train their players properly.
Given training partners are under restrictions with their training hours, I would assume coaches would be happy to gain a couple extra full-time athletes. It would also enable the sport to continue to develop those fringe players better by fully immersing them in the day-to-day training and playing environment of the elite team.
By doing this, the continued development and pathway of our Australian talent is looked after and opportunities to be exposed properly to elite competition can fast track their development.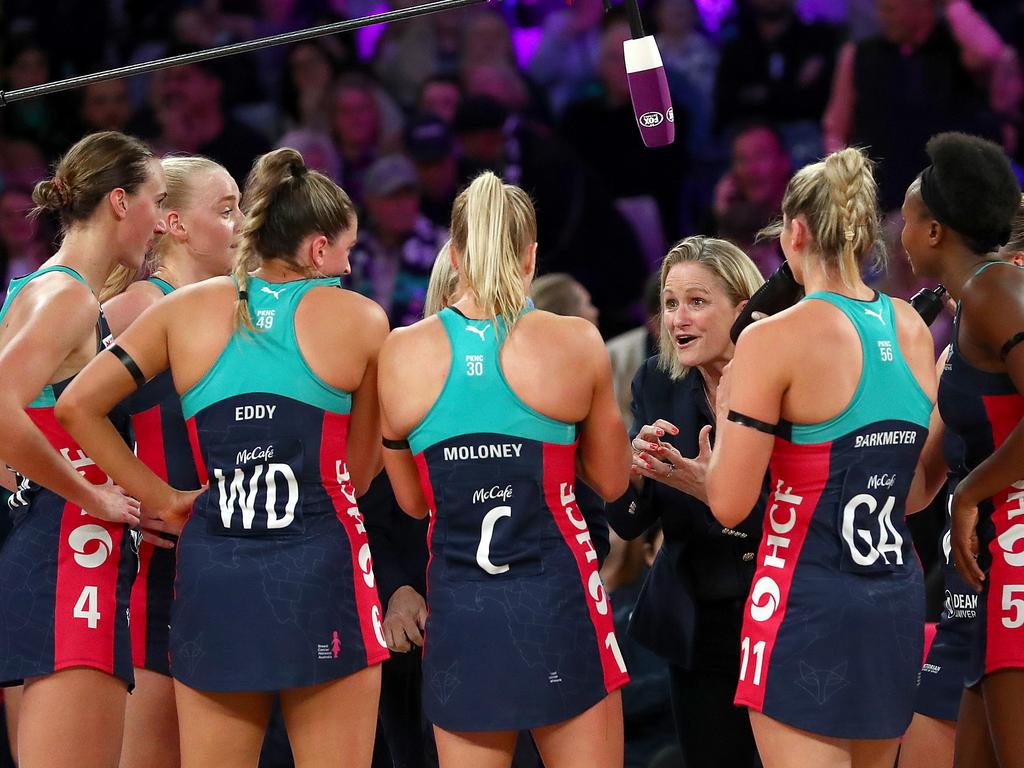 Team lists are too small right now, writes Medhurst. Picture: Kelly Defina/Getty Images
Rules
In the words of netball great Joyce Brown, "They've changed the game into some strange game that's not played anywhere else in the world."
I have been pretty clear that I am not a fan of the two-point shot. It is time for it to go. There is no data I have seen to demonstrate it is attracting or retaining fans to the sport. At times, I believe it makes the game ugly to watch and can result in an inferior team winning by nailing a few two-point shots in succession over a better opponent.
It can also reduce the flair and ball work we have previously seen – and what is witnessed on the international scene. Rather than rewarding beautiful passages of play, where shooters get the ball under the post (I am not talking about a lob pass into a holding shooter), we choose to somewhat punish them for it.
I'm not 100 per cent sure why it was introduced, because the playing group was not consulted on this rule change, nor was it ever trialled, but I assume it was an attempt to make the game more exciting.
But netball, in its traditional form, is not boring.
It never was.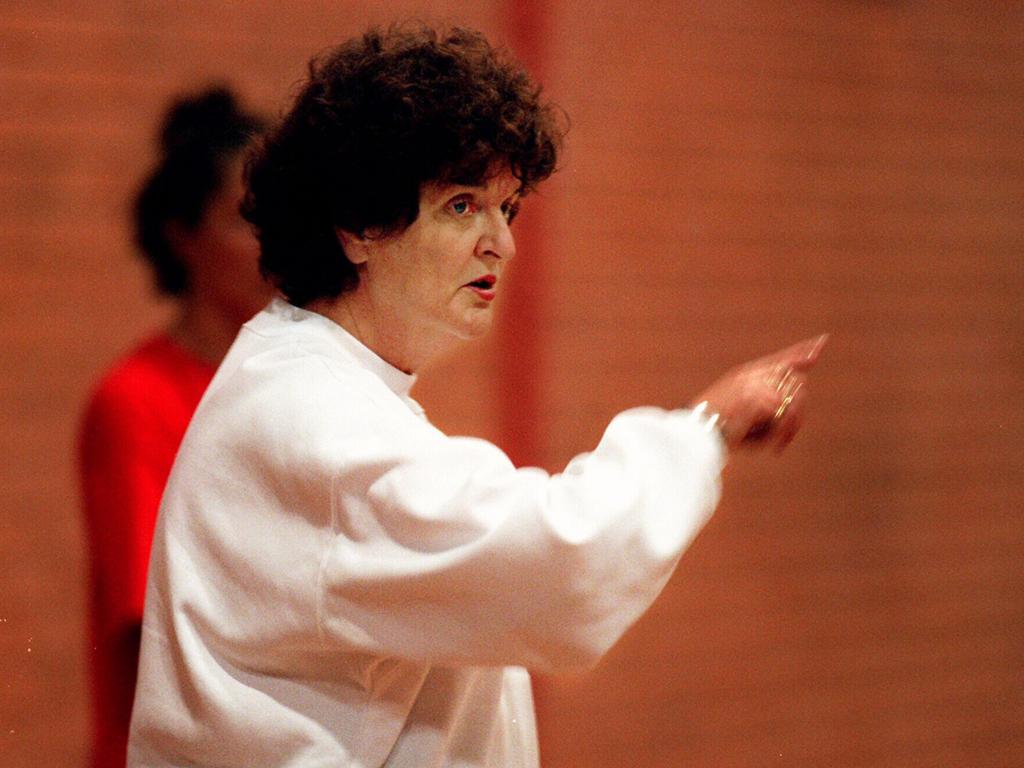 Joyce Brown: They've changed the game into some strange game that's not played anywhere else.
There have been, and will continue to be, incredible matches that will be played over and over in the highlights reel showcasing incredible skill, talent and shooting … and a few one goal wins to go with it.
Along with the two-point shot, I am also not enamoured with the number of timeouts teams get across a game. I understand that there may be a broadcast and commercial element that keeps it attractive, but I find them frustrating as a spectator.
These two rules also have an impact on our Diamonds team.
The two-point shot has a different emphasis and rewards different features than the international game, given the difference in rules. This impacts not only shooters but also defenders who are then required to play a different role during the Super Shot phase.
We are now seeing players touted "two-point specialists" and used specifically for that effect only, which is no doubt hindering their development when only used sporadically. Too many timeouts can also impact the mental toughness and smarts of the playing group to problem solve and grind their way out of a deficit and into games, given such breaks in play are not allowed in international matches.
Since these rules have been adopted, our Aussie players have sometimes looked lost, unsure and unable to pull themselves together out on court without relying on a time out to halt momentum, take a breath and have a coach give them some feedback. Given netball funding and the amount received is dependent on the success of the Diamonds, you would think it would be best practice to provide a domestic product that aligns and assists in their success.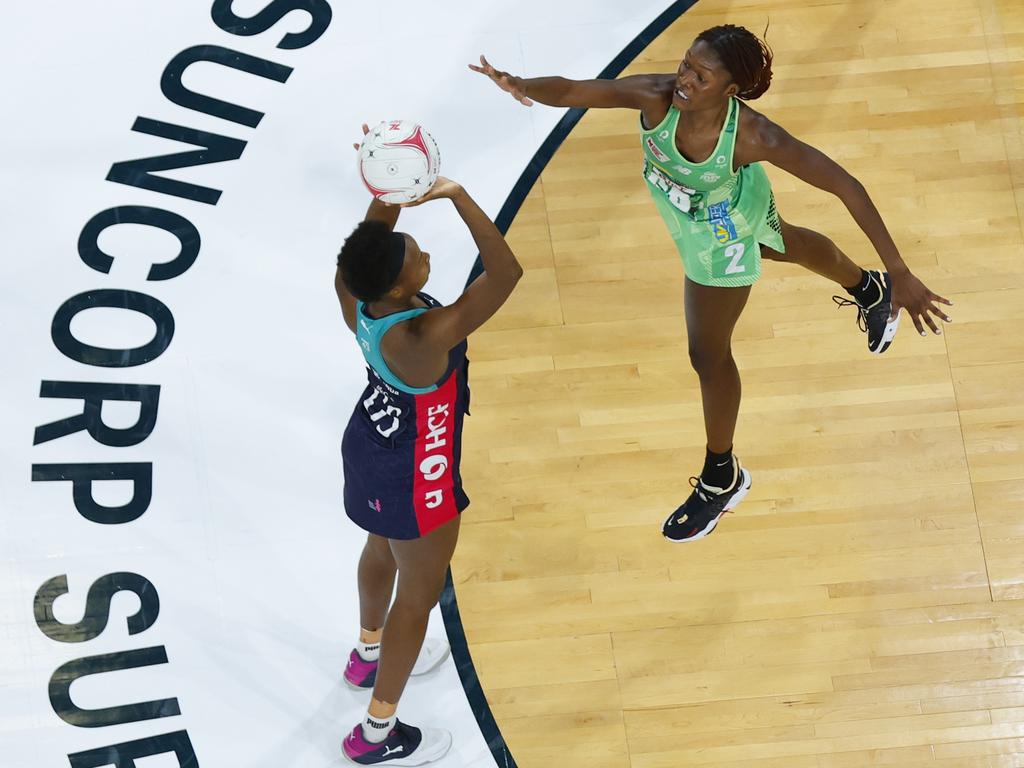 The two-point shot has left the Diamonds confused on the international stage. Picture: James Worsfold/Getty Images
Marketing
Netball needs to broaden its scope.
Looking at current advertisements and commercial partners, netball continues to target young girls. Don't get me wrong: young girls are a key demographic and vital for the health of the sport. But there are other, more influential markets that need to be tapped into as well.
Adults love netball, too. We need to get them watching our games and attending our matches. The sport needs to evolve its marketing strategy to include these people. They matter and they're the ones who have the discretionary money to spend.
It is the adults looking for a night out with their friends, or running a business that might want to take clients out to a sporting event. That generates revenue and brings new fans to our sport.
Don't forget the kids, by any means, but broaden the marketing targets to include a wider section of society. We should not be hiding our sport, and the athletes within it, from people who want to see it.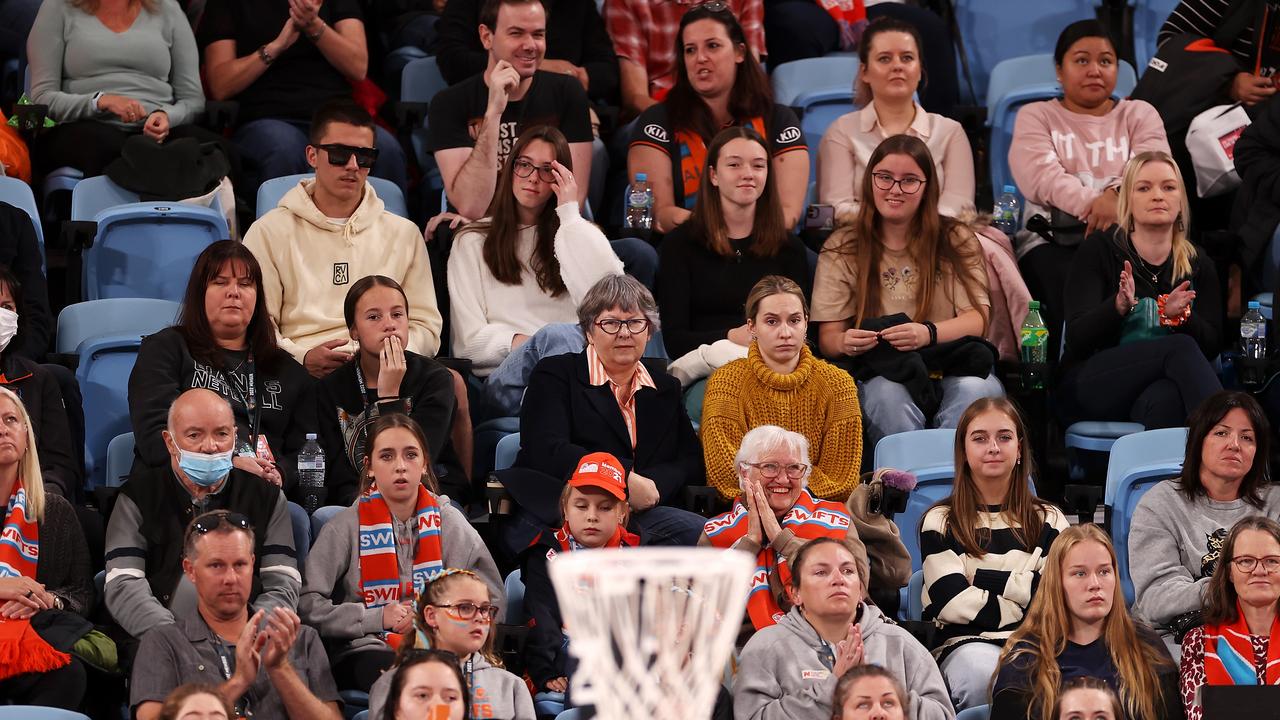 Netball needs to broaden its marketing scope to draw more viewers. Picture: Mark Kolbe/Getty Images
Atmosphere
If netball can learn one thing from sport in Australia and around the world, it is the game day experience.
The club which does it the best in the competition is the West Coast Fever and they have been asked to dial it down. I don't understand this. Excitement and interaction is what the fans want. That is why they attend games. That is why they keep coming back for more.
To feel a part of the action.
To feel that being there has an impact on what is happening on the court.
And it does.
As a player, you can't beat the feeling of running out in front of a jam packed crowd, one that is fully invested, wearing their team colours, chanting and cheering and riding every single pass, intercept and goal scored.
When the Fast-5 format of the game was introduced, it included the two-point shot. It was this that SSN bosses in 2020 thought was a key factor in the fanfare generated at those Fast-5 tournaments.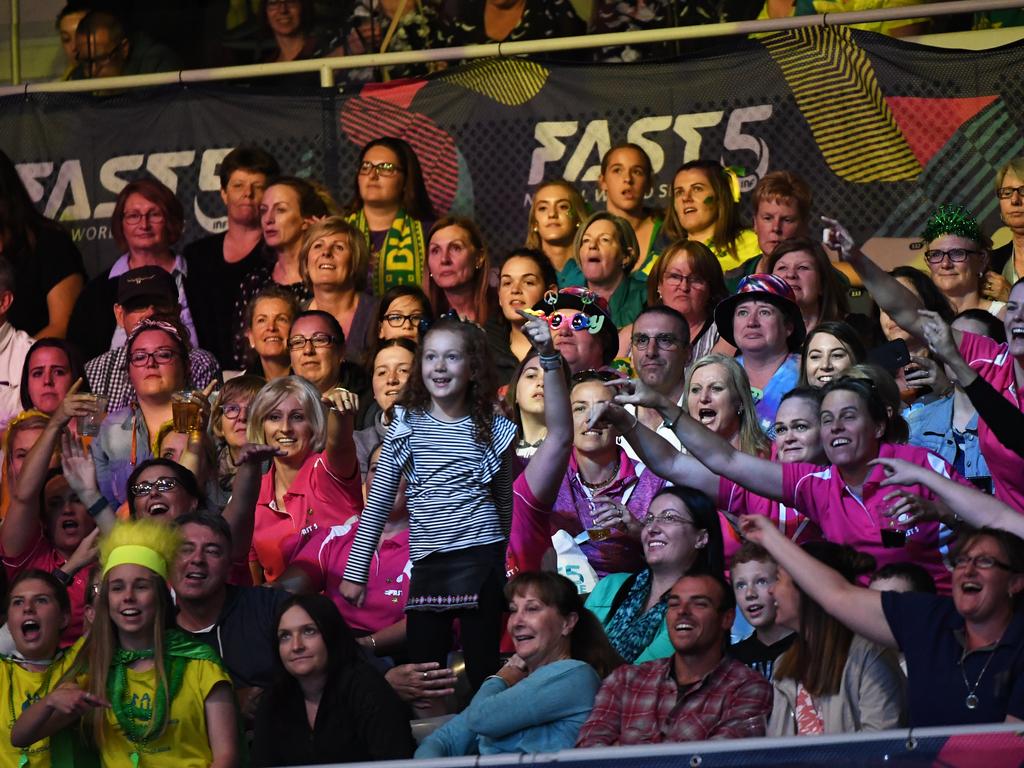 The atmosphere was what netball needed to keep from the Fast-5 format. Picture: James Ross/AAP Image
I believe they were wrong.
It was the atmosphere.
It was players being given the freedom to run out onto court with a bit more flair.
It was sparklers going off courtside.
It was music being blasted every second of the match.
It was fans being encouraged to dress up and truly be a part of the action.
It was adults being marketed to.
Embrace these lessons and we have before us a big opportunity for SSN.