Super Netball 2022: Thunderbirds go on the offensive as they look to lock in their first finals series
Defensively they are the leaders of the pack, but the Thunderbirds know they need to drastically improve their attacking forays if they are to play in their first Super Netball finals series.
They have the best defensive statistics in the competition but Tippah Dwan said Thunderbirds have to continue to up their offensive performance if they want to play in their first Super Netball finals series.
Thunderbirds have gone from bottom dwellers to finals contenders in just a few short weeks with three wins out of their last four games.
They have conceded just 569 goals, the lowest in the competition but have only scored 570 goals this season — also the lowest in the league.
Stream Over 50 Sports Live & On-Demand with Kayo. New to Kayo? Try 14-Days Free Now >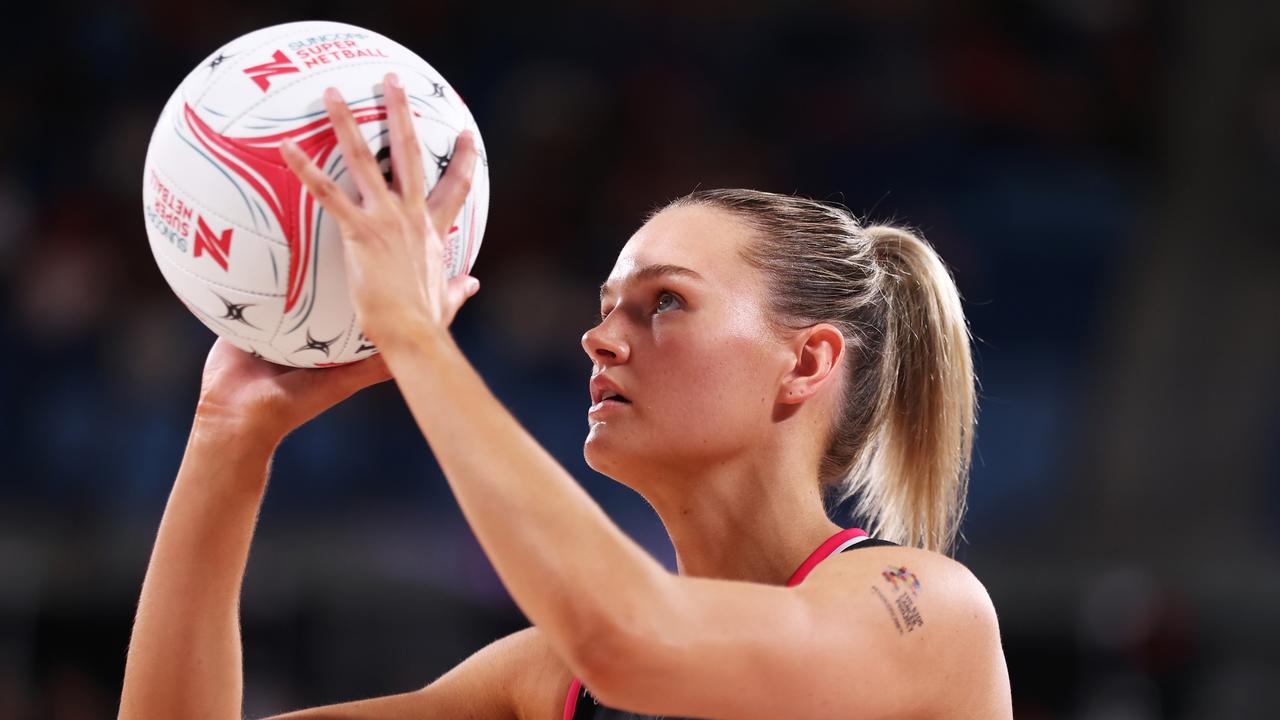 Tippah Dwan says the Thunderbirds need to step up their attack against the Giants when they travel to Sydney. Picture: Matt King/Getty Images
Dwan, 22, a talented shooter joined the Adelaide side this season after several years as a training partner with the Firebirds.
She said the Thunderbirds had put a big focus on their attacking plays over the past few weeks.
"We have had a very strong defensive side all around the court this year and we haven't really gained off our possessions," Dwan said.
"We have really stepped up in our attacking end and really pushed to score more goals. It is really paying off for us."
The statistics show it is working. Thunderbirds have netted 58 and 68 goals in their past two games — their highest scores all season. Across the first nine games they averaged just 49 goals a game.
Dwan said scoring goals was the key to beating Giants — who are hot on their heels and also sitting on 20 competition points — this weekend.
"Giants are a great defensive and attacking team," Dwan said.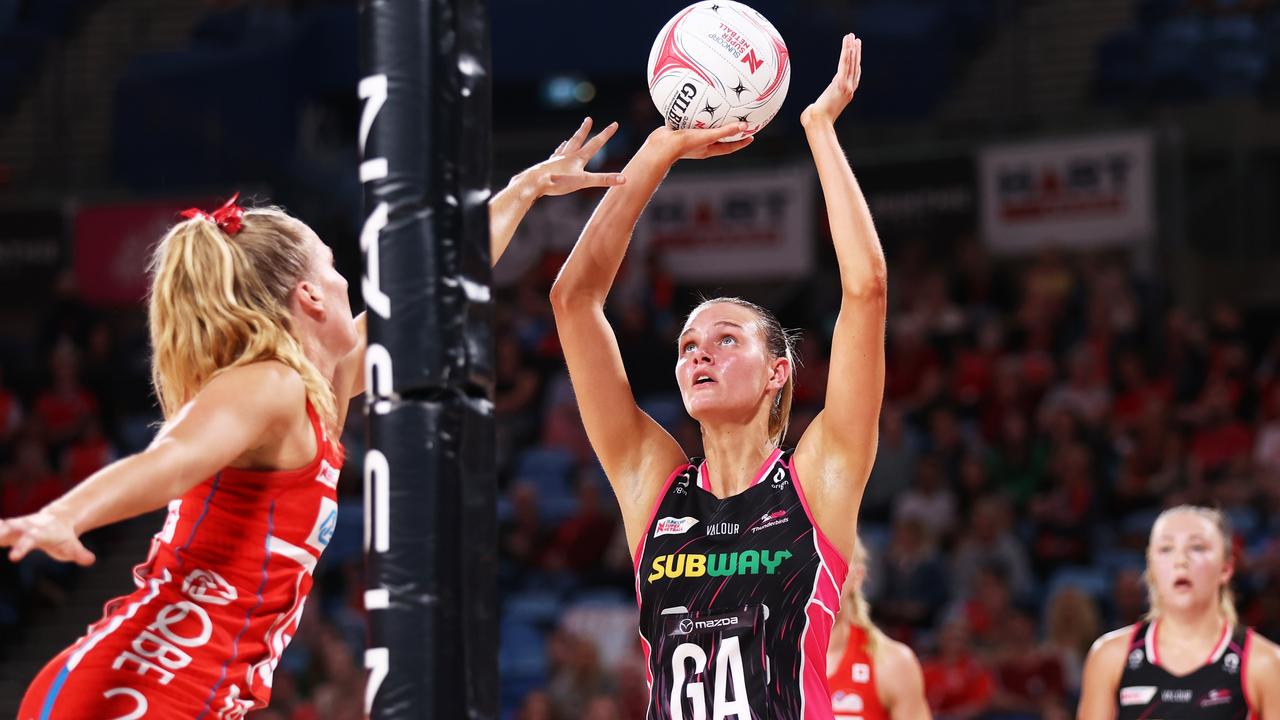 Dwan shoots against the NSW Swifts at Ken Rosewall Arena. Picture: Matt King/Getty Images
"I think when we get those turnovers we need to gain off them and score as many goals as we can — especially as the Giants love to use the super shot."
With a spot in the finals on the line Dwan said the pressure was on to win, but after having to claw their way back from the bottom of the table it was a feeling the side was used to.
"We have been putting a lot of pressure on ourselves the past few games which has been a positive for us," Dwan said.
"We know we haven't been playing the type of netball that we've wanted until the last two or three games, we need to take that mentality and use the pressure to get the win."
With just three rounds left before finals Dwan said it was hard not to think ahead, especially as it would her and the club's first finals series.
"All of us are getting excited for it, but we have to get there first."
Thunderbirds will travel to play Giants at Ken Rosewall Arena, Sydney, at 4pm on Sunday.
Why Pies' finals threat should be a real concern for rivals
Magpies shooter Sophie Garbin has shelved her Diamonds ambitions as Commonwealth Games selection looms, believing her quest to guide Collingwood to an unlikely Super Netball finals series will take care of her ticket to Birmingham.
With just four wins from 11 games it almost seems impossible for Magpies to make the top four, let alone stand a chance against the League's strongest clubs — but wins in the final three rounds and some favourable results could see them leapfrog into the top four.
Of the Magpies wins, some have been against some of the league's top performers including competition leaders Vixens.
Sophie Garbin believes the Magpies can go all the way if they can sneak into the finals.
With three crucial rounds left Garbin said the urge to get back in the winner's circle and make finals was a bigger motivator than impressing Diamonds selectors.
"As an athlete it sucks losing and sucks to be a part of a losing environment," Garbin said.
"I would love to go to the Commonwealth Games and I'd be lying if I said I hadn't thought about it at all. But all you can do is put your best foot forward.
"I'm more motivated by wanting to win each week and do better for the team and hopefully make finals.
"If we make finals I would be scared if I was any other team because I think when we are at our best we are pretty good and I think we would go all the way if we get there."
The first hurdle Magpies need to clear is Garbin's former team, the Swifts.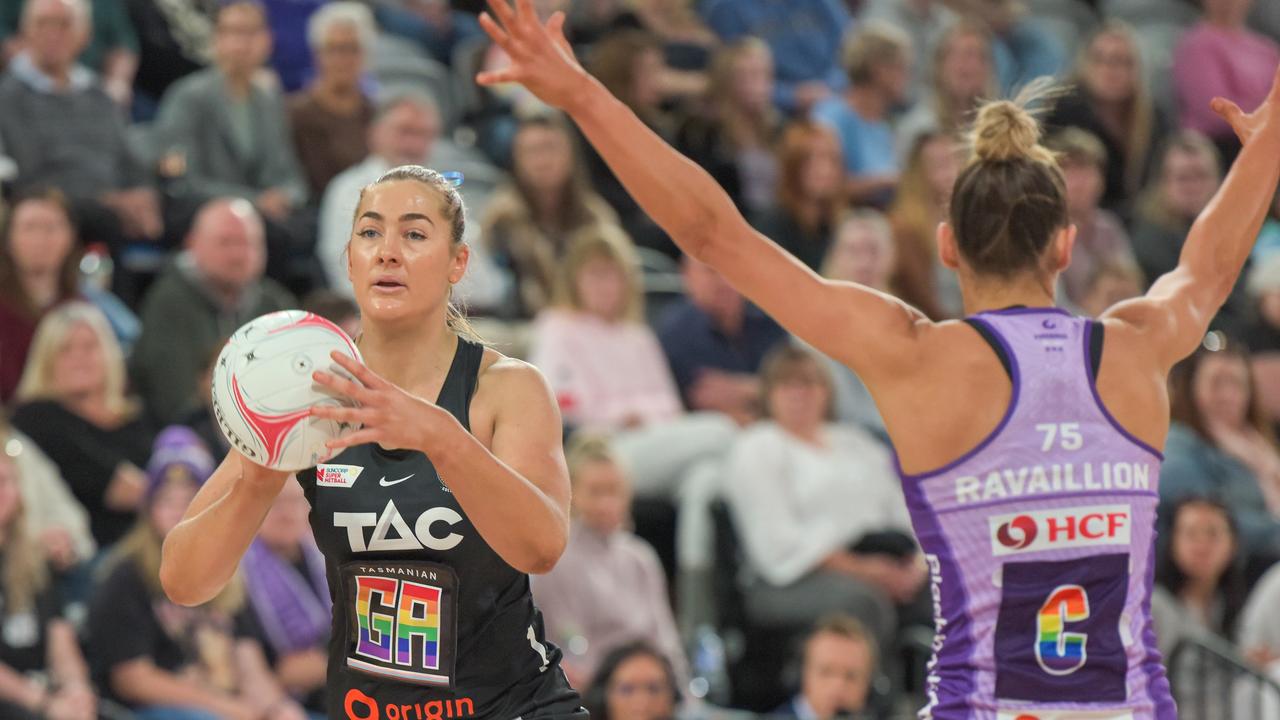 Garbin says her Commonwealth Games ambitions are on hold as she focuses on the Magpies' quest to play finals. Picture: Simon Sturzaker/Getty Images
Magpies were far from their best when the teams met in Round 1 — going down 75-64.
Garbin is confident they can produce a different result this time and is more than happy to stop friend and Swifts' player Maddy Turner from getting a win in her 100th game.
"I'm excited to be coming up against her and to be part of that game," Garbin said.
"We have shared so many other special games so it will be nice to share the milestone, even though I'll be on the other team and I'm hoping she doesn't get the win."
One of secrets to stopping the Swifts will be mastering the super shot — an element of the game that has hindered the Magpies, especially in the past few matches.
Magpies have netted just 50 per cent of their super shot attempts this season.
"Even though it has been around for three seasons everyone is still trying to work out how to play it and I think the key is that you have to play it," Garbin said.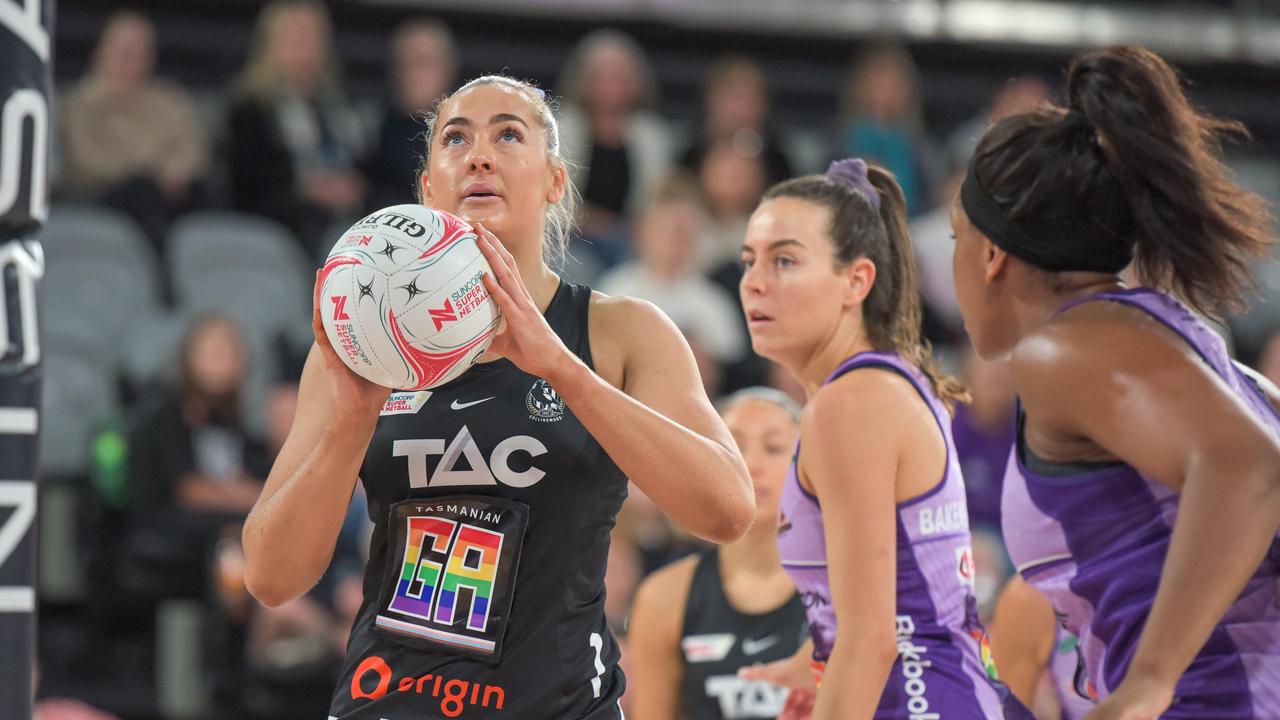 The Magpies need to clear Garbin's former team, the Swifts, this weekend. Picture: Simon Sturzaker/Getty Images
"It is about working out the risk and minimising the risk by being in a good rebound position."
Garbin said it also helped to take a few long range shots early in the game when the pressure wasn't on.
The shooter said getting that right and just playing simple, good quality netball should help them get the win.
"We just need to go back to an attacker focus and not stray too far from the game plan," Garbin said.
Magpies will take on Swifts at John Cain Arena, Melbourne at 6pm (AEST) on Saturday May 29.
Maddy joins club legends with significant milestone
Maddy Turner didn't set out to play 100 national league games.
Or to wear the gold dress of the Diamonds.
The South Australian kid who started playing netball as a youngster, just loved the game.
When Turner started playing netball 20 years ago, the thought of making a living out of the game was fanciful.
She just played.
That love of the game has Turner — now a Diamonds squad member in contention for a spot in Australia's Commonwealth Games team — on the cusp of 100 games.
"It's always crazy when you get asked: Did you always want to be a professional netballer?," Turner said.
"At the time, you never thought it was possible. I was in the pathway but I was here because I love it, I never thought I was doing (the sport) so I can get (a career out of it), that was never my intention.
"I'm so glad I have been in the position to get to where I am today and I absolutely enjoy it.
"After my first season at Swifts, (I knew) this was where I wanted to be and I would like to be at the club as long as I can and to get 100 games is pretty darn cool."
Maddy Turner will join club legends and some of the game's biggest names in the 100 club.
When her NSW Swifts run out against the Magpies in the opening game of round 12 in Melbourne on Saturday, she will join club legends and some of the game's biggest names in the 100 club.
Liz Ellis, Cath Cox, Kim Green.
Turner will now be among them too.
"Coming from Adelaide I never thought I'd be racking up a hundred games in Sydney," Turner said.
"If you told me that I was 15 I would be like, what are you talking about?
"But it's very special to have my name alongside those legends of the game and those names that still stand out in the netball world."
Netball's relatively short professional season means it's taken seven years at the national league level — the final year of the Trans-Tasman competition and every season of Super Netball — for Turner to rack up her century.
But at 26, Turner is playing some of the best netball of her career.
After helping Swifts to the premiership last year with an outstanding defensive effort on rising Giants star Sophie Dwyer in the grand final, Turner took part in her second Diamonds campaign at the Quad Series in January and is in a tussle for a spot at the Commonwealth Games.
With just five defenders named in coach Stacey Marinkovich's squad, only one will miss out on the final 12 — but Turner is not sweating over the selectors' deliberations.
Instead, her sole focus is helping the Swifts defy the loss of talismanic shooter Sam Wallace to force their way into the Super Netball finals.
"This week, it's not the focus on me, it's just a must-win for the team to try and secure a finals spot," Turner said.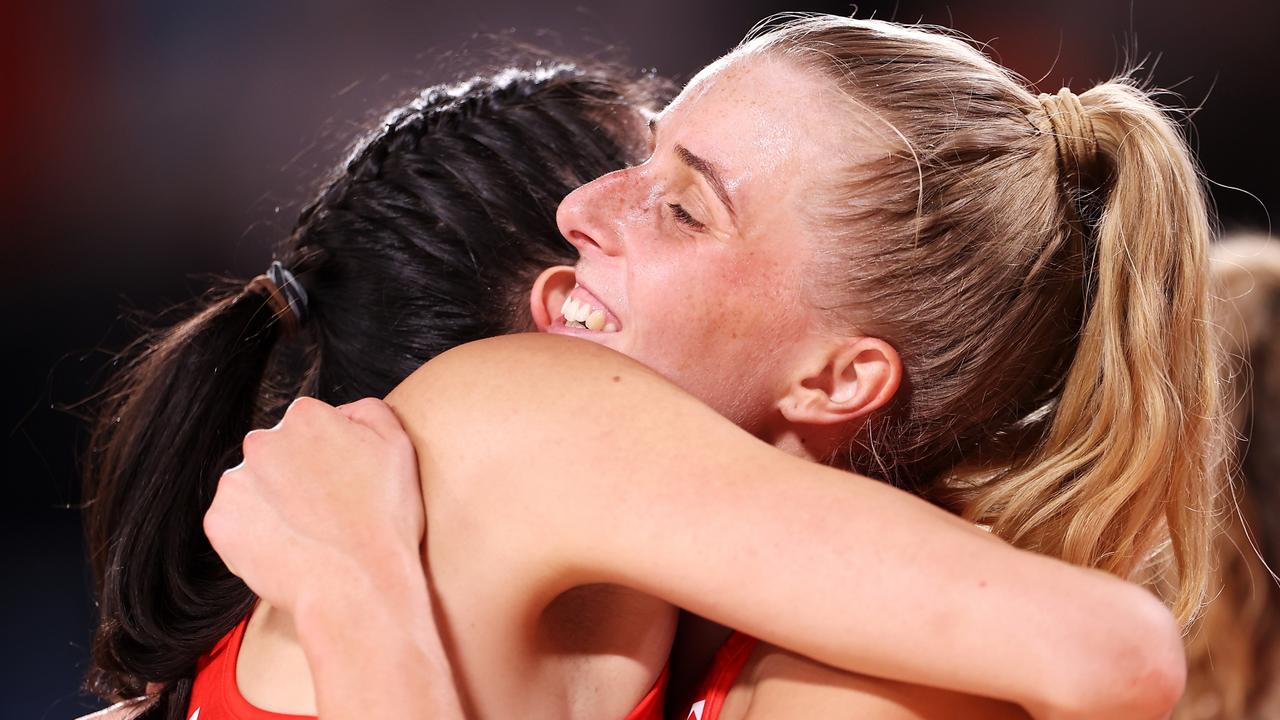 Sophie Fawns and Turner celebrate victory over the GWS Giants this month. Picture: Mark Kolbe/Getty Images
"I think it's pretty cool that the competition is so close and every week you're fighting to stay in touch with that finals spot."
After looking done and dusted at the halfway mark of the season, the Swifts have won three of their past four matches — and pushed the competition-leading Vixens last weekend before ultimately losing by six goals.
They now sit in fifth position on the ladder but are level on points with the third-placed Thunderbirds and determined to fight out their final three round games to try and claw their way into the four.
As a goal defence, Turner is used to taking on a heavy workload and some of the least glamorous roles on court, counting herself among the league leaders in pick-ups and one of the best taggers in the competition.
It's a way the Swifts have had to learn how to play with Wallace sidelined and some younger players on the court.
"We've definitely had to grind out some games and probably some of our play take us 17 passes to get to goal but it's about staying focused," Turner said.
"A goal defence's game is about grinding it out and staying in the fight.
"As a whole team we've learnt how to do that this season and being able to get those three wins in a row (recently), we were like, we can do this and I feel like that belief was there.
"With the belief and grinding it out, I think we can do it."
Tears, cheers: Netball homecoming much more than a game
There will be tears.
Perhaps not from Donnell Wallam — who will be lining up in the 12th game of a stellar maiden Super Netball season when her Queensland Firebirds face the West Coast Fever in Perth on Saturday.
But for the family that has never seen her play live at the top level — either in Super Netball or during her stint in England's Super League last year — watching their daughter run on to the court was always going to be special.
The fact that the West Australian product's return home coincides with Super Netball's First Nations round though, means the proud Noongar woman will be representing her mob on country — even if she is playing for a team that even six months ago was probably regarded as the opposition.
Firebirds' two Indigenous players Donnell Wallam (left) and Jemma Mi Mi try on their First Nations outfits. Picture: Queensland Firebirds
Wallam's parents Donna and Wesley will be there, along with her siblings Krystal, Glen and Kenny.
In fact, so will a large proportion of Harvey, a town in the heart of West Australian dairy country about 140km south of Perth.
"I've got mum and dad (coming), I've got my siblings, my sister's kids are coming but unfortunately, my brother's three kids are in isolation with Covid, so they can't be there," Wallam said.
"I've got my best friends coming and I've got ladies from Harvey that have played netball with and basketball with and against, so they're got a big group coming.
"The West Coast Warriors (netball club) are coming, so there's going to be quite a few Firebirds fans in the crowd."
Wallam has not taken the easiest path to the elite level but that only makes her Super Netball arrival more special for those who have long known her talent and have seen the sacrifices she has made to get there.
"It's going to be their first time seeing me play live," Wallam said, confirming there would "definitely" be tears from her family.
"They couldn't go over to England last year and haven't made it over to Queensland yet, so it's the first time they'll be seeing me play professionally and it'll be a bit emotional.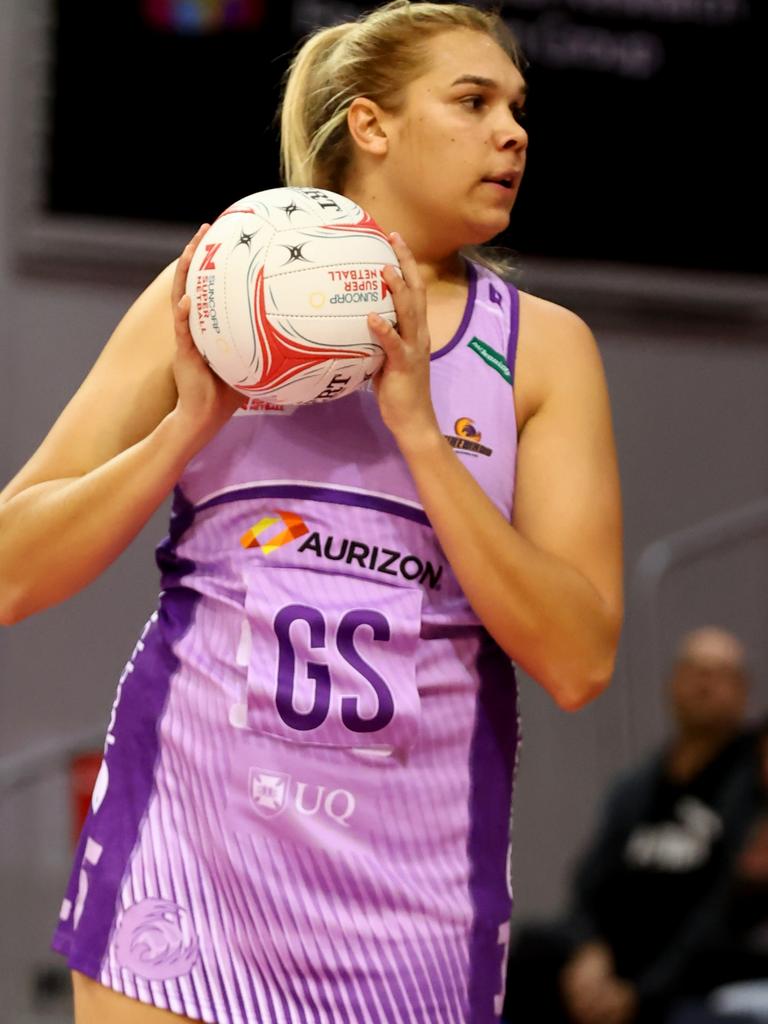 Wallam will play in front of her family for the first time.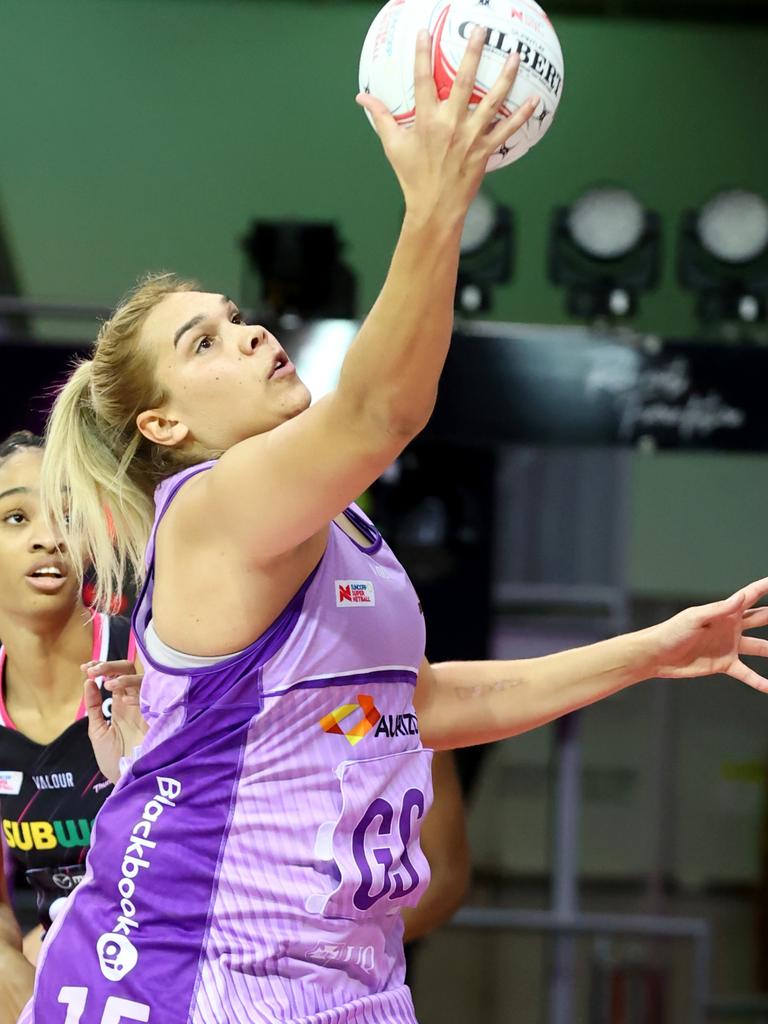 Wallam predicts the night will be an emotional one.
"They see what goes on behind the scenes, so they've seen the emotional roller coaster it can be but it's just really exciting for them as well to see that my sacrifices are paying off and I think it'll just all be worth it on the weekend."
The happy coincidence that Wallam's homecoming coincides with First Nations round means she will line up against a Fever team wearing dresses featuring artwork made by Noongar artists and get to play in front of her mob on country.
It's a moment she's eagerly anticipating.
"I think it's great and there's going to be a lot of Noongar representation on the night which is pretty cool for the Noongar people of WA but also just for our culture, it's amazing."
First Nations round is special for the Firebirds, who have the only two Indigenous players in the league in Wallam and Jemma Mi Mi, who has return to the team after recovering from injury.
The fact Wallam's presence doubled the number of First Nations players in the league is a shameful record for the country's top women's sport.
Like Mi Mi though, Wallam wants to be known for her netball and being suddenly thrust in the role of spokeswoman for First Nations representation in the league has been difficult.
"It's a bit of added pressure," she said.
"Primarily, we want to play netball — that's our job.
"We're also still learning a lot about our culture as well. So it's tough when we do get asked questions that we may not know the answer to yet.
"But in a way it's a good thing because we're then going to our people and asking those questions and still learning about our culture, which is special.
Wallam will be lining up in her 12th game of a stellar maiden Super Netball season.
"It can be tough sometimes, but I guess we're lucky to be at the Birdies (Firebirds), we've got so much support from everyone at the club, it's just been so amazing."
Wallam is very much her own woman and knows what she wants.
Seeing that Jamaican import Jhaniele Fowler — the woman widely regarded as the world's best shooter — had a mortgage on the goal shooter role at the Fever, she left not just Harvey or the west, but the country in a bid to prove she was worthy of playing at the top level.
A stint under now-Fever coach Dan Ryan at Leeds in the English Super League last year led to an opportunity with the Firebirds when Romelda Aiken-George became pregnant earlier this year and she's made every post a winner since, her form so stunning in the opening rounds she forced her way into the Diamonds' preliminary Commonwealth Games squad.
It's hardly surprising Wallam's great sporting hero is Serena Williams.
There was, of course, the Cathy Freeman moment — a six-year-old Wallam remembers the race and great celebration after Freeman's amazing 400m win at the Sydney Olympics.
But it is Williams and her competitive spirit that captured Wallam's imagination.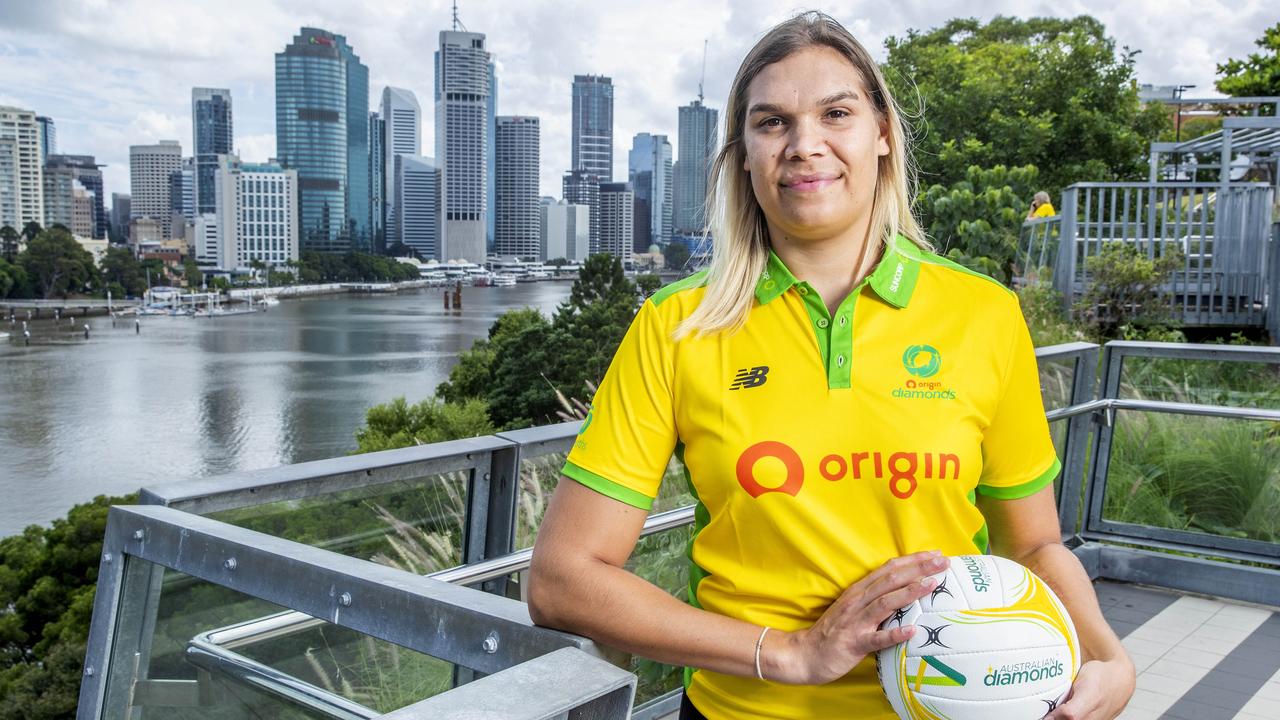 Wallam says her inspiration has always been Serena Williams. Picture: Richard Walker
"Just from like a young age when I first saw her playing tennis, she was just so competitive," Wallam said.
"She plays an individual sport, but the way she carries herself and like on the on the tennis court, she's just a completely different person to what we see in media and off the court.
"For me, that was just so empowering. She plays with so much passion and she shows that passion off.
"I feel like I'm one of those plays as well. I like to celebrate good things and that's just my passion that comes out on the court in the moment, so I found that really relatable."
Forget it being her first season in the world's best league, being a Super League debutant or the junior partner in one of the best shooting combinations in the league.
Once over the sideline, Wallam is a warrior.
"(Firebirds teammate) Gabi (Simpson) actually said to me, 'you're such a different person on the court, you're so shy off the court and soft spoken'," Wallam said.
"But when I'm on that court it's like a whole new person. I'm so passionate and that kind of shows sometimes.
"When we play at home, our crowd just gets behind us and it's so hard not to feed off all of that energy.
"I just love doing what I do."
Originally published as Super Netball 2022: Thunderbirds go on the offensive as they look to lock in their first finals series