Super Netball 2022: Gritty Giants deny Collingwood Magpies in seesawing semi-final encounter
The Giants remain alive in the Super Netball finals series after bringing an end to the Collingwood Magpies' season, thanks to a sensational performance from a mid-court ball magnet.
The Giants have kept alive their chance of returning to the Super Netball grand final after ball magnet Maddie Hay inspired a second-half fightback that continued the Magpies' horror finals hoodoo.
Trailing by three goals at halftime after an inspired Magpies second-quarter fightback, the Giants saved their season in the second half, eventually overcoming Collingwood in a grinding 55-48 encounter.
While captain Jo Harten rallied her troops brilliantly, finishing with 44 points, shooting at 90 per cent and dropping four crucial super shots, Hay shone in the midcourt and won the crucial moments that helped turn the game.
Watch every game of Suncorp Super Netball Finals LIVE & FREE with Kayo Freebies. Join Kayo Freebies now, no credit card required >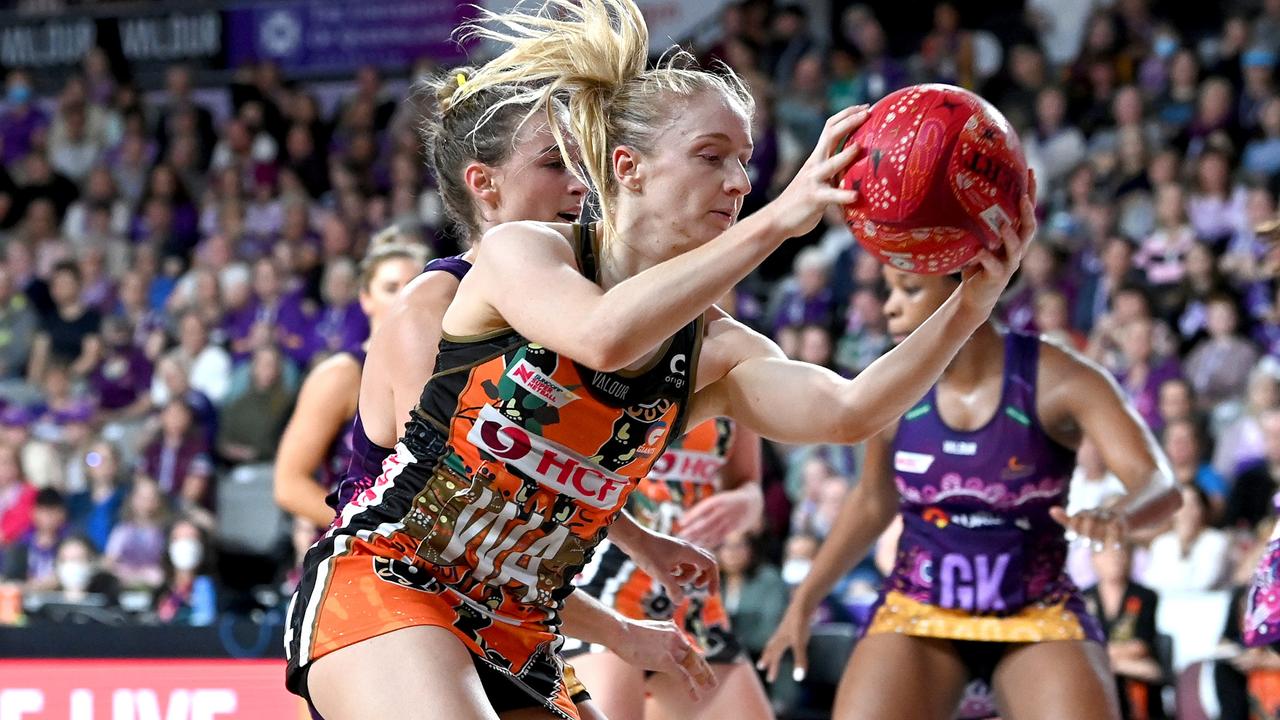 Maddie Hay was crucial in the Giants gaining acendency in the second half. Picture: Bradley Kanaris/Getty Images
In a seesawing final, momentum was crucial and while the Giants won the first period, they gave up a lead in the second term as the Magpies fought back to grab the halftime lead.
The Giants, who lost last year's all-NSW grand final to the Swifts, head to Melbourne this week to take on minor premiers the Vixens in Saturday's preliminary final.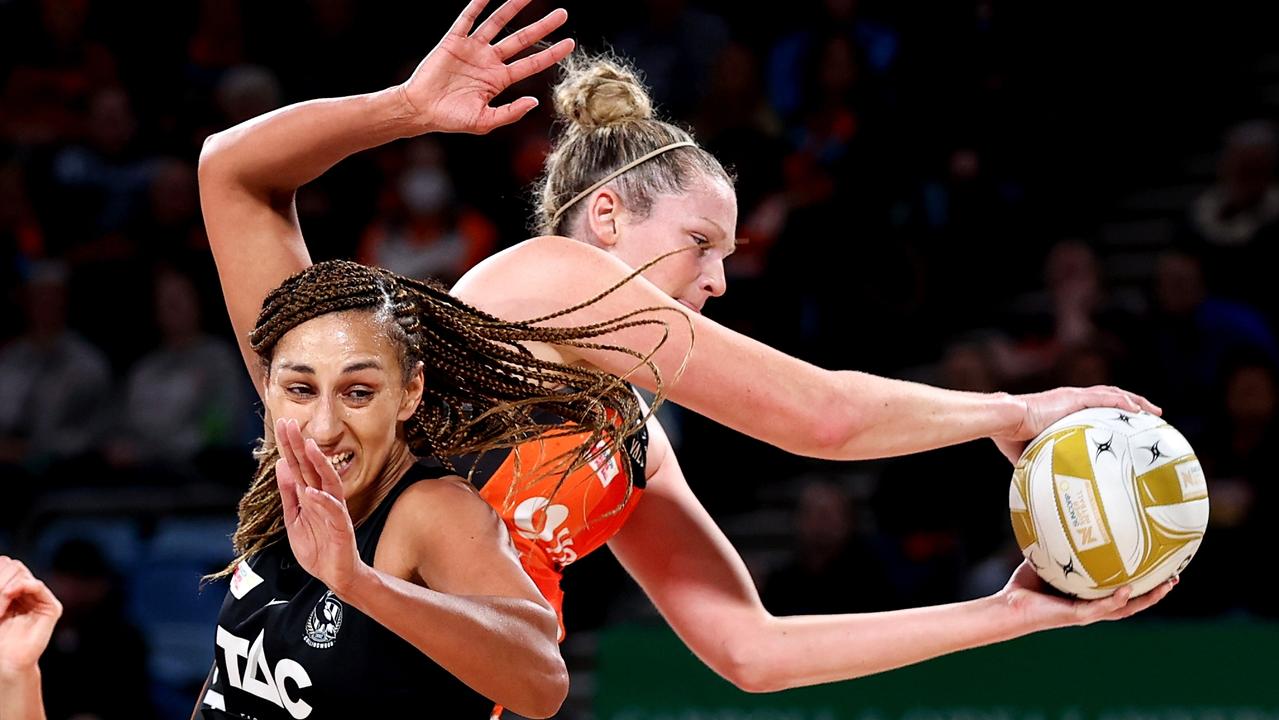 Jo Harten outguns Geva Mentor during their Super Netball semi-final between GWS Giants and Collingwood Magpies. Picture: Brendon Thorne/Getty Images
MADDIE MAKING HAY FOR GIANTS
A player her captain called "completely underrated", Hay helped turn the game early in the third term when her desperate tip and chase resulted in a Giants gain her shooters converted into a goal to level the game up.
"I think Maddie is pretty much an unsung hero in our team and I absolutely love playing with her," Harten said.
"I've got so much respect for her.
"She started off as a wing defence, went to centre and now she's made wing attack her own playing against Ash Braz (Brazill), one of the best wing defenders in the world.
"So she's underrated but she's an absolute glue for our team."
Hay finished with four gains including an intercept and three deflections, as well as 45 feeds and 18 goal assists in an outstanding effort.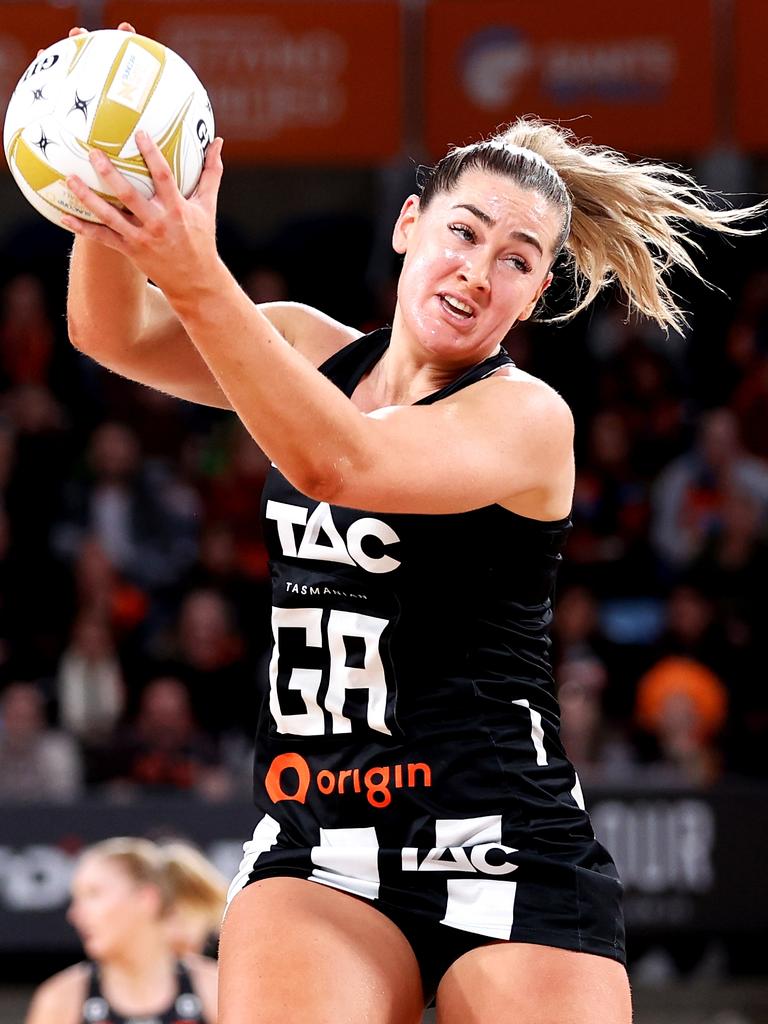 Sophie Garbin receives a lightning pass during the semi-final showdown. Picture: Brendon Thorne/Getty Images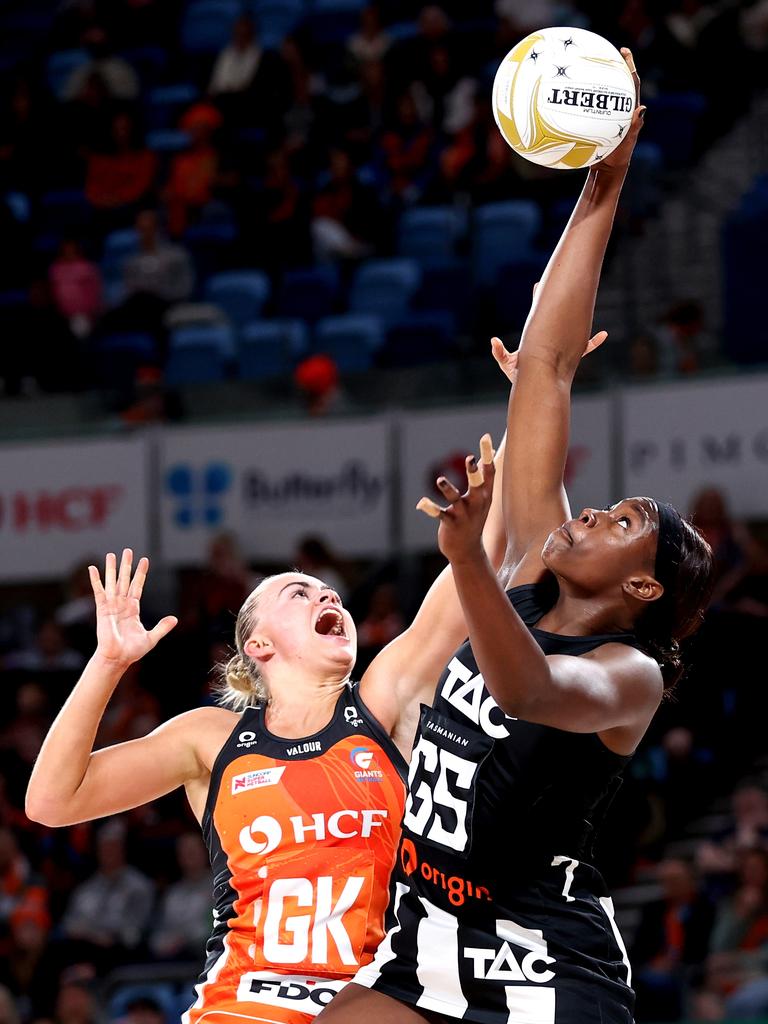 Matilda McDonell competes with Shimona Nelson at Ken Rosewall Arena. Picture: Brendon Thorne/Getty Images
MAGPIES HOODOO CONTINUES
The story was different for the Magpies though, who were left shattered after being knocked out in the elimination final for the third time.
Heading into the match with internationals Brazill and Jodie-Ann Ward having only left Covid isolation 24 hours earlier, the Magpies were always up against it.
But they pushed to a halftime lead with goal shooter Shimona Nelson dominating in the circle.
The 195cm Jamaican is an outstanding holding shooter but her reticence to shoot from long range was exposed in the final stages when the Pies needed to take super shots and the Giants were able to double-team Gabby Sinclair in defence.
Captain Geva Mentor said the Magpies were "absolutely shattered" to not have made the most of their chances.
But she said after a couple of difficult years, they were in a strong position for the future.
"We've really got the culture humming here at Collingwood, there's a great load of people and the culture is fantastic and for us now it's just about bringing success.
GIANTS NETBALL 55 (Harten 44, Dwyer 11)
COLLINGWOOD MAGPIES (Nelson 40, Garbin 6, Sinclair 2)
Netball's $650k gamble pays off
A playoff record shooting performance from Jhaniele Fowler has helped West Coast Fever book a home grand final and move a step closer to a maiden Super Netball premiership with a 71-62 demolition of the Melbourne Vixens.
The victory also makes Netball Australia's controversial decision to sell the grand final to Western Australia look a masterstroke, given the Fever would have earnt the right for free under the old system.
Fowler finished with 67 goals, to beat Romelda Aiken's 63 in the 2016 grand final and just behind her own Super Netball general record of 70 goals
Massive underdogs after being beaten twice by the Vixens during the regular season and playing in front of a near full house at Melbourne's John Cain Arena, the Fever defied the odds to totally dominate the minor premiers, who turned in an uncharacteristically error-riddled showing.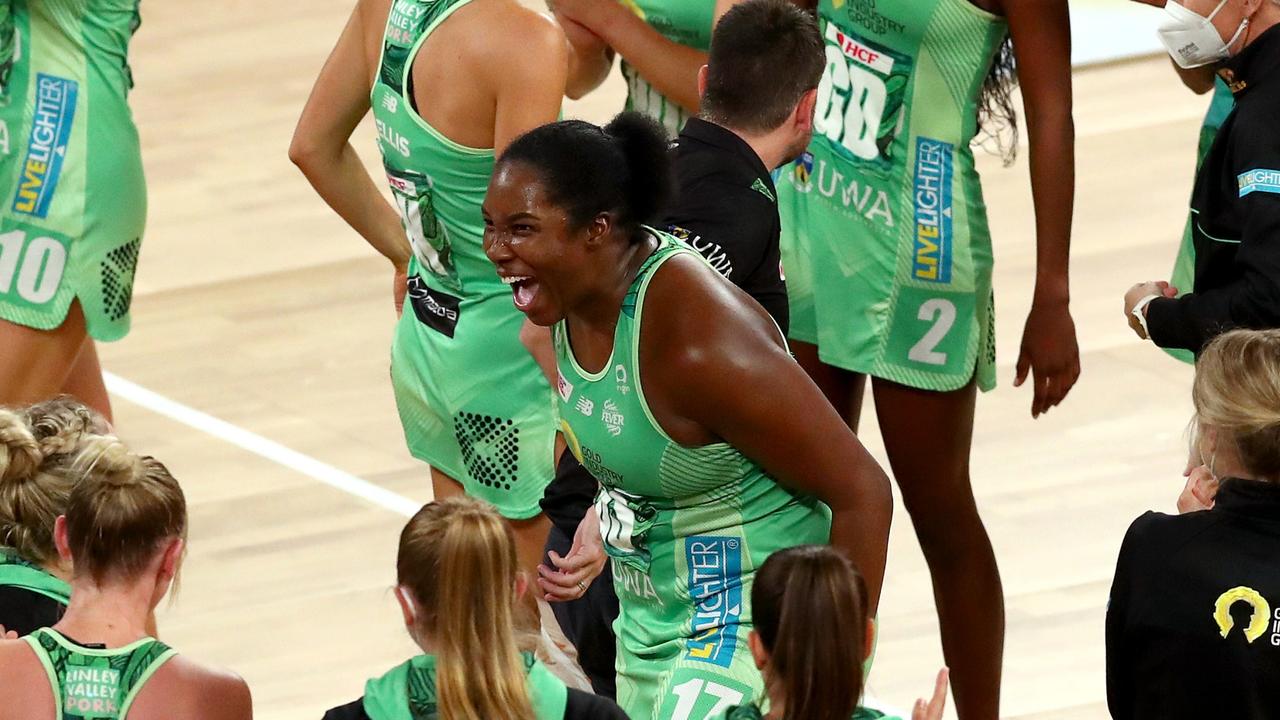 Jhaniele Fowler celebrates with teammates after the West Coast Fever booked a spot in the Super Netball grand final. Picture: Getty Images
After breaking away with a nine-goal unanswered run late in the first quarter, the Fever were never headed, with the Vixens unable to find answers.
The Vixens were beaten across the court, unable to make an impact in attack or defence as the Fever brought and aggression and energy that the home side was unable to match.
The Vixens had won both games against the Fever in the regular season and lost just twice all year heading into the clash.
But they made too many basic errors, with co-captain Liz Watson admitting their performance was undeserving of delivering them to a grand final.
"To put out a performance like that you don't deserve to go through to a grand final to be honest," Watson said.
"But we've got another week, which is the positive and we just need to bring it from the start because we were just missing right from the first whistle today."
The Vixens fought back through young gun Rhani Samason, who sank a record-equalling 10 super shots to claw the margin back to nine goals after they led by as many as 21 late in the third term.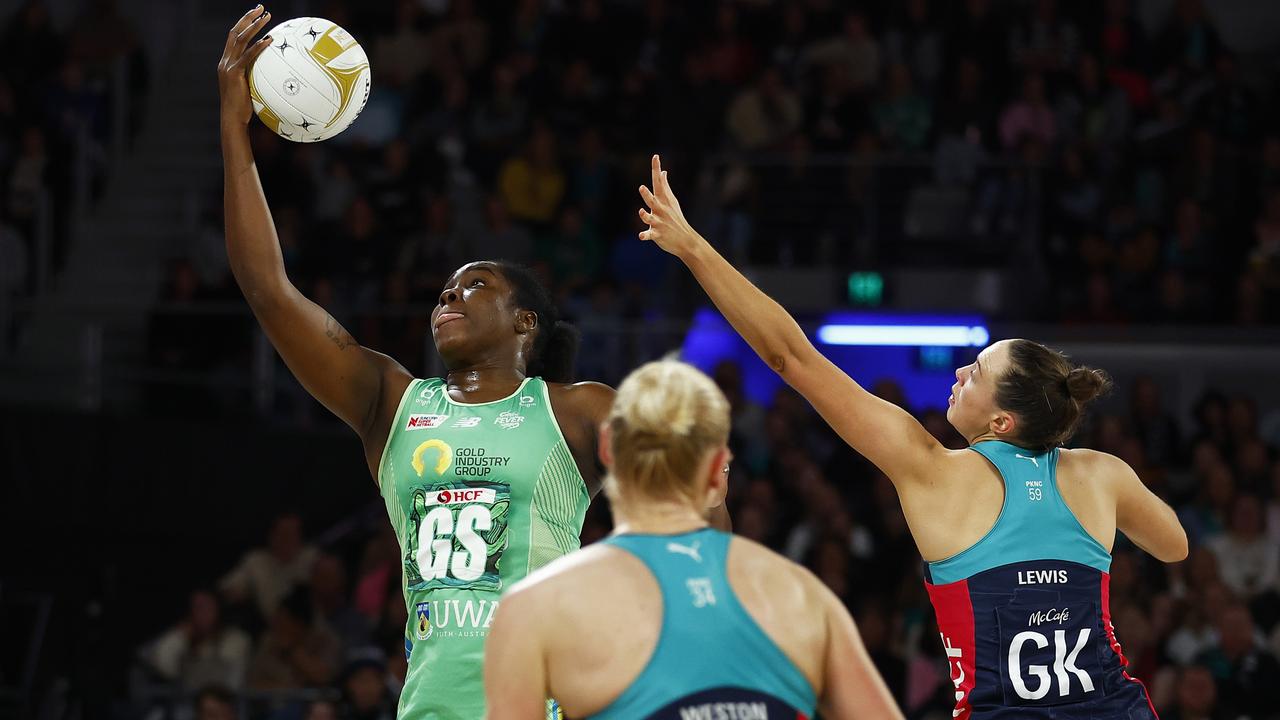 Fowler was outstanding for the Fever. Picture: Getty Images
While Fowler was on song, the Fever's performance was stunning across the court.
Defenders Courtney Bruce and Sunday Aryang were outstanding, Sasha Glasgow and Alice Teague-Neeld fed the circle brilliantly and the Fever did a Vixens on the Vixens, with their full-court defensive pressure suffocating the minor premiers.
Captain Bruce said the Fever were "absolutely stoked" to make the decider.
"We wanted to earn the right to host that grand final and we've done that so I'm absolutely stoked," Bruce said.
"We really did our homework on the Vixens and I just think the switches between Sunday and I (in the defensive circle) were phenomenal.
"She was out there taking intercepts all day."
Money for nothing
Netball Australia's decision to sell the grand final to Western Australia is now looking like a genius move given the Fever would have earnt hosting rights anyway under the old system.
Until this year, the winner of the major semi-final gained the right to host the grand final as the first team into the season decider.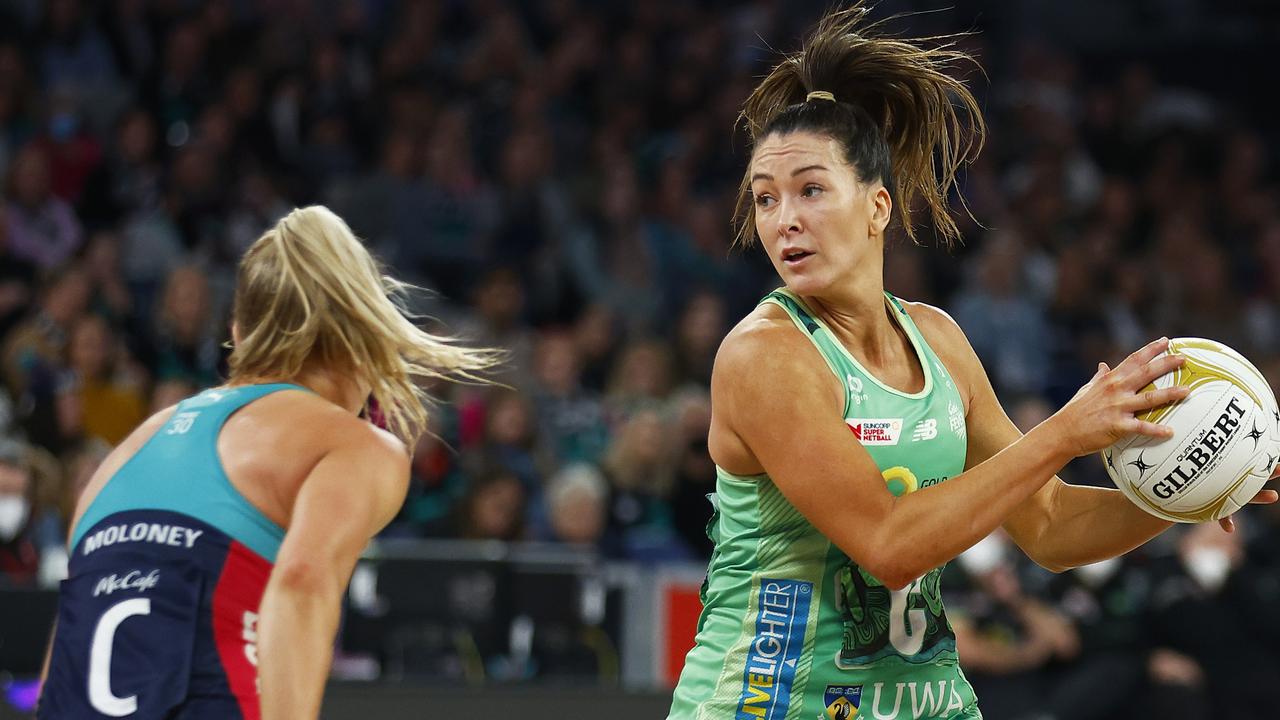 Verity Simmons looks to pass the ball against the Vixens. Picture: Getty Images
But in a move announced just two weeks before the finals, Netball Australian announced it had struck a commercial deal with the West Australian government that would deliver around $650,000 in cash and in-kind deals.
That's now bonus money that will be invaluable to the financially flailing organisation's bottom line.
Homework pays off
Fever captain Courtney Bruce said her team did their homework on the Vixens and while it showed all over the court, it was no more evident than in the performance of Melbourne and Aussie captain Liz Watson.
Widely regarded as the best wing attack in the world, Watson was kept incredibly quiet by her standards, with many of her 33 feeds and 21 goal assists coming late in the match.
The Fever's pressure forced Vixens coach Simone McKinnis to make an early shuffle in the midcourt, with Watson moved to centre and co-captain Kate Moloney to wing defence.
But she shuffled them again, with the Fever pressure continuing to pay off.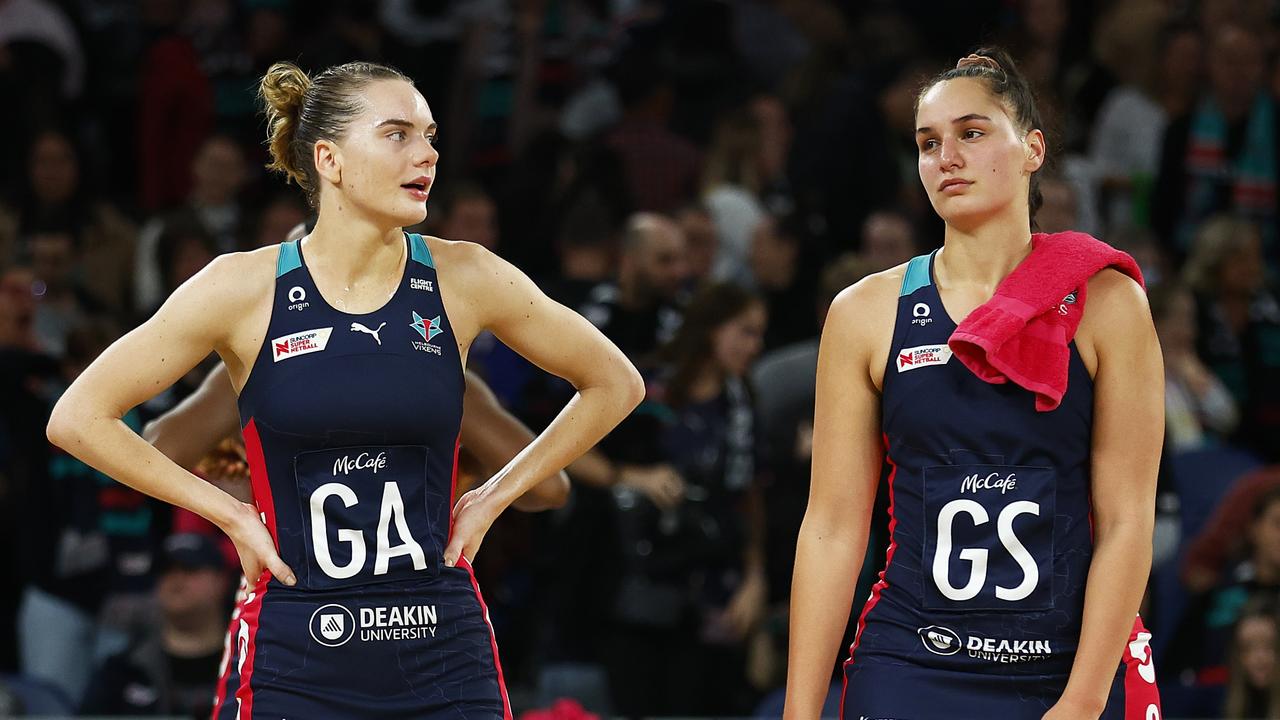 The Vixens were favourites to make the grand final. Picture: Getty Images
Fantastic Fowler
Jhaniele Fowler is such a dominant player her performances rarely get the credit they deserve given her ability to make the extraordinary seem so simple.
But there was no glossing over her semi-final showing or its importance to the Fever.
At 198cm, the strong holding shooter is a massive target for the Fever but she is more than just her height and strength.
Accurate and athletic, Fowler is an incredible target for the Fever and the growth of fellow goaler Sasha Glasgow this season has made it more difficult for defences to throw all their resources at the Jamaican without fear of being scored on.
WEST COAST FEVER 71 (Fowler 67, Glasgow 4) bt MELBOURNE VIXENS 62 (Samason 28, Kumwenda 21, Austin 13)
History against Magpies to upset Giants
—Erin Smith
Magpies have swooped into the finals but their bogey team is standing in their way – a statistic midcourter Kelsey Browne is trying hard to forget.
The Collingwood club have beaten NSW rivals Giants just once in the 9 outings between 2019-2022 -with their only win at this year's Team Girls' Cup.
"There has been a lot of talk around the win-loss ratio this week and I know it doesn't sway in our favour, in fact it is the biggest margin in a win-loss ratio I've seen," Browne said.
"But if we focus on that too much it would be detrimental to our team and the work we have done to put ourselves in this position."
Browne said the focus at training this week had been on themselves.
Kelsey Browne is trying to forget the Magpies recent record against the Giants. Picture: Getty Images
"We are trying not to focus on them too much. I think if we execute our game plan we put ourselves in a really good position. I don't think anything will be different for us and our focus is on us heading into this game."
The Giants, while the only team in the top four without a player named in the Diamonds' 12-strong Commonwealth Games team, have a host of talented players.
Browne said the likes of Jamie-Lee Price and Jo Harten were hard to stop.
"They have superstars all over the court," Browne said.
"I feel like if we can get on top of those players and try to force them into positions that they don't want to be in, then we might be able to break them apart."
The finals will be the first for Browne, who has won two premierships in the SSN, in her black and white dress.
"I haven't been in a finals campaign for three years. The last time Collingwood played in the finals I missed it as I'd done my ACL the week before," Browne said.
"So to be fit and ready to contribute to the Collingwood team in a finals campaign is something I've dreamt about for the past three years.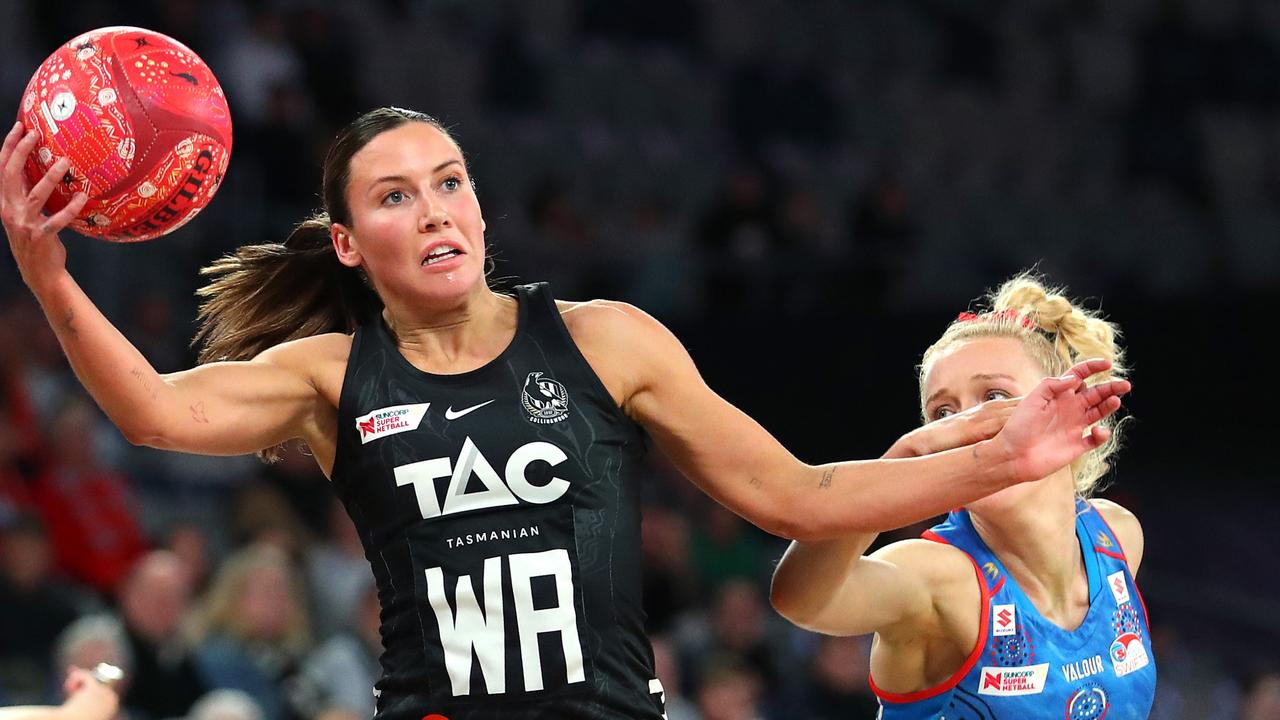 Kelsey Browne hasn't played in a finals campaign in three years. Picture: Getty Images
"I've wanted this feeling back for so long and to be in among the top four again."
Magpies secured a spot in the top four after losing to Vixens 54-56 last week – giving them just the right percentage boost to earn a spot in the finals.
"We went in wanting to win, that was the primary focus," Browne said.
But as the game started to slip away from them in the second and third quarter the focus switched to losing by two but not everyone was aware of the exact numbers.
"At the end of the day we just wanted to make the finals. But at the end of the game I remember looking at Molly Jovic and she looked really deflated, Geva (Mentor) was crying and I was really happy. I think people just had no idea what was going on and we needed some confirmation that we had made it."
That confirmation came from Browne's sister, player turned commentator Madi Browne.
"We were on court and she said 'yes I can confirm you guys are in the finals' – then there was a lot of screaming," Browne said.
Magpies will play Giants at Ken Rosewall Arena at 4pm on Sunday.
Originally published as Super Netball 2022: Gritty Giants deny Collingwood Magpies in seesawing semi-final encounter