Super Netball 2022: With nothing to prove, Magpies midcourter Kelsey Browne in the best form of her career
Kelsey Browne has used the lessons learned from a break-up with NRL star Ryan Papenhuyzen to help better her game and start to dream of a Commonwealth Games berth.
Kelsey Browne is not playing netball to prove anything to anyone but herself.
A new outlook and pre-game routine has the 30-year-old Magpies midcourter in the best form of her life and she is not about to let the disappointment of missing out on the Diamonds squad ruin her mojo.
Browne sits third in the overall Nissan Net Point rankings and in the top five for centre pass receives and goal assists – an impressive feat considering Magpies have had a less than perfect start to the season.
She had hoped her efforts would earn her a call up to the Diamonds squad ahead of the Birmingham Commonwealth Games.
"I don't think I've been shy in saying I would absolutely love to be in that Diamonds squad and it is still an ambition of mine to be able to make that and play in another major event," Browne said.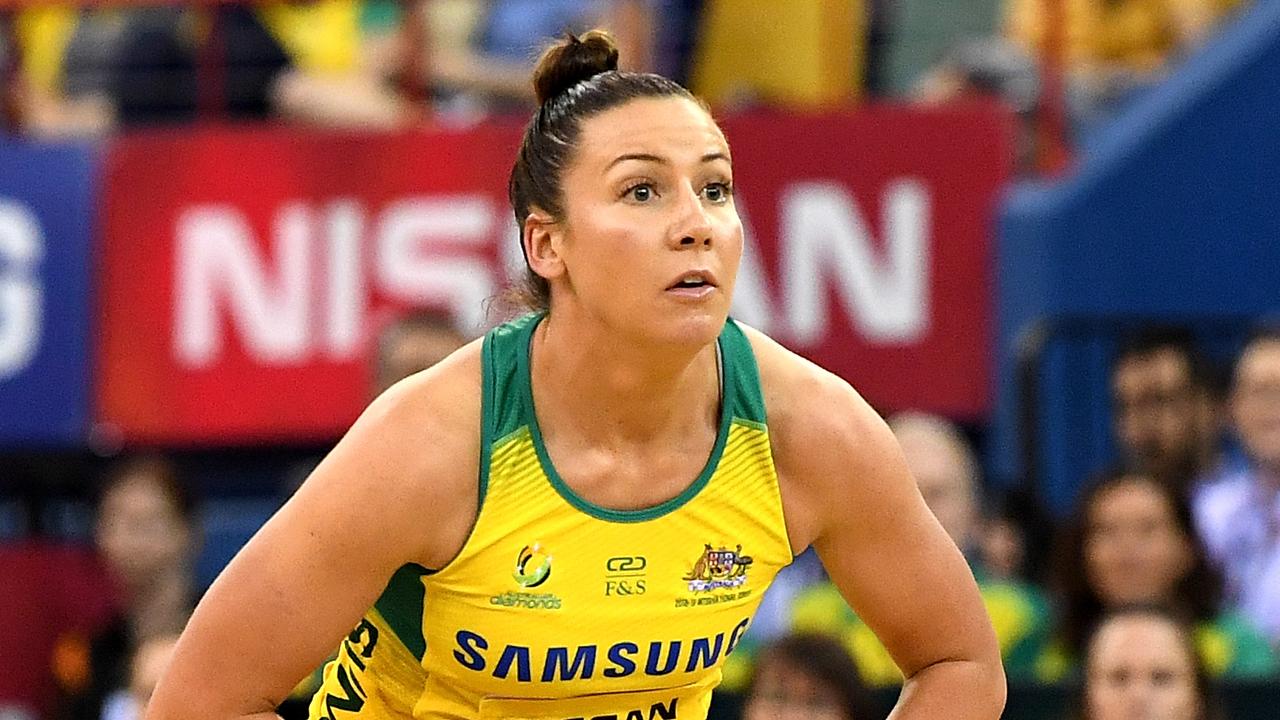 Kelsey Browne would relish the opportunity of representing Australia again but is currently focussed on winning a premiership with the Magpies. Picture: Getty Images
"If I did get the opportunity I'd take it with both hands but all I can focus on at the moment is the Magpies and the process it takes to put out a solid performance week in and week out."
The midcourter has had a few bumps along her career including an ACL tear in 2019.
Then came the heart ache earlier this year when she split with partner of three years - Melbourne Storm NRL star Ryan Papenhuyzen.
It was an amicable break-up – the couple even continued to live together for several months after calling it quits, with Browne saying the relationship had just run its course.
The off-season challenge in her personal life helped Browne find a new outlook on netball. This shift in mindset and her new strict pre-game routine is behind a run of consistent form that has Browne emerging as one of the stars of the league.
"I used to get really nervous (before a game) but I've done a lot of work with my pregame prep, just making sure every single week is as similar to the last – that way you can't go into a game feeling underprepared," Browne said.
"By the time I'm rocking up to the game I'm actually just really excited to get out there and play.
"I think once you get your head around the fact that it is just such an amazing opportunity it is hard to not go out there and have so much fun and relish the opportunity that you have."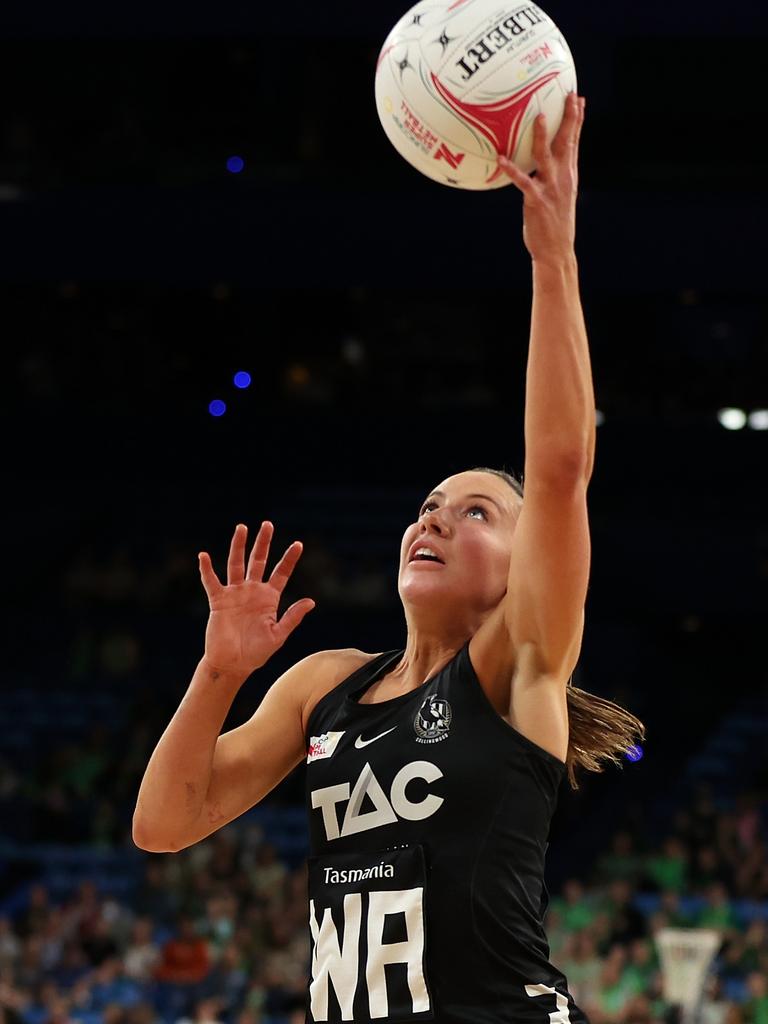 Kelsey Browne has changed her mindset and preparation and is now having fun with her netball Picture: Getty Images
It is a change Browne hopes will help her and the Magpies reach the grand final this year – a dream that can be kept alive with a win against the Firebirds on Sunday.
It has only been three weeks since the teams last met with Magpies winning 67-59.
A win this weekend could see Magpies jump into the top four and re-enter the race for finals.
Browne said Firebirds had a potent attack, led by Gretel Bueta, who is "hard to stop".
"A lot of teams focus on shutting her down but for us we've really been focusing on our game plan and executing the basics well," Browne said.
"We still have a lot to work on but our last three games have been relatively successful ones in terms of stats and that is what we are looking to build on."
The game will have extra meaning with the clash being the Pride Match – a themed game both teams established together.
"I absolutely adore pride round," Browne said.
"It is a great opportunity to celebrate people within our sport and to make sure people are aware that netball is a sport for all and that we want to welcome every single person and celebrate them for who they are."
Netball just keeps getting better for Gretel Bueta
FOR a player who has morphed from elite junior basketballer to handy netballer to one of the best players in the world, it's fitting that Gretel Bueta is captivated by the constant evolution of the sport.
Bueta will line up in her 100th national league match on Sunday a far different player from the one that took the court for the NSW Swifts in her 2014 debut in the now defunct Trans-Tasman championship.
A switch to the Queensland Firebirds the following year brought the Gold Coast product home where she's won a pair of championships, the Liz Ellis Diamond as Australia's best player, had a year off on maternity leave and returned to the court last season a mum to baby Bobby.
"It's pretty surreal," Bueta said of running out for her 100th game against the Collingwood Magpies in Hobart on Sunday in a match that could help determine whether the Firebirds play Super Netball finals this season.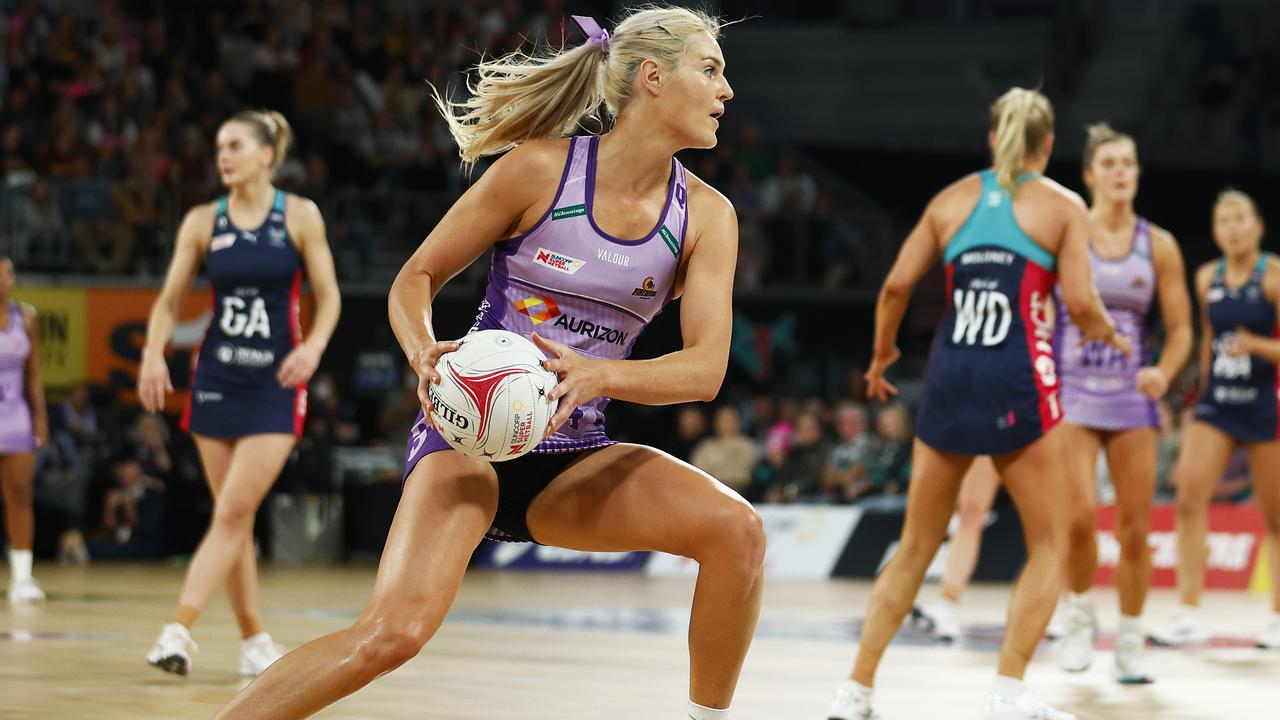 Gretel Bueta of the Firebirds looks to pass during the round eight Super Netball match between Melbourne Vixens and Queensland Firebirds. Photo: Getty Images
"I knew it was going to pop up sometime this season but it wasn't sure when.
"But it's the weekend that we'd planned for Bobby and Nik to come along to, and my parents, so it's worked out well."
Bueta, who started her netball journey under her maiden name of Tippett - the sister of former AFL players Kurt and Joel - had an inauspicious start to her senior netball career after transitioning from basketball but she wouldn't change things.
"I've loved every bit of my netball journey. It was definitely a challenge at the start getting my head around the game but I still love it just as much as when I first started," she said.
Bueta was named the player of the tournament at the Quad Series in London earlier this year after a dominant performance for the Diamonds in both shooting positions, finishing with 107 goals from 115 attempts in four matches, at a conversion rate of 93 per cent.
It wasn't always that way.
Former Diamonds shooter Cath Cox, now a Fox Netball commentator was among Bueta's toughest critics in her early days but to say she has been won over is an understatement.
"I was pretty critical of Gretel Bueta when she started because she was not netball - not accurate on the shot, and as a shooter, that's important, obviously.
"But what she's done for our game has been immense.
"(Look at) how good she was at the Quad Series, she was amazing and she continues to bring that excitement to the game that I don't think we've had for a long time."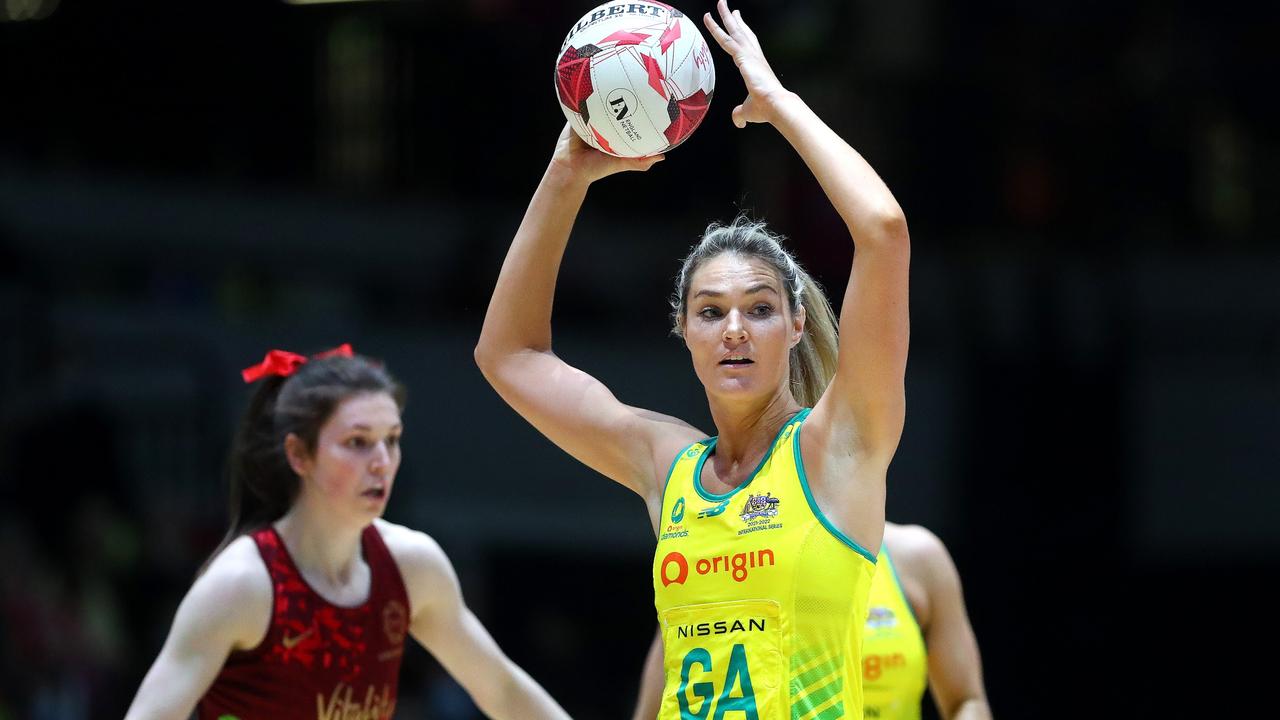 Gretel Bueta in action during the 2022 Netball Quad Series final between Australia and the England Roses. Photo: Getty Images
Bueta credits her own improvement to trying to keep pace with the constant changes in the game.
"Transitioning from the ANZ champs to Super Netball and adding in the two-point period, it's forever evolving which is always a challenge and which is what I love about the sport too," she said.
"I think just keeps getting more athletic, more professional and just better and better - I love it."
Bueta may once have been able to fly under the radar but in both Super Netball and the international arena leading into this year's Commonwealth Games, she will be one of the most scrutinised athletes in the sport.
"That's the challenge of it, you've got to keep evolving with the game and evolving your game to be the best and to match it with the best," she said.
"If I can have as many tools as I possibly can in my toolbox so I can be as successful as I can, that's all I'm focused on, just helping my team as much as I can."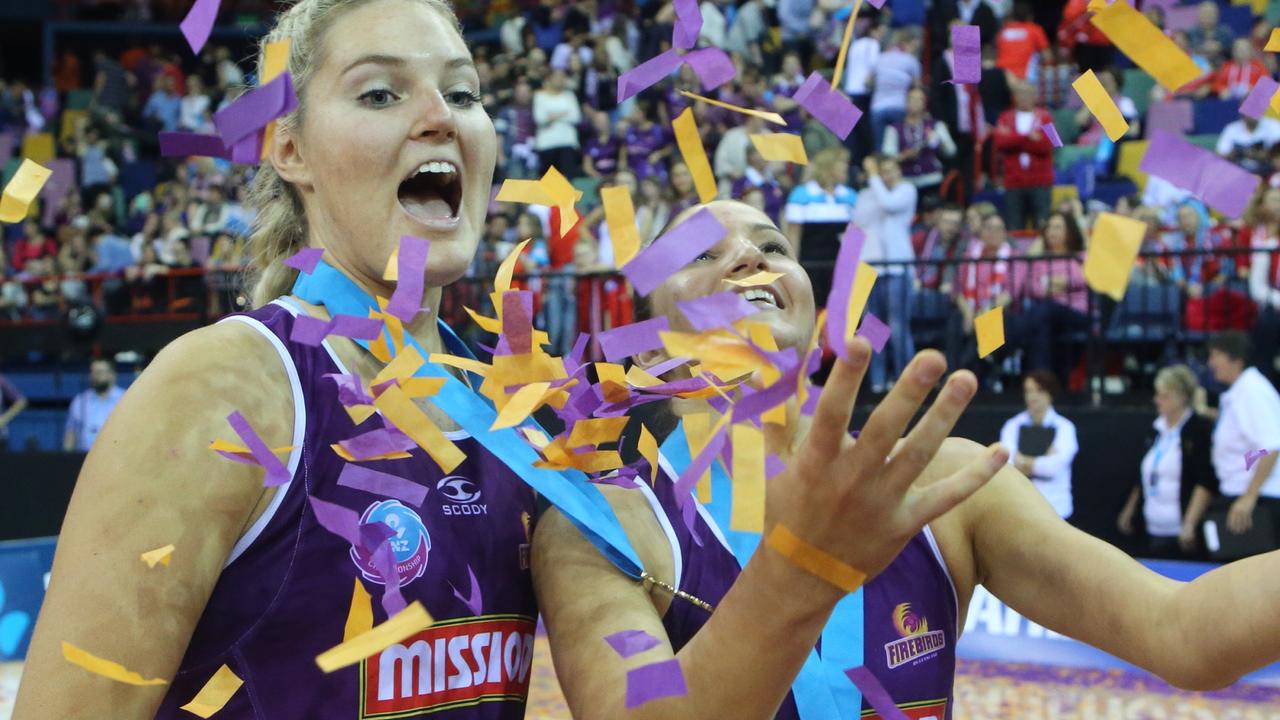 Gretel Tippett and Kimberley Ravaillion after the Firebirds Trans-tasman championship win in 2015. Photo: Jono Searle.
Sinking the winning goal for the Firebirds in the 2015 grand final was a "sliding doors" moment in Bueta's career, one in which she gained the confidence and momentum to move on and become one of the best players in the world.
But just as the highs have shaped her, so have the lows and every moment in between.
"I think throughout the whole journey you grow as a person, as a player as a team - and we're all on this journey together - and we're just learning and improving as a club and team," she said of a Firebirds team that has clawed its way back from a one-win season in 2019 to be on the cusp of playing finals for the first time since 2018.
"There have been heaps of moments of growth, which I think as a club, have been really beneficial.
"We needed to take those lessons and turn them around and make them our strongest assets.
"It's like a roller coaster, your career, but that's what you love about sport, that's what it gives you and you keep coming back for more."
Originally published as Super Netball 2022: With nothing to prove, Magpies midcourter Kelsey Browne in the best form of her career