Super Netball 2022: How Covid is affecting your club's premiership chances
Covid has torn through some Super Netball clubs this season — as it has most sports. We look at how hard every team has been hit and the impact on their campaigns.
Jamie-Lee Price thought getting Covid was an annoyance.
An inevitability really given how the virus was spreading like wildfire - even among members of the community, like herself, taking so many precautions to avoid infection.
She spent the mandatory period in isolation while dealing with what initially seemed like an asymptomatic case, her week on the sidelines along with more than half the Giants team a process to be endured due to official protocols.
But weeks on, Price, one of the fittest athletes in the competition, was still feeling the effects in what is becoming a familiar Covid story.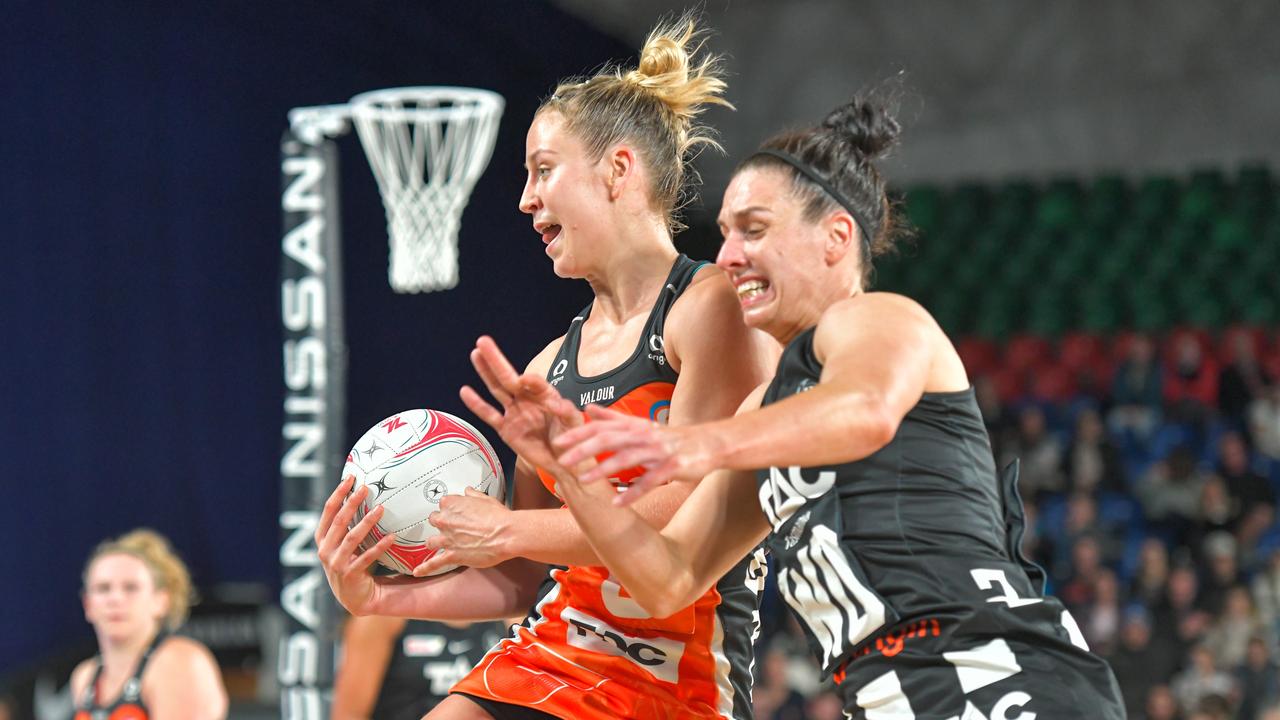 Jamie-Lee Price recounts the fatigue and brain-fog that came with contracting Covid. Picture: Getty Images
Price was among six members of the Giants team who contracted Covid at the beginning of April and while she felt during isolation she would have been fit enough to get out and play, the reality of returning to the court was starkly different.
Price's comeback coincided with the first of the midweek rounds, meaning she and teammates returning from the virus faced three games in a week.
"Heading into the first three games when we all came back it really showed the fatigue and the brain fog - and the lungs, oh my gosh, we were absolutely blowing," she said.
"We stayed in the game for the first half of those first three games but then you could just see in the second half that we absolutely fatigued.
"It was really frustrating because at the time you don't really feel like you're really affected because in isolation, you feel fine.
"It feels like a normal flu because you've been vaccinated and all that kind of stuff.
"But then when you actually get back to playing and you're required to play 60 minutes again, it definitely had a big effect on us and I don't think we realised until after that big week that we had with the three games in a week.
"I think I was in denial that Covid has actually had a big impact on us."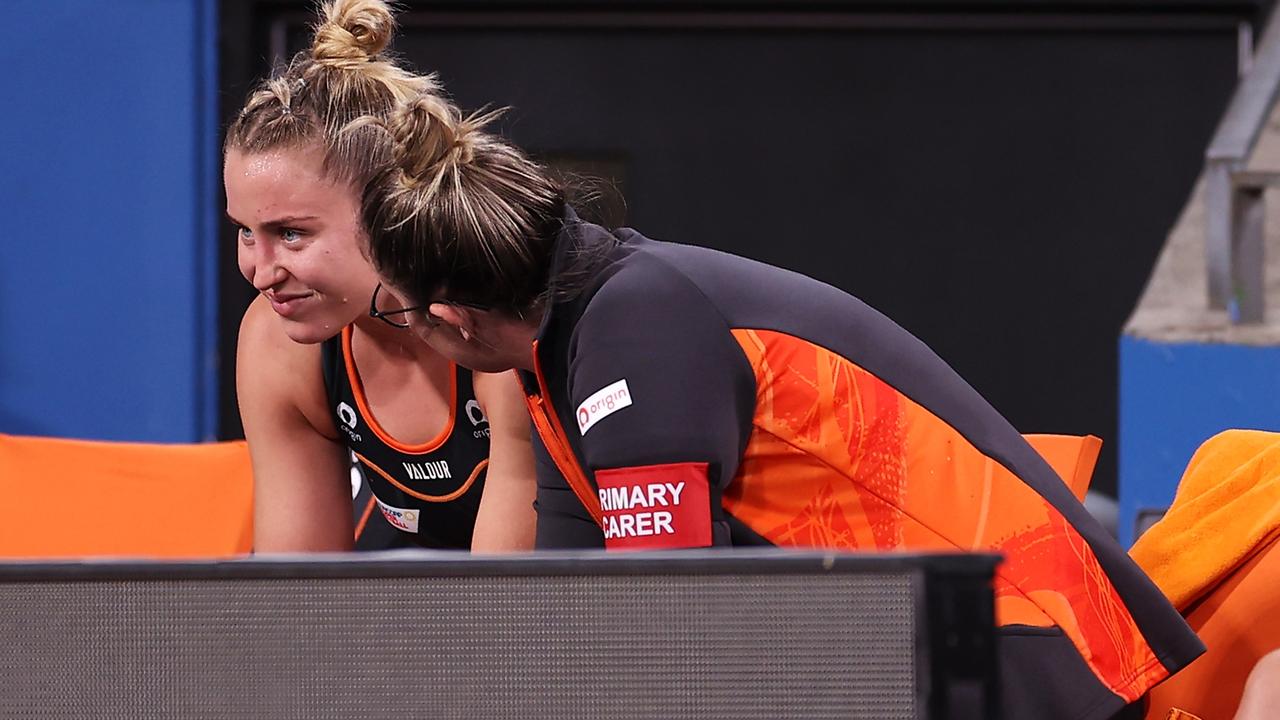 Jamie-Lee Price of the Giants speaks with the trainer after the leaving the court. Photo: Getty Images
But it was the mental as much as the physical impact that Price noticed.
"I think the biggest thing coming back from Covid is not just physically being tired or puffing and your lungs going absolutely berserk," she said.
"It's the brain fog. You don't realise until after the game when you make five or six mistakes. I made so many mistakes, in those couple of games coming back and I was so frustrated and annoyed.
"As an athlete, you just expect your body to be back at 100 per cent straight away. And then when it's not, it's just so frustrating.
"Especially (coming) after round 1, when we had such a great win against the Swifts and then when we came back (from isolation), we played the Vixens and then the Firebirds and we got absolutely annihilated."
Covid has affected several teams already this season - and could still play a telling part in the season, with finals and Commonwealth Games selection on the horizon.
The Giants, in particular, were hit hard early in the season and poor timing led to the Magpies being without players for two games during a compressed round.
Other teams, such as the Vixens, Lightning, Thunderbirds and Fever - the Giants' opponents this week in a clash that could determine both teams' hopes of a double chance in the finals series - have had to cope with players missing games in dribs and drabs, while the Swifts and Firebirds have been largely unaffected after experiencing outbreaks in their squads during the pre-season.
Price is hearing similar stories from them all though.
"It's interesting to see some girls that are coming back from Covid in some of the other teams as well and how they perform, or how they feel after game," she said.
"When heaps of other girls got Covid, I'd be messaging them and asking how they were feeling to see if they were quite similar."
While her immediate focus is the Giants, Price is also vying for Diamonds selection and was relieved to be among the 18 players named in coach Stacey Marinkovich's preliminary Commonwealth Games squad.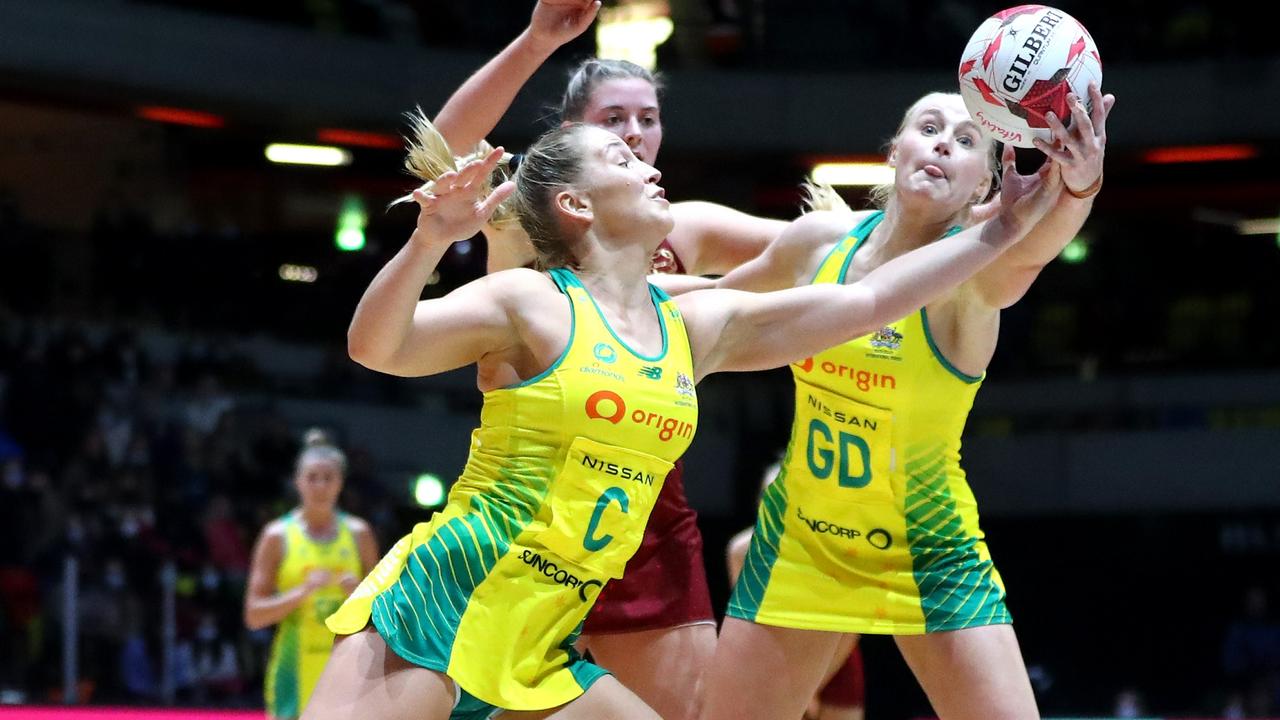 Jamie-Lee Price (left) and Joanna Weston of Australia both reach for the ball during the 2022 Netball Quad Series match between Australia and England. Photo: Getty Images
"It was really frustrating with the timing of when we got Covid because you're trying to play really well for your club but at the same time, it is a big year for netball and you want to make that Commonwealth Games squad and team," Price said.
"So when you come out of iso and you're not performing the way that you think you're capable of or you're making mistakes that you wouldn't normally make, it's really frustrating - and it does put doubt in your mind about whether you're going to make the squad or not.
"So it was a massive relief when they did name the squad for all of us girls who came back from Covid, because we probably didn't feel like we were up to the standard that we should have been.
"Covid was always going to come, it was a matter of when and it's never good timing for anyone really."
How Covid has affected your club
GIANTS
Two players ruled out under Covid protocols for Round 1 match
Six players ruled out under for Round 2 - request to Netball Australia to postpone the match denied - benchmark set for the season
Club loses three of four matches over the next fortnight
Players experiencing lingering symptoms including fatigue and brain fog weeks later
MAGPIES
Coach Nicole Richardson misses round 1 match under Covid protocols
Two players - Sophie Garbin and Gabby Sinclair - ruled out for rounds 4 and 5, the first of the midweek rounds
The infection spreads and four players - including Garbin and Sinclair - miss the round 5 match
SUNSHINE COAST LIGHTNING
Lose senior players to Covid protocols in rounds 2, 7, 9, 10
Players still experiencing fatigue and brain fog weeks later
WEST COAST FEVER
Have been affected over several rounds, with Alice Teague-Neeld missing rounds 2 and 3, a pair of players missing round 6 and another out for this weekend's round 11 clash.
Players return on limited minutes and training.
MELBOURNE VIXENS
Co-captain Kate Moloney ruled out under Covid protocols ahead of round 6
Two more players miss round 7 clash - one of just two Vixens losses this season
Coach Simone McKinnis missed round 8
ADELAIDE THUNDERBIRDS
Lose players to Covid protocols in Rounds 9 and 10
SWIFTS
Several pre-season cases
Co-captain Paige Hadley out for round 2
QUEENSLAND FIREBIRDS
Decimated in the pre-season with 12 players infected causing trial against Magpies to be rescheduled
No in-season cases so far
FIT-AGAIN GARRETT RARING TO TAKE ON EX-TEAMMATES
Erin Smith
After spending a week in isolation with Covid-19 – for the second time this year- Thunderbirds defender Matilda Garrett is raring to take on her former team in a must-win blockbuster.
Garrett, 23, who just a few rounds ago celebrated her 50th game, will have to record a win against her first Super Netball club the Magpies if she wishes to play finals netball this year.
The defender was free from isolation just in time to fit in one training session before the match.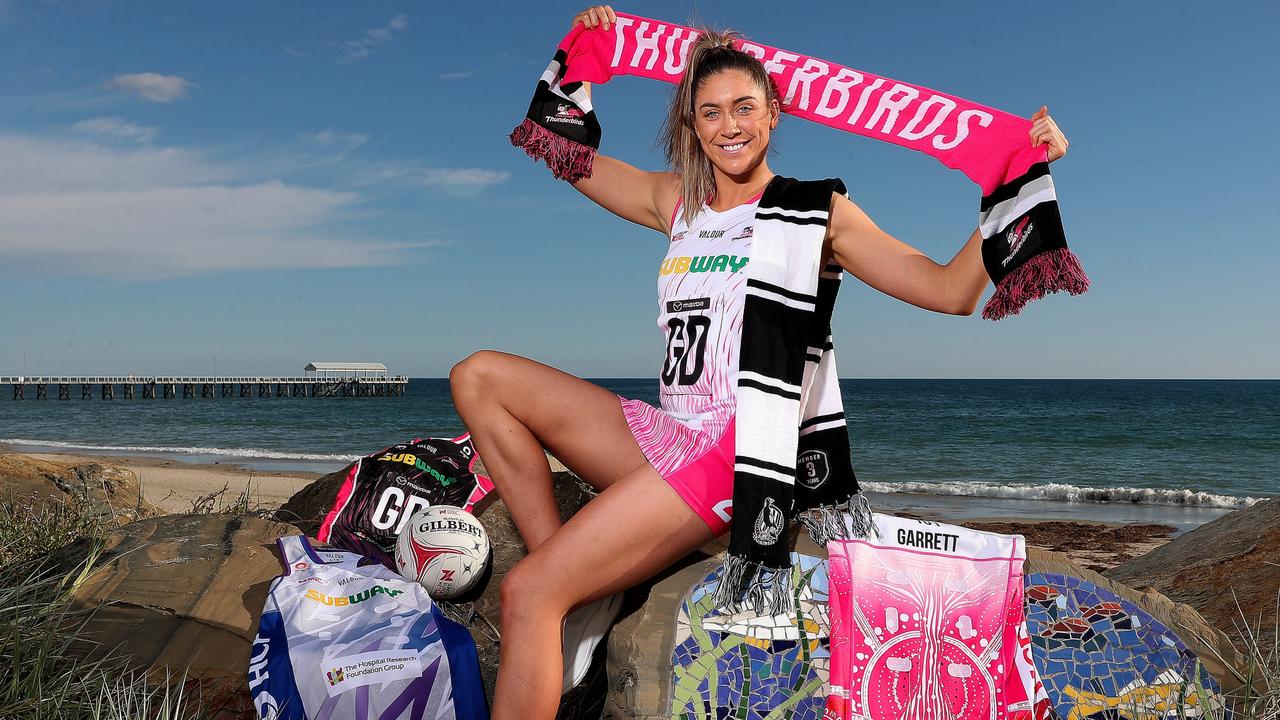 Thunderbirds defender Matilda Garrett will come up against her former team Magpies in a must win clash on Sunday. Picture Sarah Reed / NetballSA
It is the second time she has contracted the virus, first going down with it in January, during pre-season.
"When I tested positive on the RAT this time I was a little bit shocked, I felt like I had a cold but didn't think it was Covid-19 because it was nothing like the first time," Garrett said.
"The first time I woke up drenched in sweat four times during the night and couldn't get out of bed for probably two days.
"This time around isolation was boring because I felt pretty good and just wanted to be up and moving."
Garrett said it took her several weeks to fully recover the first time around and she was often left short of breath.
"Getting back the first time was hard, whereas this time I feel just about back to normal," she said.
Thunderbirds and Magpies are both sitting just outside the top four on 16 points. If other results go their way, a win could see them leapfrog into finals contention with just three games remaining.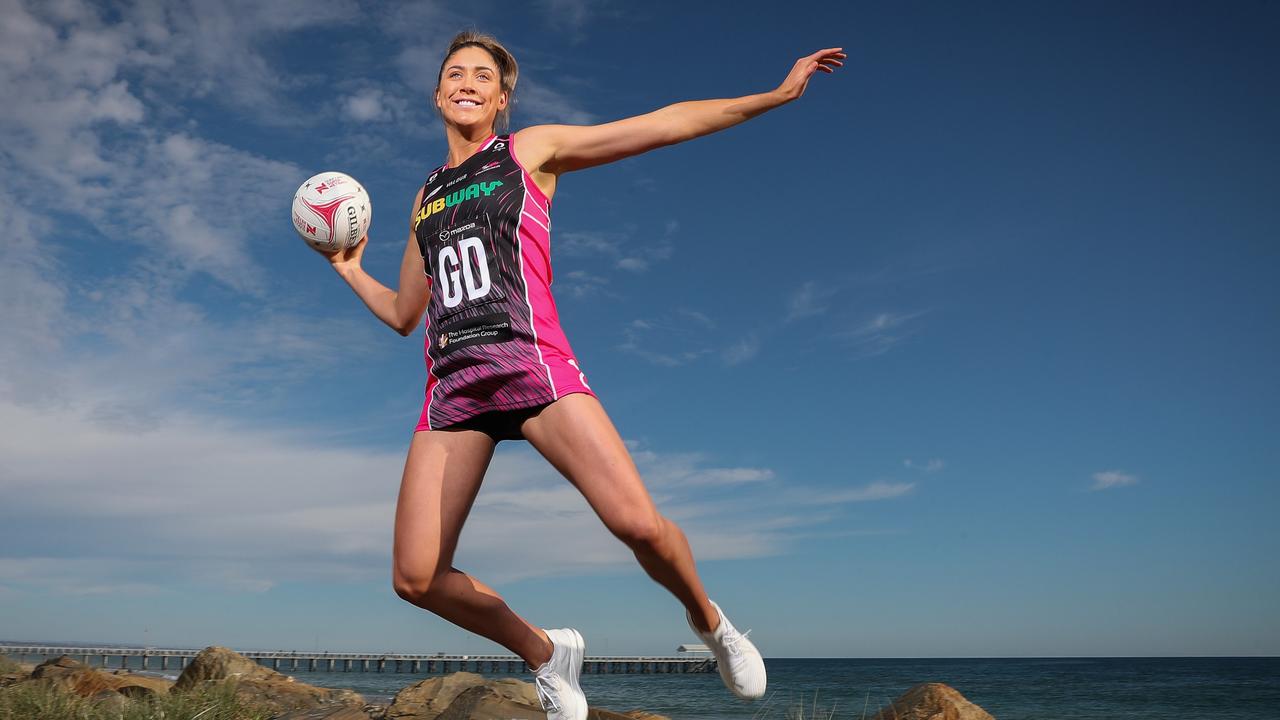 Thunderbirds Matilda Garrett is fighting fit for the Magpies clash after her sound bout of Covid-19. Picture Sarah Reed / NetballSA
"We know we need to win to make sure we have a chance of securing a spot in the top four and the Magpies need to do the same so it will be a really tough game," Garrett said.
"We are literally battling it out for a chance to be in the finals."
Last time the teams met in Round 1 Thunderbirds claimed victory by just four points.
Garrett said the match-up between Magpies shooter Shimona Nelson and Thunderbirds defender Shamera Sterling would be the one to watch.
It was during her first season with Collingwood that Garrett got her only taste of the Super Netball finals series. Magpies were bundled out in the first elimination round. Garrett said she is determined to go all the way this year.
"We've got the team to do it," she said. "We all have such genuine love for each other and we are a diverse group with so much depth across the whole court."
Thunderbirds will take on Magpies at the State Netball Centre, Melbourne, at 4pm on Sunday May 22.
Why derby duel has never been so important to Firebirds
The Firebirds' finals campaign may be teetering on the edge but Kim Jenner says there's full belief from the playing group that they can put their season back on track starting with a Queensland derby win against the Lightning on Saturday.
The Firebirds head into the Battle of the Bruce having slipped outside the top four on the back of three consecutive losses, with their finals hopes on a knife edge.
But former Diamonds squad defender Jenner said there had been plenty of reflection since their midweek loss to the Adelaide Thunderbirds and the belief remained that the Firebirds could bounce back to make their first playoffs since 2018.
Watch Suncorp Super Netball on Kayo. Every game of every round LIVE. New to Kayo? Try 14-days free now >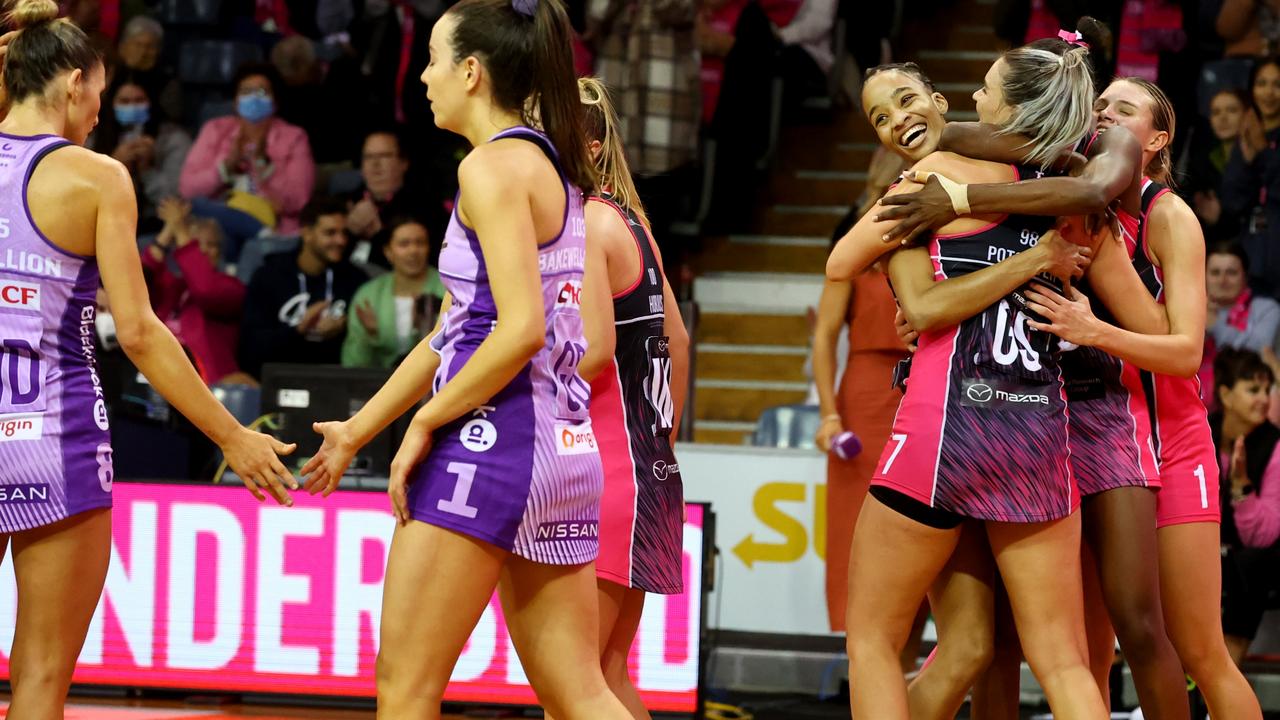 The Thunderbirds celebrate their win over the Firebirds at Netball SA Stadium. Picture: Getty Images
"That was a really tough loss (against Adelaide)," Jenner said.
"They've all been really tough losses but to have three in a row was really disappointing for all of us.
"We had worked really hard and we really thought we put everything into that, so we definitely have sat, we've reflected and we've really banded together - both as a whole team and in individual (positional) units to really get stronger and go into this game really tough."
Jenner said there needed to be some big wins from the Firebirds in the final month if they were to make the finals.
Up against top four sides the Fever, Giants and Swifts, as well as derby rivals the Lightning in the last four rounds, the Firebirds will have to win at least three games and possibly all four to finish among finals candidates.
The Firebirds are Super Netball's mythical "girl with the curl".
When they're good, they're very, very good and when they are bad — well, they're not entirely horrid, as the nursery rhyme would suggest but they undoubtedly run hot and cold.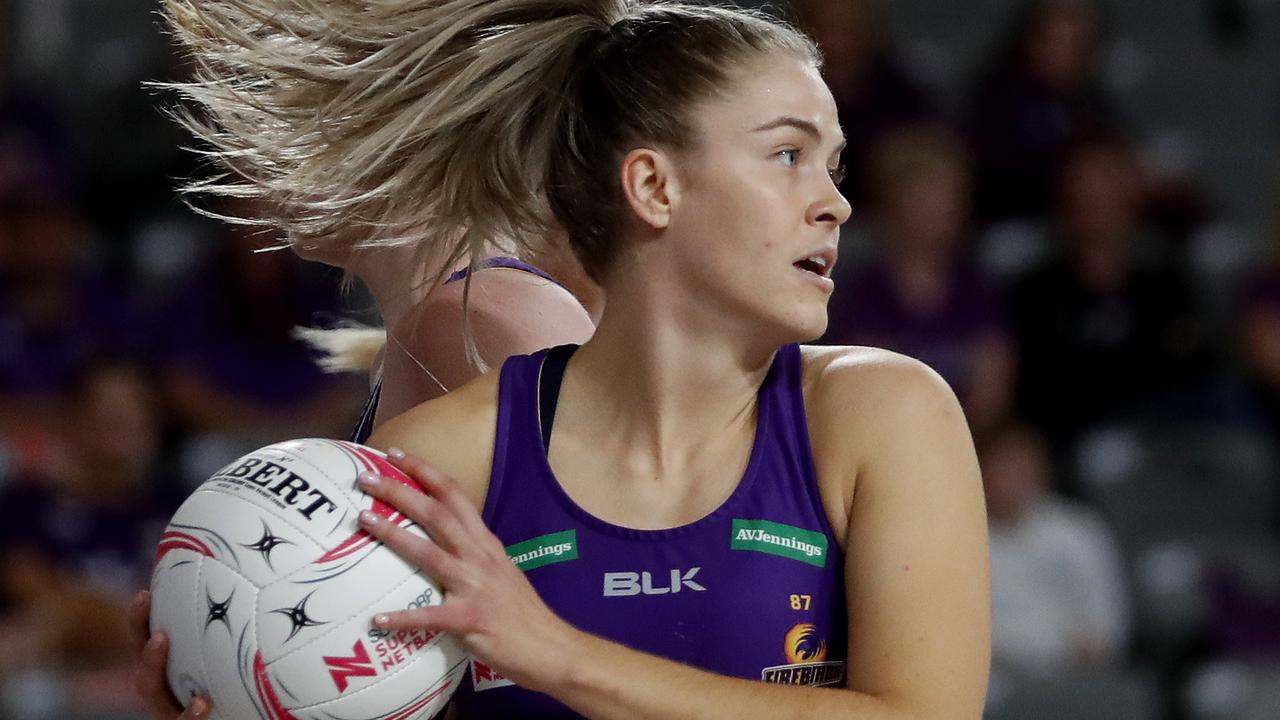 Kim Jenner hasn't seen much court time this season but is part of a versatile defensive combination. Picture: Getty Images
"It's really frustrating when we have the ability to beat any team in the comp but we're not putting that performance out there each week," Jenner said.
"It's really looking back and working out why, individually, that's not happening for us, but also why it's not happening as a team."
With attitudes like Jenner's though, the Firebirds are on the right track.
A Diamonds squad member just last year, Jenner has seen her court time plummet this season, something driven in part by the rise of young gun Ruby Bakewell-Doran and the arrival of England international Eboni Usoro-Brown.
"Everyone wants to play, we're all really competitive, and be out there but it's been so great to see Ruby really step up and really take it with both hands," Jenner said of the rookie grabbing her opportunity.
"All three defenders bring such different things to the defensive end, so it's great that when we come up against different combos we can change it up a bit."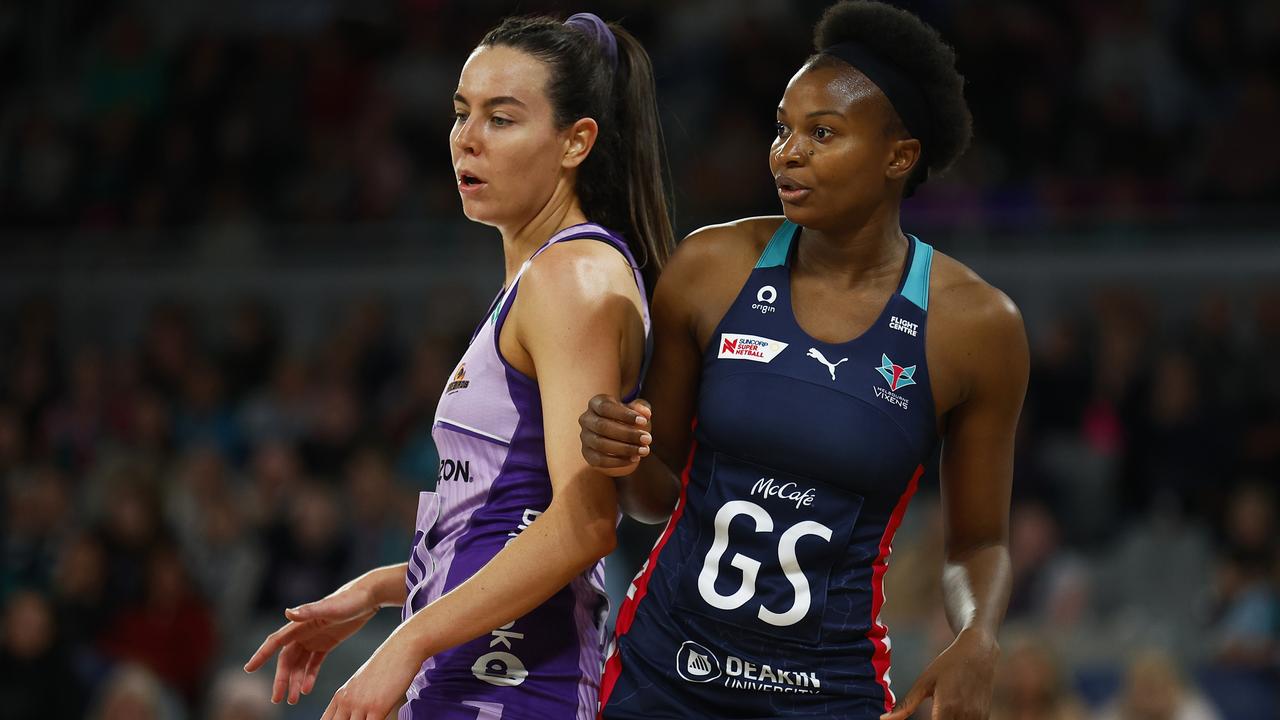 Ruby Bakewell-Doran (left) is having a breakout season for the Firebirds. Picture: Getty Images
It's not going to be an easy task against the Lightning on Saturday, despite the Sunshine Coast sitting in last place on the ladder and coming off a 28-goal loss the last time the two teams met — although they were without Diamonds vice-captain Steph Wood, who missed the match with Covid.
The Lightning are coming off a heartbreaking one-goal loss that ended their run of making Super Netball finals every year since the inception of the competition.
Without former captain and international defender Karla Pretorius (maternity leave) this season, the Lightning were already dealing with change but they have also had senior players out with Covid — one at a time, depleting the line-up for four weeks all up.
One of their three wins this season has come against the pacesetting Vixens though and coach Kylee Byrne is confident her team is a chance.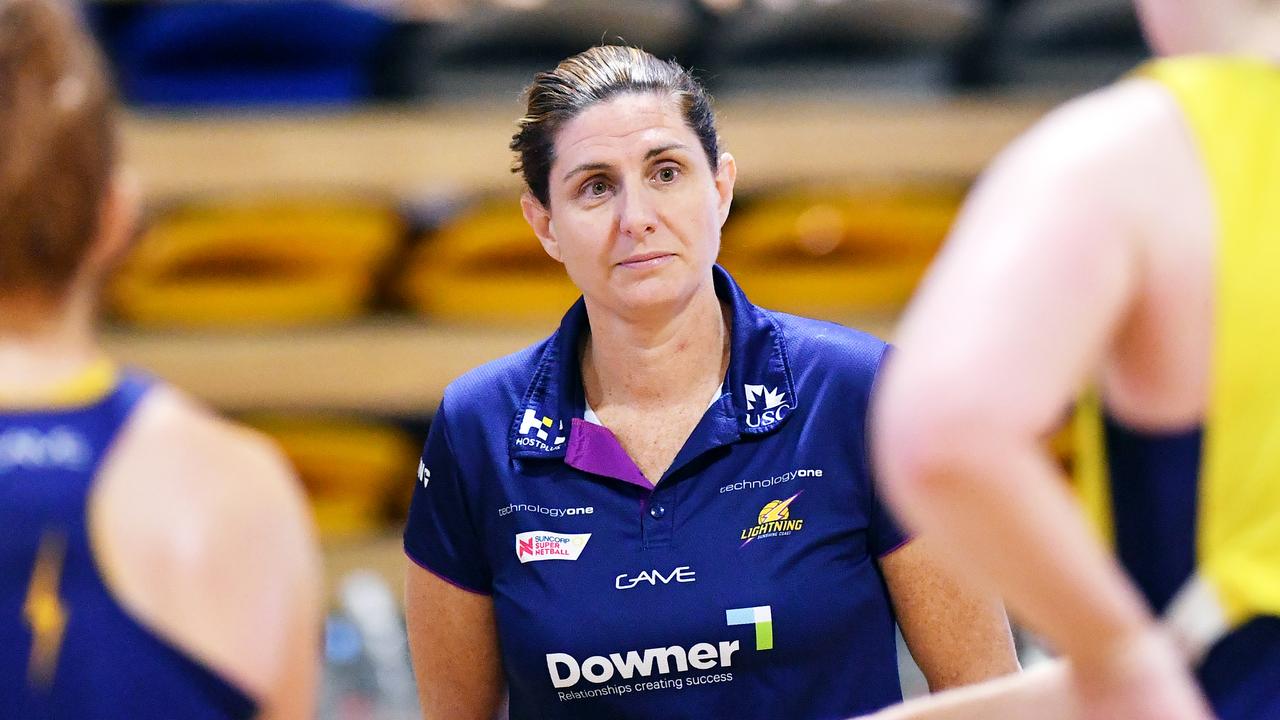 Lightning coach Kylee Byrne (centre) is adamant her team has a chance in the derby. Picture: Patrick Woods/Sunshine Coast Daily
"On any day, anyone can beat anyone and that's still the mentality that we have at the moment," Byrne said.
"We refer back to that Vixens game a lot but even the last two performances — both against Fever and Swifts — our performances were up there and world class and we need to take that into these next few games knowing that we can take it to anyone.
"Just because you don't win on the scoreboard doesn't mean you had a bad performance — and these last two games in particular so that we can match it with anyone."
Closeness of comp 'just crazy' as Vixens reveal driving force
Vixens are sitting where everyone else wants to be — the top of the ladder — and after taking home the wooden spoon last year defender Jo Weston is thriving on again being the hunted.
"It is a privileged position. There is a target on our back, like there is on any team doing well in any competition," Weston said.
"But with the SSN being so close this year and a lot of teams edging towards the top four with just a few games to go, it is going to come right down to the wire."
The defender credits their side's return to glory to the return of Liz Watson, who missed 2021 due to needing foot surgery, and the addition of Kiera Austin and Rahni Samason.
"I think last year with no Liz and the retirements of Tegan Philip and Caitlin Thwaites, it was really difficult for us to really find that groove that we have been able to find this year," she said.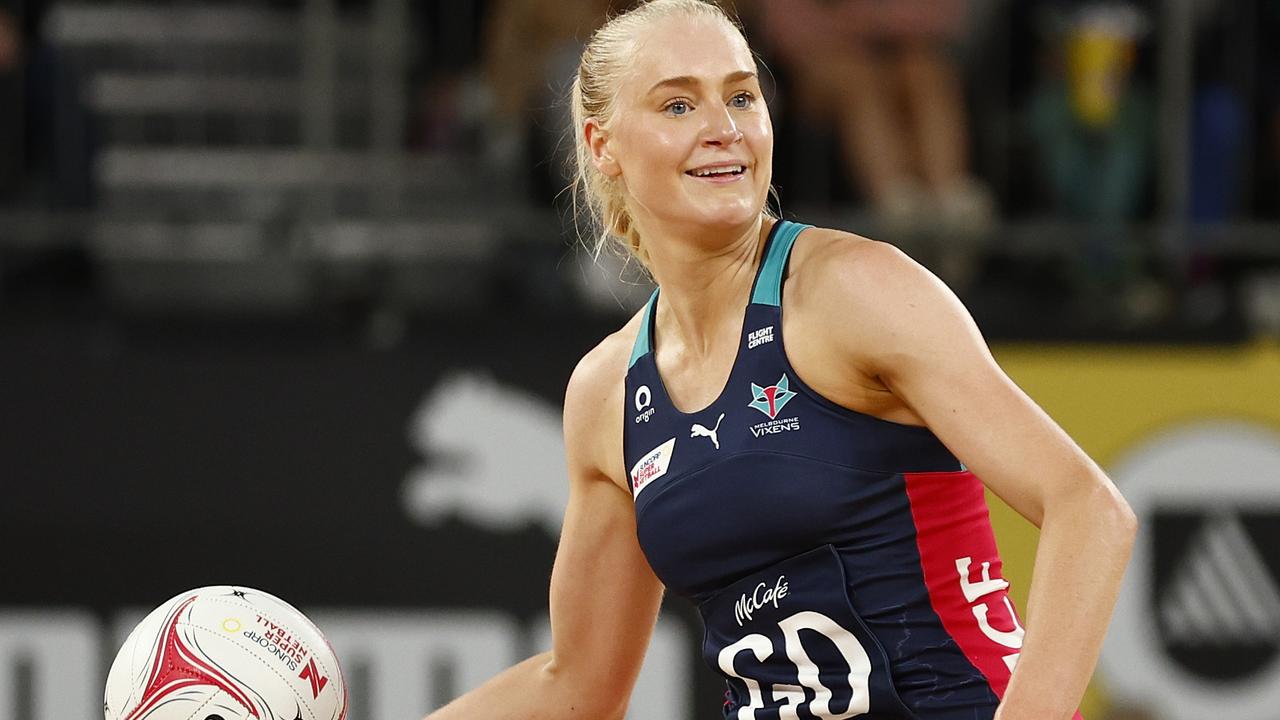 Jo Weston credits their side's return to glory to the return of Liz Watson and the addition of Kiara Austin and Rahani Samason.
Weston is well aware rivals NSW Swifts will be out to put a dent in Vixen's impressive win/loss ratio on Saturday night.
"Victoria and New South Wales have very long established rivalries in a myriad of different sports, there is always a bit of pride on the line when it comes to playing against the Swifts," she said.
Vixens got away with a five-goal win against Swifts in Round 2 — the NSW team's first game without star shooter Sam Wallace.
"Since then Swifts have really rebuilt their attack and rejigged their midcourt to find some flow throughout the later half of the season, so I think it will be a close battle," Weston said.
The defender said the key to their fourth straight win and ninth this season would be to stick to the game plan "for a full 60 minutes or 65 minutes if it comes to it".
Swifts' Maddy Turner said the side was bursting with confidence after putting together three strong consecutive wins.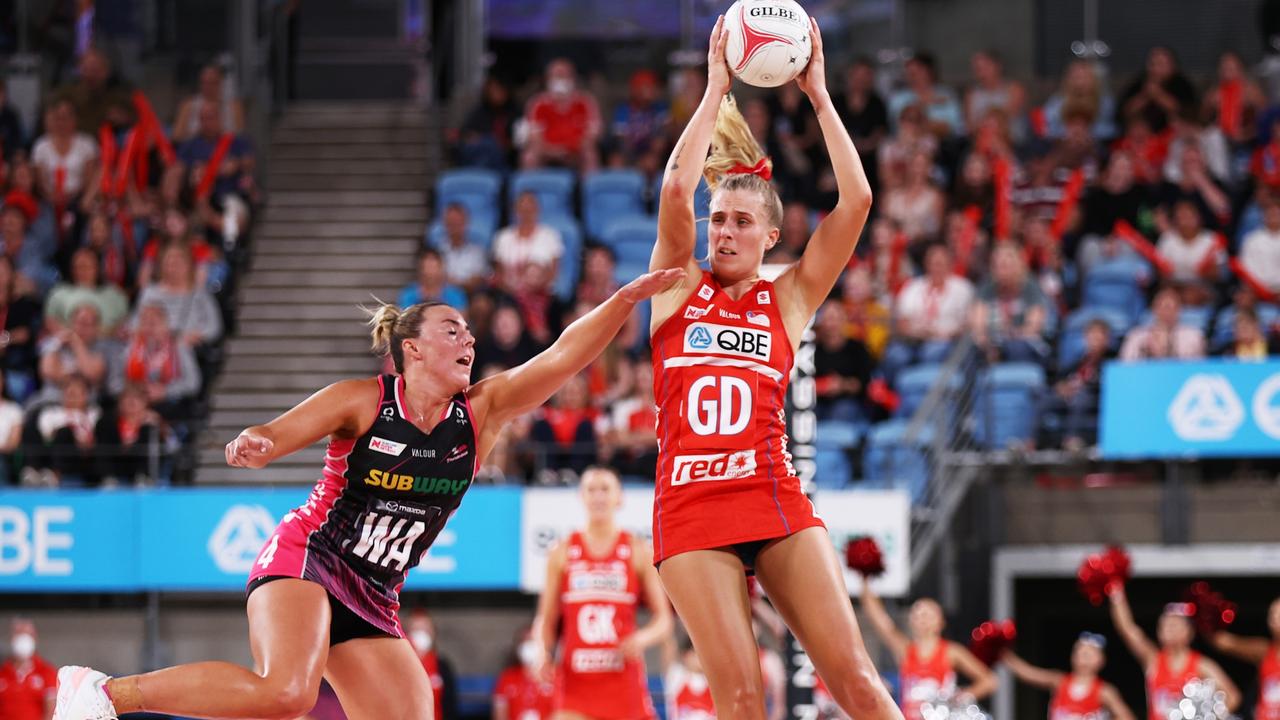 Maddy Turner takes a pass during the round nine Super Netball match between NSW Swifts and Adelaide Thunderbirds. Picture: Matt King/Getty Images
"We are excited to go up against the top of the table and the pressure is on them to perform," Turner said.
The run of wins has turned Swifts season around and put them back in contention to play finals.
"Last week we were sitting in the wooden spoon position, this week we are in the top four, it is crazy how close the competition has been this year — you have to be on your best every game," she said.
Turner said the key to keeping their finals dream alive was to try and break down the connections between Vixens' players Austin, Watson and Mwai Kumwenda.
"If we can break down that connection and disrupt them a little bit it will be a good step to getting the win," she said.
Vixens and Swifts will battle for the Sargeant-McKinnis Cup at John Cain Arena at 7pm on Saturday May 21.
The biggest threat to Vixens' Super title challenge
With just four rounds to go in the Super Netball season, we tackle the big questions facing teams in the run to finals.
Who will make the finals? Can anyone challenge the front runners? And what's the fate of those outside the top four?
Netball writer Emma Greenwood and Fox Sports commentator Cath Cox answer the big questions ahead of a frantic final month of fixtures.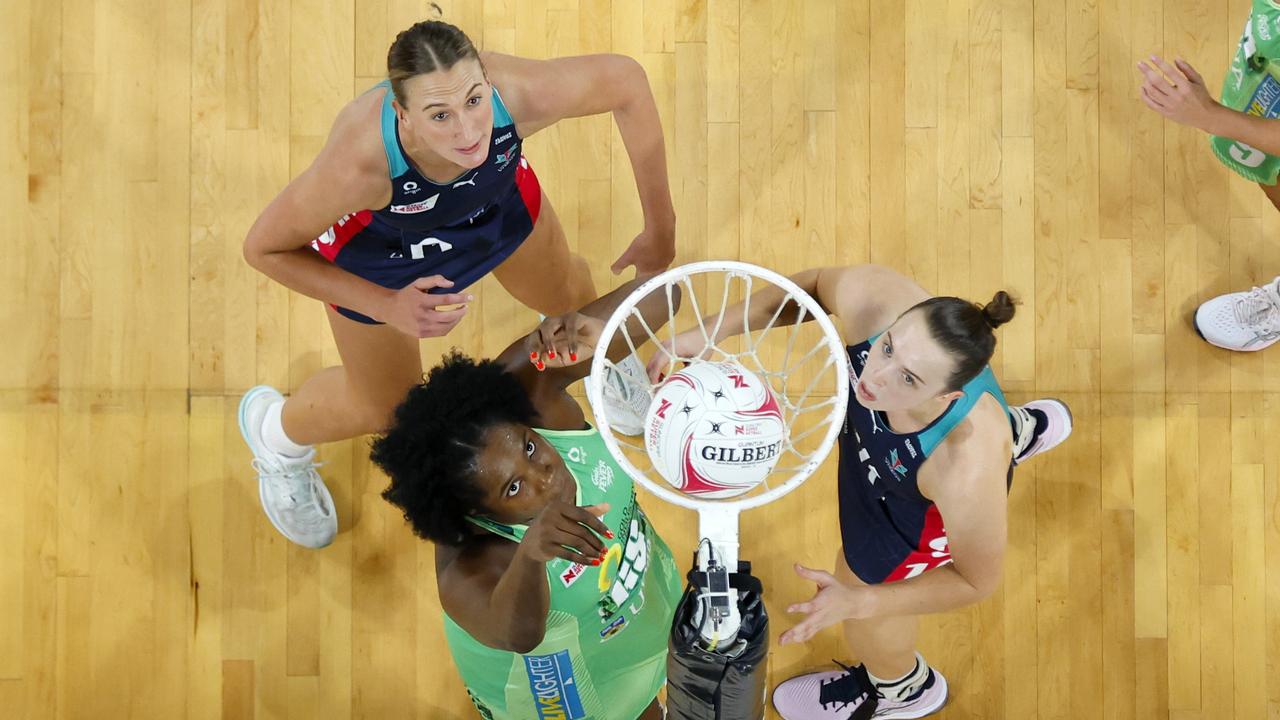 Melbourne Vixens and West Coast Fever are the teams to beat this season. Picture: James Worsfold/Getty Images
Can anyone beat the Vixens?
While there was plenty of talk in the pre-season about the prospect of the Vixens bouncing from the Super Netball outhouse to the penthouse in a single season, few would have expected them to dominate as they have this year.
A shock loss to the Lightning — one of just three games the Sunshine Coast have won this year — and a derby defeat against the Magpies are the only blemishes for the 2021 premiers, who are definite pacesetters this season.
Two wins over the second-placed Fever, two over the Giants (third) and another pair over the Firebirds, show they are the real deal and on track for a run deep into the finals.
Their off-season recruitment looked on point at the time and the performances of Kiera Austin and Liv Lewis have been outstanding, giving Melbourne the depth needed to nab a title.
Covid could be their only kryptonite, with co-captain Liz Watson — arguably the world's best midcourter — yet to have the virus.
Watson's absence with a foot injury last year, combined with the loss to retirement of shooters Caitlin Thwaites and Tegan Philip, saw the Vixens drop from premiers to wooden spooners.
They have fixed their shooting woes but will be taking every precaution to ensure Watson stays on court.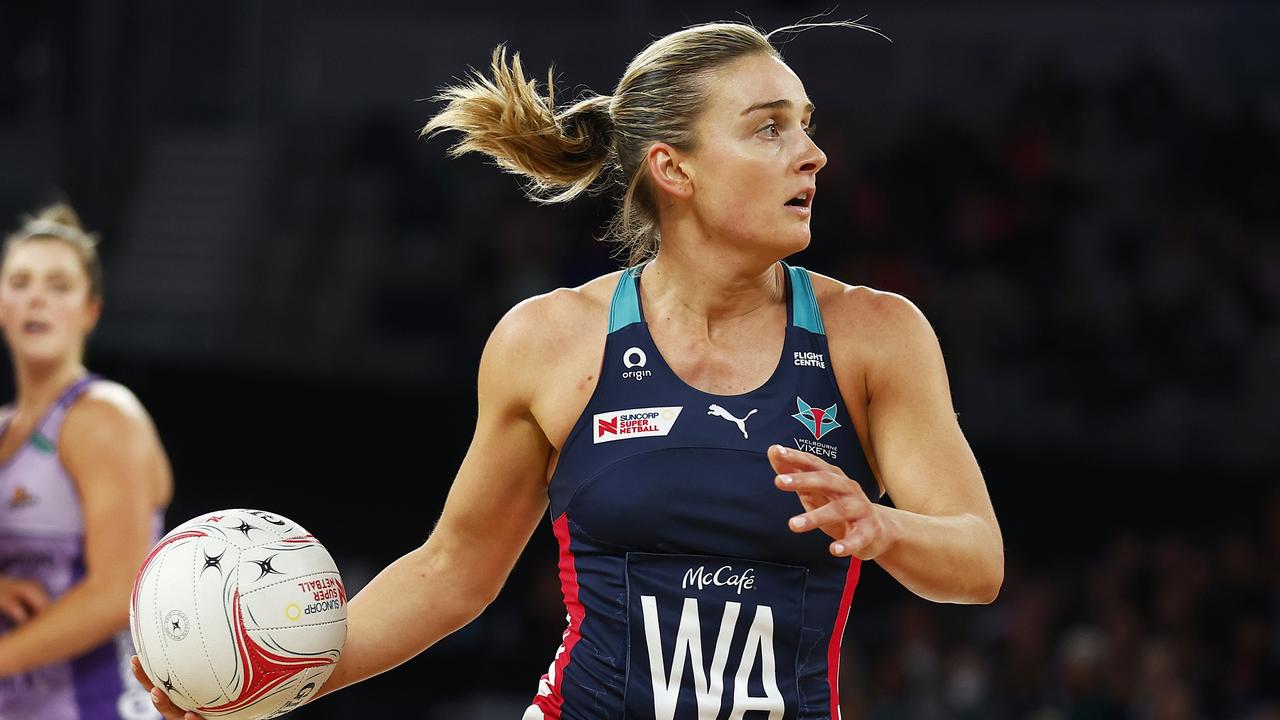 Liz Watson has had a great season at the Vixens. Picture: Daniel Pockett/Getty Images
Can the Firebirds rediscover their mojo?
Third at the halfway point of the season, the Firebirds have lost their past three on the trot.
But Cox believes they can still turn things around.
"With their calibre of players, there is no reason they can't turn it back on again," Cox said. "They have a great coaching staff, good culture and exceptional athletes. Their problem has been inconsistency, which is the same with all the teams this season.
"I had them pegged as the bottom of the ladder this season — how wrong could you be.
"The worries for me were that Romelda Aiken was going to be tough to replace. She was such a strike force for them and they were so used to playing with her.
"Who would have known that Ruby Bakewell-Doran would be so outstanding and Donnell Wallam, too. Kim Ravaillion has really settled this season too and has been really consistent. I think they have done enough to be sitting in a good position ahead of finals."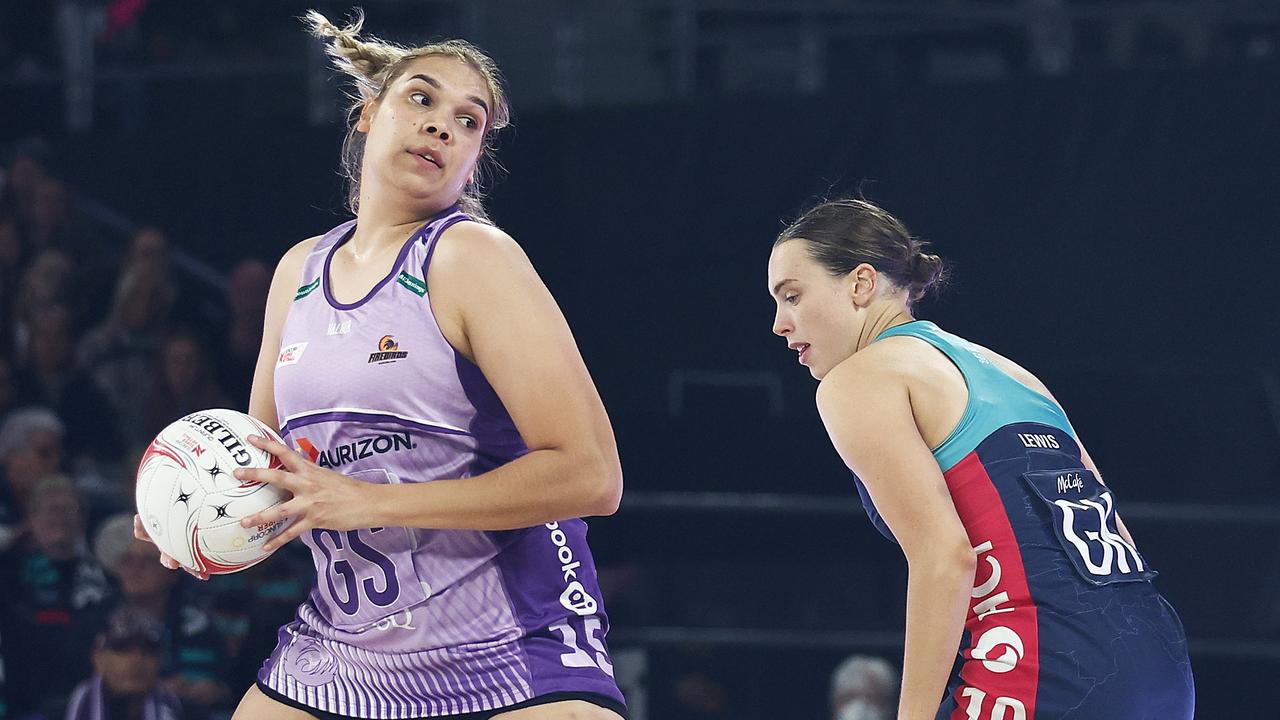 Firebirds shooter Donnell Wallam. Picture: Daniel Pockett/Getty Images
Can the Thunderbirds make the Super Netball finals for the first time?
The Thunderbirds have not finished higher than seventh on the ladder in the first five seasons of Super Netball and Cox says more pain will be experienced by their fans this year.
Can the T'birds climb into finals contention? "No way," Cox said.
"They are just too inconsistent. I think the worst club to be a fan of would be the Thunderbirds because they are capable of so much but just haven't delivered.
"We got glimpses of it in the first couple of rounds then they fell away and went back to being the Thunderbirds of old. I think it is a real mental challenge with them.
"The athletes they have are incredible, they should be able to do what they did (on Wednesday night against the Firebirds) more often.
"I've been really impressed with what I've seen from Tayla Williams the last couple of games, particularly in the absence of Maisie Nankervill.
"Georgie Horjus has been instrumental to them no matter what position she is playing — she was exceptional in wing attack against the Firebirds on Wednesday night.
"I think they have left it too late and I don't think they are capable of pulling off the performance they did against the Firebirds again this season.
"I'd love to think they could but I can't see it happening."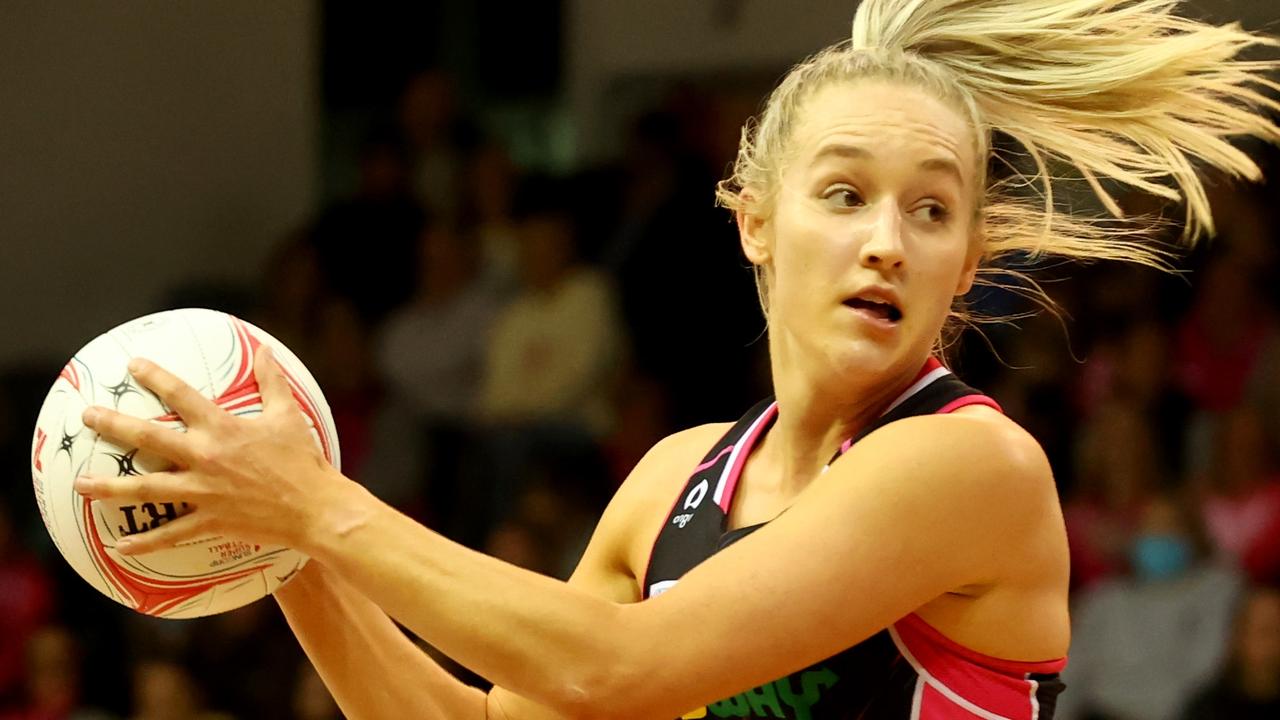 Tayla Williams has been a shining light for the Thunderbirds. Picture: Kelly Barnes/Getty Images
Can the Swifts climb off the canvas to make the finals?
After losing Sam Wallace to a season-ending injury and then co-captain Paige Hadley to Covid for a week, the Swifts looked set to follow the lead of the Vixens last year and tumble from the top of the ladder to the bottom in a single year.
They have defied the odds to climb into the top four but still face the Vixens and Fever on the run home. And Cox believes they can stay there.
"Swifts can make the finals, for sure, but I don't think they can win," Cox said of a fairytale premiership defence. "It is understandable that it will take them a long time to work out life after Sam Wallace. I think they are just now starting to adjust to the new front line.
"They have had some good wins, some they have had to fight for as well. I'm really impressed with what I've seen from them.
"They have a really versatile circle as well, it has changed every game. It is just a matter of working out how to use that effectively."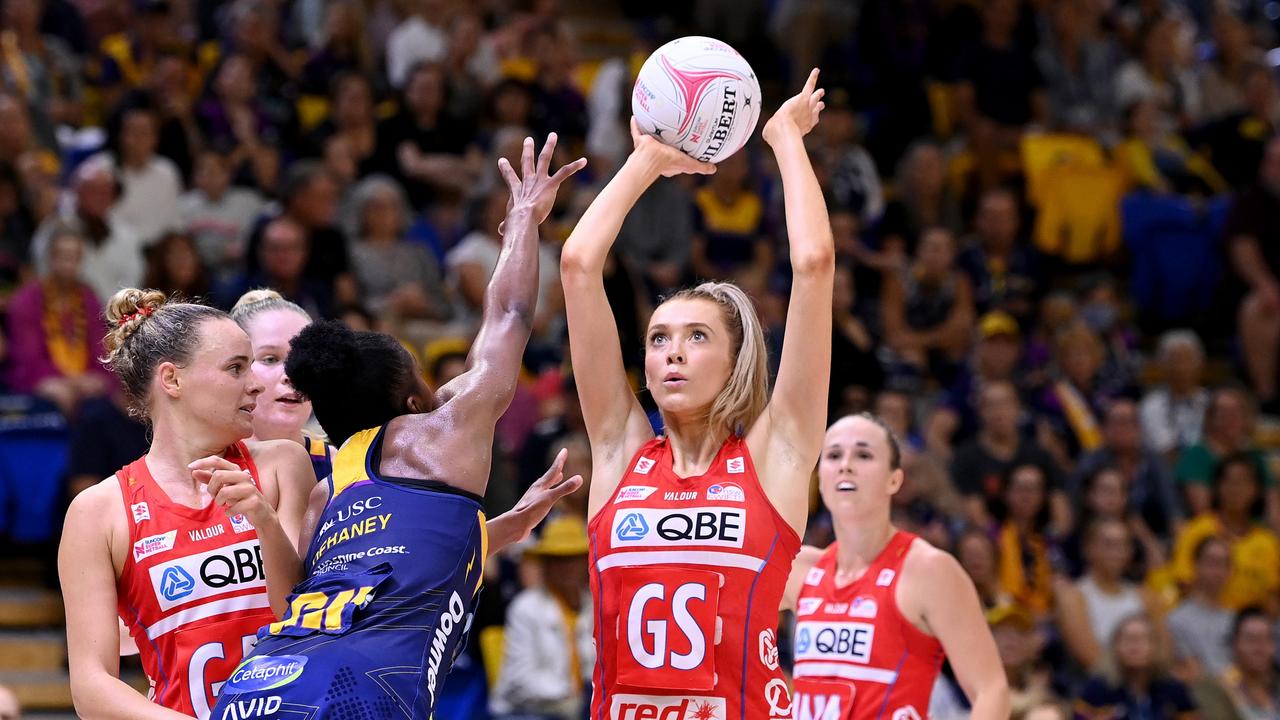 NSW Swifts have climbed back into the top four and Cath Cox believes they can stay there. Picture: Bradley Kanaris/Getty Images
Will the Lightning claim the wooden spoon?
The most successful club in Super Netball, the Lightning have won two premierships, made another grand final and never finished outside the top four.
Their finals chances are gone for this year but they could yet claim an unwanted title, with the wooden spoon looming for a side facing the Vixens and Giants on the run home.
One of just two sides to beat the Vixens this season in a massive upset, they will be looking to repeat the dose to ensure they don't claim an unwanted title.
Lightning coach Kylee Byrne is adamant her side can remain a thorn in the side of others this season, with the team now looking at the big picture and regeneration ahead of another successful chapter.
"This is the first year we're not in the finals and that's not sitting well with a few of us — particularly those that have been around from the start," Byrne said. "There was always going to be a year that this happened but none of us wanted it on our watch.
"On any day, anyone can beat anyone and that's still the mindset and mentality we have to have and do have at the moment.
"We refer back to that Vixens (win) a lot but even the last two games — against Fever and Swifts — our performances were up there and world class and we need to take that into these last few games. We can match it with anyone."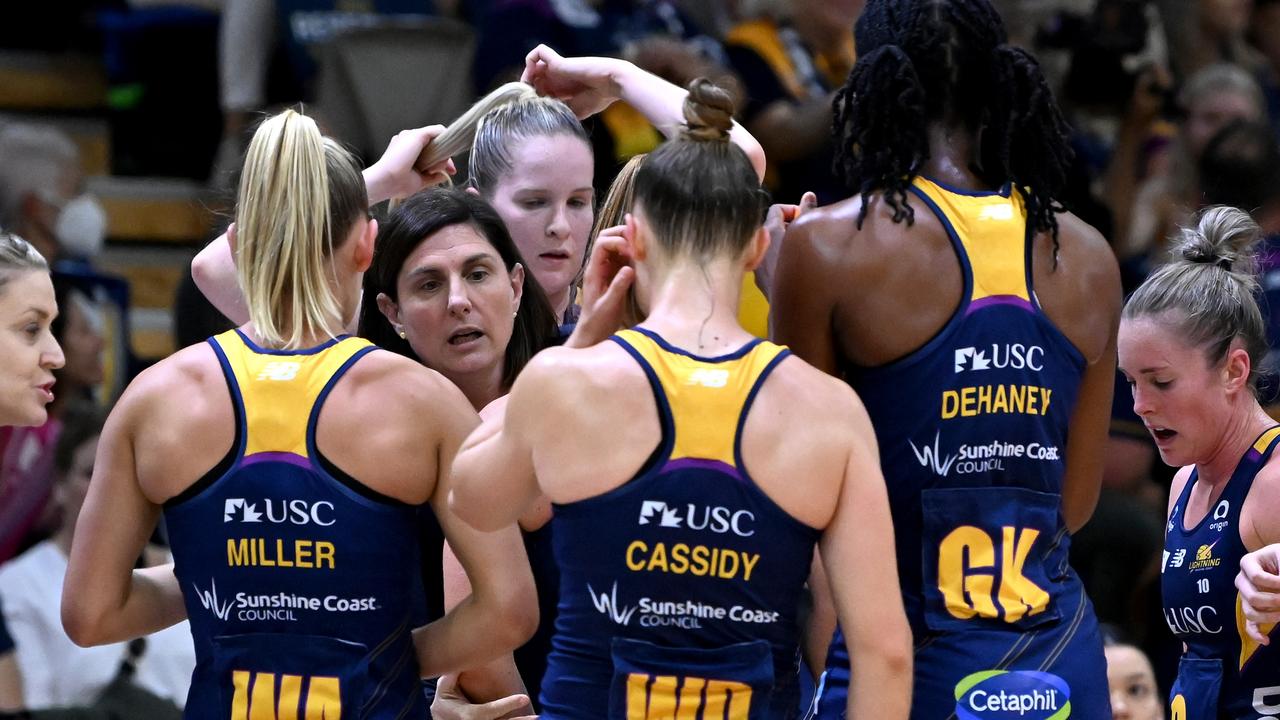 Sunshine Coast Lightning have had a tough season. Picture: Bradley Kanaris/Getty Images
Are the Fever genuine premiership contenders?
With the Vixens, the Fever headed into the season rated title favourites, with the team from the west desperate to win their first title.
With the best goal shooter in the world, in Jhaniele Fowler, spearheading their attack, and a defensive end led by internationals Courtney Bruce, Sunday Aryang and Stacey Francis-Bayman, the Fever have some of the best individual players in the competition.
But they have lost the big moments so far — going down twice to the Vixens and to great rivals the Giants in key matches and Cox is not yet convinced.
"They should be premiership contenders given their run home," Cox said.
"With a lot of home games to come they should have a good run of wins, which will fill them with confidence ahead of the finals.
"If they get a home final they should be able to do the job over there.
"Sasha Glasgow has really stood up to what has been thrown at her this season and has made the (goal attack) position her own.
"She is not relying on Jhaniele Fowler to do the job or trying to fit in around Fowler — she is a solid contender for the Diamonds squad in my opinion.
"I'm not convinced the Fever can do it given what I've seen this season."
Originally published as Super Netball 2022: How Covid is affecting your club's premiership chances