Super Netball 2022: Melbourne Vixens star Kiera Austin set for Grand Final dream
An ACL and Covid threatened to derail Kiera Austin's Grand Final dream. She watched on from isolation as the Vixens took on the Giants. Finally the hoodoo is broken.
Sitting in isolation at home, watching the nailbiting preliminary final on her laptop Vixens' goaler Kiera Austin thought she had almost missed out on yet another chance to play finals netball – then the unthinkable happened.
Austin was ruled out of taking the court for the Vixens preliminary final after testing positive to Covid-19 last Wednesday.
She had woken up with a fever and body aches and while testing negative on a RAT test, a PCR confirmed what she dreaded.
"I have no idea where I got it from," Austin said. "I woke up at 3am to the text message confirming my positive PCR result, I was obviously upset but I didn't feel too bad because there was literally nothing I could do to change what had happened."
It was not the first time Austin had been relegated to the sidelines for a final – she watched from the bench, nursing a torn ACL, as her former team the Giants, did battle with the Swifts in the 2021 final.
Stream Over 50 Sports Live & On-Demand with Kayo. New to Kayo? Try 14-Days Free Now >
Not wanting to give her germs to her partner she watched the all-important game against her former team on her own in a separate room.
"At the start of the fourth quarter I was thinking it is going to take a lot of effort to get the win," Austin said.
"Then there were a few missed shots that went our way and a few held balls and I thought 'okay we are back in it now'.
When Mwai Kumwenda threw a pass, which was intercepted by the Giants, with hardly any time left on the clock, Austin thought it was all over.
"I knew what she was trying to do, we had practised running the clock down just in case because we knew how good the Giants were at super shots but it unfortunately didn't go to plan," Austin said.
When Emily Mannix won the ball back moments later Austin knew they had booked themselves a spot in the finals with a one point win.
"I went through about a million emotions in 40 seconds," Austin said.
She had to watch her team celebrate through the screen, getting to join in the singing of the team song virtually about 20 minutes later.
Austin, who breaks free from her Covid isolation bubble tomorrow (Wednesday), has had nothing but the grand final clash to think about since Saturday night's win.
"I just hope we can finish with a bang," she said.
Fever play Vixens at RAC Arena at 7pm (AEST) on Sunday.
'EYES LIT UP': VIXENS PLAYOFF HERO ON MATCHWINNING INTERCEPT
Melbourne Vixens preliminary final hero Emily Mannix has revealed the mindset that helped her side claw their way back from the brink of defeat and will spur their Super Netball grand final preparations.
Goalkeeper Mannix took a pivotal intercept inside the final minute of Saturday's clash against the Giants, with last season's wooden spooners converting the gain to book what had seemed an unlikely grand final spot when they headed into the final quarter trailing by nine goals.
Mannix, who with goal defence Jo Weston and wing defence Kate Eddy formed an impenetrable wall in the final term, said there was an incredible resolve within the side not to give up in the final term despite the task seeming insurmountable.
"It was do or die really, our backs were against the wall. At three-quarter time we were looking a little bit down in the dumps," she said.
"But I was like, nup, you know what, I'm not doing another pre-season (yet), we've got an opportunity here to go all the way and I'm not letting it slide.
"Going into that last quarter nine goals down is not ideal. But I thought look, I reckon we can we can do this."
Where other teams get easily panicked in those situations, the experience of the Vixens and coach Simone McKinnis comes to the fore.
The Vixens had led by eight after the first time and the veteran coach told her side they just had to perform as they had in the first quarter to start to erase the deficit.
"It only takes a few of those (turnovers) and we're right back in it. I don't even know how it happened, we just chipped away at it, it was nothing extravagant really, it was just that we were able to keep building the pressure," Mannix said.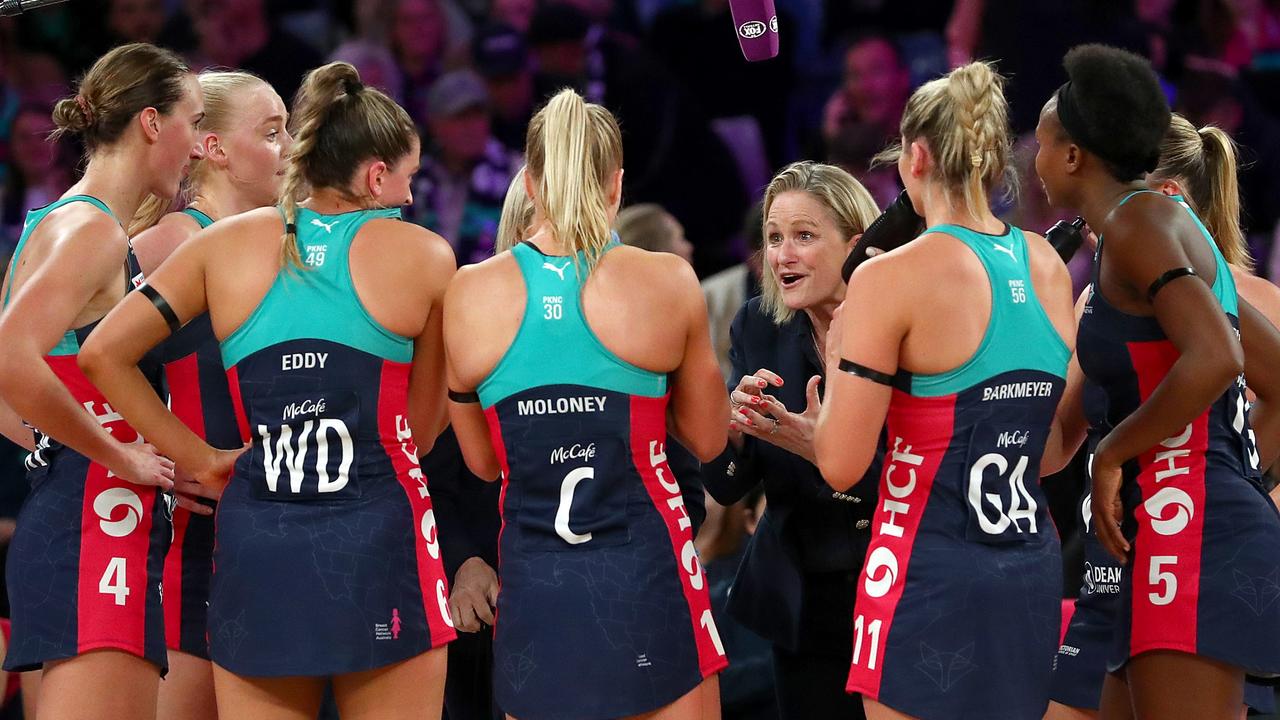 Simone McKinnis rallies her troops as things became very desperate for the Vixens. Picture: Getty Images
"You could see the momentum shift and all of a sudden they went really quiet and within their shells which probably we were like in those middle quarters.
"Somehow we just were able to claw it back by doing the hard work and going back to what we'd spoken about before the game."
In the final, manic minutes of play, the Vixens tied things up, established a two-point lead, had it erased by a Giants super shot and then turned the ball over in the final seconds in a move that put their rivals in the box season for the win.
"My heart did sink a little bit (after the turnover) but you can't let it slip for long because the ball was down our (defensive) end in about four seconds, I reckon, so there was no real time to think," Mannix said.
"For me, it was just like, this is it. It's either try something here or that's it. You really don't have a lot of time to think but it was basically me just thinking, 'have a go'. And it just managed to fall into my hands."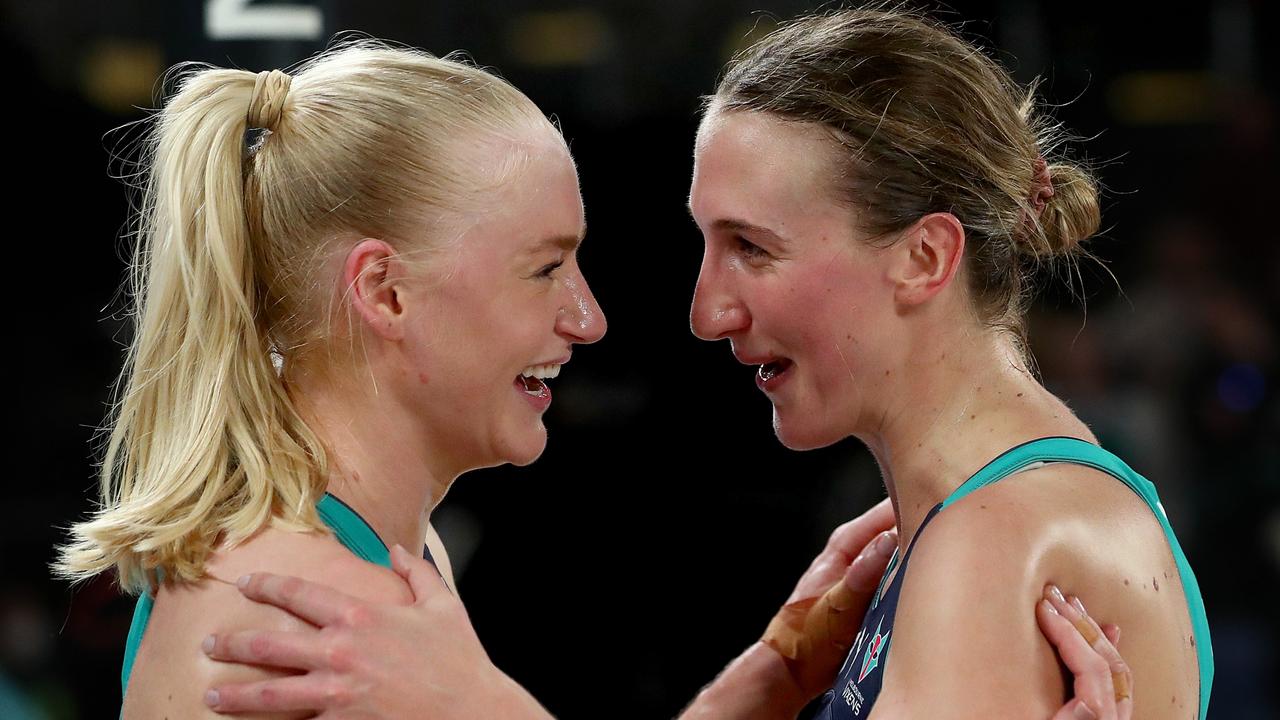 Jo Weston (left) and Emily Mannix cannot believe it after a stunning defensive effort led to them winning their preliminary final against the Giants. Picture: Getty Images
Mannix is, of course downplaying her role.
The canny keeper was hedging between Giants shooters Jo Harten and Sophie Dwyer but said she noticed rival midcourter Jamie-Lee Price's "eyes light up" as Dwyer drove behind her to the baseline and read the incoming pass perfectly.
"I must have just had this feeling deep inside it was going there because I don't really know what happened, it just was there (in my hands)."
Mannix will have a huge role to play again this week if the Vixens are to win the grand final, with West Coast Fever boasting the most potent shooter in the league — and arguably the world — in Jhaniele Fowler.
"Coming up against Jhaniele is a whole different ball game," Mannix said of a match the Fever will play in front of a full house at Perth's RAC Arena.
"We've got to be really strategic in that but also it's about not putting all our focus on that.
"Obviously we know that they've got a tall shooter but I feel like sometimes we take away from our abilities to turn over ball outside the circle because we do focus so much on that.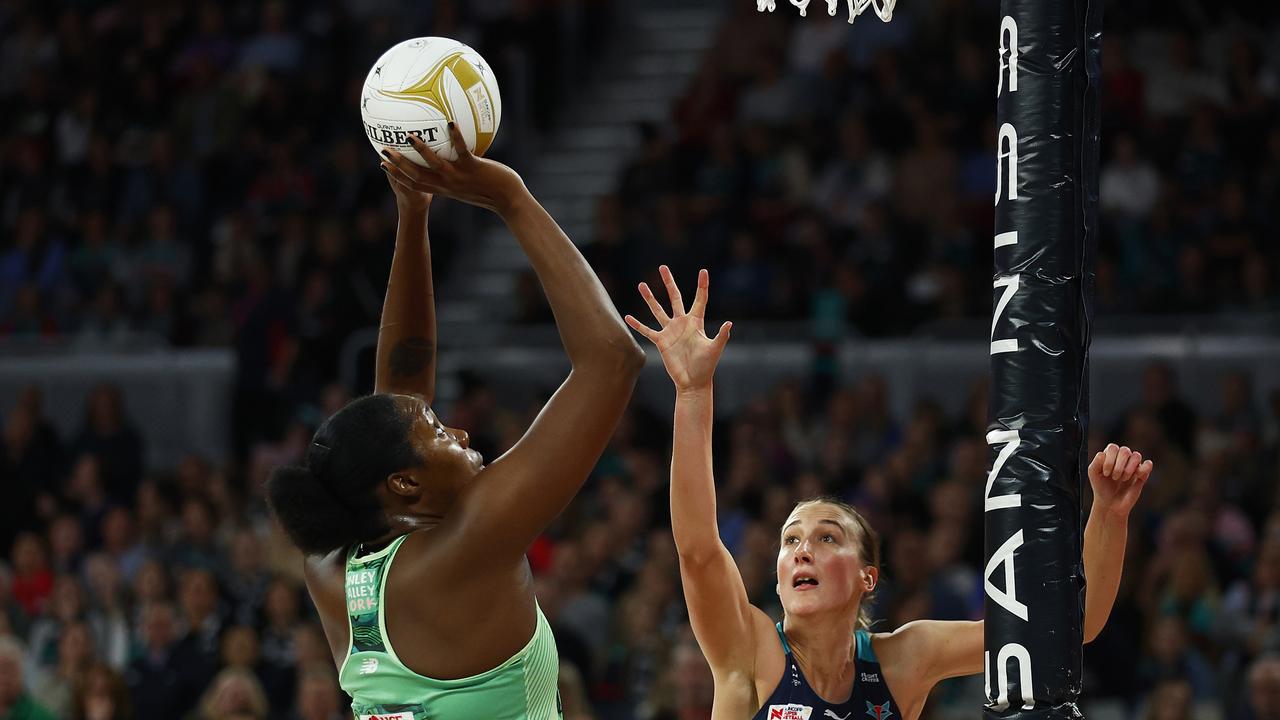 Mannix knows a huge task awaits her when she comes up against Jhaniele Fowler. Picture: Getty Images
"They obviously can score easily and they're very dominant there but it doesn't mean that we can't get ball. There'll be a real focus on backing ourselves and just having a crack because again, this is do or die. This is it.
"We need to feel confident in what we've been able to achieve up to this point but know that it's going to be a really hard match in a really tough, competitive game out there."
The Vixens beat the Fever in both regular season matches but were dominated in the major semi-final and it's that game that Mannix said her side needed to learn most from.
"That'll be the most important game for us to reflect on because that's where we can really see when they're at their best," Mannix said.
"If we have any chance of beating them, we need to really look at what they did against us and be able to fix that.
"But we also take confidence that we can beat them and if we do the work, and we stick to our game plan and we're all on the same page — anything could happen."
Heart-stopper: Vixens lift roof with amazing prelim comeback
The Melbourne Vixens have come from 10 goals down in the final quarter to conjure a miracle 55-54 escape against the Giants and seal a fairytale Super Netball grand final spot.
Just 12 months after walking away with the wooden spoon, the 2020 premiers are back in the season decider in one of the sport's most incredible stories.
They will play West Coast Fever in Perth next Sunday for the title.
But they were made to work hard for the win, with the Giants leading by nine heading into the final term in an incredible seesawing contest.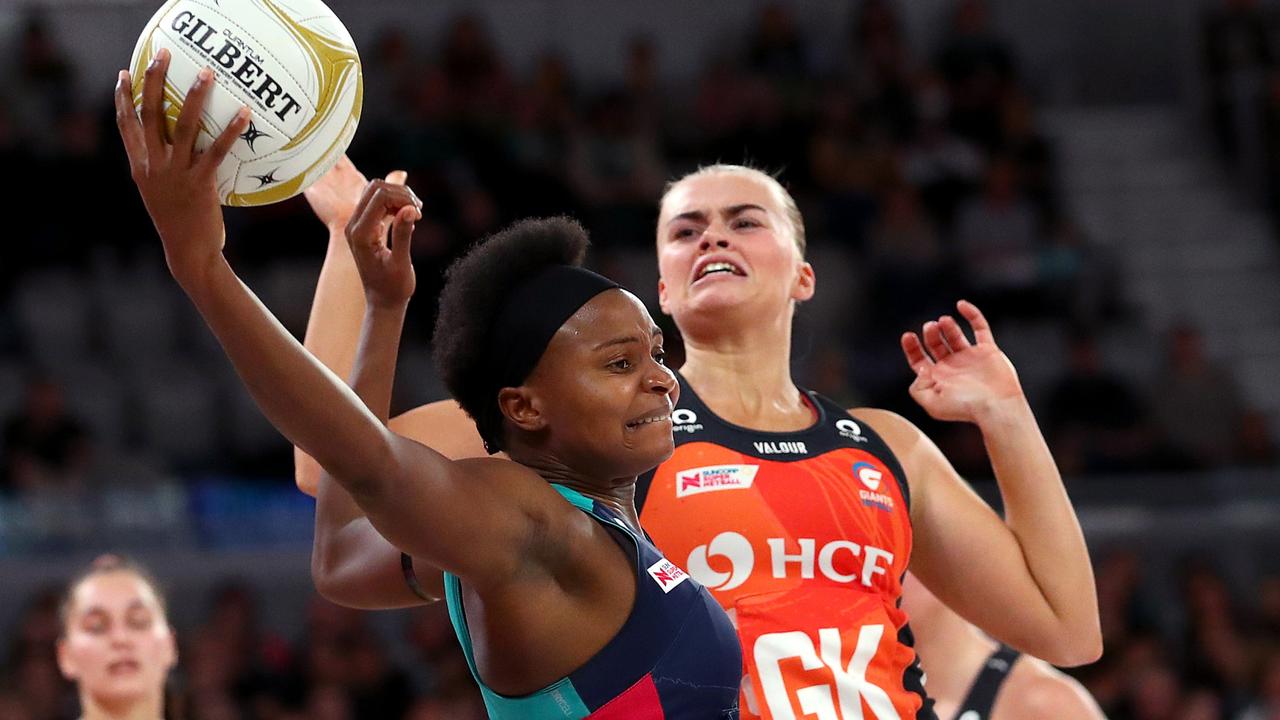 Mwai Kumwenda stretches for the ball during the Super Netball preliminary final at John Cain Arena. Picture: Kelly Defina/Getty Images
Vixens coach Simone McKinnis implored her team to play for their season and they responded magnificently, clawing their way back into the match to set up a thrilling finish.
Standing in for goal attack Kiera Austin, who was out with Covid, Rahni Samason sank a super shot with just under five minutes remaining to level the scores and whip the John Cain Arena crowd into a frenzy.
It wasn't all about the shooters though. Looking to improve her position in the circle, Vixens goaler Mwai Kumwenda looked to have thrown the game away when she gave up possession with just under 20 seconds remaining.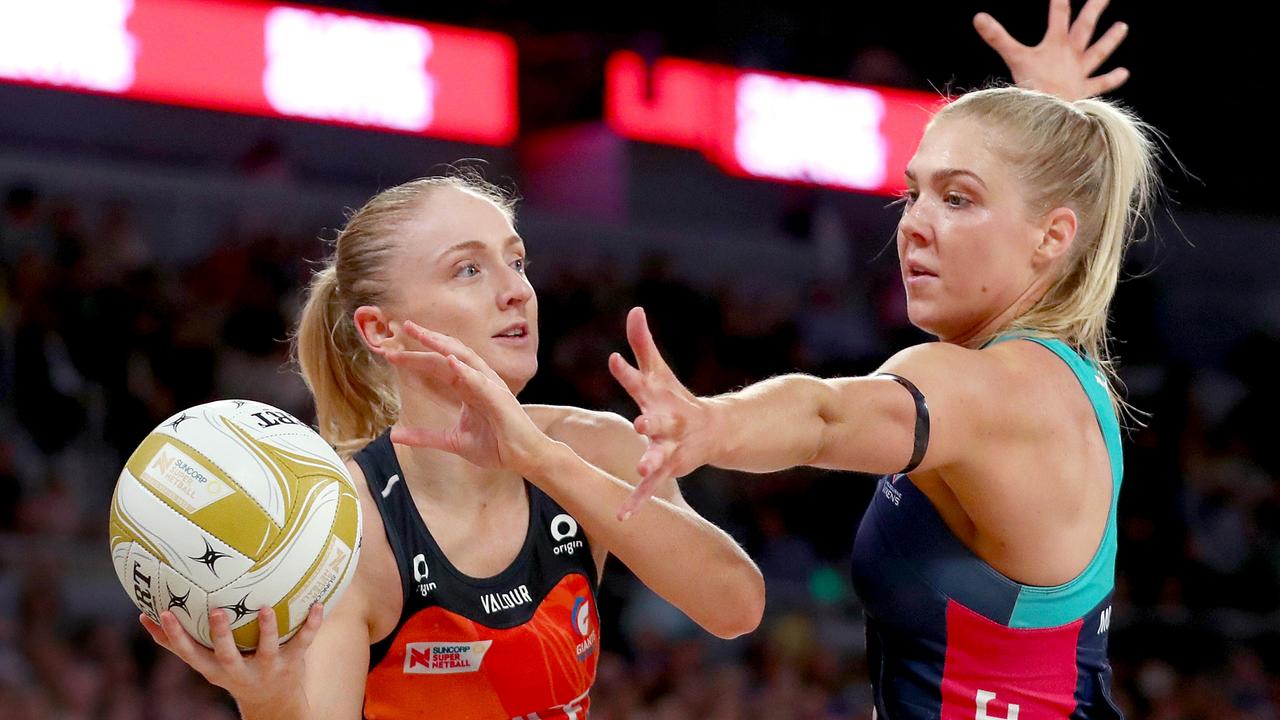 Maddie Hay passes against Kate Moloney during the see-sawing contest. Picture: Kelly Defina/Getty Images
But goalkeeper Emily Mannix flew for a stunning intercept at the other end of the court to give her side another chance and Kumwenda broke the 54-54 deadlock with seven seconds remaining.
Vixens co-captain Liz Watson, who missed the entire season last year with injury, said:
"That was unbelievable. We put ourselves in a s---y situation, so to see that pride and hunger in the end, we knew we were going to go all the way to the end.
"I'm so proud. We've had such a great season and we've worked so hard all season to get ourselves a double chance — which we obviously needed from last week's performance (against the Fever) — to finish top it would have been so disappointing to bomb out today, so I'm excited for next week."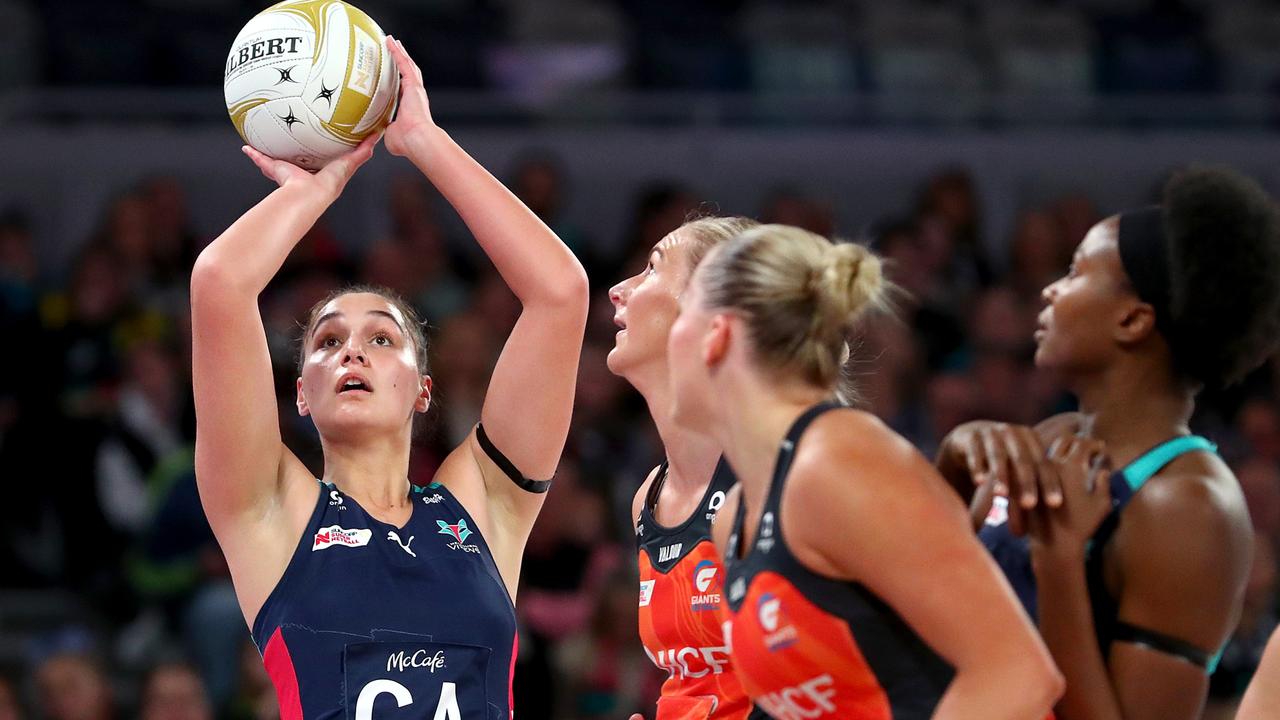 Rahni Samason sizes up a crucial shot as the Vixens make their late run. Picture: Kelly Defina/Getty Images
VIXENS DEFENDERS STAND UP
Giants captain Jo Harten was outstanding as ever for her side, sinking six super shots in the first half to lead her team's revival after the Vixens posted an eight-goal first-quarter lead.
Harten had spoken during the week about her respect for Vixens goalkeeper Mannix though, and it was Mannix and goal defence Jo Weston who stood tall in the final term, fighting for every ball.
Weston was named player of the match for her desperate efforts, which helped turn the game in the final term.
The Diamonds defender finished with four gains, including two intercepts, while Mannix had five gains including three intercepts and two deflections.
Harten showed her class with a stirring speech just moments after the cruel loss.
"It was an outstanding performance tonight to come here in front of this (Melbourne) crowd and to perform the way we did, I'm so proud of us," Harten said.
"We have to live by the wins and the losses of the season and it came down to one goal but we gave it everything."
Turning to her team, who was bidding to return to the grand final after losing to the NSW Swifts in last year's decider, she said it was "one of my great privileges to captain this team".
"You're just outstanding women, you're role models … and the future is big and bright for this club and we have got success in the not so distant future."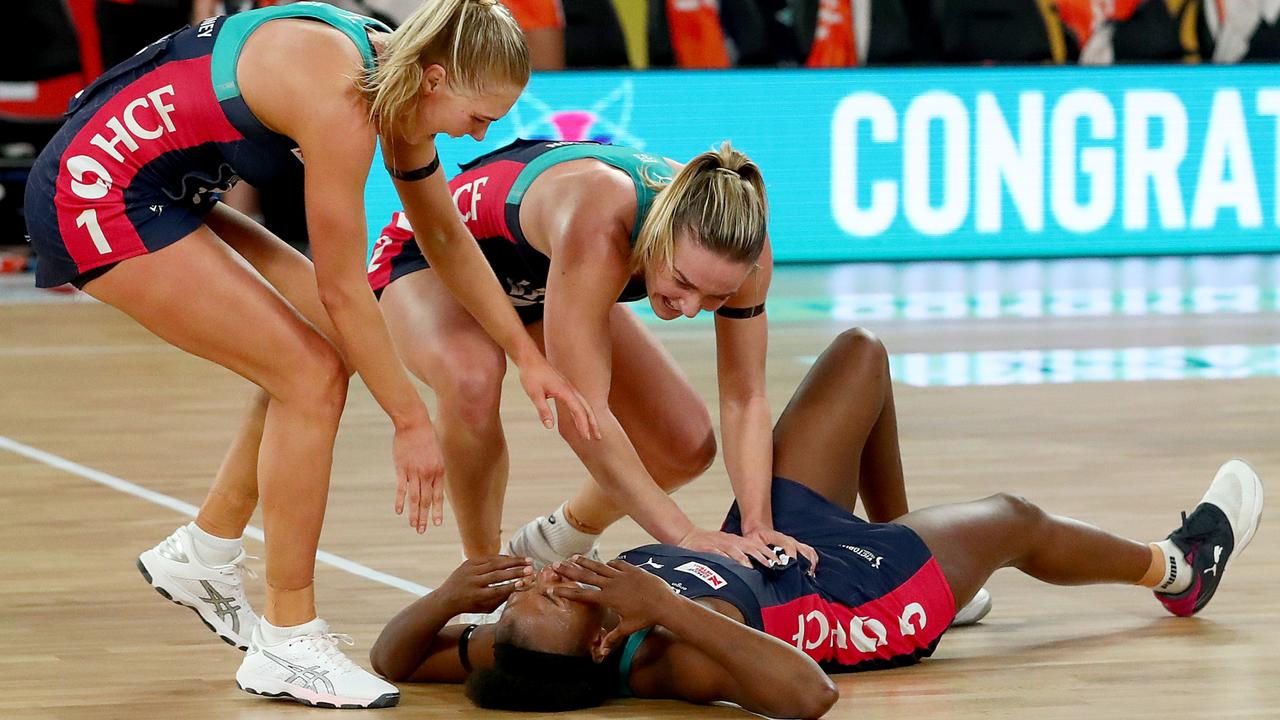 Kate Moloney and Liz Watson rush to Mwai Kumwenda after the stunning victory. Picture: Kelly Defina/Getty Images
SATURDAY NIGHT PARMY
Giant Amy Parmenter showed why she was so close to winning a spot in Australia's Commonwealth Games team with a stunning shutdown of Diamonds captain Liz Watson.
Wing defence is a largely unheralded position but Parmenter's defensive effort on Watson was close to the difference between the two teams.
Watson's role as a ball distributor and feeder is key for the Vixens and they slumped to the bottom of the ladder when she was out injured last year such is her importance to the team.
But Parmenter is not only a tagger, she's a clean ball winner and finished with four intercepts to all but win the game for her team.
The Watson-Parmenter battle was just one of several Diamonds squad members and internationals coming up against each other, with Jamie-Lee Price against Kate Moloney, Mannix on Harten and Weston on Dwyer.
Liz Watson looks to pass off in the incredible contest. Picture: Kelly Defina/Getty Images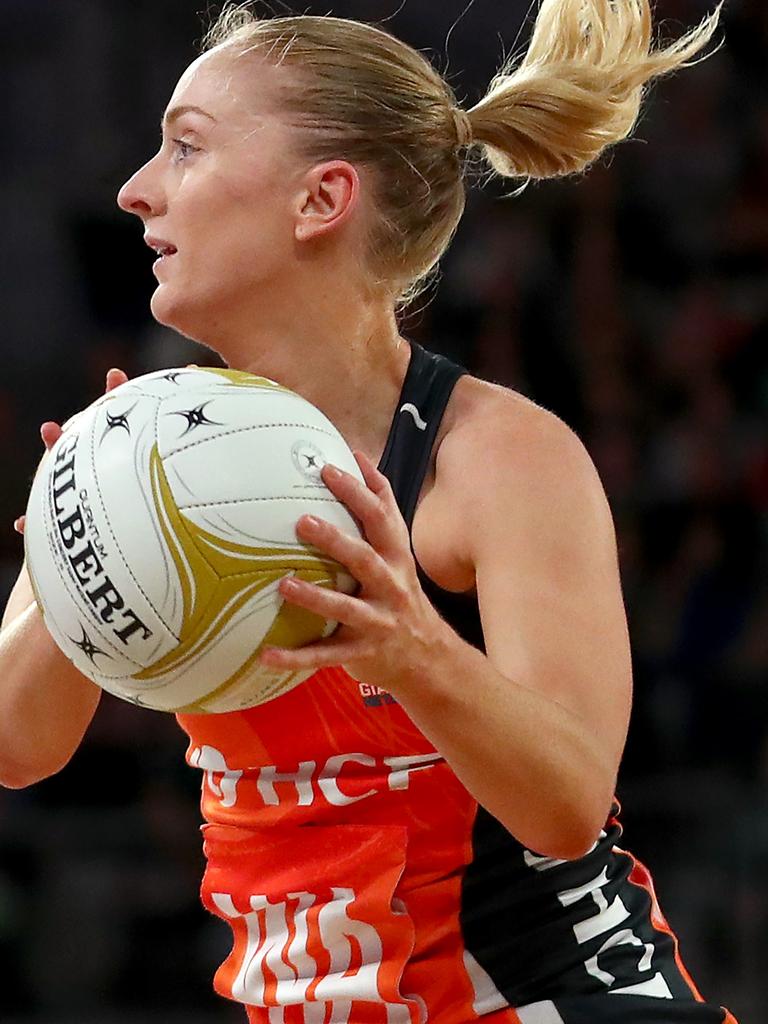 Maddie Hay was a huge influence for the Giants. Picture: Kelly Defina/Getty Images
AUSTIN BACK FOR GRAND FINAL
Austin will be welcomed back for the grand final and will be a huge asset to the Vixens, who struggled at times to get the ball cleanly into the circle.
One of the Diamonds, Austin's great assets is the amount of work she does in front of the circle, with centre pass and second-phase receives.
It was a big ask for Samason to come in and do the same thing, especially given her recent knee injury and cleanout surgery.
She was forced to do plenty of running early and the decision by McKinnis to rest her at the start of the fourth quarter was a masterstroke after she came back and turned momentum with her match-equalling shot.
Originally published as Super Netball 2022: Melbourne Vixens star Kiera Austin set for Grand Final dream