Super Netball player survey 2022: Ditch the super shot, help our mental health fix the umpiring
Who is the best player, coach and rookie in Super Netball? Let the players themselves tell you in our exclusive poll which looks at all that and more.
Super shooter Gretel Bueta and agile defender Shamera Sterling have been crowned the co-queens of the court by their peers while it is the Vixens who are favourite to don the crown.
A player poll, conducted by NewsCorp, asked Super Netball athletes to name their top player, rookie, coach and who they thought would win the 2022 Grand Final.
Close to half of the players have pinned Vixens to bring home the grand final trophy, ahead of Fever and Firebirds.
Vixens newcomer Kiera Austin said she was trying to focus on one game at a time and not get too excited about the prospect of playing in her first grand final.
An ACL injury means Austin wasn't able to play in last year's grand final for her previous club Giants.
"My first year with the Giants we made it to the second round of finals, but if we go all the way and get the win, it will be my first premiership," Austin said.
Watch every game of Suncorp Super Netball Finals LIVE & FREE with Kayo Freebies. Starts Saturday 18th June 7PM AEST. Join Kayo Freebies now, no credit card required >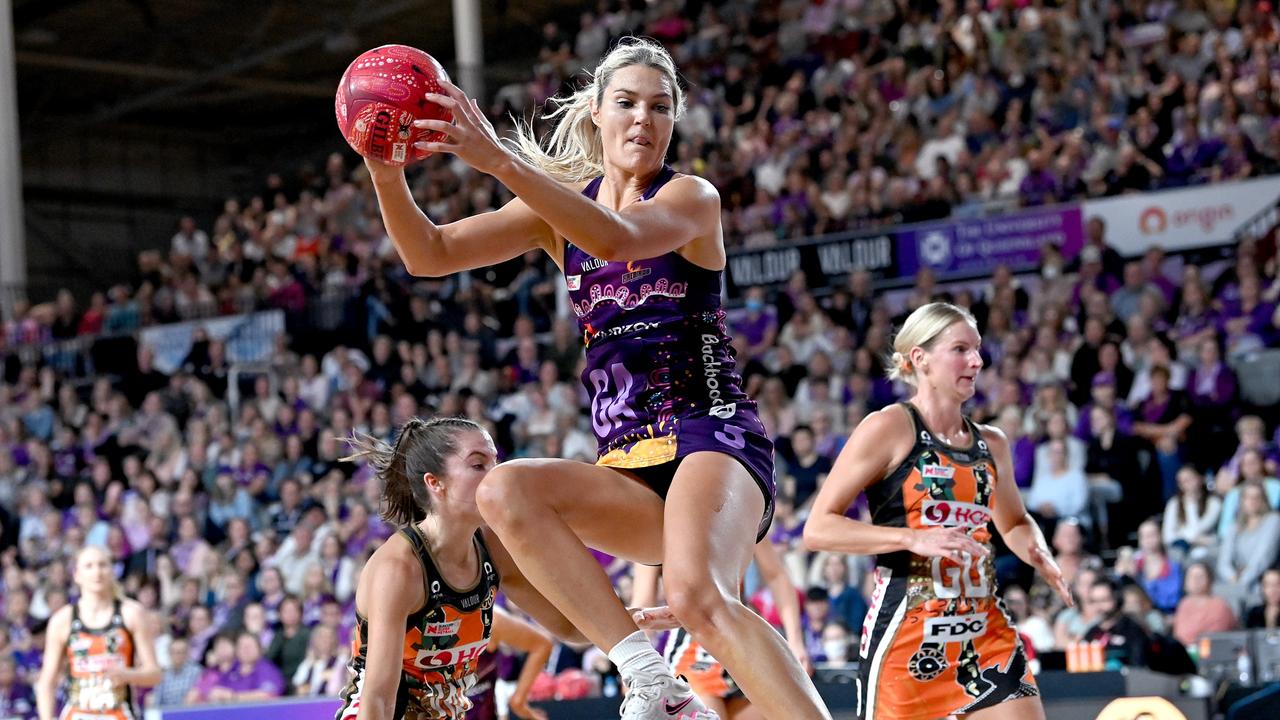 Gretel Bueta of the Firebirds was voted best goaler
"A premiership is very, very hard to come by at this level and playing well with my team has been the focus for me this season.
"We just need three more good wins."
The title of top player was a tie between Bueta and Sterling.
Bueta was voted as the No. 1 Super Netball player by a panel of experts before the season started.
She and Sterling collected 28 per cent of the votes each for best player in the league.
Just ahead of Vixens' Liz Watson.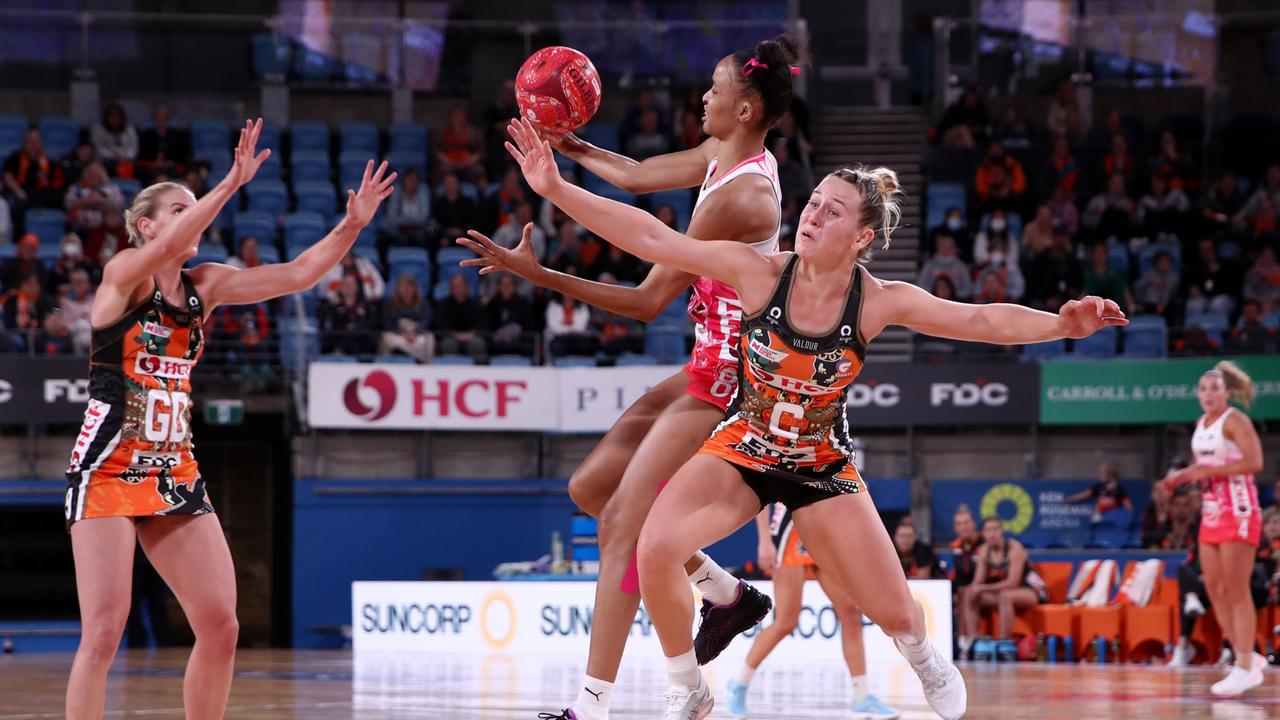 Shamera Sterling of the Thunderbirds and Jamie-Lee Price of the Giants compete
The Firebirds shooter was also voted the best goaler by 52 per cent of her peers, well ahead of the league's top goal scorer Jhaniele Fowler, who collected 20 per cent of the vote.
In a similar fashion Sterling was dubbed the best defender by 72 per cent of her fellow athletes.
Firebirds' defender Ruby Bakewell-Doran has had a spectacular breakout season, last week earning a late call up to the Diamonds squad. She pipped fellow Firebirds' player Donnell Wallam to the top rookie of the year.
Double premiership-winning NSW Swifts head coach Briony Akle was voted as the best coach in the competition by almost half of the players. Firebirds Megan Anderson and Vixens Simmone McKinnis tied for second with 16 per cent of the votes each.
NETBALL STARS DEMAND SUPER SHOT CHANGE
Super Netball's players want the super shot gone from the game.
Almost three seasons after the two-point goal was introduced to the elite game without consultation with players or coaches, the majority of respondents to a News Corp player poll indicated the decision still rankled.
Introduced ahead of the 2020 season, the super shot awards two points for goals sunk from a designated area of the shooting circle in the final five minutes of each quarter.
Designed to give teams a chance of staying in matches for longer, the shot has been polarising since the beginning.
Sixty-four per cent of respondents to News Corp's player poll say the shot should not remain in the game.
Players want the super shot gone. Picture: Getty Images
But it does have its supporters, including NSW Swifts captain Maddy Proud, who while opposed to the lack of consultation on a matter integral to how the game was played, sees some value in how it can keep a contest alive.
Proud said she had received feedback from friends – including many male supporters – who relayed their interest in the Super Netball had grown since the introduction of the shot kept a result "live" for longer.
Proud, who also denounced the lack of consultation on the league's decision last week to shift the grand final, remained opposed to how the super shot had been introduced however, saying players often seemed perceived as minor stakeholders in the game.
Queensland Firebirds goaler Gretel Bueta is another fan, having said the rush she receives from the crowd reaction to a converted super shot is enormous.
Time to focus on netballers' mental health
An overwhelming majority of respondents to a Super Netball player poll feel the game is not doing enough to protect the mental health and wellbeing of its players.
The finding was one of the most absolute in an exclusive News Corp poll of Super Netball's players, with 72 per cent of respondents responding in the negative to the question.
It's an issue the players feel strongly about, having left family, partners and friends at short notice to spend the majority of the 2020 and 2021 seasons in hubs and bubbles around the country to ensure the competition could go ahead.
The past few seasons, which have included financial and family sacrifices from players, coaches and support staff – some of whom were on the road for more than five months through 2020 and 2021 – have only exacerbated issues for some players, who have been adamant welfare support is a key concern for the league.
Netball Australia supported wellbeing officers being placed with all clubs last season but it's understood clubs took over funding this season, with some programs more comprehensive than others.
Helen Housby of the Swifts looks dejected
The response on welfare was one of the most comprehensive in a survey that dealt with questions from peer-voted best player and coach to the players' views on expansion, imports, social media and the next enterprise bargaining agreement.
While framed before the league announced the decision to go against tradition and sell off its grand final, rather than award it to the winner of the major semi-final, the survey results highlighted the tension that exists between head office and players, particularly around a lack of consultation.
When asked the biggest issue facing the sport, results were split almost evenly between the financial state of the game and full-time pay for all players (28 per cent for each).
But respondents also shared their feelings on a lack of consultation and communication from head office, if not stemming from the grand final decision, exacerbated by that.
The group was split almost down the middle on whether social media trolling was an increasing concern for players, with 52 per cent responding yes.
The more revealing response came when players were asked whether they had been trolled online, with 52 per cent again responding yes in what is seen as a growing concern in the game.
Netball Australia and the Sunshine Coast issued statements strongly condemning online bullying earlier this season after Lightning defender Kate Walsh was the target of anti-social posts following a match.
Giants captain Jo Harten wore abuse last year after her club suffered a narrow loss and both players and their clubs called it out, condemning the bullies.
Netball Australia, the clubs and the Australian Netball Players Association have processes in place to help players deal with what is a growing issue in all professional sports.
But in a telling response, just 20 per cent of players are able to call themselves full-time professional players without the support of part-time work or study as the game continues to grow.
Despite a landmark pay deal that kept netballers close to Australia's best-paid female domestic athletes, most still have to support themselves with other sources and negotiations next year on a new pay deal will be keenly watched by players.
SUPER NETBALL 2022: EVERY CLUB'S SEASON REVIEW
While increased minimum wages are the main goal of the playing group (44 per cent), another 20 per cent want increased pay across the board, while 24 per cent see job security as a focus of the new deal given the current two-year maximum contract.
Players understand any new deal with be a balancing act however, with the game facing a perilous financial future, as outlined by CEO Kelly Ryan last week.
"Our financial results for 2021 … highlighted that we have a $4.4 million loss and as a result of that we have $4 million in loans – that is a significant amount of money hanging over a sport of our size," Ryan said.
"And we also now have a going concerns notice from our auditors which also highlights the sensitivities of NA's financial position at this particular moment."
TIME FOR MORE
With the competition closer than ever and the amount of talent waiting in the ranks unprecedented, Super Netball athletes say expansion is key in order to keep ahead of the AFLW. An exclusive poll, conducted by NewsCorp, found 88 per cent of players wanted the league to grow with Tasmania and Gold Coast their top choices for new team bases.
With the Gold Coast Titans launching a Sapphire Series team and the exhibition games played in Tasmania attracting big crowds both are viable options. Australian Diamond Sophie Garbin, who has played in all but one Super Netball season, said it was "crazy" how few players had the chance to play at the top level.
"We are meant to be the best female sport in the country and we have 80 spots in our whole competition," Garbin said.
"The AFLW will have 18 teams (next season), that is like 100 new spots being created." The latest AusPlay data for 2021 found netball was the most popular team sport for girls aged 5-17 – with more than 318,00 children (aged 0-14) playing last year and almost 1 million Australian participants.
The Magpies star said it was obvious there was enough talent to support the move, especially when you consider how many teams won big games without their ill or injured star players. Swifts teen shooting sensation Sophie Fawns, who slotted into the team seamlessly after Sam Wallace suffered an injury in Round 1, is a perfect example.
Fawns, who was contracted as a training partner, has netted 79 per cent of her shots for a total of 128 goals this season. If Wallace hadn't been injured Fawns would have been lucky to earn a call up.
"There are people on the bench that should be out on the court every week," Garbin said. "I think we have the talent to add more teams and the competition is so even we can afford to do it."
The vast majority of Garbin's peers agreed, with 92 per cent saying there was enough talent in the game to support two extra teams. Firebirds' Jemma Mi Mi said she had no doubt there was plenty of young players itching for a turn on the court.
"I was really lucky to go down to Hobart to watch some of the U17 and U19 nationals and watching them all, they all look so fit and strong and the speed of the game is fast for the young ones as well," Mi Mi said.
"They're all in programs, a lot of them are training partners already, so it's really cool to see them play full games and really just show their talent.
"So I would love for us to have more teams in Suncorp Super Netball, because I feel like our season is very short too … we're just going to grow our talent even more if we have more teams."
Super Netball athletes earn an average of $75,000 in the 14 game season, making them the second highest paid women athletes in the nation, behind cricket players. The 540 contracted AFLW players earn an average of $47,000.
Netball Australia CEO Kelly Ryan said the 2022 Super Netball season was the "closest and most competitive it has ever been". Ryan, who last week announced Netball Australia had a $4.4 million debt, said they were committed to growing the competition but stopped short of saying when it was likely to happen.
"The Suncorp Super Netball League, and the sport more broadly, has faced significant financial challenges over the past two seasons due to the global pandemic," Ryan said. "Netball is hurting financially, and we need to make sure the League and the existing eight clubs are sustainable and strong.
"While we are committed to expanding the Suncorp Super Netball competition, the reality is this is a longer-term ambition."
Ryan said a league expansion could only take place after existing teams had been consulted and a licence applied for.
Originally published as Super Netball player survey 2022: Ditch the super shot, help our mental health fix the umpiring