Super Netball trades 2022: Every team, every player, how your team stacks up for next season
The season is not even over but already the tough calls are being made as Super Netball sides eagerly prepare their lists for next year. Check out who is off contract at your club.
The external focus might be on the finals but backroom staff at all eight Super Netball clubs have spent the past week bunkered down to make tough calls, with lists of their contracted players submitted to Netball Australia on Friday.
The free agent list will be distributed to clubs next week, with franchises able to sign any off-contract players from July 4, the day after the grand final.
With the league in the first season of a two-year Collective Players Agreement (CPA) though, there will not be mass movement.
Watch Vixens vs GIANTS in The Suncorp Super Netball Preliminary Final LIVE & FREE with Kayo Freebies from 7PM AEST Saturday 25th June. Join Kayo Freebies now, no credit card required >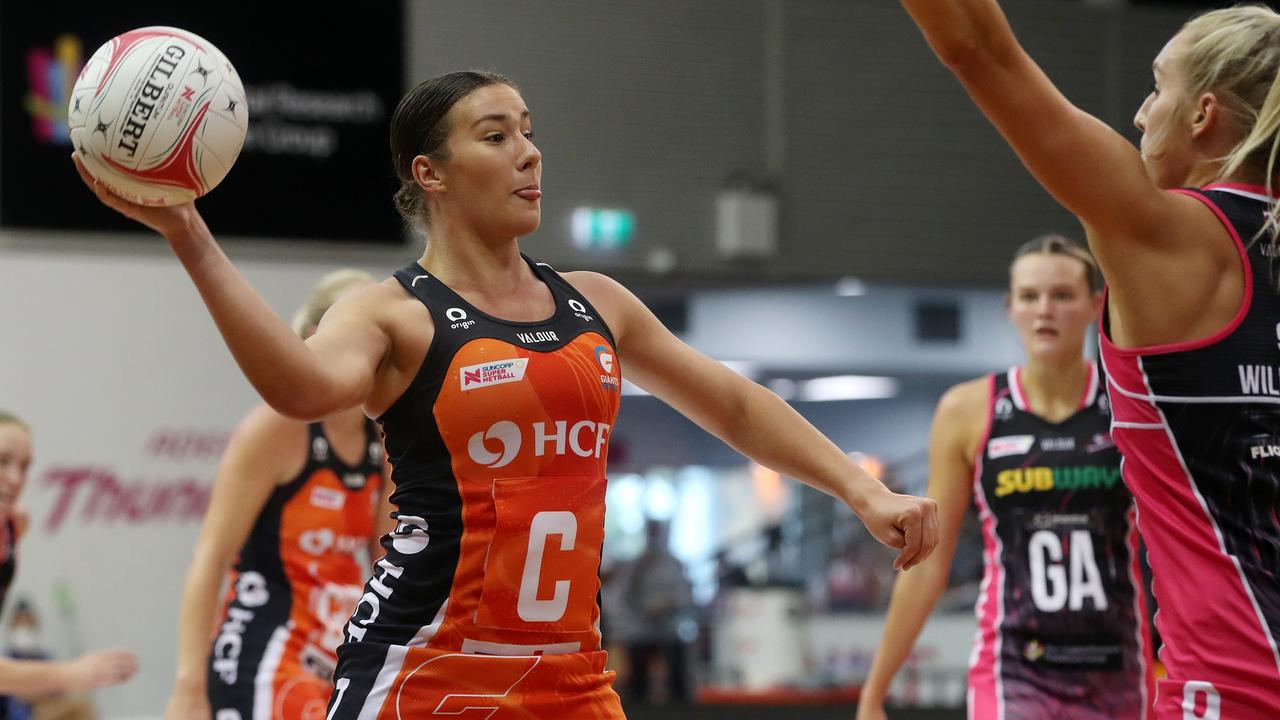 Amy Sligar is one of three off-contract players to have re-signed with the Giants to give them a full compliment for the 2023 season.
Most athletes signed two-year deals last year when every player in the league came off contract and the majority of clubs will experience little movement.
The Giants became the first club to lock in their side for 2023 when they re-signed Amy Sligar, Matisse Letherbarrow and Lauren Moore for next year, while fellow finalists the Vixens (one player off contract) and Fever (two) will also retain the majority of their sides.
The Queensland Firebirds announced the resignation of coach Megan Anderson during the week, while English international Eboni Usoro-Brown — who had only agreed to a one-year deal — headed home on Friday to prepare for the Commonwealth Games with the England Roses.
Adelaide Thunderbirds are also reviewing their list, with goaler Lenize Potgieter not offered another deal for 2023.
Queensland Firebirds coach Megan Anderson has resigned after failing to lead the club to the Super Netball finals in her two years with the organisation.
The Thunderbirds need to make some big decisions on their attack end, with fellow shooter Tippah Dwan also off contract, along with three other teammates.
Coach Tania Obst's position is also understood to be under review, with the mentor the only Super Netball coach not re-signed for at last two seasons last year.
Scroll down to see the full list of Super Netball players and their contract status.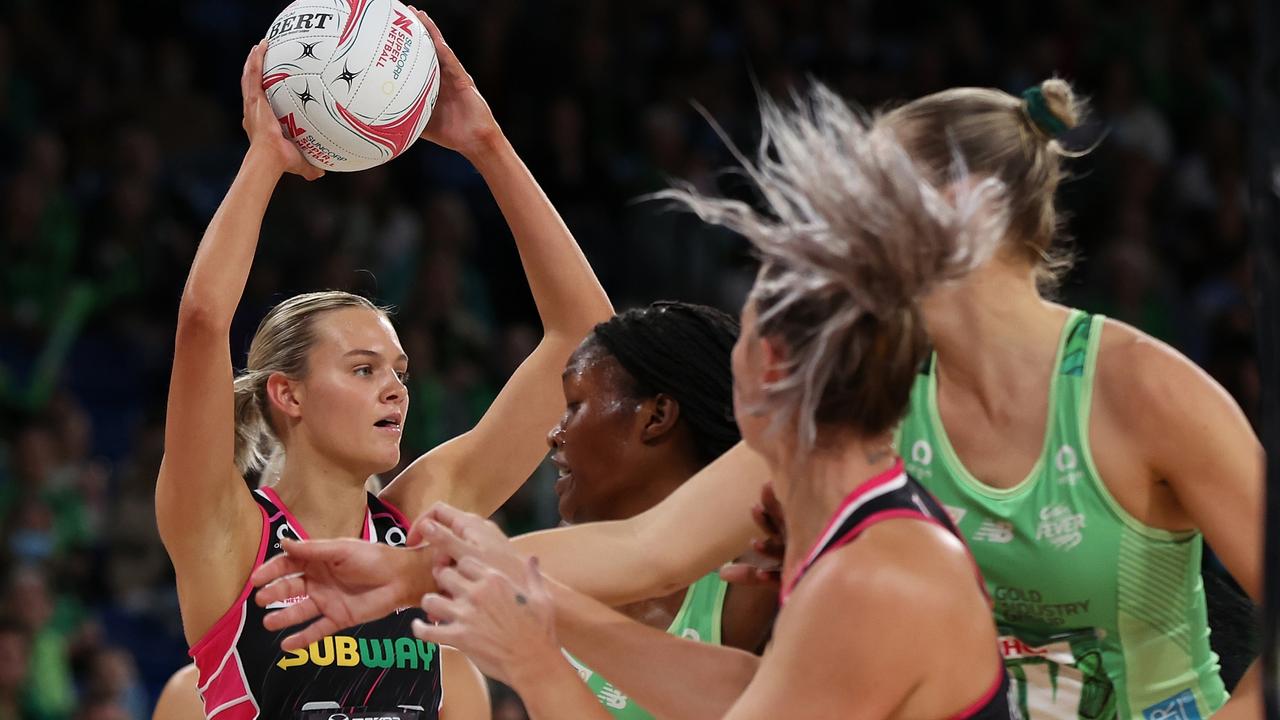 Tippah Dwan is out of contract along with three teammates at Thunderbirds.
Super Netball contracts
ADELAIDE THUNDERBIRDS
Contracted until 2023: Shamera Sterling, LaTanya Wilson, Hannah Petty, Matilda Garrett, Georgie Horjus; Off contract: Tippah Dwan, Ellie McDonald, Maisie Nankivell,
Tayla Williams, Lenize Potgieter (contract not renewed)
Coach: Tania Obst - off contract
COLLINGWOOD MAGPIES
Contracted until 2023: Sophie Garbin, Shimona Nelson, Kelsey Browne, Molly Jovic,
Ash Brazill, Geva Mentor, Jodie-Ann Ward; Off contract: Jacqui Newton, Gabby Sinclair,
Maggie Lind.
Coach: Nicole Richardson - 2023
GIANTS NETBALL
Contracted until 2023: Jo Harten, Sophie Dwyer, April Brandley, Jamie-Lee Price,
Amy Parmenter, Maddie Hay, Tilly McDonell; Off contract: Amy Sligar (re-signed 2023),
Matisse Letherbarrow (re-signed 2023), Lauren Moore (re-signed 2023).
Coach: Julie Fitzgerald - 2023
MELBOURNE VIXENS
Contracted until 2023: Liz Watson, Kate Moloney, Jo Weston, Mwai Kumwenda, Kiera Austin, Kate Eddy, Emily Mannix, Rahni Samason, Hannah Mundy; Off contract: Olivia Lewis.
Coach: Simone McKinnis - 2025
NSW SWIFTS
Contracted until 2023: Maddy Proud, Paige Hadley, Sarah Klau, Maddy Turner, Sam Wallace, Helen Housby, Tayla Fraser; Off contract: Kelly Singleton, Allie Smith, Teigan O'Shannassy, Sophie Fawns.
Coach: Briony Akle - 2023
QUEENSLAND FIREBIRDS
Contracted until 2023: Gretel Bueta, Lara Dunkley, Kim Ravaillion; Off contract: Gabi Simpson, Jemma Mi Mi, Kim Jenner, Ruby Bakewell-Doran, Romelda Aiken-George, Donnell Wallam, Mia Stower, Eboni Usoro-Brown (returned to England)
Coach: Megan Anderson - resigned
SUNSHINE COAST LIGHTNING
Contracted until 2023: Steph Wood, Cara Koenen, Tara Hinchliffe, Mahalia Cassidy, Karla Pretorius, Kadie-Ann Dehaney, Reilley Batcheldor, Laura Scherian, Kate Walsh; Off contract:
Annie Miller, Maddie Hinchliffe.
Coach: Kylee Byrne - 2023
WEST COAST FEVER
Contracted until 2023: Jhaniele Fowler, Courtney Bruce, Rudi Ellis, Sunday Aryang, Jess Anstiss, Sasha Glasgow, Alice Teague-Neeld, Verity Charles; Off contract: Stacey Francis-Bayman, Emma Cosh.
Coach: Dan Ryan - 2023
Originally published as Super Netball trades 2022: Every team, every player, how your team stacks up for next season