Super Netball transfers: Eboni Usoro-Brown exits Queensland Firebirds after one-year deal
England international Eboni Usoro-Brown has joined the exodus from Queensland Firebirds but not without issuing a warning to her side's detractors.
Veteran England defender Eboni Usoro-Brown believes the Queensland Firebirds have laid the foundations for future success despite missing the Super Netball finals this season.
Usoro-Brown will leave Australia on Friday for England to join the Roses in camp ahead of the Commonwealth Games.
But the 34-year-old, who joined the Firebirds on a one-season contract after initially rejecting coach Megan Anderson's overtures, will not return to the club, having only ever planned on a one-year stay.
Watch Vixens vs GIANTS in The Suncorp Super Netball Preliminary Final LIVE & FREE with Kayo Freebies from 7PM AEST Saturday 25th June. Join Kayo Freebies now, no credit card required >
While she had previously played in Australia, for the Fever and Thunderbirds, Usoro-Brown has a full and busy life in England, holding down a full-time job as a lawyer, as well as being a mother to toddler Savannah.
"The first time I was here, I was by myself … but in more recent years, I've had my daughter and I have a husband and a full-time job at home and quite a lot of responsibilities alongside being an elite athlete, so I just don't think I was very open to the idea when the offer was initially made," Usoro-Brown said.
"But then we started to have those have those conversations as to what it could look like and the biggest thing was having the biggest support for my husband, saying it was a great opportunity and one I didn't want to miss."
Eboni Usoro-Brown won't be returning to the Firebirds.
It turned out to be a good decision, with Usoro-Brown's performances in the world's best league helping her cement a spot in England's team for the Commonwealth Games, while also accelerating the development of the Firebirds' young defenders, including Ruby Bakewell-Doran, who was named in the Diamonds squad after a breakout season.
The Firebirds missed the finals by a single win – in a game that came down to a single super shot – and while disappointed, Usoro-Brown believes the foundations have been laid for future success.
"I think there's a team that has shown a lot of growth, a lot of courage as well," she said.
"And there's great opportunity for the team moving forward.
"In terms of the structures and the practice, the culture on and off the court is a really positive one, so a foundation has been laid once again, with this new cohort and it's just for them to continue to grow with it."
The Firebirds had just three players contracted for next season, with Gretel Bueta, Lara Dunkley and captain Kim Ravaillion the only ones to have signed two-year deals in the contracting period last off-season.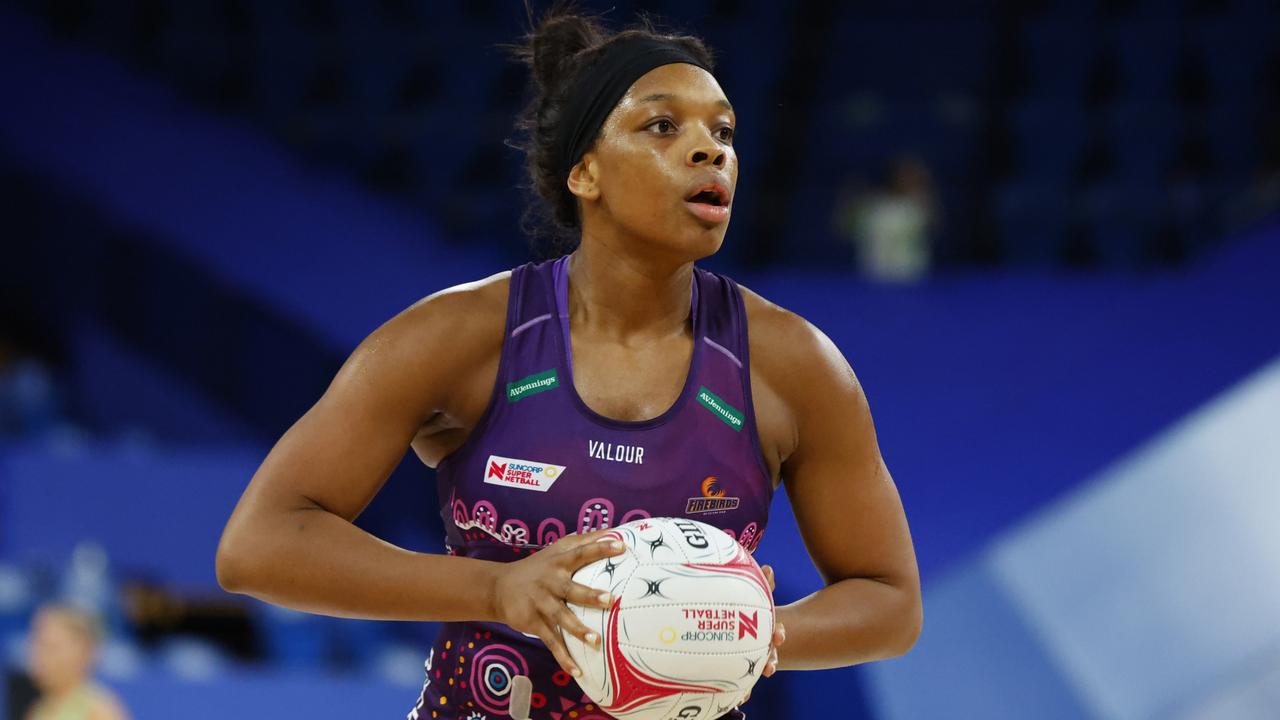 Eboni Usoro-Brown will feature for Australia's nemesis at the Commonwealth Games.
But they will be desperate to hold on to some of their blossoming stars such as Bakewell-Doran and Donnell Wallam.
Usoro-Brown conceded there would be challenges with a new coach coming in but said with "world-class" backroom staff to underpin the coaching team, transition should be relatively smooth.
"There is a good nucleus there and I think even more so, the backroom staff are some of the best people I've ever worked with," she said.
"They're world-class people and world-class professionals, so you've got the team behind the team who have good vision and good expertise and it feeds off into the playing group itself.
"Obviously there's a new coach coming in, so it'll take time to embed their style and their type of leadership and for the girls to build a rapport with that new coach.
"But in terms of the foundation that is there, they're a really good side."
Usoro-Brown felt for outgoing coach Megan Anderson.
"At the end of the day, 'Megs' gave me my opportunity to come out here," she said.
"It's very rare for someone who's pregnant, who hasn't been in the Roses for two years to still get the call and have that faith and trust and belief and be confident to know that I could deliver.
"I'm just grateful for that opportunity and I just wish her well in terms of whatever her new adventure might be."
Originally published as Super Netball transfers: Eboni Usoro-Brown exits Queensland Firebirds after one-year deal