While Super Netball GF was already bought for Perth, Fever earned the right with Vixens rout
So after all that, the Super Netball grand final would have been at Perth Arena anyway. LINDA PEARCE was there for a West Coast Fever masterclass against Melbourne Vixens.
West Coast Fever's Courtney Bruce and Alice Teague-Neeld of the Fever celebrate winning the Super Netball major semi-final against Melbourne Vixens. Picture: Daniel Pockett/Getty Images
That's enough noise about grand final venues, then. The hosting rights Netball Australia decided to sell and the Western Australian government paid a relatively modest amount to buy have been earned on merit by the West Coast Fever.
So, after all that, it would have been at Perth Arena, anyway.
I know.
Yet, for as much as it was more about the principle than the outcome, once the deal was done, this was the ideal scenario for the sport. Impoverished NA banks the cheque (however adequate/not – that's another issue), and the heat is taken out of the whole unjust-sell-off and poor-robbed-Vixens narratives.
If not the appalling-lack-of-notice-and-consultation complaints, of which more are sure to be heard.
But yes, the Melbourne Vixens were poor — in the first quarter particularly, but throughout, really, in a 71-62 major semi-final triumph of the second-placed West Coast over the minor premiers, who had prevailed in the teams' two previous encounters in 2022 but were flattered by this scoreline.
"Absolutely huge,'' Fever captain and match MVP Courtney Bruce told CodeSports at courtside afterwards. "We wanted to earn the right to host it, whether it was meant to be in Perth or not. So yeah, absolutely stoked that we get to turn Perth green once again.''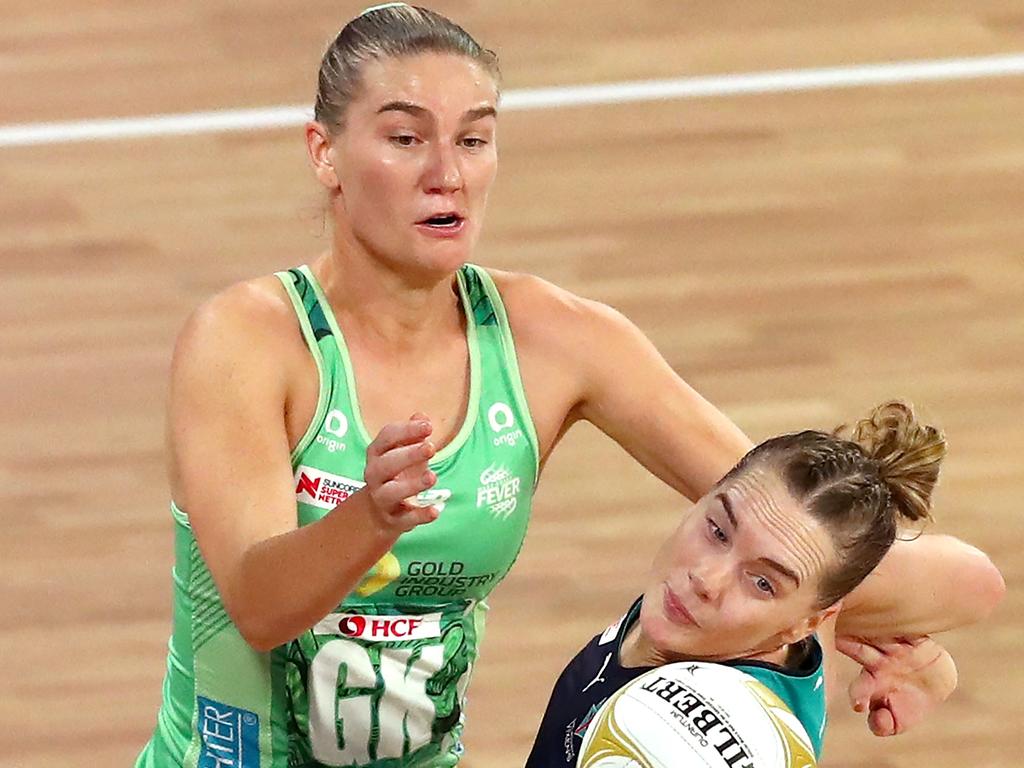 West Coast Fever goal keeper Courtney Bruce contests the ball with Kiera Austin of the Vixens. Bruce was a major factor in the Fever's major semi-final win. Picture: Kelly Defina/Getty Images
The last time was in 2018, when the perennial battlers qualified for the first elite netball grand final in the state's history, only for the Sunshine Coast Lightning to spoil the green party and win back-to-back flags.
Those, of course, were the days when the winner of first-versus-second gained the right to a home decider. The process this time was not so much merit-based as fiscally driven, apparently, but there is some relief for traditionalists in knowing the geographical outcome would have been the same.
"[The controversy] didn't affect our group; we just had to roll with it and that's what all the players had to do,'' Bruce added. "It was unfortunately out of our control, and just being able to get out here today to play and prove ourselves, that's all we could do.''
Coach Dan Ryan said ears had been blocked to the outrage, as much as they could be, and a brilliant 19-10 opening term also helped to muffle the John Cain Arena crowd.
"Look, we haven't paid too much attention to it at all, to be honest, and the girls have been so disciplined and resilient just staying in their bubble and on task,'' Ryan said.
"At the end of the day, now we've earned the right to host the grand final, whichever way you want to look at it, and we're the first team in there and we're really proud that we've showed up in the major semi-final and produced some of our best netball.
"So if we just stay focused on what we do, we can produce things like that; what happens externally, not within our control or interest.''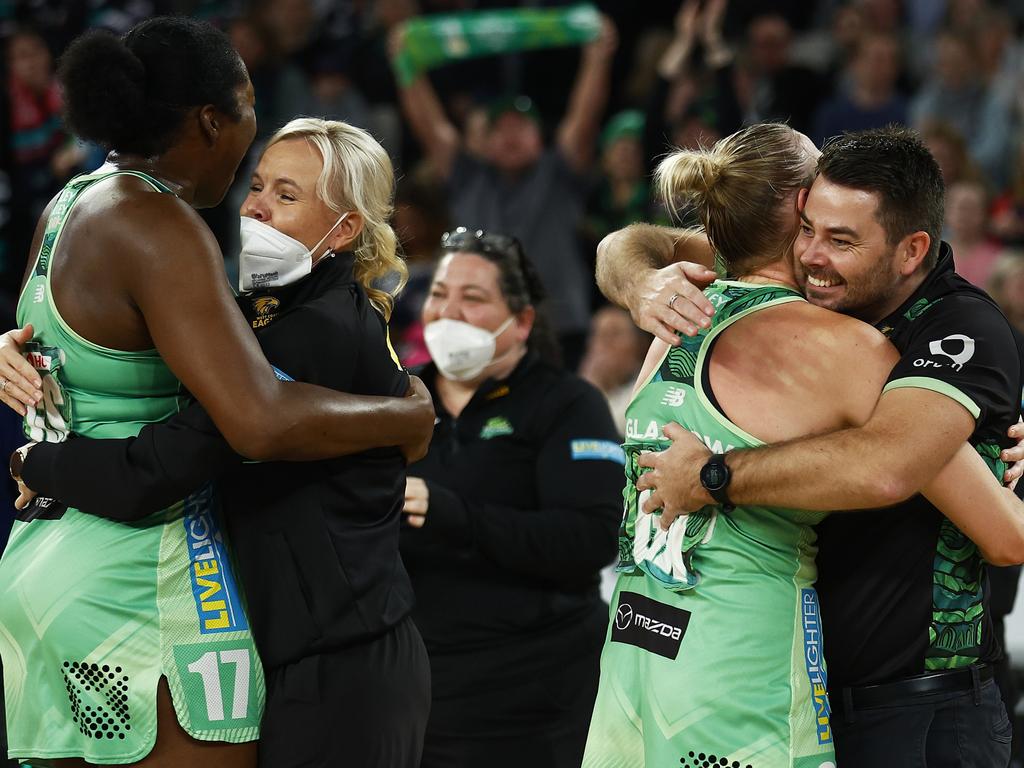 Fever head coach Dan Ryan (R) celebrates with Sasha Glasgow after winning the Super Netball major semi-final match, somewhat taking the heat out of Netball Australia's decision to sell the grand final hosting rights to Perth. Picture: Daniel Pockett/Getty Images
In his first year at West Coast, one of the masterstrokes from the former Adelaide Thunderbirds' coach — who also had a stint with Leeds Rhinos in the UK Superleague before succeeding Diamonds-bound Stacey Marinkovich — was to shift Alice Teague-Neeld from goal attack to the wing.
The Fever's best game of the season was Teague-Neeld's finest in her new position — on the same court where the 26-year-old former junior star was previously at home, yet often maligned, while with the Vixens and Magpies before moving west in 2019.
Teague-Neeld, too, was thrilled to be returning to a Perth grand final venue that was already decided, but is also now absolutely deserved.
"Definitely something amazing, and [that] we've been working for all year; before we found out about everything, that was obviously our goal to have a home grand final and we've earned the right to have that, so we're stoked,'' Teague-Neeld said.
"We obviously had no clue, just like every other team, until the announcement happened.''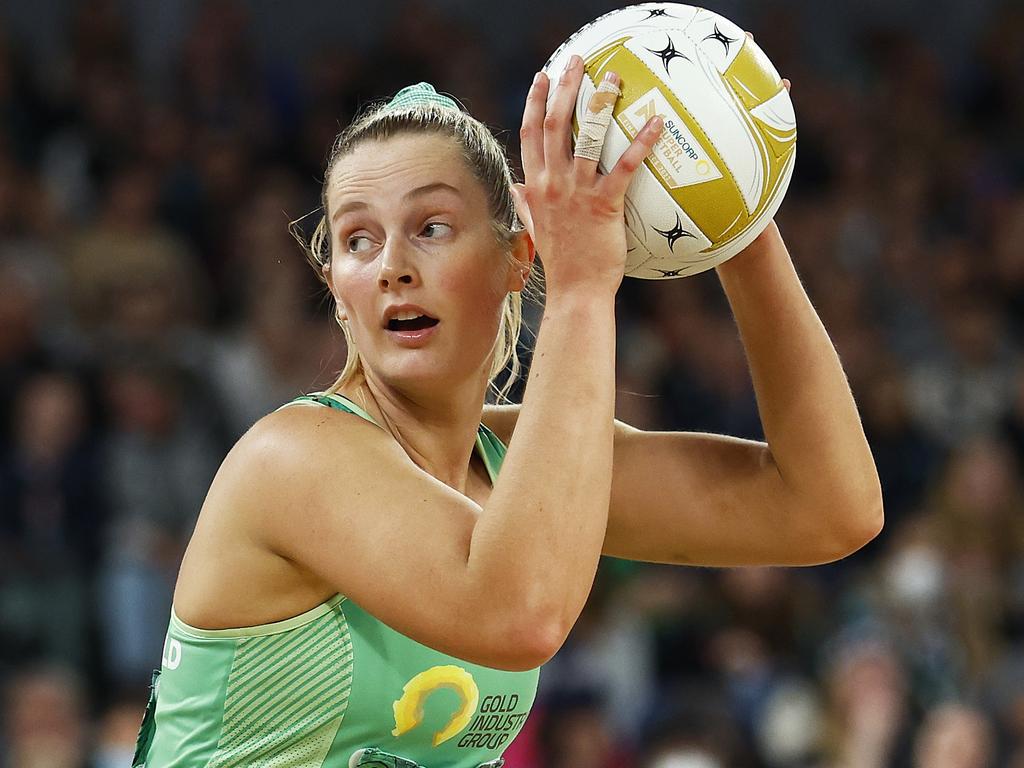 Alice Teague-Neeld looks to pass the ball during the Super Netball major semi-final, in which she starred at wing attack. Picture: Daniel Pockett/Getty Images
Saturday night's doubled as also another kind of declaration: that the Fever will take some beating at their fortress, having stormed the Vixens' citadel and only been denied a far bigger winning margin by Rahni Samason's slightly belated deployment of the super shot (10 sunk from 14 attempts).
"There's a time you want to show up, and a semi-final is the ideal time,'' Ryan said.
"I'm just so proud of the group in terms of how they attacked the preparation, attacked game day, attacked the opportunity. It's the best we played all season and really proud that they were able to do it on the day that matters.
"I felt that our form was always interrupted throughout the season and I was actually quite OK with that, knowing that in the last couple of games we were turning corners each game that we were playing.
"Even though the performance wasn't complete, I know that we're heading in the right direction, and it just takes an opportunity like today for things to click and everyone to lock in to how good we can be when everything is working well.
"Our preparation was good leading in and our group was really relaxed and there was a really calm sense of aggression, but also this inner belief that we knew we could today. You've got to believe in yourself in these types of moments and they demonstrated that today.''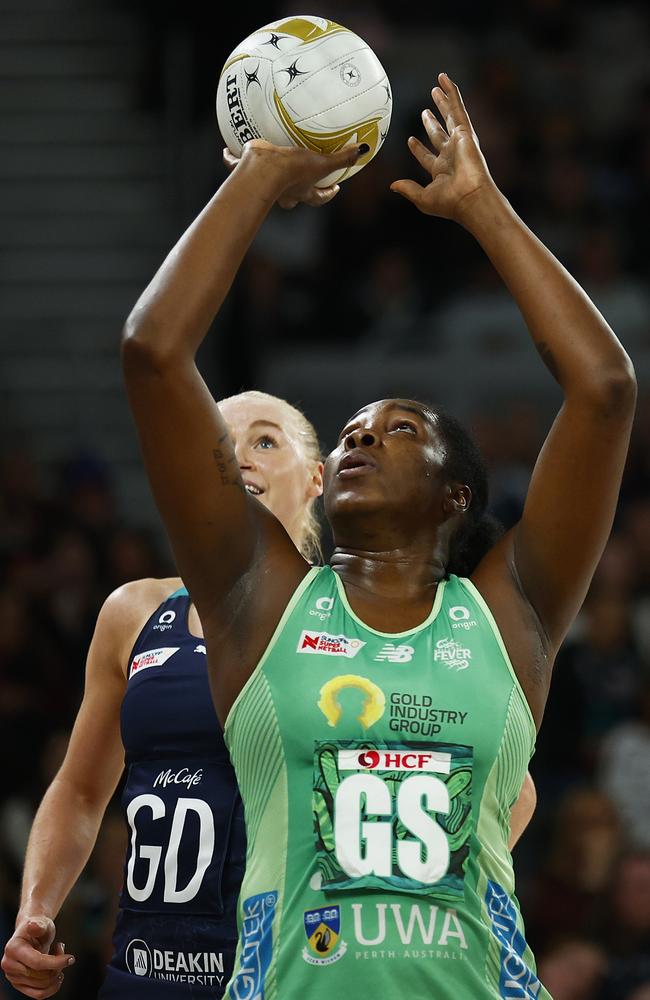 Jhaniele Fowler was typically dominant for West Coast Fever, scoring a finals record 67 goals. Picture: Daniel Pockett/Getty Images
No one personified it more than Bruce, who hustled, harassed and menaced, earning the ire of the pro-Vixens crowd; and aware of it, but caring less.
"To be honest, I don't normally hear it. I definitely heard it today. I think defensively, all defenders go out and play the game hard and I don't expect the Vixens crowd to cheer me on if I take an intercept, and that's OK,'' Bruce said.
"It's about what we do out on the court and stepping up there and looking after each other when the crowds are like that.''
More importantly, there was one of the club's great wins to celebrate, and savour; Bruce having played her whole career with the club she joined in 2013, become its longest-serving captain and been part of losing grand final teams in 2018 and 2020.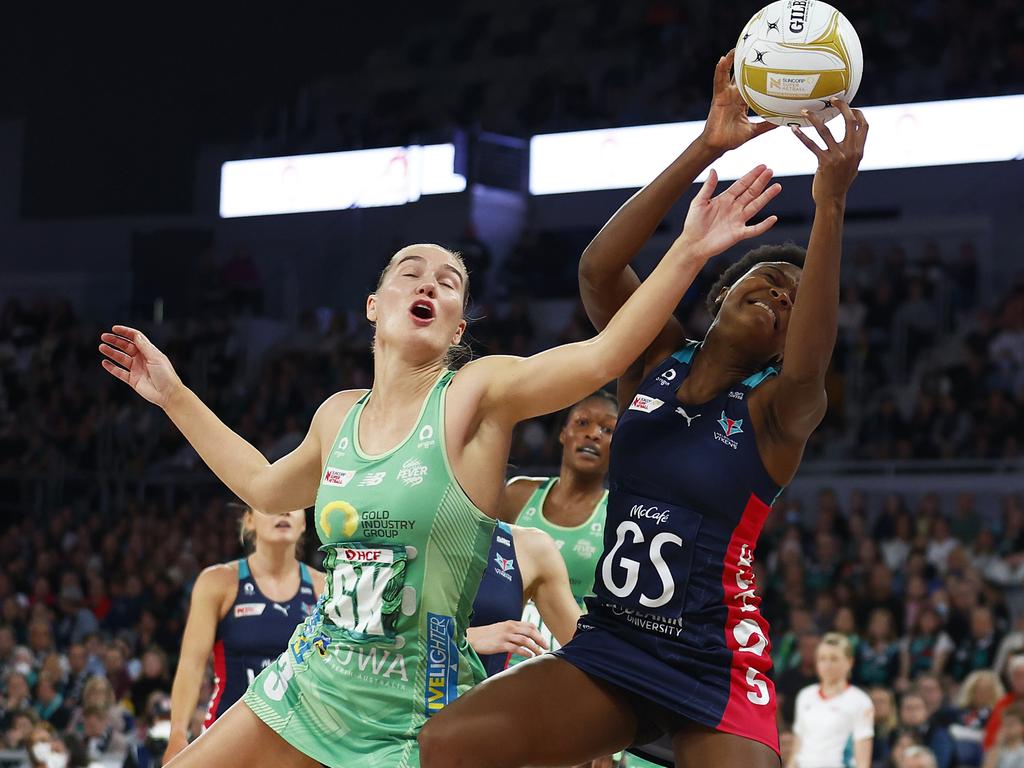 Fever's Courtney Bruce and Vixens' Mwai Kumwenda contest the ball during the Super Netball major semi-final match. Bruce was unrelenting throughout. Picture: Daniel Pockett/Getty Images
She ranks Saturday's as one of the Fever's finest nights. "I think it's up there,'' Bruce said. "We had to withstand a few surges from the Vixens, the momentum kept swinging, and I think in the past we would have buckled under pressure.
"But we've done some really good work and tough work with our team psych and with Dan to work out what our go-to behaviours are in those moments, and I think we've been able to change that and have such a solid performance.''
Awaiting Sunday's Giants-Magpies knockout semi, Perth Arena was already inked in as the venue for the July 3 grand final.
Now, totally on merit and thus to the relief of many, the Fever are, too.