Aaron Rodgers has had a bizarre year, and an uncertain future but for now, he has Green Bay rocking
The quarterback, who marches at his own, irregular beat has Green Bay atop the NFL and may have them packing all the way to the playoffs.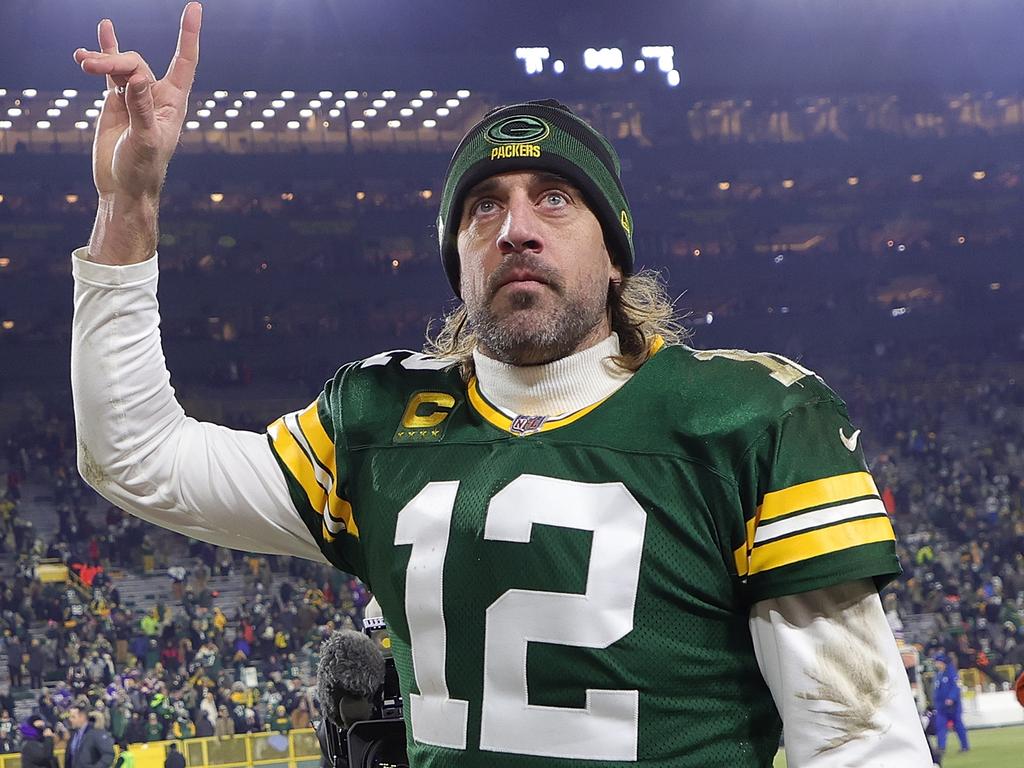 Packers quarterback Aaron Rodgers acknowledges the crowd after a 37-10 victory over the Vikings on Jan. 2. Picture: Stacey Revere/Getty Images
Remember: There was a time, barely six months ago, when it was considered at least a remote possibility that a disgruntled Aaron Rodgers would retire from playing football and wander off to something else, like hosting "Jeopardy!"
Instead of strapping on a cheddar-yellow helmet as the quarterback of the Green Bay Packers, Rodgers, who impressed in a brief tryout as a guest host, would opt for a suit and tie, querying tweedy literates on topics like Roman history, Tasmanian fauna, and Items that Rhyme with Yam.
It didn't happen. Rodgers wound up returning to football, somewhat begrudgingly, turning up in Wisconsin, airing his grievances with the franchise (condensed version: they don't ask me enough about stuff), reluctantly strapping on that cheddar-yellow helmet for a 17th season and doing nothing but…furthering his case as one of the best players in the history of the sport.
Rodgers has been dynamite. So has his team. After a 37-10 shellacking of the frigid Minnesota Vikings at Lambeau Field Sunday night, the Packers are 13-3, and have sealed home field for the playoffs. Rodgers, who turned 38 in early December, is the current favorite to repeat as NFL MVP, ahead of luminaries like 97-year-old Tom Brady and Indianapolis running back Jonathan Taylor.
Quarterback Aaron Rodgers has helped the Packers to a five game win streak, as the season comes to an end. Picture: Stacy Revere/Getty Images
His numbers are gaudy. Rodgers has thrown 35 touchdown passes against only four interceptions. His completion rate is a shade under 70%, and his 111.1 quarterback rating leads all NFL starters, a nudge ahead of the cigar-chomping, AFC North-clinching Bengals wunderkind Joe Burrow.
Pretty great for a guy who was allegedly on the fence about coming back, right?
Yes. But still quite a ride.
As always, Rodgers operates to his own, idiosyncratic drumbeat, which was apparent during his off-season estrangement with Green Bay, and then in early November, when the California native missed a start with a Covid-19 positive after telling reporters during the preseason he'd been "immunised" — and used his quarantine to launch a loquacious salon about remedies, pandemic management and the perniciousness of "cancel culture."
He's his own deal. And yet it hasn't impacted the performance. On the field, Rodgers doesn't look aloof — he's Green Bay's engine. He's playing close to the peak of his powers, despite a fractured toe. His team can and probably should rest him in what is now a meaningless Week 18, but Rodgers said he intends to play. He's done more than enough to prove he's still got it, and then some.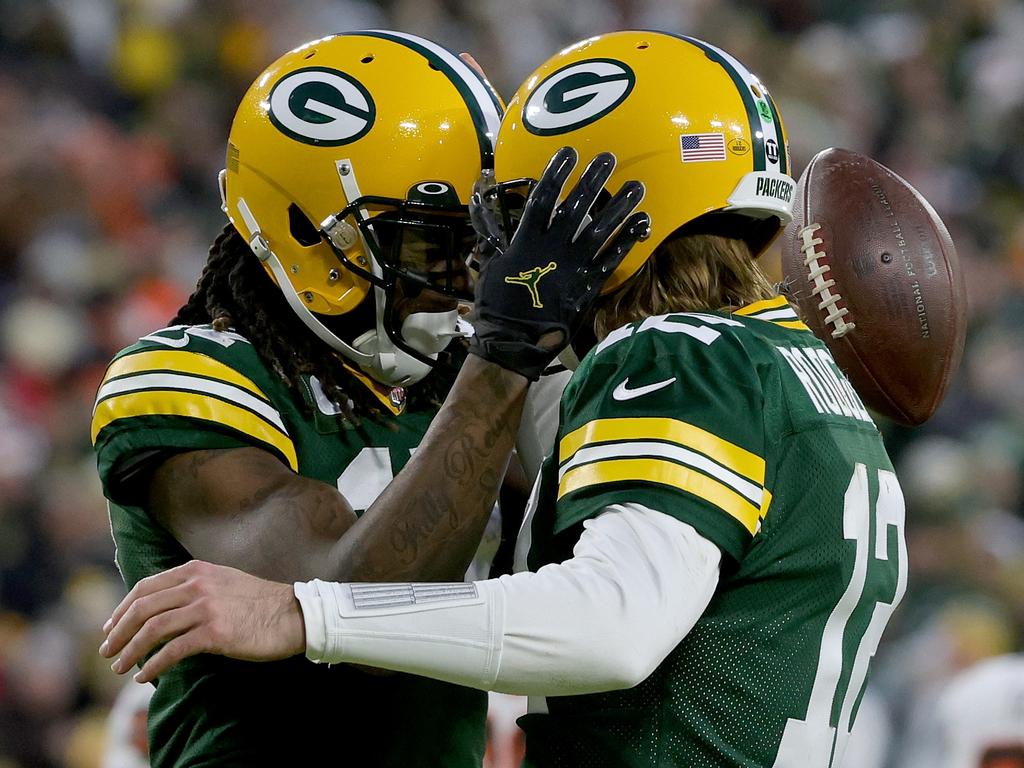 Aaron Rodgers and Davante Adams celebrate their touchdown against close rivals, the Minnesota Vikings. Picture: Stacy Revere/Getty Images
And yet…the Packer faithful still don't know if he'll be back next year. "A beautiful mystery," is the term Rodgers has used in the past to describe his future in Titletown, and it still applies, as the quarterback, who has a year left on his contract, hasn't made his 2022 season intentions known. Rodgers has promised to not "drag it out for months and months," a pledge for which we should all be grateful.
He does seem happy. "This has been one of my favorite years of football," he said the other day, offering praise for Packers coach Matt LaFleur and his staff and even team GM Brian Gutekunst, an alleged off-season bête noire. He expressed gratitude that Gutekunst looped him into decisions — honestly, the whole thing is starting to sound ooey-gooey and borderline reconciled. "I do appreciate the way our relationship has grown," Rodgers said.
From a football standpoint, it makes no sense to bolt elsewhere. The Packers are a far better, more complete outfit than anything that potentially looms for Rodgers. The Packers are loaded with weapons, and lack a rival in the meagre NFC North. With Sunday's win, any NFC team's route to the Super Bowl will have to pass through the tundra of Lambeau.
Of course, that was also the case last season — the road to the Super Bowl had to pass through Lambeau, and in the NFC Championship, Brady and the visiting Tampa Bay Buccaneers passed right through. It was a maddening loss, one that simmered over the spring and early summer.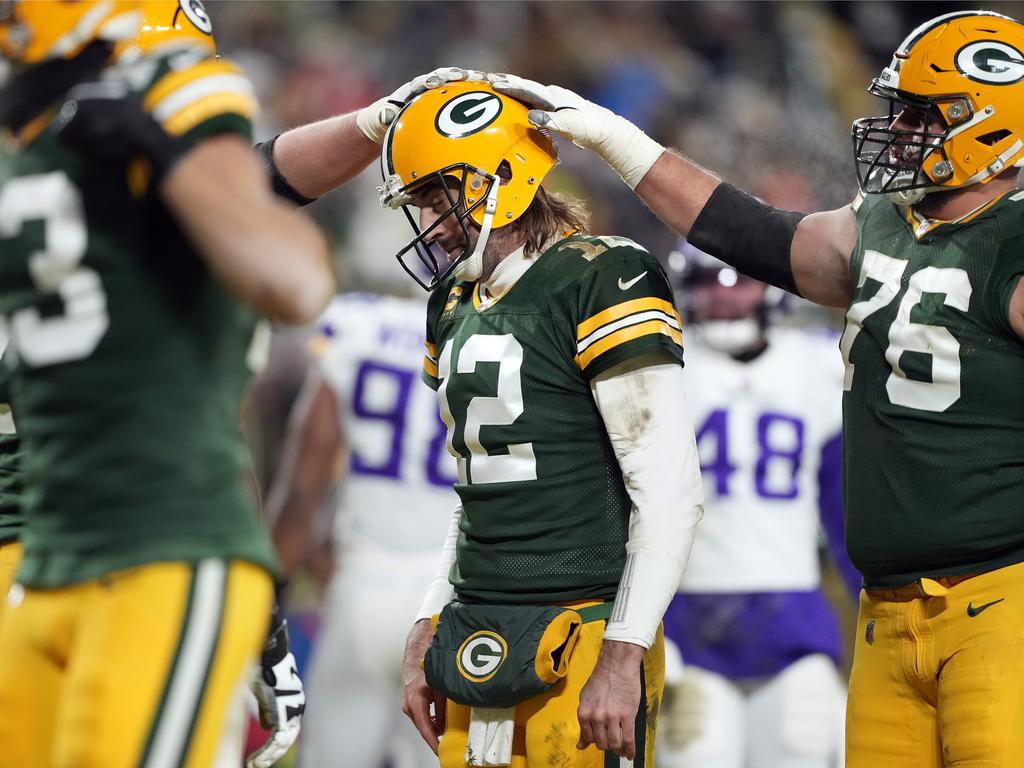 Aaron Rodgers future with the NFC franchise is still under wraps, but his impressive season with the 1st placed side bodes well for negotiations should he stay on with Green Bay. Picture: Patrick McDermott/Getty Images
Rodgers has put himself in position to make that right this time. A rare knock on his resumé is that, despite an All-World career, he's collected only a single Super Bowl ring, but his Packers are surging at the right time, winning five in a row. The Buccaneers, meanwhile, are struggling to find receivers that won't get hurt, or remove their clothing midgame, and the rest of the NFC field feels fallible. You really love Matthew Stafford and the L.A. Rams at Lambeau? The Cowboys? The Kyler Murray Cardinals?
It would be some story for Rodgers to get this done, now — the prodigal quarterback, a foot out the door, coming back, withstanding an 38-3 opening day loss, enduring quarantine, then adding another Lombardi to the Land of Lombardi. It would be a delicious twist, and only add to the eccentric legend. Aaron Rodgers did it his way. As ever.
-The Wall Street Journal