NFL Super Bowl Vince Lombardi trophy to tour Australia with LA Rams star
The NFL's drive into Australia will continue, with a Super Bowl champion bringing the Vince Lombardi trophy Down Under on a promotional tour.
A Los Angeles Rams NFL star will visit the Sydney Roosters and Sydney Swans this week - armed with the Super Bowl-winning Lombardi trophy - during a historic promotional tour of Australia.
Rams safety Nick Scott will also meet with Richmond players and attend an AFL match between the Tigers and Carlton at the MCG this Thursday night. His visit is part of the NFL's growth plans within the Australian market.
Scott, who played in the Rams' Super Bowl win over Cincinnati Bengals in February this year, spoke exclusively with The Daily Telegraph about the NRL and AFL before leaving LA for Sydney. He will also show off the famous Lombardi Trophy, awarded annually to the Super Bowl champions.
His trip comes after the Rams were awarded Australia in the NFL's International Home Market (IHM) areas along with Mexico and China. Scott spoke in awe about rugby league's toughness and ferocity.
Stream every game of every round of the 2022 NRL Telstra Premiership Season Live & Ad-Break Free During Play on Kayo. New to Kayo? Try 14-days free now.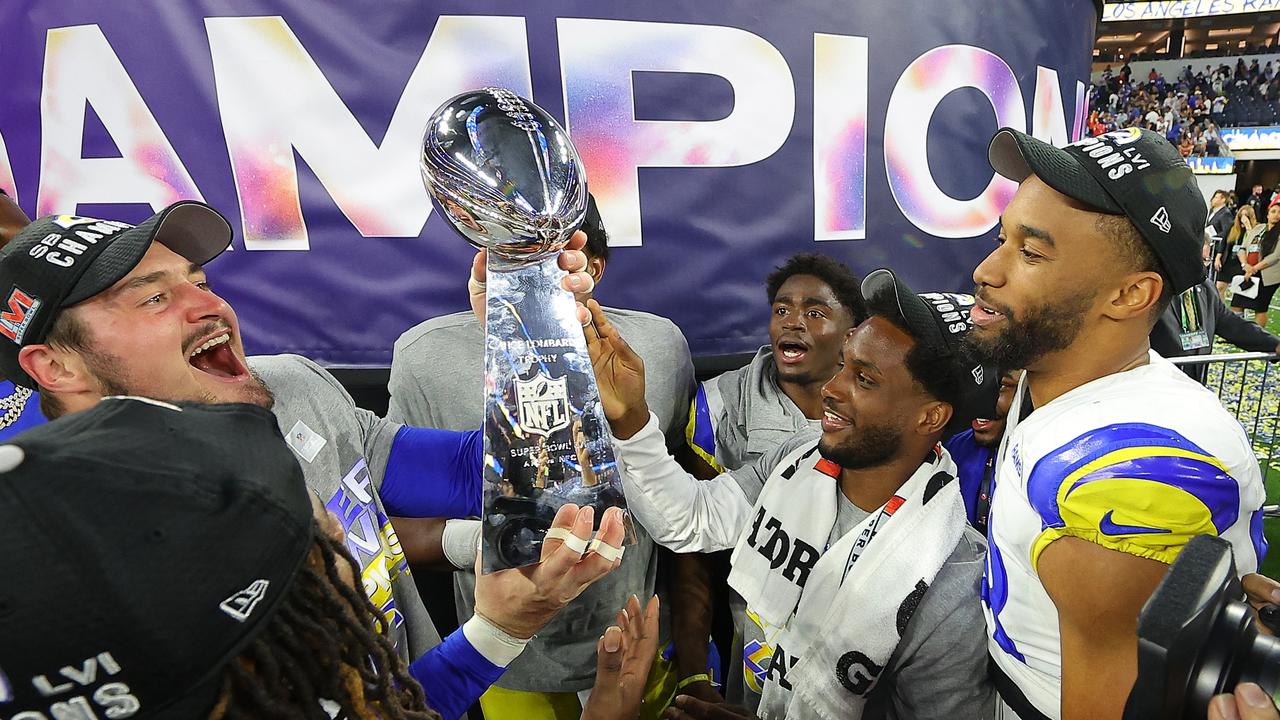 The Vince Lombardi Trophy will be in Australia for a historic NFL promotional tour. Picture: Getty Images.
"I have a tremendous amount of respect for rugby (league) players because they're dealing with the same contact that we're dealing with but just no pads on. I'm super impressed with what those guys can do," said Scott, who will arrive in Australia on Tuesday.
"I'm impressed how confident they are – sticking their shoulders in there without shoulder pads. I tip my hats to those guys. It's something I'd like to engage in myself. I think I would be a decent rugby player if I learned all the rules.
"Who knows they might let me have a go at it when I get over there and show me how it's really done. For those guys to be so confident, running around without helmets, it's testament to not only their confidence but also their technique, keeping their head and neck out of contact positions.
"There are some big dudes out there – just like we got in the NFL – and they move quickly. It's not just the contact. There are a lot of great moves, great agility and speed. For me, rugby is similar to watching a football (NFL) game."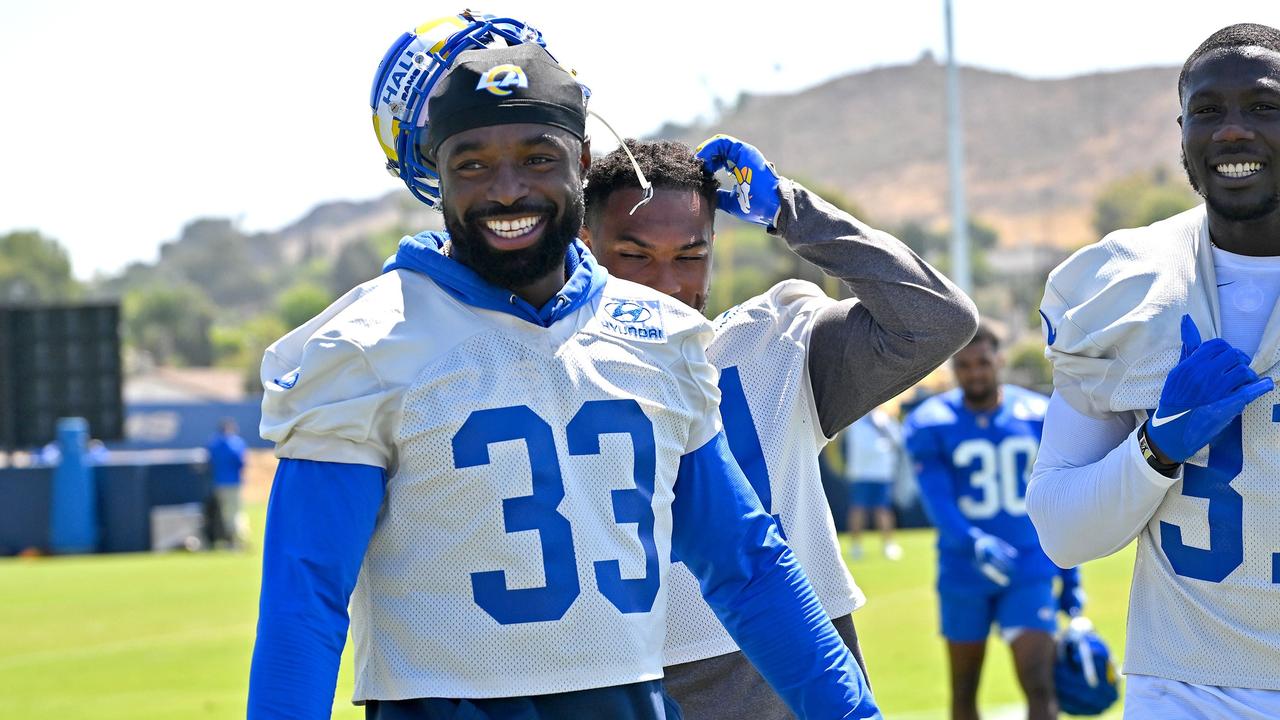 LA Rams safety Nick Scott will also be in Australia and is aiming to pick up some tricks from the NRL and AFL to help his game. Picture: AFP.
Scott, 27, was drafted by the Rams in 2019, spoke of his desire to learn about NRL and AFL and return home armed with new skills.
"Having such similar sports, understanding each other's games and approach, can only help us be better NFL players and it may help them be better rugby players with the information we can share with one-another," he said.
"They are extremely athletic and obviously great in their profession. I'm excited to learn a thing or two from them in terms of tackling and staying safe and hopefully I can pass along a few things to them; the toughness in general.
"Any time you get a rugby player over here to play American football, one thing you know is that they will love to hit and they won't be afraid to stick their head in there and get guys in the ground.
"I have just started doing my research on the Roosters. I have been asking some friends for some names and guys who I could reach out to. They are in the process of getting back to me."
Pressed about the AFL, Scott said: "I've got a couple of friends in Melbourne who are kind of teaching me a few things (about AFL). I'm trying to brush up on the rules of both sports. I'm not super familiar with it yet.
"To be part of that fan base (at Richmond v Carlton) and get to feel the atmosphere will be extremely exciting. I'm keen to see what those fans bring to the table."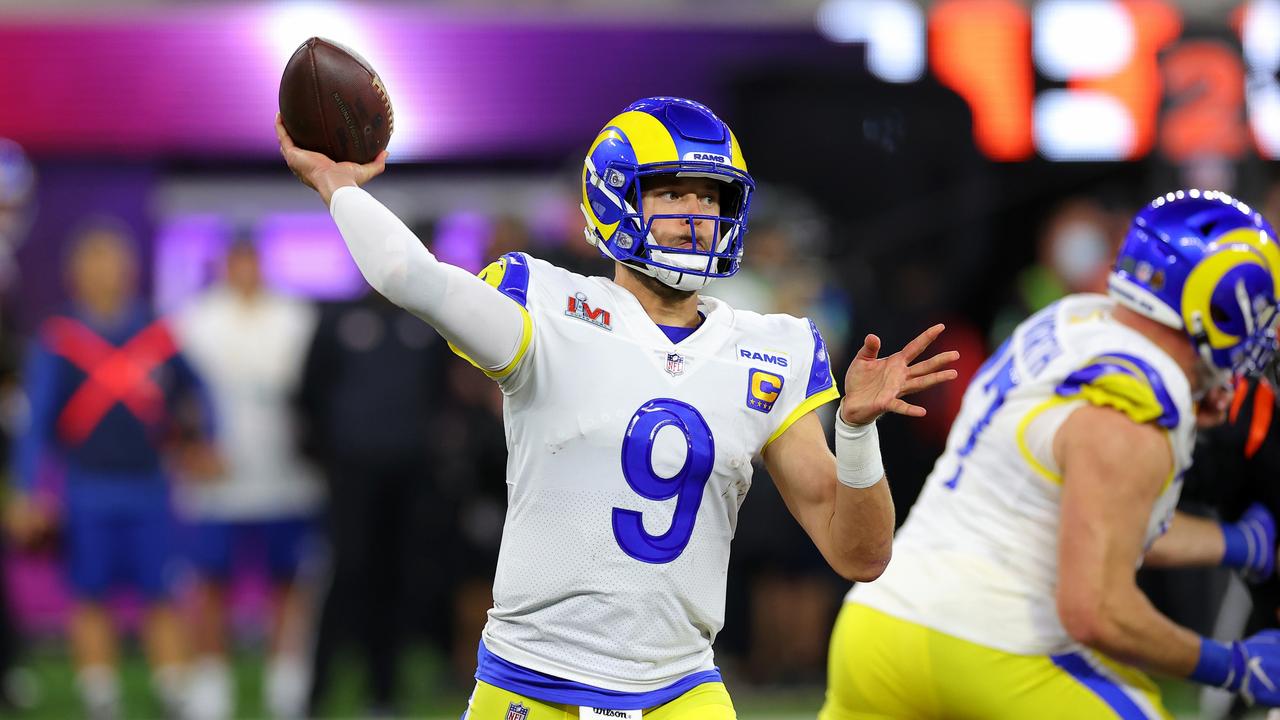 Scott jokingly hinted both he and superstar quarterback Matthew Stafford could star in the NRL if they ever learned the rules. Picture: Getty Images
Scott cheekily predicted Rams quarterback Matthew Stafford - playing on a four-year contract worth $160m - could succeed in rugby league.
"I'll say yes," Scott said. "If I'm not mistaken, you guys don't throw the ball forward too much. If he gets the hang on them no problem. He has a great set of arms on him.
"His work ethic is tremendous so once he picked up the rules, he would do okay, he's not the fastest guy in the world, and I don't know how good of a tackler he is, but I will put my money on Matthew Stafford finding a way to become pretty good. I give him a good chance."
Scott spoke passionately about the prospect of an NFL game one day being played in Australia.
"I would absolutely love to bring the whole team over to Australia and play there, to get an opportunity for everybody on our team to meet those rugby players, maybe some guys from the Roosters, and exchange techniques and experiences," he said. "That would be a tremendous cultural opportunity to crossover and start to bridge gaps.
"I'm looking forward to talking with those guys, especially for me being on the defensive side of the ball, about bouncing ideas and working techniques about what makes the best tackler; how they approach getting a larger guy to the ground.
"I am always looking at improving my game personally and I see an opportunity to do that in coming to Australia and meeting some of those guys. We want to break ground between the Rams organisation and the people of Australia. We know you guys are very passionate about your sports and competition and we want as much support as possible."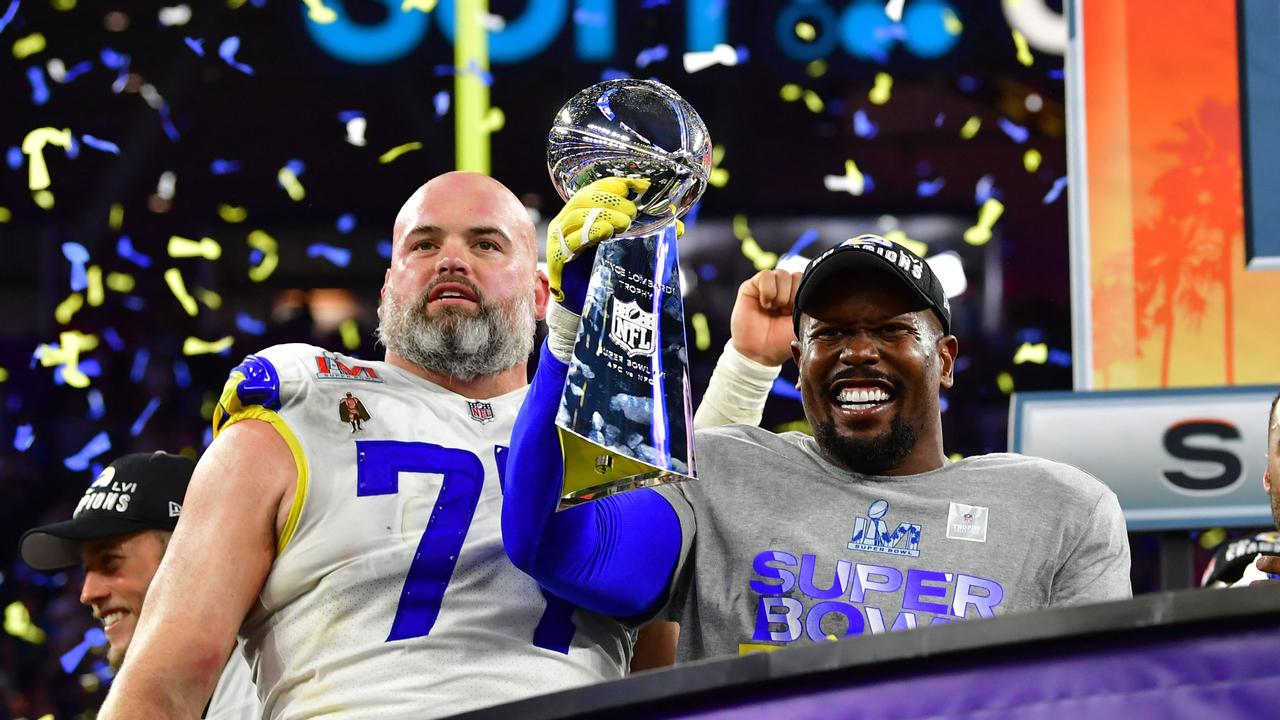 As part of their Australian drive the NFL plan to set up an office in Sydney. Picture: AFP.
Further emphasising their drive into Australia, the NFL plan to set up an office in Sydney from October.
"We view international as an extension of our efforts to gain fans locally as well as around the world," said LA Rams Head, Special Projects and International, Stephanie Cheng.
"Goal one number: Grow the sport of football, grow the Rams fan base and give our fans that exist down there engagement and touch points and bring the Rams brand – like this trip – to Australia so they can more easily engage."
While she claimed there weren't plans for a game to be played in Australia, Cheng said: "I wouldn't say it's not possible. We are certainly very well aware of the enthusiasm of our Australian fans.
"Every single Australian person I have ever met, whether it's on Zoom or in person, has asked when we are coming. We hear you loud and clear and we look forward to that opportunity should the day arise."
Originally published as NFL Super Bowl Vince Lombardi trophy to tour Australia with LA Rams star