Sports Confidential: Souths raise tensions with Roosters, Sam Burgess back at Rabbitohs
South Sydney have fired up their feud with the Roosters after asking the NRL why their bitter rivals weren't sanctioned over their handling of the James Tedesco 'Squid Games' affair.
South Sydney have fired up their feud with the Sydney Roosters ahead of the round three game after asking the NRL why their bitter rivals weren't sanctioned over their handling of the James Tedesco 'Squid Games' affair.
The Rabbitohs were fined by the NRL last week as part of the Sam Burgess sanctions after head office found they did not report an incident in a timely fashion.
Souths were wary of double standards and reached out to the NRL for some clarity around the Tedesco matter earlier this week.
Stream every game of every round of the 2022 NRL Telstra Premiership Season Live & Ad-Break Free During Play on Kayo. New to Kayo? Try 14-days free now.
The Roosters initially conducted their own investigation into the Tedesco allegations and released a statement saying their captain had done nothing wrong. Nothing to see here apparently.
The matter was also referred to the integrity unit and it was only when the NRL got involved that the truth was set free.
James Tedesco was fined $10,000 by the NRL over the 'Squid Games' affair. Picture: Mark Kolbe/Getty Images
Head office subsequently slugged Tedesco with a $10,000 fine, although the Roosters themselves were not part of the NRL sanctioning.
The Rabbitohs wanted to know why and they got their answer on Thursday when the NRL informed Souths that the Roosters had in fact referred the matter to the integrity unit in a prompt manner.
Revelations of Souths' approach to the NRL only adds to the tension between the two clubs.
BURGESS BACK IN BURROW FOR SPECIAL TRIBUTE
Sam Burgess has made a surprise return to South Sydney training to present Cameron Murray
with his jersey before his first game as captain.
Burgess, only last week cleared by the NRL to make his return to the game in an official capacity, made a short speech in which he spoke about his first meeting with Murray and the mental strength of the Rabbitohs new leader.
The pair then embraced as Burgess presented Murray with his jersey ahead of their season opener against the Brisbane Broncos on Friday night at Suncorp Stadium.
"With you, I found the most powerful leadership is doing," Burgess said. "What you do, you can ask others to do. It is a hard, lonely place at times … but it is a rewarding place too.
"I'm always there for you. It is your time, man. Take over."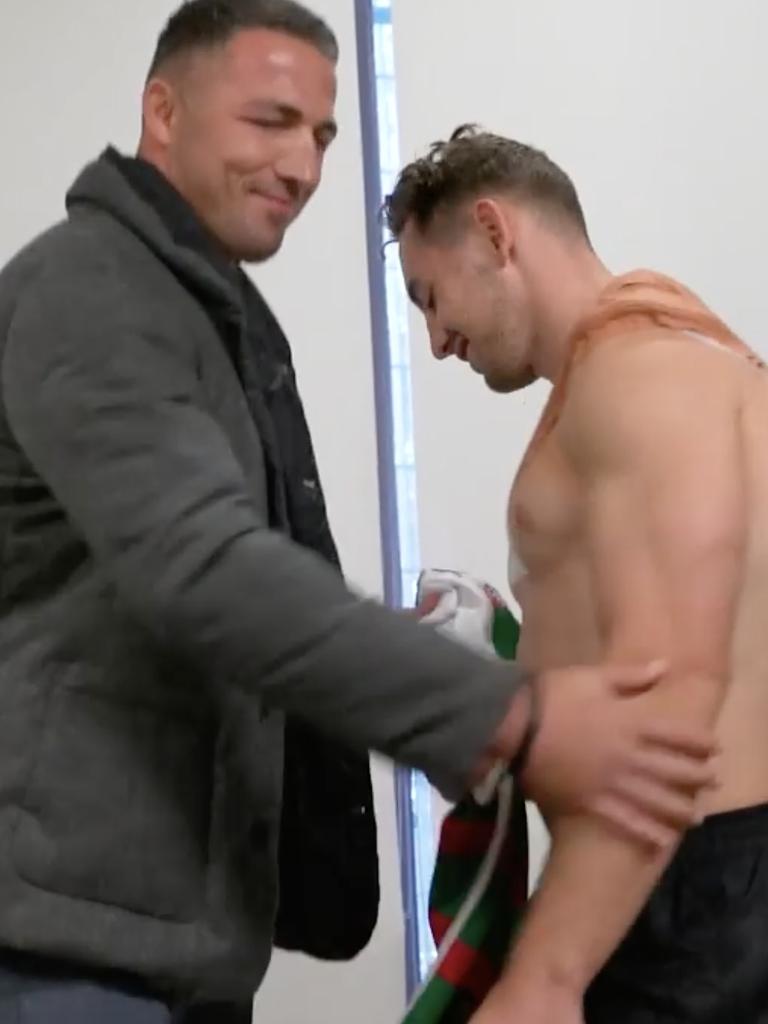 Sam Burgess presents new Souths skipper Cam Murray with his playing jersey. Picture: Instagram
Burgess was one of the most inspirational leaders in Rabbitohs' history and there is every chance he will return to the club in an official capacity when he has finished his commitments in bush footy with the Orara Valley Axemen later this year.
The NRL only last week handed Burgess a fine and retrospective ban over a series of off-field incidents towards the end of his time at the club. Significantly, they made it clear that there was nothing to prevent him returning to the game in an official capacity.
"He came in and presented Cam his first captain's jersey and as Sam does, spoke really well," Souths coach Jason Demetriou said.
"I am a big fan of what Sam has done at this club, especially as a player and I know how respected he is in the change rooms and the boys loved seeing him there today.
"He has loved it. As a player when he was here, he never asked anyone to do anything that he wasn't prepared to do himself.
"I know how much Cam respects him and I know how much it mean to them having that jersey presented today."
Asked whether Burgess would have an official role at some point with the club, Demetriou said: "Not this year. He is pretty heavy in what he is doing up there.
"It is great for Sam's development as a coach – to get out and coach your own team and run your own club is the best pathway you can have.
"Assistant coaching is great and you learn lot, but it is not head coaching."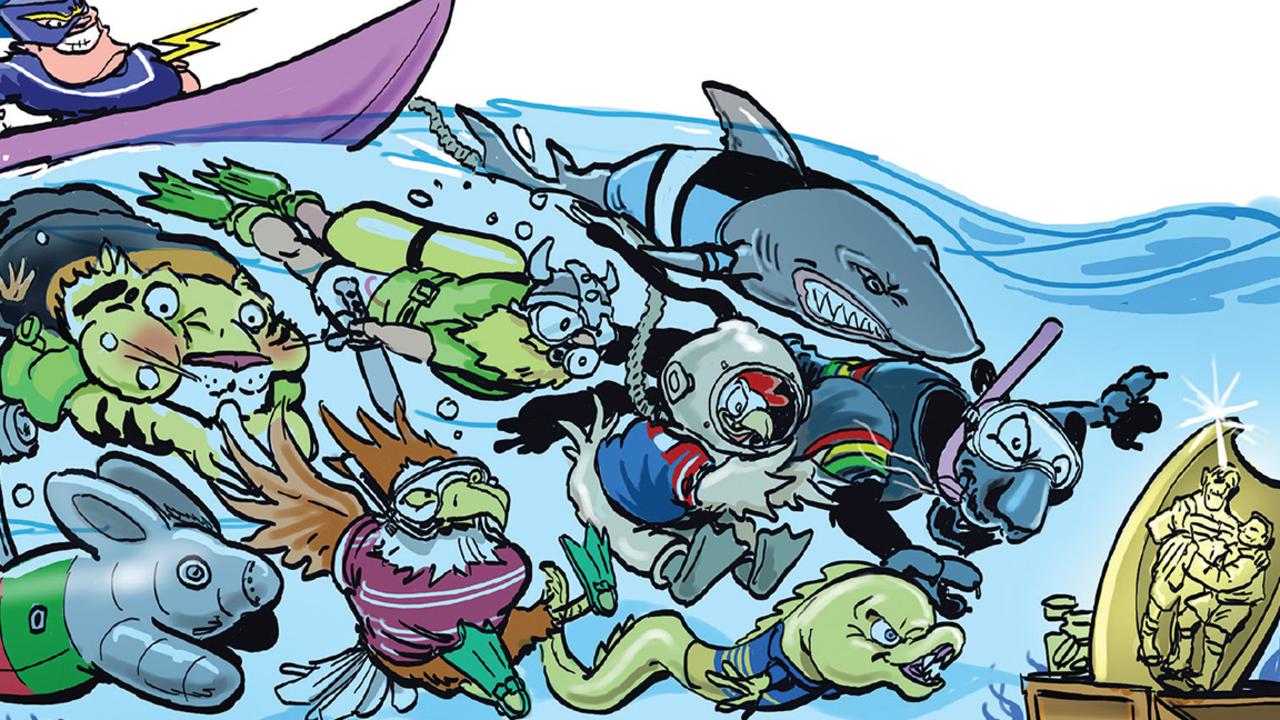 Boo Bailey's take on the NRL 'Tidal' race for the 2022 premiership.
COACH LEFT FUMING OVER LOW BLOWS
Knights coach Adam O'Brien has called for greater protection of the games big men after Daniel Saifiti was sidelined after suffering a hip-drop injury for the third time in as many years.
Saifiti will miss three months of action while his assailants have been sidelined for just one game.
Saifiti has become the game's most sidelined player when it comes to hip-drop tackles which has left Knights officials seething.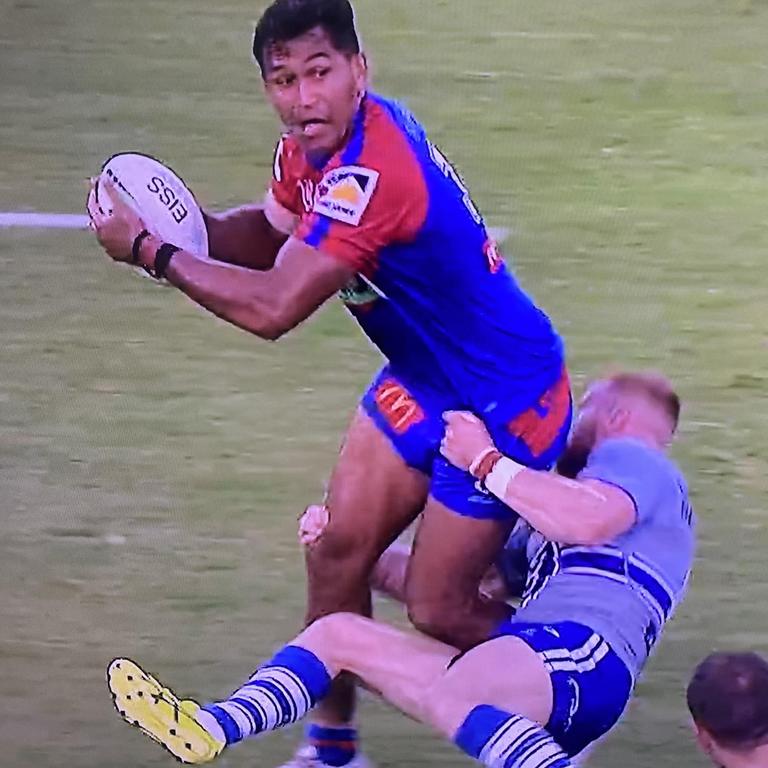 Knights prop Daniel suffered a broken tibia after what appeared to be a hip-drop tackle from Canterbury Bulldogs forward Luke Thompson.
Whether it be via bad luck or poor technique from his opposing players, the NSW star has been sidelined each year for the past three years after his leg was caught awkwardly in what is becoming a troubling reoccurrence.
O'Brien said there needs to be more assistance provided to the game's big men.
"It's not Daniel's responsibility to protect his legs," O'Brien said. "It's the defenders responsibility and if they can't then the NRL should.
"We talk a lot about protecting our stars in particular halves but the NRL needs to protect its big men too."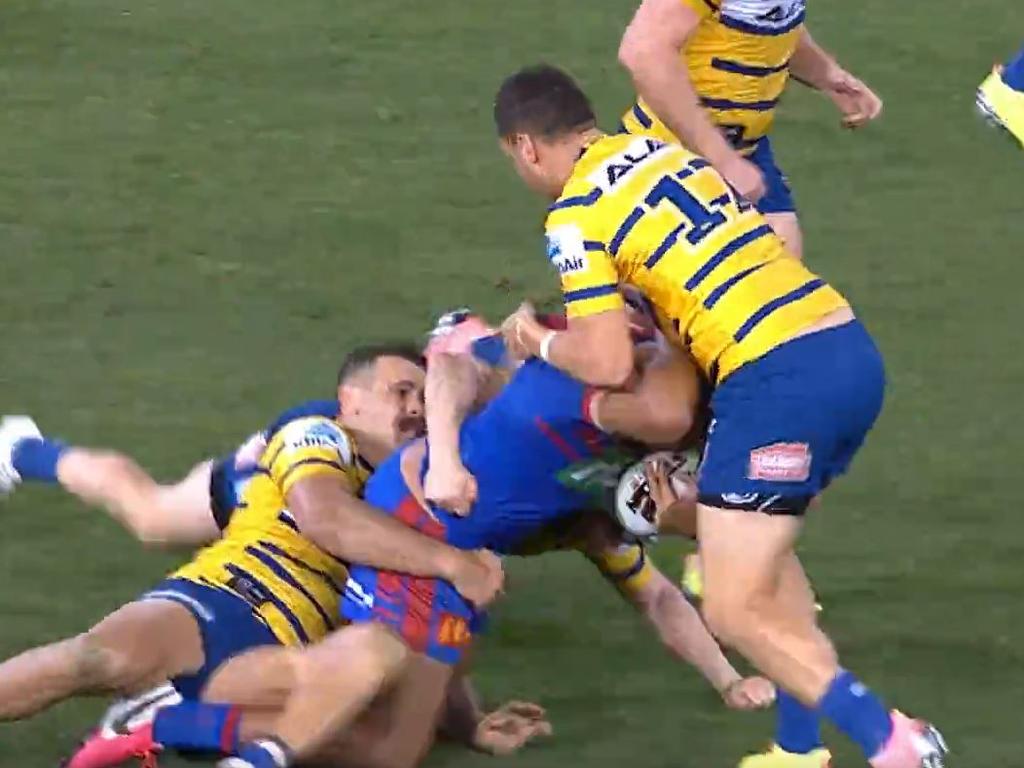 First incident Parramatta's Reagan Campbell-Gillard (no charge) round 9, 2020. Saifiti missed four games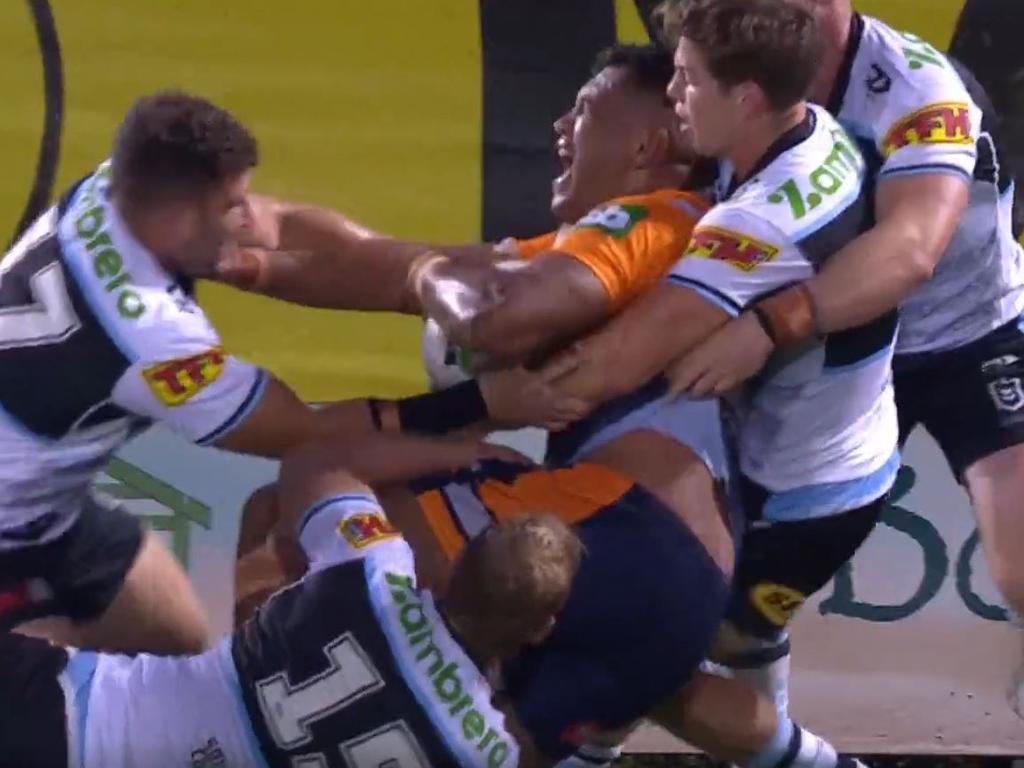 Cronulla's Aiden Tolman (grade one dangerous contact – one game ban), round 22. Saifiti missed three matches.
The first time he missed four matches with a posterior cruciate ligament after Parramatta's Reagan Campbell-Gillard's cannonball like tackle went unpunished. Last season, Saifiti rushed back for Newcastle's semi-final loss to Parramatta when he again suffered a knee injury as a result of a dangerous tackle. Aiden Tolman was suspended for one game while Saifiti missed three matches.
Fast-forward to this year and Canterbury's Luke Thompson was hit with a $2700 fine for a tackle which has left Saifiti missing the start of the season – and could lead to him missing the first month – after another low tackle which left him with a broken leg.
St George Illawarra's Tyrell Fuimaono was banned for five weeks for a hip drop tackle that ended the season of Parramatta's Haze Dunster.
Meanwhile, Thompson spoke about his growing judiciary record shortly after his latest charge.
"I have had a bit of trouble with suspensions so hopefully I get on the field every week," Thompson said. "I missed nine games last year – I played Super League for eight years and only ever missed one game with suspension. I get that the game has got a bit stricter now but none of my suspensions were for high contact."
ROOSTERS FIGHT FOR FIRST GAME AT NEW STADIUM
The Sydney Roosters are aware that rugby union are working hard to secure the first match at the new Sydney Football Stadium.
They won't give in without a fight. The Roosters will be the redeveloped ground's marquee tenant and they believe they have earned the right to host the first game.
If things fall their way, it will be their game against bitter rivals South Sydney on September 2. However, rugby union are attempting to upset the applecart by playing a Wallabies' game against South Africa before that.
Roosters chair Nick Politis is aware of rugby union's clandestine attempts to get under the NRL's guard and is ready to hit back.
"Of course we don't like it," Politis said. "We would be very disappointed. It has been our ground since 1928 — three different stadiums. It is our roots."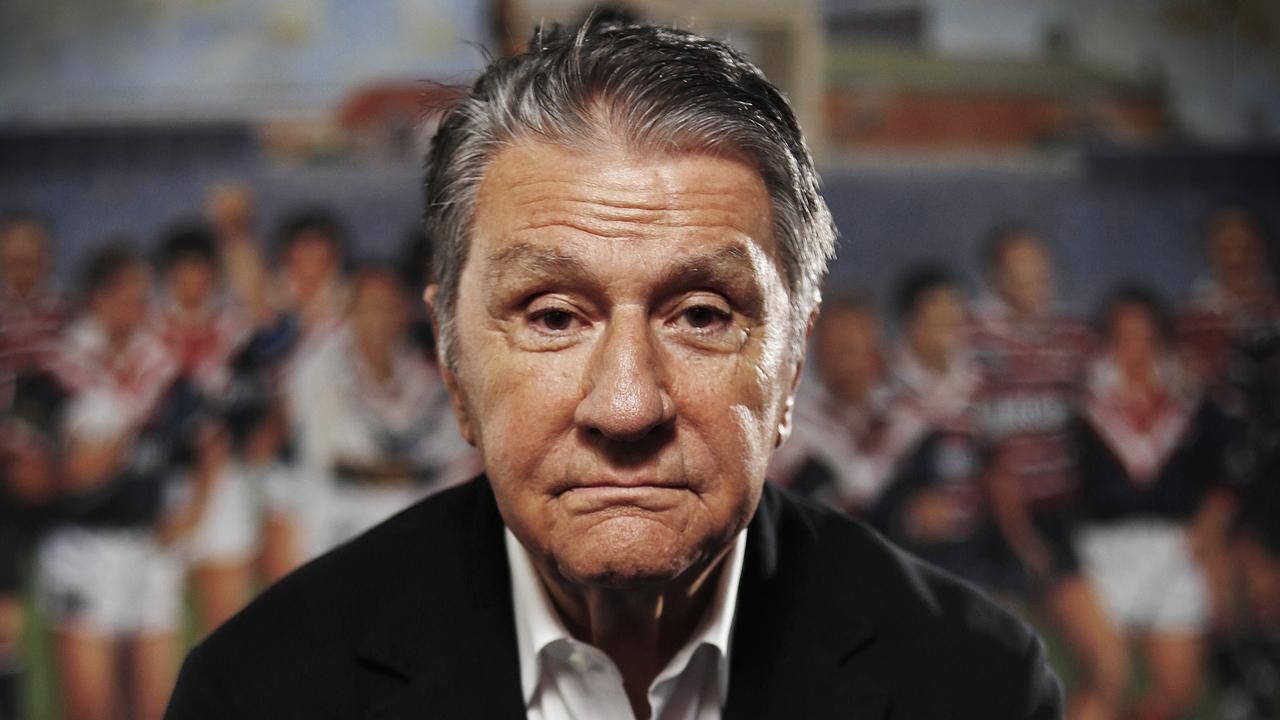 Roosters chairman Nick Politis. Picture: Sam Ruttyn
OLD FOES NOW TEAMMATES
The first time Luke Thompson met Tevita Pangai, things didn't go so well. Two years ago, in Thompson's first game in the NRL, he engaged in a running battle with Pangai at Suncorp Stadium.
Thompson finished the game on report for a shoulder charge, only moments after Pangai had given him and Kieran Foran a serve after a forward pass.
It was heated and passionate, no less than you would expect from two of the game's most aggressive and emotional forwards.
The pair have played against each other since, but they hadn't spoken until Pangai arrived at the Bulldogs over the off-season. It could have been testy, but Thompson insists they are ready to lead the Bulldogs pack in tandem this season.
"First game I played up here, T was trying to put it on me," Thompson recalled.
"Big T was into me. He was trying to get into me so I flew out of the line and tried to whack him. I think I gave a penalty away and he was calling me all sorts.
"I know how it is. That is how he plays — he tries to get under your skin a little bit. It is good to have him on the team now — he is a big body and hopefully he can use that for us this year. It is good to have him in the team now."
Pangai's aggression has already caused him some pre-season drama - he was sin-binned in the trials. Thompson, however, loves that part of his teammate's game.
"I think he can channel that aggression a bit more," Thompson said.
"He can be good for us. He is a big presence but he is pretty quiet really, he keeps to himself.
"If he keeps working hard and gets himself as fit as he can, he will be a handful for us this year."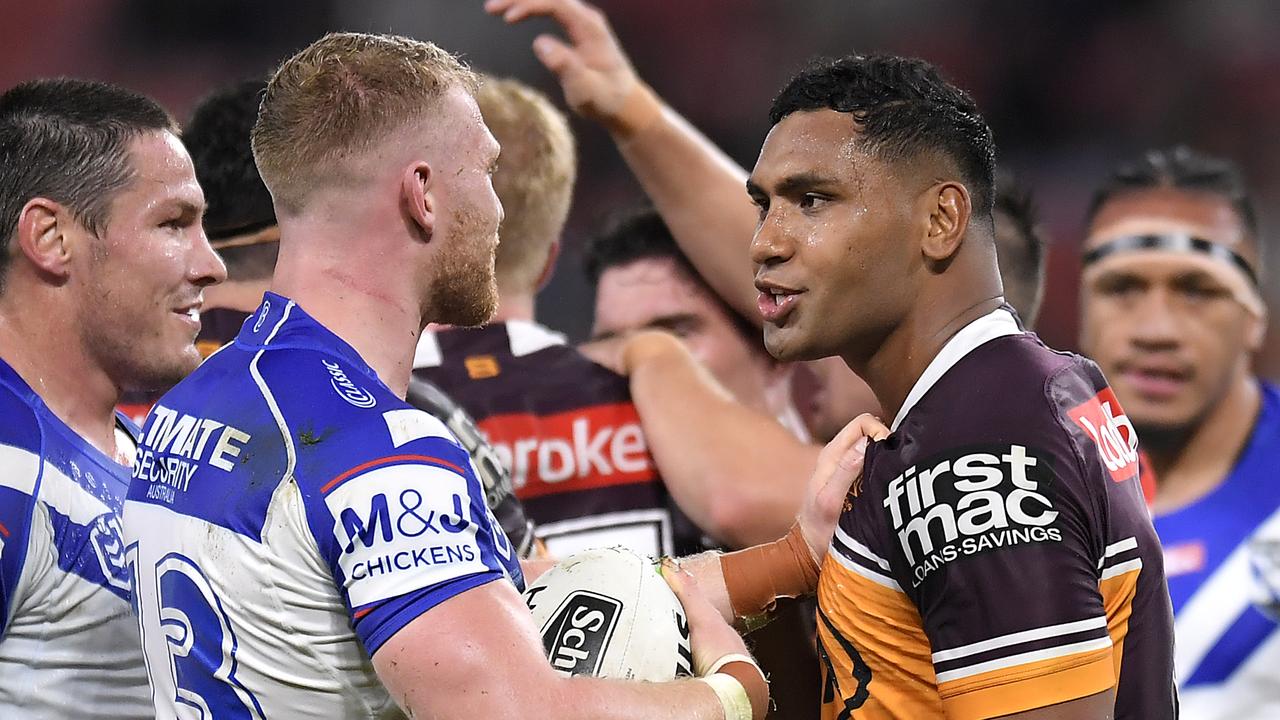 Luke Thompson and Tevita Pangai Jr had a heated battle in 2020. NOw they ar eteammates at the Bulldogs. Picture: Albert Perez/Getty Images
DIB'S DARING CALL
Billy Dib says he will walk away from the sport for good if he can't defeat fellow Australian Jacob Ng on Saturday night.
A win on the Gold Coast, however would catapult Dib back onto the title stage as he looks to add a third belt to his collection before he exits the sport. The undefeated Ng sits inside the top 15 in the WBO and IBF lightweight rankings — whose belts are held by fellow Aussie George Kambosos Jnr.
Dib is looking for one last title run.
"I haven't reached that finish line yet," Dib said. "If I wasn't to win that will definitely be the finish line. I'm giving myself every opportunity to resurrect my career.
"The last time I retired after I lost to Tevin Farmer (in 2018) I didn't leave on my terms. I was doing it to make people happy. The happiness has to come from within. I have such a big name in boxing that by winning this I will get some big fights."
Dib, who has started work with disabled children at Fine Care, has wanted the Ng fight for two years.
"They had other plans and then Covid-19 hit," Dib said. "This is a big opportunity to fight someone who is world rated. He is very tall and very tough."
Ng stands about 10 centimetres taller than Dib and has won 11 of his 15 bouts by knockout.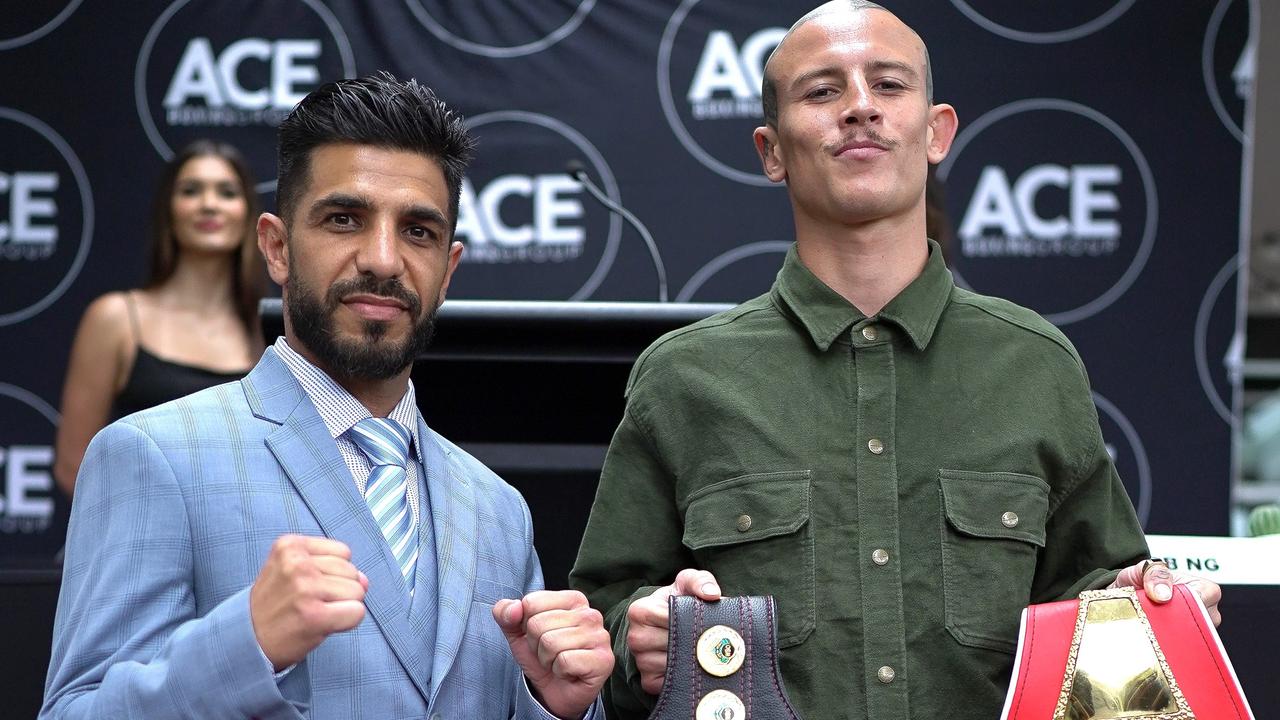 Billy Dib, left, and Jacob Ng face off before their boxing bout on the Gold Coast on Saturday night. Picture: Ace Boxing Promotions
GYNGELL 'NOT A GUN FOR HIRE'
David Gyngell has played down talk that he could lock horns with another former Nine Network boss as part of negotiations between the NRL and the players over a new pay deal.
Marks has been enlisted by the NRL to act as a consultant in talks with the Rugby League Players Association. Gyngell has been a long-time sounding board for RLPA boss Clint Newton.
"I have always been on the side of the players," Gyngell said.
"I like big versus little. It has always appealed to me. I actually think Hugh's biggest negotiation is going to be with Peter (V'landys) because Peter really respects and admires players and he would be happy to be generous with them.
"I actually think Peter has got Hugh in there so he doesn't have to say yes to them all the time. He loves footy, he loves the players, he is not trying to score points out of the players welfare.
"The players deserve what they deserve. It is going to get volatile. They will have to be on their game negotiating with Hugh — he is a bright, good negotiator.
"I am not negotiating against Hugh. Hugh and I are good mates. I am not a gun for hire."
TOSS OF THE COIN
James Tamou had a tongue-in-cheek reaction after being announced as part of a five-man leadership team at the Wests Tigers.
"We'll flip a coin to see who flips a coin," Tamou joked.
The decision who captains the Tigers in their season opener was made a little easier with Tamou's one game suspension and Adam Doueihi's injury.
SEVENTH HEAVEN FOR SOUTHS
South Sydney have again cracked the 30,000 milestone for members for the seventh time in the club's history. The club last passed 30,000 members before kick-off for round one was in 2015 – the year after their premiership success.
Nick Pappas was again elected chairman last Sunday.
Originally published as Sports Confidential: Souths raise tensions with Roosters, Sam Burgess back at Rabbitohs