Super Bowl 2022: Controversial penalty ultimately decides Rams' win over Bengals
A controversial penalty ultimately decided Super Bowl 56, crushing Joe Burrow's fairytale run in the big dance. Re-live all the action here.
The Rams went ahead in the closing minutes of the Super Bowl shortly after an iffy penalty called against the Bengals.
Cincinnati linebacker Logan Wilson was flagged for defensive holding against Cooper Kupp on 3rd-and-goal from the 8-yard line with 1:47 remaining, and the Rams went ahead three plays later on a 1-yard touchdown pass from Matthew Stafford to Kupp for a 23-20 victory.
Wilson didn't appear to commit a penalty on the third-down play, breaking up the pass just inside the 5-yard line.
Former Giants cornerback Eli Apple also subsequently was called for defensive pass interference in the end zone on first down before Kupp beat him for a 1-yard TD grab on second down with 1:25 remaining.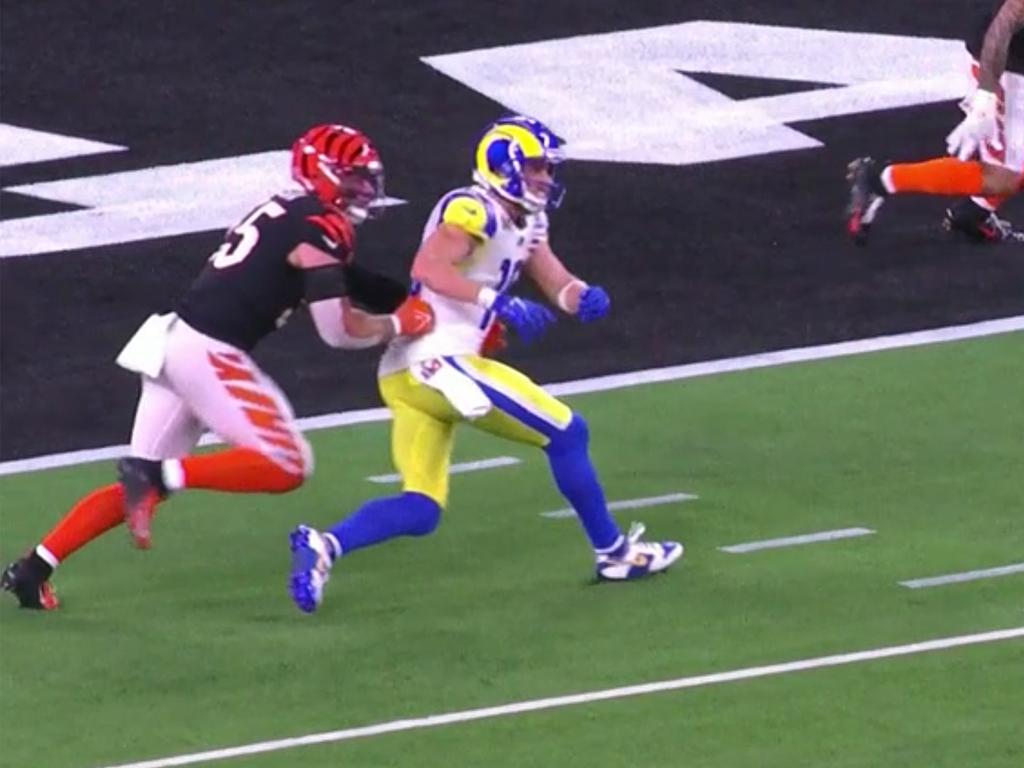 The controversial holding penalty.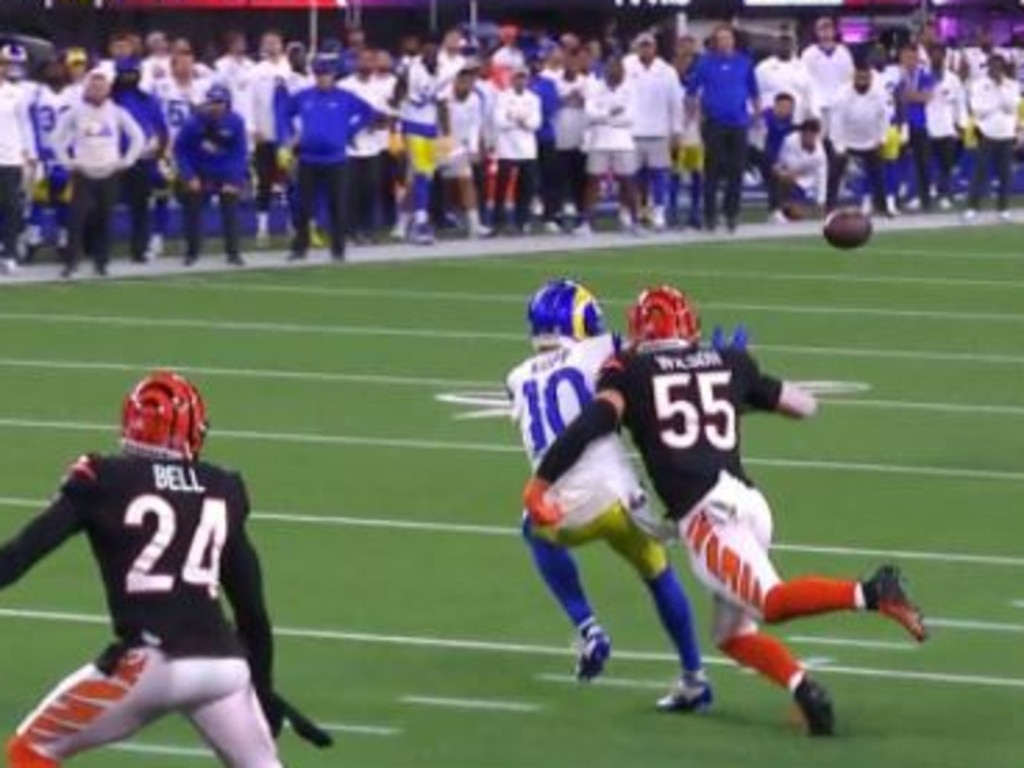 Logan Wilson's tackle on Kupp.
At the start of the second half, the referees also had missed a blatant facemask by Bengals receiver Tee Higgins on Rams cornerback Jalen Ramsey on a 75-yard touchdown reception.
Rams titan Aaron Donald spearheaded a fearsome defensive display on Joe Burrow and the Bengals in the next drive.
The sack was Donald's record-breaking eighth on the Bengals quarterback and the dramatic final act of a gripping contest between the star-studded Rams and the Bengals, whose bid to win a first-ever Vince Lombardi Trophy fell agonizingly short.
"I'm just so happy," said Donald. "I wanted this so bad. I dreamed this." "One play and we're world champs," Donald added of his crucial late sack. "Any way to get to him. We made it."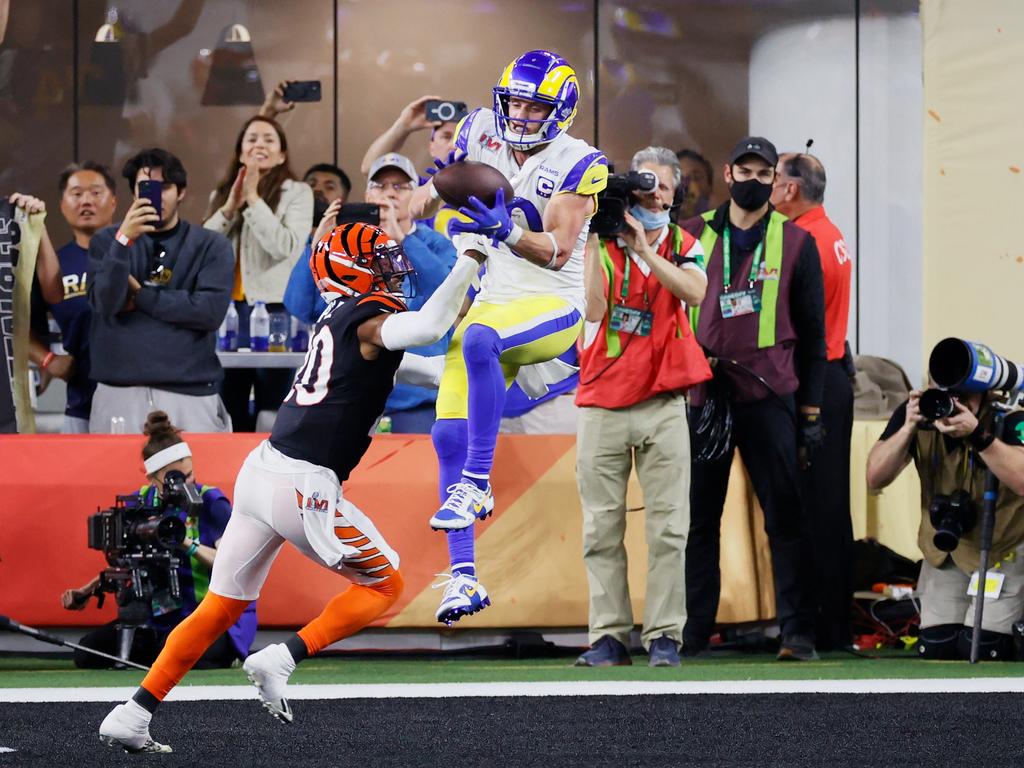 Cooper Kupp with the match-winning touchdown. Picture: Steph Chambers/Getty
Aaron Donald's match-winning sack on Joe Burrow. Rob Carr/Getty
Rams quarterback Matthew Stafford, meanwhile, paid tribute to his team's never-say-die approach.
"I'm so proud of this team," Stafford said. "There are so many guys on our team that deserve this, so many guys who gave their heart and soul to this team.
"That game today is the story of our season. It's up and down it's tough. We're a tough team. We showed up late and got it done."
The Bengals had stormed into a 20-13 lead early in the second half after a controversial Tee Higgins touchdown and an Evan McPherson field goal.
But the Rams, who had struggled to build momentum on offense after a game-ending injury to Odell Beckham Jr., clawed their way back into the game thanks to their rampant defense led by Donald.
Burrow was sacked repeatedly at key moments to prevent the Bengals from extending their lead.
Matt Gay's field goal pulled the Rams back to 20-16 heading into the fourth quarter.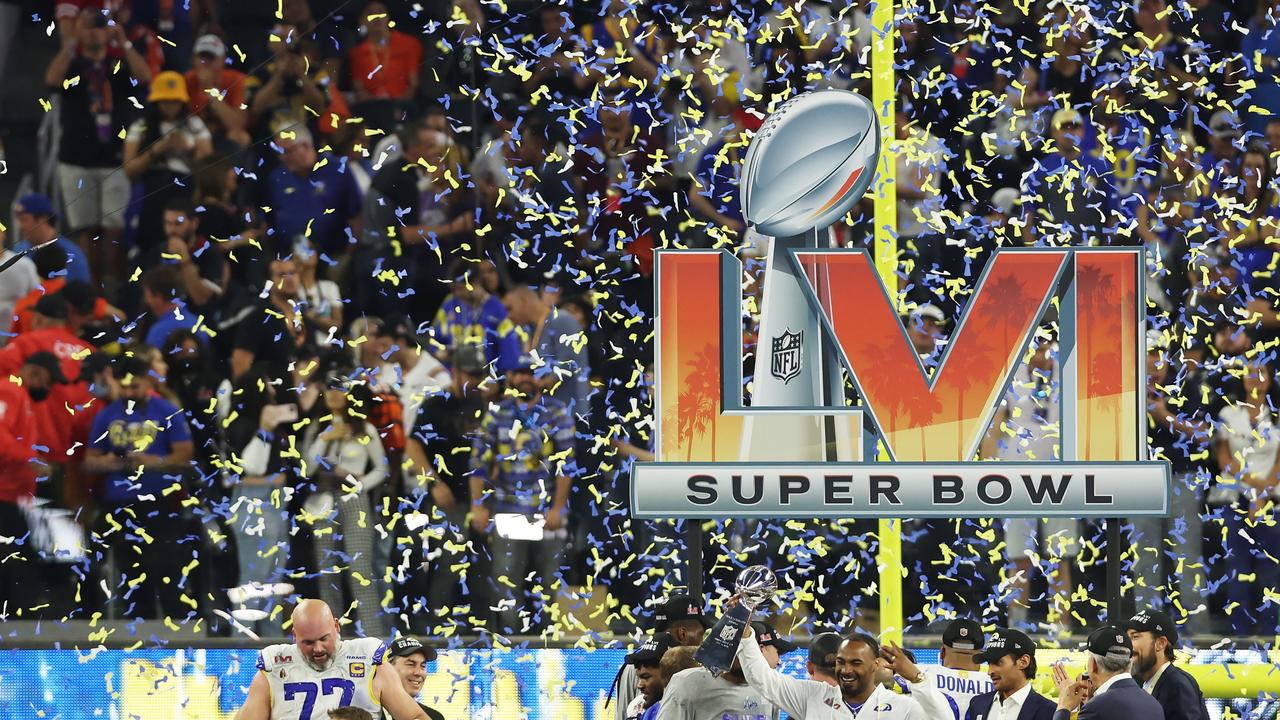 The Los Angeles Rams celebrate the win. Picture: Rob Carr/Getty
Stafford then led a 15-play, 79-yard drive that benefited from three crucial Bengals penalties near the goal line before Kupp plucked a one-yard pass in the end zone for the go-ahead touchdown.
Kupp and Beckham had both scored early touchdowns to give the Rams a 13-3 lead in the second quarter before the Bengals battled back into the contest.
The defeat was brutal on Bengals quarterback Burrow, the 25-year-old rising star who has helped transform Cincinnati's fortunes this season.
Burrow finished with 263 passing yards and one touchdown but was buffeted all night and sacked eight times, a record for a Super Bowl.
Stafford, meanwhile, finished with 283 yards and two touchdowns with two interceptions.
It was the Rams second franchise Super Bowl victory and their first since returning to Los Angeles from St. Louis in 2016. Their previous win came in 2000.
It was the third Super Bowl defeat in as many appearances for the Bengals, who also dropped the title contest in 1982 and 1989
- Brian Costello (New York Post) and AFP
RE-LIVE ALL THE ACTION FROM SUPER BOWL 56 BELOW.
1.52PM: RAMS LEAD WITH 85 SECONDS REMAINING (RAMS 23, BENGALS 20)
With three - well, four - shots in the Bengals red zone, this is the Rams' time to shine. Matt Stafford's time to shine.
But he whiffs on his first assignment, with an open Van Jefferson in the endzone, but it's badly overthrown - and Jefferson crashes into the fence.
OOOh boy - and there's a huge call for defensive holding against the Bengals - not the sort of call you'd want to potentially decide a Super Bowl - which gives the Rams reprieve.
A touchdown to Cooper Kupp is then wiped off for an offensive holding penalty.
Suddenly flags are flying all over the place - with pass interference on Eli Apple giving the Rams first and goal and 95 seconds to play.
And they only need to plays to end a 15-play, 79-yard drive - with Stafford going, again, to Cooper Kupp.
"In a pressure situation I don't know if I've seen anybody be better than Matthew Stafford and Cooper Kupp, they had no choice," says Collinsworth.
The go-ahead touchdown, giving the Rams a three-point lead, comes with 85 seconds left on the clock.
It all comes down to Joe Burrow. He has 85 seconds to etch his name into Super Bowl folklore.
1.42PM: McVAY'S COURAGEOUS CALL
Sean McVay has just made the biggest call of his career, choosing to push ahead on 4th and 1 just 30 years from the Rams' own endzone.
Giving the ball back - either by way of a failed fourth down, but even with a punt - would've given the Bengals the ball with five minutes on the clock and a four-point lead.
So McVay took the risk.
The running game hasn't worked all, so they turn to their biggest offensive weapon - Cooper Kupp - who wraps around and breaks through a tackle to get the first down.
That's an enormous play.
"What a gutsy call by Sean McVay," says Cris Collinsworth.
"It's one that either looks great... or you look like a complete idiot if you call it. This time it worked out."
1.30PM: WILL RAMS' ATTACK GAMEPLAN CHANGE?
A quick - super quick - three-and-out for the Rams, who keep pushing the run game plan which has absolutely not worked all night.
And the camera pans to an inconsolible Odell Beckham on the sidelines.
It cannot be understated how good he was through one-and-a-half quarters - he was putting himself in the frame as a possible Super Bowl MVP - before injury struck, as it has done so often throughout his career.
Meanwhile, the Bengals offence is back on the field and Joe Burrow is under centre.
He might play a little more conservatively. He won't want to get hit again, and probably won't want to run too much, following his ugly knee injury.
And, on cue, he hands off to running back Joe Mixon for a big gain for first down.
We have nine minutes left to play, with the Bengals clinging to a four-point lead.
But the drive is ended by a huge drop from Tyler Boyd, who gets a perfect pass from Joe Burrow - who didn't look overly troubled by his knee injury.The third-down drop could be incredibly costly, as it turns the ball back to Stafford and the Rams offence with just under six minutes to play.
1.21PM: BURROW LIMPS OFF AFTER BRUTAL SACK
What a turnaround 90 seconds can make.
A huge play by Burrow who escapes the blitz and recovers to find Tyler Boyd in midfield for a first-down.
He's one of the best game managers in the NFL, a wild thing to say about a second-year player, and his in a dream situation: holding onto a fourth-quarter lead (four points, in this case).
And then... Burrow is sacked, violently, and his right leg is twisted awkwardly - he screams out in pain as he clutches at the right knee.
Burrow limps away from that encounter and that's a scary prospect for the Bengals.
We could well have two hobbled quarterbacks doing their best to lead their team to glory. It's absolutely game on at this point. Brandon Allen is the back-up quarterback.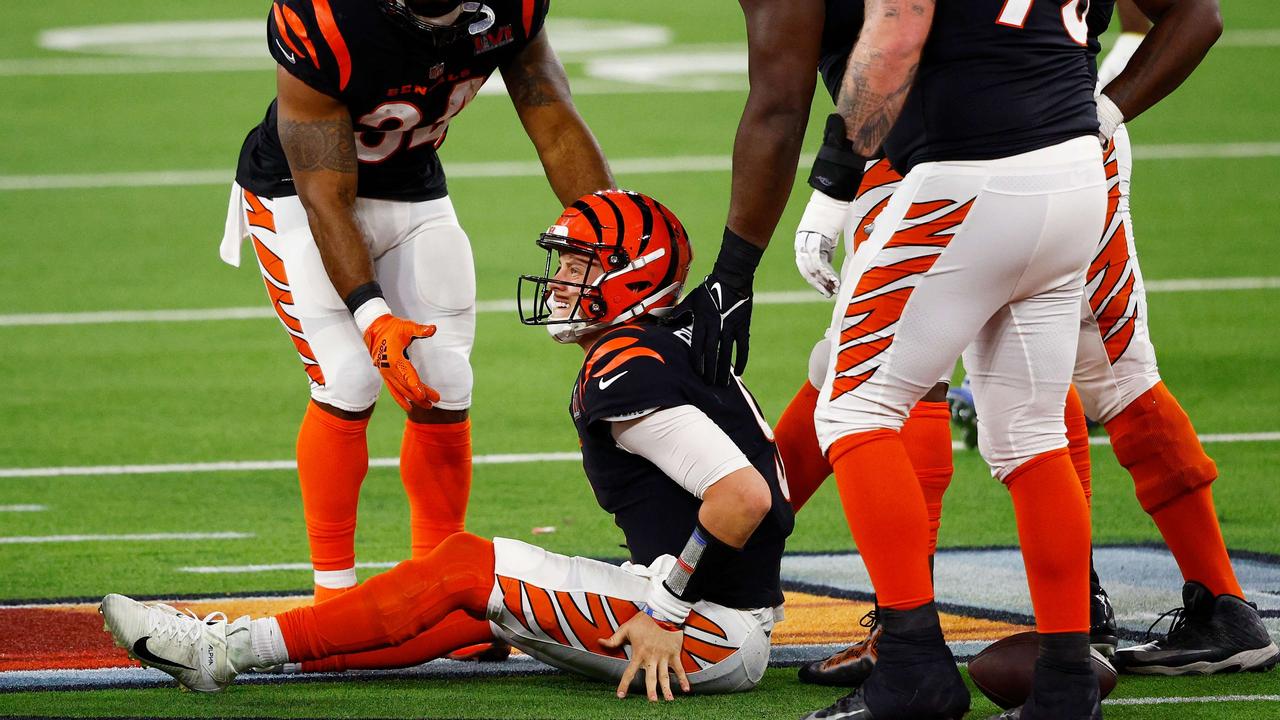 Joe Burrow after being sacked. Picture: Ronald Martinez/Getty
1.07PM: INJURIES CRUELLING LA'S SUPER BOWL
It's all going pear-shaped for the Rams, with Matthew Stafford limping from the field after getting mauled by the Bengals defence.
The gun QB needed attention on his left ankle after being sacked by DJ Reader, with his left ankle caught underneath the monstrous defensive tackle, having turned the ball over on downs.
Stafford held the ball as long as he could - and then a little bit too long - while looking for an open receiver as the Bengals defence converged.
The Rams are already without star receiver Odell Beckham Jr, who was officially rubbed out following his ugly-looking left knee injury - which has completely changed the way this Super Bowl has been played.
No longer do the Rams have the zippy star creating headaches, and the Bengals defence could not be happier about it.
But if Stafford - one of the toughest and more durable players in the league - is hampered, it would be a disaster for the pre-game favourites.
Matthew Stafford's ankle is crushed. Picture: Gregory Shamus/Getty
12.55PM: RAMS BOTCH THIER 'PHILLY SPECIAL' (BENGALS 20, RAMS 16)
That's not how you do it!
The Rams tried to pull off their own 'Philly Special', with Cooper Kupp targetting Matthew Stafford for a first down that would've put the Rams into the red zone.
Instead, it looked more like Tom Brady's dropped catch from Super Bowl 52 in response to the Eagles' trick play.
Because it didn't hit the mark - sailing over Stafford's outstretched hands and leaving the Rams with a 41-yard field goal attempt, which is drilled by Matt Gay.
That trims the lead to four points with six minutes left in the third quarter.
12:33PM: BURROW AIR LAUNCHES BENGALS INTO LEAD (BENGALS 20, RAMS 13)
Did you really think the Bengals weren't going to come out and let the ball sing?
Wow. What a savage blow to start the second half. Joe Burrow airs it out and hits Tee Higgins, against Jalen Ramsey, for a 75-yard play and a touchdown to start the second half.
It gives the Bengals their first lead of the game, 17-13, and Ramsey is furious at the amount of contact that was allowed - he was manhandled by Higgins, who wrestled over the top of him to make a spectacular grab.
But after just 12 seconds, the Rams have taken a serious punch in the face to start the second half.
HALFTIME SHOW: Eminem's controversial move during all-star performance
On the return drive, Matthew Stafford throws his second interception of the game - picked off by Chidobe Awuzie - and the Bengals could not have dreamed of a better way to start the second half.
Bengals kicker Evan McPherson extended his side's lead on the back of the Awuzie pick.
And this game is getting a bit spicy, as well. There was more than a little push and shove between the teams after Bengals players objected to the Rams' Aaron Donald shoving Burrow as he jogged towards the sideline for a short gain.He was in bounds, and fair game, but nobody likes to see their quarterback get pushed around like that and the Bengals big boys came for the scariest defender in the league.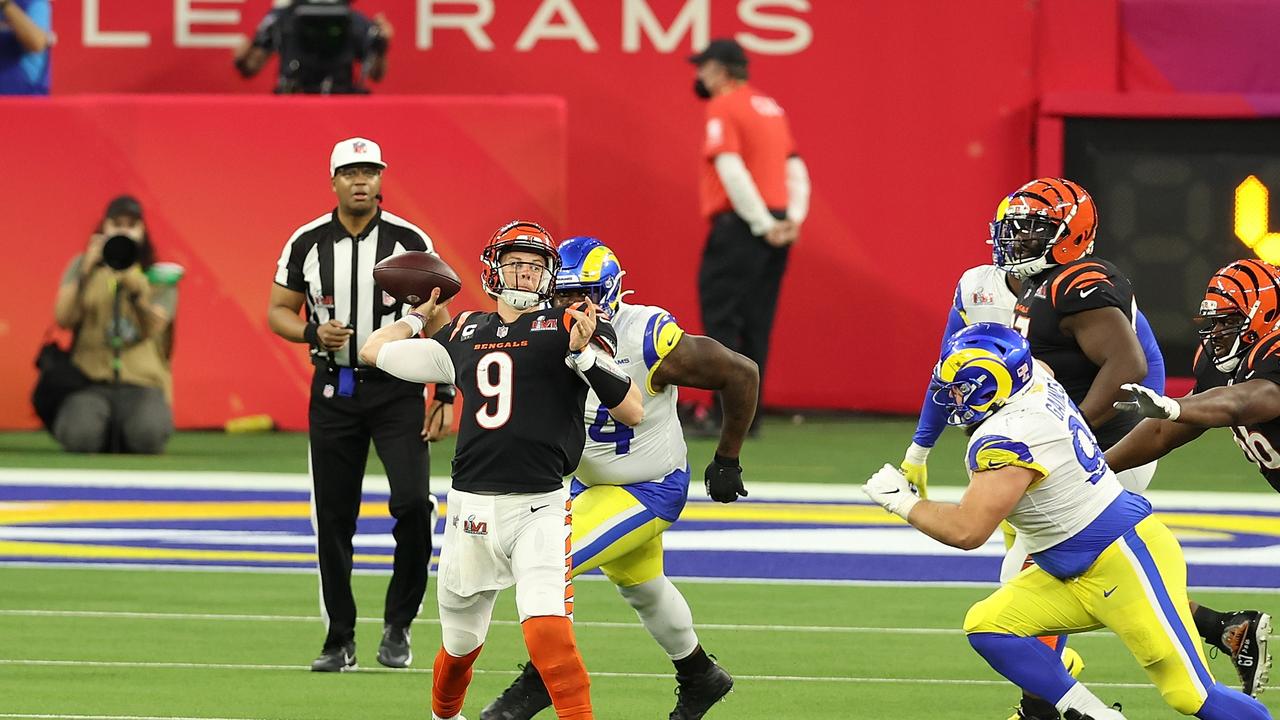 Joe Burrow nails Tee Higgins with a bomb. Picture: Rob Carr/Getty
SUPER BOWL 56 ALL-STAR HALFTIME SHOW
A genuine Super Bowl halftime show for Millennial and Gen X hip hop lovers.
But an unannounced cameo from 50 Cent was almost the cherry on top of one of the greatest halftime shows in Super Bowl history.
Recreating his famous In Da Club video, Curtis Jackson, appeared hanging from a ceiling in an incredible 'entrance' blew the roof off SoFi Stadium.
While not quite a Tupac hologram, 50 Cent held his own in the all-star line-up that rolled out Dr Dre, who played conductor of the show, Snoop Dogg, Eminem, Mary J Blige, Kendrick Lamar and Anderson Paak.
Some are calling it the best halftime show ever - but the purple Prince may have something to say about that.
Oh… so best Halftime Show of all time?

— 🅿️at McAfee (@PatMcAfeeShow) February 14, 2022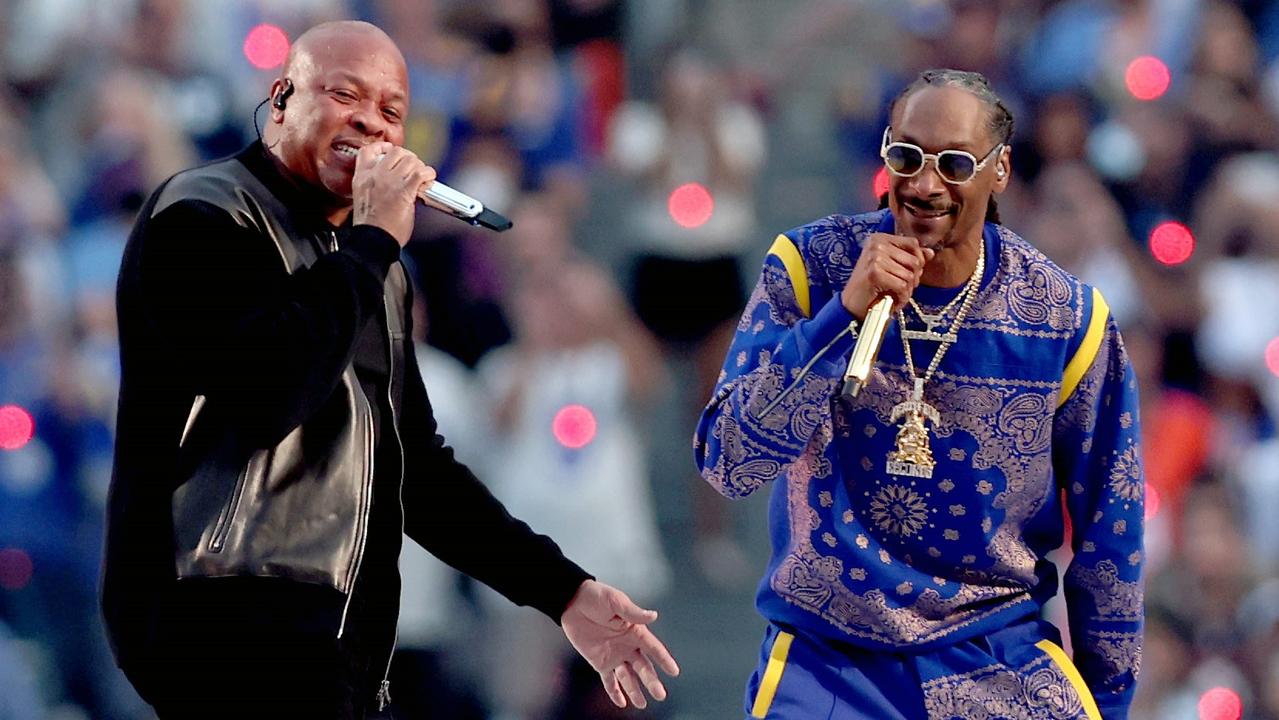 Dr. Dre and Snoop Dogg perform during the Super Bowl LVI Halftime Show. Getty
12:05PM SUPER HALFTIME: ODELL BECKHAM RULED OUT
The Rams have officially ruled Odell Beckham Jr is officially out of the Super Bowl after the star suffered a left knee injury that forced him to the lockerroom before the break.
Rams coach Sean McVay was resigned to losing Odell - and that's not good news for the Rams, who hold a narrow 13-10 halftime lead.
"We have to make some adjustments and make some plays," McVay said when asked about the Beckham situation.
"We need to be more efficient on early downs and we've got some time to figure this out."
Beckham left the game with 52 yards, and a touchdown, to his name and his absence will allow the Bengals to put more pressure on Cooper Kupp, the Rams' other superstar receiver.
The Bengals, meanwhile, have earned a reputation as one of the NFL's most dangerous second-half teams. In Joe Burrow, they have a stone-cold killer at quarterback and a fearless young offence that has made a habit of fighting back from big deficits.
There's plenty to ponder as we move into the halftime break.... but it's fair to say McVay won't be paying too much attention to Snoop, Dr Dre, Eminem and Kendrick over the next half hour.
12PM: RAMS, BENGALS BLOW LATE DRIVES
The Bengals get the ball back after an end-zone interception by Jessie Bates, with Matthew Stafford's first big error of the Super Bowl.
Van Jefferson was the intended target - possibly an indication of how significant the loss of OBJ could be in the second half, if he's unable to return?
Beckham Jnr has been such a threat in the red zone, along with Cooper Kupp, that Stafford has a wealth of options... but take him out, and it takes away a huge headache for the Bengals defence.
Cincy cannot capitalise, however, and turn the ball over inside their own redzone - handing the ball back to Stafford with 30 seconds left in the half. The star QB can't find anyone on the final drive of the half.
11.41: RAMS STAR'S SUPER BOWL OVER?
Somebody, please check on Drake.
Odell Beckham Junior - who has been enormous throughout the first half, as well as the playoffs in general - has gone down with an apparent injury to his left knee.
It's the same knee on which he suffered a torn ACL just a year ago.
He leaves the game with 52 yards to his name - and reportedly punched a table on the way to the medical tent - but he's up and about on the sideline.
We're less than three minutes away from halftime, so it will be one to ponder during the halftime entertainment.
Odell Beckham Jr is assessed by Rams medical staff. Picture: Gregory Shamus/Getty
10.35AM: BENGALS PULL OUT THE CINCY SPECIAL (RAMS 13, BENGALS 10)
Was that... the Cincy Special?
Four years after the Philadelphia Eagles pulled out the 'Philly Special' in one of the boldest plays in Super Bowl history - where running back Corey Clement tossed the ball to quarterback Nick Foles to stun the New England Patriots - the young Bengals have pulled off something special of their own.
Instead of Joe Burrow taking the snap, it was running back Joe Mixon and he showed off his arm with a pin point lob to Tee Higgins for the touchdown.
It's the first pass Mixon has thrown in his five-year NFL career, and came after a confidence-boosting 75-yard drive.
This game has been played at a ridiculous pace, with halftime just six minutes away after little more than an hour of play.
11.20AM: STAFFORD LIGHTING UP THE BENGALS (RAMS 13, BENGALS 3)
The Rams gave up a lot to get Matthew Stafford to Los Angeles - giving up two first round picks to bring the gunslinger across from Detroit.
But this is why.
He's lighting up the Bengals defence and cementing himself as the shortest of favourites to take home MVP honours today, already chalking up two touchdowns as the Rams surge to a 13-3 lead.
This time, he finds his other superstar receiver - Cooper Kupp - with an 11-yard throw to the back of the end zone.
It came after a 75-yard drive that exploded thanks to another key play from Odell Beckham Junior.
He got on a slant route and landed a big gain for 35 yards - and midway through the second quarter, he has almost cleared the yards he needs to make Drake even MORE money.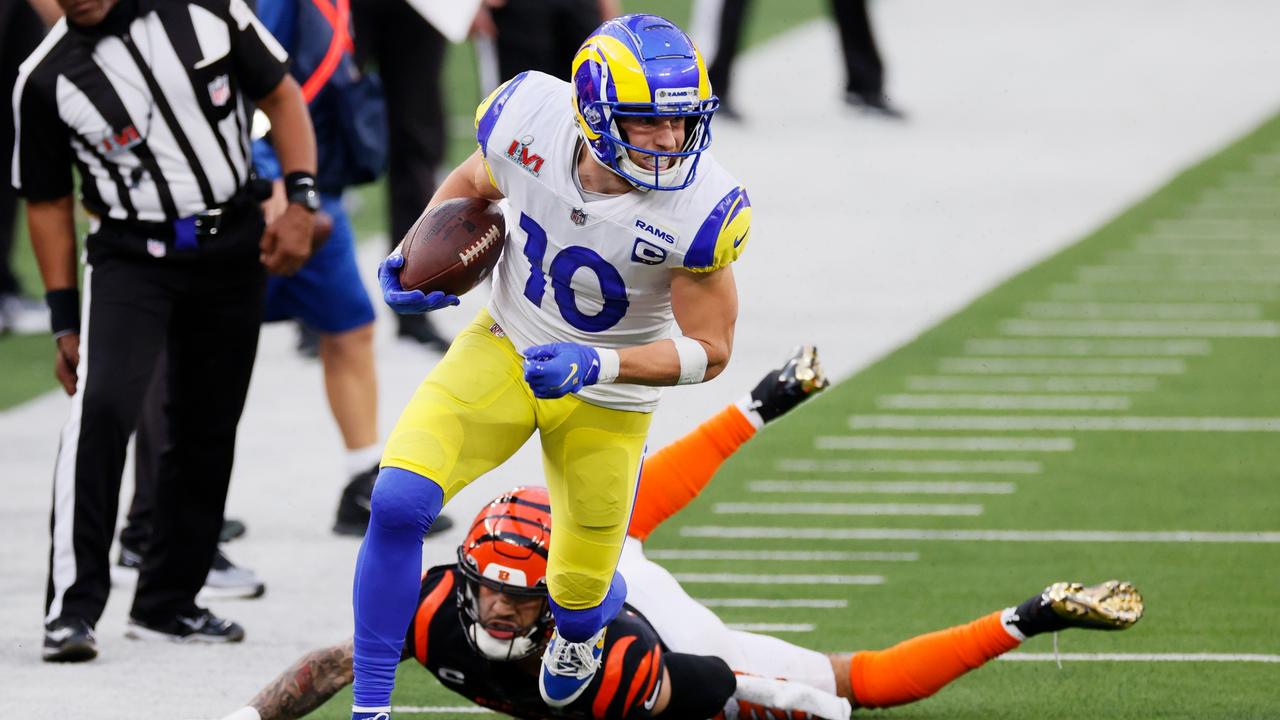 Rams QB Matt Stafford is feeding receivers Cooper Kupp (pictured) and Odell Beckham. Picture: Steph Chambers/Getty
11.11AM: BENGALS ON THE BOARD, RAMS LEAD 7-3
The Bengals are on the scoreboard care of a field goal, and their electric offense has woken up thanks to a remarkable play by young wide receiver Ja'Marr Chase.
The 21-year-old made a spectacular one-handed grab, despite five-time Pro Bowler Jalen Ramsey providing heavy defensive coverage, to finish off a 47-yard gain.
"He is one of the best finishers of catches I think I've ever seen," says Cris Collinsworth in commentary.
"So many times this year (he's done that) and that is the best. He's going against Jalen Ramsey and making a play like that."
Ramsey comes up with a play of his own to deny a touchdown pass to Tee Higgins, forcing the Bengals into a field goal.
10.55AM: ODELL BECKHAM OPENS SUPER BOWL SCORING
The LA Rams have drawn first blood in the Super Bowl - and no one is happier than rap superstar Drake.
Drake has $3.2m riding on the Rams - and star wide recevier Odell Beckham Junior - care of monster bets, and he would've been cheering as Rams' quarterback Matthew Stafford found Beckham Jnr in the endzone for the first score of the game.
The various bets require the Rams to win outright, and for Beckham to top 62.5 receiving yards and score at least one touchdown.
And when Beckham Jnr saluted just three minutes into the first quarter, Drake was $800,000 richer.
Stafford led the Rams up the field after the opening drives of both teams ended meekly, but the former Detroit Lions stud turned to his star receivers to great effect.
After being given great field position, through a failed fourth-down attempt by the Bengals, a big gain on a pass to Cooper Kupp put the Rams in the red zone and Stafford hit Beckham with a pinpoint throw for a 14-yard gain and the touchdown.
STAT ATTACK: The team that scores first is 36-19 all-time in the Super Bowl, but have lost each of the last 2 games (SF in SB LIV, KC in SB LV).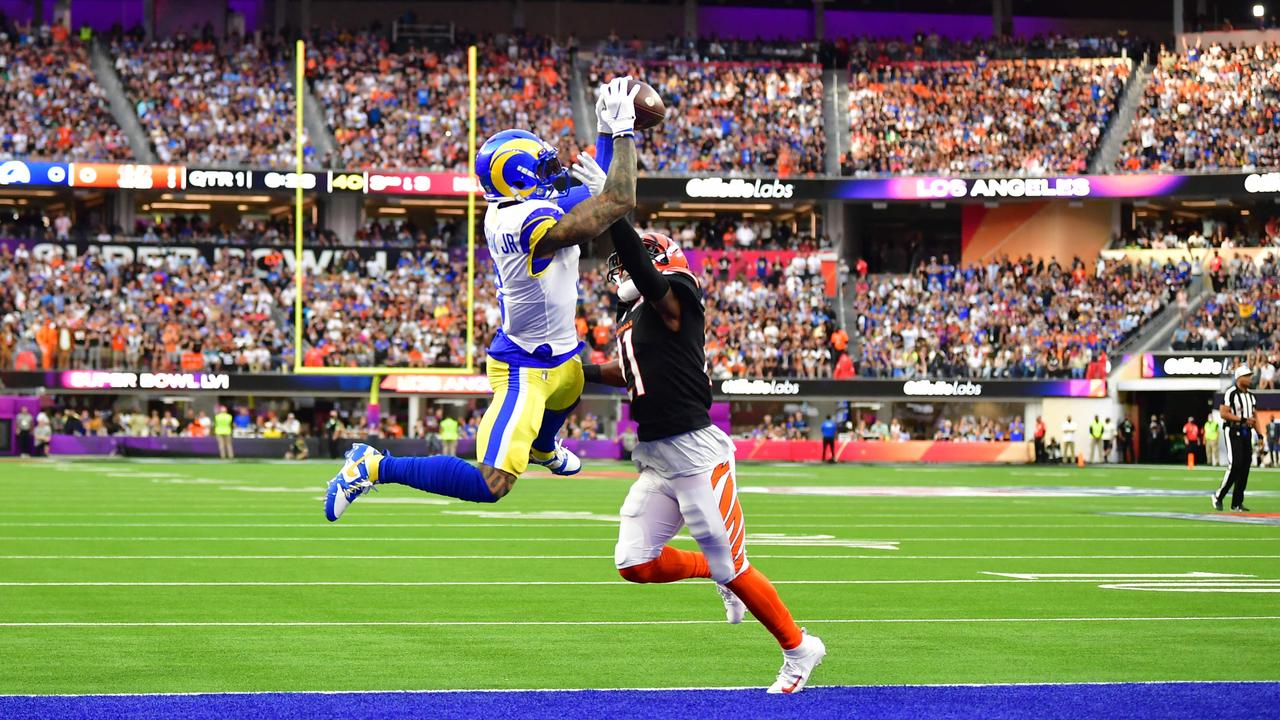 Odell Beckham Jr. draws first blood for the Rams. Picture: Frederic J. Brown/AFP
10.40PM: STAR'S SHOCK SUPER BOWL RETIREMENT CALL
In what would be one of the biggest shocks in Super Bowl history, Los Angeles Rams superstar is reportedly considering retirement if he can claim a first ring today.
The eight-time Pro Bowler is already one of the greatest defensive players in NFL history, but at 30 years old is well and truly in the prime of his career.
He still has two years to run on a monstrous $187m deal, but that could count for nothing if the Rams can defeat the Cincinatti Bengals today.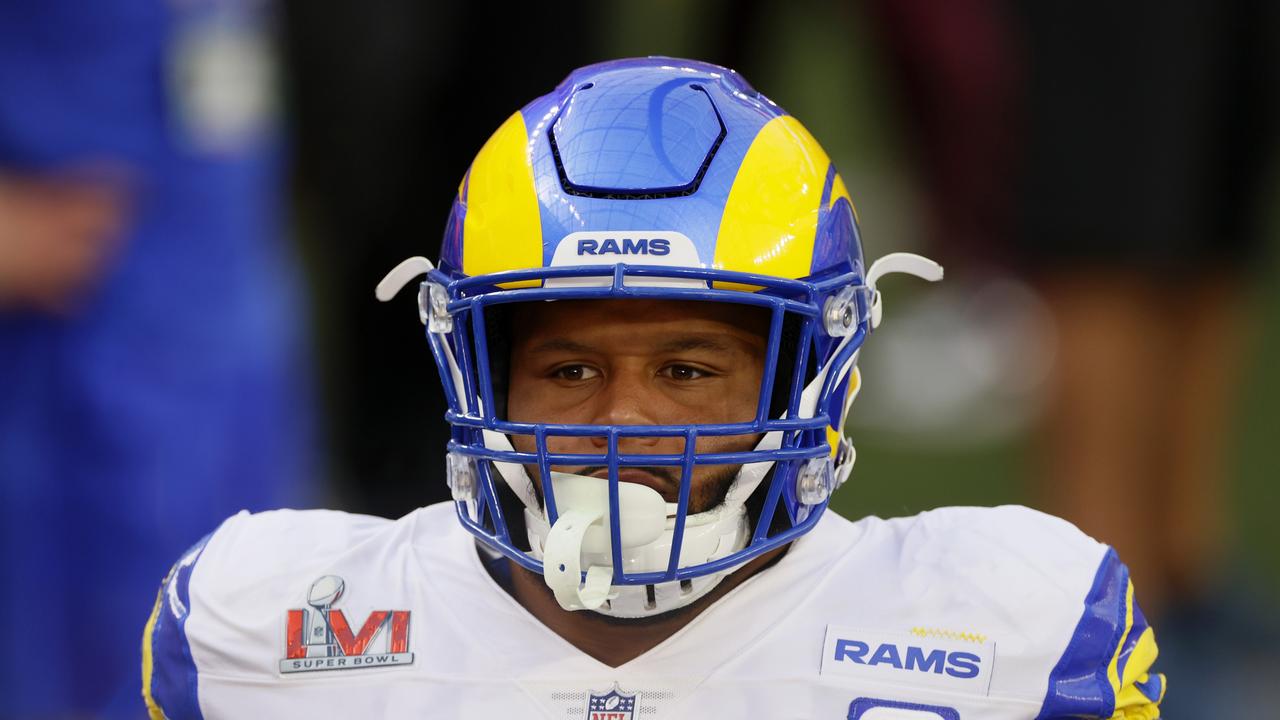 Rams defensive star Aaron Donald. Picture: Steph Chambers/Getty
NBC's Rodney Harrison reported ahead of the game that Donald could walk away entirely.
"He's big on legacy," Harrison said.
"He doesn't want to be known as a defender that accomplished so many individual things and never won a Super Bowl. But he also told me this: If he wins a Super Bowl, there's a strong possibility he could walk away from the game and retire."
Donald is one of the favourites to be named Super Bowl MVP.
10:33AM: IS THIS A BAD OMEN FOR THE BENGALS?
Don't look now Cincinnati fans.
The Bengals have won the coin toss, which in most sports would surely be considered a positive start to the biggest game of the year.
But not in the NFL. Well, not today at least.
Incredibly, the past seven coin toss winners have lost the Super Bowl. You have to go all the way back to the Seattle Seahawks in 2014 to find the last team who completed the double.
In a little bit more history, today is the youngest head coaching match-up in Super Bowl history with Sean McVay (36) and Zac Taylor (38) going head-to-head.
If his Rams are successful, McVay will be the youngest Super Bowl winning coach in history.
10.20AM: ELECTRIC CROWD FILLS SoFi STADIUM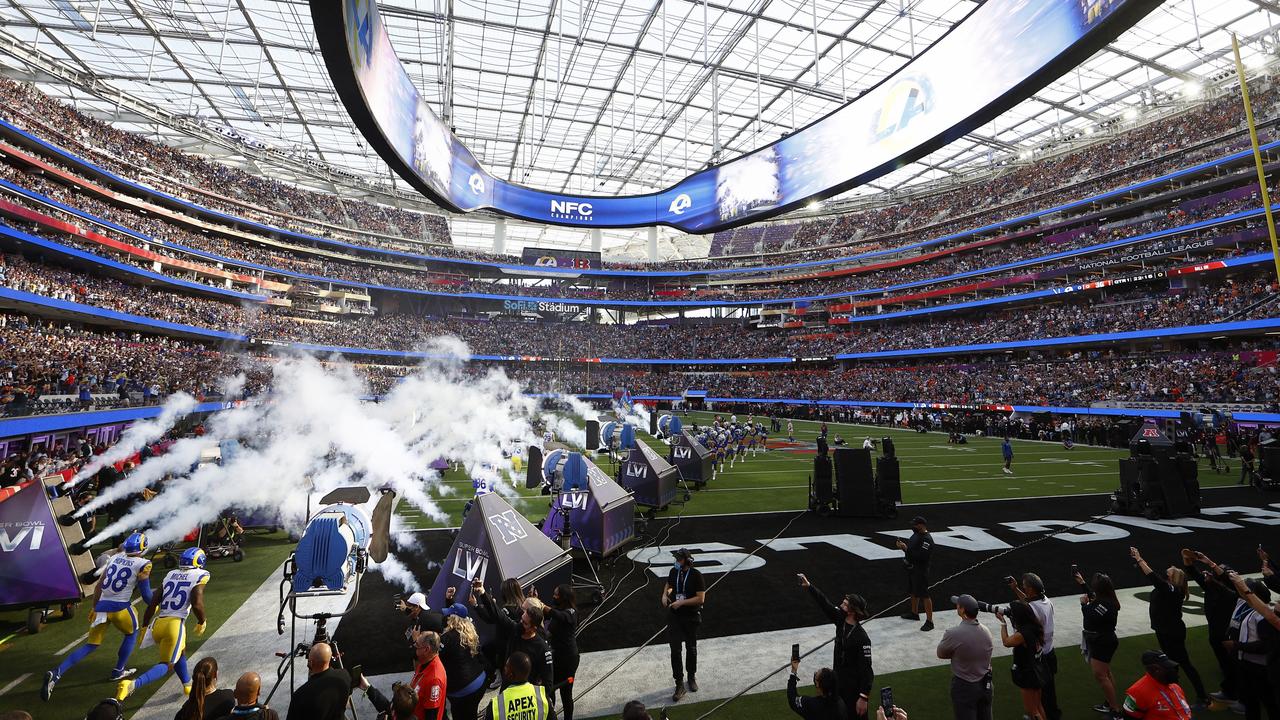 Los Angeles Rams players enter the field. Picture: Ronald Martinez/Getty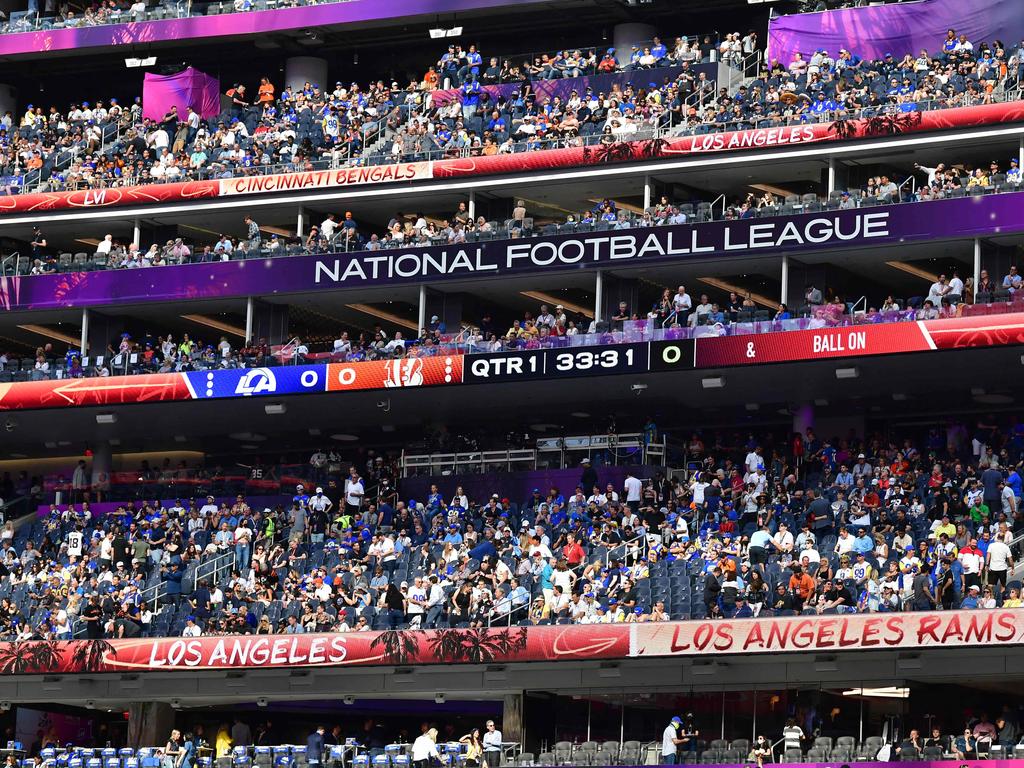 Fans are seen in the stands ahead of Super Bowl LVI. Picture: Frederic J. Brown/AFP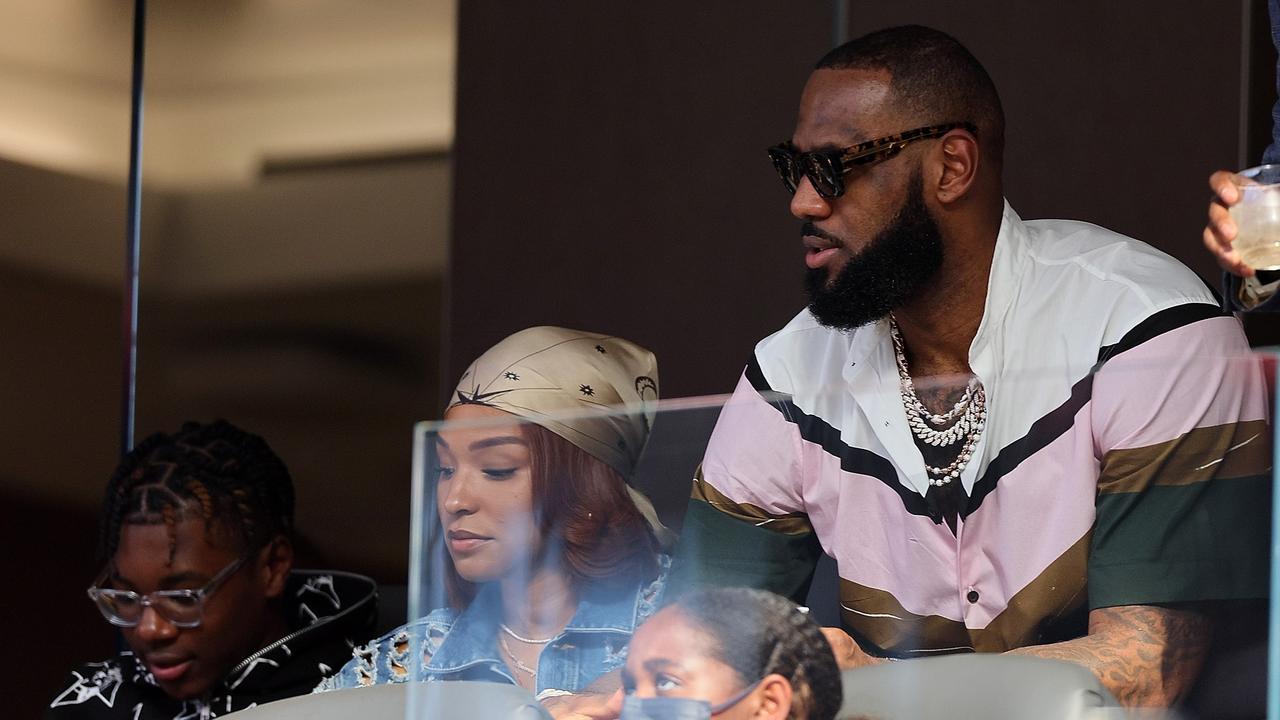 NBA player LebBron James attends Super Bowl LVI. Picture: Andy Lyons/Getty
9.59AM: ASTRONOMICAL PRICES AT SUPER BOWL STADIUM
With standard Super Bowl 56 tickets going for as much as $800USD and a corporate box yours for a cool $250,000USD, you would think the sparkling new SoFi Stadium in Inglewood, California could drop the food and beverage prices.
Putting the NRL and AFL to shame, a thirst-quenching craft beer - a California speciality - will set fans back $19USD ($27AUD).
But perhaps the most insulting price comes on the food menu with a caramel apple priced at $28AUD. That is one apple covered in caramel ... for $28AUD.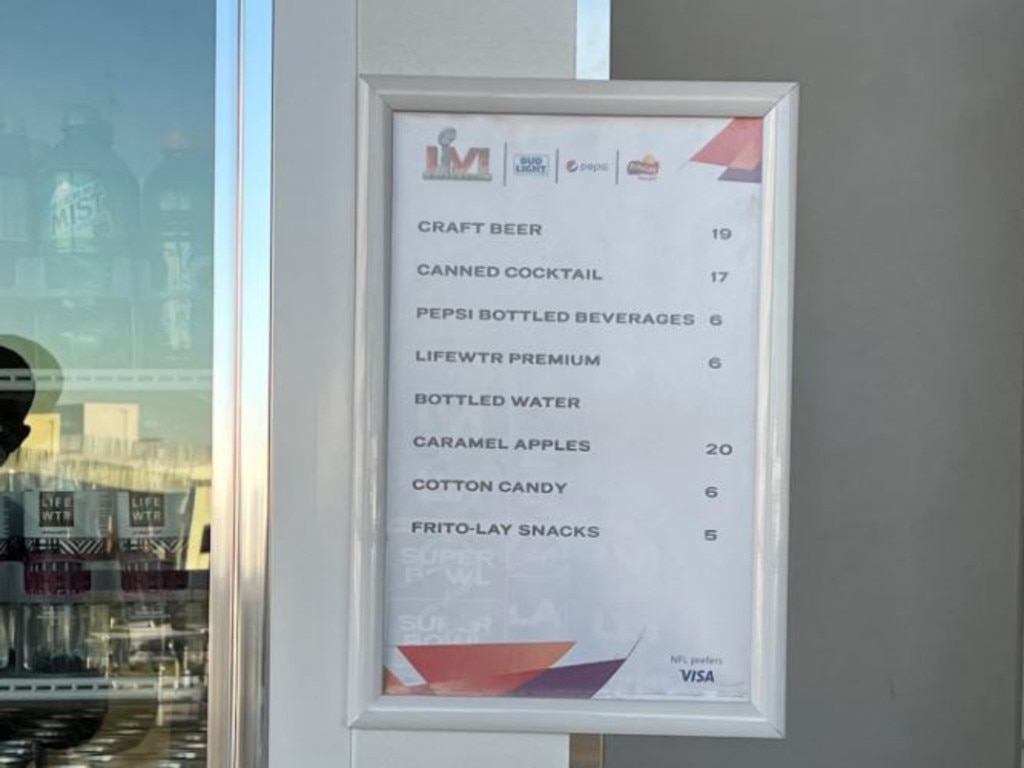 Super Bowl 56 food and beverage prices.
SUPER BOWL 56 - THE RUN DOWN
Los Angeles Rams face Cincinnati Bengals in America's biggest game of the year — Super Bowl 56.
More than 100 million Americans are expected to tune is as Matthew Stafford's Rams and Joe Burrow's Bengals do battle in the Super Bowl.
The stunning brand new SoFi Stadium in Inglewood, Los Angeles, will host the NFL's season-ending showpiece.
Here's all you need to know for Monday's (Australian time) extravaganza.
Stream all the action from Super Bowl LVI with ESPN on Kayo. Cincinnati Bengals vs Los Angeles Rams Live Monday 14th Feb from 10AM. New to Kayo? Try 14-days free now >
WHAT YOU NEED TO KNOW
When is the Super Bowl?
For Australian audiences, the SuperBowl starts today at 10:30am AEDT. The game is being held at SoFi Stadium in Los Angeles, the Rams' home ground.
What time is it in Australia?
The game starts at 10:30am AEDT but coverage will start before this.
Who's playing?
The Los Angeles Rams became the second team in history to reach a Super Bowl in their own stadium.
They followed in the footsteps of the Tampa Bay Buccaneers last year in booking their spot in the showpiece.
They won the NFC West division with a 12-5 record and then beat Arizona Cardinals, Tampa Bay Buccaneers and San Francisco 49ers to reach the Super Bowl.
This will be the Rams' fifth appearance in the Super Bowl and they've won it once before in 1999.
The Cincinnati Bengals, meanwhile, have never won NFL's biggest prize.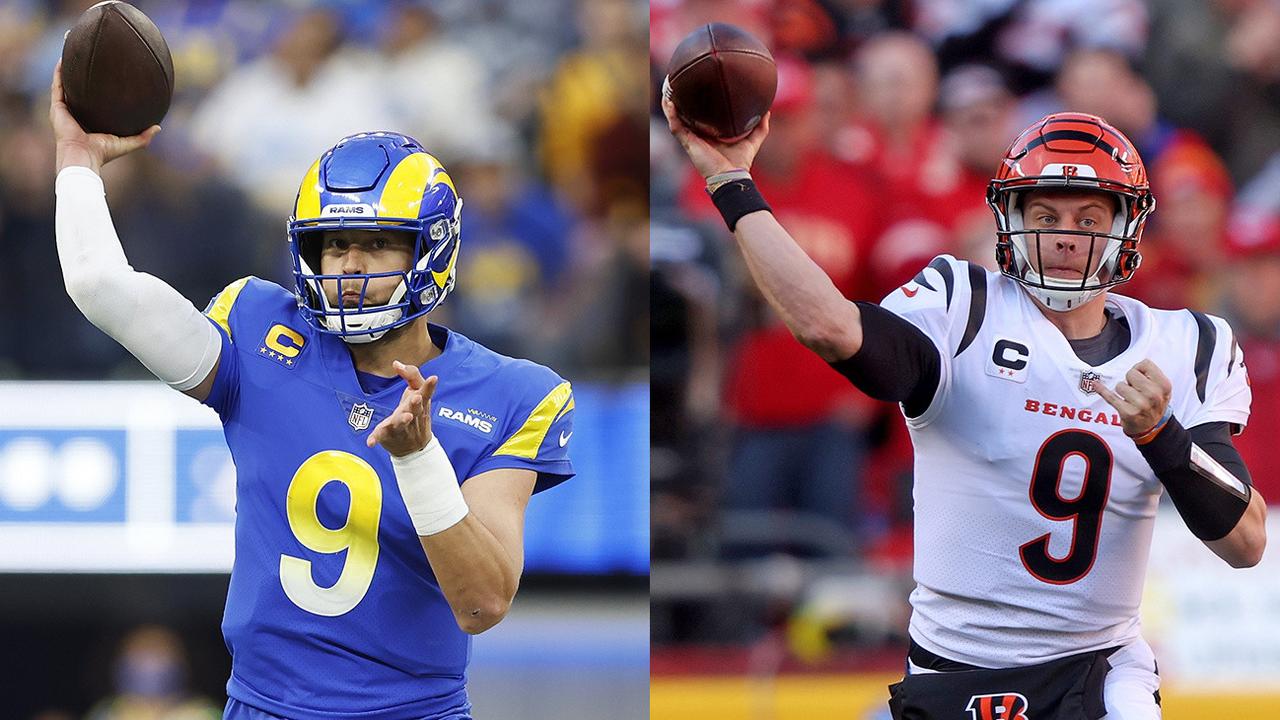 Rams quartberacl Matthew Stafford and Bengals QB Joe Burrow.
They lost both their previous appearances — both in the 1980s against the San Francisco 49ers.
The AFC North champions won 10 and lost seven of their regular-season games.
And they've had a heart-stopping route through the play-offs with wins over Las Vegas Raiders, Tennessee Titans and Kansas City Chiefs.
Those three victories came at a combined 13 points with the last two rounds coming down to a late field goal from Evan McPherson.
Who are the key players?
Cincinnati Bengals are led by their brilliant second-year quarterback Joe Burrow.
The 2020 No.1 overall draft pick has bounced back in style after his rookie year ended with a horror knee ligament injury.
He's been helped this year by the arrival of rookie wide receiver Ja'Marr Chase.
The pair won the national championship together in college, and have been reunited in the professional game.
Rookie wide receiver Ja'Marr Chase has made an instant impact for the Bengals. Picture: Getty Images
On the defensive side of the ball, defensive end Trey Hendrickson was voted to the Pro Bowl and will try and disrupt LA's offence.
There's a lot for him and the Bengals to try and disrupt against a star-studded team.
The Rams have a fearsome wide receiving corps in the shape of league leader Cooper Kupp, superstar Odell Beckham and the electric Van Jefferson.
Cooper Kupp has been in fantastic form all season for the Rams. Picture: Getty Images
Quarterback Matthew Stafford has big pressure on his shoulders after the Rams gave up two first-round draft picks for his services in the summer.
Their fearsome defence also features some of the biggest stars in the game in the shape of Aaron Donald, Von Miller, Jalen Ramsey and Leonard Floyd.
Where is it being played?
The epic SoFi Stadium will be centre of the sporting world on Sunday night.
The 70,000-seat arena in Inglewood was built by Arsenal and LA Rams owner Stan Kroenke and opened in September 2020.
It features a large canopy roof that can project content into the sky about LA, and a 120m long 4K video board inside.
SoFi Stadium is the biggest and most expensive stadium in the NFL and has set a new benchmark around the world.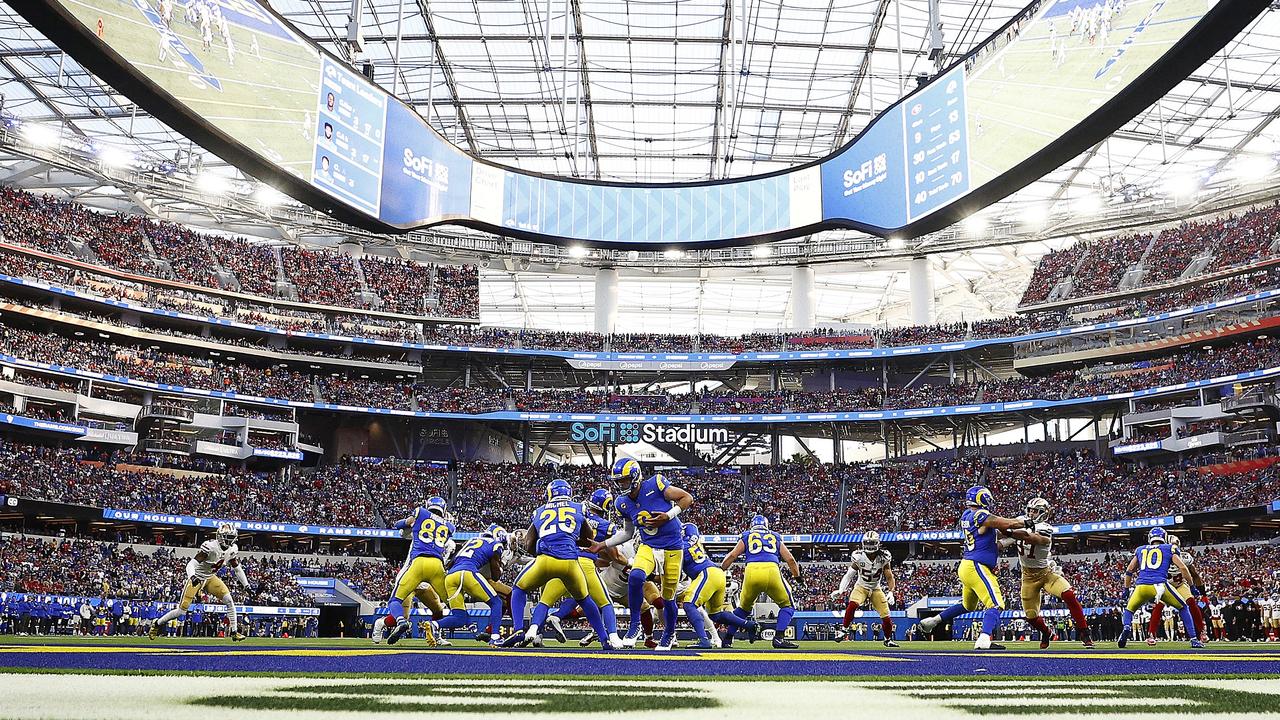 The Rams are the second team to play a Super Bowl at their home, SoFi Stadium in Inglewood, California. Picture: Getty Images
Who's performing in the half-time show?
This year's half-time show will feature a number of RnB and hip hop legends.
Dr Dre and Snoop Dogg will be joined by the likes of Eminem, Mary J Blige and Kendrick Lamar on the field at SoFi Stadium.
This story was first published by The Sun
Originally published as Super Bowl 2022: Controversial penalty ultimately decides Rams' win over Bengals