The Bengals were panned for 'wasting' a draft pick on a kicker but now, they look like geniuses
Evan McPherson was the only kicker selected in the 2021 NFL draft. He has become the unlikely hero of an unlikely championship contender.
Picking a kicker anytime before the very end of the NFL draft is usually a lot like buying sushi at the airport: It costs way too much, and it usually ends poorly.
The Cincinnati Bengals last year had the stomach for it. They took Evan McPherson, the most accurate field-goal kicker in Southeastern Conference history at Florida, in the fifth round. He was the only kicker selected in the entire draft.
The move was widely panned. Why would a team that had just four wins last season waste one of their precious draft picks on a position that can usually be filled scrounging for scraps later on or in free agency?
But McPherson has justified the Bengals' gamble. Cincinnati is playing the Los Angeles Rams in the Super Bowl on Sunday, and McPherson is among the biggest reasons why. He's the unlikely hero of an unlikely championship contender. He has converted all 12 of his field-goal attempts during these playoffs, giving him a chance to break Adam Vinatieri's record of 14 field goals in a single postseason. The Bengals' last two wins ended with kicks from his right foot.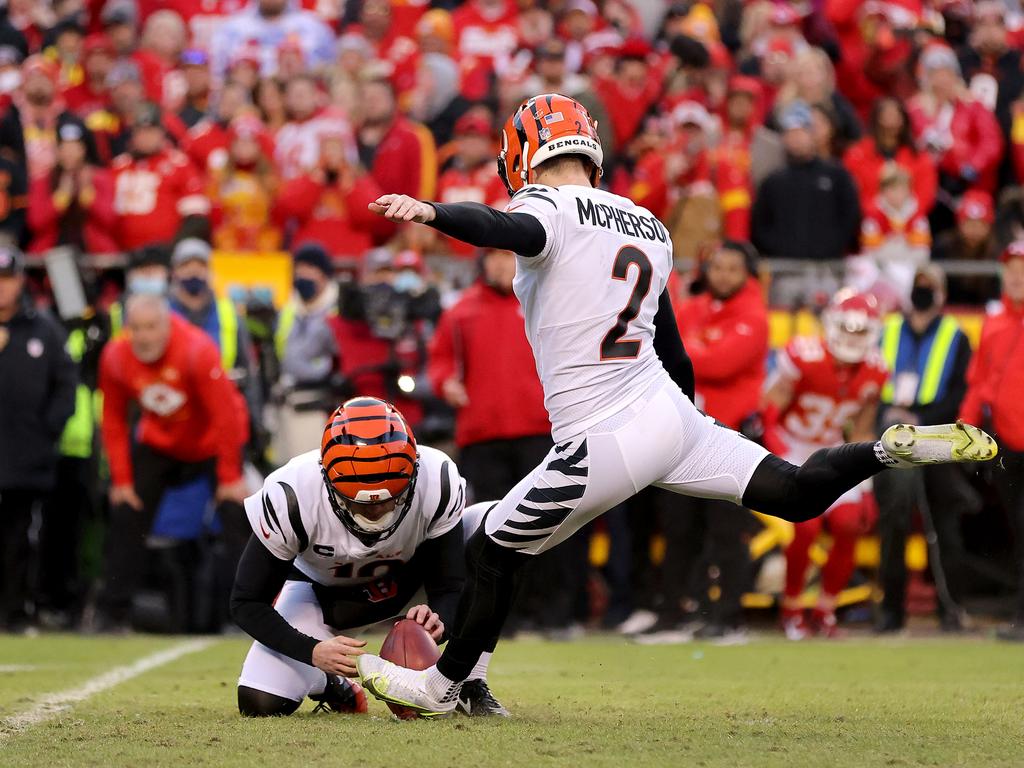 Kicker Evan McPherson is yet to miss an attempt for the Bengals this postseason, after signing with Cincinnati as a contentious draft pick. Picture: David Eulitt/Getty Images
His unexpected ascension to NFL stardom has helped give a historically hapless franchise a shot at its first title. It has also flown in the face of the conventional wisdom about finding kickers in the draft. The Bengals look like geniuses because they did something derided as wasteful.
"I think in the next couple years there might be a premium put on kickers," McPherson said. "We definitely could see more kickers get drafted." (One of them could be his brother, Alex, the top-ranked high-school kicker in the country, who is committed to Auburn.)
McPherson, 22 years old, solidified his burgeoning legend in the divisional round last month against the Tennessee Titans, the AFC's top-seeded team. The score was tied in the final seconds, with the Bengals needing to hit a 52-yard field goal to seal the win. There was one person who seemed absolutely certain that the difficult kick would sail through the uprights.
"Looks like we're going to the AFC Championship," McPherson told backup quarterback Brandon Allen before the kick.
He had already turned around to celebrate and didn't even bother watching as his prophecy became reality. A week later, his 20-yarder in overtime sent the Bengals past the Kansas City Chiefs and to this Super Bowl.
But before he was a rookie with unusual moxie on the biggest stage in football, he was already an unusual kicker. That's because he is a draft success story already.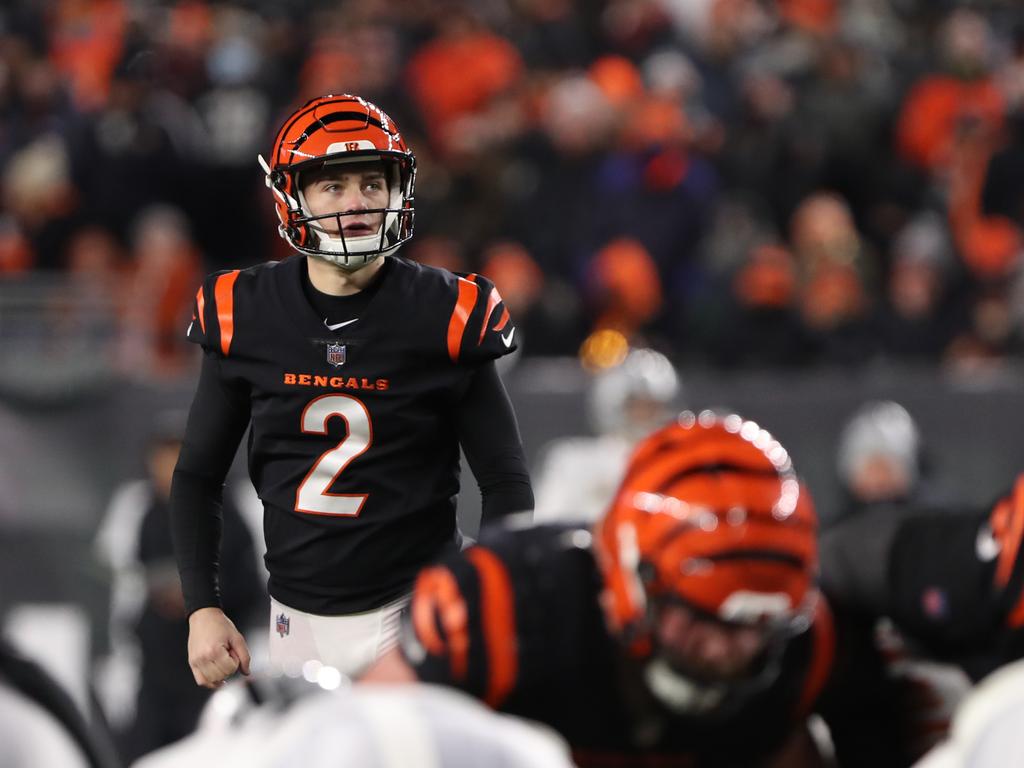 The Bengals decision to pick a kicker in the fifth round of the draft was panned, with the position usually a low-priority pick for most franchises. Picture: Ian Johnson/Icon Sportswire via Getty Images
There is a long list of reasons why drafting kickers before the very end of the draft can be inadvisable. It can be difficult to predict their success. Other positions are more important. And they need to thrive immediately.
NFL teams are willing to draft a quarterback, linebacker, lineman or nearly every other position and let that player develop over time. They can ride the bench, serve as depth and hopefully develop into valuable contributors in a couple years. But teams don't waste those precious roster spots on specialists who make a living striking footballs with their feet.
The problem for kickers is that many don't succeed right away. Only one kicker who made a field goal this season was drafted with a higher pick than McPherson: Matt Gay, also a fifth-rounder in 2019. He happens to be the kicker for the Rams. But he also exemplifies the fraught nature of this proposition. The Rams weren't the team that drafted him.
The Tampa Bay Buccaneers selected Gay and paid the price when he floundered as a rookie. He missed eight field goals and five extra points. They cut him in 2020. The Indianapolis Colts signed him, but he never made it off the practice squad. It took Gay until his third team to figure it out — and now he's kicking in the Super Bowl after a Pro Bowl season.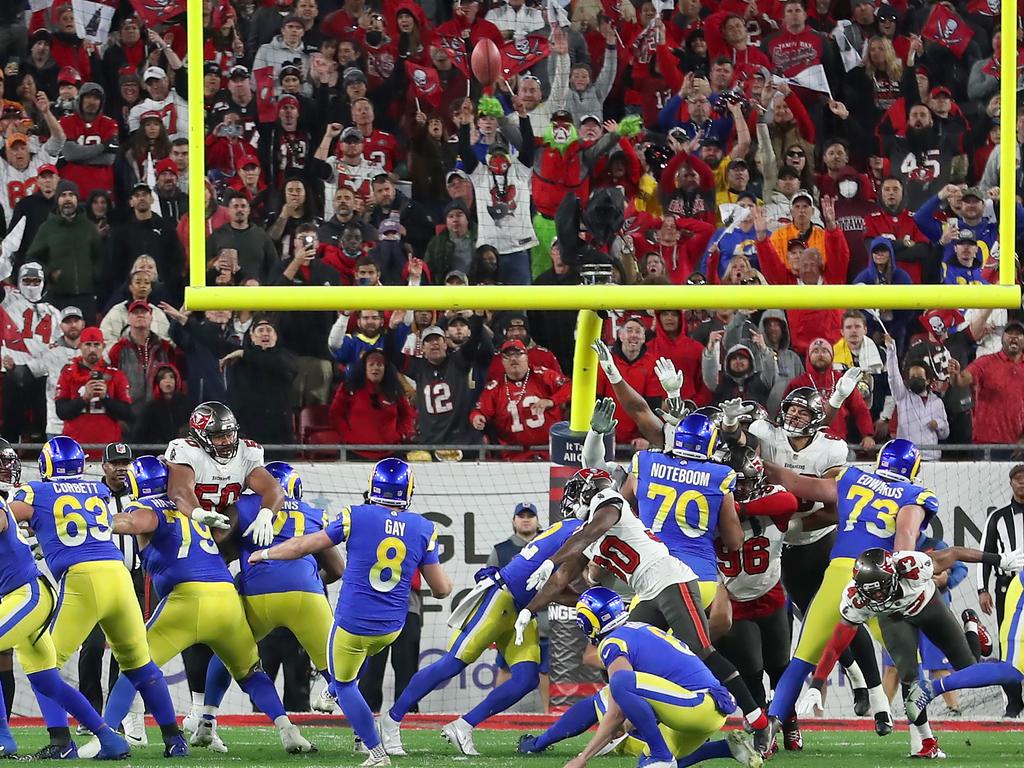 Matt Gay floundered as a rookie with Tampa Bay, but has flourished with the Rams. Picture: Cliff Welch/Icon Sportswire via Getty Images
At first, it looked like McPherson might experience a similar fate. Against the Green Bay Packers in Week 5, McPherson missed a 57-yard field goal that could have won the game in regulation and then missed a 49-yarder in overtime. On the second one, he began to celebrate with his teammates — he has a knack for turning around when he's confident the kick will be good — only for the ball to sail wide of the uprights.
It was an embarrassing moment for anyone, let alone a rookie just breaking into the NFL. It was also a seminal moment for him.
"The way he handled that portion of failure, I knew he was a special one," Bengals special team coach Darrin Simmons said. "The resolve that he showed after that, I knew we were going to be fine."
He would have had plenty of company if he had become a kicker draft bust. Before Tampa Bay drafted Gay in 2019, they took the extraordinary step of using a second-round pick on Roberto Aguayo in 2016. He was cut and hasn't attempted a kick since that rookie season.
That's actually normal. Young kickers have remarkably short lifespans with their original teams. Since 2010, there have been nine kickers other than McPherson who have been taken in the fifth round or earlier. They have lasted with their original team for an average of one season. Two never even played for the team that drafted them.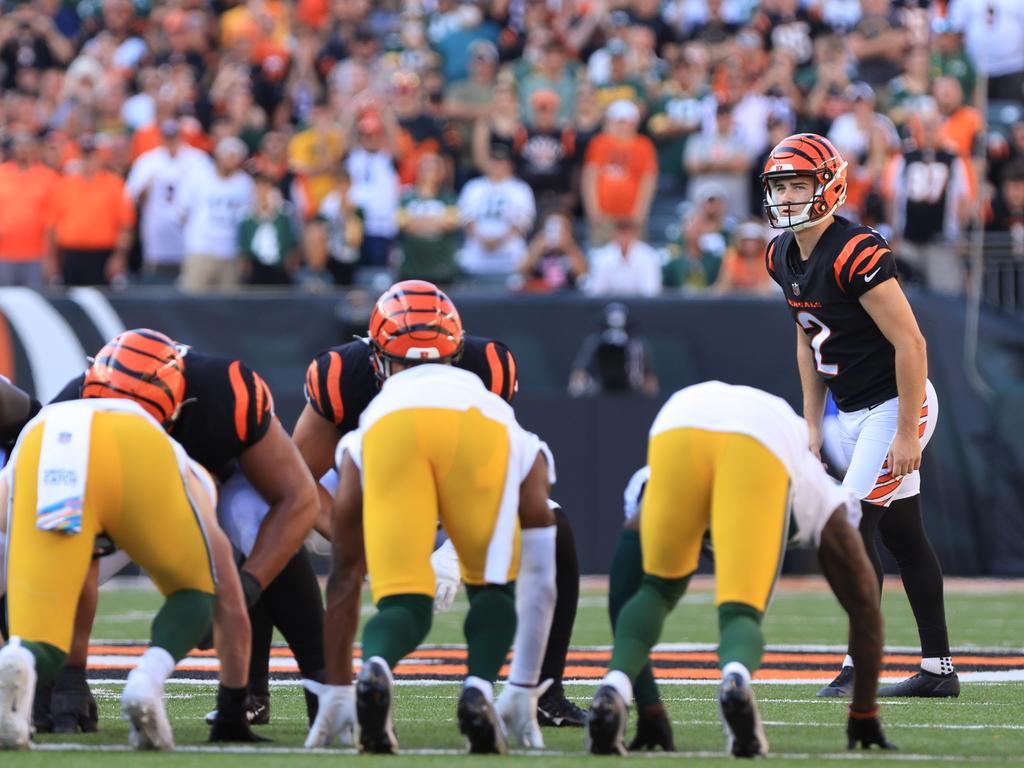 Evan McPherson hit a turning point after an embarrassing early celebration against Green Bay for a kick that missed the uprights. Picture: Ian Johnson/Icon Sportswire via Getty Images
Cincinnati was familiar with the phenomenon. Four years before the Bengals took McPherson, they used a fifth-rounder on Jake Elliott in 2017. But veteran Randy Bullock beat him out for the job in training camp. Elliott was waived and put on the practice squad before the Philadelphia Eagles snapped him up. Maybe the Bengals should have been more patient: Elliott went on to break all sorts of records for Philadelphia, including the longest field goal ever by a rookie and the longest one by a rookie in the Super Bowl.
When the Bengals saw McPherson available early in the fifth round in 2021, they couldn't wait to make the same bet again. "It just felt like we needed to get up there and get him," coach Zac Taylor said after the draft.
McPherson has already been worth it. He's on the verge of history. Before the postseason began, he became aware of Vinatieri's record. "That would be a pretty cool record to break," he thought.
On Sunday, there's a chance his record-breaking kick delivers Cincinnati its first ever Super Bowl win.
-The Wall Street Journal