Colin Ridgway: the cold case murder of a footy player turned Olympian turned Dallas Cowboy
A teen Olympian, a footy player with Carlton and the first Aussie to play in the NFL. Colin Ridgway is an Australian pioneer and his murder remains a great mystery in two countries.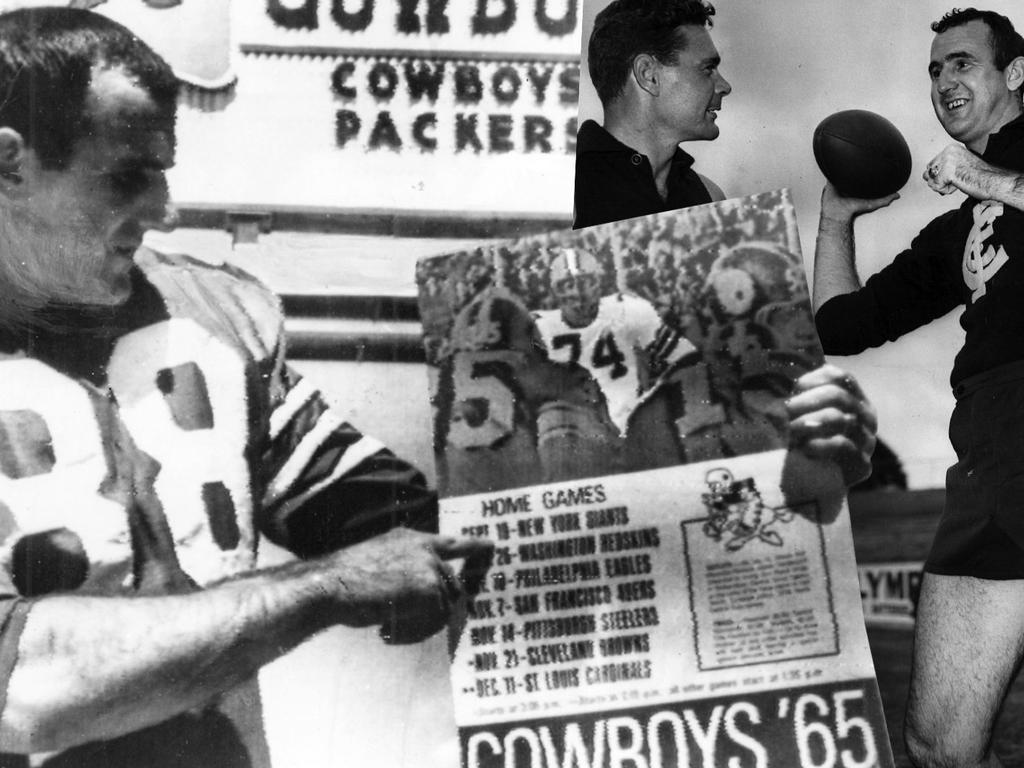 The first Aussie NFL star who ended up murdered
Colin Ridgway's forgotten time in the public eye began on the Melbourne Cricket Ground in the mid-afternoon of November 23, 1956, and ended with an ambush inside the home he was soon to quit in Dallas in May, 1993.
It began with him defying gravity and every expectation of his life and upbringing, and ended with him denying the unimaginable, up until the very moment it happened.
Along the way he made history, left a meteor-sized impact on the closed social pool of Dallas, built a business and watched it collapse, found and nurtured a pod of friends and became the centre of their world, acquired an instant family and a life partner who would eventually stand accused of being involved in the murder (a grand jury ultimately declined to indict her after she invoked her American constitutional right against self-incrimination).
It's not that they don't make them like that anymore, but that every aspect of the life Colin Edwin Ridgway lived and made was so improbable as to deny replication: 17-year-olds don't make Olympic finals, footballers don't play their first-ever game of gridiron in the NFL, lone gringo travellers don't survive an armed kidnapping in the empty foothills of Mexico's Sierra Madre mountains.
The photos from the scrapbook his stepdaughter compiled for his friends, and the descriptions of those friends suggest a cheery, but far-from-handsome face, gradually receding hair, a prominent nose restored by plastic surgery after it was flattened by a pistol whipping, but still no ornament, the darkest of eyes, matched in later years by a coal-black moustache above make-do dentistry revealed by a near-permanent smile.
An Australian accent, an undeniable physical presence, and the imprimatur of "America's Team", the Dallas Cowboys. It was catnip in Dallas. Colin Ridgway liked women. They liked him.
He was in the hinterlands between the end of a marriage and the resumption of an affair when he bounded up the stairs of the duplex at 4100 Emerson Avenue, University Park, an affluent Dallas suburb on that Thursday night.
It was 10.30pm. He left his car parked at the kerb. Moments later, a downstairs neighbour heard voices, then a loud thump.
That was the sound of Colin Ridgway, 200cm and 110kg, felled by four bullets, hitting the floor. Three more would be fired into the right side of his head.
By any measure it was an execution.
At 5 o'clock the next morning, the phone rang at Michael Gerety's home in Sherman Oaks, a Los Angeles suburb. It was 7am in Dallas. On the line was Bart McLendon, part of the riotous group that orbited Ridgway throughout his life in Texas.
Colin Ridgway had bared heart and soul to Gerety over the years, confiding his worst experiences and deepest fears. Joan Ridgway, too, was a frequent caller, emptying herself over the phone to Gerety as her marriage to Ridgway cycled through flat lines of separation, and brief, tumultuous periods of reunion. He was best man at their wedding.
"Colin's been shot," Bart McLendon said. "He died."
Gerety responded, reflexively: "Did Joanie do it?"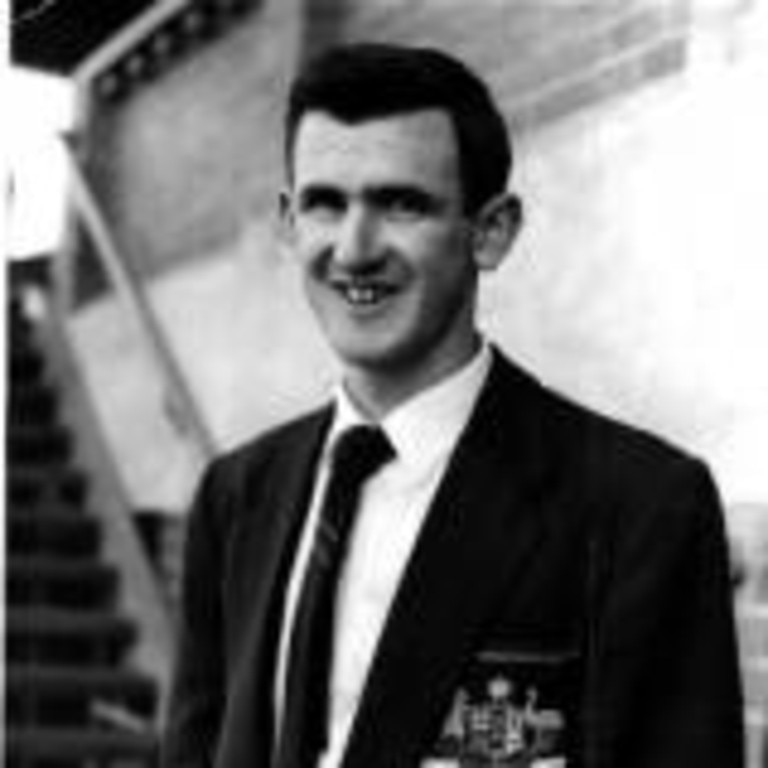 Colin Ridgway in his 1956 Melbourne Olympic Games blazer. Picture: File
Think big
The story begins with a lanky teenager lounging in the grass at the eastern end of the MCG; the best seat in the house for the first great showdown of the athletics events at the 1956 Olympic Games.
He had every reason to be pleased with himself.
What he had done defied expectations then and seems inconceivable to this day – a 17-year-old reaching an Olympic final.
The teen's name was Colin Ridgway, a local boy from the-then unfashionable northern suburb of Coburg, best-known as the location of Pentridge Prison.
He had cleared two meters to finish equal seventh in the high jump.
The competition continued.
Charles "Chilla" Porter, his friend and rival from Brisbane, lifted by adrenaline, competition, and the urging of 60,000 countrymen, was jumping out of his skin, eclipsing his previous best height three times.
But for every clearance and every roar for the 20-year-old Australian, Charley Dumas, the 19-year-old American, came back, always in control of himself and the moment.
Melbourne was its usual spring self that day, top temperature in mid-afternoon of 14 degrees, dropping quickly with the setting sun and the rising breeze, catching the out-of-towner and the unprepared alike one layer short of situational readiness.
Dumas jumped 14 times that afternoon and evening.
After his own elimination, Colin Ridgway watched carefully … there.
The American slowed in the final three steps of his approach to the bar, gathering himself like a rising wave.
And he seemed so certain.
He practised what he called "temperamental control".
Don't see the obstacle, see the clearance, the American athletes counselled their Australian rivals as they practised and socialised together. "Think big."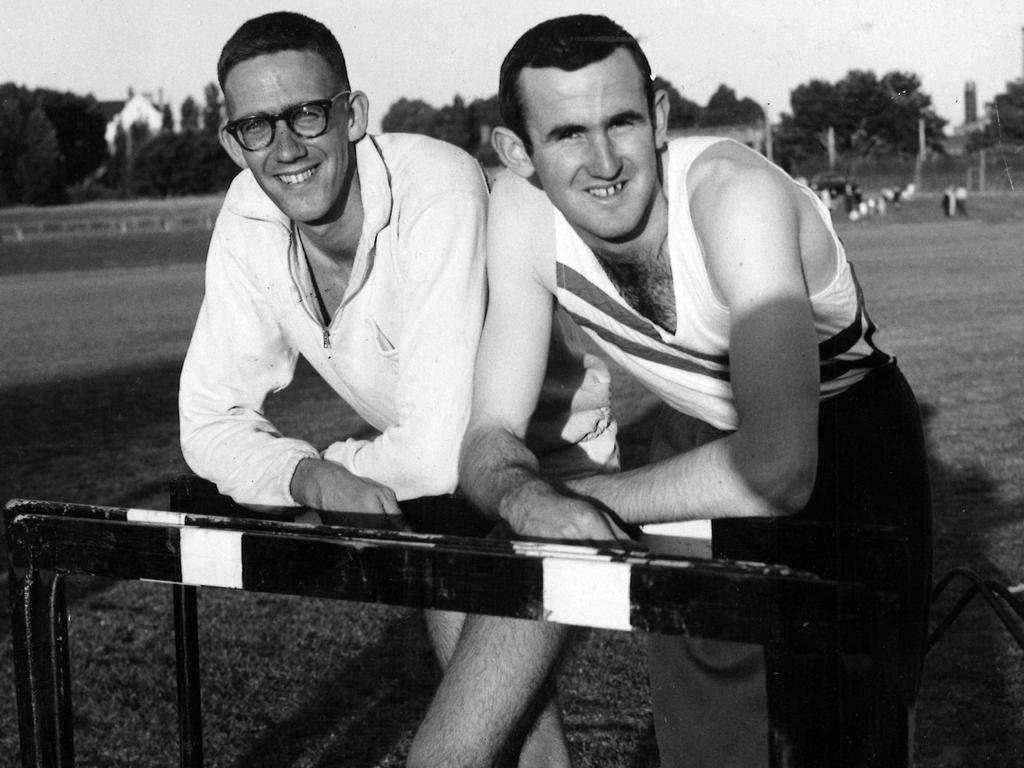 Ridgway (R) and Chilla Porter after their high jump event at the 1956 Olympics in Melbourne. Picture: File
Colin Ridgway, orphan, apprentice plumber, athletic prodigy over the high jump and on the footy field, listened and learned.
Ten years later he would be back in Melbourne, proposing a two match tour of Australia by a pair of National Football League teams, one of them his own, the Dallas Cowboys.
By the late 70s, his travel company had outgrown the usual means of transporting its growing pool of customers. "He bought a 707!" His friend Bart McLendon, still disbelieving the audacity of his friend's ambition, decades later.
Take nothing for granted
It took time for that philosophy to evolve.
In the year after the Olympics, Ridgway was offered an athletic scholarship at the University of Michigan, an American academic and sporting powerhouse.
Ridgway agonised for weeks over the choice and finally declined.
In so many words, the former Preston Tech student doubted his intellectual chops.
He also wanted to complete his plumbing apprenticeship, he said in an interview, "so that whatever happened in the future, he would always be a qualified tradesman."
That lesson went back to childhood.
There were no head starts. Home was Budd Street, Coburg.
His father was out of the picture, his mother died of an apparent stroke when he was seven years old. He was raised by his sister, Wilma, and her husband, Kevin Dixon.
One of Ridgway's mates from first grade and thereafter for life, was Lindsay Fox, the trucking magnate.
He, too, would show what was possible.
Nothing could be taken for granted.
A plumbing and gasfitting apprenticeship was the pathway to a steady, if physically difficult job, and that was an opportunity to be seized and cherished.
Athletic prowess was a given, even before the Olympic final.
At 15 he was included on the Carlton Football Club "senior list" from which its best players were chosen. He had already represented Victoria in junior football, aged 14, as a ruckman and full-forward.
But the best that Carlton, indeed any Victorian Football League club, could offer, was five quid a week.
Even with the money, the values of the day were both amateur and farsighted: sic transit gloria mundi. Enjoy it while you can; know that it probably won't last.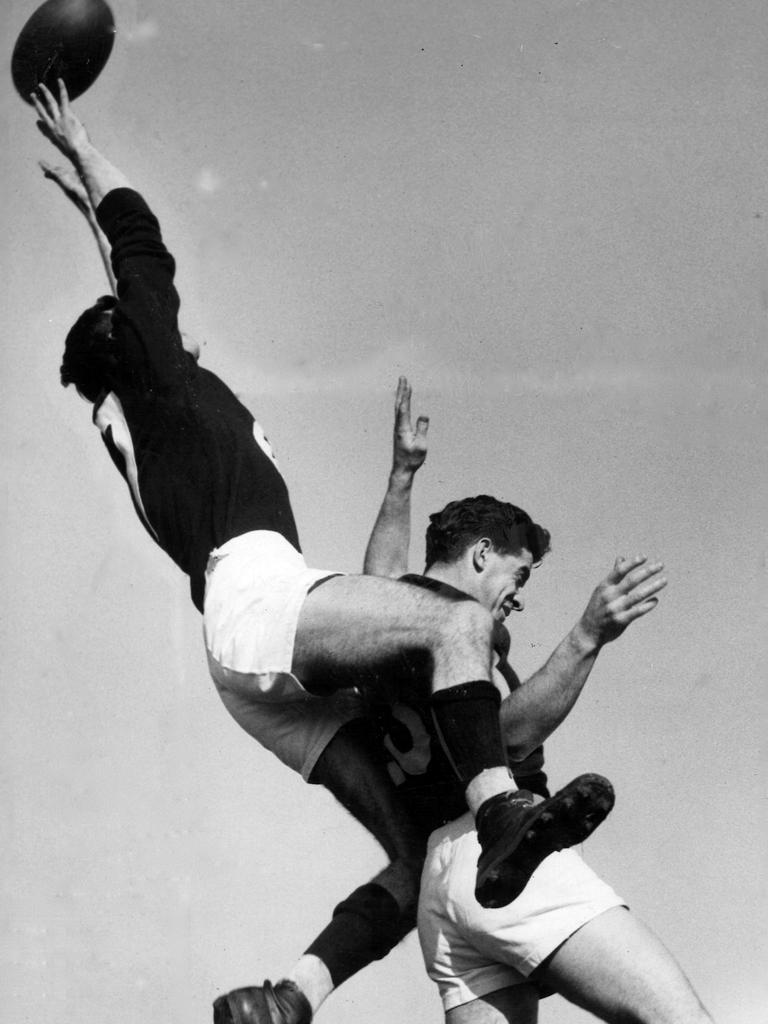 Colin Ridgway, 18, rising over Carlton winger John Chick at training. Picture: Bob Buchanan
That was true of national selection as well.
Ridgway was left out of the Commonwealth Games and Olympic teams in 1958 and 1960, playing reserve grade for Carlton and dabbling briefly in the decathlon under the guidance of his Preston Amateur Athletic Club coach, Gary Hardiman.
He visited the Rome Olympics on a busman's holiday, still training with the best in the world. With the Games already underway, he cleared 2.11 metres in practice, high enough for fourth place in the high jump final.
Ridgway lived in London for a time after the Olympics.
There he met Ralph Higgins, the athletics coach of Oklahoma State University.
There was mutual interest, but strict rules governing the recruitment and overseas athletes meant Ridgway would have to forfeit one year of the four-year athletic scholarship Oklahoma State was prepared to offer.
The coach recommended Ridgway to Ty Terrell, the athletics coach at Lamar Tech, a lower-level institution not bound by the same eligibility requirements, in Beaumont, Texas.
Ridgway had his athletics scholarship, and Lamar had landed a mature-age economics student whose talent would reap it national attention.
Ridgway announced himself the following year – March, 1962 – at the Border Olympics, an annual sports meeting of the smaller Texan tertiary institutions in Laredo.
His clearance of 2.15m, or half an inch over seven feet – a benchmark as fabled in its day as the four-minute mile – with room to spare, was one of only three in the world that year. It would have won him the bronze at the Rome Olympics and placed him in the finals of the next three.
At that point, though, Ridgway was content to default to earlier goals.
"When I was a kid I had an ambition to jump seven feet and play league football," he said. "I've achieved one of those ambitions. I'll be back in Melbourne when I'm about 25, and then I hope to achieve the other."
He was then 23 years old.
Boomer
To support himself at Lamar, Ridgway worked variously as a typewriter repairman, 20 hours a week for Remington Rand, and as a part-time salesman for International Harvester.
By way of diversion, there was an American football and an empty playing field.
There's no good answer as to why a guy who could kick an ordinary football 65 meters would have been overlooked for the punting position on Lamar's football team. While anything but fragile, the perception of anyone competing in athletics as a sports car frolicking among semi-trailers may have had something to do with it.
Ridgway was about to graduate from Lamar in mid-1964 with a degree in economics. As with any university graduate, the horizon appeared distant, the path to it invisible, and the options limitless.
Teammates on the athletic squad saw him kicking an American football by himself on a vacant field one afternoon.
The sequential photos later taken of Ridgway showed textbook balance and technique, for either a punt or a drop kick.
With time to settle and relax, his kicks were a thing of distance, beauty and precision.
Those who saw it marvelled and encouraged.
The revs prompted Ridgway to get in touch with the nearest pro team, the Houston Oilers of the American Football League, in September, 1964.
As with pro basketball, football then had two distinct professional leagues.
The National Football League was older and arguably better established, with name brands like the New York Giants, the Green Bay Packers and the Cleveland Browns.
It was also the home of the fledgling Dallas Cowboys.
The American Football League was newer, more easily accessible to wealthy men who felt their city should have a pro football team, and, as mentioned above, host to the Oilers.
There was plenty of Texas for everyone.
It was big and empty, its cities far-flung, and its primary source of wealth in the process of transitioning from cattle to oil. Houston and Dallas, nevertheless, each viewed the other as a speck in the eye. The enmity of Collingwood and Carlton, or Manly and Wests goes some of the way to explaining the how and why of this mutual dislike, which Ridgway put to his repeated advantage.
The Oilers said no, and eventually yes, after a second approach. The audition was held before Oilers coach Bones Taylor on a wet slippery field, with the pill somewhere between soap and stone. The drop kicks failed to impress, but the punts were a sight to behold. As a bonus, he also ran 100 yards in under even time. The Oilers were astounded, promises were made and a contract brandished, but, fatefully, not signed.
The story of the mystery kicker from the other end of the world was too good to be kept under wraps. It made the back page of the Houston Chronicle and shortly thereafter, the front office of the Cowboys, who inked Ridgway's signature on the basis of a brief demonstration in front of the team's coach, the soon-to-be legendary Tom Landry.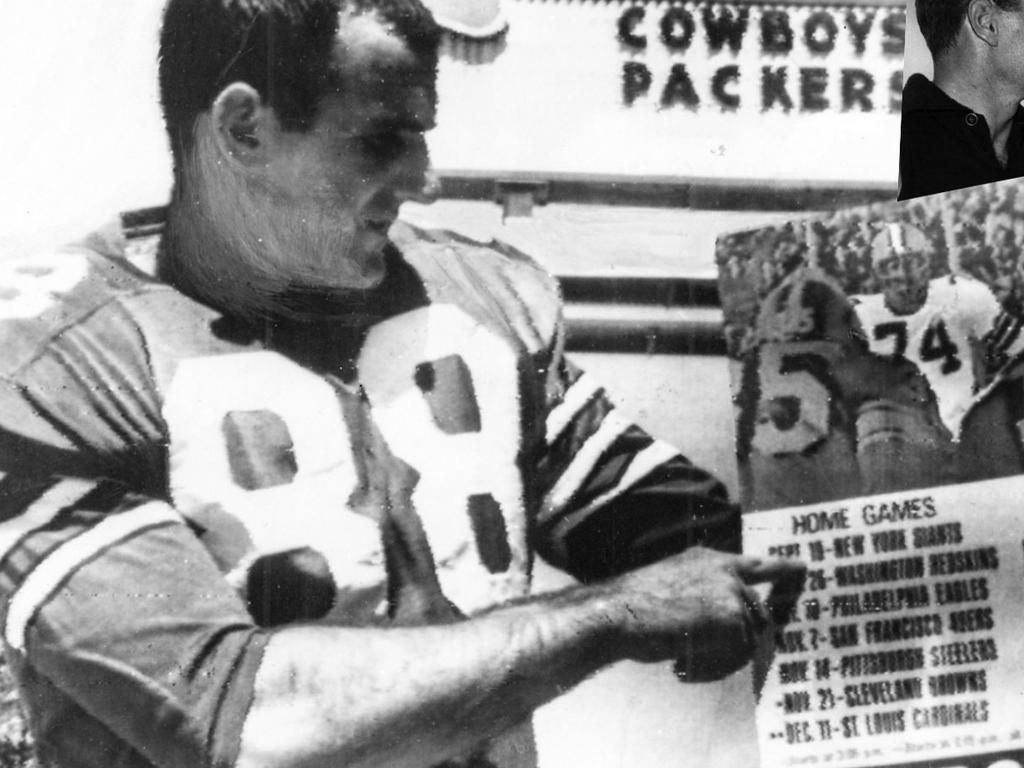 Ridgway points to a sign listing Dallas Cowboys' 1965 home games two days after beating the Green Bay Packers in an exhibition game. Picture: File

"I realise I'm not very popular in Houston right now," Ridgway said. "Actually, I regret that because the Houston club was real nice to me. It was just circumstance, you might say, that I signed with Dallas."
Unfortunately for both parties, no one had read the fine print in the Ridgway story. Yes, he had a right leg like a howitzer, and was built to NFL specifications, but he had never played a game of American football.
"I'm not really sure of the best way of holding the ball," he said after signing with the Cowboys. "I've been doing a lot of experimentation, trying to find the best combination. Every once in a while the ball drops right and I get off a beautiful spiral, but other times it's rather wobbly."
"This guy is a natural," Landry declared. "What he doesn't know, we'll teach him." You could understand the enthusiasm. The players and coaches bestowed a nickname to acknowledge the explosion of sound he generated when the ball left his boot, Boomer.
But here was where two completely different sports cultures met, with predictably messy results.
Punters were afterthoughts on pro teams. The numbers were as follows: 11 players per team on the field at a time; 11 defensive specialists, 11 offensive specialists, with backups for most positions, or three in the case of the quarterback. The squad limit was 40 (now 52). Kick-offs, conversions, field goals and punts were handled by the same player. Ridgway possessed all of the possibility, but none of the trained skills and the numbers were against him.
He was a long shot who the Cowboys believed was a certainty.
Tom Landry (L), head coach of the Dallas Cowboys, was a big believer in Ridgway's potential. Picture: Focus on Sport/Getty Images
Oh my God! It's coming back!
Ridgway ended up playing six games for the Cowboys: three exhibition, or pre-season, games and three regular season.
The potential was clearly there, but the results were mixed.
For every booming spiral that had the receiver from the arch rival Green Bay Packers back-pedaling, there was the hurried miskick caught in mid-air by a howling Pacific Ocean gale at the San Francisco 49ers home ground, Kezar Stadium.
Cowboys centre Dave Manders heard the anguished cry in an unmistakeable accent as he and his teammates sprinted after the kick. "Oh my God! It's coming back!"
There was a very American sense of certainty and optimism in Landry's comments about Ridgway. "We'll coach him up."
No project so difficult, no potential so hidden that it couldn't be worked and polished, put on the production line and run out before the public.
The Cowboys broke even for that season, 7-7.
Their glory years, when they would reach the Super Bowl five times (two wins) in nine seasons from 1970 and establish themselves as "America's Team" were not yet a glow on the other side of the horizon.
Viewed in statistical, rather than historic terms, Ridgway's part in this ascension was minor, at best
His three games were on consecutive November Sundays at the venerable Cotton Bowl before crowds of around 67,000.
In two of those games his opposite number had a higher average for punting distance.
In the other, his debut, the 49ers kicker also doubled as a punter.
His single punt of 34 yards compared favourably to Ridgway's two for an average of 36.5.
On his post-season return to Australia in early 1966 Ridgway spoke with awe and admiration of the size and speed of both his teammates and the opponents: 205 centimetres (maybe a slight exaggeration), and 150-plus kilograms, (probably not).
"When they meet, it's just like two trains coming together," he said.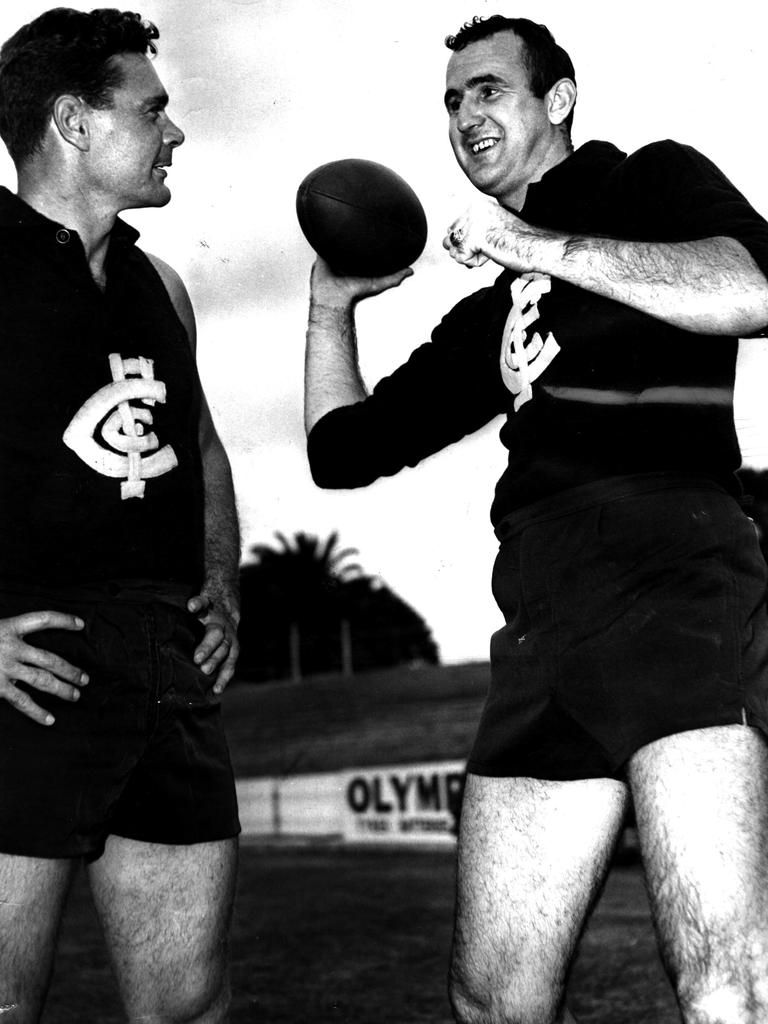 Carlton reserves player Colin Ridgway showing Ron Barassi how to play American football. Picture: File
He also touched on the punitive approach to discipline – $25 for each minute late to training or a team meeting, $1000 for fighting during a game, $1000 if caught gambling in any form.
What he didn't mention was an unyielding formula for measuring the worth of players like him – gross yards and nett yards. The gross was the cumulative distance of the kicks, the nett was the gross minus the return yards.
The numbers gave no reference for how much or how little time Ridgway had from the instant the ball was snapped, whether he caught it cleanly or fumbled slightly, whether, in those split seconds, he was balanced and set, whether his eyes strayed left or right at the giants charging toward him from their defensive formation as he tried to grip the ball, or scrambled and kicked wildly and blindly as they closed.
Neither were they definitive about when the Cowboys' coaching staff had seen enough, but it may have been just before half time of the third game, against the Cleveland Browns, when Ridgway's punt was returned 67 yards, or two-thirds of the length of the field, for a touchdown.
The Small Time
A movie of the day would have shown a map of the United States, with place names highlighted, and arrows showing the path of Ridgway as he bounced across Texas, and then the country over the course of his athletic and football careers.
The last stop on that map would be Savannah, an historic and picturesque coastal city in Georgia.
Ridgway had been sent to further his craft with the semi-pro Savannah Chiefs of the North American Football League for the 1966 season.
It was the equivalent of a newcomer to any of the winter codes in Australia being banished to the Riverina to try and sort their game out. Semi-professional leagues were rising and, as quickly, falling all over the United States.
There were so many college football teams, of whom one per cent of their players would make it to the pros, and so many others unwilling to let their dreams die just yet, that there were always enough warm and willing bodies, as long as someone could provide a field, an opposition and some cash.
The available statistics show that Ridgway, listed at 200 centimetres and 83 kilograms, from Lamar – no mention of the more exotic origin of Coburg – was one of the oldest players on the team at 29.
After the Cotton Bowl, it was The Small Time, with crowds of 5500 for the first two games against the Chattanooga Redskins and the Huntsville Rockets.
What little can be found about the Chiefs suggests a certain ad hoc approach to its formation. The coach, Bud Herrin, was also at the helm of the Chattanooga Redskins for four games, and then three in Savannah before he was replaced by an assistant coach.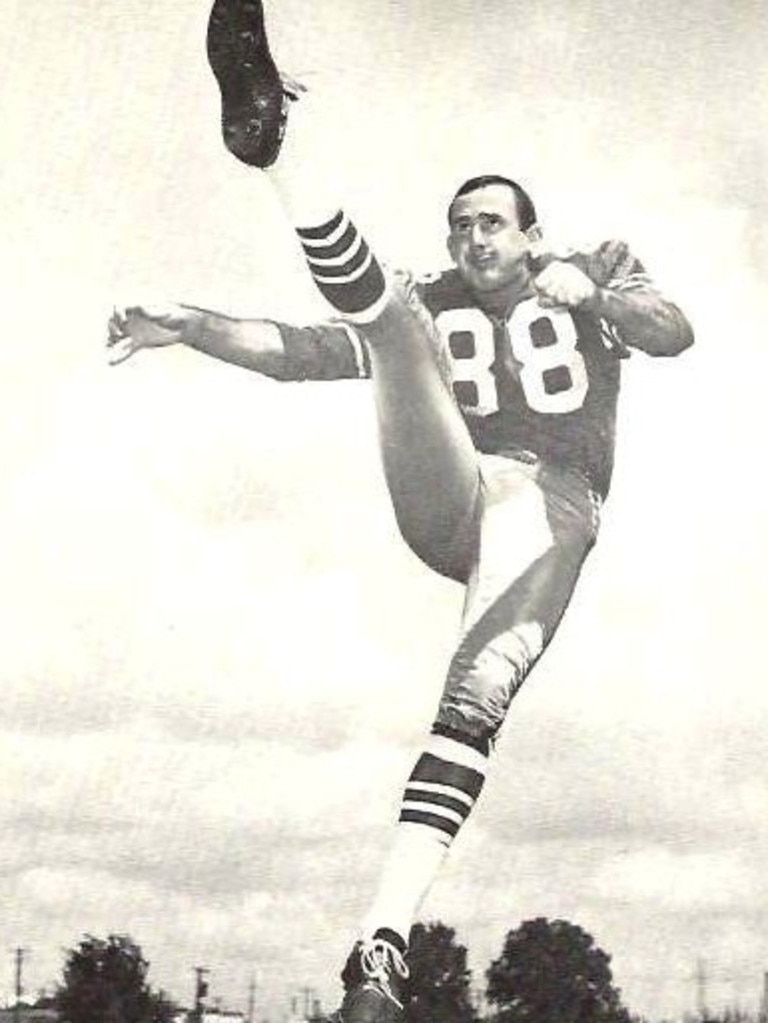 Ridgway's punting form was a sight to behold, and it was enough to see him land a deal with the Cowboys. Picture: File
Even more than the wins and losses, the attendance figures told their own story: 2401 in a win over Jacksonville, and finally, three weeks later, 1093 in a loss to the Lakeland Brahmans on September 24, 1966.
The remaining four games were cancelled. Colin Ridgway's professional football career was over.
But during and after that time, Ridgway was making friends.
The origins of those relationships were humble – Bart McLendon was a locker room attendant for the Cowboys, Bob Lilly was a teammate, and not yet the NFL superstar he would become, Mike Gerety was a regional executive for MGM when Ridgway made a cold sales call.
The test of friendship is how long it lasts, what differences it transcends, and how much of each person it gives and takes.
This appears particularly true of Ridgway and his mates in Dallas.
He wrote a four-page typewritten letter to Gerety in August, 1983, describing his ordeal in Mexico, earlier that year, and recalling his most intimate thoughts.
"How would it feel to die?" he asked himself at the worst moment, when death appeared certain. "It probably wouldn't hurt for very long.
Maybe I would soon know the answer to some of life's most guarded mysteries. (Now that is the definition of an optimist).
Even considering the bleakest possibility, the thing I noticed most was that I wasn't frightened. I wasn't frightened of the five men who had captured me and I wasn't frightened of dying."
What makes Colin Ridgway memorable and his life story so compelling is not just the achievements – reaching the peak and making history in two totally unrelated sports (athletics and the NFL) with Carlton and the VFL beckoning – but that he tested the limits of his luck, intellect and personality, and then made them work in the one place where that would be recognised.
"It clicked for Colin with me, like no other friends I've ever had," said Bart McLendon, a Dallas businessman.
"He was probably the best friend I'll ever have – as charismatic and friendly and warm as anyone I've ever met.
"He was a natural-born salesman. He could sell water in the ocean, sand in the desert. He was truly extraordinary."
"If you met him once, you'd never forget him.," said Michael Gerety.
"He was larger than life and a lot of fun."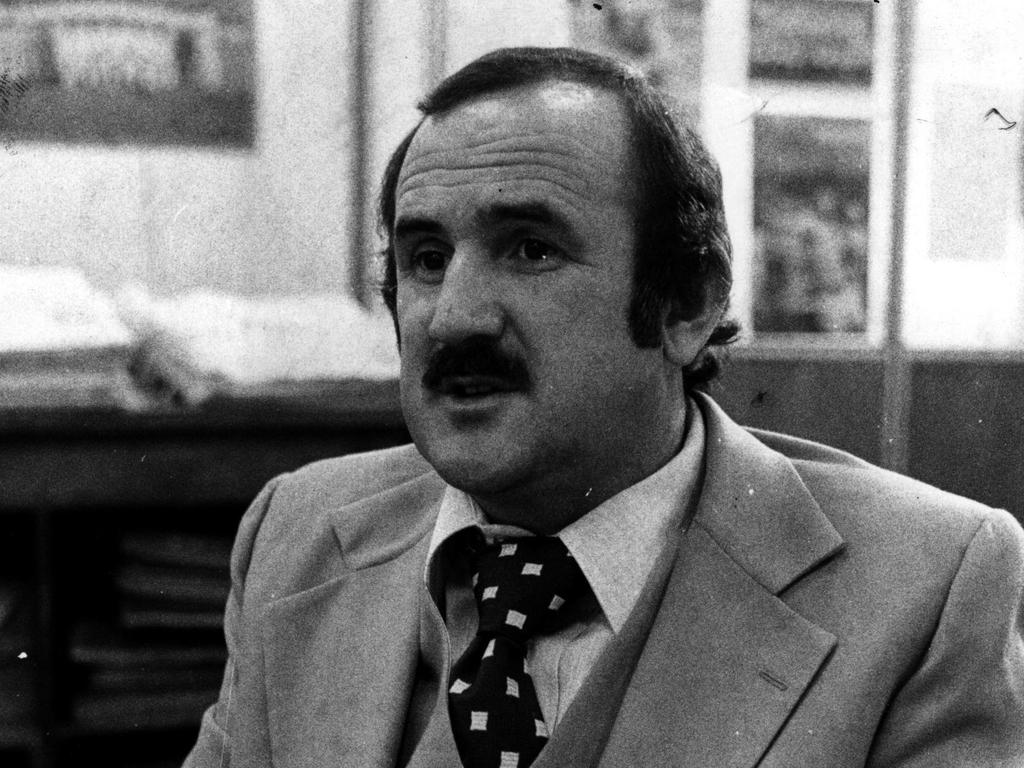 Ridgway became a successful businessman in Texas after his athletic career. Picture: File
By his friends' accounts, Ridgway was drawn to attractive women, in and out of marriage. One of them was Joan Jackson, a divorcee with two daughters from that marriage, sort-of fell for him. ("I didn't need anyone," she said in a TV interview on the anniversary of his murder. "My life was so perfect.")
They were married at sunset on a mountain in New Mexico in the summer of 1977.
Her daughters picked wildflowers for the ceremony.
He was 38, she was 37.
Joan was a talented painter. As with the canvases, she had a tendency to create her own story from nothing - a portrait hung in the Smithsonian Museum, a place on a prestigious Texas arts council, both untrue; a public and heartfelt embrace of religion that was belied by distinctly worldly behaviors.
Theirs was a tempestuous relationship and, when Joan and Colin got back together again after a period of separation, she increased her husband's life insurance policy to $US570,000 six months before his death, but it was soon apparent that the marriage was floundering.
"Joanie would call, crying over the phone," Mike Gerety recalled. "It never made sense, just that she was beside herself."
Joanna Windham, who appointed herself spokeswoman for Joan after the murder, said Ridgway had already moved most of his belongings out of the duplex.
"He was done with her," D.J. White, a friend of Colin's said after the murder. "They were no longer husband and wife."
COLD CASE MURDER OF COLIN RIDGWAY, PART II: Kidnapped in Mexico, murdered in Dallas