The star receivers the Rams and Bengals rode all the way to the Super Bowl
Cooper Kupp. Odell Beckham Jr. Ja'Marr Chase. Tee Higgins. The Rams and the Bengals made the Super Bowl because they won an arms race for receivers.
Back in November, the NFL team that behaves like a mad scientist conducting a laboratory experiment added a combustible ingredient to its unusual formula. The Los Angeles Rams signed Odell Beckham Jr.., the talented and mercurial wide receiver, and it was a curious decision for a team that was already stacked at the position.
It was part of a realisation that has swept across the most successful teams in this sport, and that also includes the Cincinnati Bengals. The high-octane offences that dominate football don't just need the right quarterback. They thrive with an armada of top-shelf players to catch those passes.
It's part of a paradigm that sent Tom Brady and the Tampa Bay Buccaneers home with last year's Lombardi Trophy and drove the Rams and Bengals to this year's Super Bowl. There is an arms race for hands.
"We value explosive skill players that help us move chains, gain chunks and or score [touchdowns]," Rams general manager Les Snead said.
Los Angeles has Cooper Kupp, the NFL's most productive wide receiver in 2021, and added Beckham to a group that already had several solid options. A year after spending the No. 1 overall pick on Joe Burrow, Cincinnati made receiver Ja'Marr Chase the fifth pick—and he emerged as one of the most dominant forces at his position inside a deep receiving corps.
Cooper Kupp was the best wide receiver in the NFL through the regular season, earning himself the 'triple crown' of stats for most receptions, receiving yards and receiving touchdowns. Picture: Ronald Martinez/Getty Images
The Rams and the Bengals also happen to be the two teams that exploit their array of weapons more than anyone else. Los Angeles used "11 personnel"—which is football gobbledygook for one running back, one tight end and three wide receivers—on 83% of their offensive snaps, according to NFL Next Gen stats. That's the highest rate in the NFL, and the team second will be on the opposing sideline Sunday. The Bengals used that personnel grouping 77% of the time.
"It's a position where you can't have enough," said former New York Jets and Miami Dolphins executive Mike Tannenbaum. "The third wide receiver right now is a starter."
Those numbers for these two teams reflect the common philosophies of their head coaches. Cincinnati's Zac Taylor is a branch off the ever-growing coaching tree Sean McVay has planted in Los Angeles. Taylor was the Rams' quarterbacks coach under McVay before the Bengals hired him in 2019.
They prize threatening defences with multiple receivers, and when all of those receivers are capable of beating one-on-one coverage, it presents defences with no-win scenarios.
"If I'm going off and the teams want to double me, then those guys go off," said the Bengals' Tee Higgins. "And vice versa."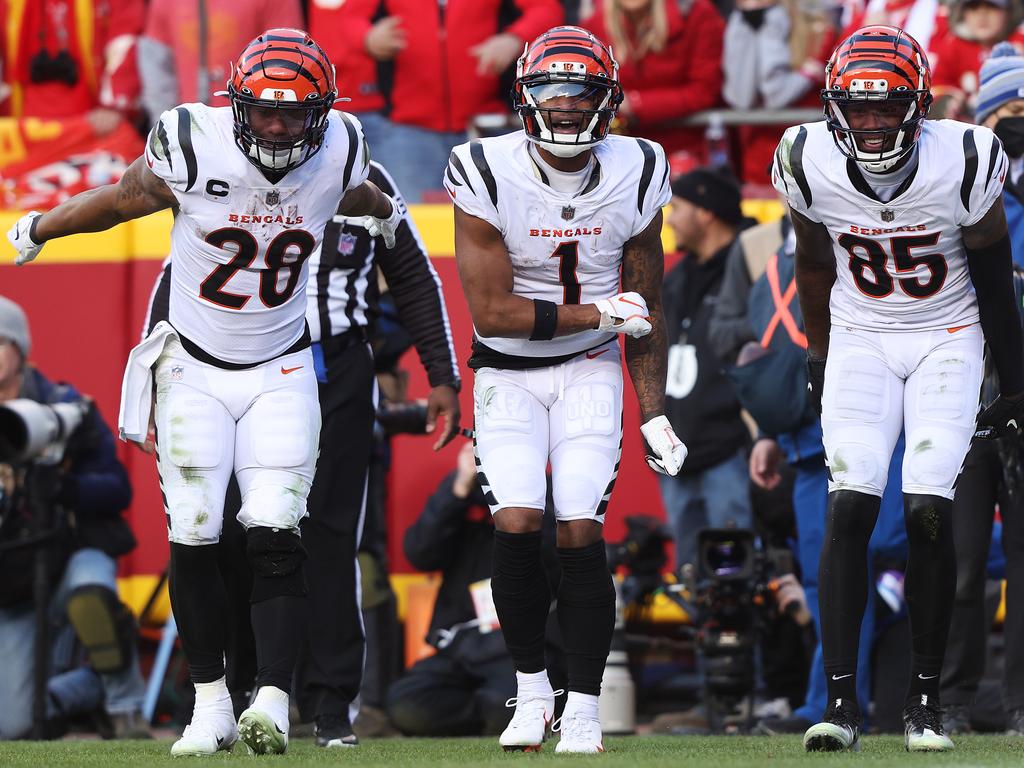 The Bengals triple threat of receivers: Joe Mixon, Ja'Marr Chase and Tee Higgins. Picture: Jamie Squire/Getty Images
Before the last NFL draft, Taylor and the Bengals had no shortage of problems to address. They had won just four games the season before, when their defence was below average and Burrow had suffered a season-ending knee injury playing behind a porous offensive line. The one thing, other than Burrow's potential, that the Bengals seemed to be pleased with was their wide receivers.
"We've got a good receiving corps," the team's director of playing personnel Duke Tobin said last March.
Taylor also hinted that despite a number of weaknesses, he wouldn't rule out strengthening a strength. "Adding another piece is never off the table when you are talking to a guy who calls plays," Taylor said then. "You always like to have as many weapons as possible."
The Bengals followed through when they added Chase. That marked the fourth time since 2016 the team used a first- or second-round pick on a receiver. One was a bust. But two, Tyler Boyd and Higgins, had turned into bona fide assets. Chase gave them three.
Ja'Marr Chase's speed, creativity and close knowledge of quarterback Joe Burrows may give the team an edge over LA. Picture: Dylan Buell/Getty Images
It wasn't especially difficult for anyone to see what type of effect that breadth of pass catchers could do to bring out the best in a quarterback. When Tom Brady left New England for Tampa Bay, he joined a team that had the most productive wide receiver duo the previous season, Mike Evans and Chris Godwin. Then the Buccaneers added stars in Antonio Brown and tight end Rob Gronkowski. Brady, after struggling at the end with the Patriots, suddenly looked like a younger version of himself and won his seventh Super Bowl.
Matthew Stafford isn't Tom Brady but the Rams' decision making wasn't that different. They had very good receivers: Kupp, Robert Woods and Van Jefferson for starters. Then they found the player who they hoped would be the right person to pass the ball to them by sending away two first-round picks to the Detroit Lions for Stafford.
While the Rams have behaved unlike any other team in recent years by shipping away their first round picks in deals, they have frequently used their draft capital on this position. Before the 2018 season, their last run to the Super Bowl, they traded their first rounder for receiver Brandin Cooks. When they traded away Cooks after a couple seasons, they got back a second-round pick that they used on Jefferson. They used another second rounder on a receiver in this last draft.
Then midway through this season they had an unusual opportunity. The Browns had enough of Beckham and cut him. The Rams, who had just released veteran receiver DeSean Jackson, capitalised.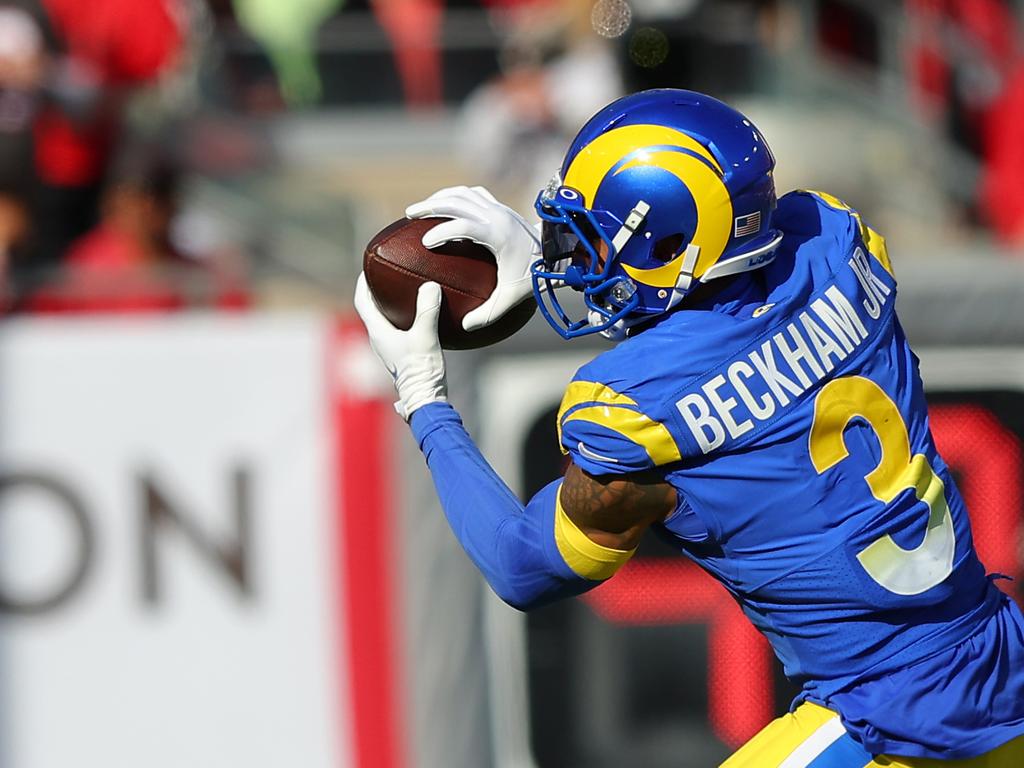 Odell Beckham Jr. seemed a confusing pick for the already receiver stacked Rams, but LA coach Sean McVay's gamble appears to have paid off. Picture: Kevin C. Cox/Getty Images
The Rams were already so deep at receiver when they signed Beckham that there wasn't a clear pathway for him to start. Still, they believed that, in their type of offence, a receiver of Beckham's abilities—his acrobatic and one-handed catches made him an instant superstar with the New York Giants earlier in his career—was worth the risk. And he almost instantly went from ancillary to necessary when Woods got injured almost immediately after Beckham signed.
"Reinforcements come in handy," Snead said.
The runs of these two teams can be traced through not just their No. 1 wide receivers but the ones who surround them. While Kupp and Chase have put forth commanding performances in these playoffs—after they were first and fourth, respectively, in receiving yards during the regular season—the sheer number of highly capable players has proved too much for opposing teams to stop.
Higgins, who quietly had a 1,000-yard season behind Chase, led the Bengals with 103 receiving yards in the AFC Championship win over the Kansas City Chiefs. When Beckham and Kupp combined for a remarkable 255 receiving yards in their NFC Championship victory over the San Francisco 49ers, Beckham accounted for 113 of those. It was Beckham's first 100-yard receiving game since October of 2019.
The Rams had invested in yet another wide receiver. So did the Bengals. Their pay-offs were super.
—Jared Diamond contributed to this article.
-The Wall Street Journal